Want to know more about how to study?
EdrawMind helps move ideas forward, faster and better. Check out this guide to know how to study for MCAT and how mind maps can help. Try EdrawMind free now!
Jeopardy is popularly known as a mainstay on TV and a classic game show. The show's host Alex Trebek dishes out the trivia to the contestants and viewers at home. The show has been running for many decades and is considered one of the most loved and watched reality TV shows worldwide. The game holds a firm place in pop culture, where we see references in TV shows, movies, books, and other reality TV shows. In this guide, we will help you understand how well you can study for Jeopardy and how creating a mind map in EdrawMind will bring your A-game.
1. What is the MCAT test?
Anyone who seeks admission into a medical college hears this term so many times the "MCAT."
And wonder what MCAT is?
Before we get to how to study for the MCAT, let me tell you what it is.
MCAT is an exam that a candidate must pass to get into a medical school. It is a multiple-choice question (MCQ) based exam, mostly taken on a computer, under a specific time period. The exam aims to test a candidate's academic knowledge, aptitude, critical thinking, and reasoning skills; this means that to clear the MCAT exam, you require more than just an understanding of prior academic content. The critical thinking and reasoning skills questionnaire in the exam rewards the students for their ability to apply these skills to the test content. Knowing how to decode and solve complex problems is the key to a high MCAT score.
What kind of questions are asked in the MCAT?
The MCAT test pattern usually comprises questions belonging mainly to three categories i) General Sciences, ii) Social Sciences, and iii) Behavioral Sciences.
The General Sciences comprise subjects like Chemistry, Organic Chemistry, Physics, General Biology, and Biochemistry. Social sciences include subjects like Psychology and Sociology. While the general sciences and social sciences mainly test a student's academic knowledge and critical thinking, the behavioral sciences test the candidate's public dealing since they would become a doctor and their behavior with the public will be a big concern.
How much should you aim to score on MCAT to get into a medical college?
Always aim to score as much as possible on the test. The higher the score is, the better the chances of the name coming in the final merit list. A sky-reaching score on the MCAT is good and will have a direct, positive impact on your med school application. The final merit list is created by looking at your MCAT score and academic performance during junior and high school. And if you have any other supporting materials, like if you have done any diploma or taken any med courses or training, it will surely aid your position in the final merit list.
2. The MCAT test date in 2022
The 2022 MCAT examination dates in the US are scheduled from January to September. The exam date depends on the time when you apply for it.
August/September (Summer) exam dates are suitable for candidates who are already in school for quarter semesters, as this will give them enough time in the summer to prepare for the test.
The January (Winter) exam dates are also great for pupils since they can take advantage of the winter break to get ready for the exam.
3. MCAT study schedule templates
1
1-Month MCAT study schedule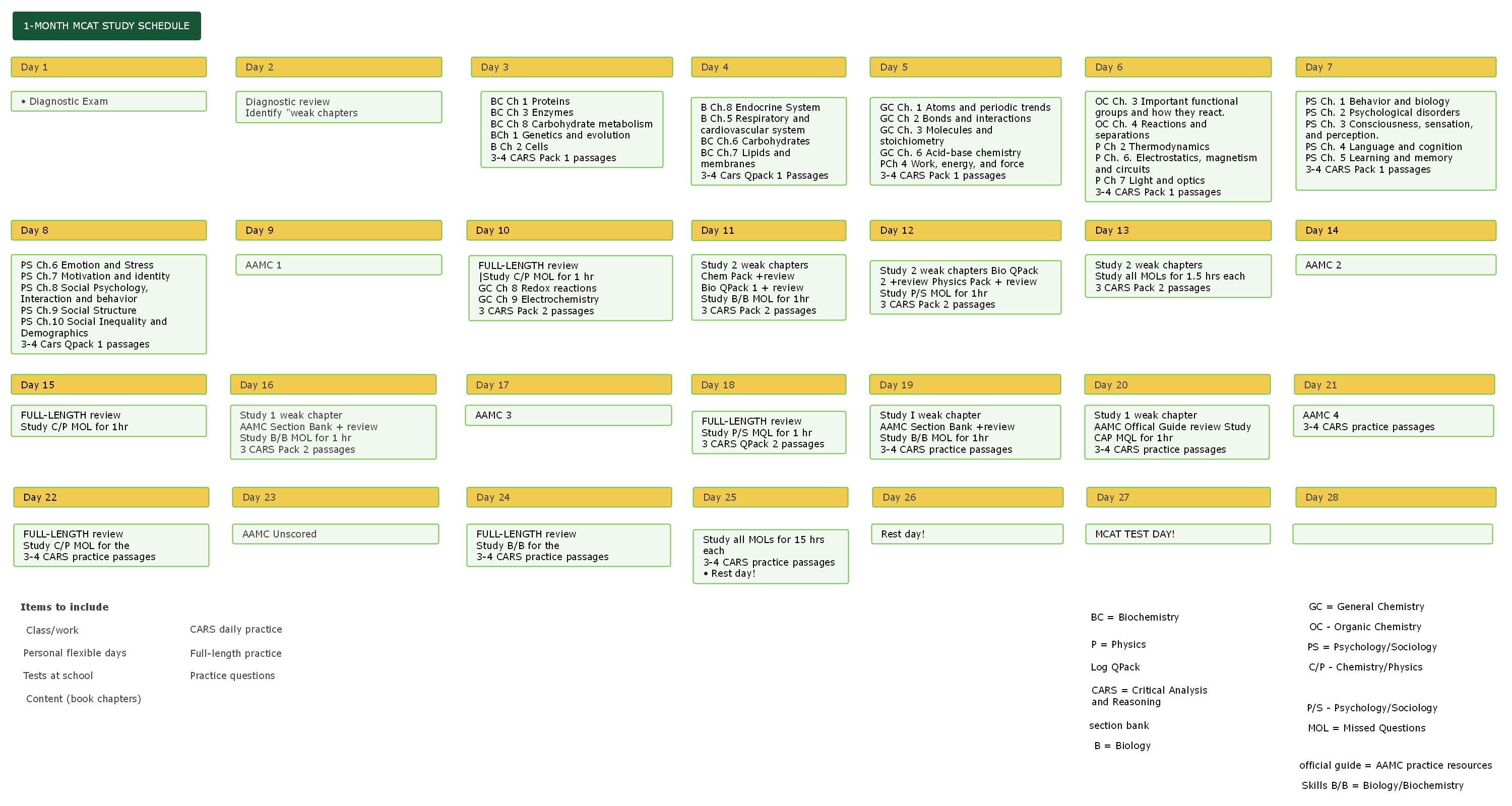 Click here to download EdrawMind
(For Win)
Click here to download EdrawMind
(For Mac)
Click here to download EdrawMind
(For Linux)
There is no time to waste when you have only one month to prepare for the MCAT. You must devote at least 7-9 hours daily to MCAT preparation in such a situation.
Since you have a limited time, you must spend most of your time practicing. It is better to put 20% of your time reviewing the content and 80% practicing and solving questions. You may practice the past tests, exercise questionnaires, and attempt mock tests. This way, you will develop cognizance about the test pattern and help you understand your weaknesses and strengths to make a strategy accordingly.
2
2-months MCAT study schedule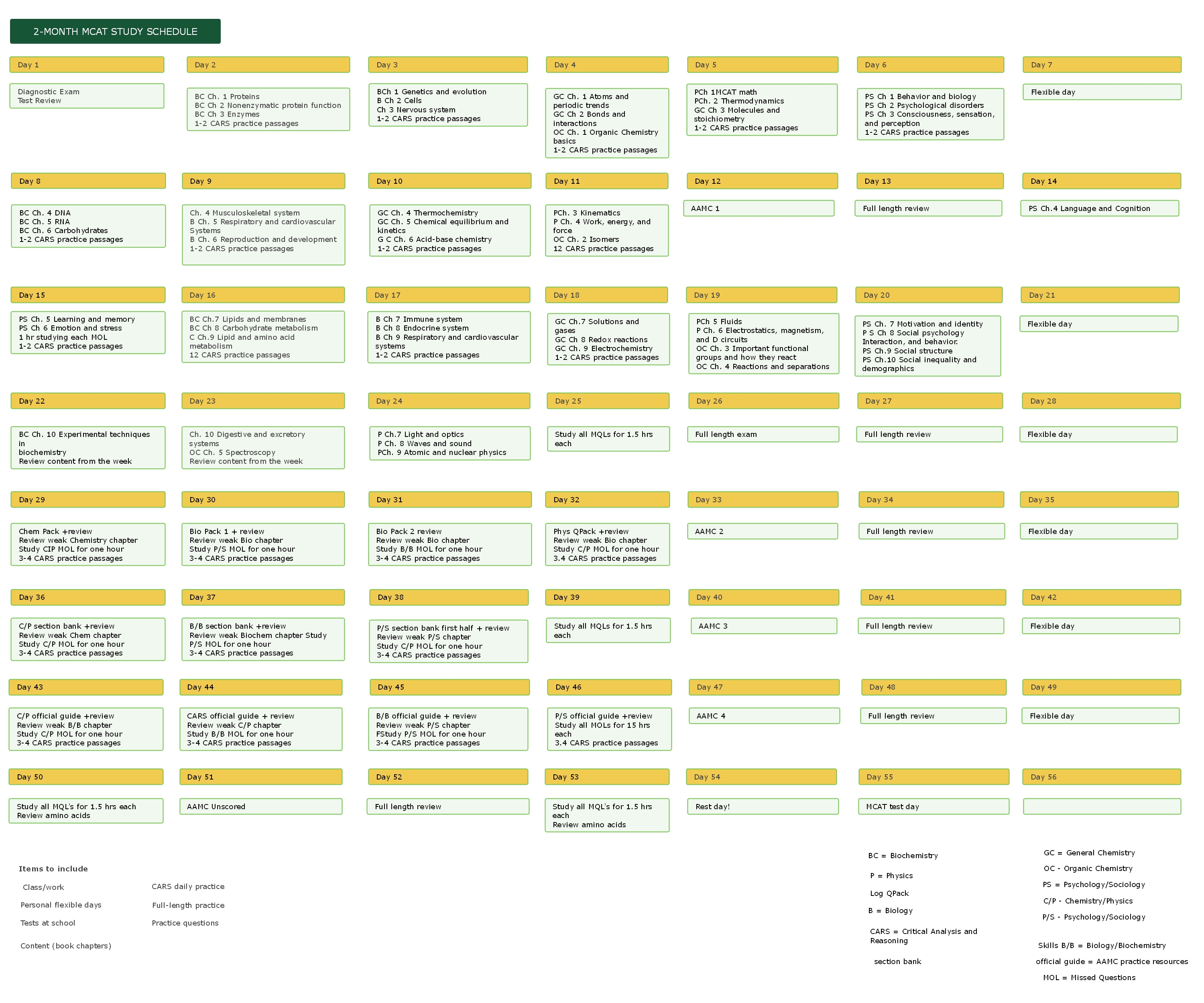 Click here to download EdrawMind
(For Win)
Click here to download EdrawMind
(For Mac)
Click here to download EdrawMind
(For Linux)
Two months might look a good, long time, but once you start preparing for the MCAT, your exam date will be upon you before you even realize it. Therefore, no matter if you have two months remaining, you should devote your time to the preparations every day. When you have two months, you should at least give 5 to 7 hours daily to MCAT study. You may refer to the study content and then apply it to practice and solve quizzes, exercises, and questioners at the end of every chapter. This way, you'll realize your weaknesses and strengths, and so you can prepare a strategy accordingly.
1
3-months MCAT study schedule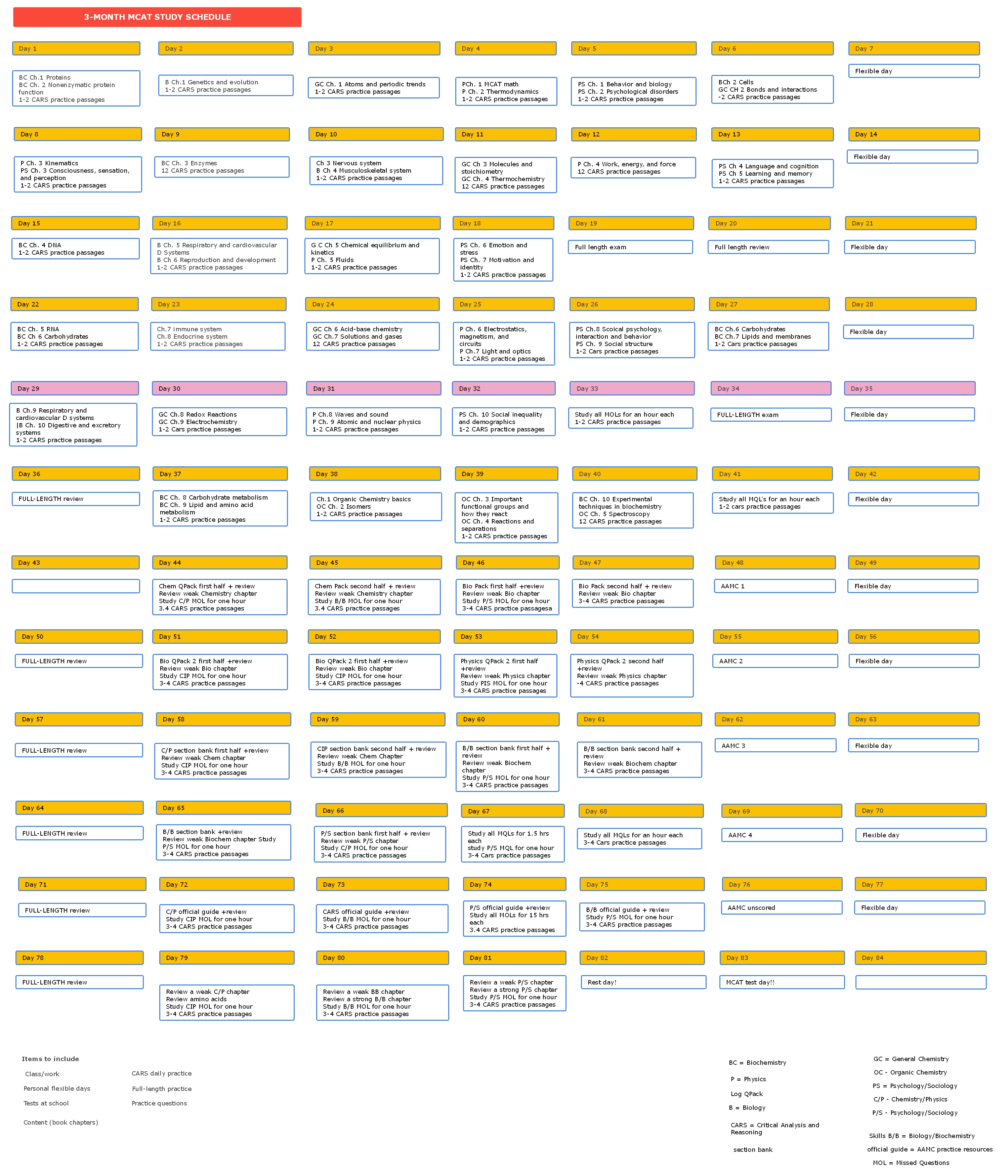 Click here to download EdrawMind
(For Win)
Click here to download EdrawMind
(For Mac)
Click here to download EdrawMind
(For Linux)
If you have three months to prepare for the MCAT, you're in favorable condition because you can thoroughly study and practice the study content without skipping any vital thing. Secondly, you can develop an aptitude without devoting full days to MCAT preparation. With three months time-frame, 3 to 5 hours of study per day is sufficient, but you can give extra few hours if you wish. This way, you will get lots of time to practice what you have learned. Appear in multiple mock tests to self-asset your learnings.
With a proper study strategy, your MCAT success is quite sure.
4. MCAT study schedule example
Now let us share an example of how to study for the MCAT. We have divided it into steps for your ease.
1
Start the MCAT preparation with a self-assessment test
It would be best to start the MCAT preparation by taking a self-assessment test or by completing a question set that includes all the MCAT topics to get familiar with the test pattern and establish your baseline performance. You can do this by solving the MCAT Sample test. You can also find many online resources to practice the MCAT sample exam.
2
Make a study plan according to your test performance
Make your study plan by considering your test score. Determine which content areas you need to focus on and which areas you are already good at. For example, if you performed well on all biology topics, you might only focus on those topics briefly and give more time to a chemistry subject you didn't perform well in. This way, you will spend your time effectively.
3
Make a weekly study plan and stick to it
Establish a weekly study plan. Make a calendar with proper study blocks, planning to study for MCAT at least three to five hours per day, six days a week. Also, take a day off from studying per week to give yourself some time to relax. Assign specific study topics to each block to know what to study and when. You'll have enough study time set aside before the MCAT exam.
4
Keep rotating subjects every week
Set up a rotating study plan that works through the following topics:
General Chemistry
Organic Chemistry
Biology
Biochemistry
Physics/Math
Behavioral Sciences
5. Key Takeaways
If you plan to participate in this reality program, you will find hundreds of solutions on how to study for the MCAT. However, as you can see from this article, making a mind map is one of the most effective ways to keep up with everyday global news. Creating a mind map is one of the most fun aspects of studying for any exam or reality show, and EdrawMind has all the tools you need to effortlessly create and share mind maps. You may make an MCAT mind map using free templates and a variety of theme options to guarantee you cover all of the crucial topics before the big day!
EdrawMind Desktop/Mobile
12 structures & 33 themes & 700+ stylish cliparts
Support Win, Mac, Linux, Web, Android, iOS
Advanced import & export options
On-premises software for business
Enterprise-level data security
EdrawMind Online
12 structures & 33 themes & 700+ stylish cliparts
Access diagrams anywhere, anytime
Group & real-time collaboration
Personal Cloud and Dropbox Integration