Mind Map v.s. Outline: Understand Pros & Cons with Examples
Confused Between Mind Map vs. Outlines?
EdrawMind is a mind mapping tool equipped with 22 structures, 33 well-designed themes, and 700+ designed cliparts. Check out the mind map vs. outline guide to see which one is best for you. Download EdrawMind today and make wonderful mind maps or outlines.
When creating a complex research paper or noting the forthcoming meeting's agenda, it is important that a student or a professional plan it ahead before actually creating the visual representation of it. If one has planned it ahead, the chances of missing out on vital information are fewer, and at the same time, all the information will be correctly organized. There are generally two ways to plan it: mind maps and outlines.
Students often get confused between choosing mind maps and outlines. In this detailed article on mind maps vs. outlines, we will learn the pros and cons of using them, different scenarios as to when to use mind maps over outlines and vice versa, and how you can easily transform an outline into a mind map using the astounding features offered by EdrawMind.
1. What is a Mind Map?
Mind maps are the visual representation of your thoughts in which you are already aware of your central topic or the main idea, sub-topics, and if there is any kind of relationship between different sub-topics. While creating a mind map, you simply map the main topic and then radiate from the center, placing all the sub-topics or sub-phases that need to be included in order to define the main topic correctly.
As you can see here, mind maps are great learning and concept-sharing tools for people who prefer visual illustration of different complex topics.
In order to understand the use of mind maps in real-life, check out some of the advantages and disadvantages of the same. It will help you understand when you can go ahead with it or in which scenarios you will have to move to outlines.
Pros of using a mind map
Mind maps or diagrams are more easily stored in our memory than other kinds of representational formats.

Mind maps can separate the encoding of complex information in memory in visual form.

Mind mapping helps in creating meaningful engagement for learners by actively engaging in the process of generating ideas and brainstorming.
Cons of using a mind map
People who prefer logical thinking might skip using mind maps to understand complex data or information.

In order to properly organize a mind map, you will need to use the right color-coding, different line patterns, and images.

Creating mind maps takes time if you are not using mind mapping tools like EdrawMind.
2. What is an outline?
As the name suggests, the outline is the tool educators, and professionals use to organize written ideas about a topic into a logical order. Unlike mind maps with loosely arranged subtopics, outlines arrange major topics, subtopics, and supporting details more logically.
When working on complex thesis or topics, creating an outline is handy as it helps check off different paragraphs or subheads as the student completes them. In order to understand the use of outlines, check out some of the advantages and disadvantages of the same. These pros and cons lists will help you understand when you can go ahead with it or in which scenarios you will have to move to mind maps.
Pros of using an outline
Outlines will help you organize and construct different topics or ideas sequentially.

When creating an outline, the writer will easily understand how they intend to connect all the supporting information.

An outline can also help the educators effectively brainstorm the ideas and ensure that the paper they are writing is organized, focused, and well-supported from all fronts.
Cons of using an outline
Outlines require you to write extensively even before you start writing your paper. Some educators or professionals would not prefer doing that if the topics are lengthier than expected.

Since outlines only present ideas and there are no graphical representations, many students find them hard to relate with.

If you are creating an outline on a paper, you will find it a lot tedious and too much work if you have to add different subtopics or statements.
3. How to Make a Mind Map?
Now that you have seen the differences between mind maps and outlines let us show you the easiest way to create a mind map for your project. In order to do this, you will need to download and install EdrawMind in your system. Once you have launched the tool, you must log in using your email address, which takes you right to the home screen, where you can access some predefined templates. If you intend to collaborate with your remote team, head to EdrawMind Online and log in using your registered email address.
Step1
Main Idea
On your EdrawMind homepage, you will see several templates that help create high-functioning mind maps. Head to the 'New' section on the left and click on '+. EdrawMind will take you to the main canvas, where you will see a pre-built mind map layout. Update the central idea or the main idea with your thesis or business topic.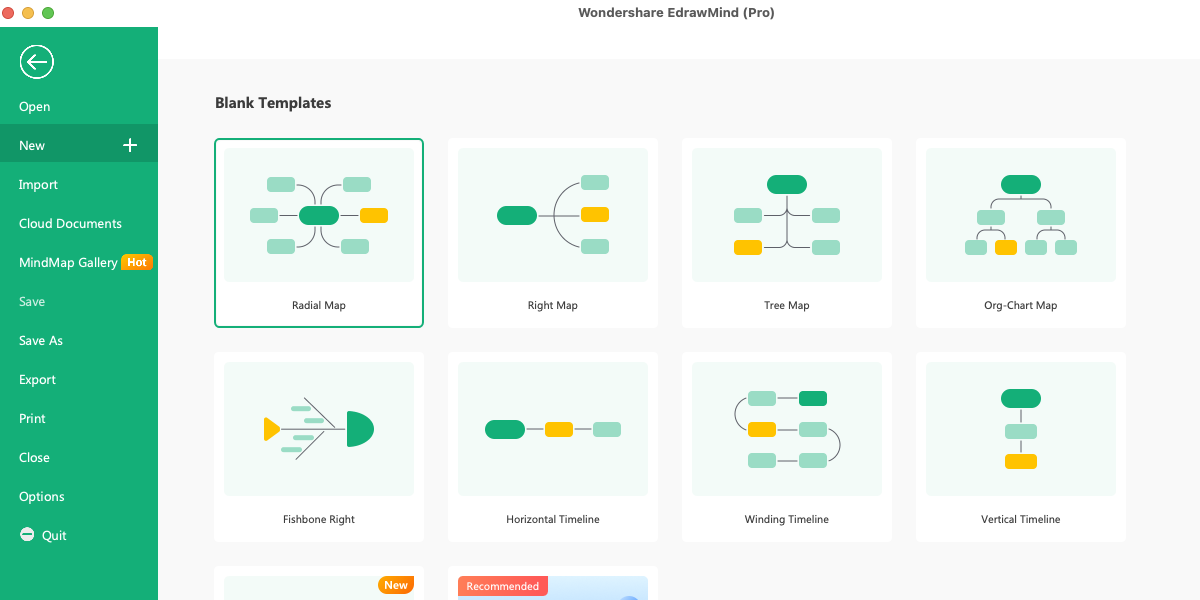 Step2
Add Branches & Explore
Once you have added the main idea or topic, you can start adding sub-branches to it. Depending upon the complexities of your central topic, you can further explore the sub-branches or ideas in the best way possible. With EdrawMind, you can create hundreds of subbranches of your main idea without worrying about styling or losing on the formatting. With the in-built traverse mode, you can also easily check on the sub-topics.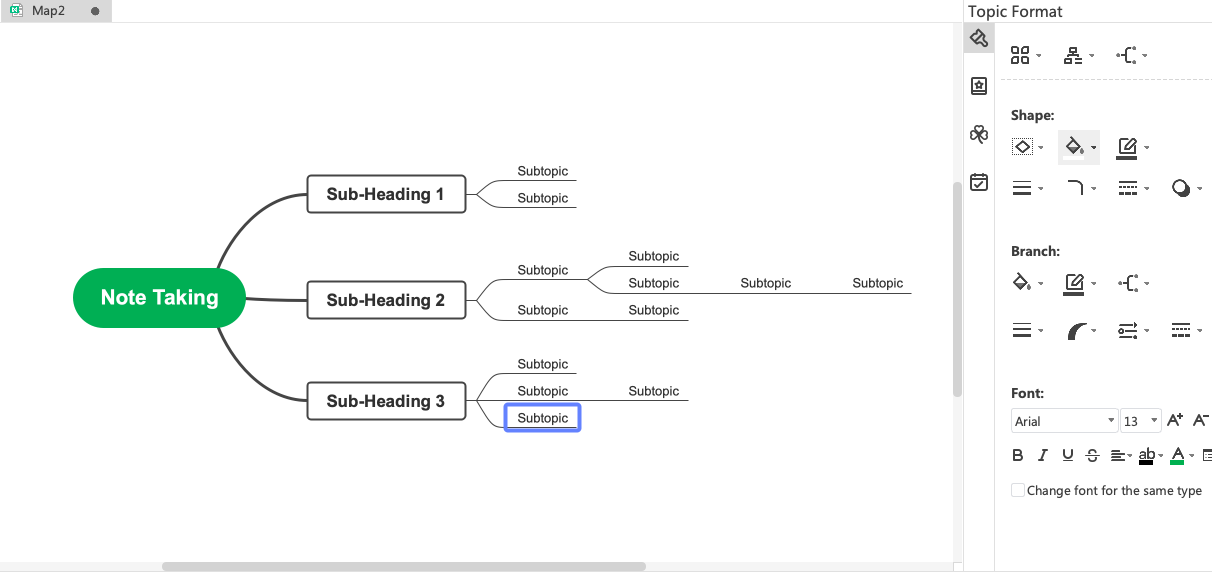 Step3
Customize the Idea
EdrawMind lets you easily customize your mind maps by changing the layout, changing the connector's style, updating the theme, modifying the color codes, and more. With this mind mapping software, you can easily import different pictures to enhance the look and feel of your mind map.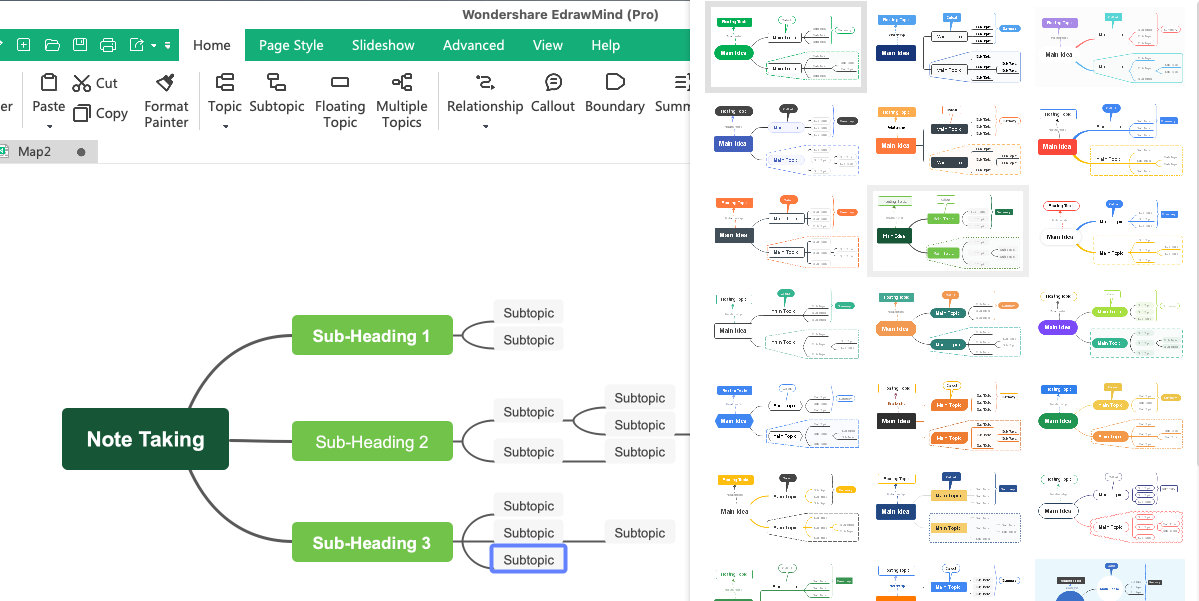 Step4
Export & Share
Once you have completed the mind map, you can export it into multiple formats, including JPEG, PNG, PDF, TIFF, SVG, HTML, and other Microsoft formats, like Word, Excel, and PowerPoint. EdrawMind lets you share your mind map via a direct email or on social media platforms like Facebook, Twitter, Pinterest, and Line.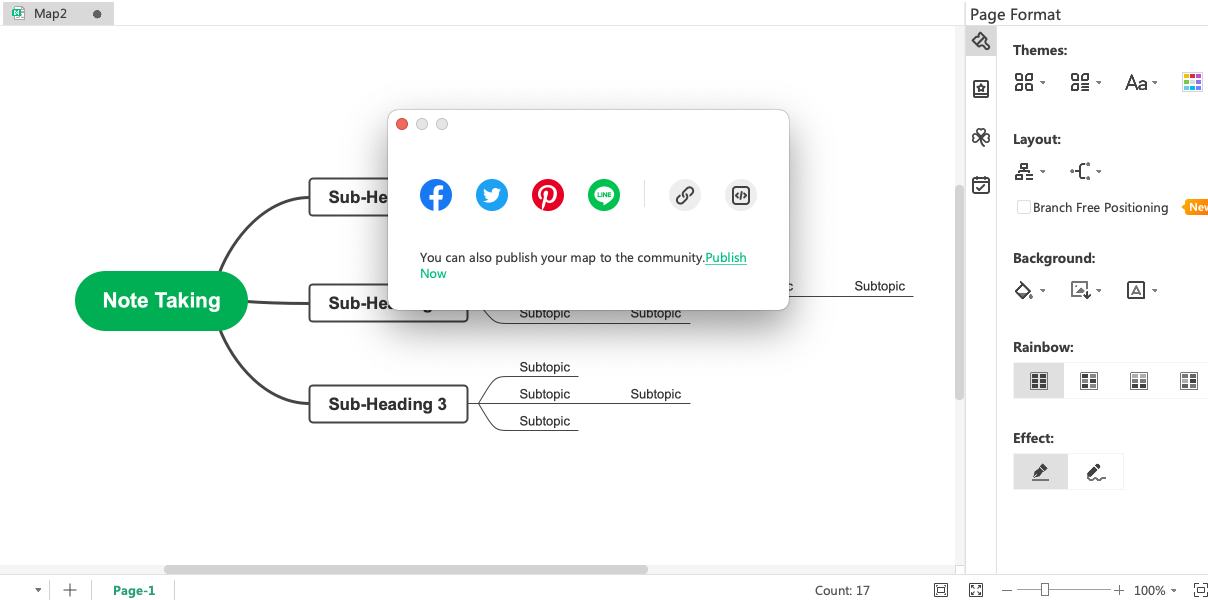 4. How to Make an Outline?
Outlines help the educators or business professionals to structure the ideas coherently so they can easily organize the main points into paragraphs. There are two ways to outline any topic. The first is a traditional method that requires little expertise, and the second is an easy way to use EdrawMind. Let us discuss the traditional way before we move to the EdrawMind method.
The first step you need to do here is to identify the central topic and note it down.
Now identify the purpose of working along that topic or argument.
Once you have gathered the primary information, you should now look for your target audience that would help in defining the tone of the writing.
Once you have put down all such aspects, you can put all of them down to create your outline.
First, add the topic or argument's name on the top.
Now put everything together by paragraph and subheadings.
Divide your ideas into sections to make your writing look more organized.
Now, there is yet another way that helps in creating easy outlines from mind maps. Check out the following steps to learn more about it.
Step1
Open a previously created mind map in EdrawMind that has a main topic and different subtopics.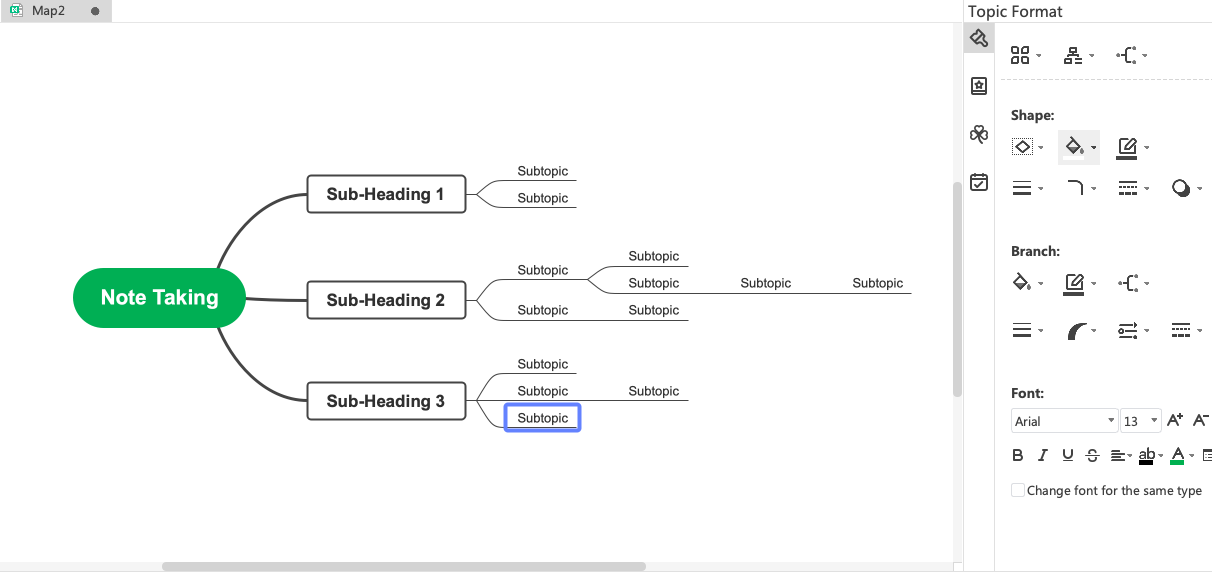 Step2
On the top of the toolbar, you will see 'Outliner'. Once you click on it, you will see how the system automatically converts your mind map into an outline.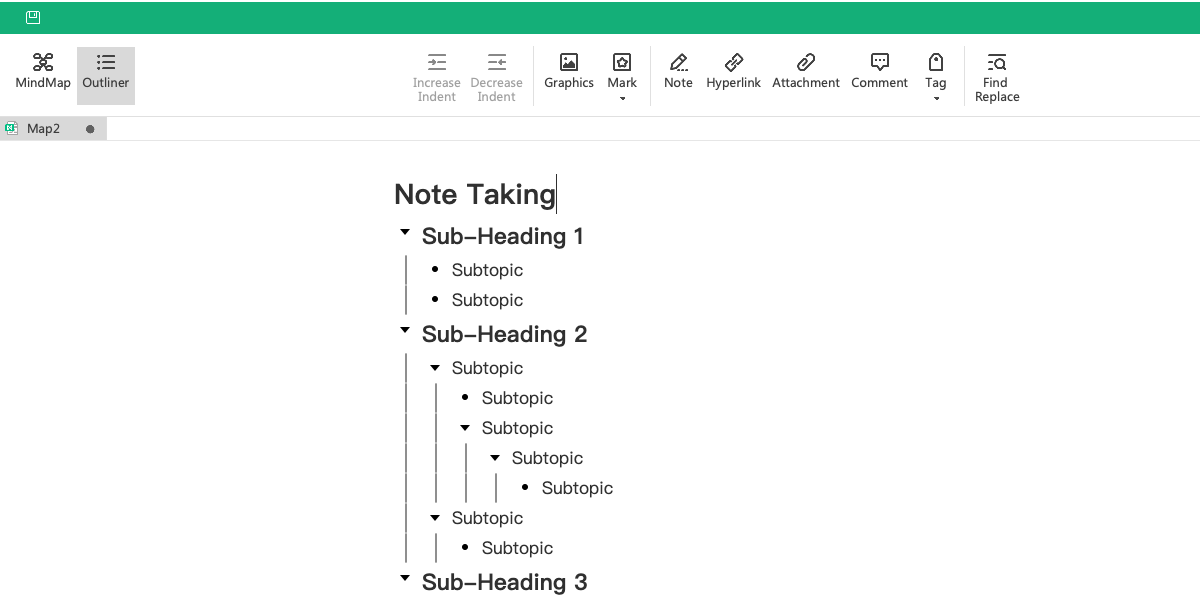 Step3
Add the relevant information in this outline.
Step4
You can further export this outline into multiple formats, like PDF, HTML, Graphics, and Word.
5. Example for Outline & Mind Map: Note-Taking
Note-taking is one of the most important parts of any academic or professional institute. Taking effective notes in any lecture or seminar is essential as it allows a permanent record of key information that one can integrate into their future writings. These notes can also be helpful when it comes to doing exam revisions.
When you start taking notes, you learn that these are transferable skills, as once you have started creating outlines or a mind map for notes regarding your academic needs, you can easily go on to make different notes for social, life, work, business, and other verticals. Most students prefer noting down everything in one go, but as it turns out, note-taking is very important for several reasons, like:
A good note-taking method helps you record key information.
With a note-taking strategy, students can retain information for a longer time.
With the help of note-taking, you would be able to concentrate on the topic effectively.
Note-taking is considered one of the easiest methods to revise for exam preparations.
Once you have created a mind map for your notes, it can become your perfect guide to brainstorming and visualizing them in a more creative sense.
You can take notes either by creating mind maps or by outlining all of your thoughts in one place.
If you create a note using a mind map, then:
You will have more creative freedom

Your notes would have different color-codes

You can add different images or pictures to your notes

It would be pleasing to the eyes
If you create a note using the outlining method, then:
You cannot put down images or other creatives.

Even though your notes would look organized, it would be harder for the others to go through them without understanding their core.

It would be easier for you to take notes quickly.

With outlines, you do not need any technical skills to create notes.
As you can see, there is no one-size-fits-all way of taking notes. It all comes to some basic questions, like:
What do you prefer: creativity or logic?
How much time do you have?
Do you need to share the content with someone who has no idea about the topic?
You can create outlines or mind maps when you partake in a note-taking activity. You can choose between a mind map and an outline depending on your preference, time availability, and resources. You can learn about the 5 best note-taking methods with templates that would help you decide which one to go with when you start taking notes for any meetings or education-related purposes.
6. Key Takeaways
Both mind maps and outlines are considered the most effective ways of note-taking or visualizing any idea. Even though an outline cannot properly let you branch out like mind maps, students often use it when they need to take some notes quickly. As you saw in this guide, it outlines different list ideas in a paragraph in writing, whereas mind maps tend to work best for those who prefer creativity over logical reasoning. So, it is up to you which method you choose when you work around organizing your thoughts or ideas.
That being said, you would require a tool that can easily convert your mind map into outlines and vice versa. EdrawMind is not only a mind mapping tool but can also be used to create different outlines. In this mind mapping software, you will find pre-built templates for all the different verticals, like education, business, personal, health, and more. Check out these templates and convert them to outlines if that is what is required from your side. Download EdrawMind today and create some stunning mind maps or organize your outlines in the best way imaginable. If you plan to collaborate remotely, head to EdrawMind Online and check out the amazing online features available for registered users.
EdrawMind Desktop/Mobile
12 structures & 33 themes & 700+ stylish cliparts
Support Win, Mac, Linux, Web, Android, iOS
Advanced import & export options
On-premises software for business
Enterprise-level data security
EdrawMind Online
12 structures & 33 themes & 700+ stylish cliparts
Access diagrams anywhere, anytime
Group & real-time collaboration
Personal Cloud and Dropbox Integration