What Are the Best Techniques for a Mind Map?
Create Mind Maps Today!
EdrawMind is a mind mapping tool equipped with 700+ cliparts. Check out EdrawMind's complete guide to understand ways to live a healthy life. Try EdrawMind Online and create hundreds of mind maps today!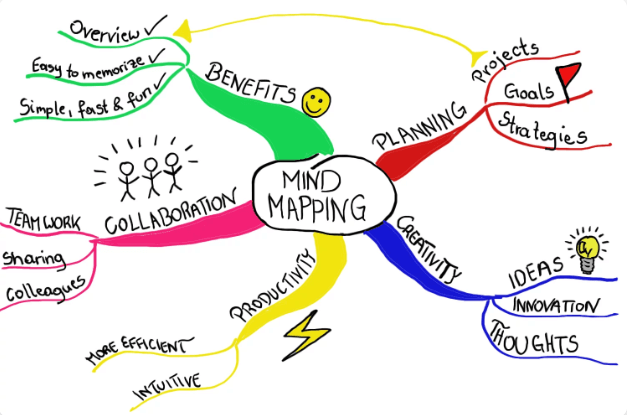 Mind Mapping is an instrumental graphic technique to unleash your creativity in a visualized form. However, only the introduction to the term "Mind-mapping" is not enough; an accurate knowledge of fundamental mind-mapping techniques and their uses is a key requisite to utilize them properly for elevated human performance.
1. What Are Common Types of Mind Maps?
The first prerequisite for utilizing a mind map is to acquire insight into the types of mind maps. Although mindmap types diversify based on their manipulation, they are categorized into three broad types.
#1. Library Mind Maps
As a library is a stockroom for organizing books for convenient access, library mind maps are designed for organizing information so that it can be understood effortlessly. The most straightforward way to construct a library mindmap is to collect all the required information and devise it in a tree map form.
Role of Library Mind Maps:
Ideas Exploration: Library mindmaps assist you in contemplating deeply about your topic and exploring ideas through a shortcut by having a bird's eye view of them.
Organization: You can assemble complicated and jumbled information creatively into meaningful entities by creating a library mindmap for personal and organizational use.
#2. Planning Mind Maps
Planning mind maps, also called tunnel timeline mind maps or problem-solving mind maps, demonstrate the project strategy, a problem-solving process, or a system's life cycle. The central idea of such mind maps is the outcome you want to attain or the problem's solution; contrastingly, the emanating subtopics describe how to approach or reach that outcome or solution.
Role of Planning Mind Maps:
Building Project Plans: Enterprises and businesses employ the planning mind maps to formulate a business strategy by considering numerous factors, including a budget, customers, time, working staff, etc.
Finding Problems' Solutions: Using planning mind maps, individuals or companies find solutions for their encountered and prospective issues, leading them to possible solutions to their respective problem.
#3. Presentation Mind Maps
Contrary to library mindmaps, the focus of presentation mind maps is the audience instead of the ideas' organization; that's why they are artfully structured to be readily comprehended by the audience. Presentation mind maps track the steps of a procedure to educate the viewers about its progress status, resulting in improved audience interaction.
Role of Presentation Mind Maps:
Enhanced Audience Interaction: You can develop a persuasive audience interaction, allowing them to grasp your project's nature comprehensively.
Business Marketing: Presentation mindmaps can serve as an effective marketing tool for your upcoming product or newly inaugurated brand because of their intuitive crafting strategy.
2. What Can I Use Mind Maps For?
After obtaining an in-depth knowledge of prevalent mindmap types, the next aspect is knowing the diverse range of spheres where you can utilize mind-mapping techniques. The applicability of the mind-mapping process encompasses the following areas.
#1. Brainstorming
Brainstorming is the pivotal step for productive ideas generation. Visual representation like mindmaps facilitates and streamlines the brainstorming process by providing a skeleton to your cluttered ideas. Mindmaps inspire a wave of creativity and expression in your brainstorming process, displaying your newly generated ideas & their internal connection with artistic elegance.
#2. Summarizing Information
If the information you intend to impart to your readers is excessively lengthy, you can encapsulate it in diagrammatical form, i.e., an engaging mindmap. An impressive mindmap is a route for simplifying the content of any book, documentary, or talk show, propagating your information appealingly and concisely.
#3. Taking Notes
Mind mapping assists you in taking efficient and well-organized notes compared to outdated note-taking styles. Instead of scripting every single word, you can note the essence extracted in the keywords or symbol forms. Using colors, hierarchies, and pictorial illustrations not only visualizes the interconnections of ideas but also glorifies them.
#4. Consolidating Information From Different Sources
If you have dispersed chunks of information gathered from diverse sources, you can unify them into one entity using a well-organized refined mindmap. This technique is beneficial, especially if you are a teacher; mind mapping allows performing data scraping to extract useful information from variant sources and merge them into one significant unit.
#5. Thinking Through Complex Problems
Problem-solving skills enable you to be an experienced and professional individual, whether a student, job holder, or administrative. Instead of panicking with the encountered problem, you can find its possible solutions by employing mind-mapping techniques. Mindmap prioritizes the different aspects of a phenomenon, augmenting your focus at crucial points.
#6. Presenting Information Clearly
Elusive and ambiguous content can confuse the readers' minds. Mindmaps assist you in clearly describing obscure information, spotlighting the facts in meaningful fragments instead of presenting massive chunks to the readers. Additionally, using delightful colors and impressive layouts grab the attention of the target viewers.
#7. Studying And Memorizing Information
Memorizing information is a tedious task, requiring you to put extensive endeavors into it. If you are habitual of cramming your study books instead of conceptualizing, you can adopt the mind-mapping approach to retain information for a prolonged period. Mind mapping operates on the principles of organization, association, hierarchy, and other logical tenets, which will help you acquire knowledge effortlessly and memorize it for your learning objectives.
3. How To Create a Basic Mind Map?
The first prerequisite of creating a basic-level mindmap is understanding the objective and target use of your mindmap creation. Then, you can employ any top-notch mind mapping tool, such as EdrawMind Online, for fabricating your desired mindmap visually.
Creating a mindmap using EdrawMind online is pretty convenient; follow these steps to begin creating your preferred mindmap.
Step1
Click the +New MindMap option in the main interface of EdrawMind Online.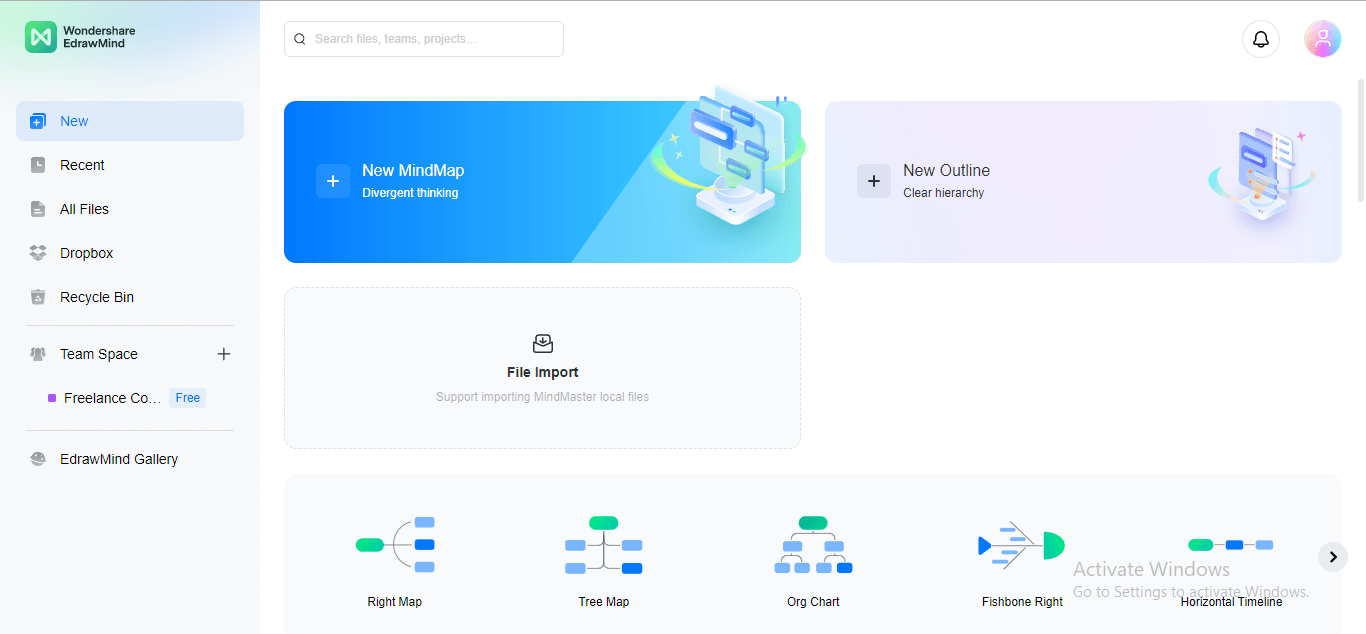 Step2
Start with the basic theme, placing your Main Idea in the center.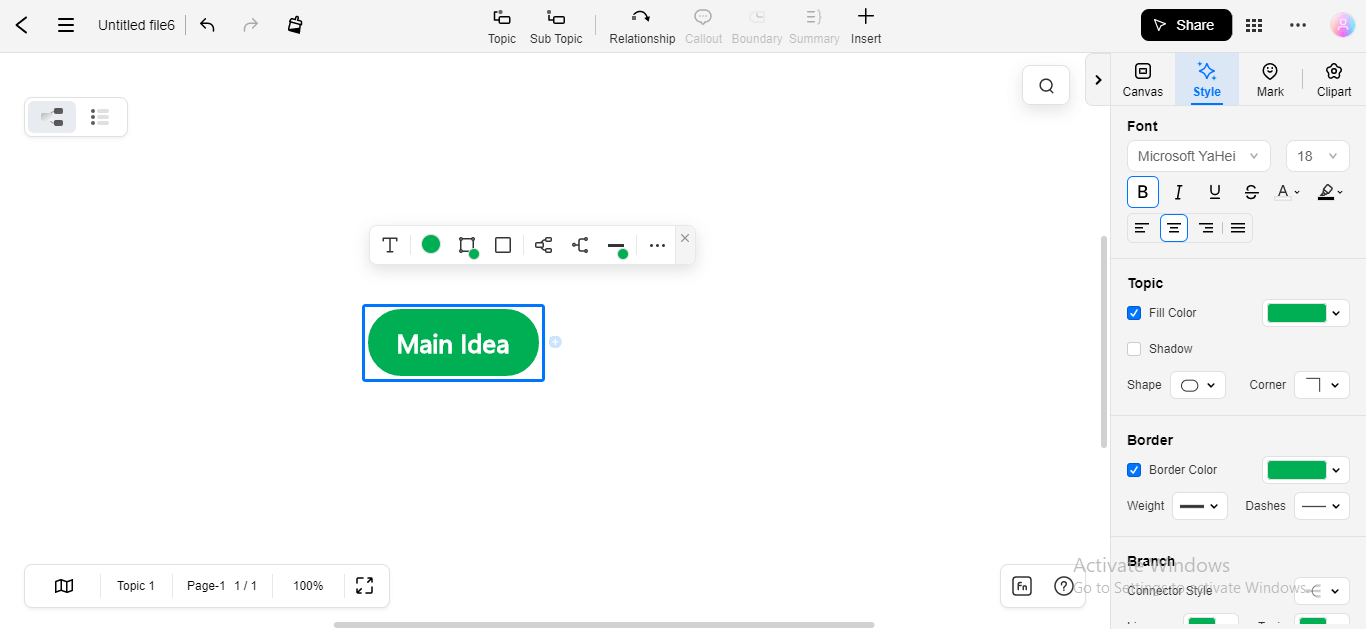 Step3
Add Branches to the main idea, springing outwards. You can also add sub-ideas next to the branches, which are called Subtopics.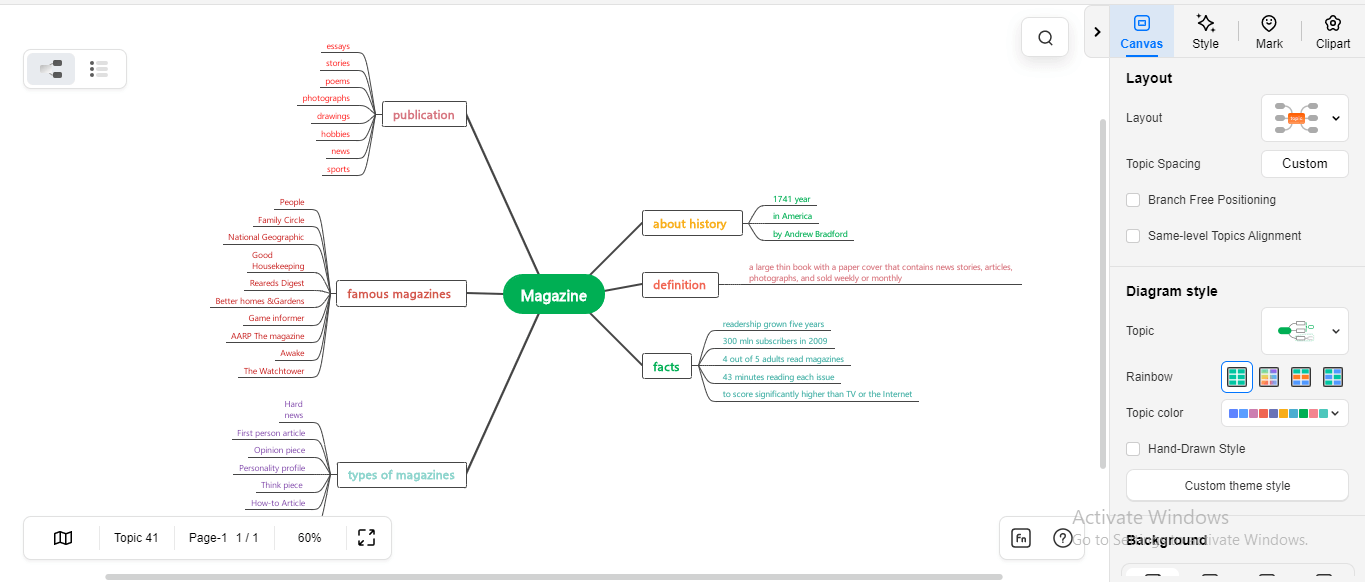 Step4
Personalize your mind map by applying your desired theme, color scheme, layout, diagram style, etc.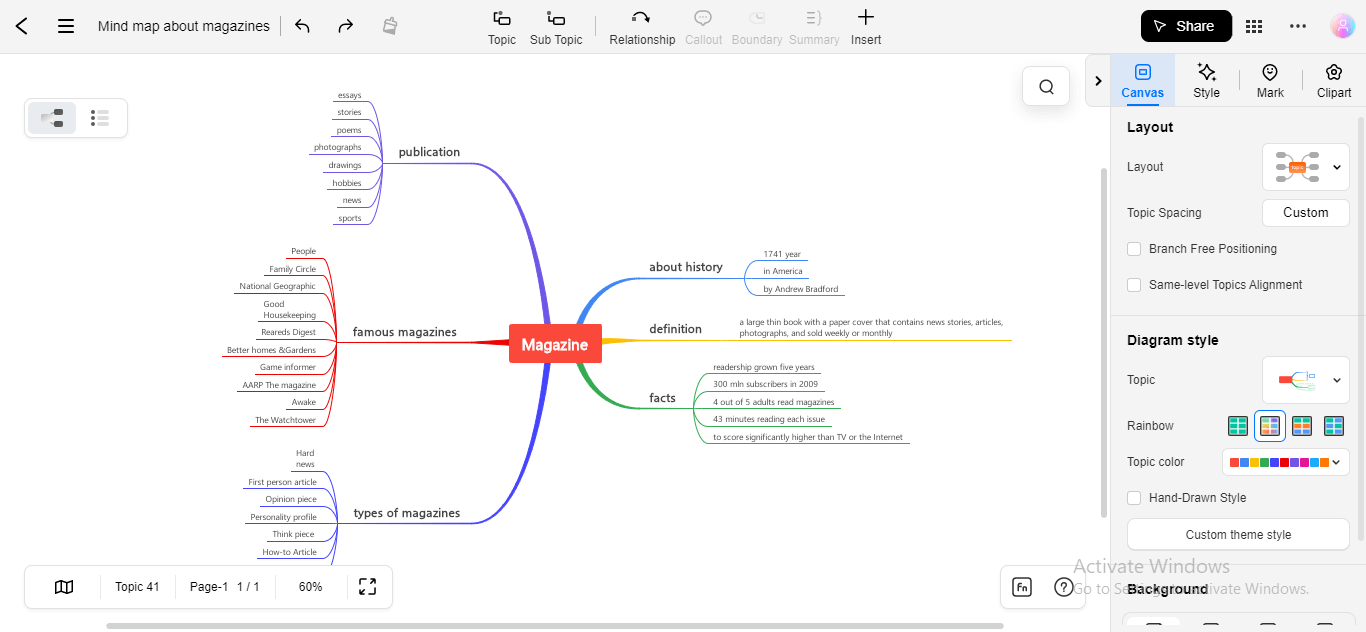 4. How To Use Mind Maps for Writing?
Writing demands creativity which, in turn, requires rational thinking and stern concentration. To maximize your essay writing skills, manipulate the mind-mapping technique for improved results. Follow the below-given steps to compose a well-organized and sophisticated piece of writing.
Step1
Create a new mind map on paper or an appropriate mind-mapping software and initiate by writing the main topic in the center.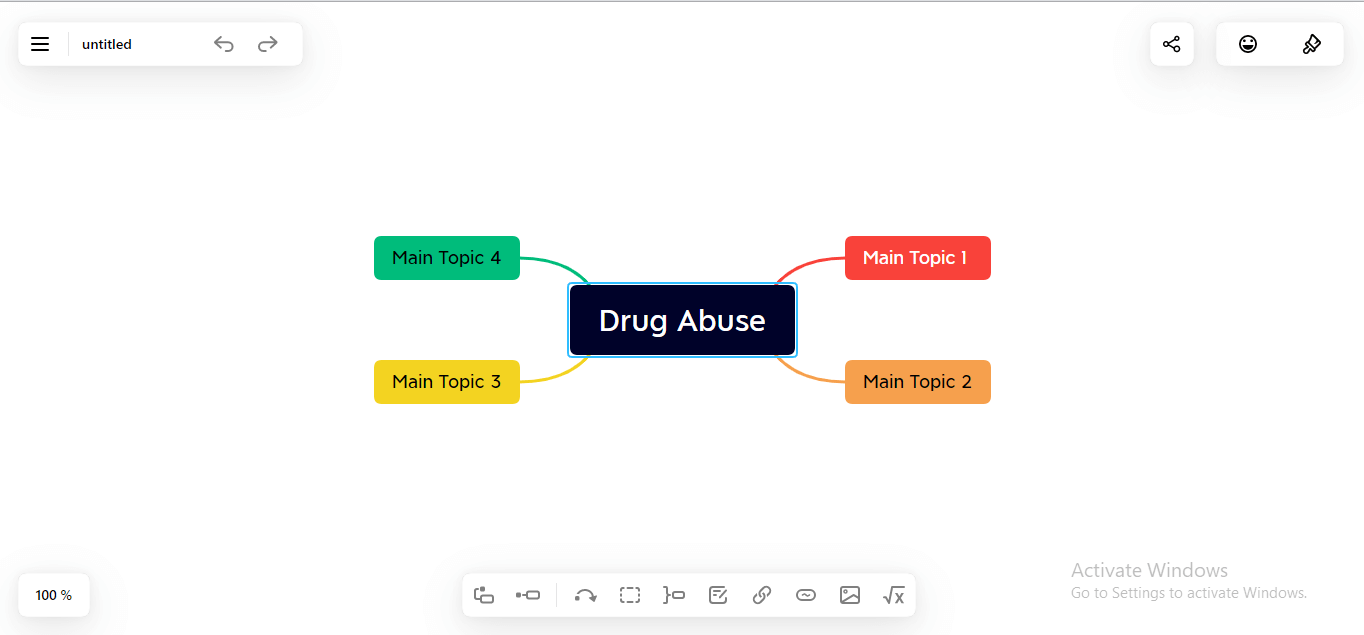 Step2
Note down major areas of interest for that topic and write them in the form of keywords, developing a connection among each other through links.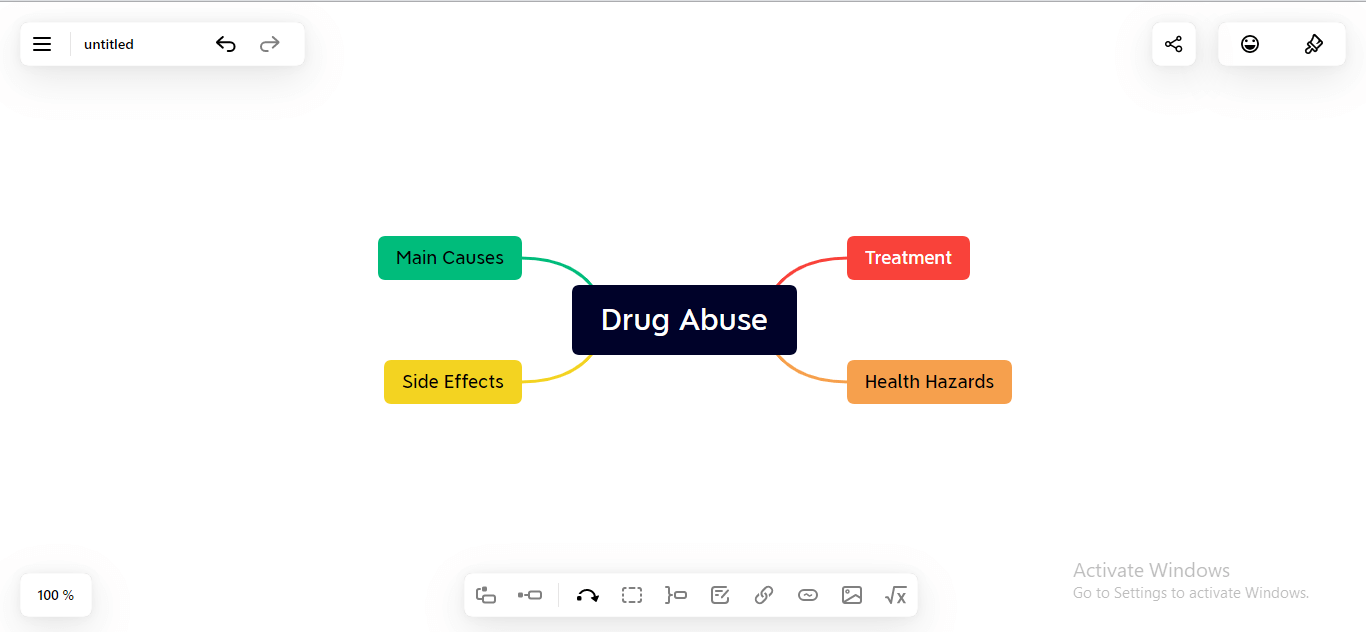 Step3
Now, find out the pros and cons of each aspect, and enter an appropriate keyword for each benefit and drawback for remembrance.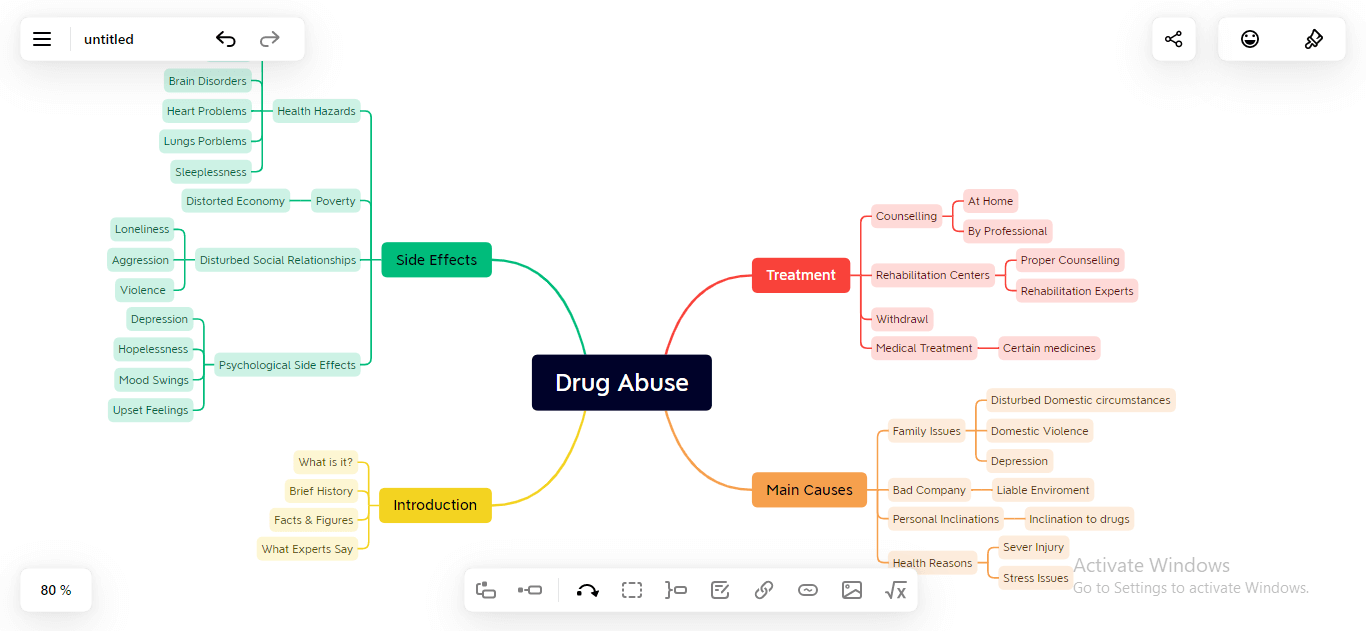 Step4
Initiate researching all the points you noted on the map.
Step5
When the research process is completed, create a separate sheet containing all the arguments, quotes, and other information.
Step6
Start writing your essay based on the outline you created as a mindmap.
5. How To Use Mind Maps for Studying?
Mindmaps can abate your study burden by making things easier and rescuing massive amounts of time & effort. We will delve deeper into how you can deploy mind-mapping techniques to transform your tiresome study routine into a more productive endeavor.
Step1
Arrange a plain sheet or any mind-mapping software canvas to imprint your idea.
Step2
Start by writing the main idea in the center of the canvas.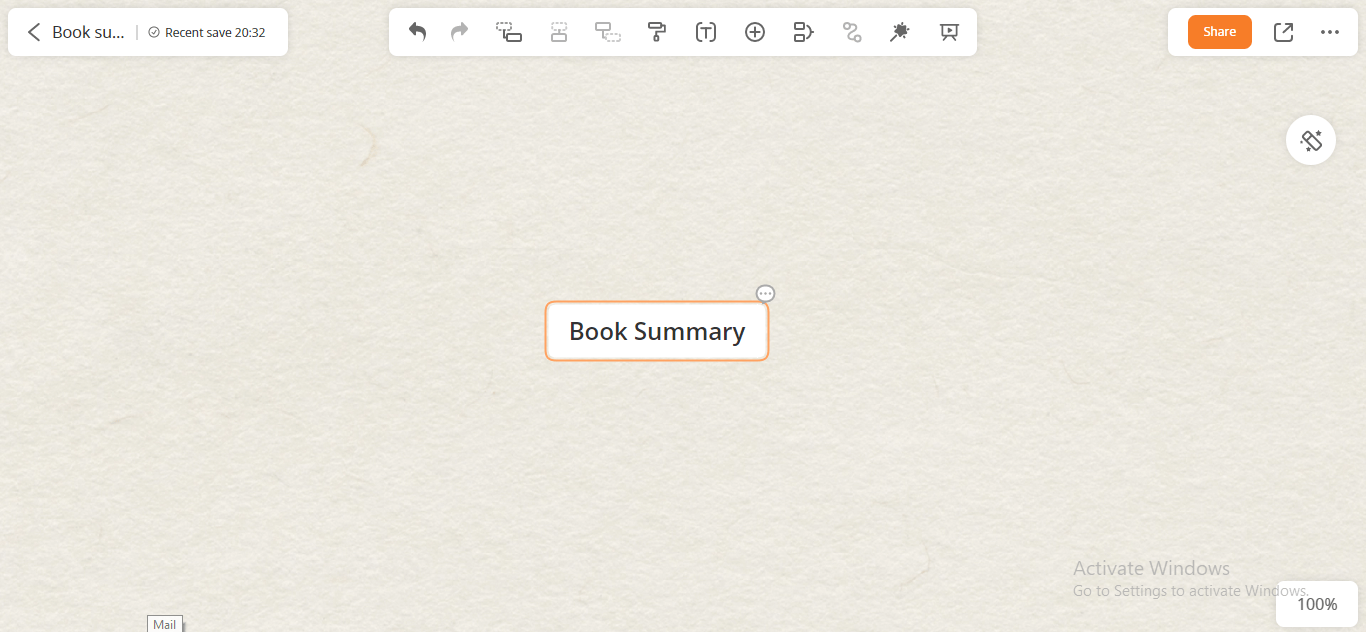 Step3
Derive the branches emanating from the main concept towards the page exteriors.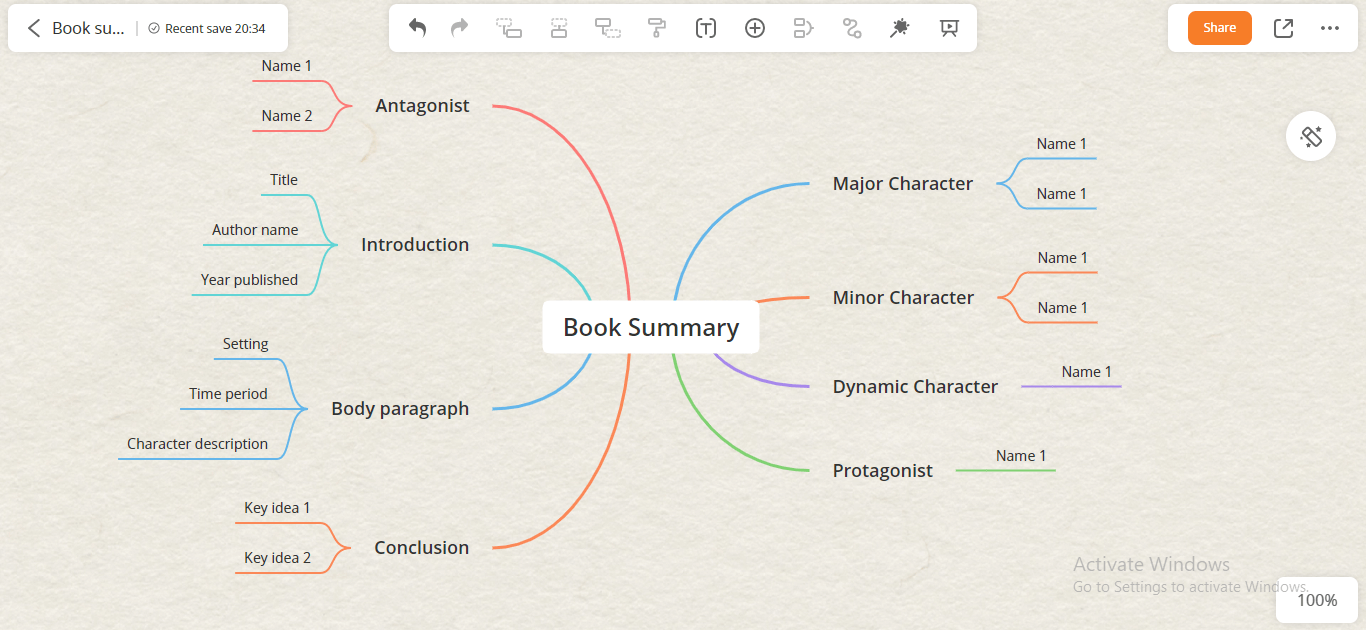 Step4
Name the branches by keywords or phrases to easily remember them.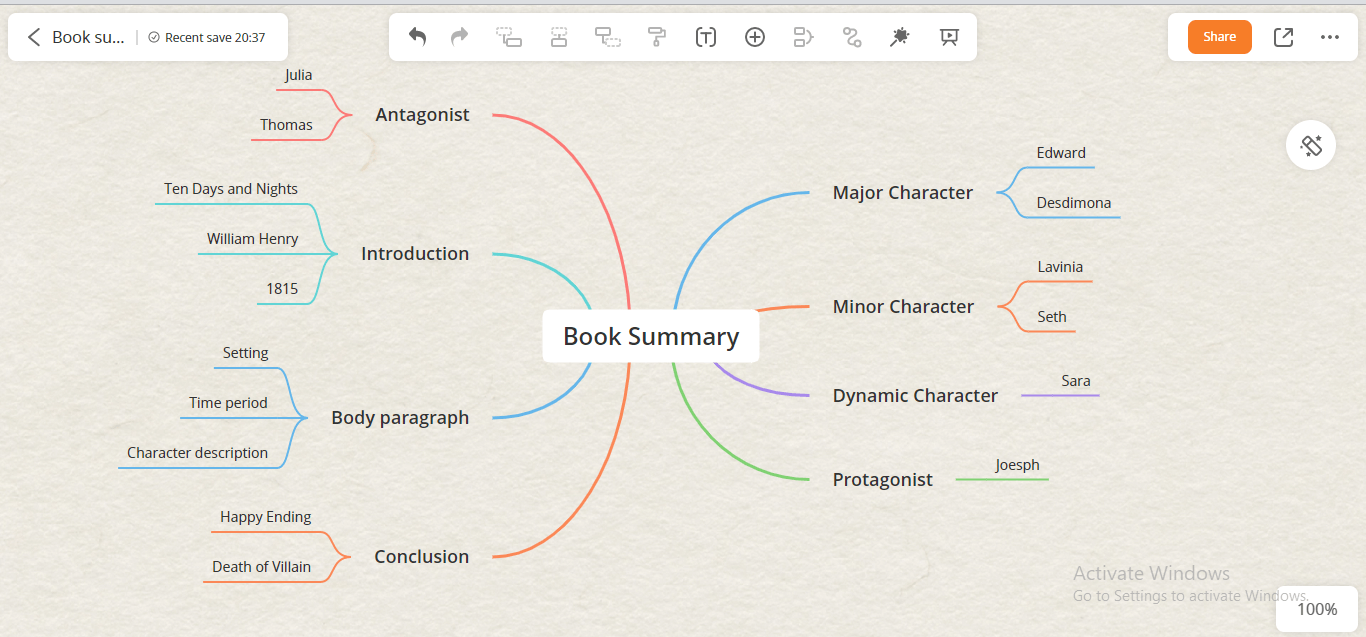 Step5
Illustrate the relationship between ideas by writing their relation on the arrow line, for example, cause of, contributes to, results in, give ways to, affected by, etc.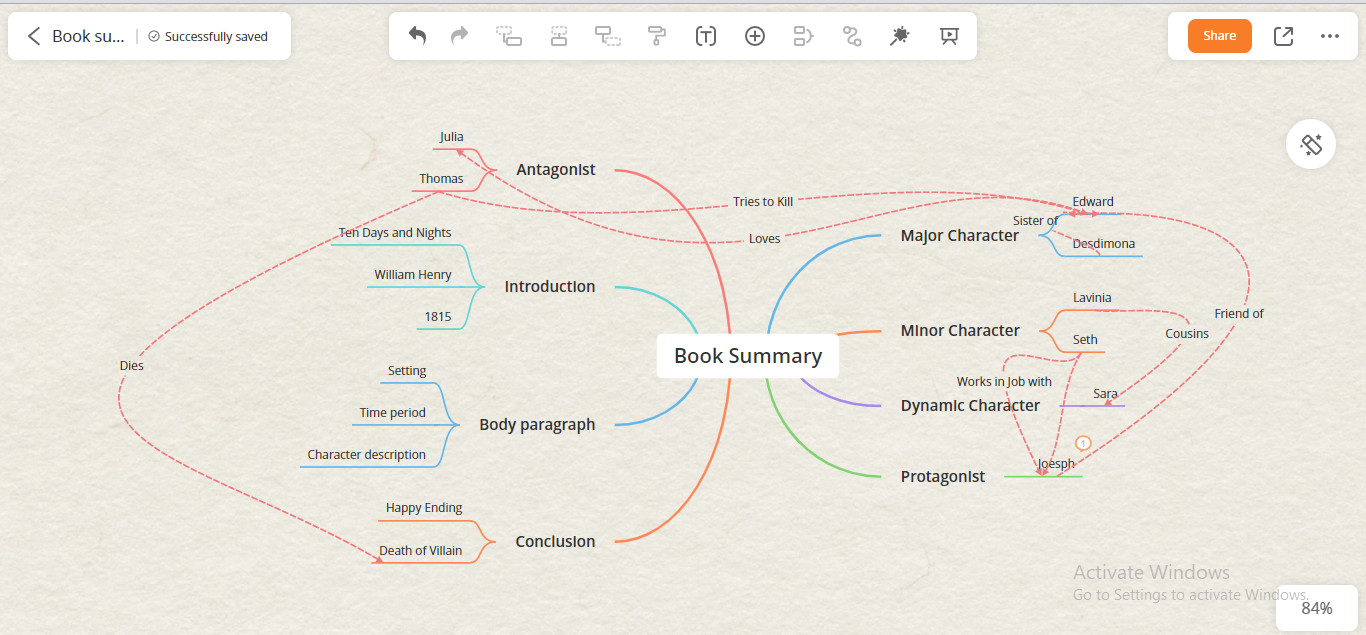 Note:
The structure of study mind maps differs from type to type, depending on what sort of mapping you desire to employ for your educational purpose. For example, study mind maps involve memorization mindmaps, group project mindmaps, exam preparation mindmaps, semester plan mindmaps, grammar mindmaps, presentation mindmaps, and so on.
6. Example of Mind Mapping
A visual example is sufficient to clarify all the vague concepts driven in the reader's mind. Hence, we have presented some paramount examples of mind-mapping templates and images to draw a clear picture in your mind.
Brainstorming Mindmap Example: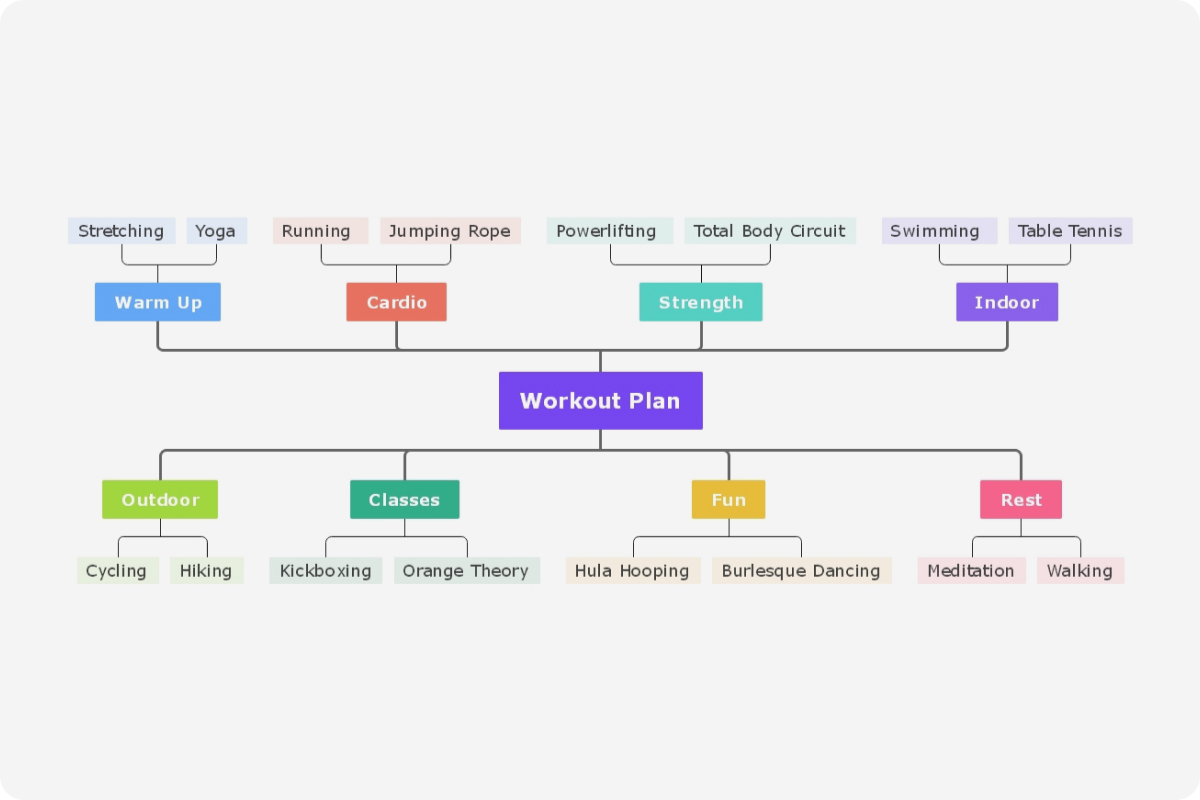 You can edit this template as you wish with EdrawMind.
You can download
EdrawMind
free
or try
EdrawMind Online
from
&
below.
Planning Mindmap Example: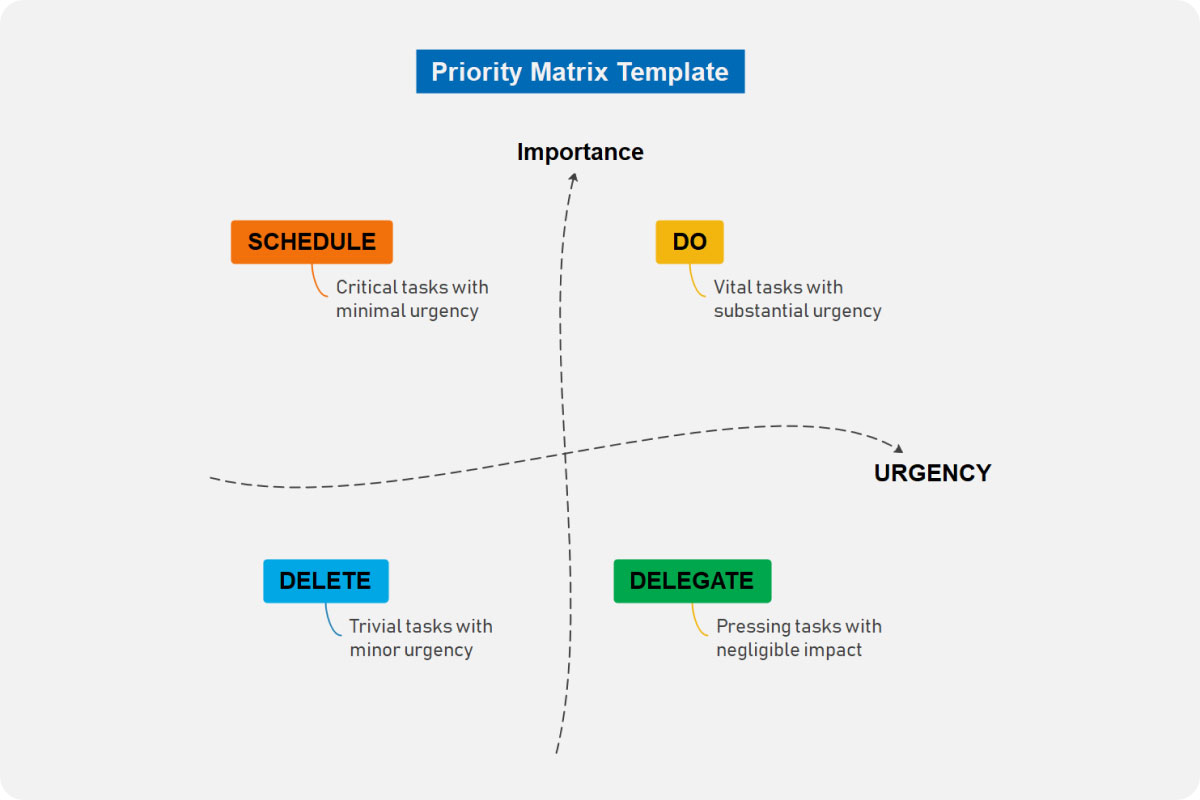 You can edit this template as you wish with EdrawMind.
You can download
EdrawMind
free
or try
EdrawMind Online
from
&
below.
Library Mindmap Example: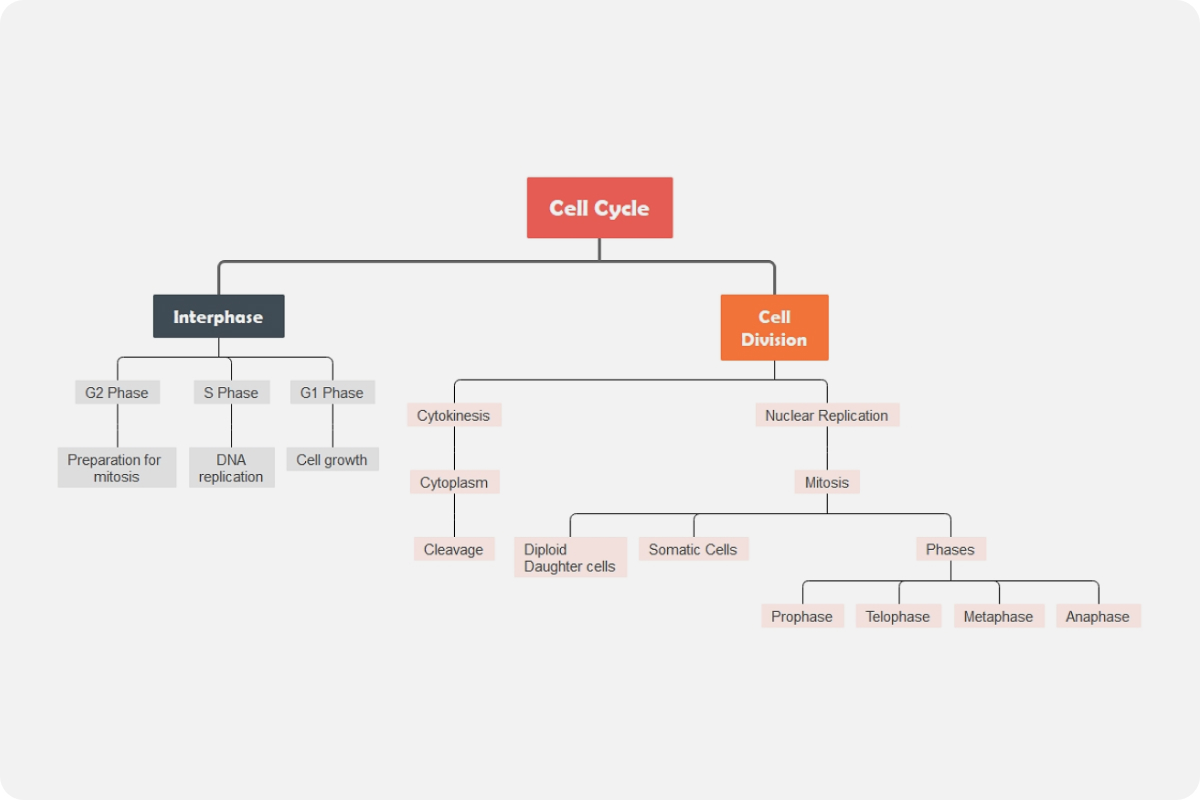 You can edit this template as you wish with EdrawMind.
You can download
EdrawMind
free
or try
EdrawMind Online
from
&
below.
Presentation Mindmap Example: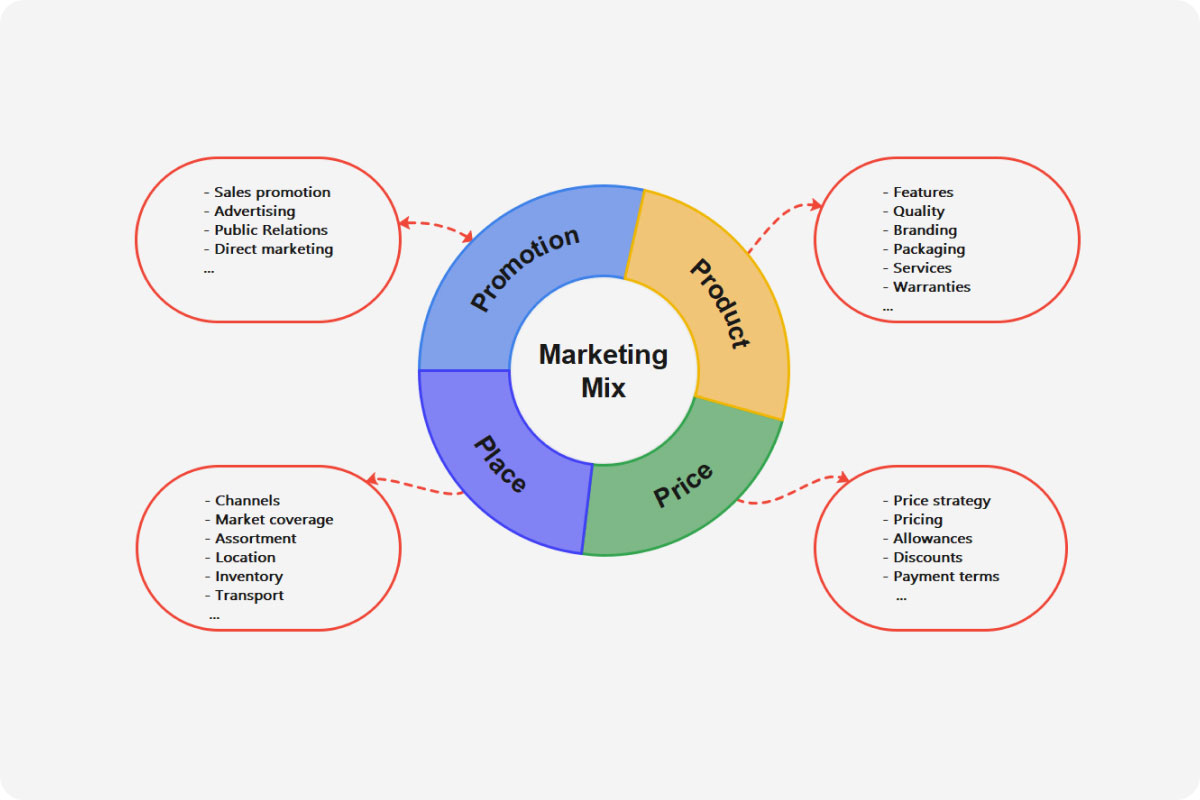 You can edit this template as you wish with EdrawMind.
You can download
EdrawMind
free
or try
EdrawMind Online
from
&
below.
7. Final Thoughts
Mind mapping is a revolutionary approach that has greatly altered information-presenting methods, facilitating humankind in convenient ideas, memorization, and handling. Nevertheless, to exploit the mind-mapping technique properly for optimal benefits, it is crucial to have a profound knowledge of its types, objectives, uses, and advanced mindmap solutions-providing platforms.
EdrawMind Desktop
12 structures & 33 themes & 700+ cliparts
Support Win, Mac, Linux, Android, iOS
Advanced import & export options
On-premises software for business
Enterprise-level data security
EdrawMind Online
12 structures & 33 themes & 700+ cliparts
Access diagrams anywhere, anytime
Team management & Project management