About the alignment chart template
Alignment chart templates are one of the easiest visual ways to broadcast your opinion on anything from movies, fashion, politics, and current affairs. A simple 3-by-3 grid layout that is easy to use and even easier for others to see and understand.
What is an alignment chart?
How do you view the world? The alignment chart is an interesting (and sometimes fun) way to depict how you see everything around you visually. It originated from the role-playing Dungeons & Dragons game but has evolved into a popular trend. Now, you can find Alignment Charts from anything to do with face-washing techniques to politicians and their stance on the Mid-East crisis!
Generally, it consists of a nine-square grid chart with two axes: along the top are Lawful, Neutral, Chaotic; and down the side, you will have Good, Neutral, Evil. The top left square would then be Lawful Good, the middle Neutral Neutral, and the bottom right becomes Chaotic Evil. Depending on your whim, there are many other substitutes for these classification titles, but this is the commonly accepted layout.
When to use an Alignment Chart?
The alignment chart is often used as a fun way to air your opinions on whatever it is you want to express. The options are endless. Choose a topic and then do your best to fill the blocks accordingly. It's easy to decide between good and evil, but deciding on these depths can be tricky.
Alignment charts are easy to use and have clean legibility, as well as being mischievously controversial. Very few people agree on your choices, which causes them to spread very quickly across social media and conjures up an interesting debate. It can be used from a personal or business perspective to voice an opinion and potentially garner feedback.
5 steps to create your own alignment chart
1. Choose an alignment chart template. This is a good place to start. Find a grid outline that suits you.
2. Find a category. Decide on a topic that you want to sink your teeth into. Be inspired! It can be fun and light, like movies and toothpaste brands, or even something more serious such as political viewpoints.
In line with your chosen topic, fill in the blocks with graphics according to your personal choice of arrangement. It's easy to search, find, and load them into the template.
3. Get the pics. In line with your chosen topic, fill in the blocks with graphics according to your personal choice of arrangement. It's easy to search, find, and load them into the template.
4. Personalize. Customize your chart. You can play with colors, fonts, and more to really make it your own. This is what will make it stand out from the rest.
5. Share it. Save your alignment chart template and then print it for your office and home, or upload it to share it on whichever platform you think will have the best audience.
Alignment Chart Example
There are many different examples, but to illustrate, a great case of an alignment chart would be arranging The Avengers according to whether they are good or evil.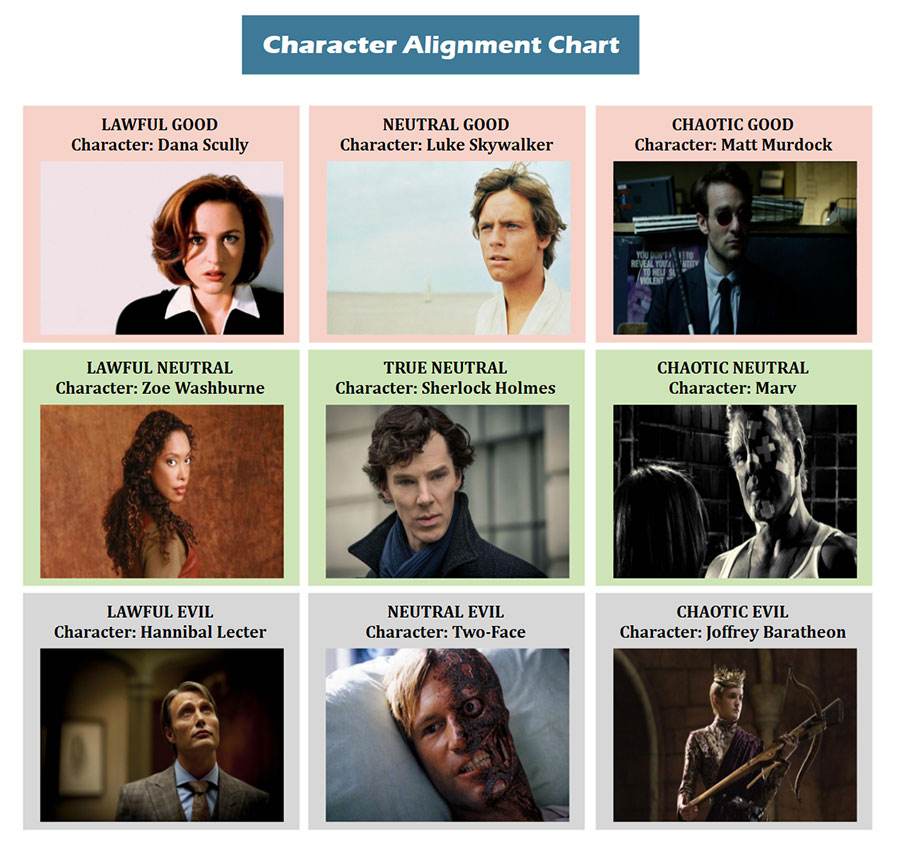 Across the top: Dana Scully, of course, is Lawful Good, and Luke Skywalker is Neutral Good, while Matt Murdock is Chaotic Good. In the middle row: Zoe Washburne fits into Lawful Neutral, Sherlock is in the very center as Neutral, and rounding it off is Marv - Chaotic Neutral. The final row of Evil: Hannibal Lecter flirts in the first block with Lawful Evil, then Two-Face sitting with Neutral Evil, and to end, we have Joffrey Baratheon in his cell of Chaotic Evil.
You may not agree with each of these placements, and that is where the fun debate begins!
Why EdrawMind?
EdrawMind is a full-featured collaborative mind mapping and brainstorming tool. It is convenient and helpful for you to use EdrawMind to sort out your thoughts, visualize ideas, take notes, plan projects and more importantly, find solutions to problems.
Users are allowed to insert different kinds of objects into topics and
mind maps
in EdrawMind, including relationship line, boundary, callout, summary, mark, clip art, picture, hyperlink, attachment, note, comment, and tag. EdrawMind offers you a simple way to create mind maps on
Windows
,
macOS
, and
Linux
. Download the desktop version and try the free online version now!
EdrawMind Apps
12 structures & 33 themes & 700+ cliparts
Support Win, Mac, Linux, Android, iOS
Advanced import & export options
On-premises software for business
Enterprise-level data security
EdrawMind Online
12 structures & 33 themes & 700+ cliparts
Access diagrams anywhere, anytime
Team management & Project management