10 Stunning Mind Map Templates and Examples for Word
A mind map is not just a drawing. It is an important visual tool that helps stimulate our minds and organize thoughts. With the help of mind maps, you can brainstorm, plan, study, and learn many things quickly and easily. While there are many ways of creating a mind map, one can also use a free editable mind map template Word. The free templates are better than creating a mind map from scratch as they make your work easier!
To get a mind map template word for creating a unique mind map without any hassle, continue reading this article.
Image Source: pixabay.com
Different Types of Mind Map Templates & Examples for Word
Here are 14 different types of mind map templates and examples for Word that you can use in various situations. These mind map templates will help you understand how effectively you can explain a concept or an idea across a mind map with clarity.
1. Prepare Job Interview Mind Map Template
The above template is very useful for both individuals, organizations, recruiting agencies, and college placement offices. Use this Job Interview Preparation Mind Map Template to plan your next big interview. Keep track of all the necessary information. Prepare for tough questions and work on your interview skills with this editable and free template.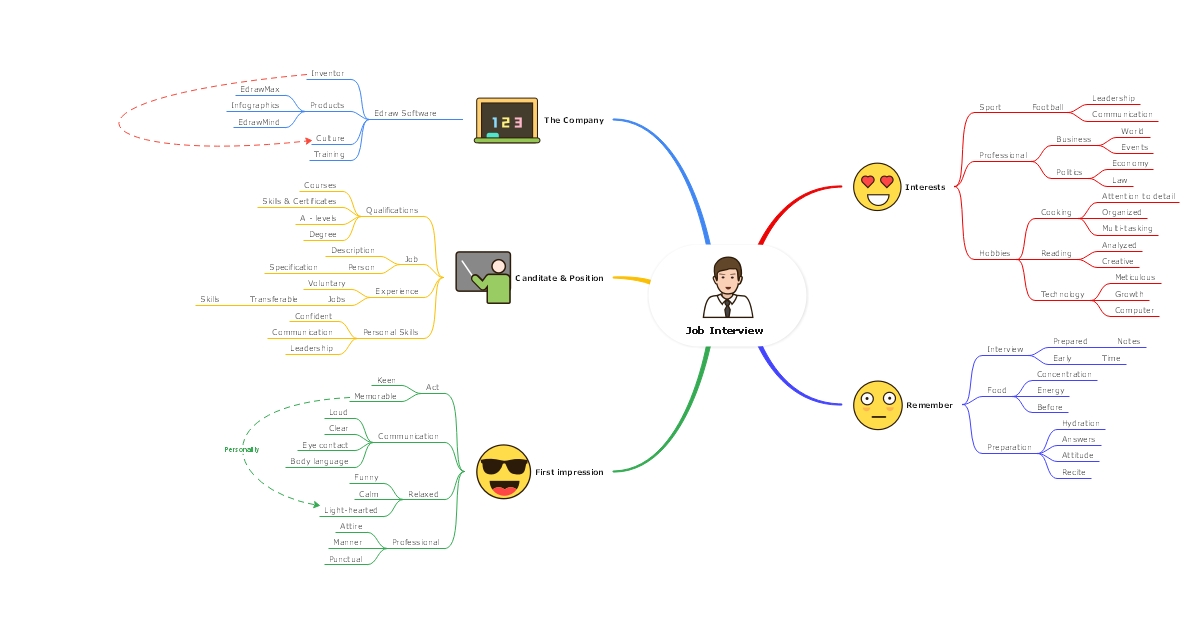 2. Cost-Benefits Analysis Mind Map Template
It's a helpful mind mapping template for cost accountants and costing students as it will make cost-benefit analysis easy to execute. Whether you are a professional or a student, the benefits of this Cost Benefits Analysis Mind Map Template are endless!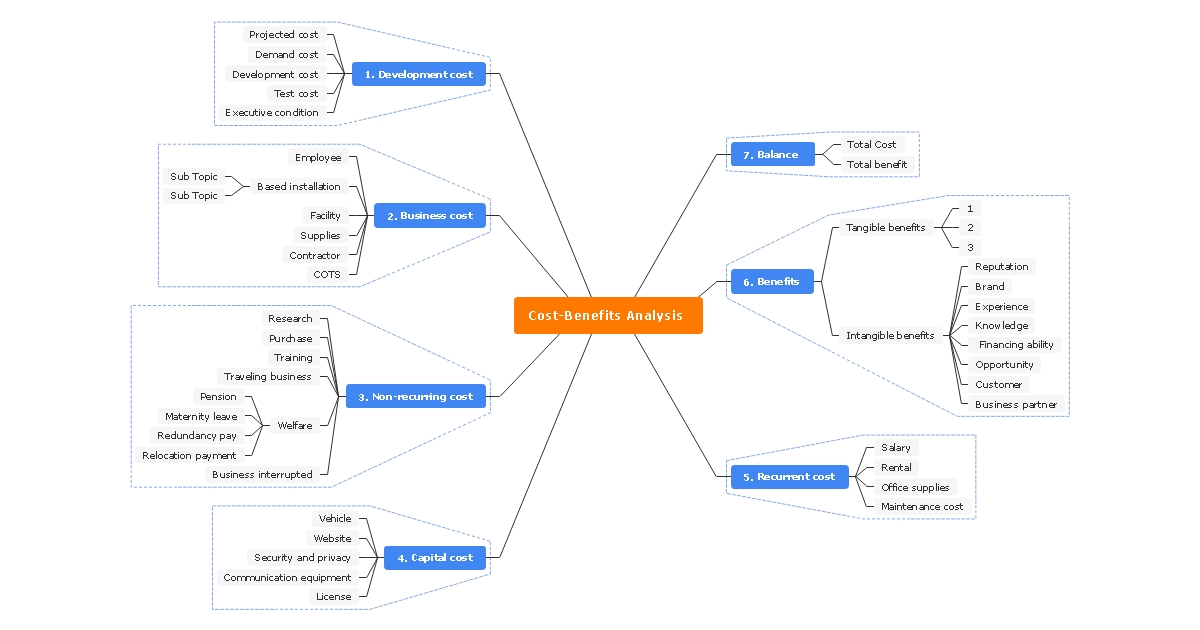 3. Know Yourself Mind Map Template
Work on yourself by drafting a personality analysis using this Know Yourself Mind Map Template. Explore about yourself with this map as it will make you think about your habits, likings, emotional needs and more. Use this is as a self-assessment exercise!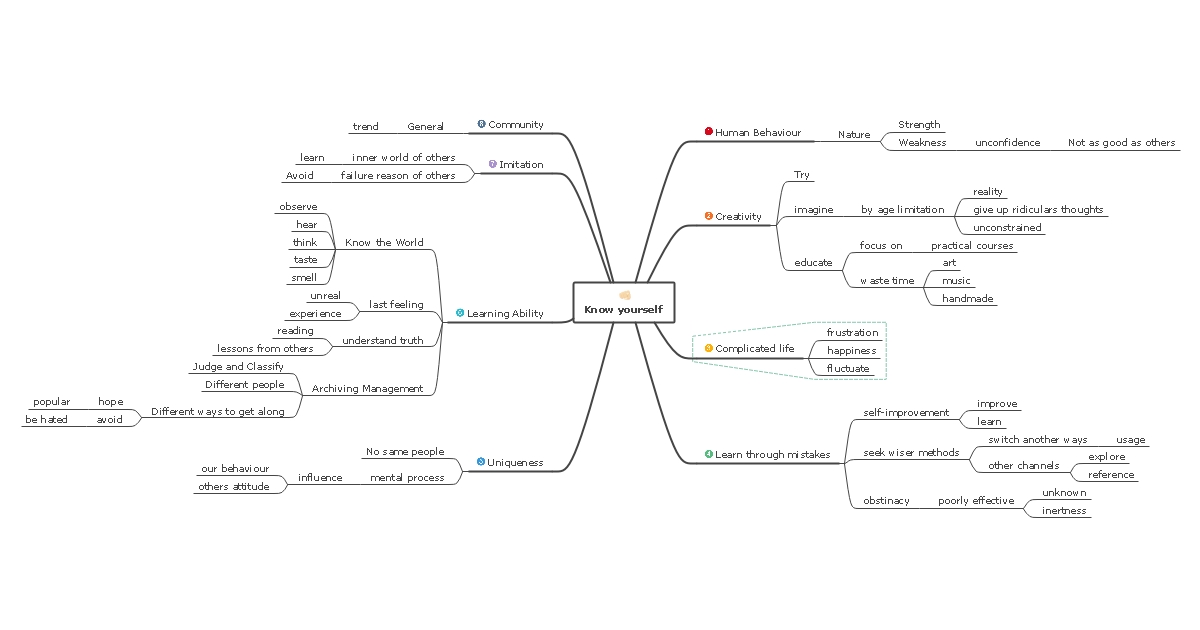 4. Corporate Communication Mind Map Template
Do you work in a corporate environment where you have to be in meeting all the time, constantly meet new investors, and be a part of an extensive networking system? Well, this Corporate Communication Mind Map Template is perfect for you because it will help you work on your communication skills and improve your corporate social life.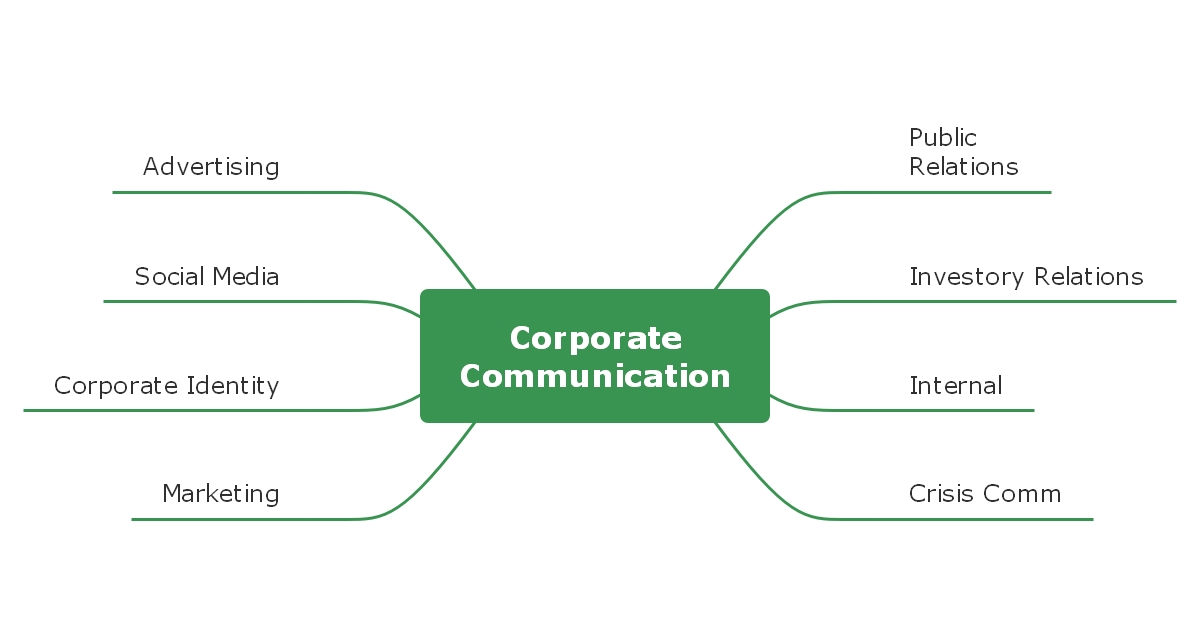 5. Network Mind Map Template
IT professionals and students can both use these network mind maps to build networks. It is a very useful template that can be easily edited, customized, and changed according to the user's needs. So, download it right now and make networking simple!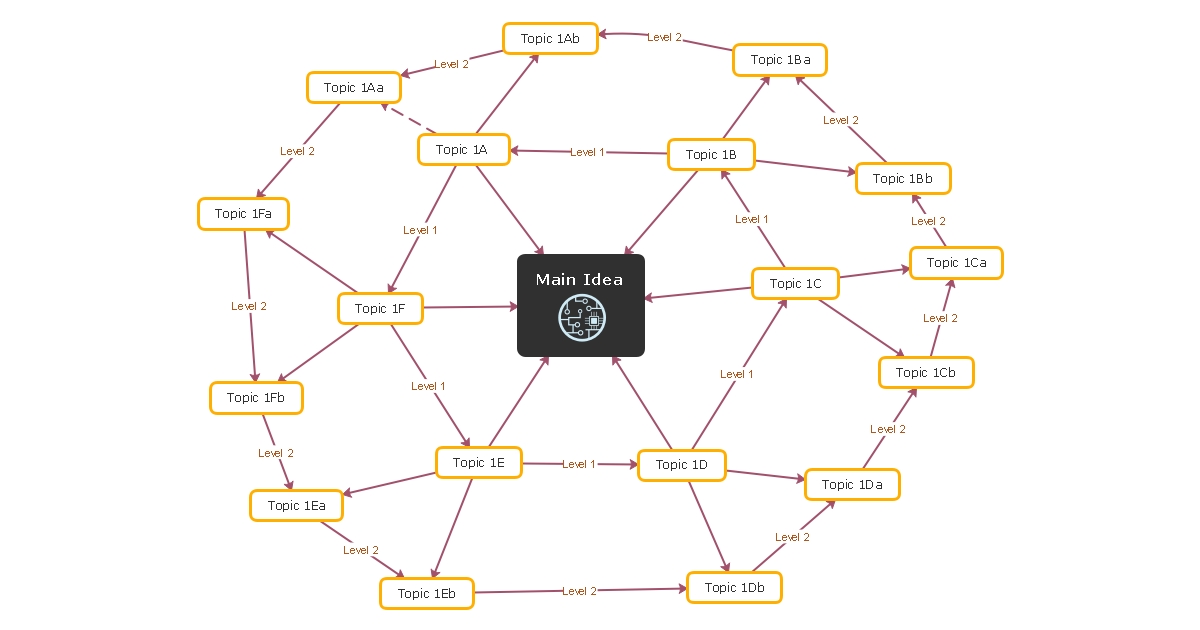 6. Digital Marketing Mind Map Template
Digital marketing has become very crucial in today's digital world. For any online business, trying to survive the competition, digital marketing is very important. This digital marketing mind map can help you draft your next marketing strategy in a more efficient manner giving you more time to plan the line of action rather than drawing the mind map.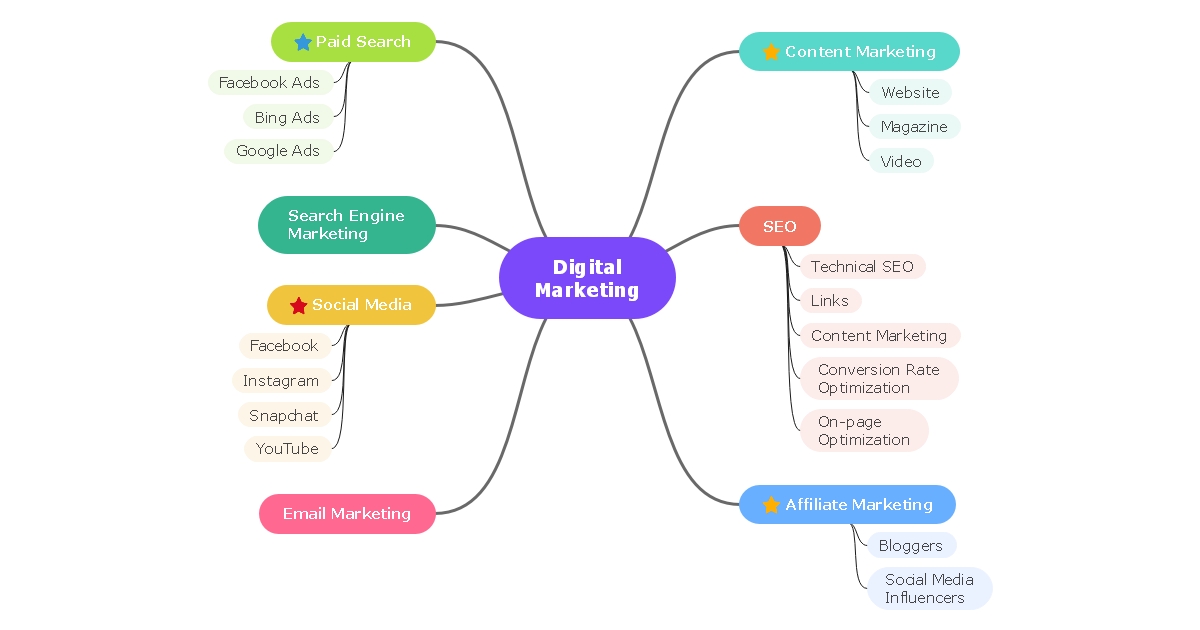 7. Writing Essay Mind Map Template
Students will love this essay writing template, as it will make it easier for them to align their thoughts and create a beautiful piece of writing. With the help of this Writing Essay Mind Map Template, you will score the highest on school assignments!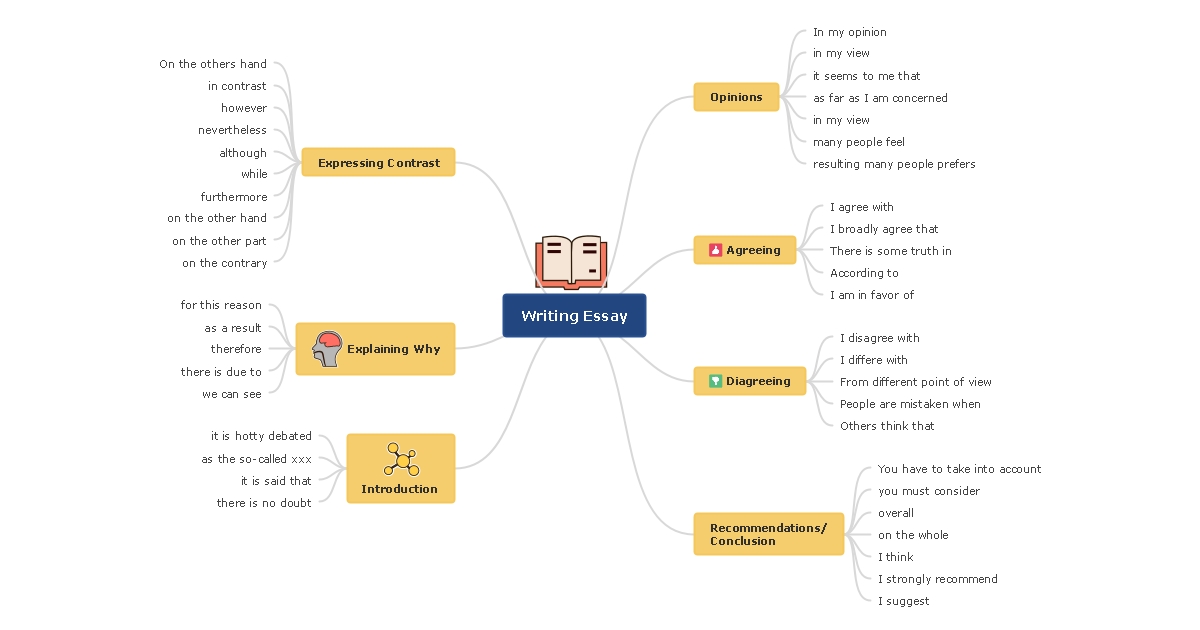 8. Creative Intelligence Mind Map Template
Explore your creative intelligence with the help of this fantastic and detailed mind map template. You can create a mind map to teach you different ideas of testing your creative ability, such as quick note-taking, flexibility, originality, and more.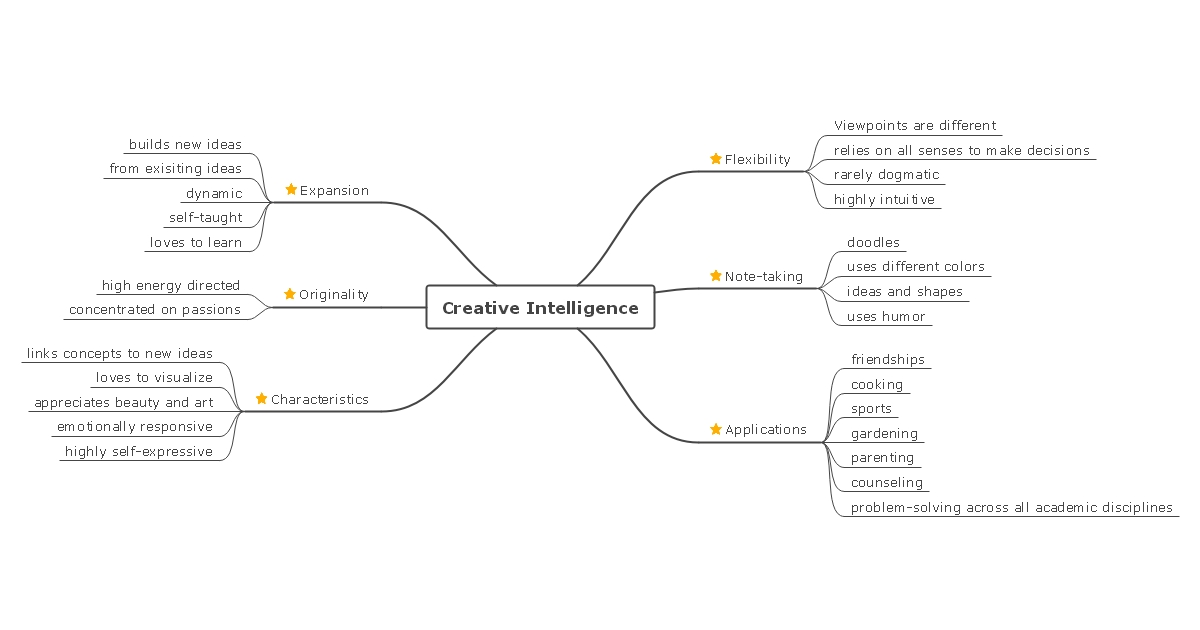 9. Shopping List Mind Map Template
Plan your monthly or weekly grocery shopping list in a fun way with this Shopping List mind Map Template. This colorful template will make the tedious and tiring task of running errands into a fun exercise. So, download this template and create your next shopping list right now!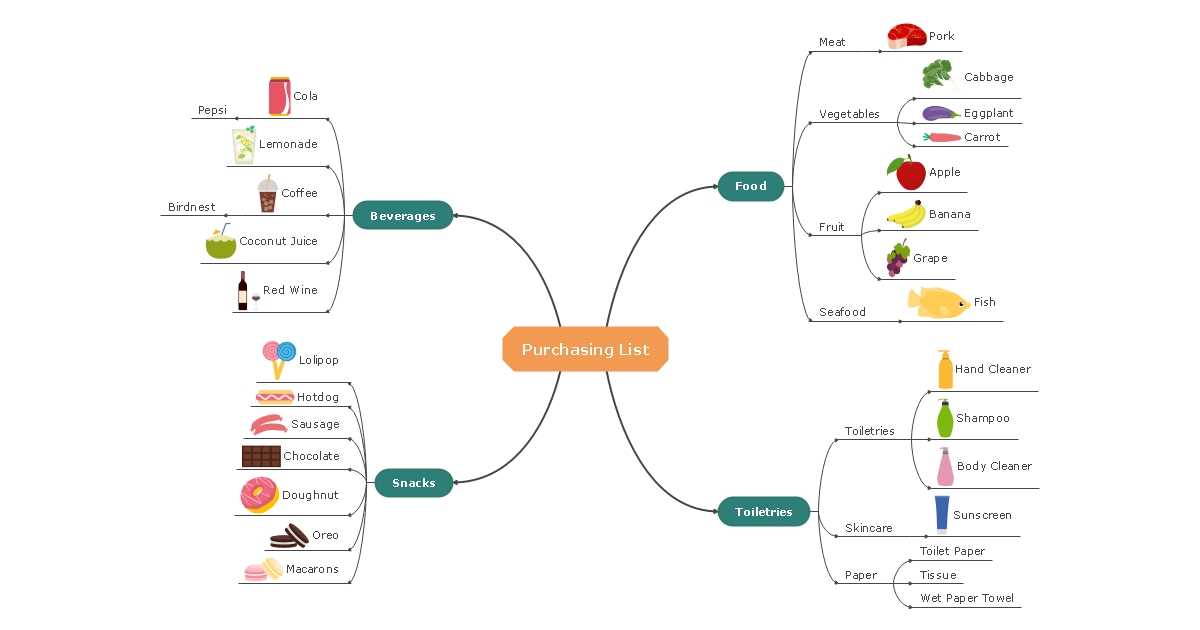 10. Little Prince Note Mind Map Template
If you are a mum to a cute little boy or a teacher looking for new creative exercises for your students, then use this template to engage children to test their creative writing skills. Use this mind map template for students to make a cute and meaningful story.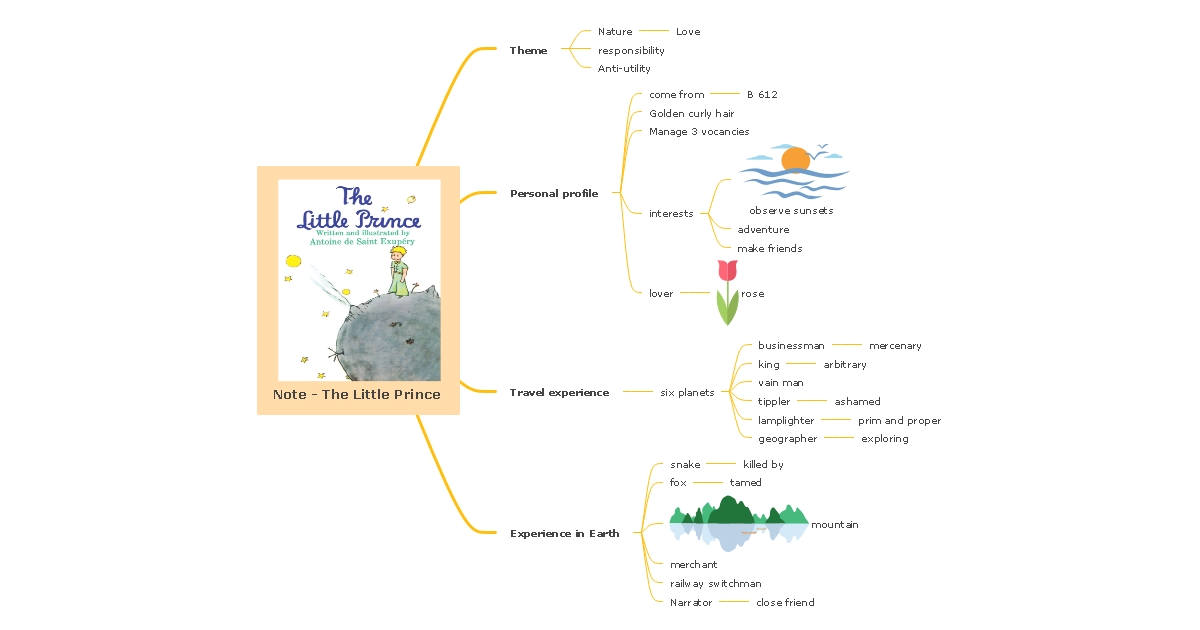 11. Project Timeline Template
To ensure that a project is covered under the respective set of milestones provided to each department within a company, companies set up a complete project timeline in the form of a mind map to be aware of the deliverables better. This project timeline template can help them never miss out on any detail.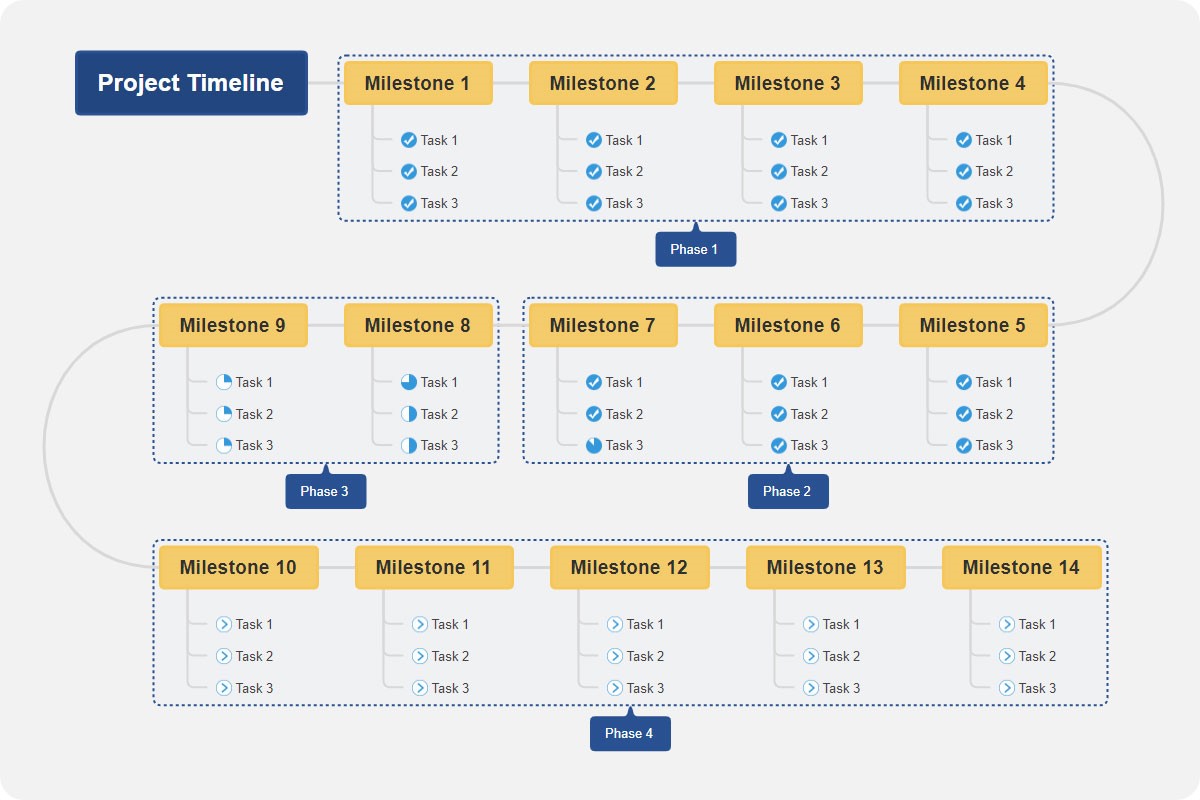 12. Perceptual Map Template
If you own any specific product or service, you should be prepared to cater to the customer's perceptions when it is launched in the market. This is only done through creating a perceptual map templateconsisting of the tentative customer perceptions developed through understanding.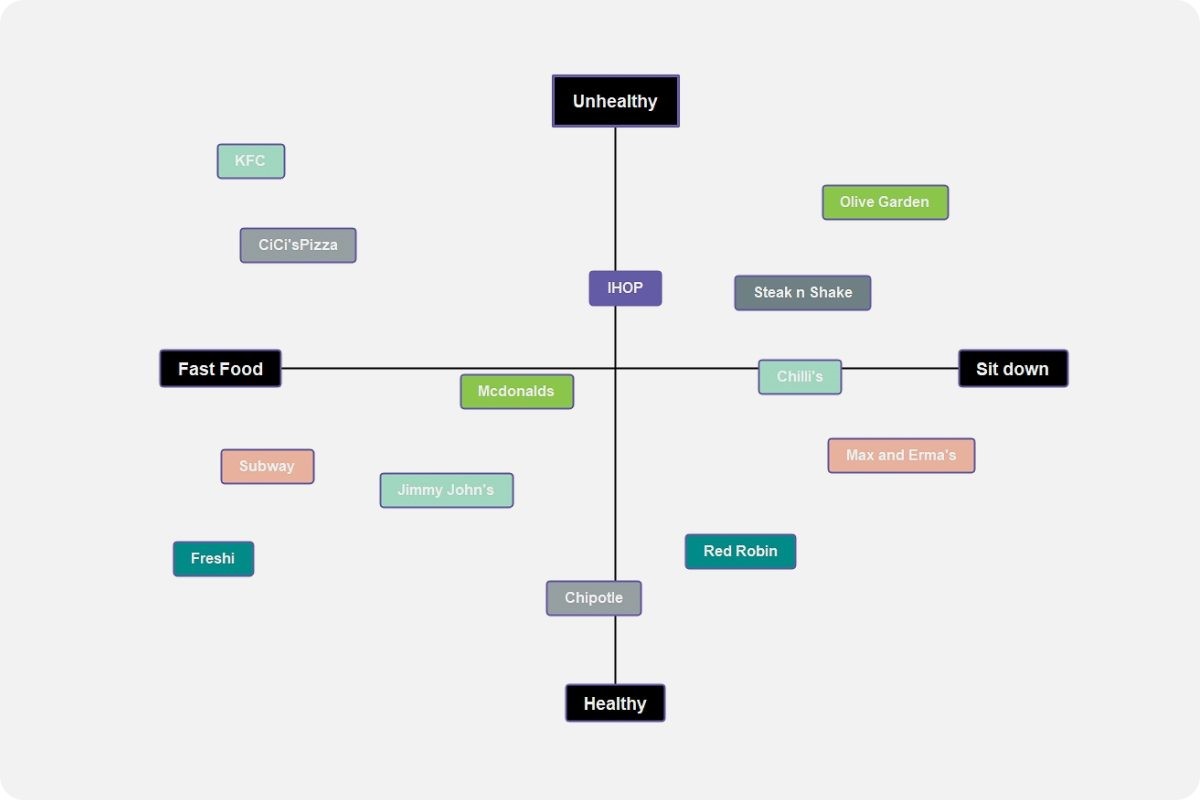 13. Water Concept Map Template
This water concept map template is another great way to teach your students about water. You can use this mind map across a lecture in light of providing the students with an overview of all the essential sectors where water is considered a necessary element.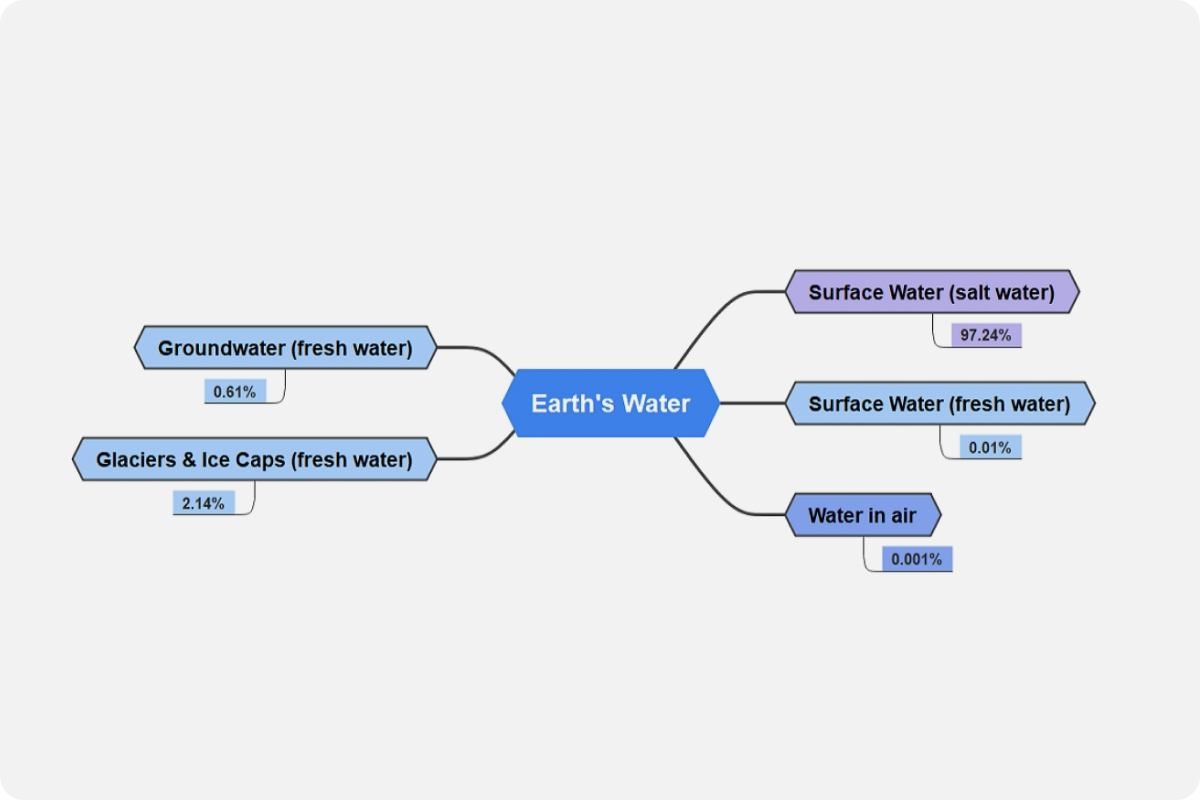 14. Performance Review Template
Use this performance review template for evaluating any team member of your company. This template is perfect for employers who wish to set up a guideline for their employees and have a clear display of their part in the success of a project.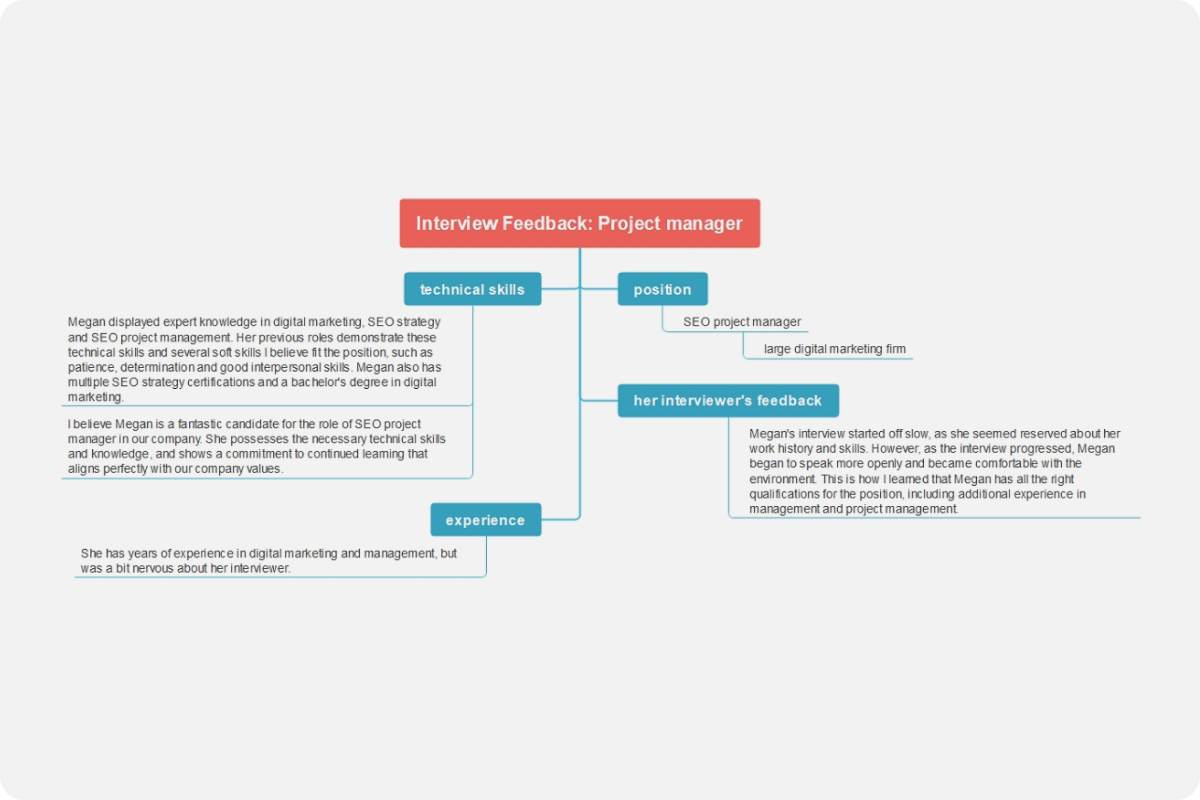 Amazing Mind Map Maker - EdrawMind
Mind maps are a great way to define the idea or concept that you have to present to a complex audience. Although Word can be used to develop mind maps, they are not built to perfection as the tool is not based on creating mind maps. This is where EdrawMind comes as a unique, expressive, and progressive solution to create mind maps. This is a great mind map software when it comes to the dedicated creation of mind maps.
EdrawMind Apps
12 structures & 33 themes & 700+ cliparts
Support Win, Mac, Linux, Android, iOS
Advanced import & export options
On-premises software for business
Enterprise-level data security
EdrawMind Online
12 structures & 33 themes & 700+ cliparts
Access diagrams anywhere, anytime
Team management & Project management
Why EdrawMind?
Easy To Use
The platform allows users to create mind maps with perfection. It can cater to the needs of professionals and allows making their best versions easily. EdrawMind provides its users with the ability to create mind maps easily.
Well-designed templates
EdrawMind features a complete Template Center that contains a complete set of categories providing utility to multiple sectors. You can find kinds of templates across its Template Center, from business to marketing and education. These templates are not only created for specific users but are created with perfection.
Multiple Modes
You can easily shift across modes with EdrawMind. Whether you want to brainstorm ideas contributed through different sources across a mind map or create an outline with the topics and hierarchy in mind, it offers complete control across these modes. You can create presentations and Gantt charts by shifting modes.
Customizable
Everything that is created or used across EdrawMind can be customized as per the requirements of the users. You can change your mind map's color scheme, layout, and basic structure as required. Furthermore, it allows you to change the shape of the arrowheads and make changes across the background. The customizing options across EdrawMind are pretty extensive.
Cross Platform
The tool runs across all devices and operating systems, making it a cross-platform utility in the market. It can be used on Windows, Mac, and Linux. iPhone, iPad, and Android are also available. What's more, you can use it as an online service. 
Real-time Collaboration
EdrawMind Online is another great platform for creating mind maps without downloading the tool across your device. As the tool is quite mature in catering to the needs of professionals and beginners, likewise, it provides a real-time collaboration system that allows users to share their designs with other colleagues in real-time. The designs can also be changed and edited by these users.
Create a Mind Map for Word in Minutes
EdrawMind has been presented as a great alternative to creating mind maps for Word. With a clear overview of the platform's features, usability, and efficiency offered to users, we will be looking over the guide explaining how to create a mind map for Word across EdrawMind. EdrawMind, with the aid of its templates, makes the work extremely basic and easy for users.
Key Features:
Create a mind map, bubble map, concept map, etc.
Able to outline thoughts for a clear overview
Offer various templates for different

scenes

Useful for making SWOT analysis
Download it without registration or access it via EdrawMind Online.
Follow the steps explained below to create a mind map for a Word document using EdrawMind on the desktop:
Step 1: Launch and Choose Template
To start with the process, launch EdrawMind on your computer or browser and select any respective template from the homepage.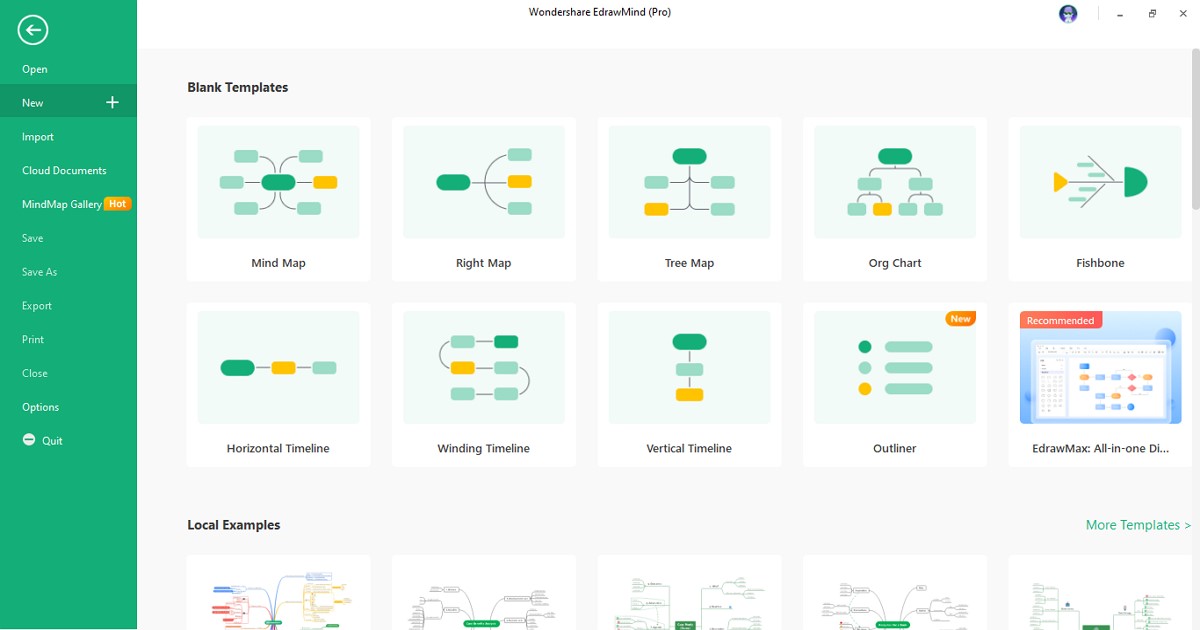 Step 2: Include Topics and Text
Once you have selected the template and led it to the canvas, you can add main topics or sub-topics across the template, as per your requirement. To add the main topic, simply use "Enter" on your keyboard. Conversely, to add a sub-topic, select any respective main topic and hit "Tab" to add a sub-topic adjacent to it. Make sure to add text across these elements.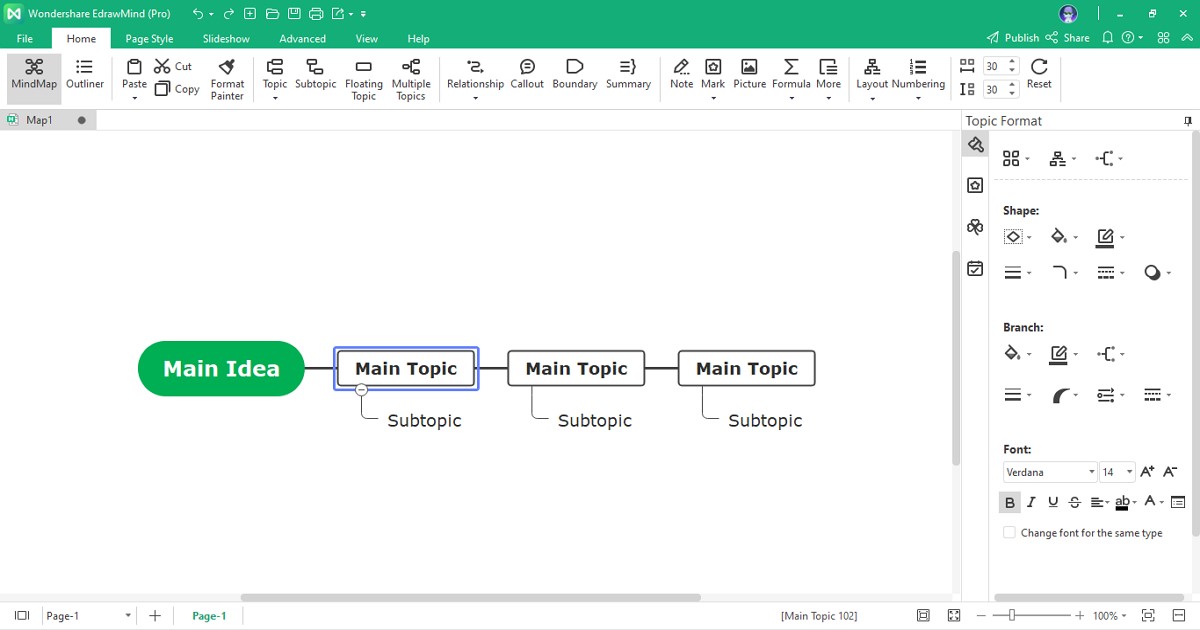 Step 3: Customize Mind Map
Customize the template according to your requirements. Change the template's layout, color, appearance, and structure with the help of the editing panel on the right-hand side. You can also make changes to the arrowheads of the mind map.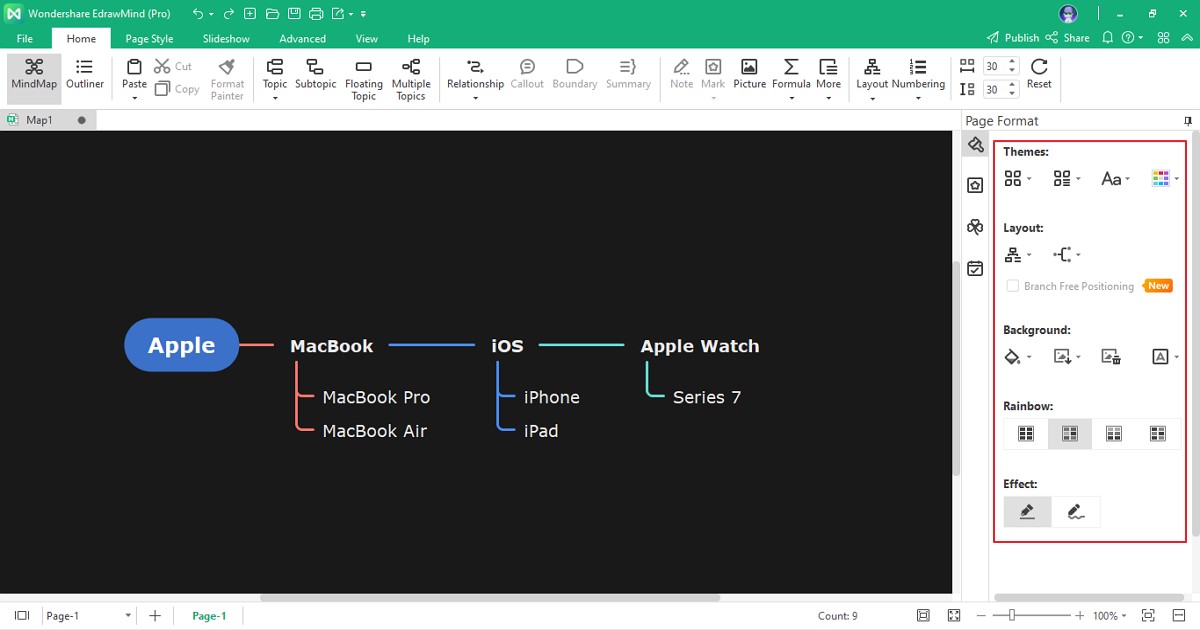 Step 4: Export Mind Map as Word Document
Once you are done editing, lead to the "File" tab and proceed to the "Export" section in the left-hand panel. Select "Office" from the next set of options and click on "Word" to export the mind map as a Word document.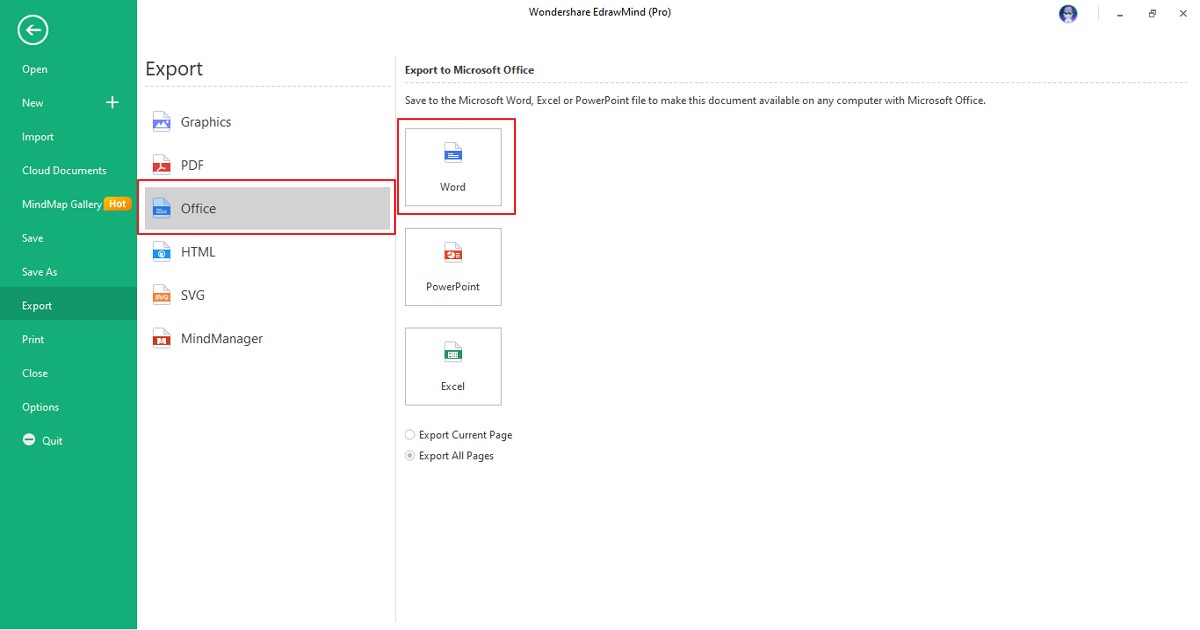 Key Takeaways
This article has been helpful in allowing people to create mind maps for their Word documents. Not only has the article discussed options to consider for Word documents directly, but it has also included EdrawMind in the discussion and provided different mind map Word templates that can be considered for Word documents. EdrawMind is a tool that is essentially simple and quick to use.
Combining the utility offered by EdrawMind Template Center, users can develop any kind of mind map of any significant category they want to create. EdrawMind provides a collaborative system which makes it quite promising for users as a whole.