Business Mind Map Complete Guide With 30+ Examples
A mind map is a diagramming technique used by students and professionals to represent tasks, items, activities, and concepts around a central theme or subject using a non-linear method. When business professionals create mind maps for their different tasks, they have a visualizing medium that provides them with a better brainstorming ground and ensures that they do not miss out on important topics. In this article, we will introduce several business mind map examples and templates that a firm or an organization can use to achieve the maximum output. In addition to introducing several business mind map templates, we will help you out in creating mind maps for your business-related purposes using the templates and themes provided by EdrawMind.
Before we check business mind map templates and examples, let us see how mind maps actually came into effect.
Mind Map was first introduced by Tony Buzan in 1974 when he needed a tool to have better brainstorming sessions with his team members. However, not many know this for a fact that the very first evidence of a mind map was created by Porphyry -- a Roman philosopher who created a mind map of Earth in the late 300AD. Since Porphyry's work came to light, many authors, business personnel, researchers, and more have used mind maps to show information in visual formation.
Mind mapping is a powerful business tool that provides a universal key to unlocking the potential of any organization's services and products. With the help of a mind map, one can elevate the performance of their business model and even strive toward innovation. Some of the importance of using a mind map for businesses are:
By creating a mind map, an organization can easily and effectively refine and elaborate different business ideas.
With the help of a mind map, a firm can easily organize different procedures.
With mind mapping, assembling and organizing different licenses and contracts is effective and easy.
By creating a mind map, an organization ensures that they have a draft outline ready for the whole business operation.
If you are a new startup or an entrepreneur, you will realize that mind maps help you to separate different topics into specific tasks so you can allocate appropriate time to them.
Mind maps help businesses to generate new ideas.
With the help of a mind map, a business organization can conduct multiple rounds of research to identify and capture new findings.
When dealing with marketing planning, you will see that creating mind maps helps you develop different customer persons in detail.
With mind mapping, an organization can communicate key benefits and usage of the services or products.
When an organization creates a mind map for different scenarios, every team member can easily participate in the mind mapping process and share their valuable inputs.
Just like any other mind map, a business mind map consists of a central topic or idea and multiple subtopics or subideas radiating outwards from it. In general, a business mind map example would include:
A central theme
Several subtopics illustrate the central theme
Interlinking between different subtopics to see if they share related information.
In order to help you understand mind maps for business in general, we have created over 30 mind map examples using the mind mapping software, EdrawMind. These mind map templates will help you understand the benefits of creating different mind maps for your business.
We have categorized business mind maps into three different categories. You can learn more about these different business mind maps by clicking.
Business Mind Map Examples: Ideas & Analysis
Mind Map Examples: Strategy & Plan
Mind Map Examples: Campaign & Management
BCG Matrix of Coca-Cola
In marketing, the Boston Consulting Group's product portfolio matrix, commonly known as BCG Matrix, is designed for companies like Coca-Cola to create a long-term strategic plan. As you can see in the following BCG Matrix of Coca-Cola, we have added the core areas of the company's portfolio that help them decide where to invest, discontinue, or develop new products. Coca-Cola's star products that always generate good sales are Kinley, Maaza, and Thumbs Up. At the same time, the Cash Cows that bring constant cash to the company are Limca and Coca-Cola drinks. Similarly to this, you can also include products that were hoped to work but failed and those products that are sitting idly and not generating any good sales.
When you create a mind map for such businesses, you ensure that you provide high-level illustrations to the company to see the opportunities for each product in the portfolio.
Ansoff Matrix
Business marketing enthusiasts use Ansoff modeling or Ansoff Matrix to learn more about the potential opportunities to grow revenue for a business by creating new products or services or simply tapping into new markets. As you can see, the four strategies in the Ansoff matrix are market penetration, market development, product development, and diversification.
When we create a mind map to illustrate Ansoff Matrix, we easily get to visualize the new product, existing market, existing product, and new market. This way, the business marketers can effectively brainstorm different ideas.
Brainstorming Mind Map
One of the primary reasons to create a mind map is to allow yourself and your team members to have a proper platform from which everyone can easily brainstorm different ideas. As illustrated in the following brainstorming mind map, you can create different subtopics or sub phrases for brainstorming on a different idea, like understanding the objective, noting down whom all are going to attend the brainstorming session, adding the questions that someone might ask, analyze how the brainstorming session went, implement the learnings, and more.
Creating such brainstorming mind maps helps companies or business owners note down all the important aspects of any meeting so they can easily execute it to see the results.
Business Development Mind Map
For any company, sales and business development are the two key factors in generating overall revenue. If a company is not working on the business development plan, it will soon end up in an area where they do not have a good cash flow. In the following business development mind map, we have laid out different aspects of it that helps any company generate good sales. As the mind map illustrates, marketing, strategy, legal aspects, proposal management, sales experience, and finances are some key factors influencing business development.
Creating a business development mind map helps companies to brainstorm different ideas easily. At the same time, such a mind map provides a ground where a company can note important aspects, learn more about individual departments, and work towards a higher goal.
H&M SWOT Analysis Mind Map
H&M is one of the biggest names in fast fashion today. H&M not only makes clothes that are less costly for consumers, but they have also reduced costs and increased profits for the producers. The following mind map is a SWOT Analysis of H&M, where we have laid out different strengths, weaknesses, opportunities, and threats that this fashion brand faces in the fast fashion segment. As you can see, H&M has a global reach and provides clothes at an affordable price range. That being said, they have controversial designs, higher production costs, and strong competitors. Once you analyze H&M's SWOT Analysis through this mind map, you will see what opportunities this company can avail itself of if they want to stay in the game.
A mind map comes in handy when we do a company SWOT analysis. It not only helps in easily adding different analysis factors but also helps in doing multiple rounds of revisions and updating the report accordingly.
Market Research Mind Map
Anyone from a marketing or sales background would understand the importance of conducting good market research. As you can see in the following market research mind map, this strategy is not only helpful in creating strategies like working on the business model or operation model but is helpful when a company intends to define problems, create pricing & marketing analysis, understand the supply & demand bracket, work on the results, and more. It would not be wrong to say that good market research opens the doors of opportunities for any company.
Creating a mind map while working on market research has many advantages, like having multiple brainstorming sessions to understand the problems, make a report, and more. In addition, you can update the market research mind map template with the survey result and create inter-linking between different aspects.
Moscow Matrix Mind Map
The MoSCow method is a highly popularized framework used by executives and stakeholders to understand the importance of any initiatives their company intends to do. As stated in the MoSCow matrix mind map, MoSCow is represented by four categories, must-have, should-have, could-have, and will not have. As illustrated in the mind map, perform, 'should-have' are the important initiatives that add significant values, and 'could-have' are the initiatives that, if they are left out, they will have a fewer impact to the overall process, and 'will not have' are those initiatives that are not of any priority for this specific time frame.
Creating a MoSCow matrix mind map helps stakeholders prioritize high-value initiatives effectively.
PESTLE Analysis of Amazon
A PESTLE analysis of Amazon studies key external factors that influence the company. The following mind map shows that Amazon has been influenced by political, economic, sociological, technological, legal, and environmental changes. Amazon uses such PESTEL Analysis in various scenarios and guides its different managers when they have to follow these strategic decision-making processes. As you see from the mind map of the PESTLE Analysis of Amazon, we have clearly outlined the different opportunities and threats this company faces.
When one creates a mind map for such PESTLE Analysis, we ensure that we have a ground for brainstorming our ideas, and we easily note down the scenarios that affect companies like Amazon.
Problem Solving Mind Map
Problem Solving mind map illustrates any problem's causes, impact, and future prevention. As shown in the mind map here, problem-solving is the act of defining the problem, followed by determining the cause of the problem (hardware, software, human error, security change, and more), understanding the impact it has on the system (downtime, dissatisfied client, delayed schedule, and more), and implementing a solution that prevents such problems to happen in the first place.
Such mind maps provide the framework needed to work on different strategies that will help visualize the problem, its impact, and prevention. As a business owner, you can work on these mind maps for different problem-solving scenarios.
Six Thinking Hats Mind Map
In marketing and operations, the six thinking hat is a mechanism where a team investigates an issue from a different perspective in a conflict-free environment. We use six thinking hat strategies to move outside ways of thinking and try out new approaches and think constructively about how to take this issue forward. As you can see in the following six thinking hat mind maps, we start from the White Hat, where we have added four different aspects of any given problem or topic. We then move forward to different hats or perspectives and conclude in the Blue Hat.
Creating a mind map for six thinking hat techniques opens the brainstorming doors. In addition, everyone involved in providing conflict-free opinions will get an opportunity to see and analyze what others say about any given topic.
STP Marketing McDonald's Mind Map
STP marketing is a three-step model that illustrates the products or services and how a company communicates its benefits to a specific customer segment. As the McDonald's mind map suggests, the STP in STP marketing stands for Segmentation, Targeting, and Positioning. As per the following mind map, McDonald's segmentation is sub-categorized into Geographic, Demographic, Behavioral, and Psychographic. At the same time, positioning and targeting are subdivided into multiple aspects, depending on the brand identity and target audience.
Such mind maps provide students with an understanding of how McDonald's performs in the market. Additionally, it guides different business owners from similar niches to see how they can improve the overall business strategies of the company.
Thinking Creatively Mind Map
As the thinking creatively mind map suggests, there are different strategies that one can follow to improve their creativity. Some of the most common strategies involve six thinking hats, creating mind maps, working on improving vertical thinking, using different analyzing methods (Morphological, Multidimensional, and Matrix), improving lateral thinking, creating validation, and more.
When a company faces issues while improving their creativity, they can look at such mind maps that not only provide them with different ways to improve their creative thinking but also ensure that they can easily brainstorm on different ideas.
Business Meeting Strategy Mind Map
A business meeting strategy mind map illustrates the details of any prospective meeting. As you can see in this mind map, we have created multiple subtopics, like time, details about the attendees, review of the last meeting, agenda of the meeting, and notes. Once a manager or an executive partake in any such quick meetings, they will take respective notes that they can implement in their project.
As you can see, mind mapping is one such creative technique of note-taking that opens the doors for brainstorming. You not only outline all the ideas in a manner that everyone understands but leaves room to further elaborate on any given point.
Business Plan Mind Map
A business plan proposal is a document that startups or established business owners send out to potential investors. As shown in the following mind map, a business plan comprises an executive summary, company summary, product & services, market analysis summary, strategy & implementation summary, management summary, and financial planning. When a company has created such a detailed business plan, it can easily present its ideas or MVP plans to potential clients or stakeholders.
Even though you can create a business plan with mere outlines, once you transfer it into a mind map, you realize how easy it is to cover each topic without missing out on important areas. Creating a mind map helps the business owners present their ideas more creatively and also opens more areas for brainstorming.
Strategy Mind Map
A strategy mind map is a report that you can use to display performance measures that impact your organization or business model. As you can see here, the strategy map illustrates the relationships between the objectives and the key performance indicators selected by the said company. It should be noted here that a strategy map also shows the logical, cause-and-effect connection between different strategic objectives.
When companies create a mind map pertaining to the details of the different logic and strategies, they ensure that they are quickly communicating and illustrating how the organization creates value. In this case, mind maps help better visualize the interconnection between different perspectives and logic.
Corporate Business Strategy Mind Map
Every corporate agency has a set of business strategies laid out by the experts that helps retain new customers, provide a better customer support experience, and increase the overall productivity within the organization. The following is a corporate strategy mind map showcasing three primary areas of any corporate agency: Marketing, which has content creation, product advertising, and trade shows; Customer Services, which constitutes the desired experience, customer reviews, and outreach campaigns; and productivity that comes after evaluating office tasks, work environment, and project management.
When a corporate agency creates a mind map to showcase the business strategy, they keep everyone involved in the loop and enhance the overall experience, leading to better productivity and good customer service.
Decision-Making Mind Map
A decision-making mind map is helpful for those individuals or business enthusiasts who have a tough time making decisions. In the following decision-making mind map example, we have discussed a basic concept of weather and what someone should do in different weather conditions. Based on different scenarios, one can choose different paths that would lead them to their destination on time.
Similarly, a business firm can also create decision-making mind maps that would help them achieve better results effectively. Such decision-making mind maps also provide the after-effects of choosing a wrong decision, making a company do proper analysis before finalizing any segment.
Lead Generation Channel Mind Map
There are several great ways to generate business leads. The following lead generation mind map provides a list of channels or mediums that provide substantial organizational leads. Some of the highly used lead generation channels are cold calling, cold emailing, engaging on social media, getting in touch with former clients, improving the company's branding, starting online marketing, participating in events, releasing press release notes, and enhancing different content marketing strategies.
Lead generation plays a vital role in the business development of any company. Once you create a mind map to illustrate different lead generation channels, you visualize almost all the steps beforehand. This way, you will better understand different lead generation channels and learn which channel would require your maximum effort or money.
Marketing Plan Mind Map
Every company has its marketing plan that illustrates different objectives, promotion methods, details of competitions, and buyers' personalities. As the following mind map illustrates, a marketing plan is a great advertising strategy that a business will implement in order to sell its services and products. As stated in the marketing plan mind map, it helps in determining who the target market is and what is the best possible way to provide your services to them.
When we create a mind map to illustrate the marketing plan, we understand at what price point the different products or services should be sold to the customers. In addition, the mind map helps in elaborating on how the company will measure all its marketing efforts.
Marketing Strategy Mind Map
Every company or business has its own marketing strategies that imply a set of rules by which a company would execute all the different strategies. As illustrated in this mind map, marketing strategies can be automated, where we use artificial intelligence, programmatic advertising, Google Ads, and more. In addition to this, several businesses still prefer to have human touch implied in their marketing strategy, like personalizing the content, enabling word-to-mouth marketing, and more.
Creating a marketing strategy mind map enables the businesses or organizations to effectively implement all the verticals and track which strategy worked best for them and how they can modify different strategies.
Meeting Plan Mind Map
A meeting plan helps an organization establish what aspects to do before, during, and after a meeting is conducted. Generally, meeting plans bring everyone on the same page when participating in any meeting. As illustrated in the meeting plan mind map, you can have objectives, details about participants, time and venue, meeting agenda, and more.
Such meeting plan mind maps can be used by individuals and executives when planning a meeting. Creating a mind map ensures that everything about the meeting and the to-do list is completed. If the entire team is on-board with the meeting plan mind map, one can use a similar template to conduct different meetings.
Training Plan Mind Map
A training plan mind map is a visual illustration of a document that communicates to the management and the stakeholders or clients about the proposed training program a company intends to execute. As depicted in the following training plan mind map, you can have information about the training, details of the training team, budget allocation from the leaders or the sponsors, details of the audience, training material, and evaluation reports to check the outcome of the training program.
As illustrated here, training plan mind maps help in better visualization. Simultaneously, the team can share such mind maps with the seniors and provide them with the results of such training programs.
Twitter Marketing Strategy Mind Map
If you are someone who wishes to expand their network through Twitter, you should start executing a Twitter marketing strategy. As depicted in this marketing strategy mind map, you can have different techniques, like conducting short tweets, including ad campaigns, using relevant hashtags, working alongside influencers, scheduling your posts to gain maximum traction, using visuals to attract the users, and more.
Such Twitter marketing strategy mind maps provide you with the right resources and planning that you need to execute to gather more tractions. Such mind maps can be used for different social media platforms, giving you a clear marketing strategy.
10 Marketing Strategy Ideas Mind Map
Every company uses different marketing strategies to improve customer satisfaction and overall revenue. This marketing mind map shows ten marketing strategy ideas that help an organization achieve its goals. Some strategy ideas can be conducting SWOT Analysis, creating SEO-rich content, understanding the marketing environment, learning how to get referrals, and more.
When you create a mind map to outline different marketing strategies, you will learn which strategies are working in your favor and which strategies need some improvement from your side. With such mind maps, you can also visualize different strategies in detail.
Create a Marketing Campaign Mind Map
A marketing campaign helps several companies and businesses decide how they wish to move ahead to generate growth and provide better customer satisfaction. As you can see from the marketing campaign mind map here, there are many questions that you need to ask yourself or your business team when they plan to launch a fresh marketing campaign. Some questions, like what is the purpose of the campaign, what type of different metrics are they going to monitor, etc., will not only help you visualize the campaign before the launch but also help in understanding what you can expect from this marketing campaign.
As you can see here, creating a marketing campaign mind map helps visualize how you will distribute all the resources related to marketing campaigns and how you can easily assess different aspects.
Team Study Facebook Marketing Campaign Mind Map
When it comes to marketing, Facebook and Instagram are considered to be the most important social media platforms. Since they have maximum visibility, the chances of running a successful campaign are comparatively higher than the other platforms. As you can see from the Facebook marketing campaign mind map, there are different ways that you can use to get the maximum result from your campaigns, like you can organize events, hold multiple contests, create captivating Facebook ads, and work on Facebook offers, and more.
Creating a mind map in such scenarios lets the social media manager understand how they can achieve the maximum output. This mind map shows that one can use organic ways and paid tools to increase revenue through a particular marketing campaign. Creating such mind maps also helps in brainstorming, resulting in fewer errors and mistakes.
Goal Brand Awareness Mind Map
When someone launches a new company or a startup, they tend to look for different ways that would help them increase their brand awareness. As you can see in the following brand awareness mind map, there are different ways one can use to increase engagement, like creating a good content marketing strategy that would include creating seasonal offers, content for repurposing, and more. In addition, one can go ahead with different social media marketing tactics, email marketing, and even optimize their entire site as per Google's guidelines.
As this mind map suggests, such brand awareness content will benefit the company. Creating such mind maps opens the door for brainstorming that generates productive ideas that help in marketing.
Inventory Management Mind Map
Inventory Management mind map helps the companies identify which and how much stock to order from the manufacturer or distributor to fulfill the customer's demands on time. As you can see, we have laid out some basic steps of retail inventory management in this mind map, like creating a centralized record of all the products, which helps in understanding which product you have to order and which stock is reaching its expiration date. In addition to this, you can do regular stock counts before making a purchasing order to the manufacturer.
Creating a detailed inventory management mind map helps the companies regulate every order and purchase history. Creating such mind maps also ensures that there is always enough stock to fulfill during rush hours.
Marketing Campaign Plan Outline Mind Map
Most business owners or startup founders wonder about the best way to structure their marketing campaign plans. Here we have created a mind map illustrating the marketing campaign plan outlines that ensures all the important strategies, analysis, segmentations, and projections one must follow to create an overall successful marketing campaign. As illustrated in this mind map, a business owner can conduct PEST and SWOT analyses, work on promotions, create multiple short-term goals, and more.
Structuring such outlines for a marketing campaign could be overwhelming. Nevertheless, if a business team has created a mind map for it, you will see that there will be no room for errors, and you will be able to easily track the performance and add more details to your ongoing campaigns.
Marketing Campaign Plan White Paper Mind Map
The following mind map illustrates the marketing campaign plan to release the white paper successfully. As we know, white papers could influence the decision-making process of current or prospective customers and investors. When you have launched a white paper, there is a marketing strategy that you have to follow. For instance, you should create a landing page, multiple blogs around the white paper topic, newsletters, webinars, and more. This way, you will know that your white paper will reach the maximum audience.
For any organization, creating a white paper and successfully launching it might be overwhelming. However, if you have worked on a mind map just like this to lay out important points about the marketing campaign, you will ensure that you tap all the mediums and channels to generate organic traffic.
Order Fulfillment Mind Map
Order fulfillment is one of the most important processes of any business vertical. As depicted in the following mind map, the order fulfillment process is responsible for receiving the inventory, storing the inventory, processing the order, picking the order at the scheduled hour, packaging as per the norms, shipping the products to the customer, delivering it to the customer, and following the return processing if it is required.
If you do not create a mind map for such order fulfillment processes, you will see that there would be fulfillment errors that would have a major impact on customer satisfaction and your ability to meet the demand. As you can see from the above order fulfillment mind map, you can easily track the order's status and ensure timely delivery. In addition, by using a mind map, you can learn which areas are taking too much time so you can resolve them for future orders or shipments.
Poor Time Management Mind Map
One of the most common problems youth encounter in this fast-paced world is poor time management skills. Poor time management can be anything related to delaying the completion of a project, not giving enough time to friends and family, and more. With the help of a poor time management mind map, you can identify the areas you need to work on. Such skills are easily transferable to business ethics, as often we see that there is a delay in delivering a project.
Creating a time management mind map can identify numerous disadvantages of improper time management. For instance, procrastination and too much work are the primary symptoms of poor time management.
Product Launch Mind Map
When a company launches a product, it must follow a specific cycle to get the maximum result of its work. As stated in this product launch mind map, the process starts by identifying the goals of the company or the product, followed by understanding the product and identifying the KPIs that ultimately lead to the successful product launch. In addition, understanding the stakeholders and customers and discussing the legalities in the contract also constitutes a successful product launch.
When a company creates a mind map before planning a product launch, they will know which areas need maximum efforts, which are their weakest points, what are the KPIs, and what activities they need to do to have a successful product launch.
Risk Management Mind Map
In a project management life-cycle, the risk management process illustrates the method of understanding what risks and opportunities are present, how they can affect the company, how to address these risks, and how to create an evaluation plan to respond to them correctly. As you can see in this mind map, we have created multiple aspects to understand risk management, starting from understanding the scope, identifying the risks, addressing the risks, and reviewing the entire process.
Risk management is considered one of the most important processes for any business. As a result, if you create mind maps, you will see how effectively you analyze and identify the risks. With the help of risk management mind maps, you can evaluate the problems and ensure that similar risks do not repeat in future projects.
Sample Scope Statement Mind Map
A project scope statement, or a scope statement in general, provides a detailed description of the efforts that must be done to deliver the project within the allotted budget and on or before the mentioned time. As you can see in this scope statement mind map, we have laid out all the requirements, project deliverables, authorization personals, project goals, and more so that it would be easier for everyone involved in the project to track and provide a timely update.
Creating a scope statement might feel overwhelming if this is your first time out. However, if you go ahead with a mind map, you will realize how effective the overall process could be. A mind map of scope statements outlines the important areas and ensures that everyone involved in the project stays in the loop.
Social Media Campaign Mind Map
You should create a social media campaign for your brand or business to increase sales and revenue. As illustrated in this mind map, for a successful social media campaign launch, you should have a proper content strategy, an understanding of social media advertisement, your website should have SEO-rich content and more.
Such social media campaigns would help the company by bringing organic sales, and the company can also start retargeting ads. Creating mind maps for such media campaigns will ensure that the social media marketing team will stay in the loop with the content marketing team.
As you saw in this elaborated guide to understand the business mind maps, there are many benefits for an organization when they create mind maps for different aspects. In addition to this, some of the most noted benefits of using a mind map for business are:
Mind mapping enables corporate organizations to retain knowledge by connecting it to the existing knowledge.
Mind mapping forces an individual or a group's brain to make relatable connections between the available resources and the strategies they need to implement moving forward.
It is often seen that most employees lack creativity when it comes to presenting new sets of ideas. This is what changes when a company creates mind maps, as it is considered an ideal tool for enhancing creativity.
Mind mapping enables employees to quickly commit their ideas to a mind mapping software so they can record emerging concepts before executing them.
If a company has a complex set of data or information, mind mapping can be considered an excellent tool to organize them into a cohesive concept.
Now that you have seen the importance of creating a mind map for business and are familiar with different business mind map examples, let us help you understand the easiest way to create a mind map for your professional use. However, before you start creating your mind map in this mind mapping software, ensure to review your information sources by scanning through titles, subtopics, headings, and different visual representations.
Check out the following ways to create a mind map easily:
Step1
Main Idea
Like all mind maps, even the business mind map starts by exploring the main idea. On your EdrawMind homepage, you will see several templates that you can take reference from in order to create your mind map. Alternatively, head to the 'New' section on the left and click on '+.' The system will take you to the EdrawMind canvas, where you will see a pre-built mind map outline. Modify the main idea with your business aspect of business strategy.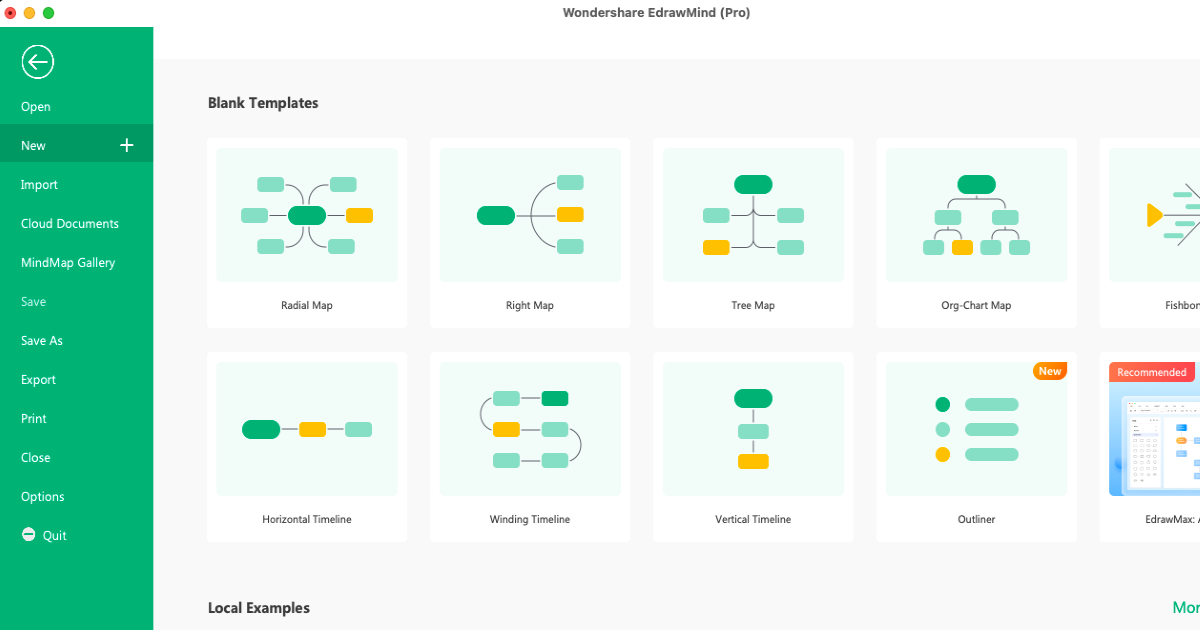 Step2
Add Branches & Explore
Once you have added the main idea, start adding different sub-topics or branches and explore the ideas in the best way possible. This mind mapping software lets you create multiple subbranches of your main idea from where you can explore the concept in detail.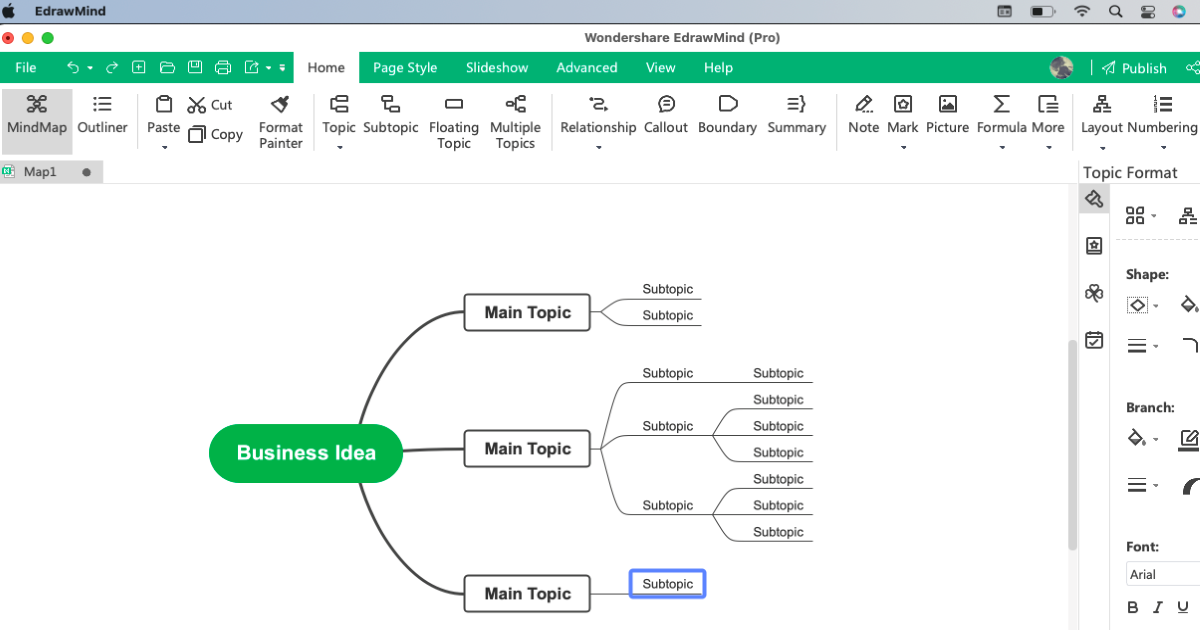 Step3
Customize
Depending upon the complexity of your central idea, you can add a magnitude of subtopics. With this mind map software, you can also create relations between different branches and sub-branches.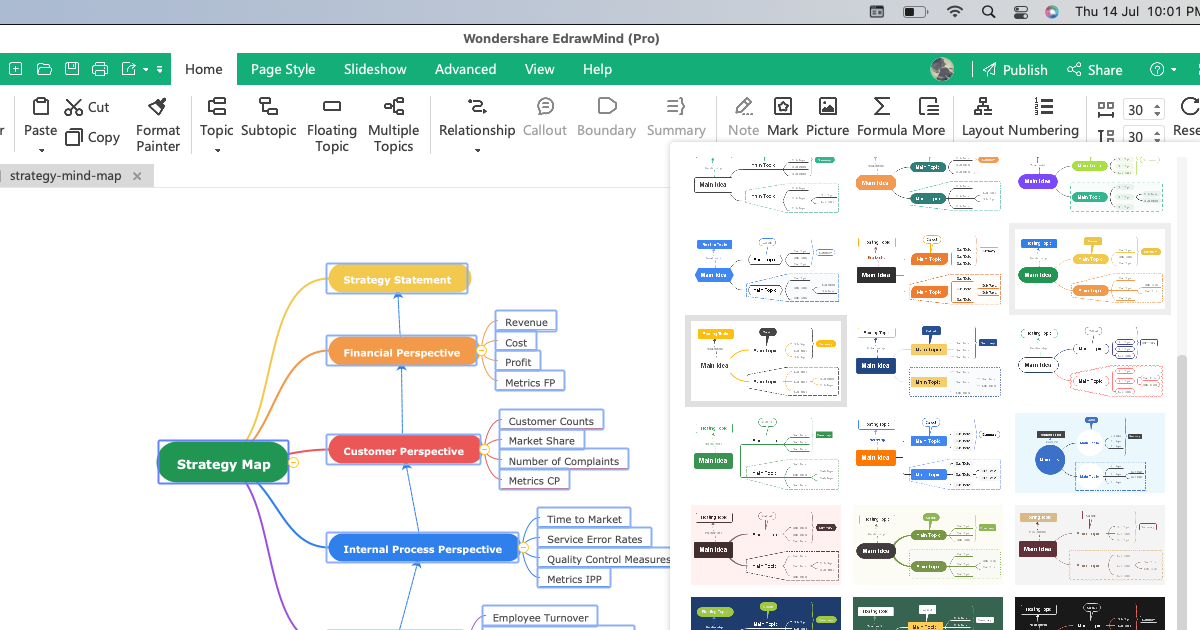 Step4
Export & Share
Once you are satisfied with your business mind map, you can export it into multiple formats, like JPEG, PNG, PDF, TIFF, SVG, HTML, and other Microsoft formats, like Word, Excel, and PowerPoint. You can also share this business mind map on different social media platforms, like Facebook, Twitter, Pinterest, and Line.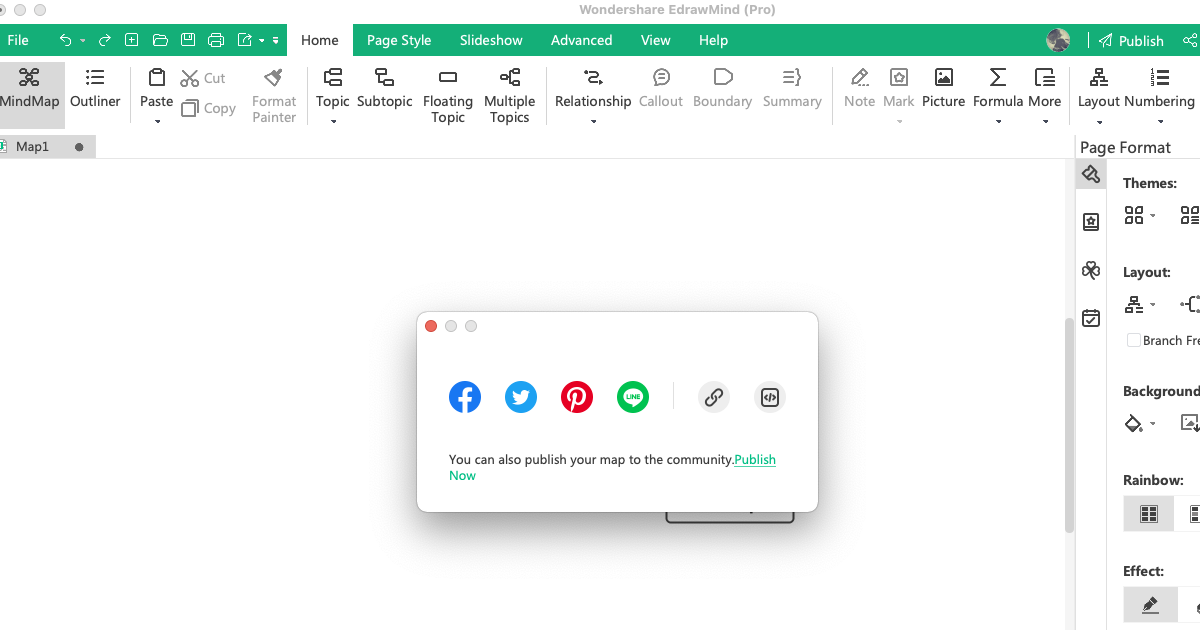 In this fast-changing business world, businesses and organizations need to speed up with different aspects that ensure they stay up in the game. As we saw in this elaborated guide to understanding business mind maps, mind mapping techniques can help a firm absorb complex information quickly to learn and execute new concepts that improve the overall experience. By creating mind maps, organizations can also easily brainstorm on difficult aspects.
In order to create some wonderful mind maps for businesses, you should check out EdrawMind today. This mind mapping tool comes with a user-friendly dashboard that offers pre-built templates, styles, and themes and has 700+ designed cliparts, which help create mind maps for different scenarios. Even if you are a beginner or a professional, you will find several pre-built templates in the mind map gallery, ranging from academics to professionals. Head to the following link and download EdrawMind to create and share some amazing business mind maps with your colleagues. If you want real-time remote collaboration, check out EdrawMind Online, which is compatible with all the major internet browsers, like Chrome, Safari, Firefox, and Edge.