Ansoff Matrix: Explained with Examples & Templates
Do You Want to Use Ansoff Matrix?
EdrawMind helps move ideas forward, faster and better. Learn from this Ansoff Matrix complete guide to know everything about Ansoff Matrix. Just try it free now!
1. What is the Ansoff Matrix?
Ansoff Matrix, also referred to as Product/Market Expansion Grid is a business framework that helps marketing leaders learn and analyze the business growth opportunities for their different marketing segments in a volatile market. Several business analysts create an Ansoff Model to identify the growth opportunities through developing new products and services.
H. Igor Ansoff developed the Ansoff Matrix in 1957 to help business leaders achieve significant results in the ever-changing market. Just like a BCG Matrix, an Ansoff Matrix is important to understand several strategic questions, like:
Market Penetration: How can a company sell more of its existing products to its existing customers?
Market Development: How can a bootstrapped business enter a highly competitive market?
Product Development: How can a team within an organization come together to create new products and services to increase their revenue?
Diversification: How can businesses tap into new markets by launching new products and services? Moreover, how can a business thrive by introducing these products to their existing customer base and bringing new leads onboard?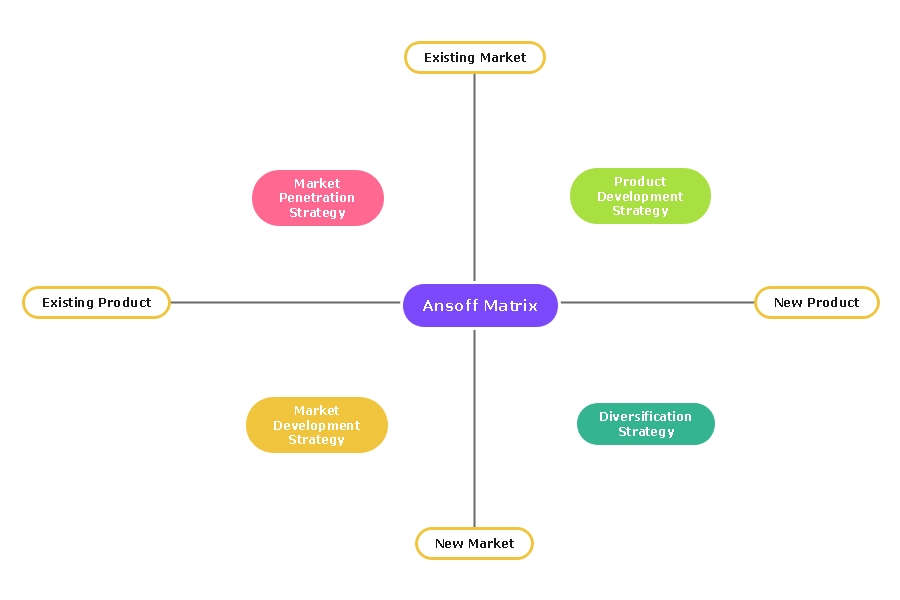 Click here to download EdrawMind
(For Win)
Click here to download EdrawMind
(For Mac)
Click here to download EdrawMind
(For Linux)
2. The 4 Quadrants of the Ansoff Matrix: Explained with Examples
Ansoff Matrix is a marketing tool designed to analyze and plan marketing strategies by a company to avail all the forthcoming opportunities. We create an Ansoff Matrix on two axes: Market and Product & Services. The product quadrant on the x-axis consists of existing products, new products, and new services, and the market quadrant on the y-axis includes existing and new markets.
4 Quadrants (Strategies) of the Ansoff Matrix
1
Market Penetration
In Market Penetration, an organization focuses on expanding the sales of the existing products. The four main objectives of market penetration are:
A company should focus on increasing the market share of its current best-selling products or services by increasing its efforts in sales, marketing, and other such strategies.
One of the important objectives of market penetration is to secure the dominance of growth markets.
Start aggressive promotional campaigns (free trial, giveaway, social media influencers, etc.) to drive out competitors.
Introduce loyalty programs for the existing customers.
Ways to Achieve Market Penetration
There are some important ways to achieve market penetration, like:
A company can reduce the price of its best-selling products to attract new customers.
A company can improve its distribution network while significantly reducing the delivery time of the products and services.
In order to penetrate the market, a company can invest more in their existing products by making improvements to appeal to new customers.
Collaborating with competing businesses in the same market to provide better services to the customers.
Pros & Cons of Market Penetration
Advantages
It is a low-risk business strategy

A company can always make amendments to the rules and regulations
Disadvantages
It cannot be used for a long-term business approach

Market penetration gives rise to unplanned competition
Example of Market Penetration
The core example of market penetration is Starbucks Coffee. The company is already present in over 78 countries, and in order to maximize its revenue, the company applies market penetration by introducing new stores in different locations.
2
Product Development
In Product Development, a company focuses on creating and introducing a brand-new product in a competitive market.
Ways to achieve Product Development
There are some important ways to achieve product development, like:
Collaborating with another company to offer reward points or cashback to increase distribution.
Acquiring the rights from a different company to manufacture and sell their products.
Invest handsomely in research and development to understand what the target buyer currently needs and then work towards developing the said product.
Pros & Cons of Product Development
Advantages
A company can create a new product that can help make the life of their customers a little better

A new product opens the doors for innovations
Disadvantages
Launching a new, unproven product is substantially risky

New product development requires upfront investments as well as new marketing strategies
Example of Product Development
An automobile company can start creating electric cars to meet the current changing needs of their existing market.
3
Market Development
In Market Development, a company is putting an existing product into an entirely new or untapped market. Like Product Development and Market Penetration, Market Development is a crucial step for a company. This strategy can be more successful than the other business strategies if:
A company leverages a new market by introducing patented technologies
The consumers in the new untapped market are already profitable.
Consumers do not shift their perspectives too often.
Ways to achieve Market Development
There are some important ways to achieve market development, like:
Targeting the foreign markets or appealing to foreign customers.
Expanding the customer base by tapping different marketplaces.
Moving to B2B from D2C.
Pros & Cons of Market Development
Advantages
It is the best alternative to creating a new product and launching it in an unproven market

If the strategy proves successful, then a business can have a monopoly in that particular market segment
Disadvantages
Lack of knowledge and skills to handle the unfamiliar market

A company might waste many resources if they do not conduct proper research on the consumer demand in that market
Example of Market Development
In recent years, acclaimed sporting goods companies like Nike and Adidas have entered the Chinese market, offering their best-selling products.
4
Diversification
Ways to achieve Diversification
Diversification can be achieved by:
Entering a new market with a new product that is somewhat related to the company's existing product range (a computer manufacturer starts selling computer cables).
Entering a new market with a new product that is completely unrelated to the company's products and services (a computer manufacturer starts selling packaged water).
Pros & Cons of Diversification
Advantages
If tapped correctly, Diversification can create a huge opportunity

It is a unique way to differentiate yourself from your competitors completely
Disadvantages
This business strategy is the riskiest in Ansoff Matrix

Companies that follow this strategy fail to acquire the right industry knowledge and skills
Example of Diversification
The best diversification example can be about a television manufacturer who suddenly starts to create and sell books.
3. How to Make an Ansoff Matrix?
If you are a business analyst, you must have wondered how to make an Ansoff Matrix easily? Here we will share some quick steps to create an Ansoff Matrix for your business organization.
Use design tool: You can start with EdrawMind to create an Ansoff Matrix, as the tool comes with free templates and online resources that let you create an Ansoff Matrix in just a few clicks.
Create a table with four segments: Ensure that all the four squares in the matrix are the same size. You can use different colors to ensure that they are differentiated from one another.
Mark your X- and Y-Axes: It is a universal practice to label the X-axis as 'Markets' and Y-Axis as 'Products & Services.' With X- and Y-Axis in place, you can create the rows and columns to place the growth market strategies where they belong.
Label Rows & Columns: Start labeling one of your rows as 'new' and the other as 'existing.' You can follow the same process with both the columns.
Label All Four Quadrants: Once you have created the rows and columns, you can label each quadrant with a particular growth strategy (Market Penetration, Market Development, Product Development, and Diversification). With the help of EdrawMind, you can create different growth strategies in the same sheet, which makes it easier for you to cross-check and analyze all the verticals.
4. How to Use an Ansoff Matrix?
Now that you have learned how to create an Ansoff Model, you can now follow the following steps to use them in practical scenarios properly:
Analyzing the matrix's segments: You should always be aware of all the growth strategies, which include their pros & cons, risk factors, etc. Analyzing them by checking the Ansoff Model will help you reach a significant conclusion.
Listing out options: Ensure that all the four squares in the matrix are the same size. You can use different colors to ensure that they are differentiated from one another.
Mark your X- and Y-Axes: For each of the mentioned market growth strategies, you should evaluate how you will implement them in your organization or for your product and services.

For instance:

With Market Penetration, you can create loyalty programs for your existing customers.
With Market Development, you can expand your business to new territories.
With Product Development, you can offer complementary to your new customers.
With Diversification, you can collaborate with another market that helps you distribute and market a new line of products and services.

Analyze the risks: Each market growth strategy comes with its risks. You should make a list of all the risks that are involved with all the different segments and plan your risk resolving strategies.
Finalizing your growth strategy: After evaluating all the segments, involved risks, listing out the funding, etc., you will be able to finalize the growth strategy that goes along with your company's vision and values.
5. Nine-Box Ansoff Matrix: Closer to Market
If you are a big organization that handles large budgets and has an extensive set of products and services, creating a Product/Market Expansion Grid might feel too simplistic. Creating an Ansoff Matrix is a good practice for businesses not dependent upon internal and external factors. For instance, let us assume that you are a chocolate manufacturer, then launching new flavored chocolate at the time of a holiday is more affordable than launching an entirely new product or service line. In order to get quick results that work in the company's favor, several marketing leaders go ahead with a nine-box matrix instead of a two-by-two grid.
As the name suggests, a nine-box Ansoff Matrix provides a thorough analysis of a business's current risk and future opportunities. At the same time, it shows the crucial differences between a new product extension (launching new flavored chocolate) and true product development. The extended 9-box Ansoff Matrix provides more finesses to the strategic options available. In addition to Market Penetration, Market Development, Product Development, and Diversification, this 9-box Ansoff Matrix contains two additional quadrants:
Partial Diversification
Limited Diversification
Market Expansion
Product Expansion
6. Key Takeaways
Whether using a four-box or a Nine-Box Ansoff grid system, the Ansoff Matrix is a proven business framework that helps companies diversify and grow in the heavily competitive market. While working on different growth options, a company should consider each quadrant carefully as each segment brings a unique perspective and offers significant growth if tapped correctly. In simpler ways, an Ansoff Matrix lets business owners think about whether they need to find new customers for existing products, offer new products to existing customers, or keep existing products and services to work around new markets.
As you saw in this guide, to understand Ansoff Matrix, creating and sharing a Product/Market Expansion Grid with EdrawMind is highly recommended. The tool is created by experts who consider every aspect of mind maps. EdrawMind also comes with free templates for marketing professionals and students. With EdrawMind, you do not require any technical knowledge of designing -- click on the desired template and start customizing!
EdrawMind Desktop/Mobile
12 structures & 33 themes & 700+ stylish cliparts
Support Win, Mac, Linux, Web, Android, iOS
Advanced import & export options
On-premises software for business
Enterprise-level data security
EdrawMind Online
12 structures & 33 themes & 700+ stylish cliparts
Access diagrams anywhere, anytime
Group & real-time collaboration
Personal Cloud and Dropbox Integration