Mind Map Ideas for Students: Explained with 30+ Examples
Episodes of notetaking, planning, and programming being one too many for students, Mind Mapping is a standardized method to help them come to terms with many issues, topics, and goals one at a time.
Though paper drafts are the simplest thing to use, the leaves of highly valued notebooks often look like a warzone with a perfect chance of the user forgetting to utilize all the data. What a waste of resources!
This problem can be effectively solved by Mind Mapping tools, which can save you time and resources. Want to know how to do it? Here is a detailed guideline of Mind Mapping techniques along with some avidly relevant mind mapping examples for students.
Creating need-based mind maps can have several advantages for students, primarily being an essential tool that helps in brainstorming and comprehension of complex lessons for breaking them down into segregated topics.
Student life compels us to persuasive learning, deemed perhaps the most dynamic growth phase in our lives. This phase would have many things going on all at the same time, on the same day, which might make work-life presumably simple and stereotypical. Mind mapping can help students in various situations, such as:
With the help of mind maps, students can organize their thoughts more effectively and efficiently.
By creating mind maps, students can identify and analyze primary issues they might have in their work.
A mind map helps students have better brainstorming sessions with their classmates.
By using mind maps, students can create better outlines of their subjects. It makes it easier for them to revise during examinations or tests.
Creating mind maps makes students self-learners, and it enhances their creativity.
Mind maps also help students learn how different facts and ideas are co-related.
By focusing on the central idea or central topic, students can map knowledge in a way that will help them better understand the subject and retain more information.
Mind mapping is crucial for those students who lack focus, as by using colors, images, and different cliparts, most students can boost their productivity.
With mind mapping, students can easily execute group projects and quickly create multiple presentations.
Mind mapping is proven to be a powerful notetaking method. Students who need to take notes from their online or offline sessions quickly tend to make mind maps so they can elaborate on them at a later stage.
Mind mapping is also a valuable skill that can even be added as an Additional Qualification in resumes since it is widely used by businesses in almost all industry verticals.
Every student wonders how to make a mind map for subjects easily. With the help of EdrawMind, one can create and share highly-organized mind maps in just a couple of minutes. EdrawMind is a mind mapping tool equipped with pre-built templates, cliparts, themes, and sharing options that make it easier for the students to create mind maps.
Step1
Launch EdrawMind
● Launch EdrawMind: The first step is downloading and installing EdrawMind in your system. Based on your computer's operating system, you can go ahead and download the file. If you intend to collaborate remotely, head to EdrawMind Online and log in using your registered email address. Once you are in the dashboard of this mind mapping tool, click on 'New,' followed by the '+' sign. You can also open a new template by clicking on the 'New' option and choosing the right template for your use.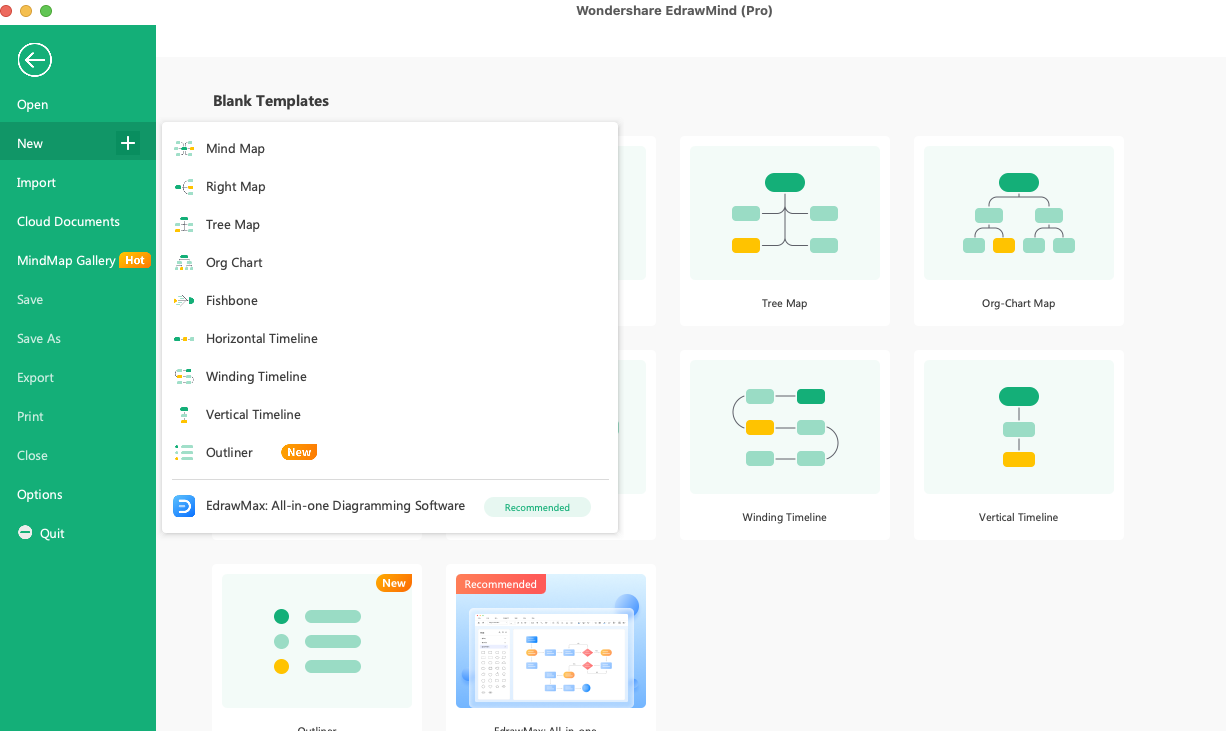 Step2
Edit Central Theme
Based upon the requirements, a student can add the primary topic and create different sub-branches from the main topic that radiates outward. All the subtopics will only help elaborate the central theme significantly.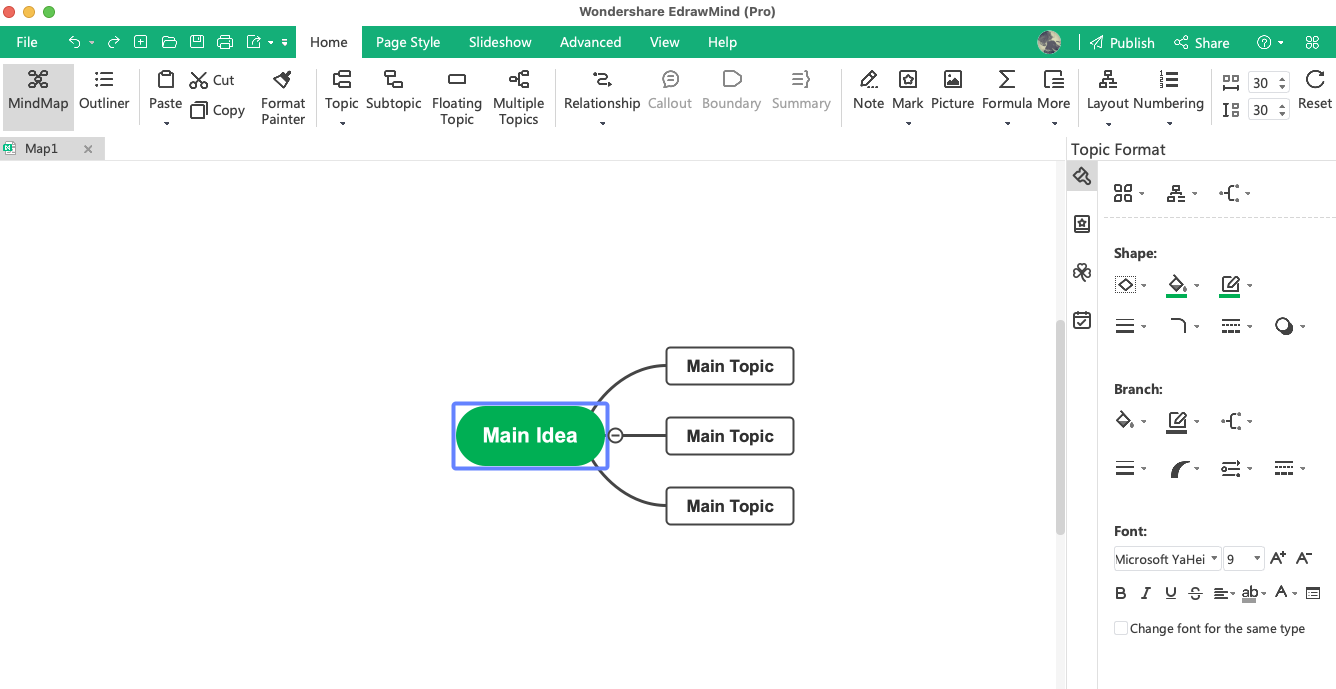 Step3
Add Phrases
Every mind map is incomplete without key phrases and components. Depending on your student's mind map, you can add different subtopics. EdrawMind also lets you create relations between different branches and sub-branches.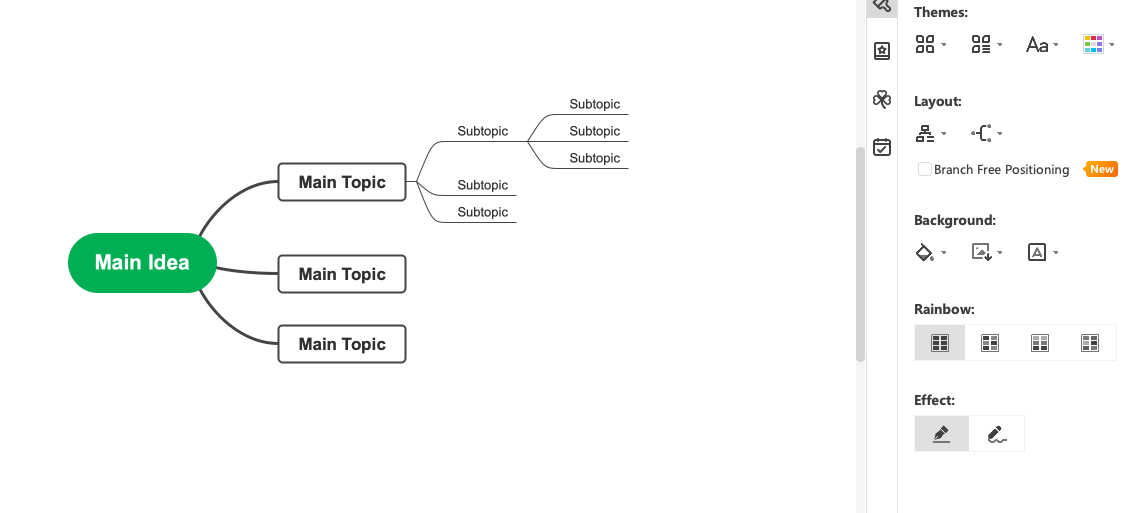 Step4
Export & Share
Once you have modified the theme and added relevant cliparts, you can save the EdrawMind in different formats. You can save your mind map in JPEG, PNG, PDF, and more. With the in-built sharing option (that you will find on the left side of the toolbar), you can share the design on multiple platforms, like Facebook, Twitter, Line, Pinterest, and even copy the link and send it via email.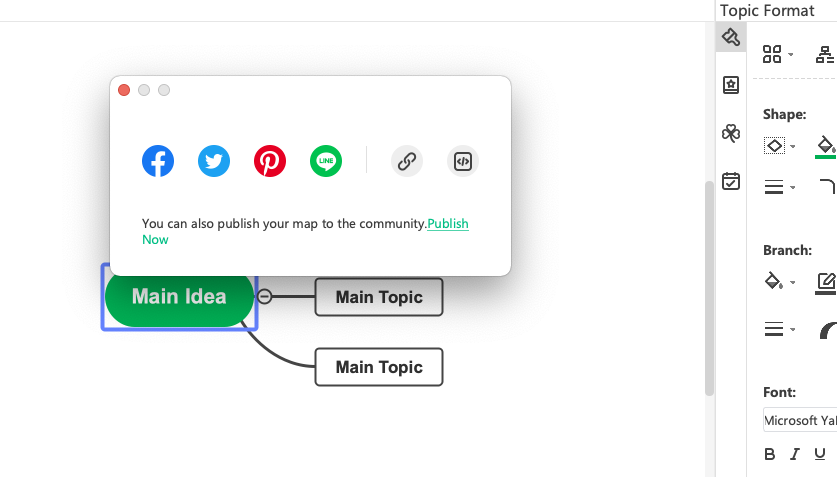 Some of the marvelous features of using EdrawMind to create a mind map for students are:
In order to elaborate more on mind map ideas for students, we have created some astounding mind maps. As a student or a teacher, you can be inspired by these mind map examples or use EdrawMind to replicate them as per your requirements.
If you need some inspiration for your project, here are some creative and simple mind map examples for students to help you get started.
Mind Map Examples: Study & Exam
Mind Map Examples: Team Work & Activity
Mind Map Examples: Student's Daily Life
Note Taking
Since notes are meant to channel the progression of a research or project in crucial areas, they must be close at hand and simple to decode when shared with a peer. Organizing handwritten drafts into neat mind map templates like this one above can serve the purpose well and well. Always keep a focal element when creating this sort of mind map that can anchor the jargon of data cohesively.
Learn a Language
Learning a language goes through various aspects and layers of applications. Still, this program has the benefit of a generic framework, with the lessons often revolving around things we already know. Therefore, learners might already have theoretical knowledge, at least a basic concept of it, and are ready for practical approaches. In this mind map template about learning English verb combinations, the key points are verbs as well, denoted by specific courses of action. So, it covers both the objectives of theory and practical.
Laboratory Research
Students heavily utilize mind mapping for Research and Development to create a visual semblance of specific perceptions. It is somewhat like this template above. In a simple mind map example for biology students, you can see that the main topic sits in the center with concise definitions of its variables laid out in a radial map. Such depictions make complex lessons memorable and impart cognitive learning.
Course Planning
A School or a Teacher draws out a course plan, and how individual students practically experience it is similar to it. Course plans that flatly address syllabuses do not complete the picture; it needs to discuss terms and categories that will influence critical projects and gradual progression. Take this Modern Art course plan template. For example, it does not just list elementary subjects covered within the course but also draws artist names and sub-genres that make up the entire bubble. The more you know beforehand, the more mentally prepared you are to get along with it.
Exam Revision
Students can radically improve their sense of urgency and avoid procrastination when preparing for an exam by taking out perceived notions from the mind and mirroring them in a visual illustration. The multivariate essentials like key lectures, notes, timeframes, criteria, available resources, or lacking areas can be brainstormed in this graphic layout so that problems are easier to address and strengths can effectively motivate. This SWOT analysis map makes up a valuable resource for the matter, streamlining different conditions and situations into Strengths, Weaknesses, Opportunities, and Threats (SWOT). It inspires students to maintain a target-based regime of studies and related activities for exam preparation, scale progress, rinse, and repeat. The conceptual use of color, structure and a minimalist layout can simplify complex variables of prerequisites faced by students during the exam preparation phase.
Time Management
Being always on the go, living off last minute, and nicks of time are the story of every other student's life. It pays the most to be punctual, but chasing time needs a forgiving regime more than challenging biological clocks. This template is much more than a timetable, with tips, essentials, and priorities. This sort of mind map is probably thriving in stinging the creator along, giving them a sense of security that they can design their life. So not only engaging content, but it is also an exercise that may run in the subconscious of pursuers, even if they fail to keep certain things in mind.
Presentation
A presentation mind map presents information, ideas, or concepts in a tidy and clean fashion. For instance, ideally, a presentation mind map instead of a slideshow is a fine medium to divide the topics. A mind map is a challenging space that supports visual representations following a branched approach. Architecting a layout with colors could help the audience to intercept better. A presentation mind map also exaggerates the relationships between two texts by interlinking them explicitly. To retrieve transferred content and make it visible, all the subjects should carry their own explanation. When a presentation mind map is created, it is important to consider every possibility and mentally associate the related items.
Essay Writing
Writing essays could get monotonous if the right approach and strategy are not aligned. The way to mold the thoughts while writing an essay could be to use an essay writing mind map to convey a specific topic. In addition to an essay writer's mind map's intent to curate the topic, it must be backed with facts, resources, references, and arguments. Though an essay can be clubbed out into thousands of narratives, to emphasize the highlights, an essay planning mind map is the get-go. An essay planning mind map helps to magnify the thoughts and sheds light on more than one notion at once. A generic essay structure has an introduction, main body, and conclusion, whereas the introduction consists of the main arguments. The connection between these arguments could be related to the main arguments.
When an essay writing mind map is created, the conclusions affirm the topics and aim to address the greater issues..
Semester Planning
Colleges and universities plan out every semester for their students. A new semester is often overwhelming for students, who feel burdened and pressured if efficient planning is not done beforehand. This is where a semester plan mind map helps. A semester plan mind map is a sought-after method over paper planning. Planning on a paper can leave you off the track and with difficulty managing the classes. On the contrary, by creating a semester plan mind map, the preview of the entire semester is right in front at the edge of the fingertips. Additionally, it is best to frame the assignments, classes, exam dates, and reading material information in the mind map of the semester plan.
Another advantage to extracting from a semester plan mind map is to link files, documents, worksheets, and syllabi onto the map and use it as a reference throughout the semester.
Theories Comprehension
The mind should be allowed to wander when working on a theory. Theories are so comprehensive, and digesting them all at once could be too much. This calls for the need for a theory comprehension mind map, where thoughts are converted into visual illustrations. A theory is usually complicated and complex, and refining relevant information is best done through a theory's comprehension mind map. Students can explore the possibilities of breaking the information into small chunks. Moreover, to enhance it, students can draw live and practical examples linked to the theory. This will help boost their memory too.
A theory's comprehension mind map, too, has several elements to it. For example, the human body system is so vast. Therefore, a theory comprehension mind map around it will explain the systems, their types, and the interconnection between these systems.
Exam Revision
As important as it is to create an exam preparation mind map, an exam revision mind map has an equal contribution too. The exam revision mind map is a strategic placement of 5-Ws and 1-H. This 5-Ws stands for Who, Why, What, When, and Where; the 1-H, on the other hand, stands for How. When exams are waiting around the corner, revision is the first thing in everyone's mind. With an exam revision mind map, all the tips and techniques can be put out. Last-minute revision is always beneficial, and by writing an exam revision mind map, the objectives of revisions are met. Ideally, a revision mind map is a holy grail for students who are afraid of forgetting topics before the exams. A quick revision through the exam revision mind map, and they are good to go.
During exams, carry the revision mind map to grab a quick look before entering the examination hall.
Memorization
The dire need for mind maps is to memorize things. By creating a memorization mind map, it becomes a hassle-free task to recollect any piece of information. Important words, numbers, dates, or anything one would not want to forget can be visually drawn via a memorization mind map. Additionally, to work on building memorization skills, one can follow the artistic approach by choosing different colors for the memory capsules. It is important to showcase creativity by utilizing a memorization mind map to work with memory effectively.
Making the most of such effective mind maps could be the rescue drill to ignite the memory sticks in your brain. This mind map will also keep one away from forgetting things by keeping everything on display.
Reading comprehension
Reading is interesting. However, it can soon become boring due to several underlying factors, like complex reading, unfamiliar words, and tough pronunciations. Reading novels, books, or articles is likely to strike through any of the abovementioned factors. That is when a reading comprehension mind map comes to the rescue. By writing or drawing a reading comprehension mind map, grouping ideas concisely becomes effortless and hassle-free. Additionally, a comprehension mind map also empties out a room to put troublesome words together and pins them to the vocabulary space. To find a path through confusion, simplify the details into smaller bits and pieces that are easy to manage. When all the difficult words are given their own space, identifying and learning them during the last stage of an exam is a boon. Every component in a reading comprehension mind map has its own node branch, which gives a deep insight into the subject.
SWOT Analysis
SWOT in SWOT analysis stands for Strength, Weakness, Opportunities, and Threats. A SWOT analysis mind map is designed to drive the facts and offer a realistic approach to the strength, weaknesses, opportunities, and threats. A SWOT analysis works wonderfully well for individuals, groups, employees, learners, etc. The SWOT analysis technique is used to assess the risks, performance, and potential. A SWOT analysis mind map has four main branches, each representing a component of SWOT. By having a visual representation, the analysis is rapid, and it is also effortless to gather a quick overview of the subject on which SWOT is being performed.
A SWOT practice should be implemented repeatedly to magnify the processes and ensure the best methodologies are being preached.
Group Work
Group work is a broader spectrum than group studying. It radically involves a focal matter pursued by a group but leverages individual inputs systematically. This sort of project needs a fail-proof process that ensures everyone is on board; everything is on board. This crafty template about Social Media Usage can be a shining example of how it works.
Brainstorming
For many students, identifying a topic could be a difficult step to proceed. Brainstorming is the ideal technique to walk down such a crossroad and avoid such difficulties. Through a brainstorming mind map, all the topics can be narrowed down to select one final topic. The brainstorming mind map is also helpful in breaking down a specific subject into multiple subtopics. Either way, this mechanism is very useful to jumpstart the mind. The brainstorming mind map can be created to conduct a group assignment or carry out an individual task. It allows structuring one's creativity on paper. With a brainstorming mind map's assistance, one can draw out branches to associate their thoughts with one another. The brainstorming mind map can be created to illustrate communication, question, ideas, and creativity and connect many more ideas.
Team Projects
To maintain the team's spirit, it is advisable to create a team project mind map to plan every activity in the team. A mind map can eliminate the downsides that come if the students are working in a group. After creating the project mind map plan, every team member is on the same page. Plus, accessing the team project mind map is also convenient if they have the right to edit or access the map. Thus, any changes made to the map can be viewed by others. A more elaborate team project mind map includes facilities to assign separate tasks to the team members. This acknowledges everyone about their daily tasks and keeps them informed about their forthcoming assignments. The resource branch in the team project mind map links all the files, videos, and links for everyone to refer to.
Whether you are the team leader or not, using a mind map to carry out a group project is an excellent way to garner magnificent results.
Events Planning
The word "planning" in any event is very powerful, as it carries the entire weight of the event. Event planning is often a complicated process, and absolutely nothing should fall off the crack. Whether virtual event planning or otherwise, an event planning mind map is the best solution to flat out all the layers of an event. In an event planning mind map, the elements are mapped against the goals and objectives by following the specific, measurable, achievable, relevant, and time-bound approach. A right event planning mind map should contain the fundamentals and core features. The budget, guest list, logistics, publicity, and program agenda are a few of them.
When tangible objectives are ready to be established while planning an event, an event planning mind map makes conducting them an effortless process.
Creating School Yearbook
Creativity has no bounds, and a school yearbook mind map is the accurate format to put your skills on display. A school yearbook contains all the details, including the yearly database, staff, and student reports, student profiles, and much more. Also, the high school yearbook takes one down memory lane by giving an insight into a well-organized student's portfolio. School yearbooks and memory yearbooks are interchangeably used and are aimed at students, staff, and teachers to draft their memories. Thus, a school yearbook mind map tracks every major or minor event that occurs during the academic year and portrays it to keep the memories forever.
A school yearbook is a well-established tradition, and with a school yearbook mind map, making memories gets a makeover.
School club
Participating in a school club is tedious for students and parents. Parents must go through the trouble of organizing it, and students need to be cheerful participants. Having organized a school club could offer an upper hand, but it is still challenging to pull it off. On the other hand, if this is the first time planning a student club, it is best to shake hands with a school club mind map. The starting point is to analyze all the club activities and put them out on the school club mind map. The school club mind maps are the perfect floor to kickstart your school club planning journey. Furthermore, lay out the branches of these activities based on the schedule, volunteer, and so on. Brainstorming while preparing the school club mind map and outlining them simultaneously will keep the ball rolling.
Once the outline is finished, the school club mind map can be shared with every member to book it as successful.
Camp Awards Criteria
A camp awards criteria mind map is generally used to present the details of camp awards. Therefore, if you are about to camp, creating a camp awards criteria mind map could assist in straightening out the award distribution post camping activities. The cleanest camp room, best camp group, poster, and best camper award can be the primary nodes of the camp awards criteria mind map. These nodes can be a further division into attributes that will be the contributors to define the winner under each category.
Camping activities are full of fun, and the magnitude of fun increases if there are challenges and competitions for the campers.
English Camp Activities
Planning and organization are the building blocks of any activity plan and effectively conduct the strategic way to proceed. The activity plan mind map is a schemed and smart way to organize the activities planned for a day. The biggest advantage of having an activity plan mind map is to have a comprehensive plan for the said activities to ensure every activity gets the desired attention. An activity plan is broken down to illustrate the potential obstructions that could possibly strike. Furthermore, an activity plan mind map expedites the process and reduces the risks by facilitating coordination in the required direction. When the activity plan mind map is created, colors can be used to distinguish various groups.
It is always better to plan activities, and by drafting an activity mind map, it becomes hassle-free.
Extracurricular Schedule
For a student, dividing their time smartly into areas other than studies is crucial. These divisions are often referred to as extracurricular activities. Every student has the opportunity to participate in a curricular activity, and an extracurricular mind map is a perfect way to craft ideas. These activities do not have to be specific and can be diverse such as sports, theater, dancing, or reading books. The extracurricular mind map assists students in valuing teamwork, competition, and diversity. Moreover, extracurricular activity is a weapon to reinforce skills not taught in the traditional classroom. For many schools, extracurricular activities are a part of their education.
By drawing an extracurricular mind map, students can put their creative minds to practice by detailing the activities they like the most.
Life Planner
Mind Mapping is a good habit overall, which can be used not only to organize study programs but also to build an energy-efficient life around studentship. This template is one of the simplest mind map examples for students that can do the trick just right. Due to a graphic illustration of events, situations, goals, strengths, and weaknesses, it is easier to develop a cognitive approach that works for establishing the quality of life.
Health
Using simple mind map examples for students does not only involve study-oriented variables. It is also about health, fitness, and overall well-being. So, keeping a chart of health-conscious decisions handy is an excellent way to start taking care. Take a cue from this template about healthy sleeping habits, something a student must vitally endorse.
Planning A Trip
Are you going somewhere but are not entirely done with planning? Get all your friends on board with the plan. Check a simple mind map about the trip like this one above and distribute it to everyone. It makes all information under a single page with costs, budgets, agent and DIY roles, contacts, and other information related to the trip. A quick and effective solution to control your priorities as and when needed.
Organizing Room or House
It is an absolute truth that being organized helps you stay ahead. Nevertheless, organizing essentials is often left far behind in the quest to stay ahead. Moreover, this is the story of every other student's life. Never let the bedbugs bite you. Use pictures of your cleaned-up room and the moments of freshness that can motivate you to dig out some time out of your busy schedule to clean your house or room. You can do this!
Barbecue
Barbecue is a relaxing activity that is vulnerable without effective planning. Setting up a barbecue is easy, but deciding the background of the event could be an invitation to a troublesome arrangement. Luckily, a barbecue mind map can be quickly curated to adjust all the requirements related to a barbecue. Barbecues need a neat design, and it is significant to set out all the necessary details before the final date of the barbecue. Deciding and working on the groundwork is the first phase of a barbecue mind map. The contact details, expenses, and participants could be the branched-out nodes. Once this information is gathered, the theme, place, number of people attending, and venue can be chosen.
With an efficient contribution lent behind a barbecue mind map, making the most of the barbecue event will not be a complication anymore.
Better Sleep
There are plenty of factors that should be considered when trying to inculcate ways to sleep better. The major ones are environmental, timing, preparation, and when not to sleep. A better sleep mind map helps stitch all these components together to accomplish the primary goal of sleeping better. Through a better sleep mind map, one can lay down all the factors that cause hindrance at the time of sleeping. The sleeping environment is very crucial to ensure that one is sleeping better. Similarly, timing is another component that requires attention. Therefore, through a better sleep mind map, one can note down their sleeping pattern and work on sorting out the differences and making them effective.
Although there is no rule to decide one's way of sleeping, with a better sleep mind map, sleeping techniques get more simplified.
Birthday
Be it anyone's birthday, the amount of effort spent on planning a birthday calls for the need for a birthday mind map. A birthday mind map is a shortcut to grant all wishes through a descriptive and elaborative web of details. Moreover, small icons can be used to display the birthday preparation, including the theme, drink, decoration, location, time, food, and entertainment. These are the primary components of any birthday party. Once the components are finalized, they can be further branched out to glue the variations together. The birthday mind map should be spacious enough to suffice every requirement. Plus, the birthday mind map will be an excellent source to ensure that birthday arrangements are carried out effectively.
While preparing the birthday mind map, plan all the components to save some room for thought later.
Benefits of Fruits
Consider having a favorite fruit but having no clue about the possible wonders of the fruit. The benefits of fruit mind maps provide a visual representation of different fruits and their advantages. Therefore, to depict the benefits of a peach or an apple, benefits of a fruit mind map can be created around it to highlight the crucial significance of the fruits. Fruits are an excellent source of vitamins and minerals, and through the benefits of the fruit mind map, the notable pros can be rolled out. Citrus, sweet, ripe, etc., are a few categories of fruits, and a fruit mind map separates the fruit based on these factors and shares the lesser-known facts about the diverse range of fruits.
The benefits of the fruit mind map are that it branches out the fruits from the node and consolidates their benefits against them.
Sunday Activities
There is so much to do on Sundays, and the realization of the missed activities strikes when the day wraps. What if there could be a technique to pre-plan the Sunday activities to cover everything when Sunday arrives? A Sunday activities mind map is created, which consists of a full-fledged visual of how artistic one wants their Sunday to be. For instance, some interesting activities to pursue include fishing, sleeping, going out, visiting a park, drawing, playing sports, and shopping.
The benefit of creating a Sunday activities mind map is that it can accommodate last-minute changes in the plan. A Sunday is meant to have fun, and nothing better than a Sunday activities mind map to lay it out.
As we saw in this elaborated guide to understanding mind map ideas, mind mapping is one of the most important learning tools that encourage the brain to make associations between different topics, keywords, phrases, and images. Creating mind maps for students helps in improving their overall learning experience. With the help of different mind maps, students can easily brainstorm and structure complex information into smaller parts. These days the magnitude of different subjects has increased exponentially, and with the help of mind maps, students can easily retain important information that helps them during their revisions.
Often teachers and parents complain that even though mind mapping is a powerful learning mechanism, they find it hard to make it because of the complicated tools present in the market. Keeping that thought in mind, we created EdrawMind, which is created for professionals who know that students and teachers need to create complex mind maps quickly. EdrawMind comes with 22 structures, 33 themes, 700+ cliparts, 30 topic shapes, and more. With easy file-sharing options, students can quickly create a mind map and share it with their class or publish it to the community to inspire others. So, what are you waiting for? Download EdrawMind today and start making several mind maps for students.