Biology Concept Map Complete Guide With 30+ Examples
Do you know that creating concept maps and mind maps increases students' cognitive functionality? John Hopkins's Study researched the importance of creating students' mind maps and concept maps. They concluded their research by finding that there is a 12 percent increase in students' grades who have created different maps for their subjects. By working on concept map examples, students tend to focus more on complicated subjects, like Biology or Mathematics.
In this article, we will help you understand the importance of creating a biology concept map and will illustrate different types of biology concept maps that are created using EdrawMind. Before we discuss biology concept maps, you should understand that students often get confused between mind maps and concept maps. However, there is a thin line of difference between the two visualization tools, like:
Mind maps tend to have a radical structure; Concept Maps have a tree structure with several clusters.
Mind maps focus on one primary topic; Concept Maps connect multiple concepts and ideas as a whole.
Concept Mapping is an active form of education tool that involves representing connections between different ideas in a pictorial or diagrammatic way. Multiple studies have shown that concept mapping as a teaching and learning method for biology is a powerful strategy to engage students.
Biology or medical students know this for a fact that when they study, they need to remember several complicated names of different parts of human anatomy. Considering the complexity of topics, it is recommended that one should go ahead and work on a different concept map for biology and when the test comes, they can quickly glance over those concept map ideas and retain the valuable information. Some of the most important benefits of creating a concept map for biology subject are:
Easy to Learn
Biology is a vast subject. Every human body part is subdivided into hundreds of different important segments. Biology students have to learn about every body part in detail. When they create concept maps for biology topics, they ensure that they are creating multiple subtopics of different ideas, making it easy for them to learn those complex topics.
Easy to Remember
Biology books or topics contain several hundred subtopics. During the examination or a quick revision, students are often confused and miss out on important subtopics. If they work on a concept map template for biology, they ensure that they can easily and quickly revise everything when the exam comes. At the same time, by working on different concept maps for biology subjects, they ensure that they will also retain the information post their examinations.
Easy to Make Connections
Biology is a natural science that talks about the study of life and living organisms. As we all know, biology is an eclectic field composed of different important disciplines, like the study of distribution, evolution, function, growth, and other important features of any living organism. When we create biology concept maps, we tend to make connections between different disciplines. For instance, if we have created a biology concept map for the respiratory system and another concept map pertaining to the details of the heart. Since both the topics are huge and cover important areas, a medical student can easily connect two different concept maps. So, when they have to prepare for any medical entrance exams, they will get information about two different disciplines from one single concept map.
Concept map ideas are extremely useful for biology students who wish to learn quickly and effectively. Most teachers consider concept maps a powerful study tool that helps the students see the big picture.
Concept mapping has been used in different subject areas and learner groups. Before discussing some concept map ideas and examples, we should first understand the important components of any concept map.
Some of the most important elements that you can find in almost all the concept maps are:
Concepts
Concepts, also known as nodes, are represented by one word or short phrase that we put in an oval or rectangular box.
Links
Concepts are connected by concept links, which are lines that are labeled with different important phrases to indicate the nature of the relationship between two concepts. As you see from the concept map templates, we sometimes use arrows to indicate the flow between different concepts.
Hierarchies
Hierarchy is the superordinate and subordinate relationships between concepts connected via concept links.
Cross-Links
Cross-links are concept links that connect the concepts of one section to the concept of another section.
In order to understand the importance of concept maps, we have created several concept map examples using EdrawMind. You can get inspiration from these concept map ideas to create your personalized biology concept map, or you can duplicate these concept map templates and share them with your teachers or even attach them to your research submissions.
Concept Map Examples: Basic Biology Concepts
Concept Map Examples: About Body Systems
Concept Map Examples: About Diseases
Cellular Respiration Concept Map
From an examination point of view, cellular respiration is a very crucial concept to study. Therefore, using a cellular respiration concept map is a valid choice for students to make to tackle examinations with ease. Moreover, the technicalities and concepts of a cellular respiration system are elaborate and difficult. However, the cellular respiration concept map will require minimal effort from students and, in return, will enable them to understand the concepts thoroughly. Students can draw their cellular respiration map to precisely interpret, recall, and map the relationships.
Lack of prior knowledge could lead students to come through the difficulty of understanding technical terms, but a cellular respiration map accommodates the issues one is facing by giving effective solutions.
Blood Concept Map
Hematologists are experts in dealing with blood-related diseases and identifying the different aspects of blood. Blood is made up of plasma and cells that run throughout the human body. The blood concept map displays how blood flows mainstream and how the different components of blood organize themselves to regulate their operations. A branch of blood is very detailed and consists of red blood cells, white blood cells, plasma, and platelets. The blood concept map follows a constructive approach to structure every section of the blood, informing about their typical details.
Blood is generally an overwhelming concept, but a blood concept map makes it easy to analyze every component thoroughly.
Cell Concept Map
It is a natural process for the human body to replace its cells frequently. The cell concept map adds an eliciting knowledge to understand, evaluate, and study the constant changes that occur during the process's cognitive development. Cells are the functional and structural unit of life, and a cell concept map lays out the specialized structures that conduct tasks within the body cell. The trillions of cells in the body are tiny packages, and with every cell assigned to its peculiar identity, it is entitled to function differently.
Through a cell connect map, insight into the extended branches of the different kinds of cells divided into aspects like size, type, and number is put on view.
Biomolecules Concept Map
Biomolecules, also referred to as biological macromolecules, are organic and inorganic compounds. The biological concept map follows a definite path to finding the relationships between biomolecules or biological macromolecules. Biomolecules are majorly divided into four categories, i.e., lipids, nucleic acids, carbohydrates, and proteins. Therefore, students can use the biomolecules concept map to scrutinize the relationship between the four different kinds of biomolecules. Every biological macromolecule has its dedicated function, structure, and chemical composition, which is better laid through a biomolecule concept map. The study of these biochemicals is vast, descriptive, and extensive.
Breaking down these major biomolecules to construct the properties and functions can be acquired using a biomolecules concept map.
Biochemistry Concept Map
Plants and microorganisms undergo several chemical processes, and biochemistry is one of them. It mainly deals with the chemistry of their lives, and a biochemistry concept map adds more to the knowledge. A biochemistry concept map highlights the inner concepts of biochemistry, their energy source, systems, and technique. These concept maps are useful to help students distinguish and gain a refined understanding of the relationships between the terms. Biochemistry and biological chemistry are synonymous and grouped to store energy, and the concept map illustrates the branches.
A biochemistry concept map intends to cover the explicit details that will help perceive better attention to biological chemistry.
Reproduction Concept Map
Reproduction is a natural process of producing offspring. Reproduction takes place sexually and asexually, and the classification of organisms can be done based on their reproductive abilities. The reproduction concept map is created to provide a diagrammatic representation explaining the relationships between each of them. Students can quickly acknowledge how different organisms complete their life cycles by pulling out a reproduction concept map. Reproduction is one of the fundamental processes of plants, animals, and human beings. Although there are differences between the processes, the end story is the same, i.e., to produce offspring.
Going through a reproduction concept map, one can set out to gather the required information.
Bacteria Concept Map
The understanding of bacteria, their types, and their magnitude are very extensive. The illustrations done through a bacteria concept map explains the concept vividly. Bacteria are extremely small and microscopic single-celled creatures available around our environment. Similar to bacteria, there are other single-celled organisms that the bacteria concept map scours. Additionally, the idea behind a bacteria concept map is to deeply understand their origin, magnitude, and survival.
Bacteria being the oldest creature on earth, support human forms of life, including plants and animals. Using a bacteria concept map could be one way to know about the life of bacteria organisms.
Connective Tissue Concept Map
Connective tissue is the most abundant tissue and is one of the four main issues. The distribution of connective tissue throughout the body varies depending on the organ. A connective tissue concept map is used to know how connective tissue operates. The design of the connective tissue concept map gives more information by representing every branch through different colors, which makes it easy to understand. Not only does the colorful representation help to divide the various branches uniquely, but it also adds to the overview to offer a better outlook.
With the use of the connective tissue concept map, the division and branches are loosely structured and can be understood better.
Biology Concept Map
The biology concept map illustrates the fine relationship that brews concepts and ideas. The bubbles in a biology concept map are usually wrapped in a square or circle, where every box is linked with another to explain the connection between the working model of the relationship. It also helps students structure their thoughts, design their thinking, and understand the brand-new relationship between the concepts. The advantage of a biology concept map is that it creates a diverse concept and is an interesting read. Every organism is made up of a humongous number of cells, and although they are too small to even be visible through the naked eye, they have their own designated set of parts and structures.
The vision is clear through a biology concept map, and the complicated study becomes refined.
Meiosis Concept Map
The meiosis concept map could be complex to intercept at the beginning, but it offers the most excellent illustration of how meiosis functions. The cell cycle has many parts and processes, and meiosis is one of them. The best way to represent the elements of the cycle is to lay them out through a narrow bone-like structure. Moreover, the meiosis concept map elaborates using colors, arrows, and link details. When there are difficult concepts to deal with, such concept maps help by reducing the complexities and through a detailed structure of the linked subjects. Meiosis has two primary divisions, the first and second meiotic divisions, and every division is intended to follow its respective life cycle.
The meiosis concept map illustrates these cell divisions in the simplest manner possible and signifies the relationships between every component that takes place within the process.
Enzyme Concept Map
An enzyme concept map is a visual representation or an illustration of how enzyme components and elements relate to one another. The specific placements of the enzymes and their connection with one another explain the simplified process through an enzyme concept map. Therefore, those unfamiliar with the concepts can make the most of it through an enzyme concept map.
Enzymes act as catalysts for conducting chemical reactions, mostly migrating throughout the living body. Every biological process that occurs in the human body is acted on by enzymes. The enzymes ignite the food digestion process, transformation, and conservation of chemical energy. An enzyme concept map lets casual readers understand how substances work in the human body. The concept map is very descriptive and helps figure out the realistic interpretations
Protein Concept Map
The motive of drawing a protein concept map is to dive deep into the whirlpool of knowledge. The relationships are best displayed in any concept map, and a protein concept map is an optimal solution to showcase relationships between various materials. Proteins can be highlighted via concise and crisp keywords, and that can be further used to branch out its divisions. Students can use a protein concept map to acknowledge themselves by learning and remembering the concepts clearly. Every student's study regimen should contain scribbled details of keywords, ideas, and more; concept maps are the finest way to do that.
Studying protein synthesis and its processes could be tiresome initially, but a clear sketch of a protein concept map will certainly share thorough information about how proteins function in the human body.
Homeostasis Concept Map
To break homeostasis in simpler terms, it is the process driven by living beings to sustain the circumstances that are mandatory to regulate human life. A homeostasis concept map summarizes the different functions by breaking them individually. The homeostasis concept map displays the balance of homeostasis and organ relationships. In homeostasis, it is considered ideal when the enzymes function as they should, and the cells perform their activities all over the body. Homeostasis in the human body should be maintained through careful analysis and balance. The homeostasis concept map is a full-featured descriptive image of how the glands will function.
Moreover, when visual colors are applied to the different sections of the map, it is easy for the brain to memorize and know the concepts.
Water Concept Map
The classification of earth's water is spread across surface water, water in the air, groundwater, and glaciers & ice. A water concept map agenda is to draw these sources and analyze how much water is circulating in these areas. Water is the most crucial source of every life that exists on mother earth. The flow of water takes place inexorably through the ocean and atmosphere. The world has water, but in certain percentages, it spreads in, on, and above the world. Although this percentage is finite, the resources generating it are not. With a water concept map, all these percentages can be listed. Saltwater, freshwater, and other sources generate water accessible to human beings to take up their requirements daily.
The water concept map attracts learners who intend to understand the background of water and its physical characteristics.
Genetics Concept Map
Few of us know the importance of genetics, which is the study of DNA. A genetics concept map is an extended approach to defining the organism's heredity. Understanding the flexibility of genetics could be hectic since it is the most complicated branch of biology, which needs descriptive research and extensive acknowledgment to grasp the concepts. A genetics concept map is created to trace an individual's heredity. It gives a clear image of how humans have evolved and details about their ancestry and gene pools. Biology is a critical subject, and one should always carry an alternative to comprehend it better. The study of genetics is one tough nut to crack in the biology branch, but a genetics concept map makes the approach easy.
Creating a genetics concept map can contain gene pools, evolutionary mechanisms, and variations along with their respective branches.
Circulatory System Concept Map
It is best to assume that the human body is a complex machine responsible for conducting multiple processes and functions simultaneously. A circulatory system map contains all the necessary highlights of the human circulatory system by representing them in detail. The human body's circulatory system has many processes that run continuously and require frequent delivery of vital elements to various body parts. The circulatory system concept map covers the cardiovascular system and its use, components, and structure.
As a student, a circulatory system concept map is extremely useful for understanding complex components quickly.
Muscular System Concept Map
The muscular system has several muscles, each designated to perform a crucial role in helping function the human body. The muscular system concept map follows a refined and detailed approach to explaining the musculoskeletal system. The muscular system, with over six hundred muscles, works together to create a framework for the effective functioning of the human anatomy. It is easy to gather information about the kinds of muscles, their location, and their characteristics with a muscular system concept map.
Drawing a muscular system concept gap can help identify the typical muscle system and understand how closely they operate together to regulate human activities.
Urinary System Concept Map
The human body is made of so many systems, and the secretory system is one of them. It is often the most underrated component of the human body and comprises mainly the sweat glands, liver, urinary system, and lungs. Out of the lot, the urinary system is branched into several categories. Using a urinary system concept map will section out its different parts. The urinary system has further divisions, and a urinary system concept map can be used to understand the divided branches.
These urinary system concept maps are easy to read, and anyone can scan them right through them to figure out what it means.
Skeletal System Concept Map
Thousands of obstacles wave through when trying to understand the skeletal system of the human body. It is the backbone of the human body and contributes by offering support structure to the body. The skeletal system can be best understood by drawing a skeletal system concept map, which gives a visual aid to know the skeletal system's architecture. Creating a skeletal system concept map will fetch an idea of the structure, functions, and specific tasks performed by the different components.
Drawing a skeletal system concept map during an examination will give an upper hand to learning the complex functioning of the human system quickly.
Nervous System Concept Map
Everyone is well-acquainted with the nervous system, as it is the central command center of the human body. Without a nervous system, the human body is useless as none of its parts will correspond to their designated functions. The nervous system concept map gives the privilege of focusing on a particular segment of the nervous system instead of the whole. Plus, it also explains the role of the organ related to it explicitly. For instance, to work with the nervous system, it is best to draw a general diagram of the component in perspective and can assemble it further with its branches. Besides, a color-coding scheme in a nervous system concept map will add more to the clarification.
When a simple nervous system concept map is created around the main parts, i.e., the CNS and PNS, their interconnections are categorized in the map.
Digestive System Concept Map
The food one takes goes through a rollercoaster ride that follows a path through the digestive system. The digestive system starts at the mouth and ends at the anus, and a digestive system concept map shares a visual illustration of the entire pathway. Creating a digestive system concept map allows all the information related to the system to be arranged sequentially for better understanding. Furthermore, students also develop logical thinking ability when drawing a digestive system concept map. In addition to logical thinking, students also boost their analytical and critical thinking abilities by creating a concept map around the digestive system. Students can significantly improve their performance in school by incorporating the learning of concept maps.
To comprehend the various parts of a digestive system can be complicated, but a digestive system concept map assists in establishing the relationships flawlessly.
Endocrine System Concept Map
The endocrine system comprises the various glands that take charge of secreting hormones for the human organs. These hormones are used by the human body to perform functions like perception, reproduction, respiration, etc. Through a diagram created in an endocrine system concept map, one can understand the different kinds of glands, their categories, and their divisions. The endocrine system concept map is straightforward and extremely helpful for learners to visualize the functions of the endocrine system. Every gland in the endocrine system concept map is labeled against the hormone it is responsible for producing. Through the endocrine system concept map, one can know the hormones' functions in the human body.
Therefore, the lack of understanding of endocrinology can be best grasped through an endocrine system concept map.
Immune System Concept Map
The immune system accommodates an organism's biological mechanisms that shelter it against diseases. The immune system can be broadly categorized into acquired and innate, and an immune system concept map gives an insight into the other division within the immune system. The acquired immune system comes from our diet and lifestyle, whereas innate immunity is provided from birth. By following the trail of an immune system concept map, clear, conceptual, and concise information about the immune system and its branches are laid out. Further, the immune system concept map also explains the designated function of every cell to help grasp the concepts better.
A precise summary of an immune system through the immune system concept map in the form of keywords gives easy access to memorizing them.
Body Systems Concept Map
When students create a body systems concept map for learning the human body visually, it allows them to understand the unique purpose of every organ. The different organs in the human body come together to achieve a common goal. A human organ system is complex and integrated and collaborates to sustain life. A body system concept map outlines the entire human body and the various systems that constitute an organ system. A typical human body system contains nervous, musculoskeletal, digestive, reproductive, urinary, nervous, lymphatic, and reproductive systems, and a body systems concept map shares a refined outlook that makes it easy to dissect.
The body systems concept map displays all the ten human body systems and how they contribute to maintaining a healthy human organ.
Asthma Concept Map
Asthma is a condition that is harmful to children and adults in the long term. The asthma study can be best put out using an asthma concept map. An asthma attack blocks the pathway and corrupts the airways, making them inflamed and swollen. Through the idea of the asthma concept map, all the possibilities of an attack are put forward. The lack of treatment in a severe attack could be very harmful. However, the laid-out asthma concept map walks one closely through the processes, treatment, and stages.
To avoid extreme cases of asthma, handling it prior is the only viable solution. Thus, an asthma concept map is an operational and genuine solution.
Heart Failure Concept Map
Heart failure, loosely termed congestive heart failure, results from poor functioning of heart muscles. Although the process of knowing how heart failure is cumbersome, a heart failure concept map could be one's guide. The heart is the primary member of the cardiovascular system, and it takes full responsibility for distributing blood throughout the system. Since the heart is a complex system to deal with due to its diverse components, a heart failure concept map explains the processes by simplifying the divisions. It is important to keep heart conditions and their symptoms in check.
A heart failure concept map can be drawn to study the risks, causes, and interventions of heart failure.
Hypertension Concept Map
Hypertension is caused due to high blood pressure, which can be determined through systolic and diastolic numbers. A hypertension concept map gives a clear picture of how hypertension emerges. Risk factors, treatment, clinical presentation, pathophysiology, and diagnosis are visually set out in a hypertension concept map. Additionally, it could be quite confusing for students to understand the background of hypertension and the underlying factors that ignite it. With a hypertension concept map color-coded architecture, apprehending the concept is straightforward.
Hypertension is capable of causing serious damage to the heart. Thus, the design of a hypertension concept map comes to aid in explaining the complications, which can be avoided if preliminary precautions are taken.
As we saw from different biology concept map examples, a concept map is a visual tool that helps students dig into biology-related ideas in detail. Such biology concept map ideas push the students to explore various subtopics, organize complex structures, and logically understand the relationships between them.
Creating a biology concept map can be tricky if you are using complex tools. However, if you use EdrawMind, you can have your concept map ready in no time. The tool is designed by engineers who know how complex structures are formed in concept maps. So, you will find pre-built templates and other cliparts to enhance your concept map creatively.
Before we start creating biology concept maps, you should first download and install EdrawMind in your system. If you plan to collaborate remotely, it is advised to use EdrawMind Online. Once logged into the system, you are all set to start making concept maps.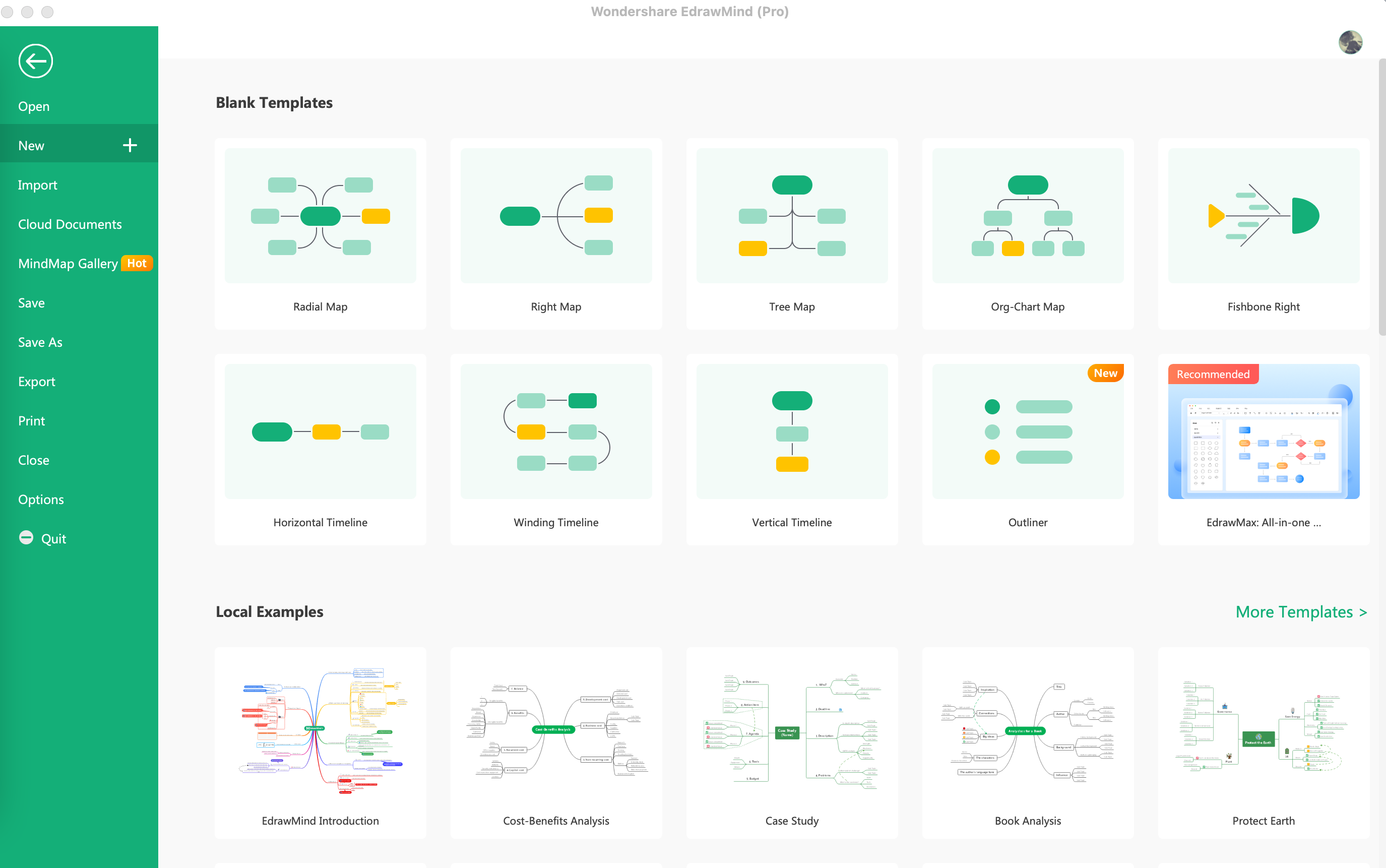 Step1
Select Radial Map
Once you are on the EdrawMind canvas board, you can either go ahead and choose a pre-built template or start working from scratch. If you plan to create a concept map for education, choose the Radial Map template that can be found under the 'New' tab. It will open up the Main Topic section in the EdrawMind dashboard.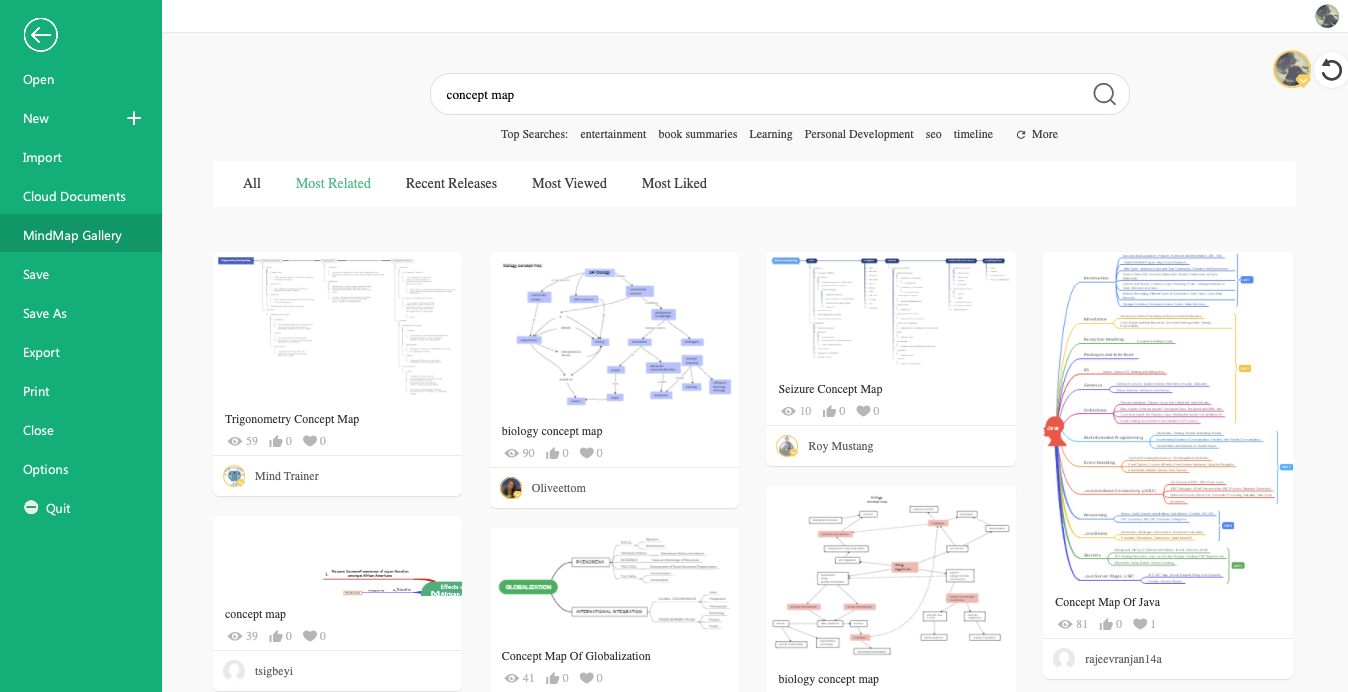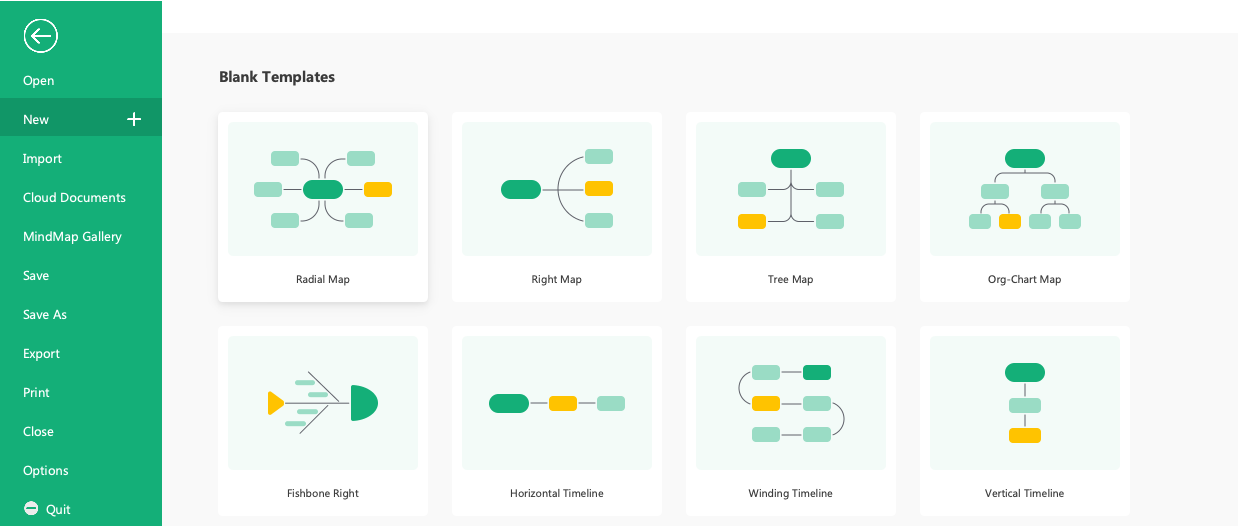 Step2
Insert Topics & Subtopics
Change the Main Topic name to the Concept Map Idea that you are working on. Select the tools on the top left of the mind mapping tool window to Insert Topic, Insert Subtopic, and Insert Relations between them. With the help of floating shapes, floating lines, and texts, you can seemingly draft a concept map.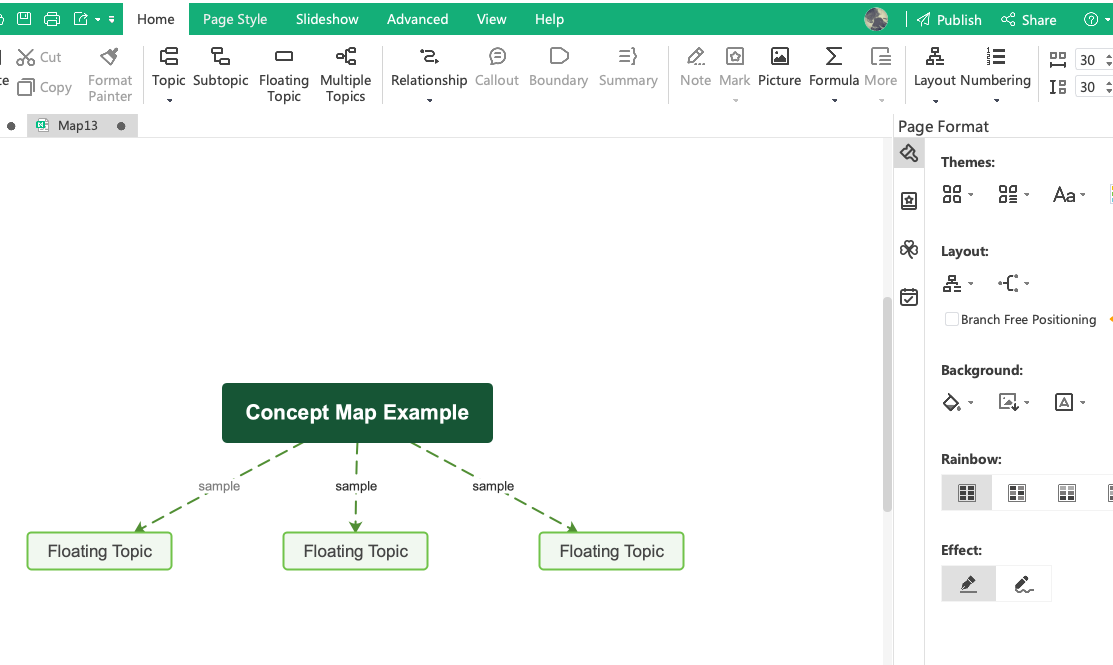 Step3
Identify Related Concepts
Make a list of related concepts and rank them from general to category-specific. Describe each concept as briefly as possible and try to connect different concepts that you think hold similar grounds.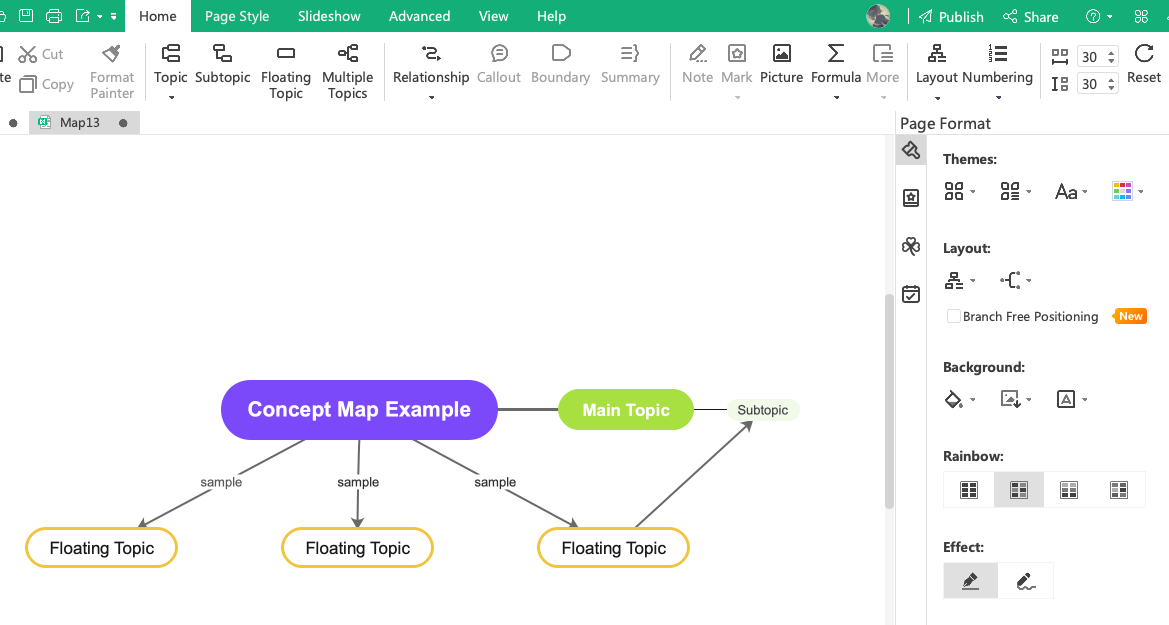 Step4
Organize Shapes & Lines
A concept map can become cramped if you do not organize the shapes and lines correctly. This mind map software lets you change the shape of the connecting lines. Choose between Curve, Straight, and Cornered, as per your requirement.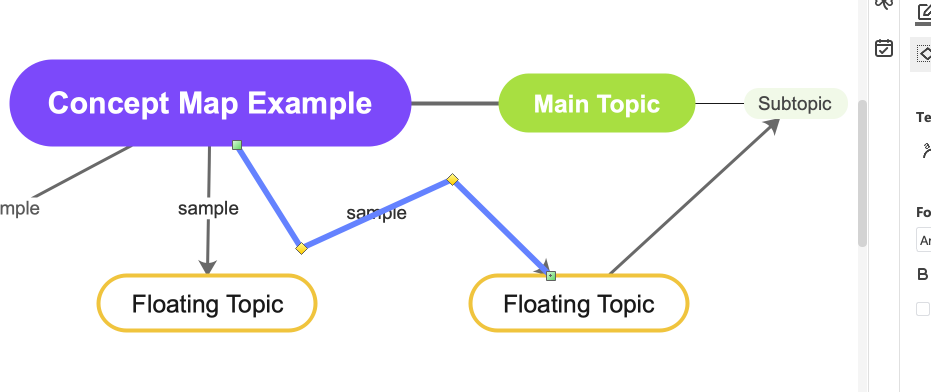 Step5
Format & Share
Once all the shapes and lines are aligned, ensure that you have correctly formatted the entire biology concept map. You can update the fonts, change the background color, or even update the theme if that is what is required to make the concept map template look more attractive. After you are done formatting it, you can share the concept map via different social media platforms, like Facebook, Twitter, Pinterest, and Line.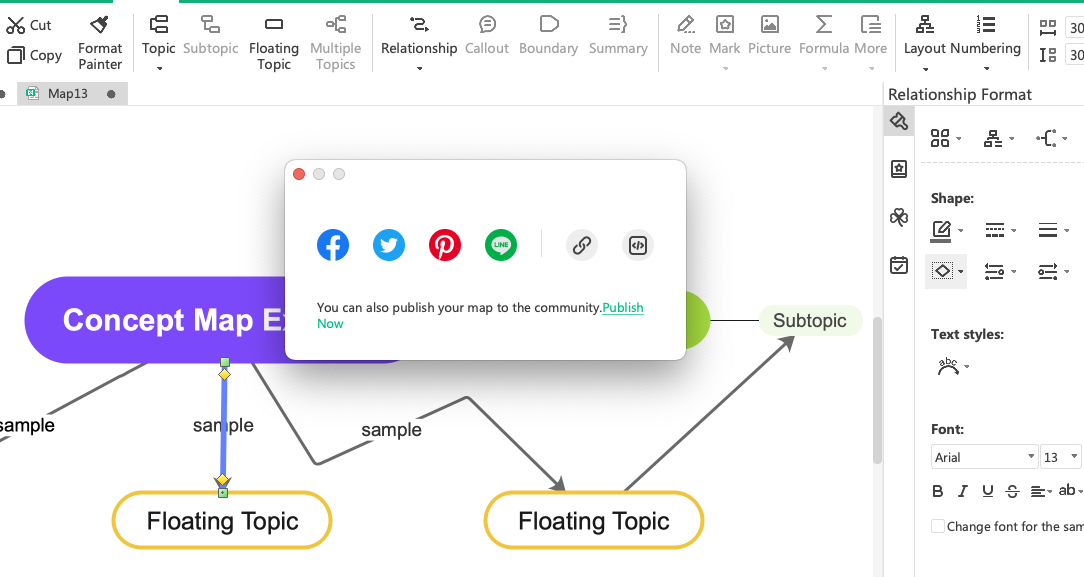 Biology Concept Map might look and feel complex, but if you have designed them perfectly, they will save you a humongous time during your preparation days. With just a glance over your concept map ideas, you can quickly remember their meaning and their relationship with different concepts. Remember that your concept map template is correctly aligned so you do not get confused while revising the illustration. In order to work effectively, you can go ahead and start making mind maps and concept maps using EdrawMind.
EdrawMind is one such tool that easily lets you create mind maps and concept maps. This mind map software comes with a presentation mode that can turn your concept maps into a slide-by-slide presentation. With the Traverse section, you can present each topic of your mind map from a different angle. With this mind mapping tool, you can spend more time solving biology-related problems and improving your metacognitive skills. So, what are you waiting for? Download and install EdrawMind today and start making concept maps for biology using different concept map templates.