Education Mind Map Complete Guide With 30+ Examples
In almost every academic vertical, teachers ask their students to create a visual representation of the problems that they are facing. By depicting the problem visually, students can easily relate to it and memorize it, making it exceptionally easy for them to revise them during or before the tests. This visualization of subjects or any concept coined as mind mapping was first introduced by Tony Buzan in 1974. Buzan used his coloring techniques to brainstorm complicated ideas that helped him narrow them down to multiple subsets, making it efficient for him to discuss them with his peers.
In this elaborated guide to understanding mind mapping, we will walk you through why education mind map is the key to a student's academic success and how, with the help of mind map templates provided by EdrawMind, you can create some wonderful mind map examples that you can easily share with your teachers or with different students.
In academic institutes, we see how students have to learn several complicated subjects on a very stiff deadline. At the same time, they need a way to memorize them so they can easily relate to them and revive them during exams or tests. In order to resolve such issues, teachers and parents often ask the children to create mind maps. In short, education mind maps are the diagramming representation of different items, topics, words, and concepts. As you will see in this elaborated guide to understanding mind mapping, we first note down the core concept or the idea and start radiating outwards, where we specify different subtopics to make it more comprehensible.
Following are some of the importance of using and creating an education mind map:
By creating an education mind map, students remember more of what the teacher or their parents are teaching them.
Mind maps for subjects tend to increase a student's critical thinking and enhance memory skills.
Since skills are easily transferable, a student who has sharpened their skills using a mind map can easily translate it to their professional lives in the latter part of their lives.
Education mind maps make communicating thought processes easier for students or teachers.
Education mind mapping also helps teachers lay out lesson plans and prepare different lectures for their respective classes.
As we stated earlier, an education mind map involves writing down a central idea and related key ideas or phrases that radiate out from the center. When we work on the education mind map, we come across different elements, like:
A keyword or phrase in the middle: For education-related drawings, it can be about a student's curriculum activities or a teacher's lesson plan they have devised for a particular class.
Subtopics radiating outside: For education mind maps, these can be the breaking down of the central idea into multiple subtopics, so it becomes easier for the students or the teachers to understand and relate.
In order to make you understand the importance of creating an education mind map for students and teachers, we have created several mind map examples that will lay out different scenarios or issues that a student or a teacher can address.
Mind Map Examples for Teachers:
Mind Map Examples for Students:
Mind Map Examples by Subjects:
A teacher looks after several classes and subjects. In addition to this, most of the teachers are also responsible for exams and extracurricular activities. Making detailed notes for all the different classes can be tiresome and might create confusion for the teachers. In order to resolve such issues, teachers create an educational mind map that benefits them and their pupils. Here are some of the most common mind map examples for teachers.
Class Curriculum Mind Map
Curriculum planning mind map shares vivid information about the relationships between school academics and curriculums through a standardized representation. Teachers use curriculum planning techniques to imagine, research, and arrange topics, exams, and materials. A class curriculum mind map is a visual method that allows students to directly fetch answers to specific questions. The curriculum plan boosts continuous development, and therefore, it requires frequent experimentation and trial and error. The class curriculum mind map can be used for primary and secondary education to manage plenty of tasks. For example, the whiteboard is a familiar concept in school where the key concepts are highlighted. The same can now be achieved through a class curriculum mind map.
A class curriculum mind map is ideal for facilitating the questions, visualizing attentive details, and enabling various perspectives.
Direct Speech Mind Map
Speech has many forms, and direct speech is a representation of actual words of the narrator. In certain cases, a direct speech mind map is extremely helpful in putting out the exact words being spoken. Quotation marks, inverted commas, and synonyms are also depicted well through a direct speech mind map, assisting readers to feel engaged and get a grasp of the characters better. When a direct speech mind map is used, speech can be simplified by turning the thoughts in mind directly into visuals. Additionally, there can be multiple additions in a direct speech mind map that will allow one to link one point with another and expand the mind.
A direct speech mind map is composed of many elements, keywords, and phrases that are easy to memorize. Furthermore, the intuitive pattern of a speech mind map is uncomplicated to remember.
Knowledge Quiz Mind Map
The human reproductive system is made of zillions of cells and organs. In order to know the various aspects of sexual reproduction, a knowledge quiz mind map is drawn, which offers enhanced insight into the sexual life cycle. Biology is a vast subject, and covering every area could be tricky. Therefore, a knowledge quiz mind map acts as a biology library and allows students to brainstorm the answers. A knowledge quiz mind map is designed to visually represent the process that takes place in the sexual life cycle, and students can invest their minds in unlocking answers to track the steps.
By creating a knowledge quiz mind map, identifying the different steps of the sexual process becomes very easy.
Lesson Activity Mind Map
Students often use lesson activity mind maps to increase their creativity and sketch their opinions. For students, the classroom is their playground where they put their creativity to practice. Using a lesson activity mind map, all the thoughts are laid out, further assisting students in channeling their inner thoughts. With a lesson activity mind map, students can explore the scenarios where their mind works best. Schools aim to skill students with vital information that they need to progress. In such cases, a lesson activity mind map gives them a chance to set up their future goals.
A lesson activity mind map activity works for students of all age groups and forces them to engage and build critical thinking.
Lesson Plan Mind Map
There are plenty of techniques that teachers follow to give a brief to students on the pain areas they should concentrate on. Teachers can utilize the benefit of a lesson plan mind map by illustrating effective lesson plans. Evaluation, resources, objectives, activities, class discussions, and assessment are the key parts of a lesson plan mind map. Each part plays an individual role in uplifting the learning experience for students and meeting the desired objectives. Moreover, a lesson plan mind map is a convenient solution for educators to explain the individual lessons to the entire class.
Lesson plans are the first step that leads to creating a full-fledged curriculum. A lesson plan mind map acts as a roadmap for students that amplifies their career.
Organize Class Project Mind Map
Though there are numerous ways to plan a day, the best formula is to organize the entire day beforehand. The organized class project mind map is flexible, structured, and visually assists in following an effective routine. Representing ideas and thoughts that emerge from the central point diverts the focus to areas that need primary attention. Furthermore, for one to classify information in various sectors and handle them carefully, an organized class project mind map is used that offers an optimal solution and segregates the areas based on their importance.
The biggest advantage of using an organized class project mind map is incorporating the enduring practice of organizing information linearly.
Printable Mind Map
Creativity knows no bounds, and a printable mind map allows one to unleash their inner creativity and gain clarity on their decision. A printable mind map can be compared to a canvas board wherein one can use visual abilities to design ideas. With the help of a blank printable mind map, students can unlock their creative thinking ability and lay out the ideas floating in their minds. For instance, a printable mind map can create digital ideas or structure a business plan.
Writing the idea on a printable mind map could be overwhelming and allows one to breach through the possibilities of thinking.
Research Process Mind Map
Research, in any form, is extensive and elaborative. While conducting research, students tend to complete assignments and gather non-sequential information. Students can create a research process mind map which is a beneficial solution to explore the ideas and draw relevant conclusions based on the data. The radical concept of a research process mind map is to think coherently of the concepts and sub concepts. This will eventually lead one towards the path of recalling the necessary information and gathering fruitful results. Preparing a research thesis for designated topics can be carried out fluently through a research process mind map.
There are multiple citations and source references required at the time of preparing the research. However, if they are distinguished and divided smartly in the research process mind map, it becomes straightforward.
Teaching Step By Step Mind Map
Literature has many shades to it, and the ideal way to understand the underlying concepts is through a teaching step-by-step mind map. Students can use the teaching step-by-step mind map to extract the advantage of writing a literature thesis statement. With the assistance of a teaching step-by-step mind map, it will be very trouble-free to draft multiple layouts and make required modifications based on the requirement.
In order to write a thesis paper on literature, mindful attention, consideration, and inspiration are the prerequisites. All the factors can be attained through a teaching step-by-step mind map which will concentrate on the central idea and the various branches.
Student Progress Review
Schools aim to build students from scratch by offering them the skills they need to grow their passion. Student progress is usually tracked by their parents, leading to frustration. In addition to being time-consuming, it also is extremely stressful. Therefore, it is best to create a student progress review concept map to track individual progress. The branches from the different segments can be stretched out to display the performance and development of the students. A student progress review map will be beneficial in providing a visual aid to parents during parent discussions. Illustration through a review map helps students to know their improvement areas.
While creating a student progress review map, different colors, such as red, green, and orange, can be used to signify strengths, weaknesses, and improvement.
As you saw, we have created several education mind maps for teachers. These examples must have helped you understand the benefits of creating different mind maps. With EdrawMind, a teacher can easily replicate these education mind map examples and create a personalized mind map for their academic purposes.
Creating educational mind maps for students is very important, as it improves their cognitive skills and makes them self-learners. Here are some of the most important mind map examples for students that you can use for your academic needs.
Central Idea Concept Mind Map
When there are several key themes, a central idea concept mind map can be created to distinguish each theme from the other. Every key composition is further divided into separate branches specifying the theme's needs. However, the central idea concept mind map accumulates all the key theme structures and lays them out visually. When there is more than one key theme around a central concept, it is ideal to use a color-coded scheme that differentiates one theme from the other. This identification can be done based on priority or importance. Through a central idea concept mind map, knowing the aspects of every key theme becomes accessible.
Moreover, the central concept mind map can also correlate one key theme with another using a specific color to establish a relationship between two themes.
Empathy Mind Map
An empathy mind map should have mandatory sections dedicated to actions, feelings, and thoughts. Empathy is a concept to comprehend. However, an empathy mind map accomplishes the goal. The objective of using an empathy mind map is to portray the empathetic design. The fundamental concept that an empathy mind map uses has six categories: see, pain, hear, say & do, think & feel, and gain. Every category is further branched out to explain its attributes explicitly. The map is centered around people who need a constant reminder of their individuality.
These categories in the empathy mind map represent the snapshot of the user's mind thoughts, feelings, and vulnerabilities. These maps are the best to record how humans use their emotions.
Essay Plan Mind Map
As a visual learner planning to create an outline of an essay, drawing an essay plan mind map can be a game-changer. By drawing an essay plan mind map, it becomes extremely easy to construct your passage. The essay plan mind map allows you to brainstorm and focus on the key takeaways of the essays. Additionally, it can also be used for collecting quotes, references, and arguments from diverse resources. To begin with, a mind map, create a rough outline essay structure placing all your research and ideas in place. After the plan is laid out, establish relationships between the arguments to display connections between the topics.
The use of an essay plan mind map is to draw a coherent skeleton of the essay before actually writing it on paper.
Essay Planning Mind Map
The objective of curating an essay is to deliver a descriptive, elaborative, and conceptual thought about a specific topic. The essay planning mind map is a visual thinking technique that gives the privilege to comprehend, summarize, and recollect your relevant subject. When students are given a writing assignment, drawing an essay map around it is a sensible area to begin. Creating an essay planning mind map on paper defines the entire idea in a radical structure. Moreover, as one sets out the branches of the essay planning mind map, they will mind themselves wandering in the depth of research and ignite more brainstorming ideas.
Starting with a central theme or idea subdivided into various essay topics is the perfect way to begin an essay planning mind map.
Evidence Mind Map
The core of creating an evidence mind map is to map out all the relevant facts. A shred of evidence is nothing without the right set of facts. Every fact has various components, which are laid out through an evidence mind map. The reliability of the evidence categorizes them on the further branched factors. Evidence mind map consolidates all these categories and branches them to provide a refined insight. Designing an evidence mind map will assist in providing a visual outline plan to conceptualize the evidence better.
Although it could be rough to picture initially, once the evidence mind map is created, understanding it becomes an uncomplicated process.
Exam Preparation Mind Map
Exam stress is the most dangerous thing a student must deal with. The best way to bid adieu to exam stress is by setting out a planned exam preparation mind map that will cover all the required materials for the exam purpose. Through an exam preparation mind map, one can divide their attention into the areas that need it the most. Resources, time, study structure, test structure, and repeat information could be some of the touch-base sections before an exam happens. Planning a mind map is a smart move to stay a step ahead during exams and to avoid exam stress too.
One can use separate colors to illustrate the categories where the investment is required the most. This will save a lot of one's time.
Getting Things Done Mind Map
When there is a lot on the plate, and very less time to complete them, 'getting things done' mind map is created. The motto of the map is to eventually tick off every task once they are successfully finished. Moreover, it is not just about finishing tasks but effectively completing them satisfactorily. Through getting things done, extensive branched-out categories of tasks are layered out, which are further subdivided into the form of a corresponding checklist. The end goal of getting things done map is to finish everything that is on the list with maximum efficiency. Backtracking the tasks could be another effective way of managing the list.
Methods, buckets, tasks, etc., are some branches of getting things done map which extend their respective fish bones to meet the objective.
Health Mind Map
To inhale the thoughts and exhale them to bring them back to life is the intended purpose of a mind map. The desire to draw a health mind map is necessary to build healthy habits. A health mind map is a way to ensure the physical abilities of a human body and how functional they are. A healthy lifestyle starts when healthy habits are inculcated. Thus, to take a step towards a healthy life, one has to start from the basics. A health mind map divides the different aspects consciously to not overburden an individual. This can be followed to define the life one pleases, and the fresh environment one wants to be a part of.
A health mind map helps to enjoy the best aspects of life in the most flexible manner.
Making a Presentation Mind Map
To present ideas, making a presentation mind map is a creative and engaging way. Through a presentation mind map, the keywords and elements are used to represent key information. Similar to how a presentation is created, making a presentation mind map takes a similar inspiration. It is easy to lose out on keywords and headlines when struggling through numerous slides; however, that is not how a presentation mind map works. It is a fact, very easy to retain, display, and comprehend different kinds of information. The generic requirement is to place these keywords in a manner that extracts context.
Making a presentation mind map is a two-dimensional approach that students can use to create incredible presentations.
Mind Mapping
For brains, making mental mind maps is a natural phenomenon. Information is mainly processed nonlinearly; thus, to picture a mind mapping technique in such cases is a great initiative. Mind mapping is widely accepted in academics, business, and many other professions due to its simplicity. As a visual learner, mind mapping will bring many advantages to your door. Different people have different agendas for using a mind map. Some do it to trigger their memory; for some, mind mapping is a technique to think out of the box. Most people use mind mapping techniques to simplify complicated problems and withdraw solutions.
Creating a mind map could be overwhelming, but once the vision is transparent, mind mapping disposes of valuable results.
My Paper English Renaissance Mind Map
Literature is underappreciated, especially due to its complexity. My Paper English Renaissance mind map beautifully creates the branches following a basic outline. Writing a My Paper English Renaissance mind map shows a different outlook toward literature. Shakespeare, Spenser, dramatic conflicts, style, love, etc., are a few outlines of the mind map. Once the target is acquired, the branches of the outline can be drawn to explain the partitioning of every outline. For example, Shakespeare has partitions in 'My Paper English Renaissance' mind map, scilicet, Romeo & Juliet, and Macbeth.
With the help of a mind map, one can identify literature in ways they have never before.
Note-taking Electricity Mind Map
For most of us, electricity is equivalent to energy. That, however, is not the case. The sequential flow of electrical power is called electricity. Electricity is a form of energy and is a secondary source. The concept of electricity is vast, and through a note-taking electricity mind map, one can dive into the world of its applications. A note-taking electricity mind map segregates electricity based on concepts like household electricity, electric power, electricity & magnetism, and ohm's law. These are standalone concepts that are branched out further based on what they have to offer.
By drawing a note-taking electricity mind map, it is simple to decipher the different concepts and principles of electricity.
Research Outline Mind Map
An in-depth independent research is about analysis and interpretation. A research paper can be compared to an academic essay, but research uses a slightly different approach. Research is very detailed, long, and extensive. Therefore, it is best to create a research outline mind map while drafting a research paper. Through a research outline mind map, all the indexes are highlighted so that they can be used at the time of drafting the research paper. This technique is a very effective approach to noting the table of contents and not missing out on any of them.
As an academic research student, taking out the research outline mind map is the absolute best mechanism to table down the specific ideas.
Online e-learning mind map
The world is now shifting to e-learning since there are countless benefits of the same. By creating an online e-learning mind map, students can improve their understanding and enhance their memory when the information is visually represented. The online e-learning mind map can be actively used by teachers, students, and mentors to lay out its advantages. Planning, collaboration, participation, and exam preparation are the various ways in which an online map for e-learning assists. The divisions allow to create, connect ideas, collaborate, and unlock creativity amongst students. Since technology has excelled extremely, it is obvious to neglect what e-learning offers unless it is widely used.
An online e-learning mind map can be tailored to align with the requirements and specifications. Using a mind map for e-learning helps enhance the methods of learning.
Book Mind Map
The primary motivation behind creating a book mind map is to keep the thoughts organized and brainstorm the relevant ideas. For example, going to a grocery store without a grocery list would require effort to walk down every aisle. Similarly, the guiding principles of a book can be best conducted through a book mind map. By creating an easy-to-go outline through a book mind map, categories like structures, foundations, uses, and synthesis are branched out. These categories are then extended to their respective sub-categories. Therefore, the decision to create a book mind map can be adventurous if the branches are represented accurately.
Since there are no ground rules for drawing a book mind map, the one that does the tasks satisfactorily is worth considering.
Team Study Group Study Mind Map
Research has shown that team study or group study has an amazing result on children's academic performance. By creating a group study mind map, we not only embark the students on the right path that leads to better collaboration but also ensure they achieve all their goals. As seen in this team study mind map, we can branch out different aspects, like cooperation with the teacher, creating better ways to take notes, noting down different subjects they need to study, visualizing different goals, creating work schedules, and more.
As you can see from the team study mind map, studying in groups encourages children to think creatively and build strong communication skills that help refine their understanding of the study material.
All these education mind map examples for students are readily available at EdrawMind. You can replicate these education mind map templates or inspire by their components to create something for yourself.
Students often study a magnitude of different subjects. Some of the most common subjects that are being taught to all the students worldwide are Literature, History, Mathematics, Science, and Sports. Here we have illustrated a couple of mind map examples by subjects.
Vedic Literature Mind Map
Vedic literature studies Indian religious texts, including Vedas, Upanishads, Brahmanas, and Aranyakas. It helps us learn about sources of knowledge about the Vedic and Aryan periods. The study is important for the students to learn about their ancient roots, the origination of the Sanskrit language, and the relationship between students and gurus. It helps them imbibe the true value of a teacher.
When students create a mind map of Vedic literature, it helps them understand Indian history in a simplified manner. This visual representation allows them to develop their social and behavioral science skills by learning their roots and how Indians used to lead their lives before the jati system.
Chemistry Mind Map
Chemistry is a branch of science related to studying compounds and elements, their structure, properties, and composition. It helps the students understand the world and every matter present in it. When students seek help from a Chemistry mind map, it helps them learn about the different areas.
With a mind map, the student develops the ability to break down complex information, understand the relationship between different aspects of Chemistry, and visualize the connection between them. With the mind map, the student gathers important information and can understand how one area of chemistry is interlinked to the other.
English Language Mind Map
English is a vast language, and there are many things to learn about it apart from grammar rules. While studying English as a language, learning about its origin, foundation, and influence is also important. Nevertheless, this is a concept that students are not able to memorize.
When students design an English-language mind map, it converts thoughts into a visual diagram. This brings clarity to the origin and relevancy of English. In addition, an English mind map ensures that the students have all the relevant information related to the language before beginning with the reading and writing parts of it.
Health Mind Map
Health is a vast concept and, contrary to popular belief, is not restricted to physical well-being. Various concepts come to mind while talking about an individual's health. It is related to diet, exercise, sleep patterns, and stress levels. A student learns about every concept gradually and tries to understand the significance and relation of one thing to another.
By creating a health mind map diagram, the student transforms the knowledge and produces a visual representation of all the learnings. This helps understand the relevance and find ways to manage sleep, exercise, diet, and stress.
Human Cells Mind Map
Cells are the building blocks and provide a proper structure to the body. Every human, animal, and plant body has trillions of cells, so it is difficult to understand each one of them and their functioning. A mind map simplifies this complexity and helps the students understand the cells' basic terminology, structures, categories, and size.
When the students create a human cell mind map, it provides a visual sketch of how the cells function and improves learning and understanding. Also, through the mind map, students gather all the relevant information about the major cell parts.
Improve Your Language
English grammar is a set of rules that put words into a structured sentence. When a student learns all the basics of grammar, it helps in improving the language as a whole and boosts confidence. With a vast set of rules and multiple concepts to remember, it becomes a little too much for those students who need to excel in exams or are planning to improve their language. A mind map helps the students turn their understanding into a visual representation.
When students create a mind map to remember ways to improve their language through grammar, it combines all the relevant information for basic understanding. As you can see in this mind map diagram, there are seven ways in which a student can improve the language and practice the same.
Light Mind Map
Light is a simple yet vast subject and is something that makes vision possible. Without light, there cannot be life. Multiple concepts are involved when it comes to the topic of light, and it becomes a little tedious for those students who wish to study it for their exams. With the support of a light mind map, students can create a connection between various topics of light and understand them effectively.
By creating the light mind map, students visualize their learnings about different areas of light, including refractive and reflective light, along with their laws and types. This helps ensure they have all the relevant points before proceeding further.
Pre Math Mind Map
Pre-mathematics involves the basics of the subject. Specially designed for kids, math includes everything from digits to counting, position, size, and money. Although the concepts are tough for kids, they are important to build the foundation. These concepts help pre-kindergarten students understand what math is and its relevance.
When students create a pre-math mind map, it helps break down complex information into a simple form and retain the information for a long time. The mind map is a visual representation that improves productivity and creativity in pre-k students. It helps students understand the basics before moving to more complex information.
Organic Chemistry Mind Map
Organic Chemistry is one of the prominent branches of the subject. It explains carbon-based compounds' preparations, structures, properties, reactions, and compositions. This is a vast subject and requires focus to gain in-depth knowledge. When the student creates an organic chemistry mind map, the entire information and understanding are converted into a visual representation.
With the assistance of the organic chemistry mind map, students can ensure they have all the relevant information to begin the study. It gives the students ability to understand, organize, and retrieve all the information and discuss the same with peers.
Physics Mind Map
Physics is one of the main branches of science related to the properties and functions of energy and matter. It studies the relationship between energy, object, and force. Remembering the concepts of Physics is tough for a student, and this information keeps increasing gradually, as it includes the classification, atomic structure, laws, and physics interactions.
Students create a physics mind map to easily recall information and understand new concepts. When complex terms and concepts are turned into a visual presentation, the complex ideas become simple to understand and remember. Also, the mind map will improve the method of presentation. With the help of such mind maps, a student can answer challenging questions when the information is simplified visually.
Point Education Mind Map
A point denotes multiple things. It can be related to a place, unit of measurement, education, typography, sports, etc. While learning about this single word, multiple aspects come to the mind, and it can be difficult for a student to understand, learn, and remember the significance of every aspect. Once the student creates an educational mind map, the complexity of the point is broken down into simpler and easy-to-remember meanings.
An education mind map acts as a visual drawing for the student to gather the information collected over time. It describes all relevant information and improves the learning process as a whole.
Six Kingdom of Biology Mind Map
As you see here, the topic of Biology is divided into six kingdoms: Bacteria, Archaea, Fungi, Animalia, Plantae, and Protista. This categorization helps the students understand the complex subject in a simpler form. The information about the six kingdoms helps understand cell, reproduction, and nutrient acquisition.
This complex information can be broken down into a simple mind map for learning. When a student turns the information about the six kingdoms of biology into a mind map, it helps them remember their meaning, characteristics, and examples. The mind map enables the students to use the information and its relevance to each other.
As you saw from the elaborated education mind map examples, there can be different scenarios or topics for which you can go ahead and create a mind map. The diagramming method to visualize complex problems helps in brainstorming and improves the students' cognitive function.
Depending upon the academic subjects or educational expertise, mind maps not only help improve memory skills but also boost the creativity of the students, resulting in enhancing productivity in the long run. There are several amazing benefits of using mind maps for education.
Now that you have understood different scenarios for which you can go ahead and create mind maps, let us show you how to make a mind map using the best mind map software. Here we are taking a generic example to create a mind map using a mind map tool. As per your requirements, you can modify these steps.
Step1
Launch Mind Map Maker
EdrawMind is considered the best mind map software as it provides templates and has 700+ cliparts. Launch EdrawMind in your system and login using your registered email address. Click on 'New,' followed by the '+' sign to open a canvas that already has a main topic created for you. In addition, you can open a new template by clicking on the 'New' option and selecting any template available for you to use.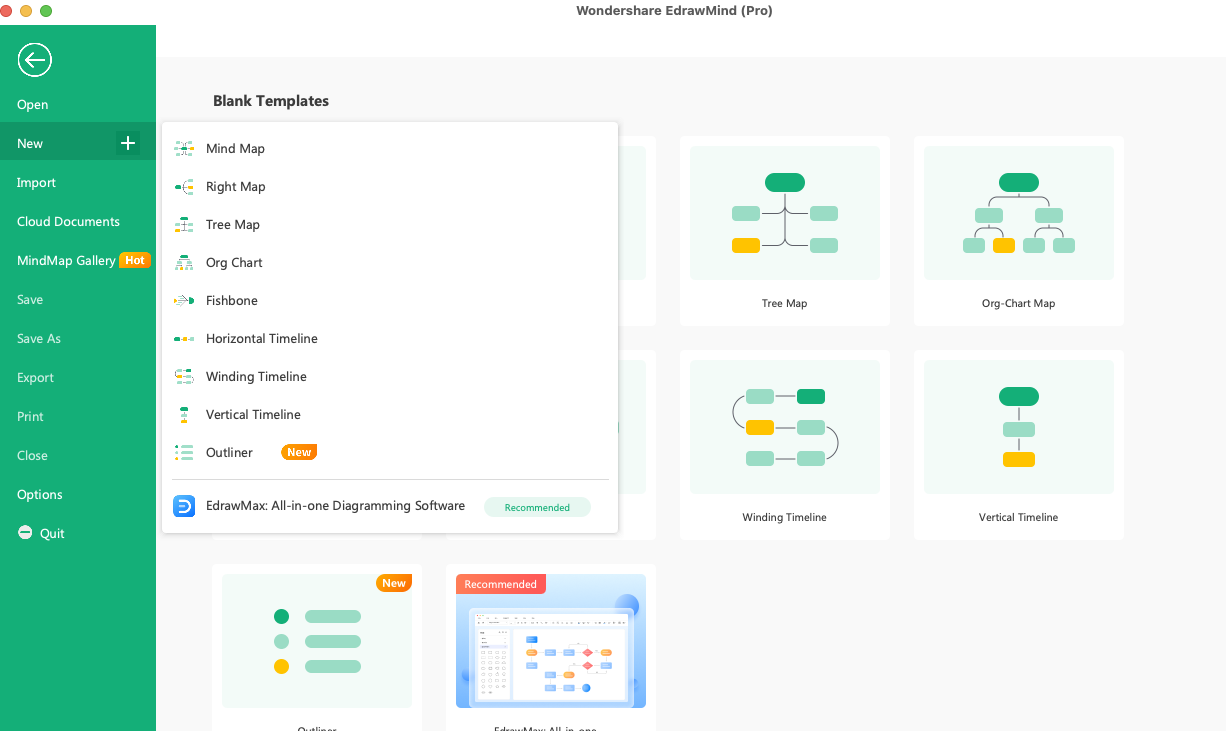 Step2
Edit the Main Topic
In the EdrawMind dashboard, you will find the main idea in the center and options to add new branch ideas or subtopics. Create the main idea per your requirement, followed by creating branches from the main. As you know, these subtopics will help elaborate the central idea or the central theme.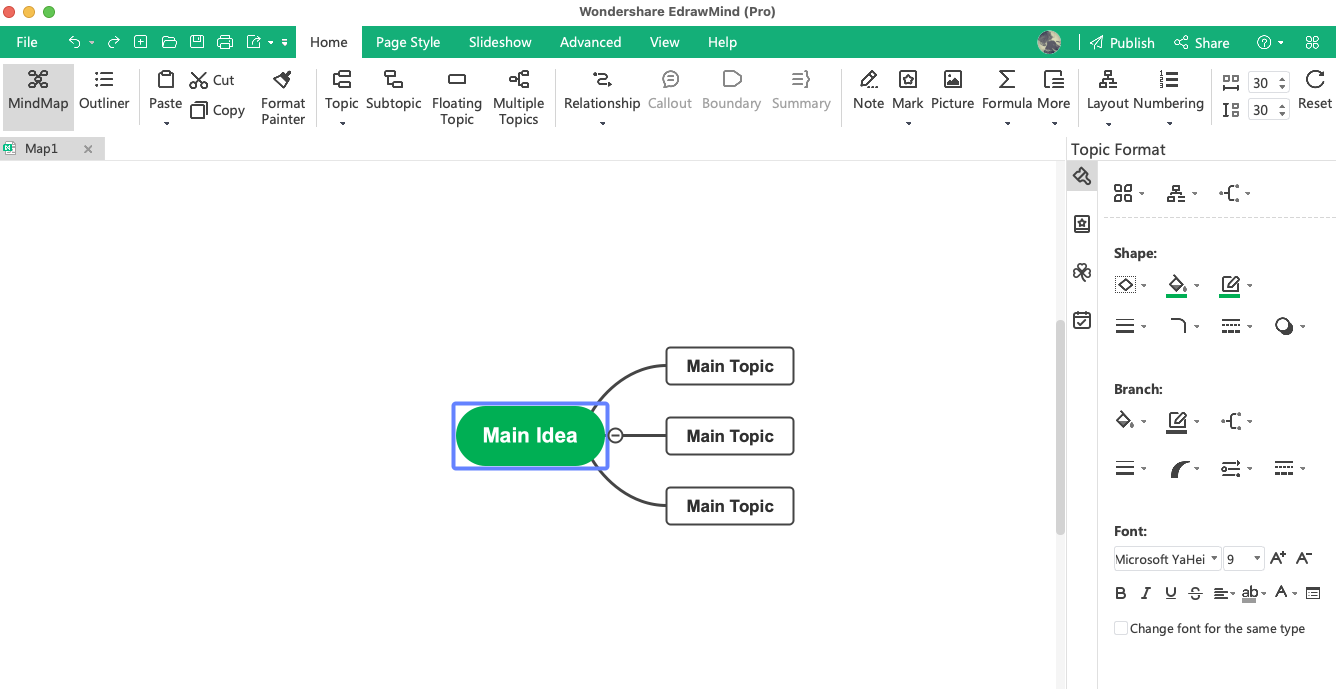 Step3
Add keywords
Depending upon the complexity of your central idea, you can add a magnitude of subtopics. With this mind map software, you can also create relations between different branches and sub-branches.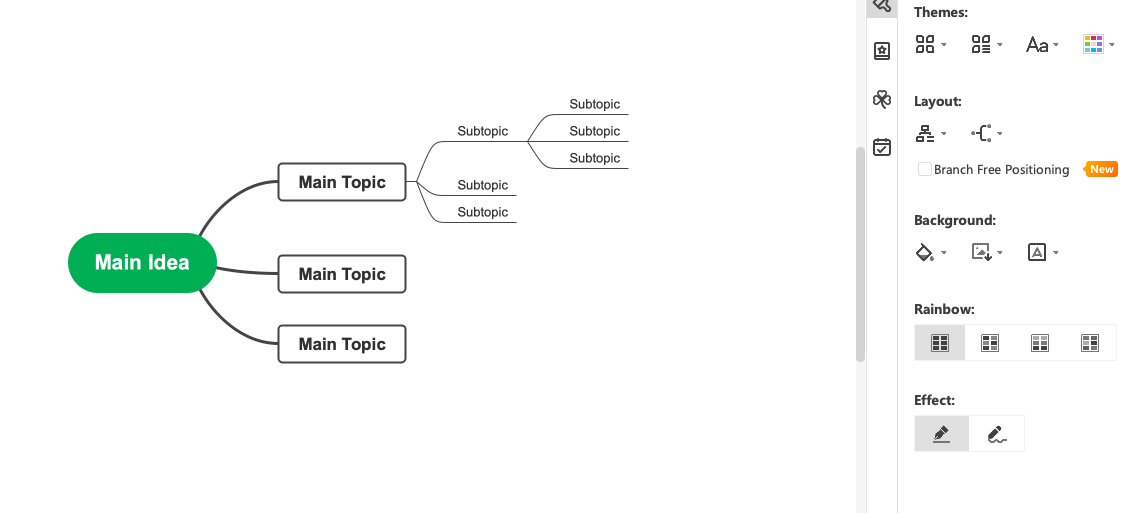 Step4
Add components
Try to make your education mind map as engaging as possible. This mind map maker lets you import images, create hyperlinks, add comments, and even add different cliparts. Once you are ready with your education mind map, you can export it into different formats.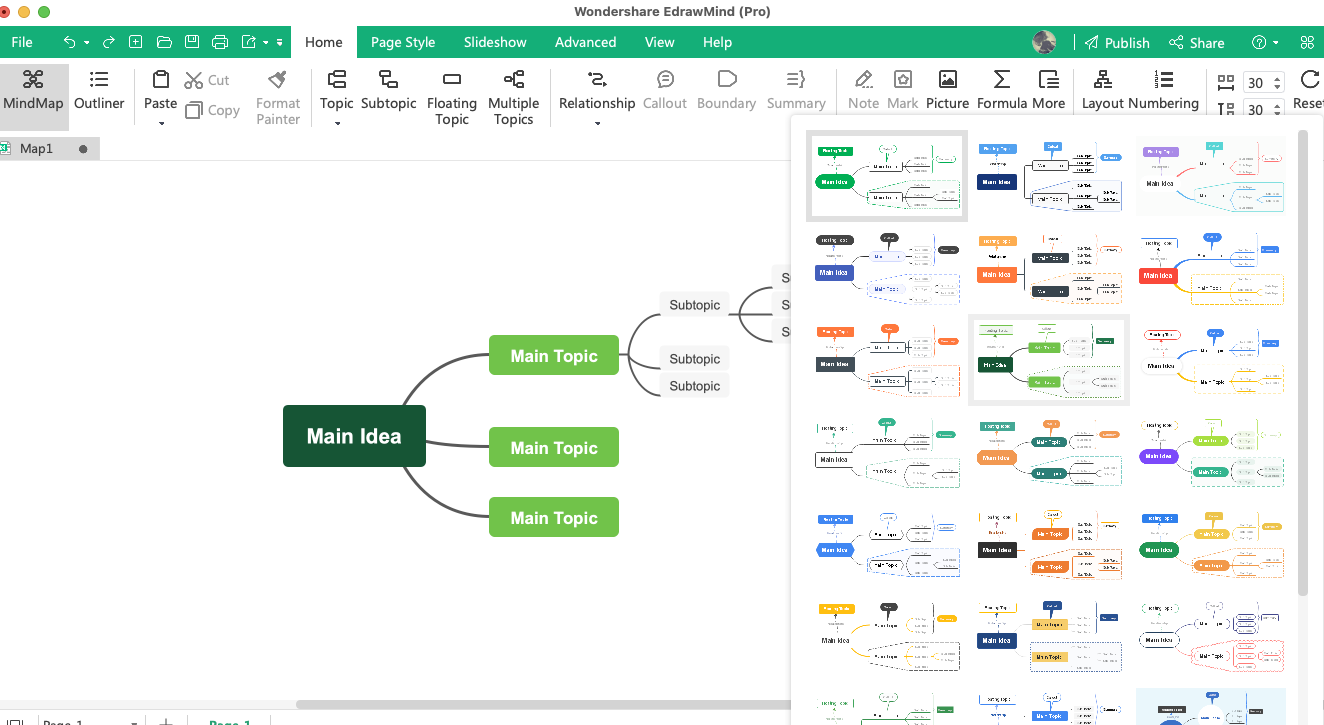 Mind maps are one of the easiest ways for students to learn a new subject. Most teachers create education mind maps for their students so they can easily brainstorm new ideas or organize their thoughts. Unlike listing or re-reading, an educational mind map helps the students and the teachers to memorize the concepts effectively. When you create an educational mind map diagram, remember to use different colors or fonts to outline different sub-branches, and for this, you require a mind mapping tool equipped with all such functionalities.
EdrawMind is a mind map software that provides you with different mind map templates. From a fishbone mind map to a winding timeline, EdrawMind provides 22 different structures and 33 different well-designed themes, which help students create different mind maps per requirements. With this mind map tool, students can easily customize and optimize their mind maps and later share them on social media platforms or via a link to their teachers. So, what are you waiting for? Download EdrawMind today and start making some amazing education mind maps for your schools.