The Exhaustive Guide to STP Marketing Model
Do You Want to Use STP Marketing?
EdrawMind helps move ideas forward, faster and better. Learn from this STP marketing complete guide to know everything about STP marketing. Just try it free now!
STP Marketing signifies the success of modern-day businesses. Marketing campaigns would be less impactful, ineffective, and generic without it. Implementing the STP model into your business can yield desirable outcomes.
1. What is STP Marketing?
STP stands for Segmentation, Targeting, and Positioning: a marketing model that analyzes your products or services defines your target customers and describes the ways to market your products and services to them.
This model includes segmenting the market or audience into different categories, targeting the selected categories of customers or audiences with marketing campaigns that are designed according to their needs and preferences, and positioning your products or services according to their desires and demands.
This is a highly effective marketing model that has been employed by successful businesses for decades. The effectiveness and efficiency of this model lie in the fact that it emphasizes customer-focused marketing instead of product-focused marketing, which positively influences and enriches the customer experience.

2. The STP Strategy: Explained with Examples
It is easier to understand and remember the segmentation, targeting, & positioning model through a formula that summarizes it in the best way possible. It is known as the STEP formula, which is:
Segmentation + Targeting Equals (=) Positioning
This formula forms the essence of STP marketing, and it illustrates that each segment needs personalized positioning and marketing mix to succeed. Let's explain the STP strategy in brief!
Segmentation
It is the first step in STP marketing, and the objective of this step is to create different segments of customers depending on the particular criteria of your choice. It involves dividing the audience into smaller groups based on certain features. You can segment the customers or audience on the following basis:
Demographics

You can segment the audience based on gender, age, income, ethnicity, marital status, education, profession, or even their type of resistance.

Values and Beliefs

This strategy involves the segmentation based on nationalistic, cultural, political, and religious views, beliefs, and perspectives

Lifestyle

You can divide your customers into different groups based on their hobbies, interests, and their recreational pursuits.

Psychographics

It involves segmenting people based on their behaviors related to purchasing choices. It gives you an idea of why your customer buys a particular product.

Geography

You can also segment your customers depending on their location such as country, region, area, population density or climate, etc.

Life Stages

Segmenting people based on their ages has always been an effective strategy to implement the STP marketing model.

Behavior

It refers to segmenting the customers keeping in view their nature of purchases, usage level, and brand loyalty.

Benefit

User satisfaction forms the basis of this segmentation strategy.

Example

McDonald's segments its audience based on demography when it comes to planning its marketing campaigns. Demographically, they categorize their potential customers based on their gender, income groups, age, etc.
Targeting
The next step in the STP model is targeting in which you decide which segments are worth focusing on for your marketing campaign. Ideally, you should consider the following criteria to determine the most attractive segments to target.
Size

Your audience segment must be large enough to justify your marketing efforts.

Profitability

The segment should bring high revenues, and the potential profits must be higher than the costs of marketing.

Difference

A measurable difference should exist between the two segments. Otherwise, it will lead to duplication of efforts.

Accessibility

The segment should be accessible to your marketing team, and there should be no technical issues.

Benefits

Different segments need to have different benefits.

Example

In the case of a company offering vegan alternatives to dairy milk, you find out by surveying that around 70% of the people looking for such products are lactose intolerant. Therefore, pursuing this segment will be more profitable as the segment size is significant.
Positioning
The final stage of STP involves deciding how you are going to communicate your products and services to the targeted segment. At this stage, you perform competitor analysis, work out your value proposition, and attempt to position your products from the customer's perspective. There are three types of product positioning strategies you should consider.
Comparative

Comparative positioning involves highlighting the comparative edge of your products by placing them next to competitors' products.

Differentiation

Another positioning strategy is to focus on the uniqueness of your product such as its packaging or presentations.

Segmentation

This positioning of the strategy involves focusing on multiple audiences with different needs to help your products stand out. You can put the same product into the packaging of different sizes to cater to the needs of different groups of customers.

The most appropriate approach to positioning is drawing a Product Positioning Map. It has two main market features as its axes, and you plot your competitors and yours in it. It gives you an estimation of where to place your products in the market.
3. How to Create a Complete STP Marketing Strategy in 6 Steps?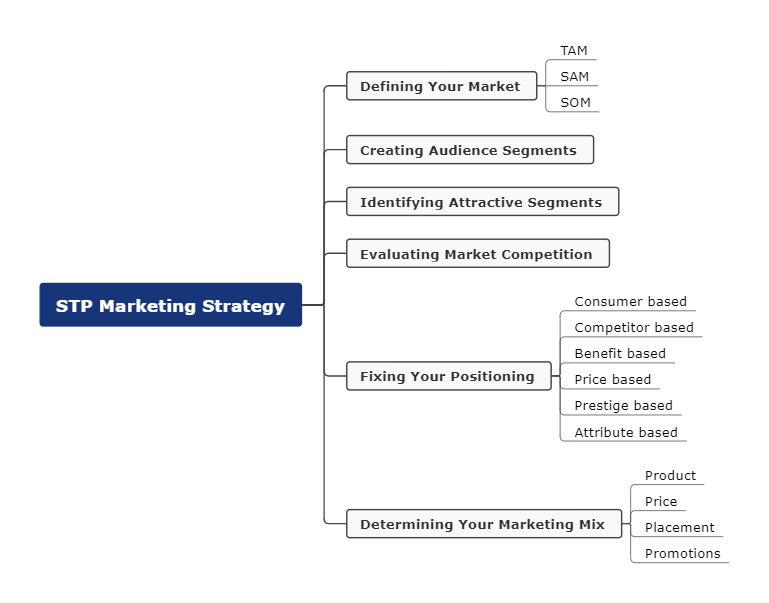 After explaining the three steps involved in the STP model, it is pertinent to elaborate on how to create an STP marketing strategy that serves your business interests. You can create an STP marketing strategy and implement it in the following 6 steps:
Step1
Defining Your Market
Dividing your market into manageable segments is an efficient way to conquer it. You can start creating your marketing strategy by defining your Total Available Market (TAM), Serviceable Available Market (SAM), and Serviceable Obtainable Market (SOM). You need to understand these terms for them to work out.
Total Attainable Market (TAM)

It indicated the total market demand for your services or products. It is the biggest available market that can generate maximum revenue for your business.

Serviceable Attainable Market (SAM)

It lies within TAM, and it is defined by your geographical constraints or product specialization.

Serviceable Obtainable Market (SOM)

It lies within SAM, and it is the portion of the market you can realistically reach after considering certain factors such as your budget, competition, and product differentiation.
Step2
Creating Audience Segments
After defining your market, you can segment the audience within that market. You can segment the audience based on their behaviors, age groups, geography, psychography, demography, etc. It will help you achieve your marketing goals more efficiently by making a positive impact on your overall marketing effort.
Step3
Identifying the More Attractive Segments
After creating segments, you need to analyze and evaluate the attractiveness of each segment. You can make use of metrics such as evaluating the growth potential, calculating the potential return on your investments, and estimating the segment size. The more attractive segment will either have a bigger size or offer more profitability, benefits, and accessibility.
Step4
Evaluating the Market Competition
After identifying the most attractive segments for your marketing campaign, you have to evaluate the competition against your product in the market. You can do this by making a table that lists the capabilities of your product and that of your competitors'. You can do a SWOT analysis, identify the gaps in the market, and figure out the most effective point of entry into your target customer segment.
Step5
Fixing your Positioning
After all the above-mentioned steps, you are ready to focus on your product positioning in the market. You can adopt any or a mix of the following positioning strategies for fixing your positioning:
Consumer-based Positioning

In this strategy, you consider how your product aligns with your customer's demands, needs, and expectations.

Competitor-based Positioning

This shows how your product is better than that of your competitor, and how you can use that edge for your gain.

Benefit-based Positioning

This indicates how your product will benefit your customers in terms of value.

Price-based Positioning

This strategy is based on the way you price your products competitively and give your customers value for their investment.

Prestige-based Positioning

It is based on the fact that the product gives your customers a status and prestige boost.

Attribute-based Positioning

This positioning strategy is based on your value proposition and product uniqueness, and it is above price and benefits.
Step6
Determining Your Marketing Mix
The final step of the STP marketing model is to select your marketing mix that will strengthen your positioning. It consists of four Ps: Product, Price, Placement, and Promotions.
Product

It represents availability, quality, design, services, support, benefits, and other related factors.

Price

It indicates the price a customer is willing to pay for a product. Pricing your product lower than your competitors might bring you short-term benefits, but it is hazardous to your business in the long run.

Placement

It shows the places of availability of your products and includes inventory, physical outlets, e-commerce stores, etc.

Promotions

It takes into account the way your products reach your customers and includes advertising, public relations, customer services, marketing strategies, etc.
4. STP Cases Studies
Following are some case studies of the STP marketing model:
McDonald's

Click here to download EdrawMind
(For Win)

Click here to download EdrawMind
(For Mac)

Click here to download EdrawMind
(For Linux)

McDonald's is one of the leading fast fast-food chains that employ the STP model for their marketing. They segment the audience based on geography, demography, behavior, and psychography for successful advertising. McDonald's mainly targets audiences from urban and rural areas, who are hard-core loyal to their brand, lie within the age bracket of 18-45 years, are middle and lower-income class groups, or are fond of fast food. In this way, they design their marketing strategies to build a connection with their customers and position their products based on the brand's identity, and customers' valuable experience.

Starbucks

Click here to download EdrawMind
(For Win)

Click here to download EdrawMind
(For Mac)

Click here to download EdrawMind
(For Linux)

Starbucks is known for its premium coffee and marketing strategies. It segments the audience based on four main variables: geography, demography, behavior, and psychography. The target audience of Starbucks is male and female professionals, corporate sector workers, people belonging to the middle-income class, students, people belonging to the age bracket of 22-60 years, single people, married couples, older people, etc. Its positioning strategy is customer-based, and it distinguishes itself from its competitors by adding value to customers' experiences.

Apple

Click here to download EdrawMind
(For Win)

Click here to download EdrawMind
(For Mac)

Click here to download EdrawMind
(For Linux)

Apple's main variable for segmentation involves behavior and psychography. It caters to the global market of customers, therefore, geography is also an important variable in play. Its target audience includes males and females, belonging to urban areas and high-income groups, students, professionals, bachelors, newly married couples, hardcore loyal who would not purchase from any other brand, ambitious individuals, and those who are looking for efficiency and advanced technology. Apple's positioning is primarily competitor-based, which enables it to remain ahead of its competitors in the market.

Coca-Cola

Click here to download EdrawMind
(For Win)

Click here to download EdrawMind
(For Mac)

Click here to download EdrawMind
(For Linux)

Coca-Cola is a giant soft drink company that uses the STP marketing model to operate successfully in a competitive market. It segments its market based on behavioral, demographic, psychographic, and geographic variables. It targets young and middle-aged people as its main audience, people who are living away from homes, students, professionals, employees, and those belonging to average to higher-income groups. Its positioning strategies are primarily customer-based, and it positions its products as associated with joy and happiness. This strategy makes it stand out among its competitors in the market.
5. Benefits of STP Marketing
Following are the main benefits of STP marketing:
Improves Customer Engagement

STP enables you to reach out to your targeted segments of customers with personalized messages and information, and the extent of customers' engagement with your business is enhanced. People find your product relevant and are most likely to engage with you.

Enhanced Cost-effectiveness of Marketing

Another important benefit of the STP model is that you are pursuing the most profitable segments of the market, therefore, you are no longer wasting your resources on segments that are a liability. It helps reduce your marketing costs to a great extent.

Improved Quality of Products

You can make improvements in the quality of your products and the efficiency of your services based on the feedback you receive from your target audience. Knowing your audience helps you understand the dynamics of their demands, and therefore, you can make amends for product development based on customer-focused business strategies.
Benefits of STP in Digital Marketing:
Finding the Best Audiences

In digital marketing, connecting to the perfect audience is pertinent to succeed in a business venture. The STP model can assist in finding the best audience and segments of the market to target.

Discovering New Opportunities

The STP model can help discover new opportunities when it comes to digital marketing. You canexperiment with smaller segments and discover new opportunities which were not visible earlier within those segments.

Taking Precise Decisions

You can make more precise decisions based on the information and data provided by the STP model. In digital marketing, taking precise decisions is important to save marketing costs and add value to the experience of customers.
6. Key Takeaways
STP Marketing is an efficient model of marketing which involves segmentation of the audience, targeting the most attractive segments of the audience, and positioning your products and services in the market based on the most effective positioning strategies. This model brings high profitability to your business and value to your products and services, because it not only boosts your sales but also gives you a mechanism to improve the quality of your products according to the customer feedback. If you need help with brainstorming your marketing strategy and chalking out a plan to implement your plan, you can use EdrawMind for this purpose. EdrawMind is a mind-mapping and brainstorming tool which provides you with an effective way to brainstorm and plan your marketing strategy with the assistance of several tools and clipart. It will assist you in segmenting, targeting, and positioning your product safely in the market.
EdrawMind Desktop/Mobile
12 structures & 33 themes & 700+ stylish cliparts
Support Win, Mac, Linux, Web, Android, iOS
Advanced import & export options
On-premises software for business
Enterprise-level data security
EdrawMind Online
12 structures & 33 themes & 700+ stylish cliparts
Access diagrams anywhere, anytime
Group & real-time collaboration
Personal Cloud and Dropbox Integration