Google Mission and Vision Statement Analysis
Google's mission, vision, and core values reflect the powerful position of the search engine giant. Check out EdrawMind's analysis as we break down Google's mission and vision statement.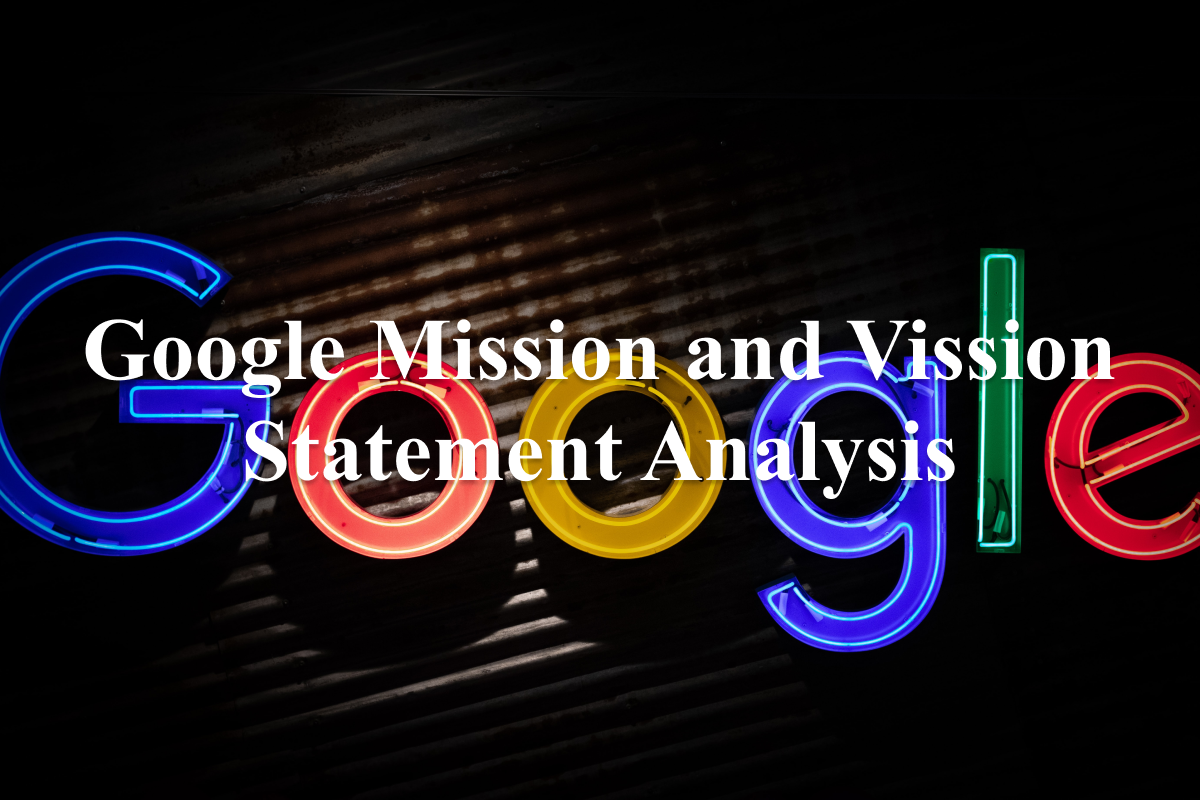 Introduction
Google is not only a search engine but a company that applies its mission and vision statement to make this world better. The company was founded in late 1998 and currently leads one of the most trusted brands in the world.
Even after Google reorganizes itself to become a subsidiary of Alphabet Inc., its core values remain a major strength that defines the company's strategies to conduct business and release new products.
Google's mission statement is a concise explanation of the reason behind its existence, as it describes the purpose and overall intention. At the same time, Google's vision statement declares its mid-term and long-term goals by staying true to what they want to achieve in the years to come while adhering to its core values.
In this Google's mission and vision statement analysis, we will illustrate what makes Google the number one search engine and help you create a mind map using EdrawMind that makes Google's mission and vision statement analysis more informative and fun to understand by the students.
Mission Statement of Google
In a nutshell, "Google's mission is to organize the world's information and make it universally accessible and useful." Over the last decade, Google, its team of talented developers and designers, and the entire management team have worked hard enough to develop proprietary algorithms to maximize effectiveness in organizing all the online information. Even if it is a part of the YouTube algorithm or how the mails are organized in the Gmail inbox, Google continues to focus on ensuring everyone gets access to the information they need about any particular subject.
Google's overall mission statement structure is designed to adhere to the principle that it is a business that provides any help, service, product, or idea to its end users. This leads to making the end-users life simple, well-structured, and organized. By keeping the end-users in mind, Google's corporate mission has some of the following elements:
Universal Accessibility
A child sitting in the remote corners of South Africa can Google about his favorite footballer. An Icelandic scientist working in her research can easily Google about any molecular compounds or watch an interview on YouTube with just one click of a button. This 'universal accessibility' is what makes Google the number one search engine in 2022.
Usefulness
Since it was launched in 1988 by Larry Page and Sergey Brin, Google has planned on making information useful and available to all. When one goes on to the search engine to look for something, Google does not charge them anything and provides all the information they look for within seconds.
Organization of Information
Google rose to this achievement only after creating a system of information organization. Creating and sorting mammoth data from an ever-expanding pool of websites is one of the most important aspects that Google does perfectly. With its latest search result algorithms, Google continues to organize information, where the unparalleled search engine helps users gather reliable information with just one click. As you know, Google has multiple separate entities to look up different verticals, like Google Books, Images, Videos, Google Scholar, News, and more. These separate entities segregate the information in a way that helps the user know where to look to find the right information.
Vision Statement of Google
Google's Vision statement is "to provide access to the world's information in one click."
As you can see, Google's mission and vision statement both sound similar and are extremely concise in terms of their ultimate goal -- "to provide information." Unlike other platforms, Google remained extremely focused from the beginning on providing information to everyone with minimal effort. All you have to do is to go on their website and look for the topic, and Google will crawl through millions of websites within a matter of seconds and index them to the best of the value they provide. Google's vision statement focuses on:
World's Information
Google LLC fulfills the 'world's information' component by indexing the right web pages and maintaining a database of trillions of information. Google applies this accessibility by offering resources worldwide. Google's vision statement successfully communicates all the goals it sets out to do, and it resonates with the same message as the mission statement.
In One Click
Google wants everyone to be able to access all the information they want without much hassle. Google has designed a system based on the model that users should get information with minimal effort whenever they request it. It is a feature supported by Google's web pages, algorithms, and how the crawlers work in the first place.
Core Value of Google
Like Google's vision and mission statement, its core values are also here to make people's lives succeed by providing them with the right information with minimum hassle. Google's core values include:
Focus on the user, and all else will follow
Fast is better than slow
Democracy on the web works
You can make money without doing evil
There is always more information out there, and great just is not good enough.
In addition to this, Google has a long list of different core values that drive the operations within the company. Such deep-rooted core values come in handy in creating a toxic-free work environment for the employees, making Google a go-for company in terms of software, cloud computing, and ever-evolving technology.
As you can see, Google emphasizes the importance of the users, as it echoes the core values. The company focuses on the end-user and their requirements when they work towards developing and collating web content. Google simply does not wish to provide only the data that the user needs, but it focuses on how much faster, reliable, and respectful manner they can adhere to while providing the information requested from the end-user. Because of these core values, Google wants to provide users with quality and relevant content with one click.
Google Mission & Vision Statement Analysis Mind Map
When we try to understand a company's mission and vision statements while considering its core values, we should understand that the elaborations should not be this detailed. Instead of expressing all the statements in the traditional ways, we can opt for a diagram that illustrates a comprehensive guide pertaining to the information that resonates with the company's statements and core values. We have created a mind map to showcase Google's vision, mission, and core values:

View, edit, and download this template in EdrawMind >>
Mission
Universal Accessibility
Usefulness
Organization of Information
Vision
World's Information
In One Click
Core values
Focus on the user, and all else will follow
Fast is better than slow
Democracy on the web works
You can make money without doing evil
There is always more information out there, and great just is not good enough.
EdrawMind Apps
12 structures & 33 themes & 700+ cliparts
Support Win, Mac, Linux, Android, iOS
Advanced import & export options
On-premises software for business
Enterprise-level data security
EdrawMind Online
12 structures & 33 themes & 700+ cliparts
Access diagrams anywhere, anytime
Team management & Project management
Key Takeaways
There is a reason why Google remains at the top of its game. This information-providing company diligently follows its mission and vision statement and remains true to its core values. When we look at Google, we see different products, like YouTube, Gmail, Google Maps, Google Drive, and more, but after learning about their core values, we should also see that the leadership giant supports universal accessibility by making all the components widely available to all the users. This leading position empowers Google to fulfill its mission and vision statement while working close to its core values.
As we saw in Google's mission and vision statement analysis, EdrawMind is a perfect mind mapping software to visualize all the comprehensive information in a way that students and professionals get to learn more about Google and how it operates. In the EdrawMind Gallery, you will find templates ranging from business to marketing, ensuring you can easily brainstorm and visualize complex information. So, what are you waiting for? Download EdrawMind and start illustrating different companies' mission and vision statement analysis.