Shopify Mission and Vision Statement Analysis
Shopify's mission and vision statement analysis illustrate how they improve commerce for every business owner. Check out EdrawMind's analysis as we break down Shopify's mission and vision statement.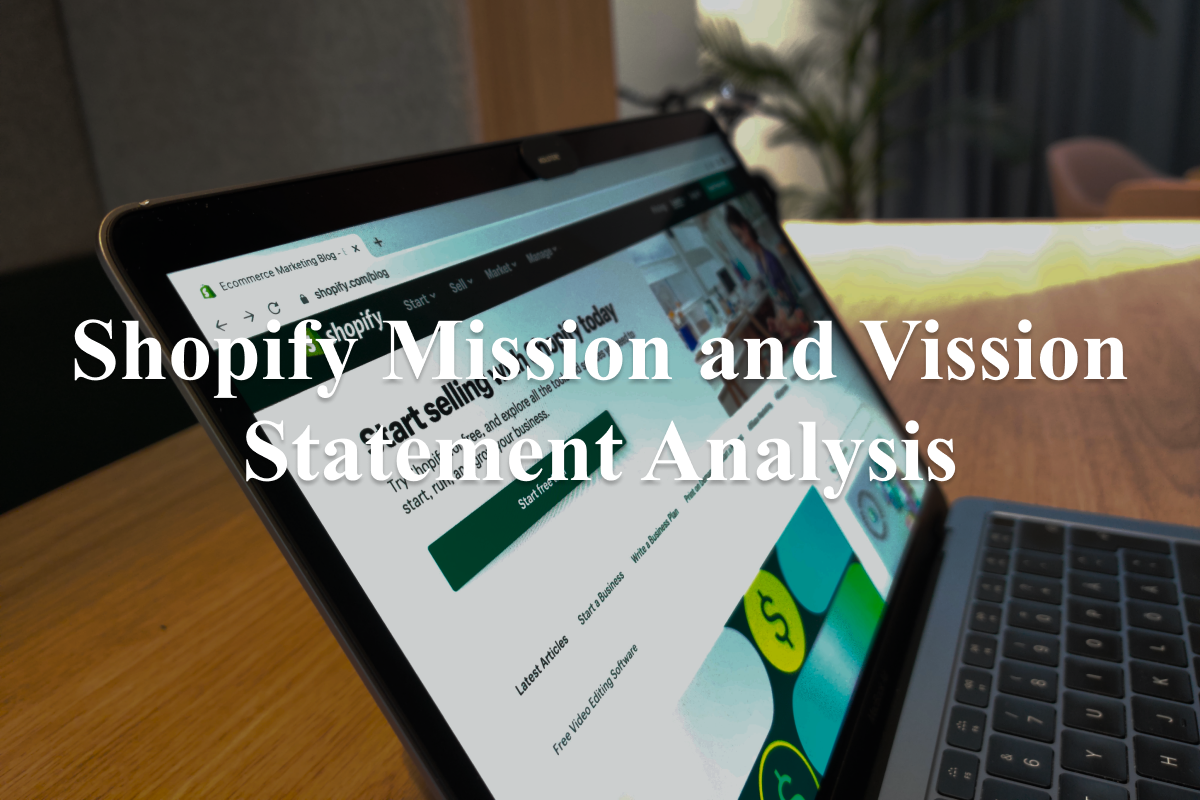 Introduction
Shopify is a leading e-commerce platform. It provides retailers with a host of tools that help them to establish their online business successfully. The focus of Shopify is to create a platform for business owners who want to focus on improving their business venture. Shopify has developed several e-commerce applications to simplify online business transactions and make the virtual space for selling accessible for clients. The tools can be accessed and utilized by clients to exhibit their unique collections before the virtual audience.
The company was established in 2006 by Tobias Lütke and Scott Lake, with its headquarters in Ontario, Canada. The company aimed to strengthen buying and selling on the virtual platform. Thus, it was its driving energy that resulted in its foundation.
Shopify's employees have a perfect alignment with the organization. To achieve this, Shopify ensures that its mission, vision, and values cater to the well-being of its employees. However, Shopify's mission and vision statement analysis prove that they are not here for employee empowerment but to empower customers in online shopping. This article will analyze Shopify's mission and vision statement while describing its core values. We will create a mind map using EdrawMind that helps the readers to understand the company's mission and vision statement clearly.
Mission Statement of Shopify
Shopify's mission is "To make commerce better for everyone." This simple statement carries with it the heavy task of enabling clients to use the virtual platform for business transactions.
In an era of expanding digitalization, the virtual market has already gained massive precedence. However, all business owners are still not equipped with resources and tools for establishing and transacting business online.
Shopify has come up with its unique mission statement and host of tools allowing clients to display and sell their products online without worrying about the nitty-gritty of online business conduction.
The primary aim of Shopify is to organize the online business world and make it easily accessible for aspiring business owners. Thus, their actions to make this possible are here below:
Highly-skilled labor
Shopify has a dedicated team consisting of online tool developers. They are responsible for heading the management team.
Satisfied Workforce
The employees at Shopify claim to have high job satisfaction due to the motivating mission statement of the company.
Encouraging Online Platform Usage
Shopify's mission statement ensures that people who are unsure of using the online platform are encouraged to use the virtual medium for transacting business.
Engaging Clients in Online Shopping
Thus, this mission statement creates an easy and accessible online space for clients to display their products and services. At the same time, it is also beneficial for the customers who engage in online shopping.
Hence, Shopify's mission statement is a lucid presentation of the primary objective they strive to achieve in the long run.
Vision Statement of Shopify
Shopify's Vision statement is "to make commerce better for everyone, so businesses can focus on what they do best - building and selling their products." Shopify's vision statement elaborates its mission statement and reveals its earnest zeal to aid clients in their business endeavors. Their short and long-term goals are a reflection of their core values. Shopify ensures that everyone gets access to the tools required for promoting a business online. Their vision statement is elaborated through the following points:
Client-centric approach
Clients get the upper hand while providing customized options to grow their business.
Developing the commerce aspect
The vision of Shopify is to make clients work more on their products and less on the interface for selling the products.
Equal opportunity
The site of Shopify is open for all business owners. Experienced businesspersons and novice entrepreneurs are equal when it comes to accessing the tools and applications of Shopify.
Core Value of Shopify
Like Shopify's vision and mission statement, its core values are drafted, keeping in mind the issue of offering ease in e-commerce. Shopify's core values include the following:
Motivating employees and clients
Shopify believes in keeping people motivated, and this is possible through perks and incentives. The company provides a slew of incentives to employees and clients so that the enthusiasm never dampens.
Instilling and encouraging creative thinking
There are rules everywhere to govern an organization, and Shopify also likes to establish some ground rules concerning the functioning of the e-commerce platform. However, Shopify does not turn these rules into strictures. Shopify allows ample scope for creative brainstorming to bring out innovative solutions or products. The employees and clients are not bound to follow any norms and have a free hand to get creative.
Self-directed Management
The Company believes in the concept of empowerment, and so it encourages people to opt for self-management. Shopify is always there to provide necessary aid per the situation, but the managerial tasks and organizational goals are self-designed.
Prospect
Shopify has a unique vision for survival in the e-commerce field. They have set a goal to remain in the business for 100 years. They believe this aim is achievable by setting benchmarks for improving the quality of their services.
Boundless Opportunities
Shopify has made the creation of endless and equal opportunities as its most important core value. Clients and merchants require more opportunities to stay abreast in the highly competitive market. Shopify values all clients alike and intends to help them develop their business. They want to keep the field even for all the business players so that novice individuals can also enter and take advantage of the e-commerce platform.
Shopify Mission and Vision Statement Analysis Mind Map
Shopify's mission and vision statement analysis is a very detailed topic. So, you can also go ahead and create a mind map that shows all of these statements and core values so that the researchers will retain the information for a long time. In mission and vision statement mind maps, you will see how creatively one can arrange all the statements, ensuring that the correct message is passed to the reader.

View, edit, and download this template in EdrawMind >>
Mission
Highly-skilled labor
Satisfied Workforce
Encouraging Online Platform Usage
Engaging Clients in Online Shopping
Vision
Client-centric approach
Developing the commerce aspect
Equal opportunity
Core values
Motivating employees and clients
Instilling and encouraging creative thinking
Self-directed Management
Prospect
Boundless Opportunities
EdrawMind Apps
12 structures & 33 themes & 700+ cliparts
Support Win, Mac, Linux, Android, iOS
Advanced import & export options
On-premises software for business
Enterprise-level data security
EdrawMind Online
12 structures & 33 themes & 700+ cliparts
Access diagrams anywhere, anytime
Team management & Project management
Key Takeaways
The Cloud-based application platform designed by Shopify is suitable for all business owners. People with different business models can make good use of the applications offered by the website. The prime factor behind the success of Shopify is that it ensures that anyone who has an idea and the means to develop it into a product can get a chance to showcase and sell their product online. They want innovative people to focus on perfecting their products instead of working out the problems of the e-commerce platform.
Their crisp and to-the-point mission statement makes it clear to everyone that they are here to positively alter the e-commerce platform for the benefit of new ventures. The vision of Shopify further details its mission. The core values show the company's ambition of diversifying its cloud-based platform and accommodating more aspects of the e-commerce model with time.
Creating a mind map with EdrawMind is not only easy but is considered a fun exercise for those looking for visual elements to learn new ones. EdrawMind comes with a gallery option that has built-in templates ranging from different sectors, like education, business, management, growth, and more. Download EdrawMind today and start creating mind maps illustrating the mission and vision statements.