In-Depth SWOT Analysis of Tesla
In this Tesla SWOT analysis, you'll find a detailed explanation of the company's strengths, weaknesses, opportunities, and threats.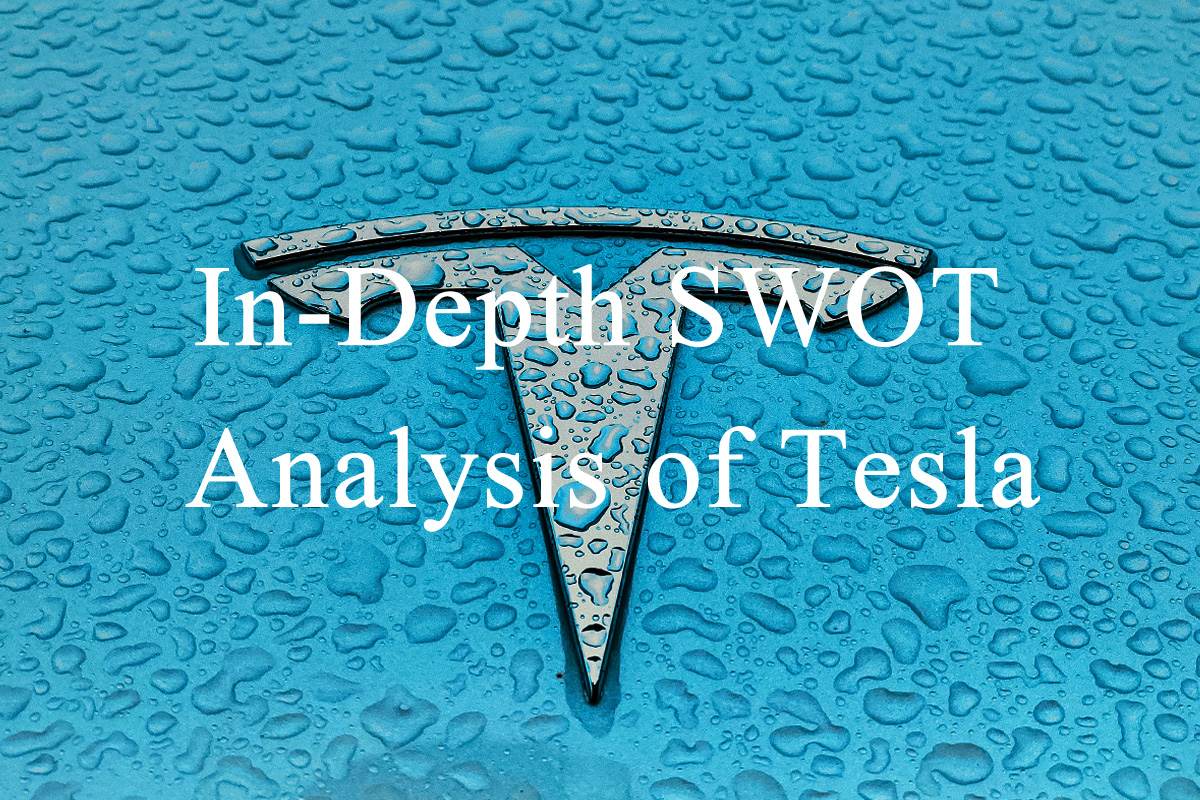 Introduction
Tesla, Inc. has been generating headlines throughout the world among tech and vehicle aficionados. Even though the firm is still relatively new, its numerous exciting and game-changing inventions keep it in the headlines daily. Here's a Tesla SWOT analysis that breaks down the many elements that are currently affecting the organization. The promise of delivering best-in-class electric automobiles was a huge one when Tesla Motors, Inc. was founded in 2003. This proposal for clean-energy autos was nothing short of groundbreaking. The automotive industry, on the other hand, has had a mixed reaction to the electricity, premium luxury-oriented approach to autos. Even in 2021, the brand name is well-known, but sales aren't very strong.
Tesla's Roadster was the first car to employ lithium-ion batteries. Tesla has become well-known in the United States as a high-end electric vehicle with a unique design. Tesla's SWOT analysis will provide you with a better grasp of how it works. We focused on the many elements that account for Tesla's internal strengths and weaknesses, as well as external opportunities and threats, in our Tesla SWOT study. Continue reading to see how the company is doing now, as well as areas where it is already strong and can capitalize on, as well as places where it needs to improve.
2. Tesla's Strengths
#1 Employer: Tesla CEO Elon Musk is recognized for prioritizing talents above academic requirements. This is reflected in Tesla's workforce as well. The firm is a top employer that recruits people with advanced degrees. Tesla employs a wide group of people and encourages creativity. Over the years, they have consistently appeared on Forbes rankings of top employers in a variety of areas.
Dominating Sales: Tesla has been the dominating firm in electric car sales in the United States for the past several years, according to statistics. Tesla models accounted for three of the top seven electric vehicles sales in 2019. This will help new prospects gain trust in Tesla and encourage them to buy cars based on recent sales.
Innovation and Creativity: Tesla has a reputation for being a forward-thinking company. The car designs are modern and high-end, offering the consumer unparalleled comfort and luxury. From concept to engineering, their electric cars are carefully handled, and they continue to add value to their goods. The business has recently produced the world's first electric semi-truck and a new sports automobile, for example. These advancements are a primary driver of new client acquisition.
3. Tesla's Weaknesses
Tesla's expansion might be hampered by several internal problems. We've compiled a list of some of them here:
Tesla's dependence on Musk's brand image: Tesla has gone a long way since its inception, yet its success is still solely dependent on Elon Musk. Many buyers seek Tesla items because of its brand image. Musk, on the other hand, has other businesses to run, and running Tesla on his own is a difficult task.
Manufacturing issues: Tesla vehicles have been in the headlines for being involved in accidents as a result of being driven autonomously. Mechanical breakdowns and other manufacturing issues are more likely as a result of the high quality of innovation. Tesla is always experiencing launch, manufacturing, and construction delays as a result of this.
Restricted Production: Providing excellent quality comes at a hefty expense. Tesla's scale of manufacturing, however, is hampered by the high cost of manufacture. A primary restriction is the expense of production, managerial resources, and space. However, because the corporation is only present in a few nations, it is unable to benefit from the greater availability of resources in other countries.
Incapability to fulfill demand: The causes listed above will undoubtedly result in an inability to satisfy demand. The ongoing experimentation and complexities in the process might lead to a supply and demand mismatch in the market for Tesla automobiles.
4. Tesla's Opportunities
Technological Advancements: Technology has several advantages in a variety of fields. To save money, operations can be automated. Technology allows for greater data collection from clients and enhances trading results.
Economic factors: As a premium automobile firm with cutting-edge features, Tesla's goods have sky-high prices. However, there is lots of room for offering fewer features and a broader selection of models to appeal to a wider audience. The Tesla Model 3 is a fantastic place to start because it's a less-priced version of the Model S that's missing a few features.
Tesla's autopilot system: It has acquired notoriety for its safety and convenience. Consumers and the stock market will see it as trustworthy. Tesla's autopilot research is continually advancing.
Environment-friendly Vehicles: As customers become more environmentally concerned, the demand for more electric vehicles is increasing, as is the need to reduce the use of gasoline-powered vehicles.
In-House Battery Production: Tesla can develop its battery cells, reducing its reliance on Panasonic, the company's major battery supplier. If adopted, this step might be a real game-changer for Tesla.
5. Tesla's Threats
Market competitiveness: more firms move toward greener production, Tesla confronts stiff competition from competitors all around the world. These businesses sell things at lower prices, allowing more people to buy them. As a result, Tesla faces competition from corporations that have a firmer grasp on the automotive sector and are now shifting to green production.
Raw Material: Tesla uses high-end metals and alloys, including aluminum, iron, nickel, and other high-end metallic alloys, in the production process to create their products. These materials are costly, and they aren't always readily available. Changes in the price of these materials might have a significant impact on Tesla's output.
Slow client adoption: Tesla provides novel ideas, but these may not be instantly embraced by customers. Furthermore, the product liability lawsuits that Tesla has encountered are counterproductive to the company's goals. As a result, many people are still hesitant to purchase Tesla products, which is a huge roadblock for Tesla.
Self-driving car legal intricacies: Self-driving vehicles are still relatively new in most locations, and as a result, there are few rules in place to govern their usage. This has previously resulted in legal complications and continues to jeopardize the future performance of the company.
6. Mind Map
Nikola Tesla, a prominent scientist, and inventor was the inspiration for Tesla Inc., which was created in 2003. Tesla has become one of the top vehicle businesses in the world because of its energy-saving technique and luxury-focused designs. Tesla has a firm hold on both traditional and digital marketing, and the potential for utilizing the broad category of digital marketing is even greater. Tesla's evolving business strategy and revolutionary car designs will be examined in the following SWOT analysis.