Netflix Segmentation, Targeting, and Positioning
The market segmentation of Netflix to the overall market and resulting target markets is the foundation for designing any marketing plan template.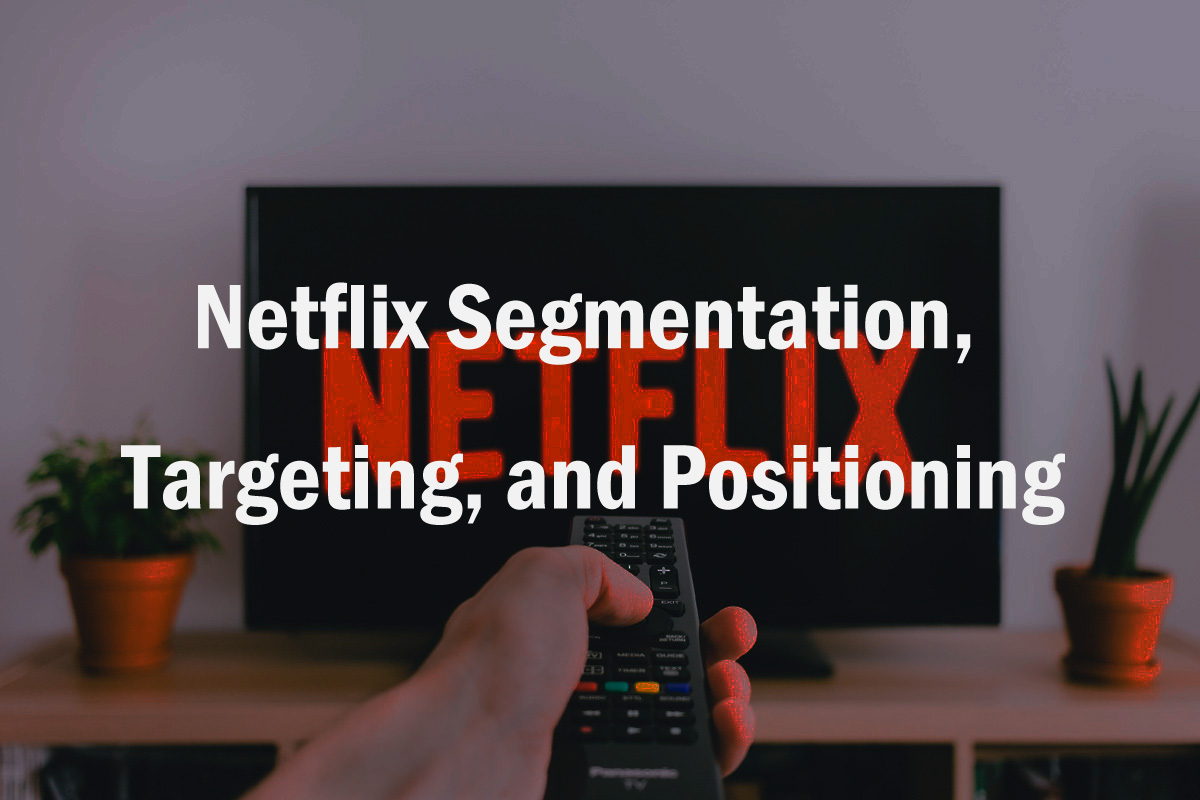 1. Introduction
Netflix was founded by Reed Hastings and Marc Randolph in Scotts Valley in 1997 in California. Netflix presently has over 83 million users and is the world's top supplier of on-demand video, movies, series, seasons, and television programmes. It's an over-the-top (OTT) video service provider with a subscription-based streaming service as its main business, with a library of films and TV shows, the bulk of which are created in-house. Netflix has stopped segmenting its 93 million global users by region and instead treats them as a single, cohesive audience or a community of members with comparable movie and TV programme likes since 2016.
Netflix's subscription-based approach employs a distinct targeting technique to boost its loyal/repeat clients. It's positioned as a subscription-based video-on-demand platform that's easy to access from anywhere, at any time, on mobile/tablets or TV, with a wealth of experience and broadcast-quality video, all to satisfy consumers' digital consumption desires.
Market Segmentation of Netflix
Netflix's business community is continually on the lookout for indicators of change in terms of innovation and customer behaviour. As per Hannah, a survey estimates that over 2.7 million Australians uses Netflix to view movies and TV shows.
Tesla goods are thought to be too pricey for normal people; hence the company's primary market is rich individuals and families. Simultaneously, Tesla may go from mono-segment to multi-segment posture shortly. Elon Musk described Tesla's business model in a blog article in 2006, stating that the firm makes sports cars, then uses the money to develop a more inexpensive vehicle, and then uses the money to build an even more affordable car.
There are several techniques for segmenting markets in the video streaming sector; but, due to the extremely diverse nature of customers, who alter in age, wealth, location, and viewing preference over time, there are a variety of methods for segmenting the market. None of the divisions will be identical in terms of property, quantitative, generous, open, distinguishable, notable, and, most importantly, productive.
3. Targeting of Netflix
Netflix is the world's most popular online television network, with more than 100 million subscribers in 190 countries watching more than 125 million hours of TV series and movies every day. Netflix's target consumers are divided into segments based on demographics, behavioural intents, and psychographic segmentation. Netflix's target clients are young adults, teens, and low-middle-income families, according to demographics. Furthermore, with a diverse selection of foreign and international films, Netflix movies and Television series attract a variety of cultural backgrounds.
Netflix employs behavioural segmentation to give personalized content to over 100 million users daily. It uses Machine Learning to learn about Netflix subscribers based on how they use the Television streaming service. The information is then stored by Netflix, which uses it to divide users into groups depending on their actions, enabling the entertainment network operator to create a more tailored client experience.
4. Positioning of Netflix
In this competitive market, the burgeoning e-car industry faces various hurdles. These difficulties include a limited driving range and increased automobile prices. Companies in this area must generate value and must find a solution to these issues. Due to limited resources, cutting-edge technology, and growing demand for sustainability, several new automotive manufacturers are attempting to enter the market. The strategic positioning of Tesla Motors is investigated in this research through an analysis of its external factors and quality enhancement.
The whole automobile industry is undergoing a technological transformation. Tesla Motors Inc. is an American automobile and energy storage company that produces, develops, and distributes premium electric vehicles. It also has an electric vehicle powertrain and battery components. Elon Musk, the CEO of Tesla Motors, has stated that the business plans to develop and introduce a budget vehicle in 2017, which will be far less expensive and smaller than prior models. Tesla's competitive advantage stems from its ability to employ current technologies more efficiently.
5. Mind Map
The split of a consumer market into comparable groups of customers that react differently to promotions, advertising, pricing, as well as other marketing mix factors is known as market segmentation. Within each category, there should be as few significant differences between buyers as possible. As a consequence, each sector may have its marketing strategy.
Even with a spotty network, Netflix strives to provide the greatest possible video quality and exceptional audiovisuals. The website and mobile app are also accessible. Customers on Netflix may see what movies or shows they've seen in the previous month. Netflix can utilize this information to decide the genres that consumers enjoy and propose material for them to watch in the future thanks to their segmentation, targeting, and positioning approach.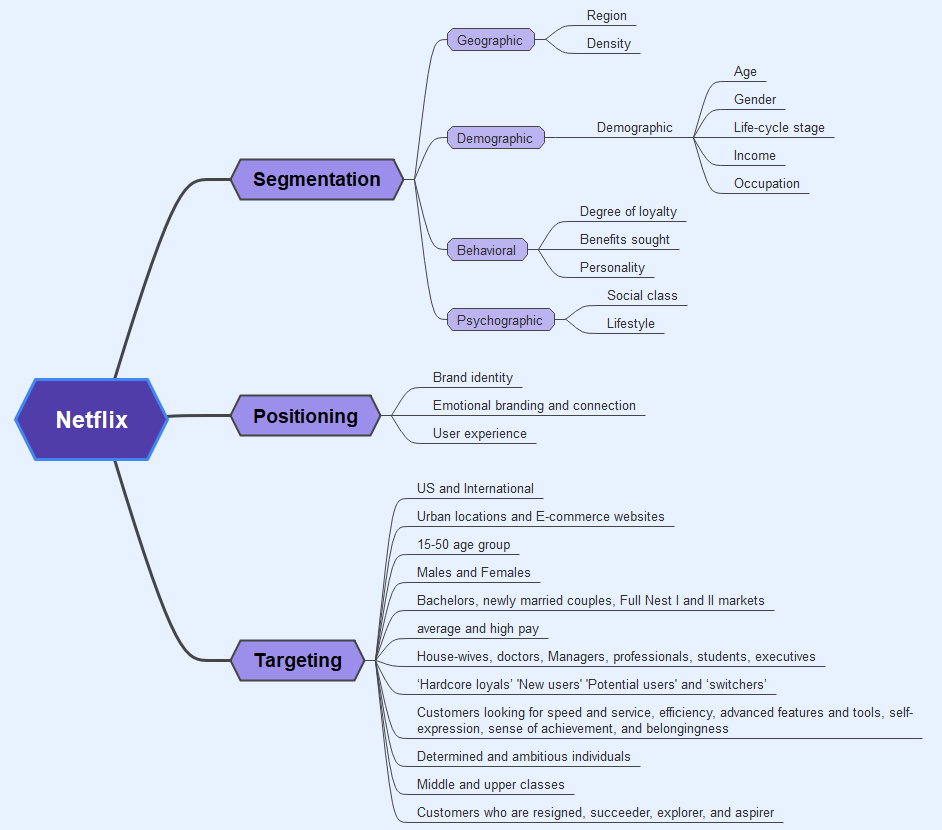 View, edit, and download this template in EdrawMind >>
EdrawMind Apps
12 structures & 33 themes & 700+ cliparts
Support Win, Mac, Linux, Android, iOS
Advanced import & export options
On-premises software for business
Enterprise-level data security
EdrawMind Online
12 structures & 33 themes & 700+ cliparts
Access diagrams anywhere, anytime
Team management & Project management
6. Key Takeaways
Netflix is an internet TV station that offers a wide variety of TV programmes and films for subscribers to pick from, and it is very handy for customers since it can be seen on any Internet-connected screen. In addition, if you join the membership, you will receive a free month. As a result, it would be an excellent pick for anyone who enjoys watching movies.
Netflix's marketing strategy for segmentation, targeting and positioning is mostly focused on low-cost moment motion films and TV shows, with the largest audience focusing on the mass business sector. In contrast to other competitors, Netflix provides a viewing experience free of commercial interruptions. And you can summarize all of the Netflix segmentation, positioning and targeting into a mind map. You can easily make one in minutes with EdrawMind and its pre-made templates for you to choose from. It will only take some minutes and you can also make one from scratch.
8. References