SWOT Analysis of Gucci
Gucci is one of the most prestigious brands in its field, and it must maintain its position by doing a thorough evaluation of its SWOT analysis to make strategic judgments.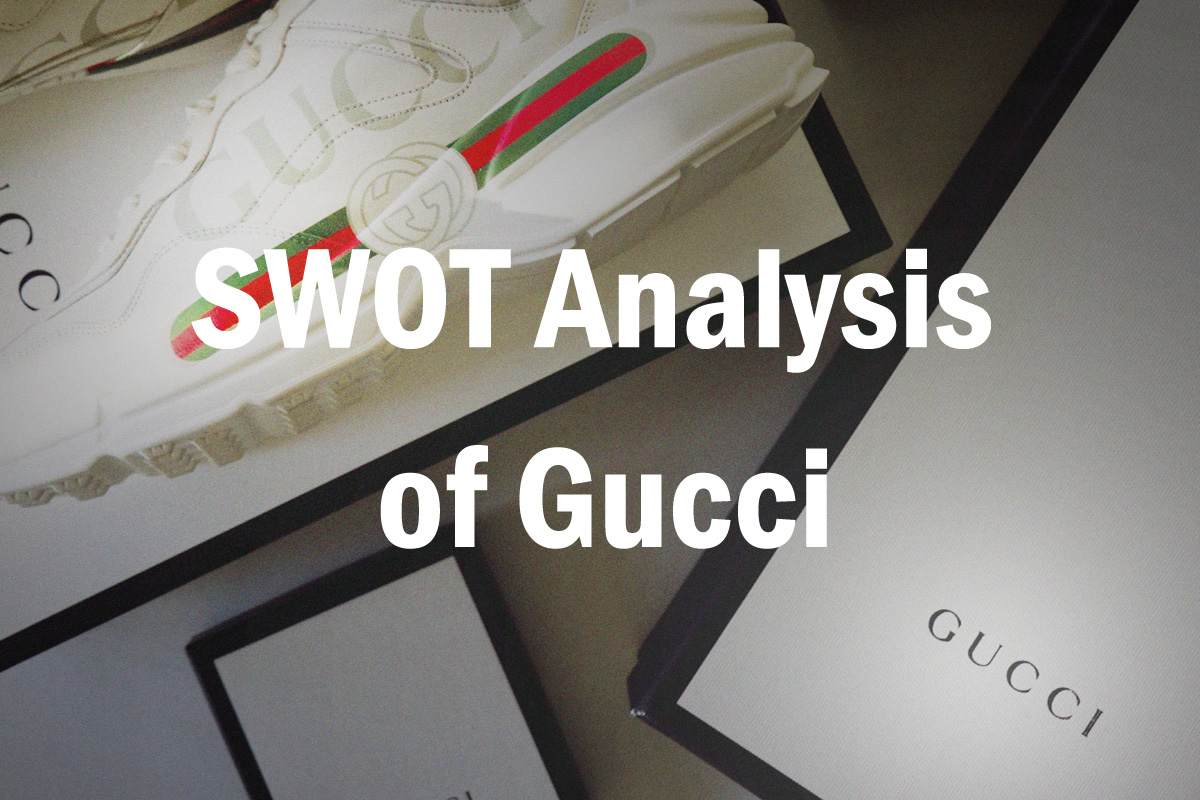 Introduction
Did you hear the expression "that's so Gucci" before? This word denotes the excellent quality; however, some people are unaware that it is derived from the well-known fashion house "Gucci." Guccio Gucci is the creator of this fashion house. This business began with leather-based items and has since grown to become a globally recognized fashion label. Gucci's founder founded his first store in 1921. Gucci is currently a well-known fashion house in terms of both quality and money.
GUCCI is an Italian fashion house owned by the French conglomerate "Kering." Guccio started the company in 1921. It has an interesting backstory, in which Guccio worked at luxury hotels and, after seeing the high-end baggage, decided to develop his own. SWOT Analysis is a tried-and-true management paradigm that allows a company like Gucci to compare its business and performance against those of its competitors. Gucci is a well-known brand in the fashion and leisure industries.
2. Gucci's Strengths
Significant global presence——Gucci has over 500 shops in a variety of nations. It has a strong presence in the United Kingdom, the United States, and Japan, as well as other growing markets.
Line of products and depth——Gucci's product portfolio, which includes premium handbags, outfits for men and women, clothing, and other fashion items, is a significant advantage. It's a full-fledged ultra-luxury lifestyle brand.
Continues to Diversify——The fashion industry is difficult, and one of Gucci's advantages is that it doesn't rely on events to debut new products; instead, it constantly changes things so that the shop layout remains fresh and trendy.
Experienced Worldwide Player—— To compete in the global marketplace, you need not only to be highly competitive and complicated but also to have a lot of experience. In the 1960s and 1970s, Sony moved into the United States and Europe, and it was a big worldwide player long before most of its competitors.
Brand equity——A fashion house that sells at a high price must have a strong brand image. According to Forbes, Gucci's brand was ranked 38th in the world in 2015. The company is worth a staggering $12.4 billion.
3. Gucci's Weaknesses
Research Department: Even while Gucci spends a significant amount of money on research and development, it nevertheless lags behind its competitors in this area. It is Gucci's worst flaw, and competitors may be able to get a competitive advantage in terms of earnings and market value. They should invest in employee training and development because it is a crucial aspect of any company's success.
Inefficient promotion: Gucci has faced a great deal of reaction and criticism as a result of its unsuitable and provocative commercials. It encompasses the objectification of women as well as harming the audience's sentiments. Gucci's growth may be harmed by such ineffective advertising.
Trademark violation and copying: Due to the legendary character of the GG brand, which stands for Guccio Gucci, the creator, it has long been pirated in various countries. This is a difficulty that Gucci encounters regularly. Aside from that, there have been other trademark disputes with Gucci.
4. Gucci's Opportunities
Brand Conscious Youth: today's young are more branding savvy than ever before. As earning power rises and more individuals have successful careers, today's youth expect premium products.
E-commerce:Because younger customers are more tech-savvy, they prefer to shop online. They may simply compare the prices, quality, and fabric of various items. Gucci has a huge chance to improve its internet presence to increase sales and improve communication.
Emerging Markets:The emerging economy has a tremendous need for luxury goods. Gucci should grow its goods and sales by focusing on China and India. These areas have a lot of promise and can help Gucci increase its profit and market dominance.
5. Gucci's Threats
Duplicate Merchandise: One of Gucci's major problems is counterfeit products. It is quite easy for counterfeit enterprises to sell their items at lower prices because of technological advancements. Gucci's fertility and development are harmed by this.
Rivals: Prada, Dior, Versace, and others are major rivals in the retail business. They are selling the same things at various price ranges, putting Gucci's profit in jeopardy. They're performing well in other markets while constantly disrupting Gucci's operations. This kind of severe rivalry from competitors may make a significant difference in Gucci's operations.
Government Laws and Regulations: We all are aware that Gucci is a worldwide company with a significant presence in a variety of nations. However, government rules can occasionally have an impact on a company's operations and income. Government restrictions like this may be a major headache for a business.
Environmental Requirements: Gucci is having difficulty manufacturing some products or commodities due to rigorous environmental regulations. Gucci's working conditions and market share may be harmed as a result of these rules. Gucci must invest in environmentally friendly items to gain client confidence.
6. Mind Map
Gucci is a well-known brand in the fashion sector. Gucci keeps its market leadership by thoroughly examining and assessing the SWOT analysis. SWOT analysis is a high process of interaction that necessitates excellent coordination across several firm departments such as marketing, finance, operations, management information systems, and strategic planning. Internal strategic aspects such as strengths and weaknesses, as well as external factors like opportunities and threats, are identified using the SWOT Analysis framework.