In-Depth SWOT Analysis of Nike
Nike is a massive corporation operating in a difficult market, yet it is thriving, as evidenced by its SWOT analysis.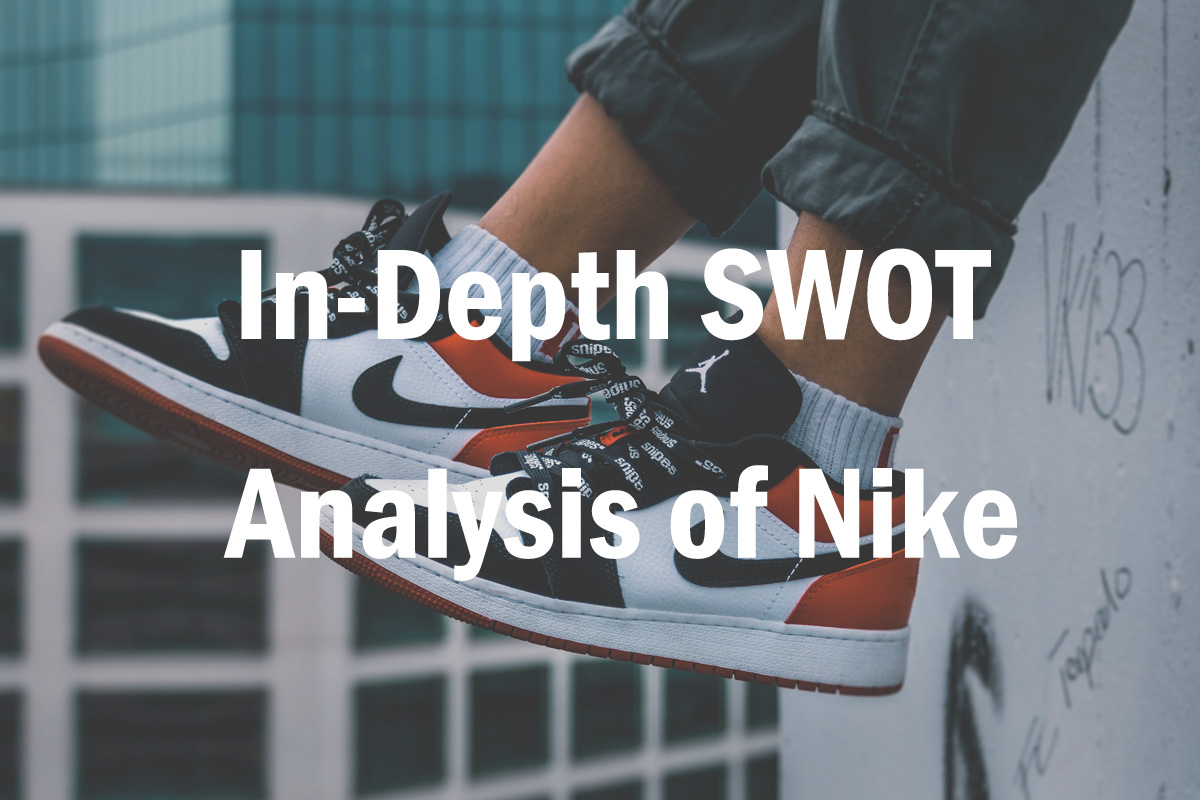 Introduction
The first stage in doing a Nike SWOT analysis is to have a thorough understanding of the brand. Nike is a well-known sportswear brand that produces high-quality footwear and is endorsed by athletes. The company was founded in 1964 and became successful just after some years. The firm now has retail locations in over 170 countries and offers online services as well. One of the most well-known logos in the world is Nike's Swoosh.
Nike is an American multinational business that designs, develops, manufactures, and markets footwear, clothes, equipment, supplies, and services around the world. The firm is based in the Portland metropolitan region, near Beaverton, Oregon. It is the world's largest seller of athletic shoes and gear, as well as a significant sports equipment producer.
2. Nike's Strengths
The company's strength is that it has outsourced all aspects of its manufacture to abroad facilities and hence does not have its manufacturing facility. This has allowed the corporation to focus on more value-added operations like design and research, and development while also avoiding the high labor expenses associated with traditional production.
Aside from that, Nike's other major strength is that it is a worldwide known brand with high recall among customers, particularly among youngsters. The Nike brand is associated with quality, endurance, and fitness, making it the brand of choice for athletes and anybody interested in running.
The brand maintains complete control over both its retail and online operations. Their web company is just as successful as their physical store.
The firm understands how to run campaigns. They are linked with several well-known athletes and have received accolades for the quality of their products.
Finally, because of the fragmentation of the industry, Nike stands to gain from the current disarray among its competitors, where Nike's USP, or Unique Selling Proposition, may stand out among them.
3. Nike's Weaknesses
Nike's footwear industry is virtually entirely driven by it, and as a result, the footwear market accounts for the lion's share of its sales, leaving it reliant on it for existence. It is not a smart business strategy to be unduly reliant on one area in these difficult times; thus, Nike should diversify horizontally as well as vertically, including clothes and other accessories.
Even though it has outsourced its production parts as a strength, Nike's brand image has been severely harmed by the negative attention it has received as a result of hostile labor conditions in its abroad outlets. Indeed, the term "sweatshops" is mockingly used to the appalling working conditions at the company's overseas production sites.
Outsourced manufacturing is a flaw in the company's image. A devoted worker group is required for quality management and high brand awareness. When it comes to outsourcing, Nike can't always have a tight grip on its goods. As a result, their goods may not be of the same high quality in every country.
Some people consider Nike to be overly expensive and a luxury brand. While this isn't always a bad thing, the present market situation has people gravitating to the middle tier of the luxury spectrum as they become more price concerned and quality sensitive.
4. Nike's Opportunities
Apart from its distinctive sneakers, Nike has begun to diversify into accessories and other luxury items in recent years. This is a positive move in the right direction for the corporation as it strives to diversify its income streams outside its usual products.
Nike's focus on higher-end footwear design appears to be trying to pay off, as the company's products are increasingly being seen as an essential for anyone who strolls as well as starts running, and given that the company was founded on the principle of serving anybody with legs, this strategy appears to be hitting the right notes.
If one of the major companies takes the effort to include its R&D staff in the development of recycled items, it will undoubtedly motivate other small businesses to do the same. It will contribute to the environmental cause while also conveying the appropriate message to buyers.
Nike could grasp the moment by rebuking any allegations leveled at high management. The large frequency of scandals surrounding higher authority is tarnishing their reputation. Nike should take initiatives to combat unfair labor practices and sexual harassment, assisting in the development of a more committed staff.
5. Nike's Threats
Nike has to repair its image in the international market, where it is accused of using unethical business tactics. It has already paid a high price (both financially and symbolically) since the new generation of consumers is socially and ecologically concerned, meaning they will not purchase a product that is the consequence of questionable business activities.
Nike has been hit hard by the current recession, with consumers growing more price aware and merchants seeking bigger profits. Nike has found it difficult to compete due to a mix of selling via third-party shops and other companies lowering pricing.
The retail industry is poised to take on new businesses that are posing a threat to the existing ones. Nike is one of the most well-known brands, but maintaining market growth in such a competitive sector is difficult. Many businesses provide high-quality items at a lower price, which attracts more clients.
Because of claims against higher authorities, bad labor treatment, and the uneven quality of products, the company's brand name is constantly threatened.
6. Mindmap
Despite the epidemic, Nike had a great fiscal year in 2021. Even though the company is currently in debt, the next several years appear to be positive. Nike has developed at a breakneck pace during the previous decade. It takes enormous effort to launch new product lines, construct new brands, outsource, and have a worldwide presence. You will be able to comprehend Nike's business model after reading this SWOT analysis.