In-Depth SWOT Analysis of IKEA
IKEA has made great success globally; let see its SWOT analysis, and see a variety of elements that have influenced the company's decision-making throughout the years.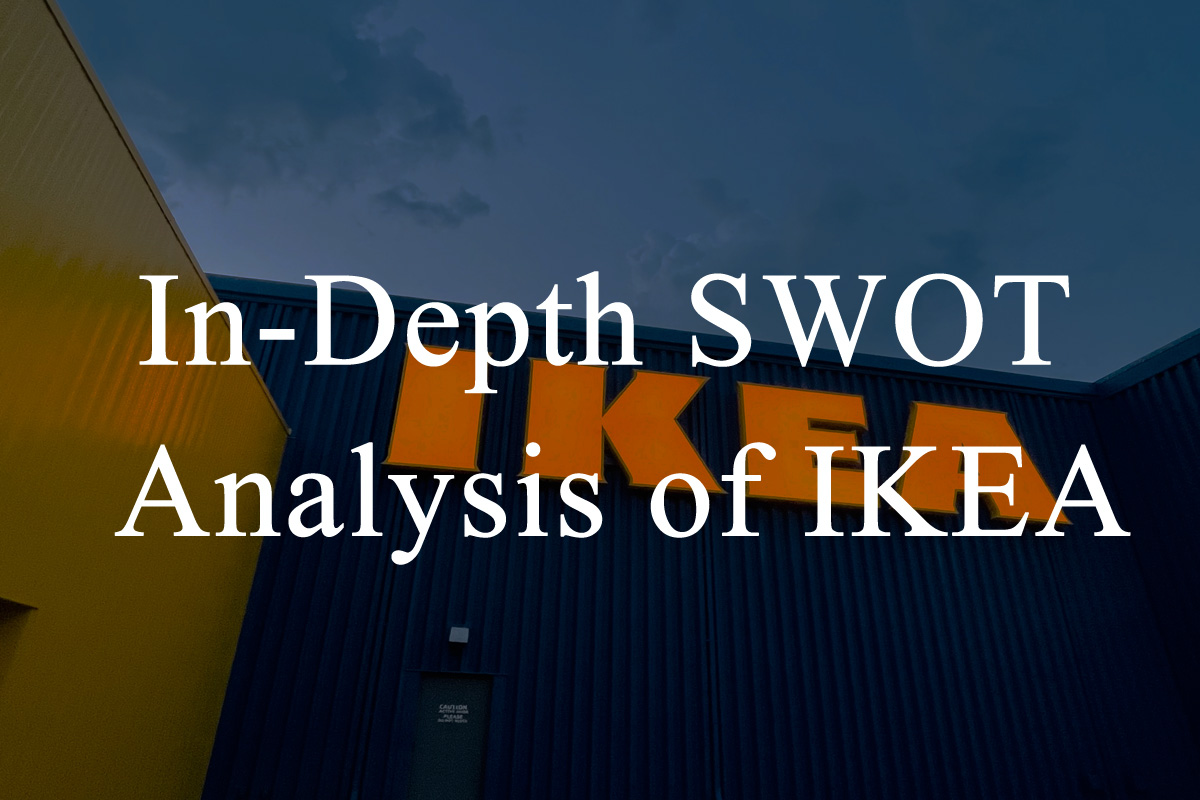 Introduction
IKEA has grown from humble beginnings to become the world's largest home furnishings retailer, with over 300 locations in a variety of nations. IKEA capitalizes on its strengths and mitigates certain shortcomings thanks to strong resource planning and allocation. The purpose of this IKEA SWOT analysis is to show the strengths, opportunities, and threats that exist in the home furnishing business, as well as how IKEA has succeeded to rise through the ranks. With its first store opening in Norway in 1963, the company entered the flat-pack furniture business. Following that, the business has been able to attract millions of new clients each year.
Indeed, IKEA has made great success over the world. In this IKEA SWOT analysis, we'll take a closer look at a variety of elements that have influenced the company's decision-making throughout the years. A significant emphasis is placed on the company's strengths as well as the numerous prospects. Meanwhile, some vulnerabilities and risks need to be addressed in the future.
2. IKEA's Strengths
IKEA's greatest strength is its clear vision, which is to provide value to its consumers regardless of market situations. This has resulted in a clear and well-defined company strategy and retailing method that is innovative in its simplicity, lethal in its competition targeting, and successful in its positioning.
Another significant asset of the firm is its straightforward idea, which converts into a variety of items that consumers can build themselves, resulting in massive cost savings that are then carried on to the consumers. IKEA has risen to become the world's biggest furniture retailer because of its single-minded concentration on cost leadership.
Increased use of recycled resources, wiser use of raw resources, creating and sustaining long-term partnerships with suppliers, and exploiting the efficiencies and synergies from economies of scale are some of the criteria used by IKEA to assess its strengths.
Moreover, this large selection of designs is reasonable for the typical person, and after acquiring the furniture, it assists in the delivery of your items to your house, thereby lowering consumer expenses.
3. IKEA's Weaknesses
Given that IKEA operates in several nations throughout the world, it is a large-scale and large-scale business, making it challenging to maintain consistent standards across sites. Though the organization makes every effort to ensure consistent quality across its product line and its locations, quality assurance that is reproducible and scalable is a major flaw.
Quality occasionally suffers as a result of the company's obsessive focus on cost leadership, especially in the current environment, when the costs of numerous inputs and raw materials have risen, affecting the company's financial performance. It's worth noting that maintaining quality in the face of rising expenses might be challenging at times.
The poor quality of their items has been the main source of worry. Many consumers have complained about their furniture falling within a few days after it was set up. When it comes to necessities in people's everyday lives, quality appears to be significantly more crucial when making purchasing selections.
IKEA's operations raise environmental issues, and the firm has difficulty explaining and expressing its environmental policy to consumers, shareholders, and other stakeholders.
4. IKEA's Opportunities
With its "green" marketing strategy, the business has a big possibility to attract clients who are interested in purchasing such items. The emergence of the ethical consumer, or the "Ethical Chic" purchase process, which indicates that buyers would want to buy ecologically aware items, is an opportunity waiting to be unleashed for the organization.
The company's cost leadership, which entails a single-minded concentration on cost at the detriment of all else, is maybe its largest opportunity. While this has generated quality issues, customers do not appear to mind because they are receiving their money's worth, and adding value to customers is another important possibility.
IKEA benefits from being a well-established market player, despite the severe rivalry in the furniture business. As a result, the corporation will have a better understanding of how to operate the business. As a result, expanding into additional nations may result in more new clients, resulting in more revenue. With the growth of the internet, more businesses are relocating their operations online.
The company's development into emerging countries and the developing globe, where it has an untapped client base that can be used for effective profitability, is the second potential. IKEA is already planning to enter areas such as China and India with a defined cost leadership strategy, which it expects would benefit the firm.
5. IKEA's Threats
IKEA's low-cost business strategy has been copied and duplicated by competitors, implying that the corporation must continually innovate to stay ahead of the pack. For example, some regional and local businesses have jumped on the DIY bandwagon and are concentrating on cost-cutting, forcing IKEA to develop new methods to remain flexible and adaptable.
DIY as a primary driver of strategic success is no longer the sole Unique Selling Proposition of IKEA, and the growth of online merchants that can provide even lower costs since they do not have a real presence means that they are closing in on IKEA.
Another issue is employee unhappiness, which has led to litigation and may cost the corporation millions in settlements and legal bills due to claims of maltreatment and unpaid overtime.
IKEA is also seeing a decrease in the number of new customers. Given the risks facing IKEA, it would be disastrous for the company's future if it did not come up with specific remedies to retain its market dominance.
6. Mind Map
The SWOT Analysis is used to examine the strategy of IKEA, the world's largest furniture store. The Do It Yourself (DIY) concept ensures that the company keeps costs low and passes on the value to customers. The company was founded in 1943 and is known for its simple yet effective approach to retailing with the DIY or Do It Yourself concept, which ensures that the company keeps costs low and passes on the value to customers. IKEA's items are typically ready to use and flat packaged, which means that buyers may put them together themselves. The corporation is also active in the internet realm, with annual revenues of more than a billion dollars from both online and offline operations.