Fenty-Beauty Mission and Vision Statement Analysis
Fenty-Beauty's mission and vision statement analysis illustrate how the company creates products for everyone. Check out EdrawMind's analysis as we break down Fenty-Beauty's mission and vision statement.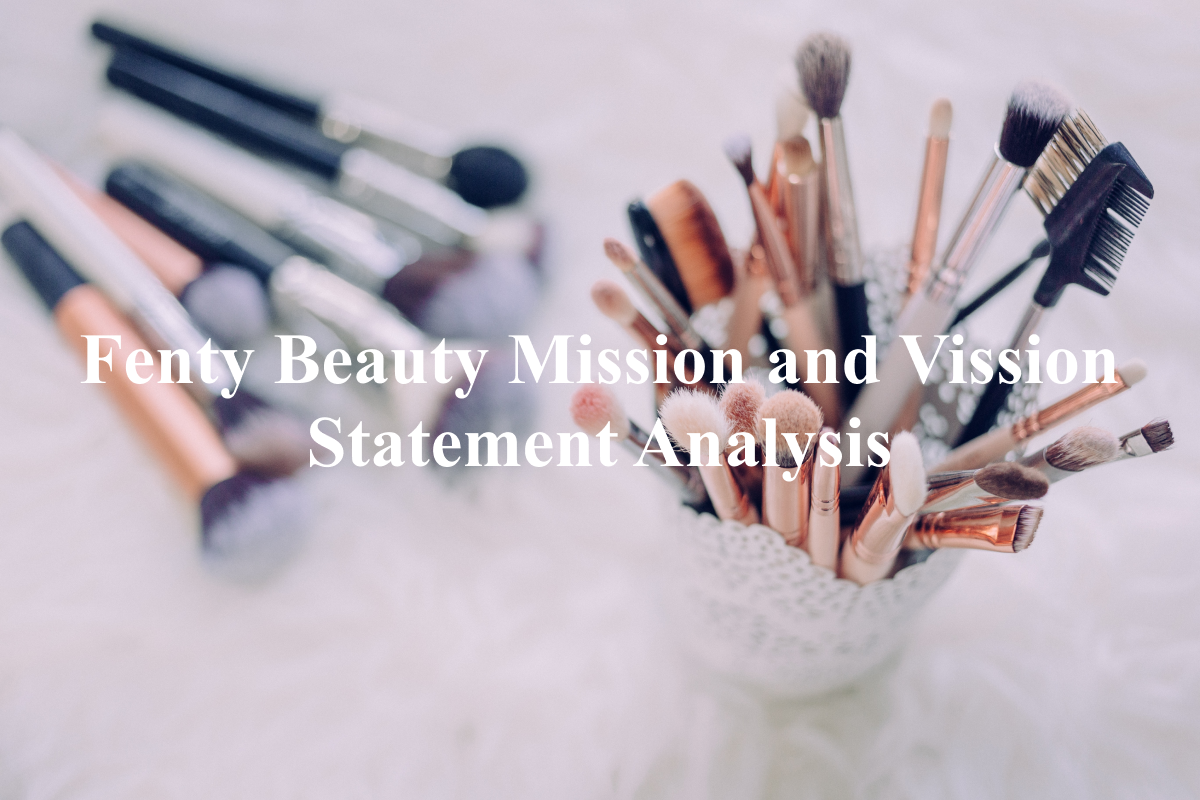 Introduction
Fenty-Beauty is a cosmetic brand that came into existence after years of experiments to ensure the inclusivity of all skin tones. American pop singer Rihanna (a.k.a, Robyn Rihanna Fenty) created this brand in 2017. They have launched skincare products suitable for all skin types and designed for skin tones traditionally not targeted by most other cosmetic brands. This inclusivity and universal approach has made Fenty-Beauty a well-known brand worldwide.
From the very beginning of the brand, Fenty-Beauty concentrated on releasing products for women from different races, cultures, and skin types and tones. They have kept this as the USP and are strategizing their business based on the idea of inclusivity. Fenty started their journey with a range of foundations with forty shades, later expanding to fifty inclusive shades. It conveys the brand's intention to stick to its mission while working on its new products. Fenty-Beauty wants women to embrace their skin tone without going for fairer and darker tones to fit into the traditional color tones offered by most brands. Its mission statement explains its business values and Unique Selling Proposition that defines its purpose of existence and hints at its future path.
Fenty Beauty's long-term goals reflect their missions as they break down their strategies to set their visions while holding onto their core values. In this Fenty Beauty Mission and Vision Statement Analysis, we will discuss these mission and vision statements in detail and create a mind map using EdrawMind. Such mind maps are a great learning methodology for those students who prefer visual elements over textual learnings.
Mission Statement of Fenty-Beauty
Rihanna clarified why she brought the brand into existence after a long-term experience using makeup products. The mission statement for the brand is "so that people everywhere would be included."
The pop star mentioned her idea behind the cosmetic brand, "Fenty Beauty by Rihanna, was created for everyone: for women of all shades, personalities, attitudes, cultures, and races. I wanted everyone to feel included. That is the real reason I made this line." Unlike most other cosmetic brands, they do not aim to make people fit into the traditional tones and skin types to be 'beautiful.' Fenty-Beauty has come up with 50 multiple shades for their products to ensure inclusivity of skin tones and types.
Fenty-Beauty's mission statement focuses on:
Inclusivity
Makeup comes with a general intention that inclines to make a person's skin tone either fairer or darker. Fenty-beauty focuses on offering people a range of cosmetic products suitable for different skin colors, types, and tones. They do not wish their users to compromise on their choice of foundation or other makeup products for the lack of availability. Instead, they want their users to happily flaunt their skin tones instead of going for the "closest shade."
Gender-neutral products
Fenty-Beauty has launched its all-gender inclusive cosmetics, making them a brand not only for women but for every gender from the spectrum. Releasing universal products has not only made way for gender-neutral cosmetics but also ensured the brand's vision of including new ranges for all genders and skin tones.
Vision Statement of Fenty-Beauty
One can summarize the vision statement of Fenty-Beauty as "to inspire. Makeup is there for you to have fun with." The vision of Fenty-Beauty is extended to, "It should never feel like pressure. It should never feel like a uniform. Feel free to take chances, and take risks, and dare to do something new and different."
Fenty-beauty's Vision statement directly arises from its Mission statement. Therefore, it has the same and related ideas. The brand has set their visions that concentrate on a broad category of users instead of some premium classes. They do thorough market research for the product to work on their crucial vision of inclusivity. Therefore their vision is an extension of the ideas they hold in their mission.
Fenty-Beauty's Vision statement reflects:
Experimenting
As the vision statement shows, the brand does not want to limit its boundary and concentrate on some particular products that are traditional and high in demand. You can experiment with your look and look for the way you want your personality to reflect in your makeup. Fenty Beauty tries to achieve this and wants its product to be "fun" rather than traditional and boring.
Breaking Stereotypes
Unlike other brands, Fenty-Beauty wants to break the stereotype the makeup users face for their skin tone. It is common for the users to choose some cosmetics two or three tones lighter or darker to look fairer and darker, and the brand wants their users to free themselves from the social stereotype regarding fair skin and beauty.
Gender Inclusivity
Though the brand initially targeted women customers, its target later shifted more to producing gender-neutral cosmetic products. Thus, they have released a universal product range suitable for people of all genders.
Core Value of Fenty-Beauty
The mission and vision statement of Fenty-Beauty shows its core value which you can specify as "Beauty for All." The brand has set its goal with the idea to offer beauty products for everyone irrespective of their skin tone, culture, and gender. The core value of Fenty-Beauty includes:
Include All
Makeup is for everyone
Whatever your skin tone is, you are pretty
Forget the old ways, have fun with makeup
Fenty-Beauty has several core values that have the root in the idea of gender and cultural inclusivity. Their core value has encouraged them to come up with a wide range of products for users all over the world. They have included the traditionally "hard to match skin tones." It is new and brings in more customers to try out its products.
Though this concept of "Include All" is not new, Rihanna's brand redefines the meaning of "All." They include the users earlier ignored by the cosmetic industry for a long time. Rihanna's brand compels customers to choose shades they never felt comfortable with and explore the beauty in their original skin tone. The brand also does tremendous product research to execute its visions while sticking to its core values. Fenty beauty in their product campaign reflects this ground-breaking idea, which is also much different from any regular marketing campaign.
Fenty Beauty Mission and Vision Statement Analysis Mind Map
When we discuss a company's mission and vision statement, we tend to consider describing everything in detail. In most cases, such information is lost because of the elaborated content. Instead of expressing all the statements and the core values in detail, a researcher or a company's employee can opt for a mind map that pertains to all the important information that represents the company's mission and vision statement. We have created Fenty Beauty's mind map that illustrates the entire analysis creatively.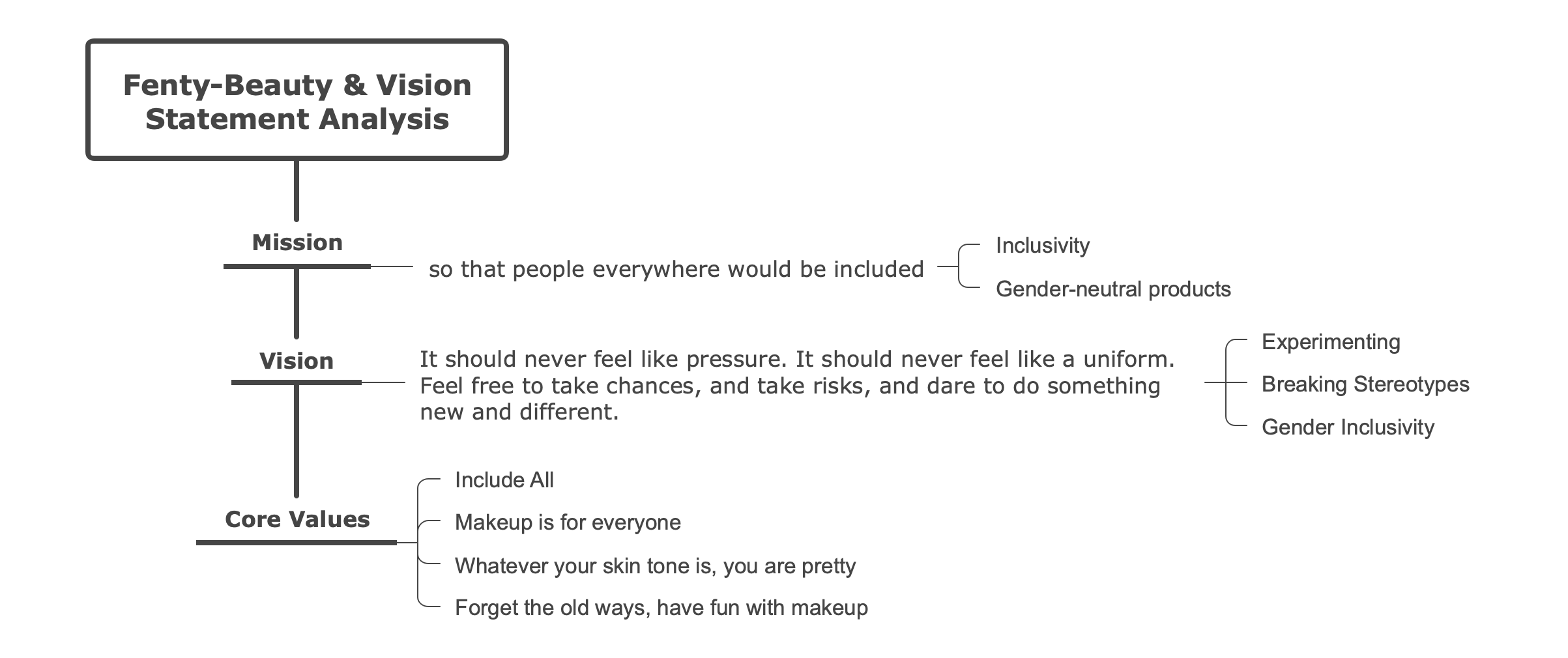 View, edit, and download this template in EdrawMind >>
Mission
Inclusivity
Gender-neutral products
Vision
Experimenting
Breaking Stereotypes
Gender Inclusivity
Core values
Include All
Makeup is for everyone
Whatever your skin tone is, you are pretty
Forget the old ways, have fun with makeup
EdrawMind Apps
12 structures & 33 themes & 700+ cliparts
Support Win, Mac, Linux, Android, iOS
Advanced import & export options
On-premises software for business
Enterprise-level data security
EdrawMind Online
12 structures & 33 themes & 700+ cliparts
Access diagrams anywhere, anytime
Team management & Project management
Key Takeaways
Fenty-Beauty is one of the top-rated cosmetic brands adorned by an enormous customer base from different cultural backgrounds. The company's mission of "inclusivity" was previously adopted by many, but no cosmetic brands could successfully execute it. Their mission, stating "For All," has influenced their short-term and long-term visions for expanding business. On the other hand, as the brand holds onto its core values to maintain its position in the market and serve the customers, its constantly expanding consumer base inspires its mission and visions.
When it comes to creating mind maps, EdrawMind is considered one of the best mind map software of 2022. This mind map maker has amazing features that let you create mind maps with a click of a button. The EdrawMind Gallery has pre-built templates ranging from business, education, science, personal growth, life, and more. Head to any of such categories, find the mind map closest to your vision and start modifying it as required. Go ahead, download EdrawMind and analyze different companies' mission and vision statements effectively.