Mind Map for Essay: Complete Guide With Useful Tips
Planning to Create Mind Map for Essays?
EdrawMind is a powerful tool that lets you create mind maps for essays. Learn from this essay writing tips guide to know everything about different essay writing. Try this mind-mapping tool today!
Essay writing is one of the most crucial parts of any academic curriculum. Most students consider writing an essay a dreadful task, but with the correct essay writing tips, one can easily master the techniques. In this article, we will show you the importance of mind maps for essay writing. Creating a mind map for essay writing helps academic students visualize the idea before they start writing it. Here, we will discuss different essays and illustrate how just by creating a mind map in EdrawMind, one can easily write long essays for their academic purpose.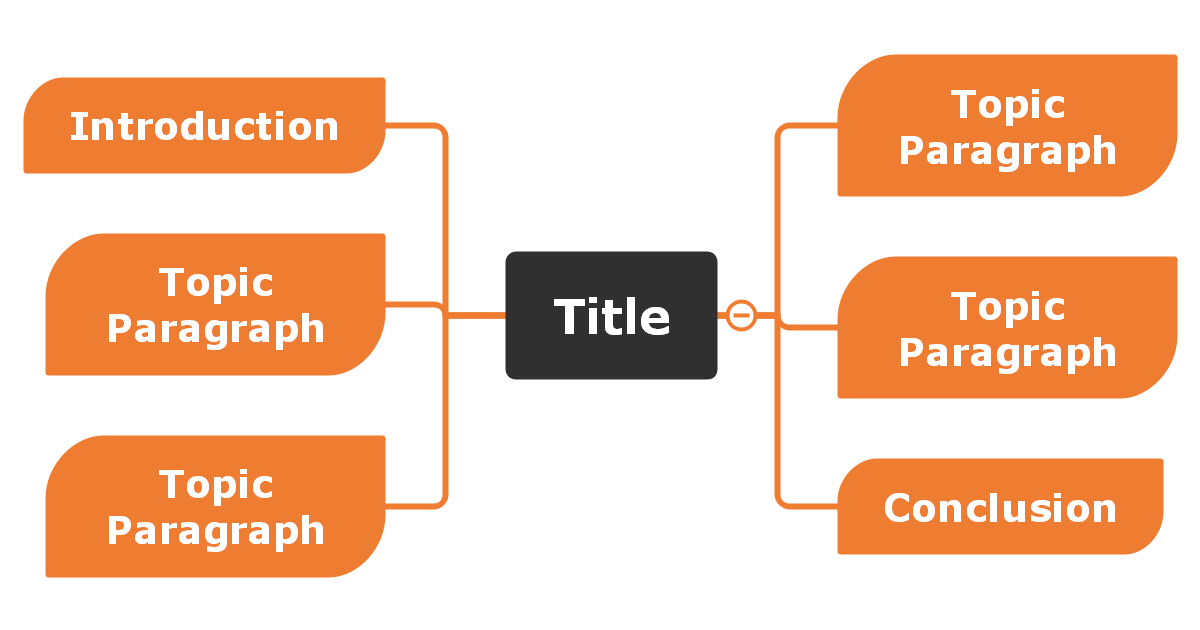 1. What is mind mapping?
Before we begin understanding the benefits of making a mind map for essay writing, we should first understand mind mapping in detail.
In general, mind mapping is a diagramming technique that helps display information visually. Let us suppose you have to write about yourself, including your hobbies, details about your parents, the video games you love to play, and more. In this case, mind mapping would be the technique you will use to visualize the content going along in your 'about me' essay. Since most students prefer to outline their essays before actually converting them into long paragraphs, it is always considered good practice to make a mind map in and around the essay's primary topic.
There are a couple of ways that mind mapping benefits the students who intend to write a good essay.
Some of the benefits are:
A student can visualize the entire essay even before starting to write it.
A student can prioritize the segments based on their subtopics.s
A student can go back to the mind map and understand if they have missed out on any important topic.
Once students have created a mind map, they can seemingly convert it into long paragraphs for an essay. In most cases, if a student can add the mind map to the essay, it will help the reader understand the important topics covered in the submitted long piece.
2. Mind Map Helps with All Types of Essays
In academic writing, there are six different types of essay writing. As a student, you can create a mind map for different essays and later use these steps to write the essay itself. Here, we have covered all the six different types of essays and helped you understand how mind maps benefit someone who intends to write astonishing essays.
1. Argumentative Essay
An argumentative essay is a form of essay writing that requires a student to go analytical by investigating a topic, collecting the data, generating the points, evaluating all the gathered evidence, and establishing a position on the topic. As you see, an argumentative essay requires the student to go in-depth about their research. If the student works on a mind map for an argumentative essay, they will be able to properly create different segments while outlining their investigative and evaluative stages.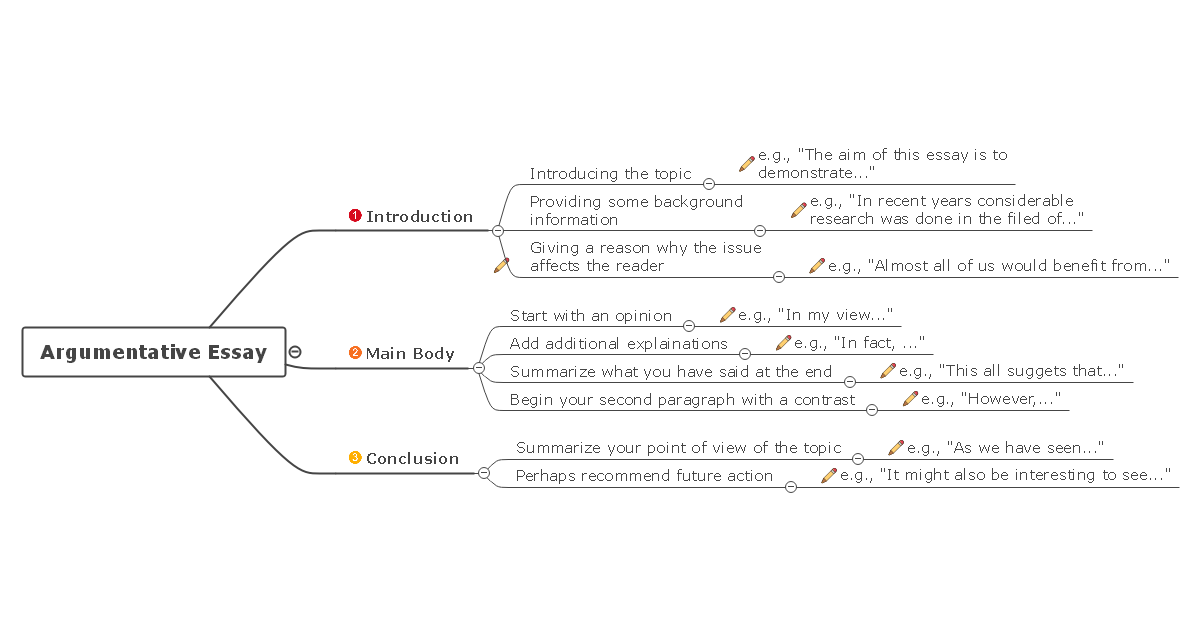 When a student creates a mind map, it facilitates a visual sketch of the entire material the student has gathered to write the argumentative essay. In addition, by creating a mind map, the student ensures that they have all the relevant information before proceeding to write the essay.
2. Admissions Essay
Admission essays are essays that one writes to get themselves enrolled at any particular college or university. Admission essays mostly consist of a statement of purpose (SOP), a student's academic record, a student's record of extra-curricular activities, references, and personal details. An admission essay is considered a very important piece of writing because it allows the college or university to know the student better and learn more about any specific situation.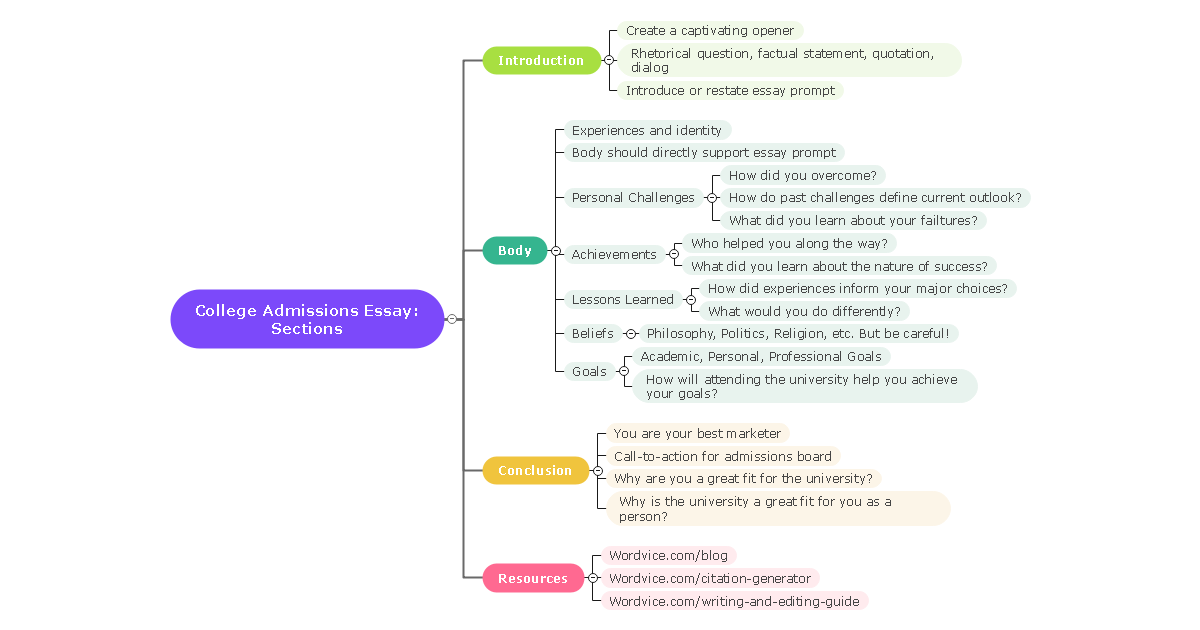 When a student is writing an admission essay, creating a mind map is extremely handy because it allows the students to jot down the details of all of their achievements in a manner that resonates with the admission process. In a mind map, the student can dedicate a specific portion to their SOP, add their academic record in other subtopics, and then work ahead to showcase their achievements. Once the mind map for the admission essay is created, the student can follow the basic steps to writing an essay.
3. Persuasive Essay
A persuasive essay is a type of essay where a researcher or a student supports their content with facts and logical reasons to sway readers to a particular standpoint. In general, while writing a persuasive essay, the primary intention of the writer is to persuade the reader and convince them on a specific issue.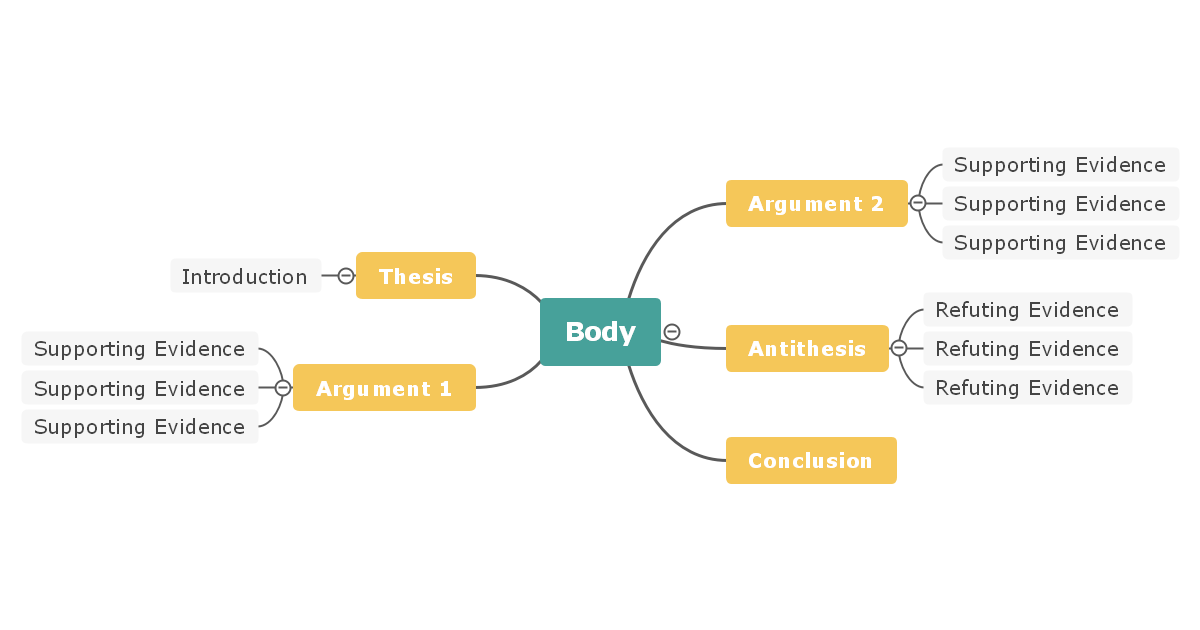 As you see, a persuasive essay requires a detailed logical argument and an emotional appeal. Most students tend to create a mind map before writing their persuasive essay to find the loopholes in the early stages of essay writing. A persuasive essay consists of three important parts: issue, side, and argument. By creating a mind map for an essay, a student can create these subtopics and work on them individually.
4. Compare-and-Contrast Essay
When students need to point out the similarities and differences between two or more subjects, they create a compare-and-contrast essay around it. Writing a compare-and-contrast essay is great for illustrating what separates and unites related topics, particularly those topics or concepts that are often misinterpreted by each other. In a compare-and-contrast essay, a student does not choose two specific topics to provide a contrast. Rather, they compare and contrast two types of similar topics to highlight subtle differences. For instance, when someone has to compare and contrast between watermelon and muskmelon, they will choose two different breeds of dogs and cats to convey the exact difference.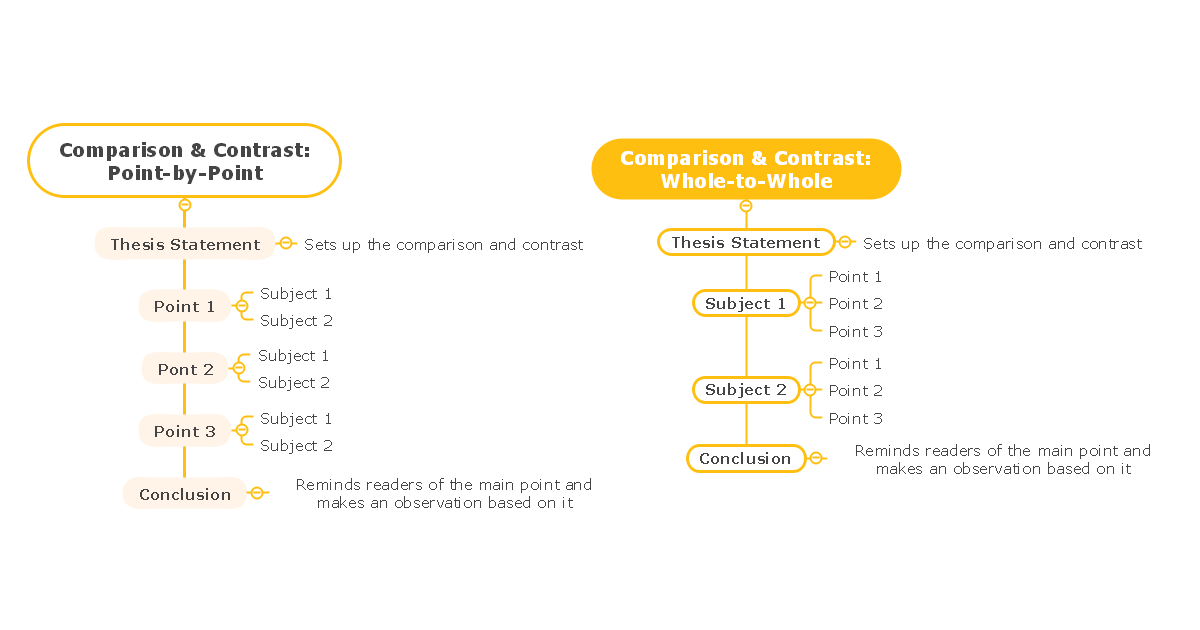 By creating a contrast-and-compare essay mind map, one can easily note the differences and similarities between two subjects. A mind map will help brainstorm the topic, collect the sources, and outline the essay structure.
5. Personal Essay
As the name suggests, a student writes about their experiences without having to prove any particular point in a personal essay. In personal essays, the author only intends to introduce the topic to the reader and make them aware of the subject and the theme. In most cases, a personal essay is based on feelings, emotions, personal experiences, and personal opinions.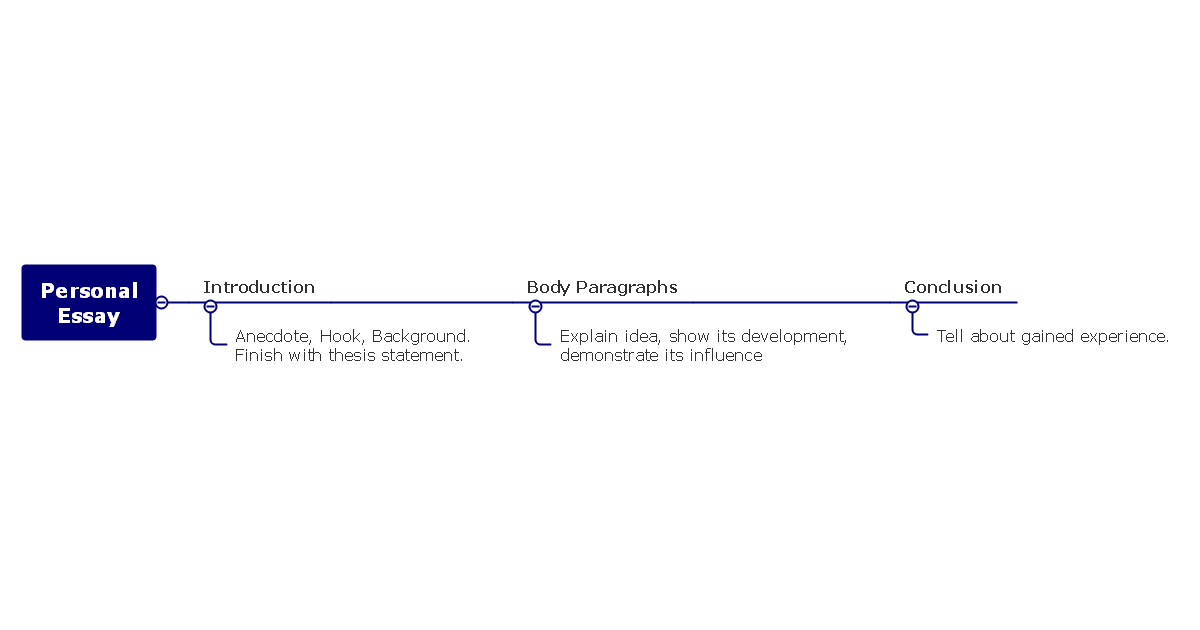 While creating a mind map for a personal essay, the author can work on some important elements, like creating a compelling hook, presenting an engaging story, introducing interesting characters, having an immersive setting, and presenting meaningful conversations. With the help of a mind map, one can easily separate all these elements into subtopics and work on them individually. This way, they can present a more compelling story without missing out on important details.
6. Expository Essay
An expository essay is a long-form essay where the author's primary intent is to explain or describe a particular topic by providing factual information. When an author starts preparing for an expository essay, they start by investigating an idea, evaluating the gathered evidence, expounding on the idea, and concisely presenting an argument. Often, students get confused between expository and argumentative essay writing. The core difference between the two genres is that an expository essay will contain the information and explain the topic in brief. At the same time, an argumentative essay will contain the writer's personal ideas, facts, and other statistics.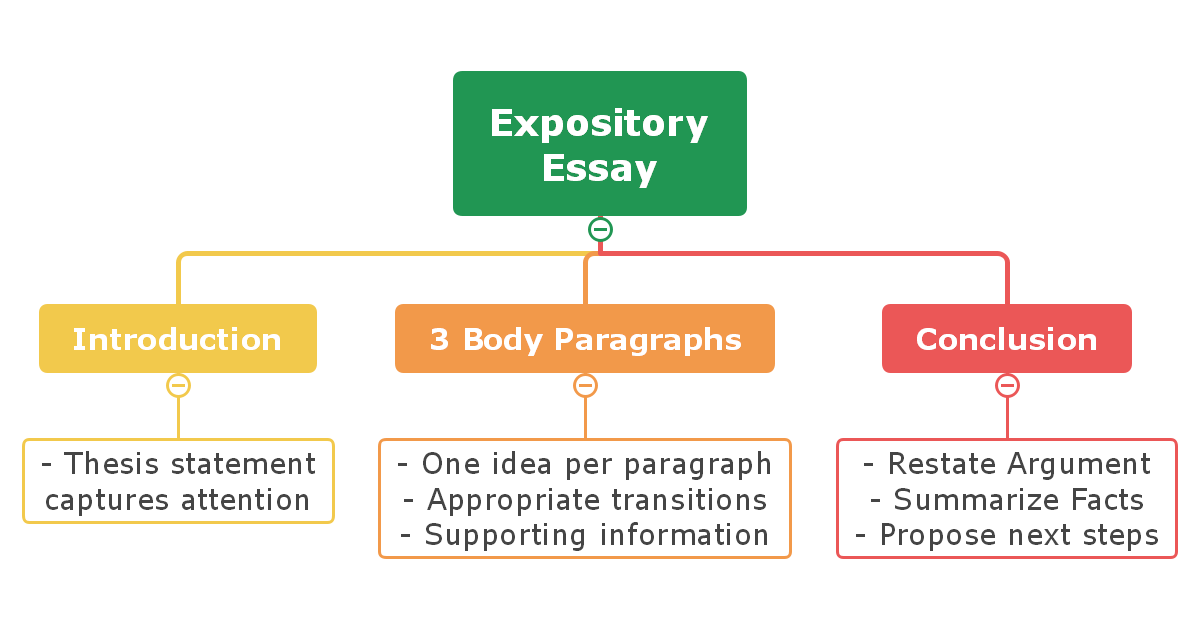 Since expository essays contain information based on investigation and evaluation, creating a mind map for such essay writing is recommended. Using a mind map, the author can easily visualize all the evidence related to the information and brainstorm the topic before starting the writing process.
3. Mind Map for Essay: Step by Step
Now that you have understood how students can easily visualize their ideas by creating mind maps for essays, let us give you a detailed step-by-step description of how you can use mind maps for essay writing. It should be noted here that these are generic steps and can easily be applied to all the different types of essay writing.
1
Find Essay's Topic:
The first step in essay writing is coming up with a unique idea or a topic less explored. If you work on an essay topic that is already covered several times by different authors, your research might be hard-pressed to develop a unique standpoint. Instead, it is recommended to come up with the essay topic you are personally interested in, or at least something you can talk about without major complications. Choosing your essay's topic that is close to you will make the entire task of essay writing less monotonous.
How to find an essay topic using a mind map?
Follow the below-mentioned steps to brainstorm the topic ideas in a mind map:
Create a mind map in a tool like EdrawMind and name the primary topic, 'Essay Topic.' Now start adding different ideas as its subtopics. These subtopics can be anything that you are closely associated with. For instance, you can add different ideas that your professors might have suggested or some ideas that were previously discussed in the classroom.
Add your own areas of interest to the mind map and try to connect the dots with the ideas that you must have added in the previous step. Once you have a few good ideas that intersect with your interest and the ideas that were previously discussed, you can start weighing them against one another by noting down their respective pros and cons. Remove the ideas that have several cons and start working on that essay topic with maximum pros.
2
Commence Research Process:
Research is one of the most important processes in essay writing. At the same time, students often get confused between different arguments and counterarguments presented to them from different research papers. Students often waste an enormous amount of time just trying to figure out how to put all the different information into one piece. What all these students need is to make a mind map for essay writing where they can easily collect and structure their data and information.
Collecting research for mind map:
Follow the below-mentioned steps to collect the information in your mind map:
Create a mind map for different sources and make additional notes in these mind maps as you go on through the text. EdrawMind provides you with a comment option that helps in taking additional notes as and when they are required.
Sometimes, students create one single mind map where they list all of their resources and branch them out for every quote and information, they want to use in the essay paper.
3
Outlining Essay Paper in a Mind Map:
Before you start writing your essay, you first create an outline of your paper that will help create a coherent structure of your arguments, counter arguments, examples, and sources. By using a mind map, one can easily review the outline and access the information they require in their essay.
Creating a mind map to outline your essay ensures that one will walk through sources and information more efficiently. It also enables the author to find and review information whenever they are stuck at any point.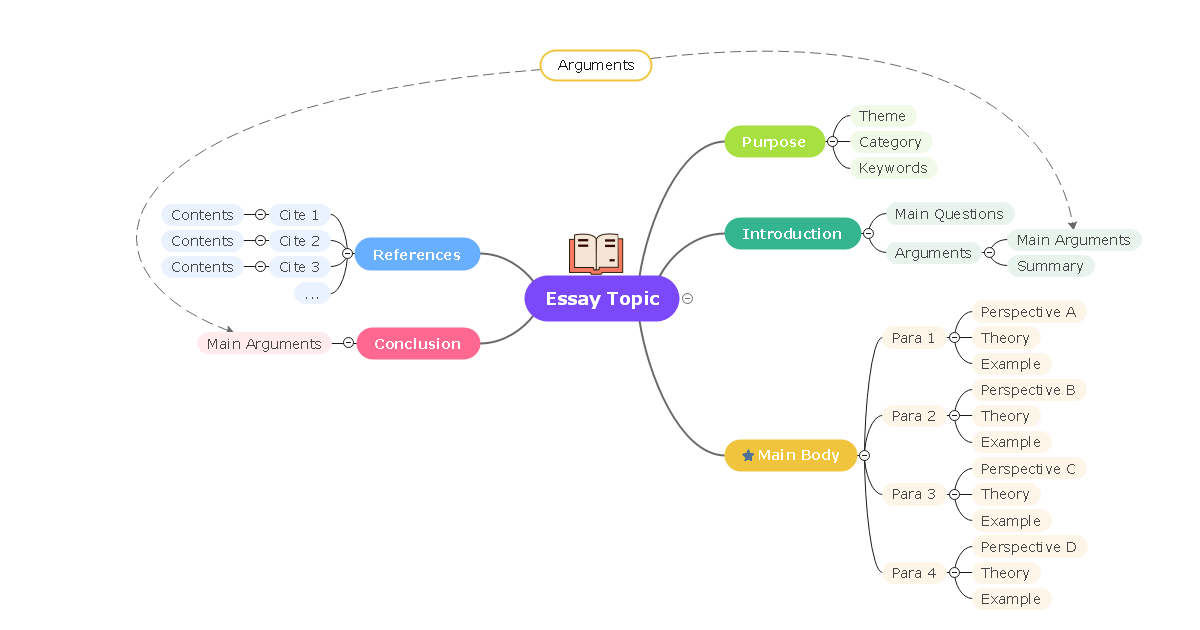 4. Useful Tips for Your Essay
Essay writing can be a fun exercise if you follow some of the general steps to writing an essay. A couple of important essay writing tips ensure that your final submission has no plagiarism, no errors, has a proper citation, and does not divert from the primary topic. Some of the most useful essay writing tips are:
Plan & Schedule:
After coming up with the right topic for the essay, a student must allocate proper time and schedule their research hours. Most of the time, students underestimate the amount of work required to conduct proper research to write a professional essay and end up submitting an essay that will fetch them poor grades. It is always advisable to plan and schedule the essay writing in such a way that they get proper time for researching, and a good amount of time in writing, followed by sufficient time to conduct the second round of editing.
Structure, Flow, & Focus:
If you have not decided on the right flow of your essay, chances are your reader might not be able to relate to it. So, whenever you start writing the essay, ensure that you have properly summarized the core introduction and main body and presented your case that leads towards a proper conclusion. By structuring and focusing on the flow, each section of your essay will add a definitive value to the argument that you are presenting. At the same time, you should also perform multiple revisions just to confirm that the different parts of your essay fit together as a logical whole.
Proper Style and Formatting:
A good essay is about the argument and the narrative structure, but at the same time, the style tends to influence your readers, as that is the very first thing the reader will see when they look at your essay submission. Before writing down the essay, understand the formatting and styling criteria from your professor. You can even consult them about the language guide and the style that you have to follow while submitting the essay. It might look like a very simple or a basic step, but when an author submits an essay that has a proper table of content, introduction pages, bibliography, indexes, annexures, and references, the reader will get an idea that the author has done their proper research before writing the essay.
Visualize the idea:
In most cases, authors start writing the essay as soon as they get an idea. However, if the content is large and the project demands multiple rounds of revisions, it is highly recommended to go ahead and create a mind map. A mind map for essays will help the author visualize the content in a concrete manner. At the same time, by creating a mind map, you will be able to follow the timeline and have sufficient time to make revisions.
5. Key Takeaways
Regardless of the course of study and institution, essay writing is one of the most important curriculum activities for all grades. Even the graduates and postgraduate students need to submit their research paper that somehow starts by writing long-form essays. In this elaborate guide, we walked you through different types of essay writing and helped you understand how making a mind map for an essay is not only a logical activity but also saves you time and other important resources. Instead of wasting your time and money on complicated tools, you should start using EdrawMind, which has hundreds of templates for educational, business, and personal use.
Unlike other tools, EdrawMind has an amazing user interface that provides easy drag-and-drop features. From changing the theme of your mind map to adding different comments in subtopics, you can modify your mind map in any way you desire. So, what are you waiting for? Download EdrawMind today and make a mind map for the essay. You can also try using EdrawMind Online, which comes with a personal cloud.
EdrawMind Desktop/Mobile
12 structures & 33 themes & 700+ stylish cliparts
Support Win, Mac, Linux, Web, Android, iOS
Advanced import & export options
On-premises software for business
Enterprise-level data security
EdrawMind Online
12 structures & 33 themes & 700+ stylish cliparts
Access diagrams anywhere, anytime
Group & real-time collaboration
Personal Cloud and Dropbox Integration