How to Take Effective Notes Using Mind Maps
Mind maps for note-taking
Discover More Helpful Information!
Welcome to EdrawMind!
Unleash your creativity and enhance productivity with our intuitive mind mapping software.
Note-taking is considered one of the most important parts of any academic or professional institute. With note-taking, we ensure that we capture every little detail that is being taught or discussed during a class or a meeting. In academics and professional endeavors, we work with different mind map software to create our notes. Some students still follow the traditional note-taking method, while most use professional tools like EdrawMind to create high-functioning mind maps.
In this article, we will understand the processes that involve creating mind map notes, different advantages, and purposes of using different mind mapping note-taking methods. EdrawMind is the ultimate tool for beginners and professionals to create different mind maps for personal or professional use.
What is Mind Maps?
A mind map is a kind of realistic coordinator. Mind Maps permit you to make a visual representation of ideas on a specific study point. They are especially helpful for brainstorming and note-taking.
They are an extraordinary note-taking and study instrument as they connect with students in entire brain thinking. They permit you to see the comprehensive view (how all the various ideas are associated with each other). They are utilized as a study help to help explain musings, decide connections, rearrange complex ideas, and remember information.
Advantages of Mind Maps for Note-Taking
Mind mapping is considered a very powerful tool to retain and organize information for a longer period of time. Students and professionals use the mind maps method for note-taking to not only brainstorm different ideas but to ensure that they do not miss out on important topics while creating their reports or essays.
Some of the advantages of using mind maps for taking notes are:
With the help of mind maps, students can easily brainstorm and investigate different thoughts, ideas, and issues, share them with their teachers, or even discuss the topic in detail with their classmates.
Since mind mapping works with visual elements, increasing students' cognitive abilities.
With the help of mind maps, professionals can better comprehend and associate with different ideas.
Most students and professionals consider traditional note-taking an obsolete method, and when they move to mind maps, they realize better ways to enhance their creativity.
With mind maps, conveying complex ideas or topics from any notes becomes easier and more effective.
At the time of any board meeting or exam revision, a simple mind map comes in handy as it contains all the major notes you must have taken during your meeting or classes.
Once you start taking notes using mind maps, you will learn how simple and effective it is to arrange ideas.
Purposes Behind Note-Taking
The primary purpose of note-taking is to ensure that students actively learn everything taught in the classroom and prepare in advance for the exams. Note Taking also serves an important purpose when it comes to professional endeavors, as it allows the executives to create a list of all the things that are being discussed in the meeting. This way, they can easily create reports, share knowledge with others, pass on the information in future meetings, and more. In addition, developing note-taking skills also help the students and professionals organize information into an understandable format that assists in different processes.
Some of the most significant purposes behind note-taking are:
Focus:
It is often seen that some students have a hard time concentrating on different subjects. Sometimes they get diverted or lose focus because of the topic's complexities. In such scenarios, working on notes and, more importantly, creating mind maps for notes is handy. It is observed that note-taking keeps the body active, resulting in less drowsiness or distraction.
Understanding:
When there are complex topics that need to be written or complex subjects that a student needs to study, creating notes prior hand would help them understand the topic easily. For instance, suppose a student needs to study biology for their upcoming exams. In that case, they can have multiple notes for different topics, where they can highlight the key ideas or topics. By doing this, they will get to indicate the supporting points of any presentation.
Recalling:
Let us suppose a student has a paper in the next week and they need to study multiple giant topics. In that case, it would be time-consuming to check each page in detail. In these cases, note-taking methods come in handy as it not only helps the students in recalling what they already studied in the past but ensure that they are covering all the important highlighted topics and are not missing out on major points.
Reflect:
When you read over your notes, you get a second chance to think about your opinions and ideas. This way, you can ask more questions from your teachers or team members. It is advised that one should keep on updating the notes, so they get more creative ideas, and it would become easier for them to reflect upon those ideas while answering questions in the exam.
Modification:
As you study a topic or work on your thesis, you will soon realize that there are moments when you need to make certain modifications. In such cases, there might be a possibility that you forget to add a topic or discuss an idea. In such scenarios, creating notes is considered an excellent exercise as it helps you make multiple modifications before you sit down and work on your paper.
How to Take Efficient Notes using Mind Maps
if you are not aware of how mind maps for note-taking work and need a total guide to begin mind mapping. You can look at the free online templates of a mind map for note-taking on Edraw website or desktop software. In case you're now familiarized with simply continuing the perusing to discover how to utilize mind maps to take notes in various circumstances and contexts:
For Study
In order to effectively pass the exams or tests, students tend to create effective notes that they can fall back on during the revision process. Here we have taken an example of electricity to show you a student can use mind maps to make notes for their exam preparations.

Electricity is one such topic that physics students need to master in order to crack the tests. In the following note-taking mind map, we have created several subtopics about the details of electricity, like circuits, Ohm's Law, Electricity & Magnetism, Electric Power, Household Electricity, and more. A physics student can take inspiration from this template and create notes for their academics. Mind mapping address notes will not take much time and helps focus on the speaker instead of your notes. Moreover, linear texts taken in earnestness get you lost since they are normally composed, blended, and tumultuous.
Another important area where you can use a mind mapping method to create notes is office meetings when you have to brainstorm on different topics or ideas. Creating a mind map will not only have a real-time impact on your meetings but ensures that you are not missing out on important topics and ideas and covering everything related to the meeting's agendas.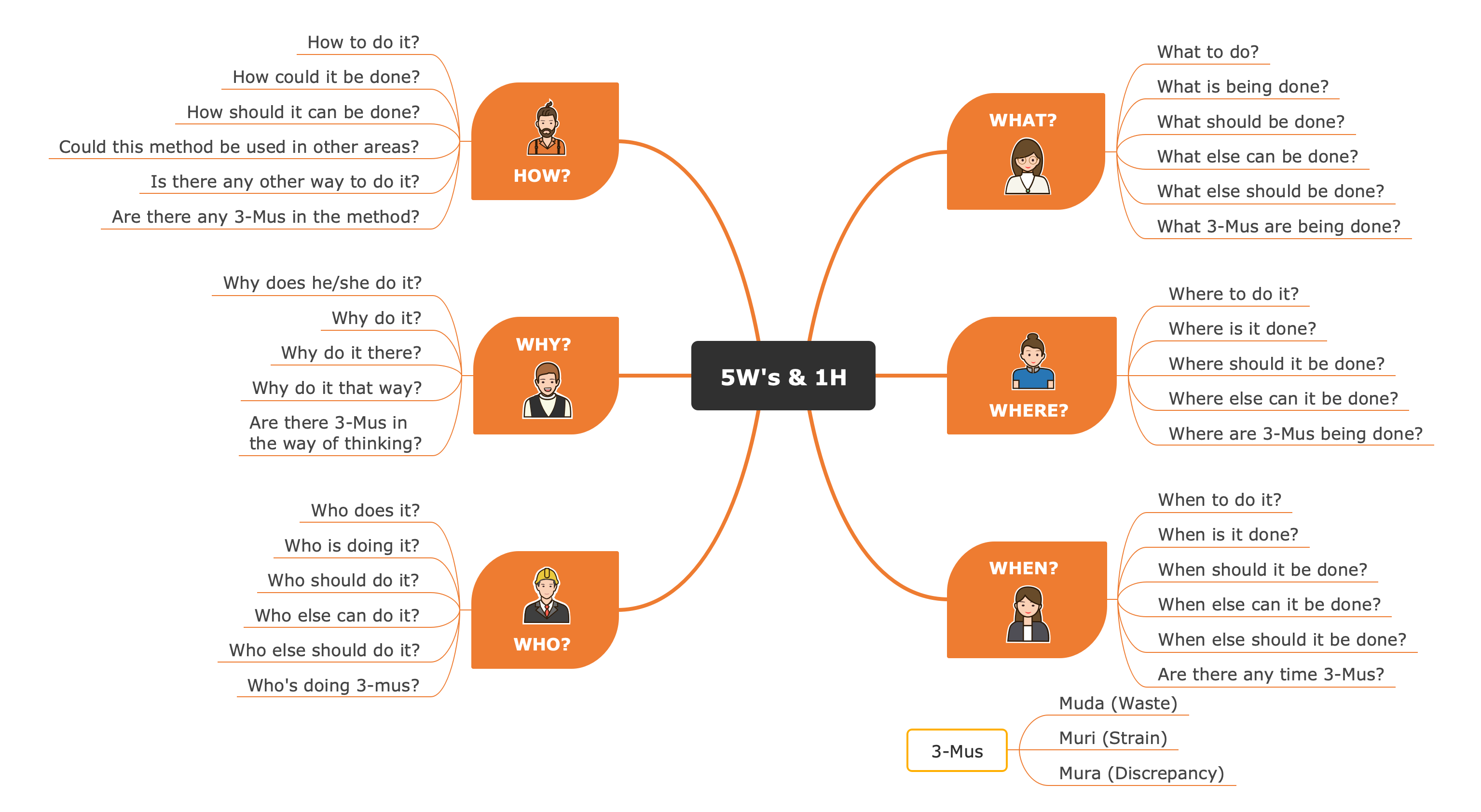 Brainstorming is a method of making a group of individuals all unexpectedly consider something simultaneously, frequently to take care of an issue or to make smart thoughts. These days, brainstorming is broadly taught in classes to animate students' innovativeness and creative mind. Mind maps for note-taking can be an extraordinary instrument utilized during and after brainstorming.
For Reading
When we need to create a book summary, we can move on to use mind maps. As it turns out, note-taking with the help of a mind map is not only an effective method but is also very engaging for those checking the reading material for the first time.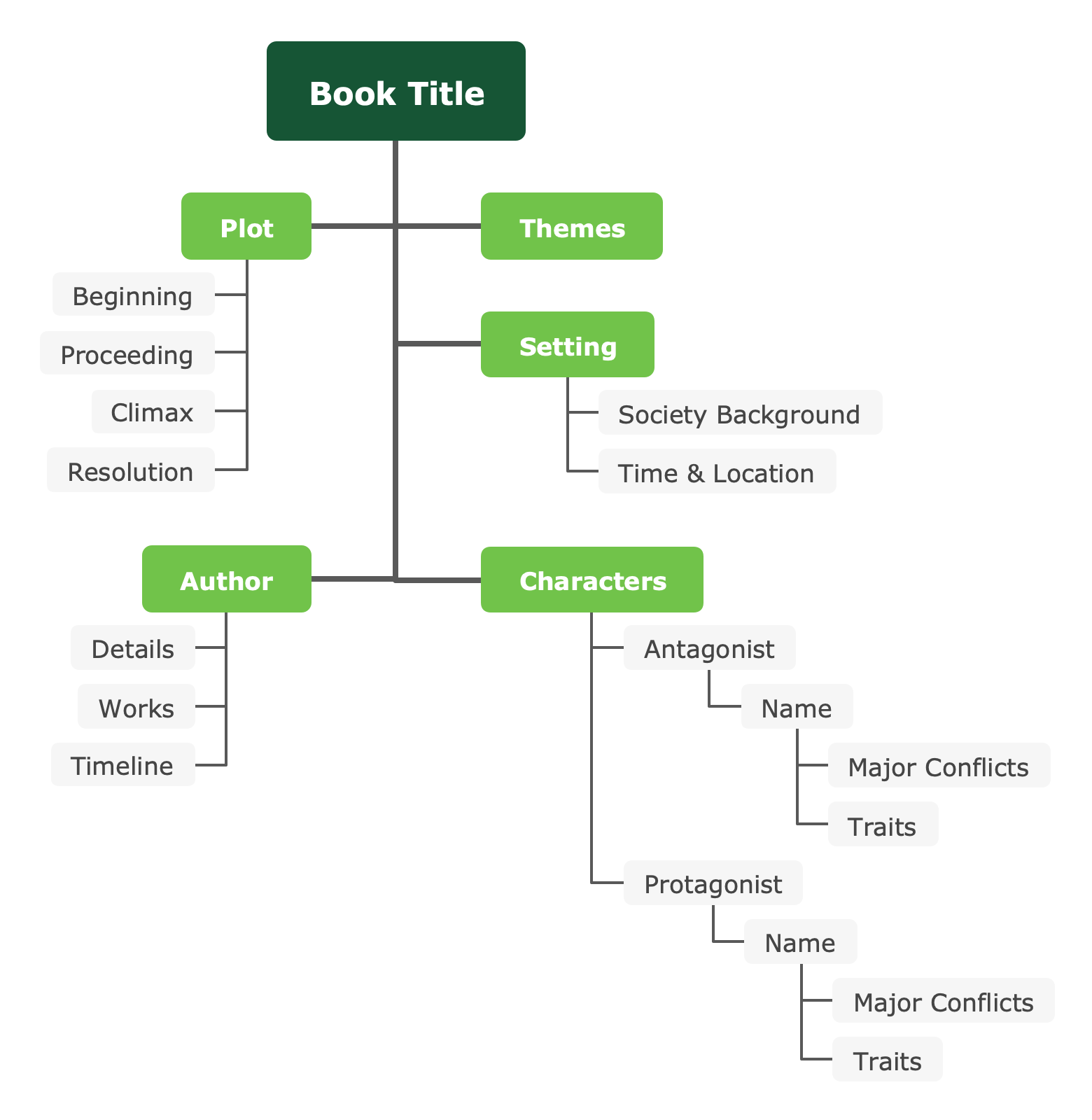 Mind maps are ideal for summing up information conveyed in books. Focus the book name on the canvas as the focal theme. In true-to-life books, many center ideas and definitions are learned to clarify ideas. With branches as fundamental ideas represented, you can enhance ideas and ideas with dispersed notes, remarks, or connections and structure subjects for simple appreciation. Moreover, taking book notes on mind maps for note-taking reduces your weight of leaving untidy handwriting lines and texts circulated clearly over pages of a book.
Numerous instructors are mindful that mind maps are an awesome way to assist students with improving understanding perception. Be that as it may, taking notes on a map while perusing isn't just advantageous for students but anyone who likes to retain things via mind mapping.
If amazing memory, odds are that remembering text isn't sufficient on the off chance that you need to recollect the knowledge of its context on the long haul. After just long stretches of completing a book, most people are frequently left with everything except an unclear thought.
If you need to guarantee that your perusing isn't only a pleasant action to take a break, you have to plan a framework to save all the significant ideas, experiences, and exercises you read, so they can be used later on. Taking notes in a mind map while perusing will push you to:
Increase a more profound comprehension of the text
Make out associations you may some way or another have missed
Better recollect what you've perused
Invigorate your memory and look into subtleties rapidly
For Meeting
Contrasting and conventional gathering minutes took on notebooks in a linear structure, mind mapping meeting course of action and meeting minutes is simpler to get the point. Taking gathering minutes with mind map programming in a PC requires no penmanship and eradicating, and it is more helpful and time-sparing. Besides, a mind map creates a brilliant structure which is how the human brain works normally, therefore help speedy retaining.
Get ready hierarchical substance, for example, spot, date, and participants and outline before the gathering to get acquainted with existing materials; structure a sensible format of the gathering in mind maps programming ahead of time. During the gathering, type articulations of every speaker in their model as conceivable as possible, list watchwords showed up and record arrangements and following assignments. After the meeting, summarize the information with watchwords or short expressions and redesign the relations between catchphrases showed up and modify the mind map notes to business style.
If you are looking to create different note-taking mind maps, we recommend you to check out 5 best note-taking methods that illustrates different note-taking templates.
Useful Tips for Note-Taking with Mind Maps
If you wish to upskill yourself when it comes to note-taking with mind maps, check out some of the following tips that would help you create professional and creative mind maps for your complex academic or complex notes.
1. Ideas over Chronology
If you are working on different complex topics that flow both chronologically and thoughtfully, and your mind map will essentially fabricate itself, the presenter would also chronologically discuss the topic.
2. Practice Active Listening
One important aspect of mind mapping is that you do not work on every word verbatim. Rather you focus on the watchwords and ideas that resonate with the primary topic. The key practice here is to choose the right word that not only conveys the information but also saves you time.
3. Add Key Facts
Before creating the note-taking with mind maps, ensure that you have outlined all the key facts, subtopics, ideas, comments, and more. It saves time and gives you an idea about the complexity of the notes and, subsequently, the topic.
4. Consistently Move and Re-request
When you create a mind map, do not put all the information in one place. Try to move them to different locations in the sub-branches, depending upon their nature and the context of the substance.
5. Be Reasonable
If you are making mind maps for yourself, there is no practical need to stress yourself with the design. Just ensure that all the important notes are covered in the mind map and that you have not missed out on any pivotal topic.
6. Use tools
Use mind mapping tools like EdrawMind to create your note-taking maps. These tools will save you time and ensure that your notes stand out from the different submissions.
7. Use Symbols
When you create mind maps for complex topics, it is advisable to use symbols, cliparts, or even different colors to identify them easily. Tools like EdrawMind provide the users with such features.
How to Make a Mind Map?
Creating a mind map for note-taking is very straightforward with EdrawMax. Unlike other tools where you have to create everything from scratch, EdrawMind comes with pre-built templates that ease your job of making notes. In case you are planning to have a remote collaboration with your team, check out EdrawMind Online, which offers real-time collaboration features.
Step 1: Begin with the Main Idea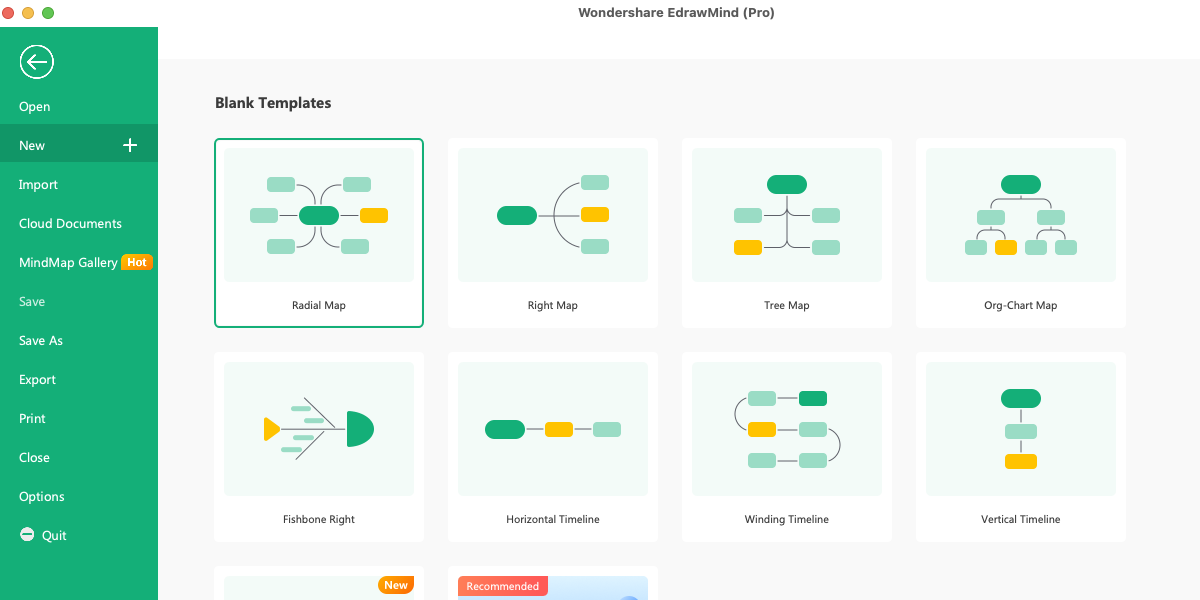 To create a mind map for note-taking, you will need to launch EdrawMind and head to the home screen. Here you will see several pre-built templates. Either choose one of the templates or head to the 'New' option from the left, which takes you right to the canvas board. By default, EdrawMind will give you the main topic and three sub-topics. Replace the main topic with your note's heading or the note's subject.
Step 2: Add Branches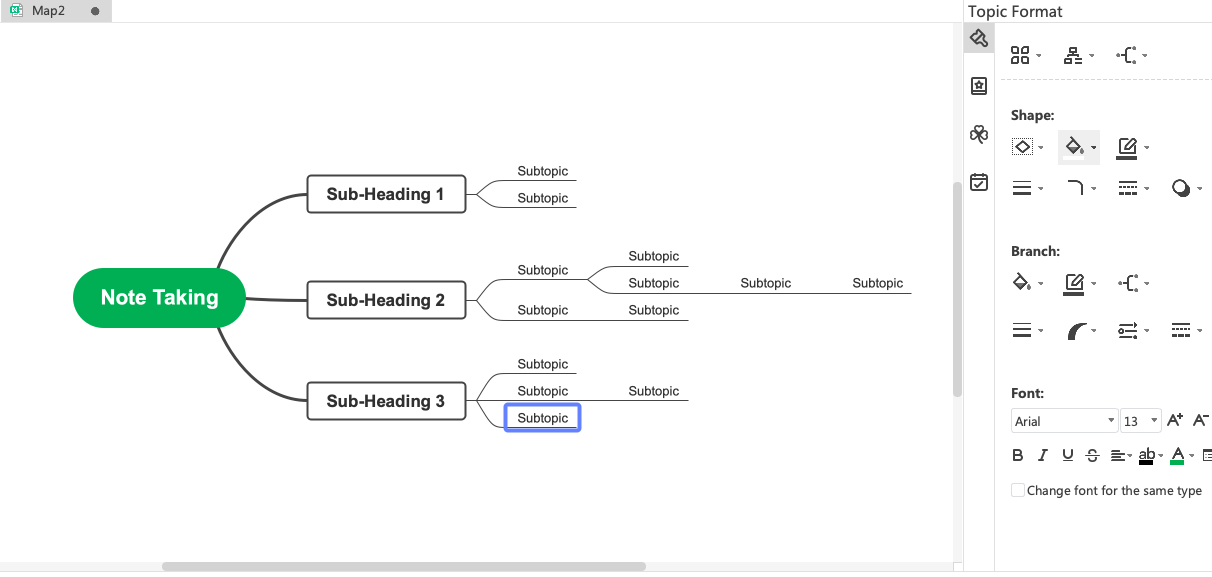 After adding the primary topic, you can start adding different sub-branches to it. You can categorize it as per the complexity of your notes. EdrawMind lets you add hundreds of different subtopics, and with the in-built traverse mode, it becomes easier for the readers to check the complex mind maps that show different notes or sub-notes.
Step 3: Customize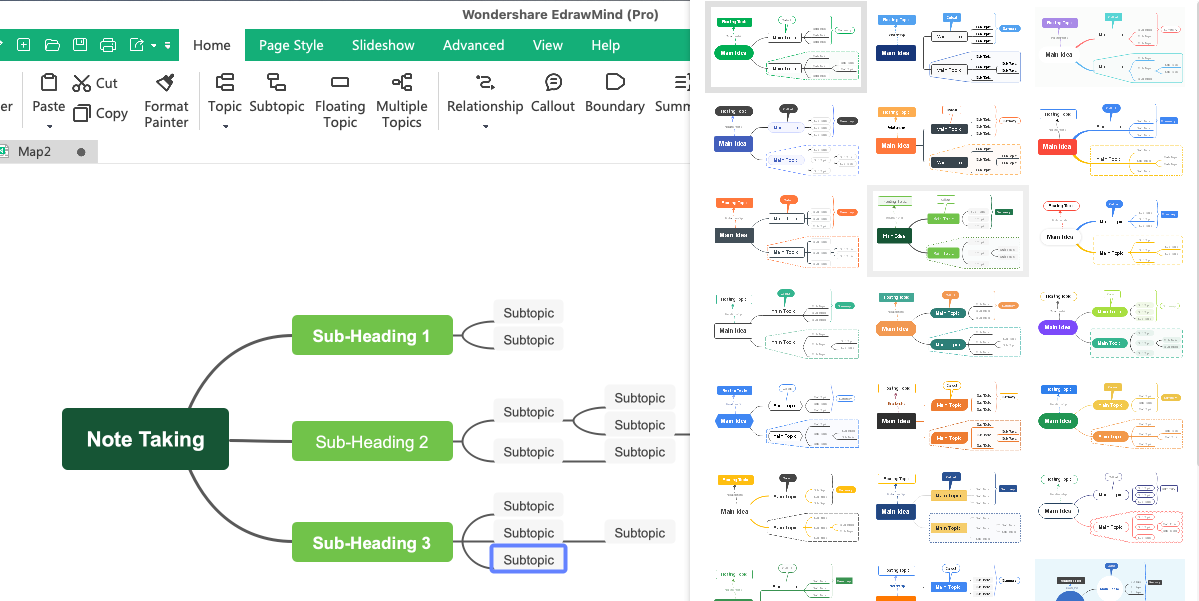 With EdrawMind, you can easily customize your mind maps. From changing styles, themes, structure, and colors, you can customize your mind maps to the fullest. If you are working on multiple topics and have created different mind maps for those note-takings, you can add pictures or images to differentiate them from one another.
Step 4: Export & Share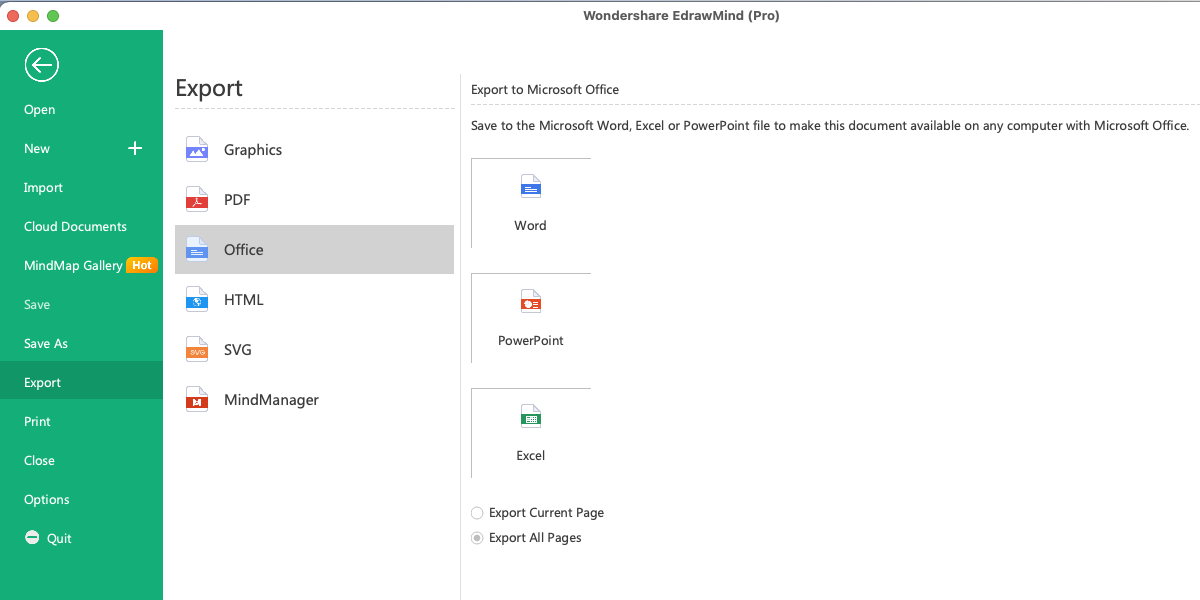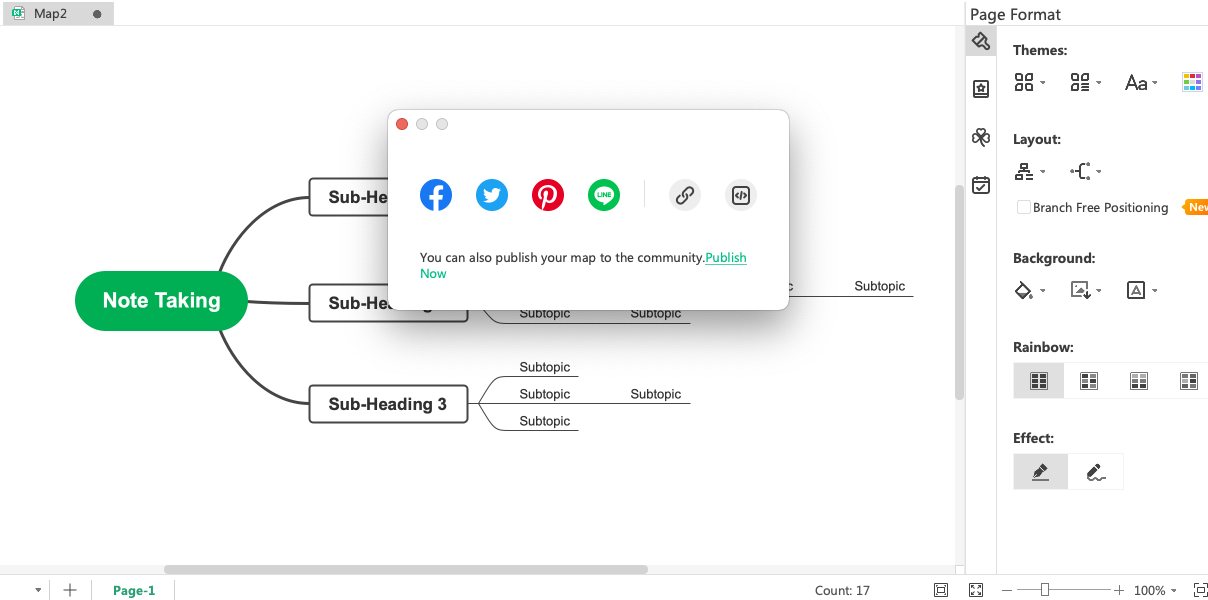 Once you are satisfied with the mind map, you can export it into multiple formats, like JPEG, PNG, SVG, HTML, PDF, and multiple Microsoft formats, like Word, Excel, and PowerPoint. EdrawMind also lets you share the mind map of your notes on multiple social media platforms, like Facebook, Pinterest, Twitter, and Line.
EdrawMind Apps
12 structures & 33 themes & 700+ cliparts
Support Win, Mac, Linux, Android, iOS
Advanced import & export options
On-premises software for business
Enterprise-level data security
EdrawMind Online
12 structures & 33 themes & 700+ cliparts
Access diagrams anywhere, anytime
Team management & Project management
Problem with Taking Notes Traditionally/ in Linear Way
All through our academic pursuits, from first grade through to graduation, we are determined what to gain and pursue knowledge however, the standard educational program hardly ever remembers tasks for how to learn. This is the reason such a large number of students despite everything invest their study energy featuring sections in textbooks and summing up parts when research has clearly indicated that those study techniques are the least compelling.
Essentially, linear notes are as yet the default group for note-taking for a great many people, even though it's from numerous points of view one of the least commonsense formats we might pick. Here are only a couple of the most concerning issues with linear or traditionally notes taking way:
Linear notes can be incredibly monotonous, which makes them harder to memorize.
Linear notes do not give a decent review of a point. We frequently burn through significant time, re-perusing huge lumps of our notes when searching for singular snippets of information.
When a page has been filled in, it is very hard to add extra information to it. We are compelled to press it in the middle of the lines or include it at the base of the page with a reference bullet.
Furthermore, shouldn't something be said about taking notes in Word reports? Exploration has indicated "that while taking more notes can be useful, PC note takers' propensity to interpret addresses verbatim instead of processing information and rethinking it in their own words is unfavorable to learning.
Customary note-taking frequently feels relentless for us since it exhausts us intellectually while it debilitates us genuinely (take a stab at composing for two hours in a row and afterward perceive how your composing hand feels - most likely not extraordinary!)
Creating linear notes is not as interesting as visual patterns, which makes it hard for the students to remember every little thing.
Taking traditional or linear notes requires more time than adding points as you absorb them. This process makes it hard to keep up with the teacher, and there are chances you might miss out on important information, resulting in losing your concentration as you focus on the form rather than the more important content.
One of the key requirements of taking notes is that the student quickly falls back to it when they have to make revisions. However, if they have used a more traditional way to create the note for a complex topic, they would find it difficult to read, revise, and implement the learning during the tests.
Another major issue with linear note-taking methods is that they do not have room for creativity.
If you are working on different categories that come under one single topic, you will find it difficult to categorize them efficiently.
Key Takeaways
Mind maps for note-taking are one of the best ways to regain and retain every information that you must have learned during your lecture or meeting. It is one of the finest ways to brainstorm, gain ideas, and get a fresh perspective on complex topics. As discussed in this elaborated guide to understanding the mind maps for note taking, students can create different mind maps to illustrate and visualize different complex topics later.
Creating mind mapping can be fun and engaging even if you are dealing with complex topics when you use mind mapping software like EdrawMind. This mind mapping software comes with 30 topic shapes, branch styles, 700+ designed cliparts, and more. In addition to this, you can even select a group of topics and create a boundary or summarize them to have a more meaningful impact on your subtopics. Taking notes with EdrawMind is fun, effortless, and convenient for both beginners and professionals. EdrawMind comes with ready-to-use mind maps for different verticals, like business, education, health, life, and personal. Download EdrawMax today to get access to these mind map templates and start taking your notes creatively. If you wish to have a remote collaboration, check out EdrawMind Online, which is compatible with all the major internet browsers, like Chrome, Safari, Firefox, and more.