Business Requirements Document (BRD) Template & Guide
Trust the business requirements document to outline essential ways to communicate business and customer needs better.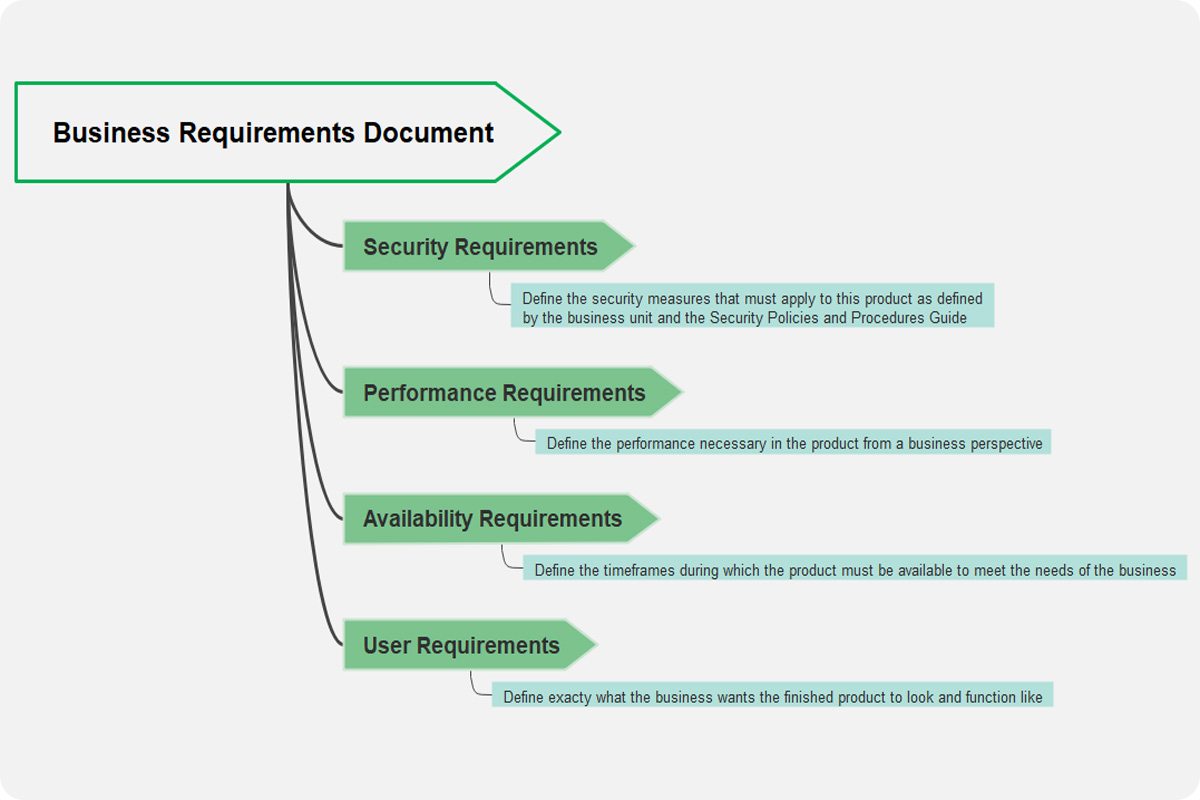 More Business Requirements Document Template
About the business requirements document
What is a business requirements document?
The foundation of a successful organization is a well-structured and well-written business requirements document (BRD). It describes the project's issues and the required outputs to deliver value. The BRD directs the project and keeps all members on the same page if done well. However, requirements documentation can sometimes become disorganized and unclear, leading to a project being off track.
The document also highlights the expectations and needs of customers. BRD shows what the company or organization wants to achieve in the simplest form. It indicates all the deliverables of the project at a high level. The BRD also serves as a guideline for stakeholders in making decisions about project priorities, structure, and design, so the project stays aligned with the business's overall objectives.
With outsourced projects, the BRD also represents a fundamental contract between the vendor and customer outlining deliverables and expectations for the project.
What comprises a business requirements document?
Most businesses follow a business requirements document template for all their projects. This helps in ensuring documentation standards across organizations. There may be variations on the structure depending on the company; however, here are the essential components of a BRD:
Executive summary
Project overview, which includes the company's objectives, vision, and context
Success factors
Stakeholder identification
Project scope
Solution scope
Business requirements
Business Requirements versus Functional Requirements?
These two terms are frequently used interchangeably. However, these two are different from each other. Business requirements are those deliverables that need to be done but will not discuss how to accomplish them. The 'how' will be documented in the project's functional requirements. These functional requirements outline how the system must operate to achieve the business requirements.
Business requirements must be detail-oriented, high-level, and written from a client's perspective since they serve as the means to achieving a company's objectives. On the other hand, functional requirements are generally written from a system's perspective and are narrowly focused and specific. Furthermore, the functional requirements provide a practical solution that meets the client's expectations and business requirements.
Different Types of Requirements Documents
Requirements documents are utilized to communicate projects' objectives in a concise and precise approach to ensure all stakeholders are in the right mindset. There are about nine types of requirements documents that businesses may use while pushing projects through the stages of completion. These types include:
The Business Requirements Document (BRD) serves as the first stage of the product's life cycle.
Functional Requirements Document (FRD) provides the ways to accomplish the requirements written in the BRD.
The Market Requirements Document (MRD) generally focuses on the target market's needs.
Product Requirements Document (PRD) involves all things present in the product release.
The User Interface Requirements Document (UIRD) illustrates the feel and look of the system's User Interface (UI)
The Quality Requirements Document provides an outline of the customer's expectations for the final product's quality.
The Customer Requirements Document is also referred to as the Client Requirement Document.
Business Requirements Guidelines Checklist
Here are some vital points one must consider for a well-structured business requirements document:
The things to do:
Use simple, clear, and concise language
Directly state the need
Use active and direct statements
Observe consistency throughout the document
Specify a necessity; not a design
The things to avoid:
Vague, subjective, or undefined descriptors (user-friendly, flexible, fast)
Gearing towards the impossible
Implementation details
Ambiguities
Expert tips for writing a perfect business requirements document
Now that you already have a backgrounder on a BRD, you can follow these simple guidelines to ensure you have come up with well-written business requirements documents.
The first step to a well-structured BRD is to execute proper elicitation methods. You can use all nine methods or just shoes a few. However, it is essential to incorporate multiple methods for a comprehensive selection of requirements.
Do some research on similar projects your company has done previously. You can use the insights from those projects to guide you in identifying requirements and other essential points to include in your BRD.
Use precise language and not jargon. Requirements documents are usually text-heavy and long. Using clear language will prevent misinterpretations and confusion. One must understand that various stakeholders will read the document, and not everyone is technically-minded.
Providing visuals for your document plays a significant role in clarifying and presenting information and ensuring that the document is more user-friendly. You can use various data visualizations tools to illustrate your document.
Have experts and stakeholders validate the requirements document. This is where all involved can provide inputs, suggestions, or corrections.
Business Requirements Document Templates
These types of documents are definitely lengthy. The following examples will give you an overview of what a business requirements document template looks like.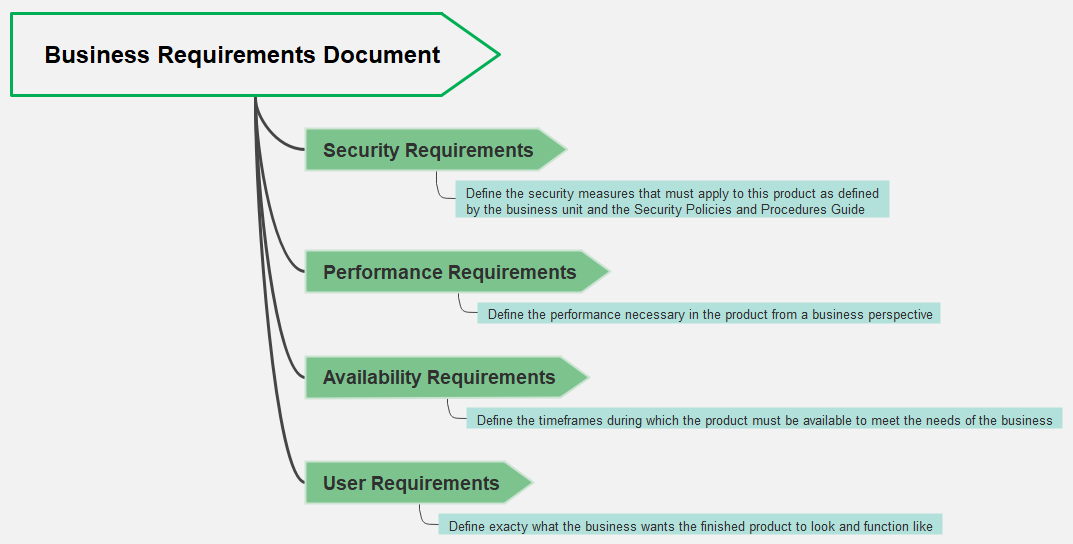 The first example above might require more pages to understand the project clearly. However, the template provides an outline and a guide on how one must input the necessary information for the project's document. With the guide, you can be consistent with structuring the document.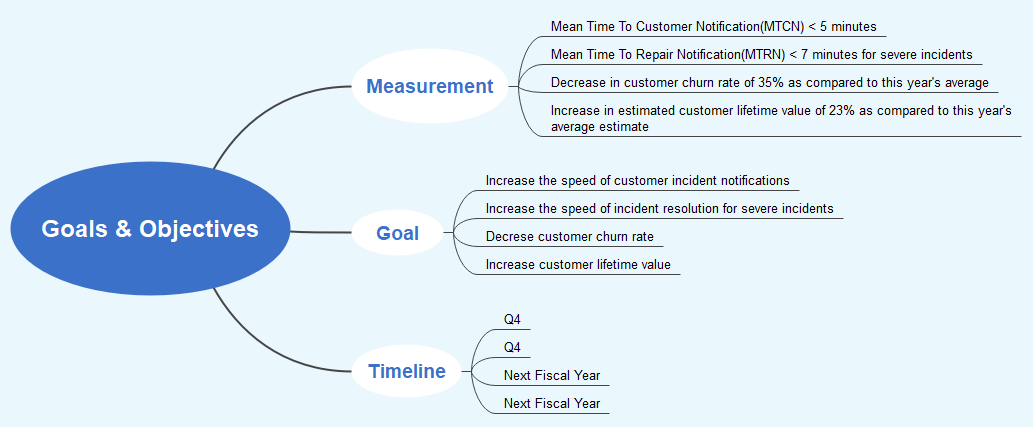 Besides a text-structured business requirements document template, you can also opt for a table-structured one. The template allows document viewing and jumping to certain sections quicker. If you wish to add more categories to your document, you can add more tables to the template.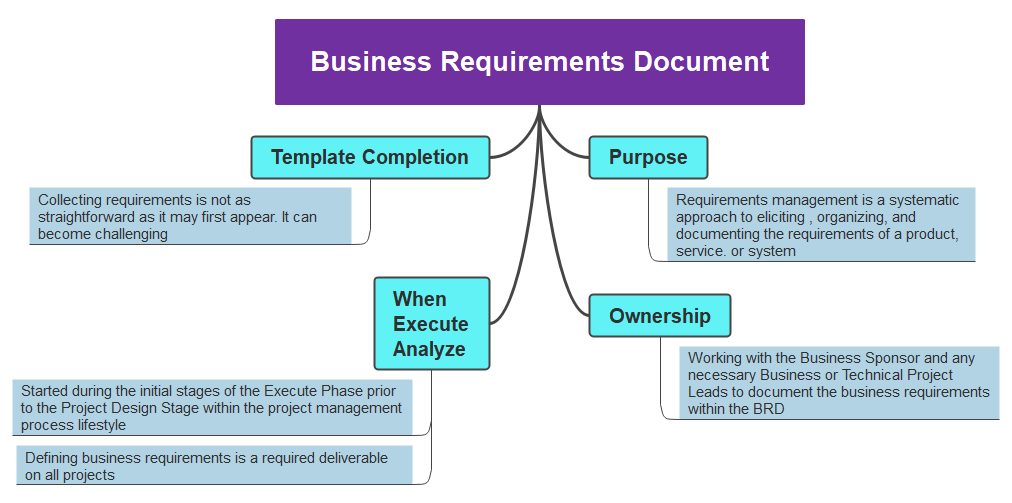 This is another example of an illustrative representation of a business requirements document designed for a system project by a telecom company. The template is also a table-structured one providing a cleaner, clearer, and more effective document. This format is relatively straightforward and easy to use.