Resource Breakdown Structure Template
One of the vital aspects you need to give utmost consideration when opening up a business or starting a project is the essential resources you need to procure and run the project.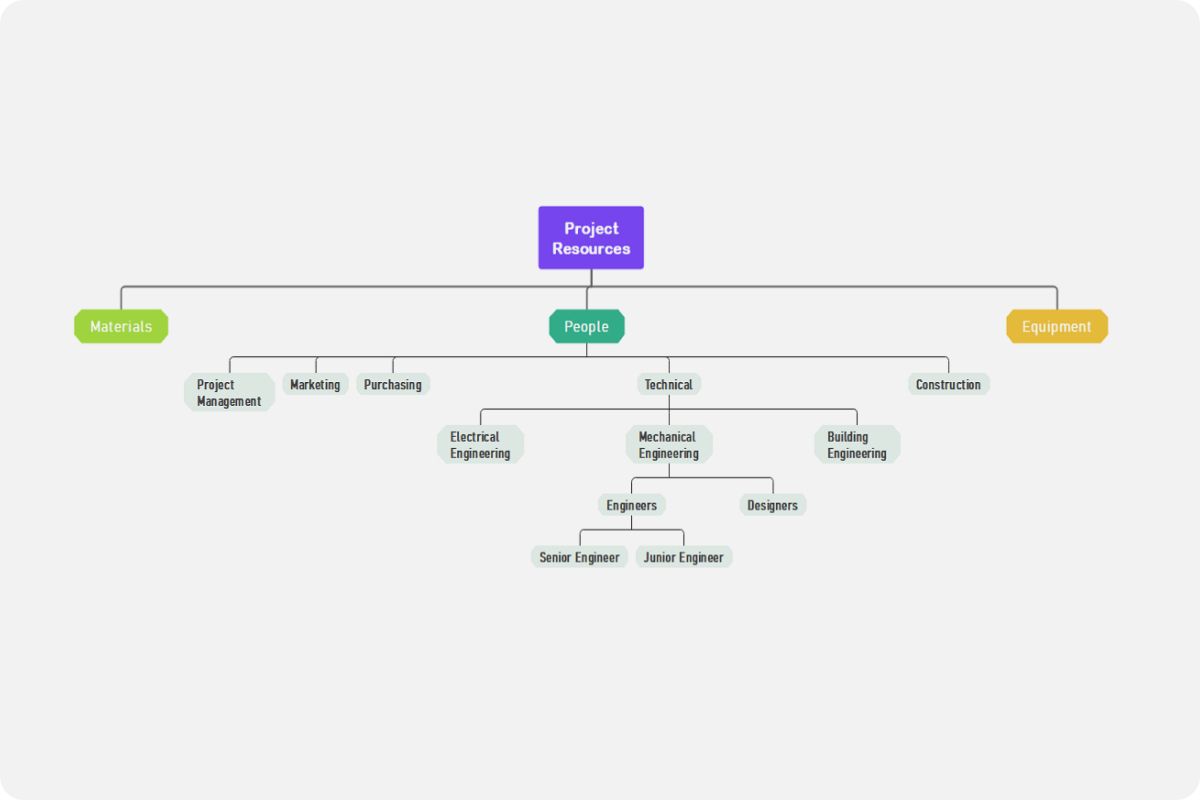 More Resource Breakdown Structure Templates
About the Resource Breakdown Structure Template
One of the vital aspects you need to give utmost consideration when opening up a business or starting a project is the essential resources you need to procure and run the project.
The Resource Breakdown Structure is an instrument to help managers manage the planning and controlling of projects and businesses. Resources can be a very broad term and involve not only equipment and materials but also human resources. Even those members doing the project a reality are also part of resources when you think about it. They are those in charge of executing and overseeing the project from start to finish.
In a simplified form, an RBS comprises a list of essential resources to the project process. The list is then classified and categorized according to function and type. To effectively illustrate your list, you need to create a resource breakdown structure template. It is a hierarchical diagram used by most managers to organize resources and determine how each element relates.
Who and When makes a resource breakdown structure?
Resource management is one of the essential facets of delivering successful projects and building successful businesses. It is a practice that requires comprehensive planning and follow-through, flexibility, and agility to adapt to drastic changes in the environment and deal with bottlenecks and schedule conflicts.
Project managers usually maximize the use of resource breakdown structure or RBS to ensure efficient management of resources and efficient allocation to increase the chances of project success. The RBS allows organizations to plan, visualize, and organize project resources.
Benefits of resource breakdown structure
Creating a resource breakdown structure template before starting new projects yields several benefits. Besides clarifying the essentials, a resource breakdown structure allows you to determine and group resources so that it fosters the efficient implementation of resources throughout the project.
Other benefits of an RBS include the following:
Streamlines collaboration among cross-functional teams sharing the resources
A higher output quality produced that is within the budget
Clearer and easier identification of gaps and overlaps in organizational resources, team needs, and other project requirements
A more accurate financial-related decision for estimating the total cost of the project
A straightforward evaluation of member and employee workload
Promotes a culture of a solid internal system, informed decision-making, and documentation
Provided insights on several resources used at any time for the duration of the project cycle
A single source structure on all information needed, available, and assigned resources
How to make a resource breakdown structure?
The creation and approach of your resource breakdown structure vary in every project manager, project, and organization. It does not have a single fixed way to make the structure. However, you can follow specific guidelines to ensure your RBS has all your project's essential resources and materials.
You have several options on how to illustrate your RBS. It can be in a form or a chart, grid, tree diagram, or spreadsheet. Regardless of the method, it must present a clear overview of the required and available resources to achieve the project's success.
To create an effective RBS, you can follow the steps below:
Ensure to seek inputs from other team members and project stakeholders before considering the structure to be complete.
Look for a format that you are comfortable with using and is familiar to your team as well. Start drafting at the project's final deliverables.
Below the deliverables, make columns or sections for various resources types and categories like team, tools, place, and time.
Create a list of all activities and tasks that are essential to the completion of the project.
Gather the list of all the resources needed in every resource category to complete every project's task.
Check the availability of the needed resources and identify resources where you need to work with external collaborators.
Resource Breakdown Structure Examples
Resources Breakdown Structure Template (project resources)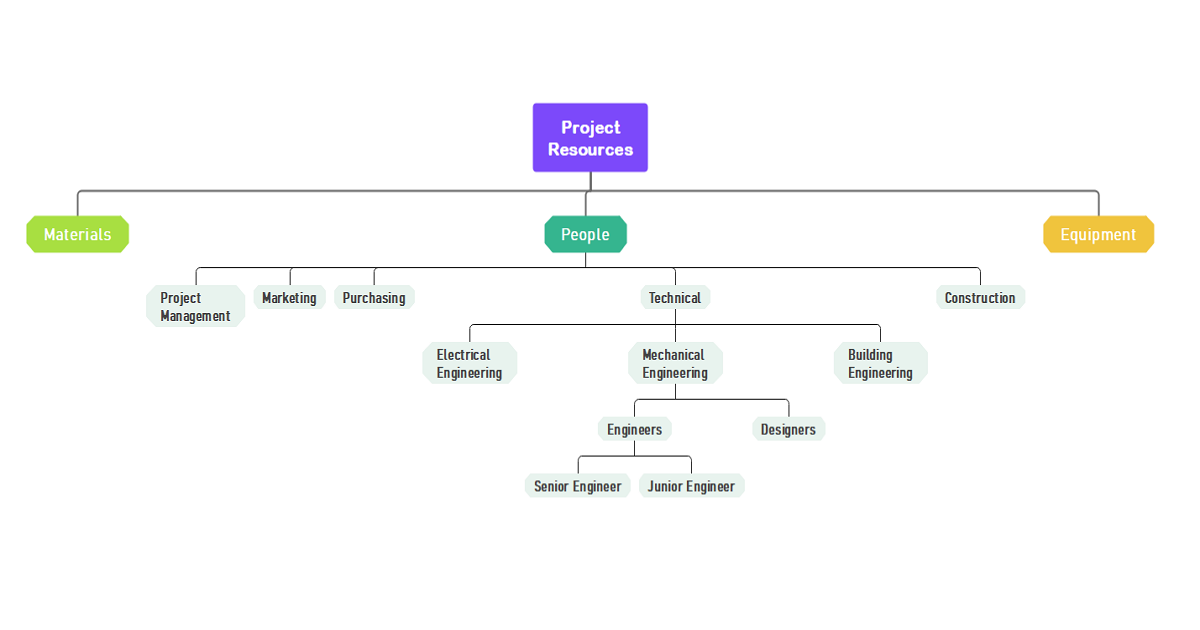 Resources Breakdown Structure Template (library management system)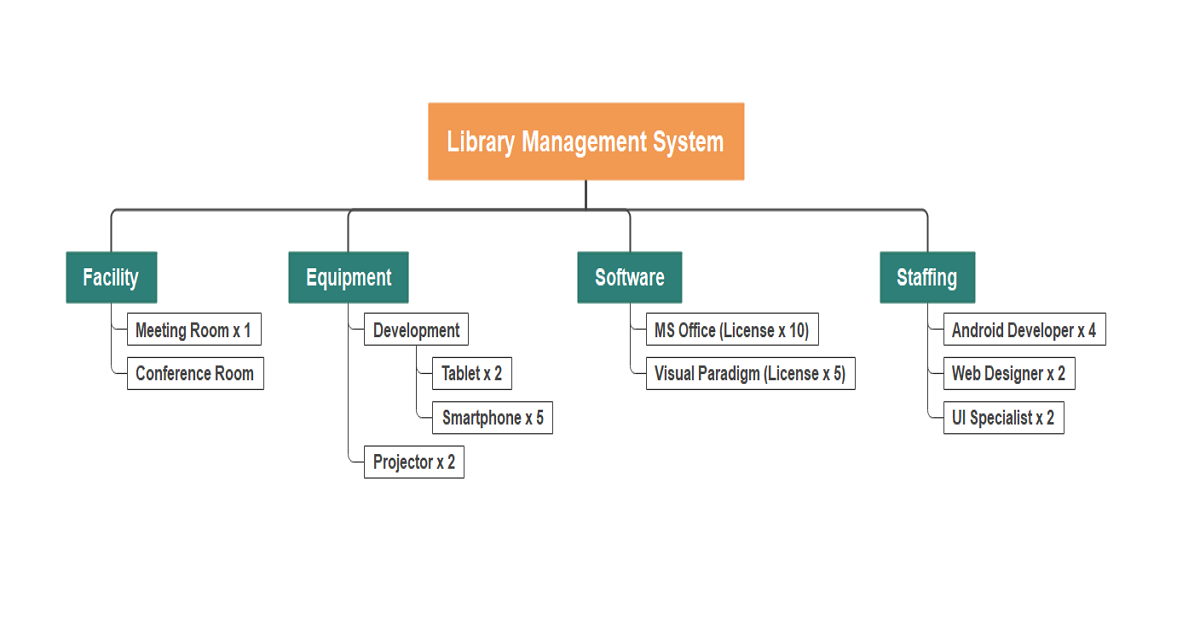 Resources Breakdown Structure Template (bridge)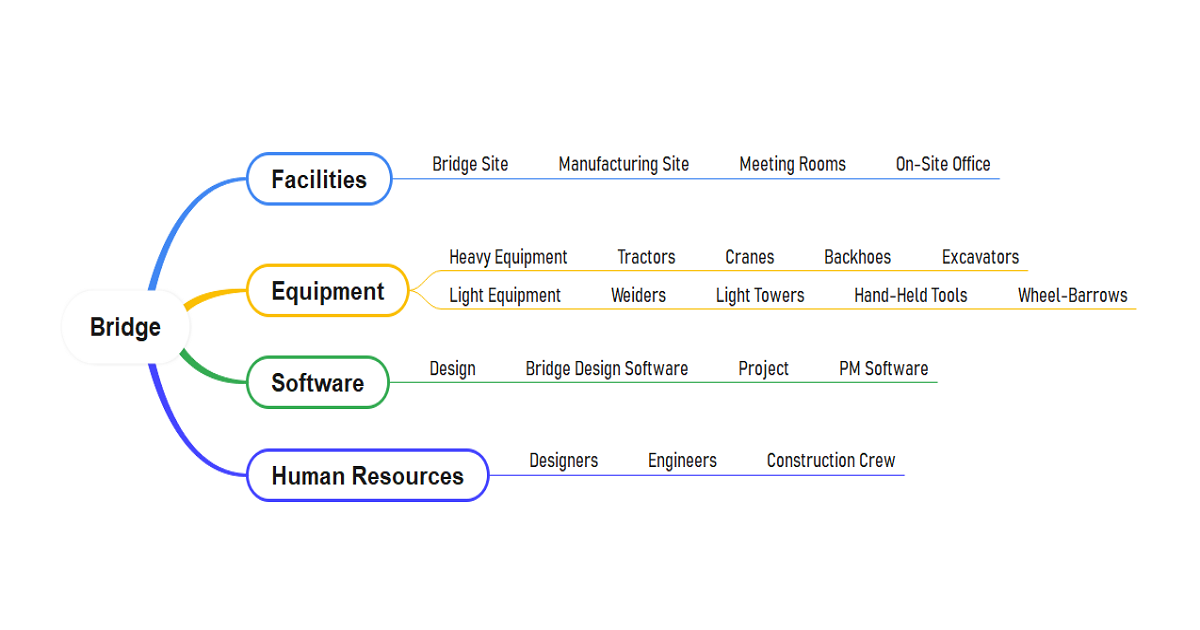 Resource Breakdown Structure Template (content team)
Here is an example of a resource breakdown structure of a content team that aims to distribute a new email marketing guide to provide information to subscribers. First, the project manager classifies the project needs and fills the necessary resources in sections and columns, including team, tools, time, and place.
In the team column, you can provide details of all human resources needed to pull off the project. Human resources can include content writers, email marketing assistants, graphic designers, and content editors.
The tools column will have the tools and software the team will need to start and complete the project. Tools may include landing page software, email marketing software, and work management software.
The time section will illustrate the time allocated for each team member to deliver and finish specific tasks.
Finally, you can add the work location options in the place column depending on whether the manager works remotely or in in-person teams. There must be a concrete timeline for each task to ensure a higher success probability.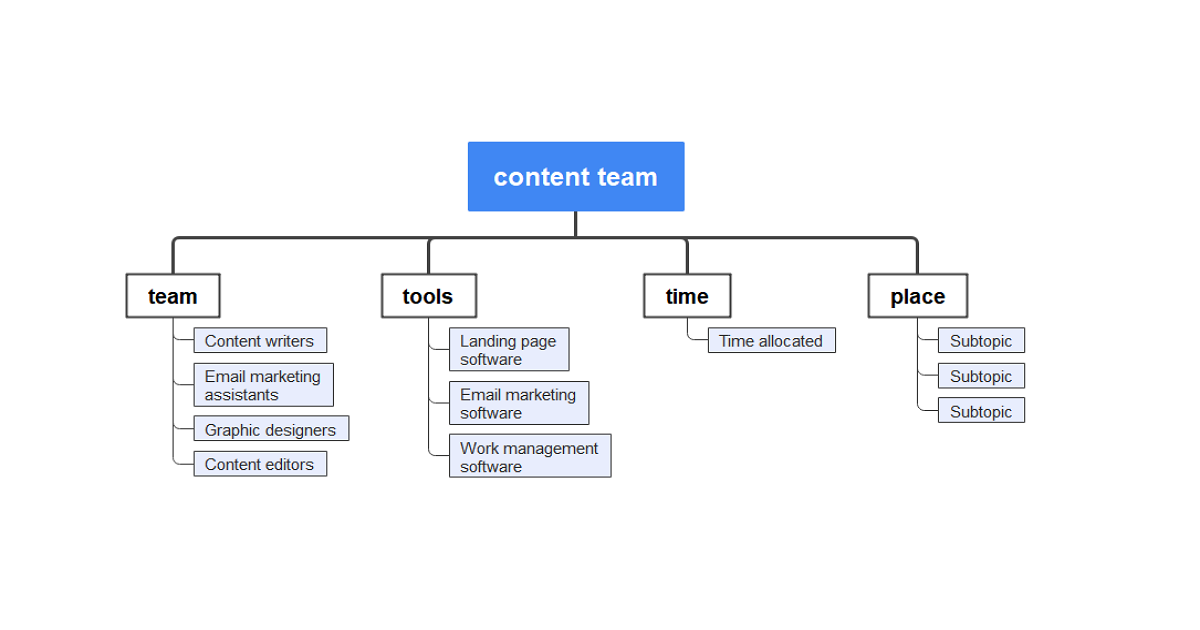 Why EdrawMind?
EdrawMind is a full-featured collaborative mind mapping and brainstorming tool. It is convenient and helpful for you to use EdrawMind to sort out your thoughts, visualize ideas, take notes, plan projects and more importantly, find solutions to problems.
Users are allowed to insert different kinds of objects into topics and
mind maps
in EdrawMind, including relationship line, boundary, callout, summary, mark, clip art, picture, hyperlink, attachment, note, comment, and tag. EdrawMind offers you a simple way to create mind maps on
Windows
,
macOS
, and
Linux
. Download the desktop version and try the free online version now!
EdrawMind Apps
12 structures & 33 themes & 700+ cliparts
Support Win, Mac, Linux, Android, iOS
Advanced import & export options
On-premises software for business
Enterprise-level data security
EdrawMind Online
12 structures & 33 themes & 700+ cliparts
Access diagrams anywhere, anytime
Team management & Project management