About the Risk Breakdown Structure Template
Risks are primarily associated with adverse outcomes; however, the Project Management Institute defines that risk can positively impact a project.
The risk breakdown structure or RBS is a powerful instrument in a project manager's toolkit when talking about risk management. An RBS is a hierarchical chart that actually breaks down project risks from high-level categories down to sub-level risks.
RBS aims to determine and evaluate risks so an organization can understand clearly and manage them effectively. An RBS is usually a documentation of all the possible dangers a project will have and presented in an organized manner. The same with the concept of a Work Breakdown Structure or WBS, it serves as a medium for project and risk managers to develop risks that need to be addressed and tracked in the project development.
Benefits of using a risk breakdown structure?
A risk breakdown structure will help provide a more ordered and complete view of the risks involved in a project while helping project managers assign resources as well as plan for any positive or negative impacts of listed risks.
One cannot underestimate the benefits of project risk assessment and risk management. There is actually a strong link between project success and the amount of risk management is done. This means those that utilize risk management more yield successful projects.
The following points are critical factors on how RBS benefits an organization's project.
Identification of possible risks on projects will lead to more discovery of new risks. Other members might also come up with possible risks they see in the project besides those identified by the project manager. The discovery of more potential risks means more risk management controls will be designed. This will prepare the team for any risks that may come along for the duration of the project.
The RBS allows organizations to categorize risk levels making it easier for members to figure out the risk dependencies.
When the possible risks are broken down and categorized, it also helps the team further detail risks much more manageable.
How to create a risk breakdown structure?
The following steps can be your guide in creating a risk breakdown structure template:
You can start by checking which risk classifications apply the most to your industry or project. There are four types of project risks that you might want to add to your structure.

Organizational risks or internal risks refer to those happening in the organization, like funding delays or lack of resources.
External risks can include regulatory or environmental hazards, competitors, or suppliers. They are risks that you do not have control over.
Project management risks that can influence planning, communication, or project control.
Technical risks can be brought by technology obsolescence.

After classifying the risk categories, you need to provide subcategories for the identified risks.
The last step is to illustrate all these categorized risks in a diagram. There are several RBS templates you can refer to, or you can make your own if you are more comfortable with it.
Examples of Risk Breakdown Structure
Construction projects and weddings are like your everyday happenings. You bet there's no day that you will not be seeing weddings and people on construction sites. Below will be examples of how RBS for constructions projects and weddings are done:
Risk breakdown structure for construction project
Construction is commonly referred to as a risky business. Each construction project is unique and comes with varied challenges and opportunities. While managing construction risks can be tricky, it is always possible with thorough planning and execution.
As you create your risk breakdown structure template, you might have to consider these common risks:
Unknown site conditions
Labor shortages
Natural disasters
Availability of building materials
Unexpected increase in material costs
Poorly designed scope and incomplete drawings
Safety hazards leading to worker injuries and accidents
Poorly written contracts
Managing change orders
Theft or damage of tools and equipment
Poor project management
When risks occur in the project's duration, they can create severe effects on performance, costs, and schedules, resulting in possible disputes and delays along the way.
Risk breakdown structure for a wedding
Planning a wedding entails tons of considerations and thorough planning. Besides the expected wedding essentials like the venue, food, decoration, and church, you also must consider possible risks throughout the ceremony. A few of the potential risks most wedding planners must expect to include unexpected rain or storm for outdoor weddings, unexpected expenses, accidents, and other mishaps like fire, power failure, a large number of unexpected guests, and last-minute arrangements.
There could be more, but the points mentioned above are the most common ones. From those, you can categorize them and put them in columns. This way, you can also group how each risk must be addressed if it happens during the wedding.
Example Risk Breakdown Structure Template 1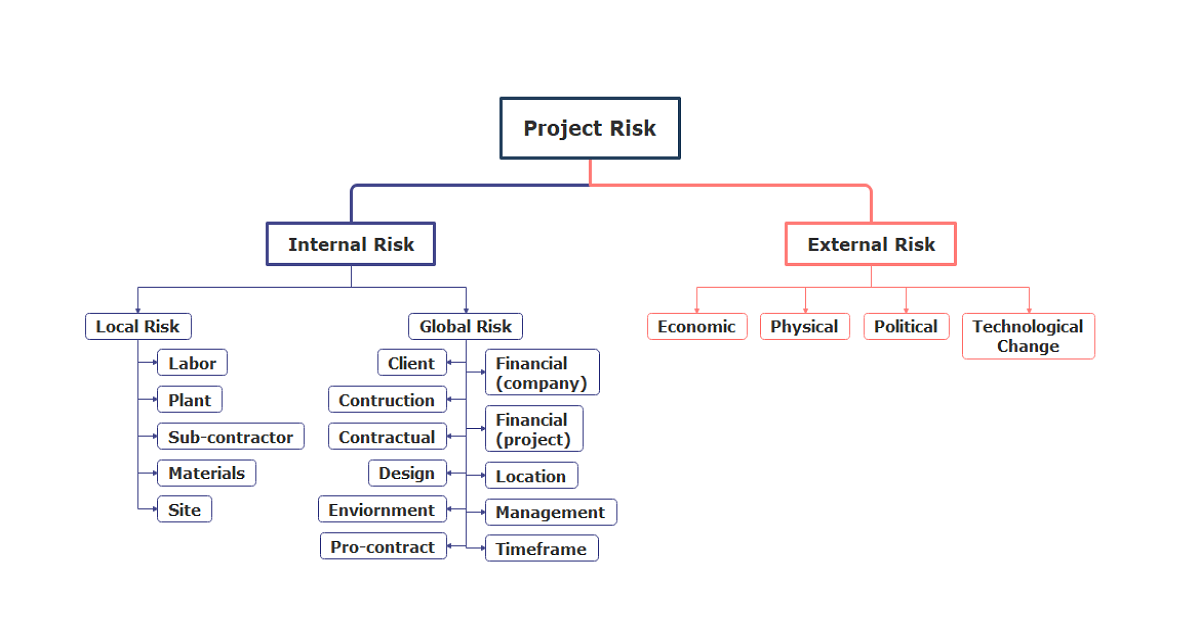 Example Risk Breakdown Structure Template 2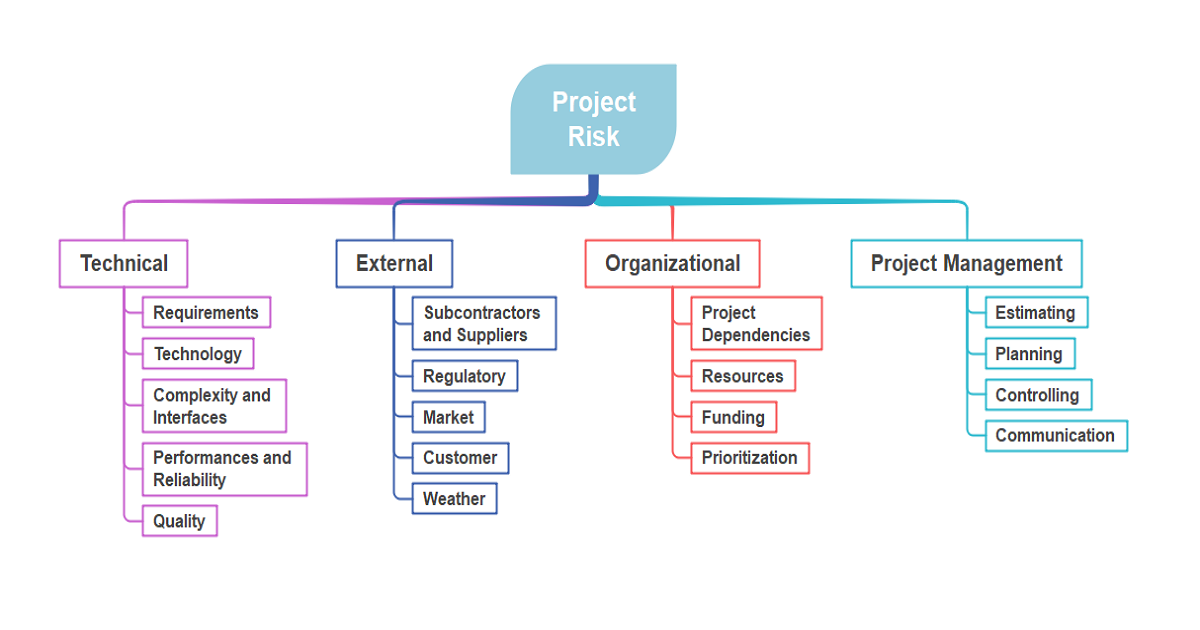 Why EdrawMind?
EdrawMind is a full-featured collaborative mind mapping and brainstorming tool. It is convenient and helpful for you to use EdrawMind to sort out your thoughts, visualize ideas, take notes, plan projects and more importantly, find solutions to problems.
Users are allowed to insert different kinds of objects into topics and
mind maps
in EdrawMind, including relationship line, boundary, callout, summary, mark, clip art, picture, hyperlink, attachment, note, comment, and tag. EdrawMind offers you a simple way to create mind maps on
Windows
,
macOS
, and
Linux
. Download the desktop version and try the free online version now!
EdrawMind Apps
12 structures & 33 themes & 700+ cliparts
Support Win, Mac, Linux, Android, iOS
Advanced import & export options
On-premises software for business
Enterprise-level data security
EdrawMind Online
12 structures & 33 themes & 700+ cliparts
Access diagrams anywhere, anytime
Team management & Project management