Top 4 Lucidchart Alternatives You Need for Mind Mapping & Brainstorming
Hundreds of tools are available for brainstorming and mind mapping in today's market. Not all are credible enough. Here are the top 5 Lucidchart alternatives you're looking for.
Create Mind Maps Today!
EdrawMind is a mind mapping tool equipped with 700+ cliparts. Check out EdrawMind's complete guide to understand ways to live a healthy life. Try EdrawMind Online and create hundreds of mind maps today!
Get familiar with the potential features of the 5 top-grade Lucidchart alternatives for mind mapping and brainstorming.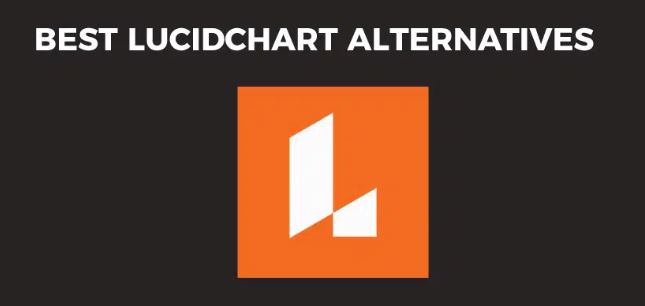 1. What Is Lucidchart?
A specific tool that lends a helping hand to professionals working in various industries for creating detailed diagrams out of templates, data, or images is commonly called Lucidchart. With this tool, you can collaborate with different users as well. It offers multiple integrations (like Atlassian and Google Workspace) to make the process simpler for you.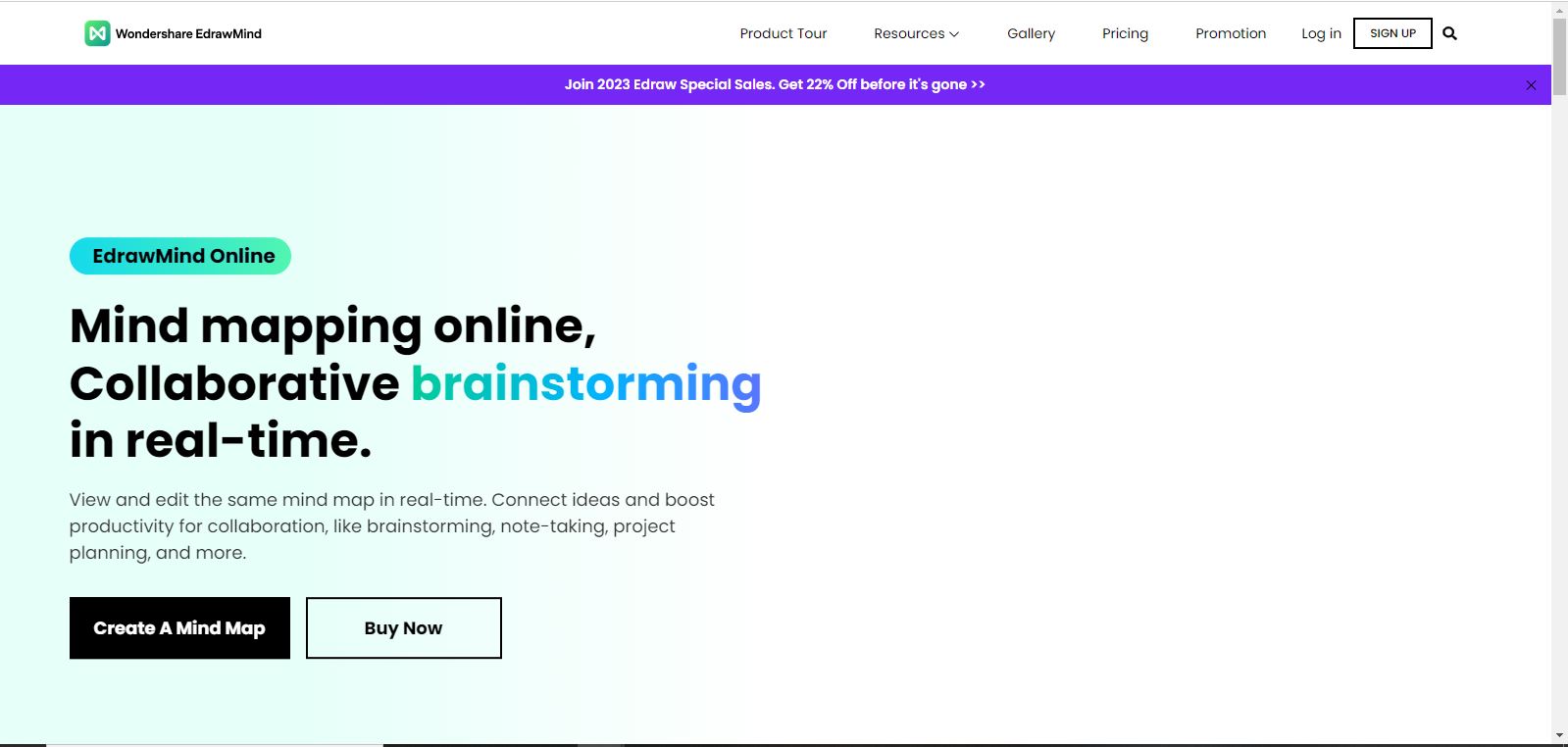 Four different pricing plans are available for Lucidchart. You can select the one that suits you the most.
| | |
| --- | --- |
| Plan | Price |
| Free | $0 |
| Individual | $95.40 per year |
| Team | $108 per user per year |
| Enterprise | Custom pricing |
Key Features
The prominent features of Lucidchart are as follows.
It helps you create clean, simple, and custom diagrams.
It makes it easy to create custom shapes.
You can use keyboard shortcuts to make diagramming efficient.
Lucidchart makes diagrams easy to read by including layers and links.
You can collaborate with no need to leave Lucidchart.
You can also edit diagrams in the offline mode.
You can integrate Lucidchart with different applications you use.
Pros
Available as web-based and iOS application

Features improved security

Automated diagramming is available

Real-time collaboration sets it apart from many other similar tools

Easy to use

Affordable
Cons
Doesn't come with any desktop application

The free version comes with very few object selections
Every Lucidchart plan comes with limited features equipped with a couple of restrictions. Plus, the disadvantages listed above convince people to look for some other options. Let's get into the details of potential alternatives.
2. The Best 5 Lucidchart Alternatives for Creative Brainstorming & Mapping Ideas
Have you used Lucidchart for brainstorming and mind mapping? Didn't get the desired outcomes? Not a problem! This section presents the 5 top Lucidchart alternatives for unique mapping ideas and brainstorming. Let's take a look at what makes them stand out.
#1. EdrawMind Online
This full-featured collaborative tool is designed to provide you with comprehensive solutions for mind mapping and brainstorming. The efficiency and credibility of this utility convince millions of brands worldwide to give it a shot. You can download it for free to use some basic features. Be it a timeline, bubble map, circle map, radial map, mind map, organizational chart, tree chart, or fishbone diagram, EdrawMind Online will surely lend you a helping hand.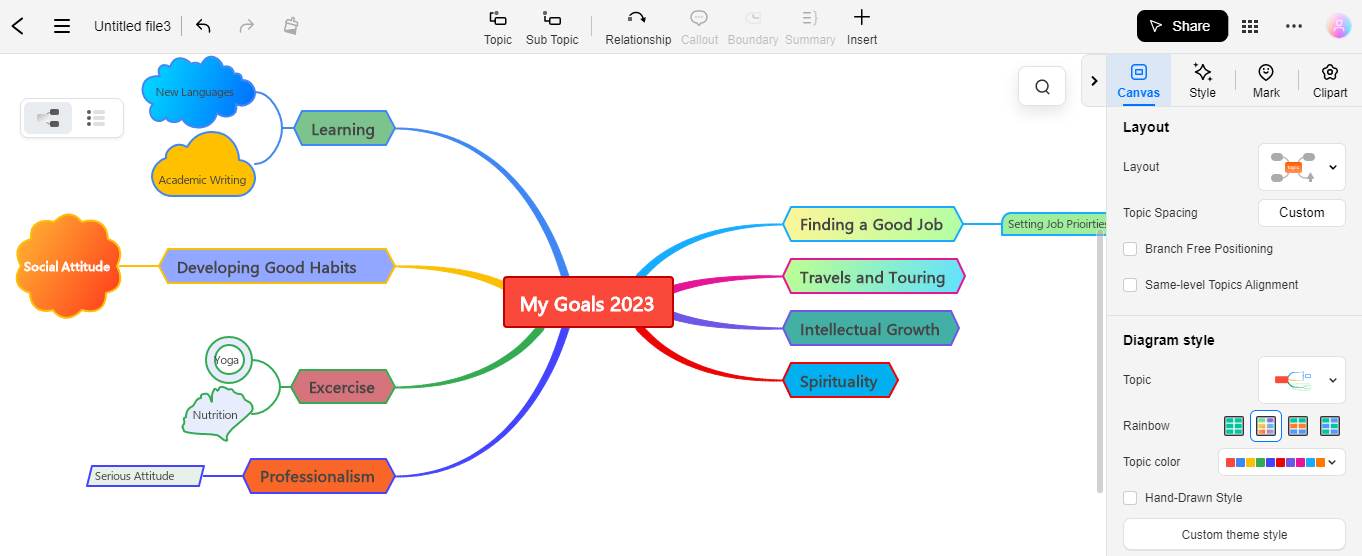 Click to download
EdrawMind
If you don't ready to download EdrawMind yet, you could try
EdrawMind Online
free from
below.
Click to download
EdrawMind
If you don't ready to download EdrawMind yet, you could try
EdrawMind Online
free from
below.
Click to download
EdrawMind
If you don't ready to download EdrawMind yet, you could try
EdrawMind Online
free from
below.
EdrawMind Online Key Features
Below is a list of potential features that makes this tool stand out among competitors.
This online utility is equipped with more than 5000 built-in templates, allowing you to select one that best matches your requirements.
It makes brainstorming efficient with real-time collaboration. You have the option to add over 100 team members.
EdrawMind Online edits, manages, and shares team files to enhance productivity. It helps you create team groups.
It offers quick sharing with QR codes or links.
You can view editing on your cell phone.
You can create personalized shapes, lines, or files with over 700 original clip art, 33 themes, and around 19 layouts.
With outliner mode, it enables you to create an individual workspace and customize the background with one click.
It also allows you to observe from the collaborators' perspective.
The import and export are made easier to transform your documents into a mind map.
EdrawMind Desktop
12 structures & 33 themes & 700+ cliparts
Support Win, Mac, Linux, Android, iOS
Advanced import & export options
On-premises software for business
Enterprise-level data security
EdrawMind Online
12 structures & 33 themes & 700+ cliparts
Access diagrams anywhere, anytime
Team management & Project management
EdrawMind Online Pros and Cons
Along with a number of advantages, EdrawMind Online also has a few drawbacks, as listed below.
Pros
Offers enhanced productivity by making it easy to edit, manage, and share diagrams.

It features clear data management with online forms on nodes.

You can edit Latex equations online.

Both observer and outline modes are available.

With up to 0.02 seconds of response time, it supports real-time collaboration.

Ability to customize diagrams with 23 dotted lines, over 50 font types, 20 themes, and much more.
Cons
The online version only supports exports for PNG, SVG, and PDF formats. If you want to export your file in any other format, you will have to download EdrawMind.

As of writing this article, it does not support inserting comments, attachments, and videos.
EdrawMind Online Pricing and Plan
Three different plans for EdrawMind Online are available on the official website, as listed below. You can choose the one that meets your requirements.
| | |
| --- | --- |
| Plan | Price |
| Subscription Plan | $59 per year |
| Lifetime Plan (with 20% OFF) | $118 (one time payment) |
| Lifetime Bundle Plan (with 22% OFF) | $245 (one time payment) |
#2. MindMeister
A user-friendly and eye-catching interface to create mind maps sets MindMeister apart from its competitors. Another benefit of using this tool is that you don't need to pay on a per-user basis; instead, they charge you monthly for their services. It means a single account can serve the whole team.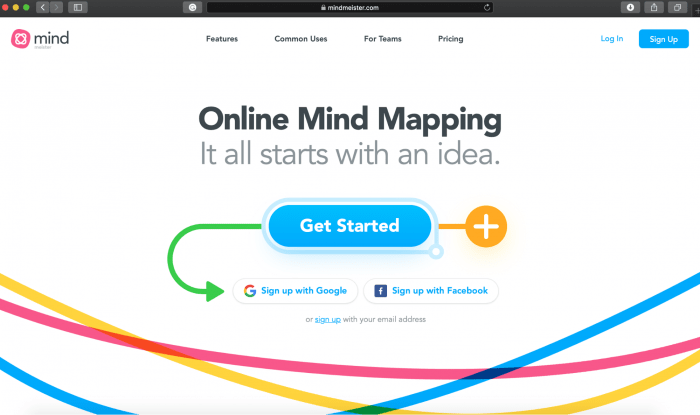 MindMeister Key Features
The top features of this tool are as follows.
It enables you to customize map themes
Features map printing
Offers collaborative mind mapping
The presentation mode helps you conduct presentations
Performs project planning, brainstorming, and a variety of other creative assignments
Backs up your data 24/7
You can set presentation deadlines with MindMeister
MindMeister Pros and Cons
Like many other tools, it comes with a series of pros followed by a few cons, as given below.
Pros
The attention-grabbing and easy-to-use interface offers an improved user experience.

Offers support for different media other than text.

Different formats are available to export creations.

It makes the incorporation of notes, web links, and costings simple.

Cost-effective
Cons
Free version does not allow you to export files.

You can only use this utility online.
MindMeister Pricing and Plan
You can choose the most suitable plan from the list presented in the table below.
| | |
| --- | --- |
| Plan | Price |
| Free | $0 |
| Personal Plan | $2.49 per month |
| Pro Plan | $4.19 per month |
| Business Plan | $6.29 per month |
#3. Coggle
One thing that sets Coggle apart from other mind-mapping software is its simple and easy-to-use interface. It helps you create mind maps and flowcharts with super ease. Moreover, you can invite different members to collaborate with each other in real-time.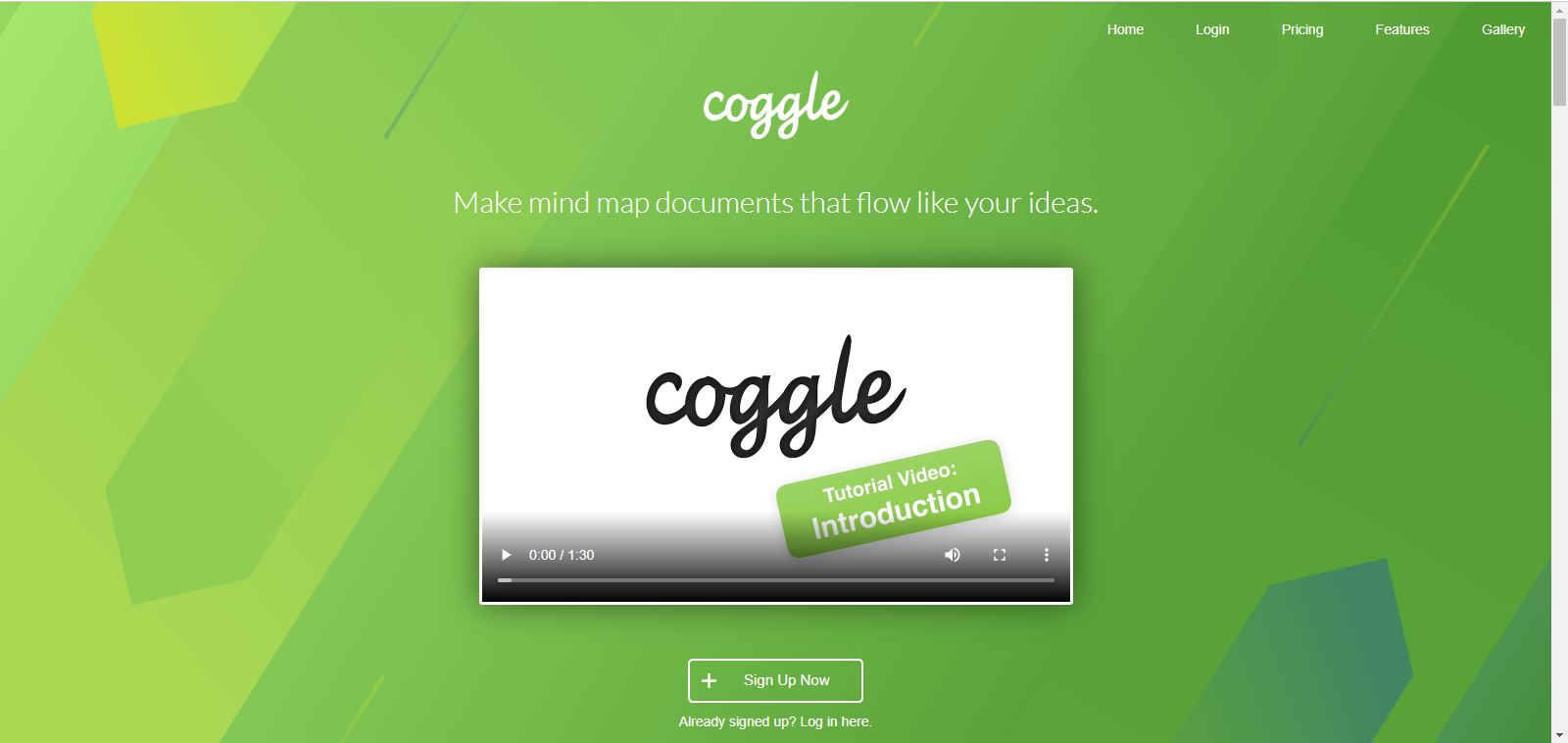 Coggle Key Features
The top features it offers are:
It lends you a helping hand in creating and sharing mind maps
Makes real-time collaboration easy
It ensures effective and instant communication between team members to increase productivity
Carries over 1600 icons to make your mind mapping worth it
Coggle Pros and Cons
A list of advantages and a few drawbacks is attached below.
Pros
It comes with an appealing interface

Provides you with unlimited uploads, images, and floating texts

You get a decent collection of templates to choose from

If you want to secure your data, you can integrate your Google Drive with Coggle

You can access this utility at any time from any device
Cons
Offers limited color selection

Using presentations is a bit difficult

May respond slowly if you have created a big mind map
Coggle Pricing and Plan
Three plans of Coggle are presented in the table below.
| | |
| --- | --- |
| Plan | Price |
| Free Forever | $0 |
| Awesome Plan | $5.00 per month |
| Organization Plan | $8.00 per month |
#4. GitMind
This is another potential alternative to Lucidchart designed particularly for mind mapping, brainstorming, imagination, productivity, collaboration, and much more. This tool enables you to create one-of-its-kind ideas to do something out of the box. It is available for both computers and mobile phones.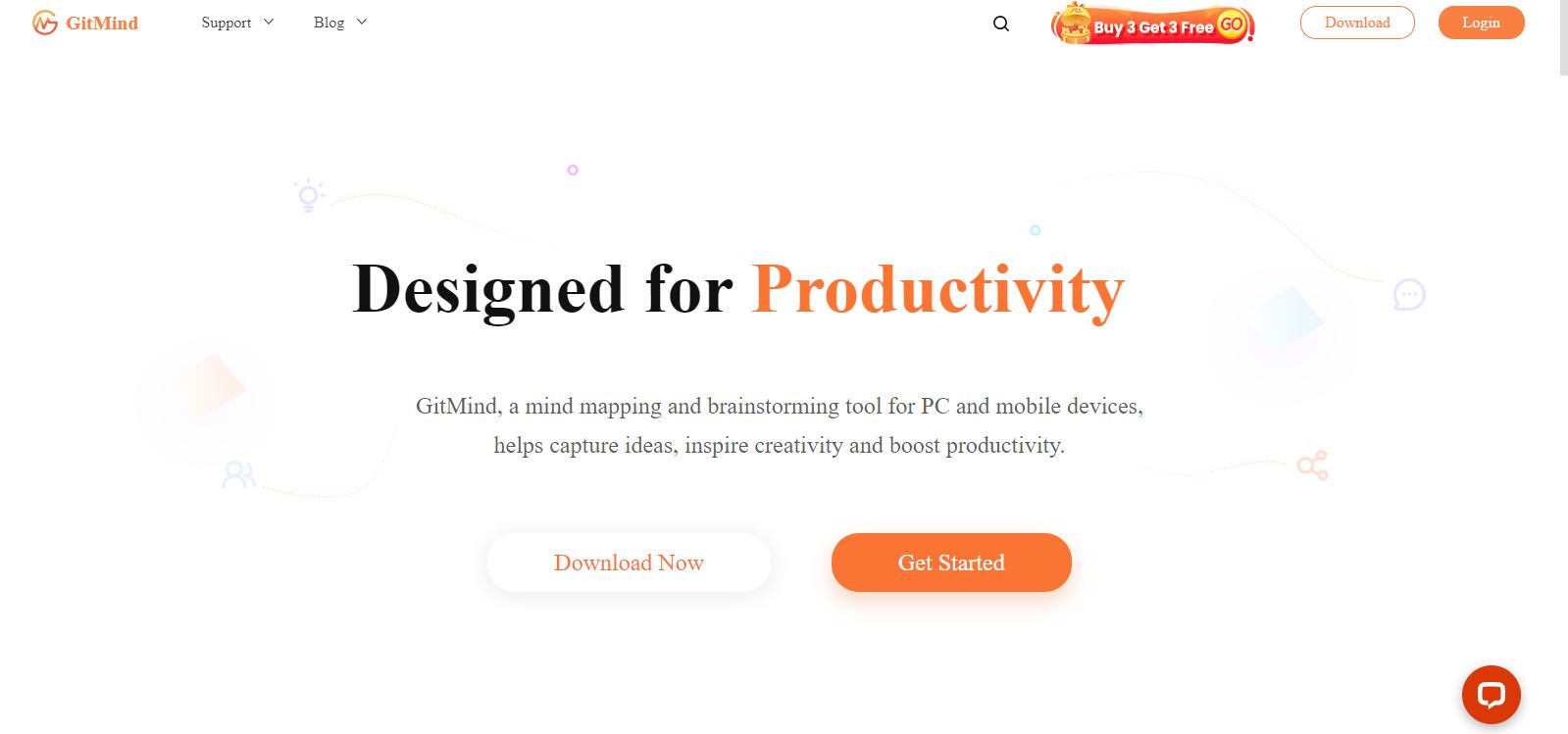 GitMind Key Features
The main features you must be familiar with are given below.
It provides you with an opportunity to create fishbone diagrams, flowcharts, org charts, UML diagrams, concept maps, mind maps, and the list goes on.
You can introduce a smooth transition to present mind maps with the slide show option.
The outline mode helps you switch between mind maps and outline.
Enables you to choose a specific template and customize it according to your needs.
GitMind features team collaboration.
GitMind Pros and Cons
Here is a list of advantages and disadvantages associated with GitMind.
Pros
It comes with a simple user interface.

Both online and downloaded versions are available.

Ability to extract long text from the image in no time.

Offers theme customization.

It ensures business growth by accelerating individual performance.
Cons
Free version consists of very limited functionality.

The interface does not have a print function.

Flowcharts do not support collaboration.
GitMind Pricing and Plan
The table below presents four different pricing plans for this Lucidchart alternative. Choose the one you find the most suitable.
| | |
| --- | --- |
| Plan | Price |
| Basic Plan | $0 |
| 3 Year Plan | $2.19 per month |
| Annual Plan | $4.08 per month |
| Monthly Plan | $9.00 per month |
3. Deciding Which Online Mind Mapping Tool Is Right for You
Now that you have gone through the features, pros, cons, and pricing of five different Lucidchart alternatives. It is time to compare all of them to get an idea of which one provides us with more flexible features.
Name
Lucidchart
EdrawMind Online
MindMeister
Coggle
GitMind
Real-time Collaborative Editing
Team Management
Cloud Storage
Rich Text
Abundant and diverse resources
Mind Mapping Community
Revision History
Price
$9 per user
$59 per year
$2.49 per month
$5.99 per month
$5 per month
$9 per month
4. Final Thoughts
Lucidchart, without a doubt, is a popular and frequently used tool for mind mapping, but it does not perform well for thousands of people because it does not have a desktop application. In addition, its plans come with limited features. In order to deal with this challenge, the above discussion has listed the top 5 alternatives to Lucidchart for brainstorming and mind mapping, including EdrawMind Online, Coggle, and others. Don't forget to give it a read.