Best Mind Map Apps to Use in 2023
Create Mind Maps Today!
EdrawMind is a mind mapping tool equipped with 700+ cliparts. Check out EdrawMind's complete guide to understand ways to live a healthy life. Try EdrawMind Online and create hundreds of mind maps today!
Mind mapping processes turn out more flexible and swifter with the preference of an excellent mind mapping application.
Mind mapping applications are considered an excellent choice for the swift execution of operations and elevated real-time collaborations. Although the online versions present a similar level of effectiveness, still, a few best mind app apps have always been significantly picked, given the immense usage flexibility.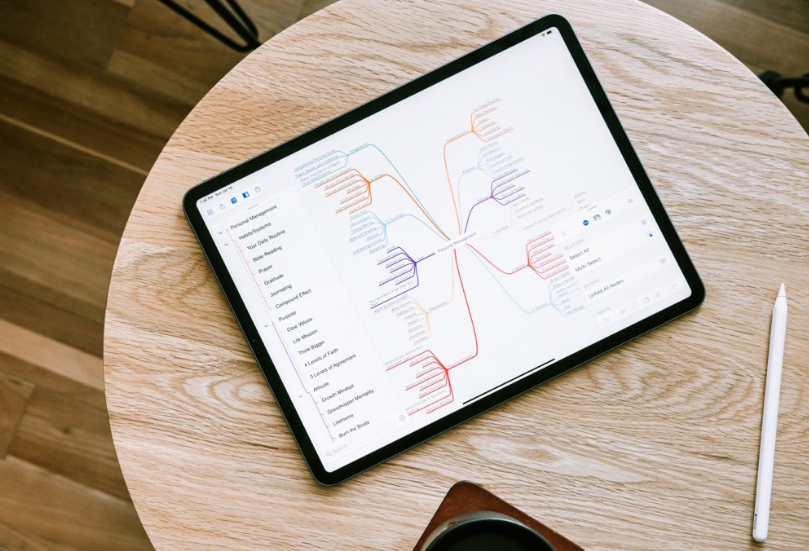 1. List of Top 8 Popular Mind Mapping Apps
In the context of the effectiveness of mind mapping apps, we have performed a brief comparative analysis of the top 8 mind map apps concerning their price, features & compatibility.
| | | | |
| --- | --- | --- | --- |
| Mind Mapping App | Supported Platforms | Price Point Per User (for lowest non-free version) | Notable Feature |
| Coggle | Android, iOS, Web | $5 per month | Simplicity and multi-user editing |
| Creately | Android, iOS, Windows, macOS, Web | $8 per month | Convenient diagramming |
| EdrawMind | Android, iOS, Windows, MacOS, Linux, Web | $4.92 per month | Massive customization choices |
| GitMind | Android, iOS, Windows, macOS | $2.19 per month | Numerous file export options |
| LucidChart | Android, iOS, Windows, Web | $7.95 per month | Extensive integrations |
| MindMeister | Android, iOS, macOS, Windows, Web | $2.49 per month | Easy-to-use and intuitive interface |
| Mindomo | Android, iOS, Windows, macOS, Linux | $5.50 per month | Multi-industry template options |
| Miro | Android, iOS, Windows, macOS, Web | $8 per month | In-app video/audio |
2. The 8 Best Mind Mapping Apps
Decisioning upon selecting a highly effective mind map app might be tricky given variant options; you need to get deeper insights into each product. So, let's explore!
#1. Coggle
If you are looking for a one-stop solution for your mind-mapping needs, Coggle is the best choice. Having an excellent user rating on Google Play Store and Apple Store, Coggle stands out as the most effective and intuitive platform for mind mapping.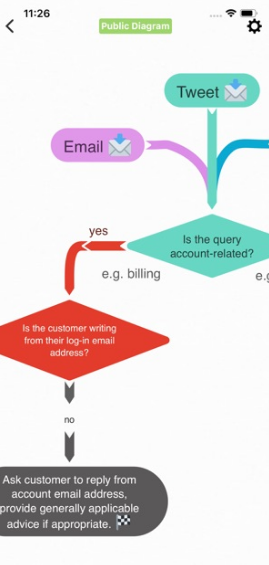 Coggle Key Features
Join Branches: Mind mapping can be more transparent & flexible through the deep representation of workflows. Coggle allows you to join the branches and create loops in your diagrams.
No-Setup Collaboration: You can share your mind maps with numerous users merely by sharing a secret link, and the other users can conveniently edit your mind maps without the need to log into the tool.
Markdown text formatting: Formatting the text is convenient with Markdown in Coggle. Using markdown, you can alter the layout of your text by adding links, titles, and other such things.
Pros
Highly flexible and easy-to-use platform

Coggle chat box allows you to communicate with other users working on the same project

The tool's portability makes it easy to access the mind-mapping work from anywhere in the world

You can add unlimited images to your diagrams simply by dragging & dropping

Coggle allows you to revert to the previous version, even if you've saved new changes
Cons
Coggle allows you to revert to the previous version, even if you've saved new changes

Limited templates make it time-consuming to map diagrams from scratch
#2. Creately
Creately is an incredible mind map application assisting users in brainstorming, generating, and expressing ideas through innovative mind maps. Hundreds of built-in templates & themes, vast integrations, stellar customer support, and a diversity of diagramming features are its noticeable assets.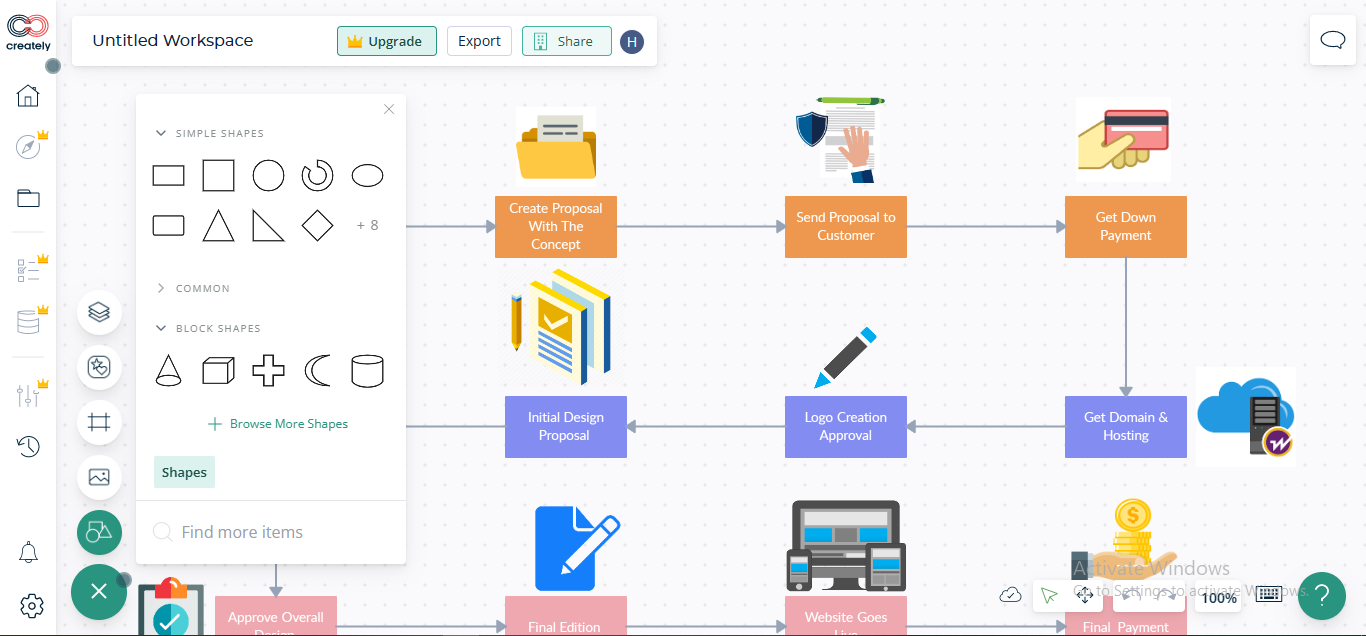 Creately Key Features
Visual Collaboration: Creately enables visual collaboration via in-app video chat, conferencing, comments, productive discussions, and feedback.
Information Syncing: Creately instantly saves and updates your changes so that you get the latest file version. If you're performing teamwork, the modifier's name will appear with the file modification.
Drag-and-Drop Feature: You can insert your favorite element into your mind map by dragging and dropping it at the place where you need it, avoiding traditional & tiring object-inserting methods.
Pros
Enables drag-and-drop feature for convenient customization of your mind maps

Automatically saves your recent changes and also syncs them on Dropbox

Allows real-time collaboration, enabling video calling, chatting, commenting, discussion sessions, and feedback

Provides a huge template gallery to lessen your work burden, facilitating easy editing

Offers a lifetime free basic plan to craft and publish your mind maps
Cons
Tools holdups sometimes when a diagram with massive data is loaded

Seems complicated to a novice user with a little interface experience
#3. EdrawMind
EdrawMind holds a well-reputed name among competent mind-mapping apps, providing its users with all-in-one intuitive and cutting-edge features to craft mind maps proficiently. Its plenty of templates, amazing customization choices, and other advanced features will satisfy both intermediate and high-level users.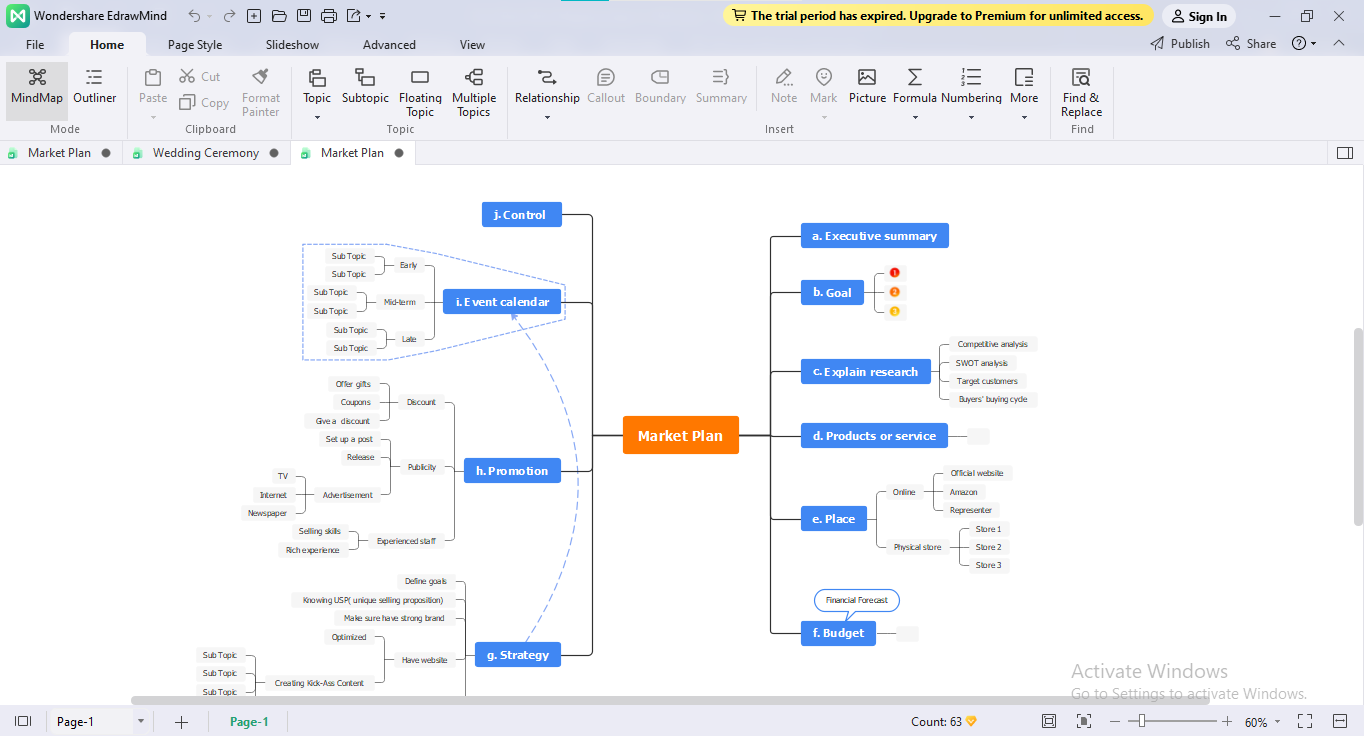 Click to download
EdrawMind
If you don't ready to download EdrawMind yet, you could try
EdrawMind Online
free from
below.
Click to download
EdrawMind
If you don't ready to download EdrawMind yet, you could try
EdrawMind Online
free from
below.
Click to download
EdrawMind
If you don't ready to download EdrawMind yet, you could try
EdrawMind Online
free from
below.
EdrawMind Key Features
Outline Mode: If your mind gets puzzled by complex branching, you can quickly shift from MindMap Mode to Outline Mode to type data into your map.
Items Customization: EdrawMind offers unlimited customization options to tailor even a single item in the mind map, whether it's a font, box shape, color scheme, and so on.
Spell Checker: EdrawMind enables a spelling checker to detect & rectify any spelling mistake present in your text and make it error-free.
Pros
Provides Outline Mode for easy editing and mind map creation

You can slideshow your mind map using various transitions, including brainstorming mode, traverse topics, and slide preview

Offers a template gallery to pick the appropriate framework for your prospective mind map

Allows creating multiple pages within the same file for convenient handling

Provides the spell check option to correct your spelling errors

You can customize the background of your canvas with colors, textures, or images
Cons
The traverse topic slideshow feature is not available in the free version

Most of the themes are accessible in the premium version
EdrawMind Desktop
12 structures & 33 themes & 700+ cliparts
Support Win, Mac, Linux, Android, iOS
Advanced import & export options
On-premises software for business
Enterprise-level data security
EdrawMind Online
12 structures & 33 themes & 700+ cliparts
Access diagrams anywhere, anytime
Team management & Project management
#4. GitMind
Another reliable solution for mind mapping is GitMind, bringing all pivotal drawing features to its users. You can edit one of its professionally-designed templates or start from scratch to proceed with your mind map. Additionally, GitMind allows you to collaborate in real time for well-organized workload management.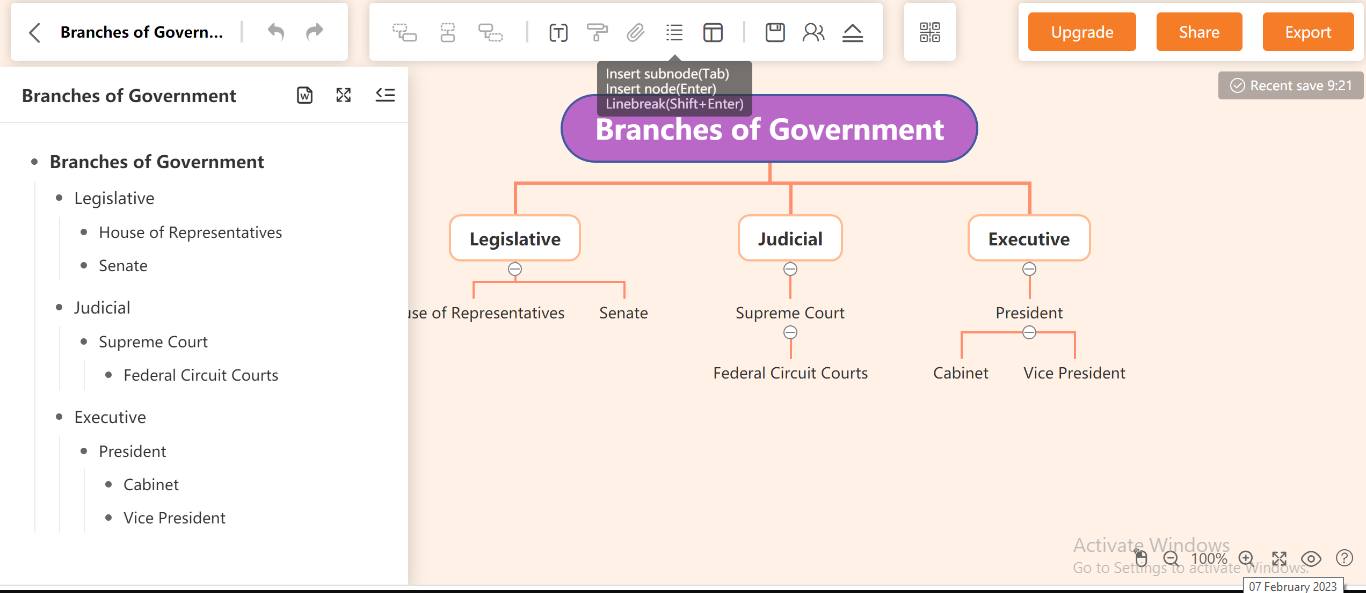 GitMind Key Features
OCR Recognition: GitMind allows you to extract long text from the images to insert in your mind map. This feature is helpful, especially when importing text from text-based images.
Mind Map Slideshow: You can display your mind maps with attractive transitions for better clarity and audience retention.
Outline Mode: GitMind also enables Outline Mode to facilitate inputting information in your mind map through a rectilinear layout.
Pros
Provides multiple templates to proceed with your mind map

The navigable interface allows easy customization

Provides the Slideshow feature to display your mind map in an intriguing way

Offers auto-save feature to save changes automatically

Enables real-time collaboration to foster team productivity and organizational teamwork
Cons
No option available for image customization

Some users with touchscreen laptops faced issues in editing their file
#5. LucidChart
LucidChart is an all-in-one professional platform for individuals, businesses, entrepreneurs, and organizations that provides an ultimate diagramming solution, including mind maps, whiteboards, flowcharts, Kanbans, org charts, timelines, and goal hierarchization. This mind map program also offers other beneficial features, such as tutorials, integrations, and customer support.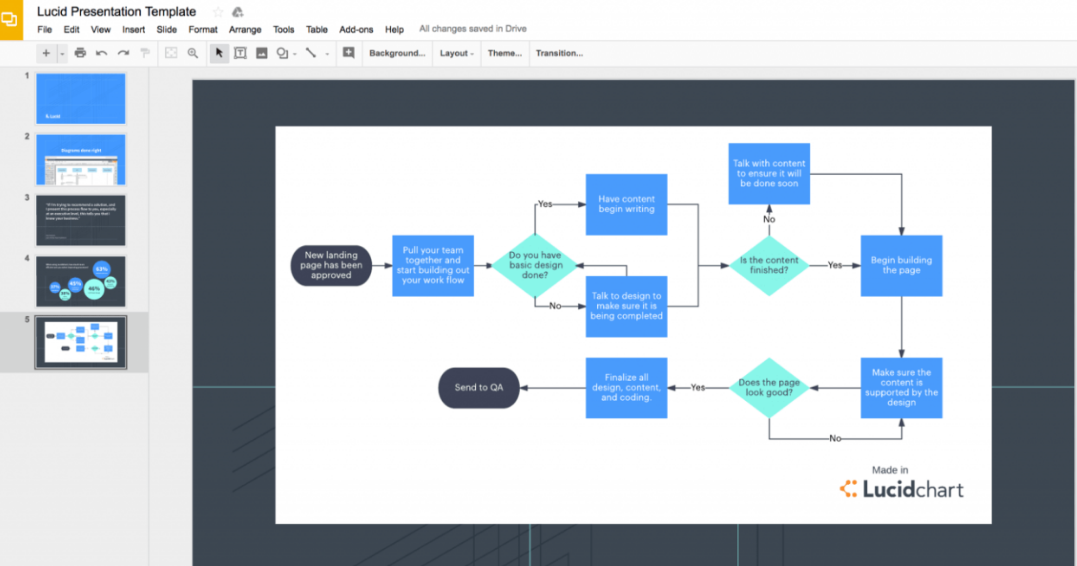 LucidChart Key Features
Keyboard Shortcuts: LucidChart offers keyboard shortcuts to facilitate customization using your keyboard without even tapping your touchpad.
Expandable Canvas: If your mind map is large, don't worry because LucidChart provides an expandable canvas without fidgeting about space.
Diagrams Slideshow: You can present your mind map attractively to the audience using Slideshow mode to enhance focus and interest.
Pros
Offers infinite canvas for huge diagrams and mind maps

Provides keyboard shortcuts to manage your map via keyboard

You can slideshow your diagram for more clarity or audience attention

Allows you to share your diagrams with your friends and associates via links

You can collaborate with your colleagues on a project using video chat, commenting, and feedback
Cons
Sometimes it creates trouble to auto-arrange the items

Repeating 'Upgrades' popups may be irritating
#6. MindMeister
Mindmeister, a renowned mind map application, always attains the trust of its users through its intuitiveness, diversity, and innovation. Whether you are an expert business personality or a novice mind mapper, Mindmeister always has amazing opportunities for you.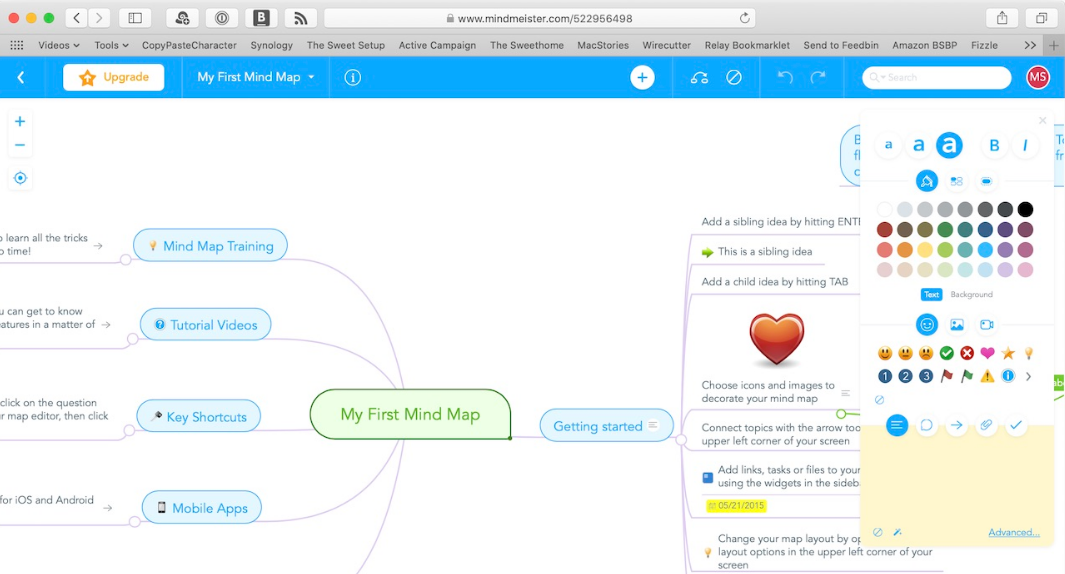 MindMeister Key Features
Mixed Map Layouts: Mindmeister provides a mixed layout for even a single canvas, such as a mind map, org chart, or a list, to facilitate editing and customization.
Mind Map Presentation: Using Mindmeister, you can slideshow your maps by zooming in, focusing on the topic you want for better understanding and attention-grabbing.
Key Shortcuts: You can format your mind map, whether it's adding a topic or arranging a text box, using shortcut keys.
Pros
Provides templates to simplify and accelerate your mind-mapping experience

Allows mixed map layouts within the same canvas for clarity

Provides a free basic plan to create mind maps without being stressed about pricing

You can slideshow your maps using the Slideshow feature for deeper insight

Allows mind map customization, such as adding a topic or subtopic, cutting or pasting an object, and more via keyboard shortcuts for a laid-back editing experience
Cons
The free version provides limited customization features

The Canvas window slows down when the mind map size increases
#7. Mindomo
If you're searching for a visual tool to organize and present your brainstorming ideas, Mindomo is a nice pick. Mindomo serves to be a complete toolset for brainstorming, project management, strategy development, problem-solving, decision-making, and more.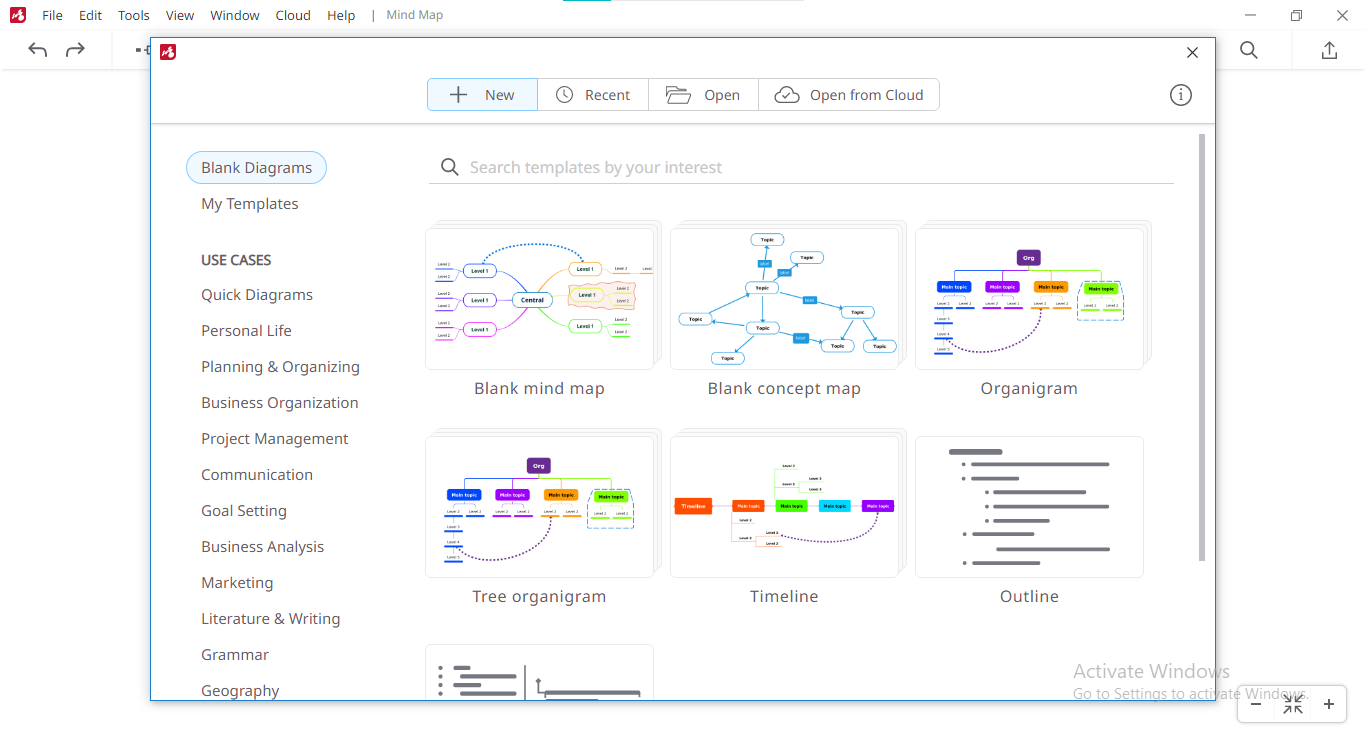 Mindomo Key Features
Inserting Items: You can insert the image, video, audio, hyperlink, note, or comment in your mind map to make it more expressive and elaborative.
File Import: Mindomo allows you to import files from various platforms, such as Dropbox, Google Drive, & One Drive, and other mind mapping software, e.g., MindManager, Mindmeister, SimpleMind, iThoughts, & more.
Background Customization: If you are fed up with the white background of your canvas, set it as colored, or image-based in Mindomo to have a delightful editing experience.
Pros
You can add multiple items to an idea for more clarity and understanding

Allows presenter mode to display your mind maps on a bigger canvas

Provides massive export formats for your mind map file

Offers several templates and themes to commence your mind-mapping journey

Provides user-friendly options, such as outline mode, rich text, and map boundaries
Cons
The Cloud syncing feature is only available to subscribers

The free version allows mind map creation only up to three
#8. Miro
Miro is a mind-blowing application for brainstorming and ideas visualization, assisting in fabricating a consummate personal or corporate mind map. Whether it's mind mapping or diagramming, project management or strategy development, online collaboration, or workshops, Miro proves to be an unbeatable solution for its users.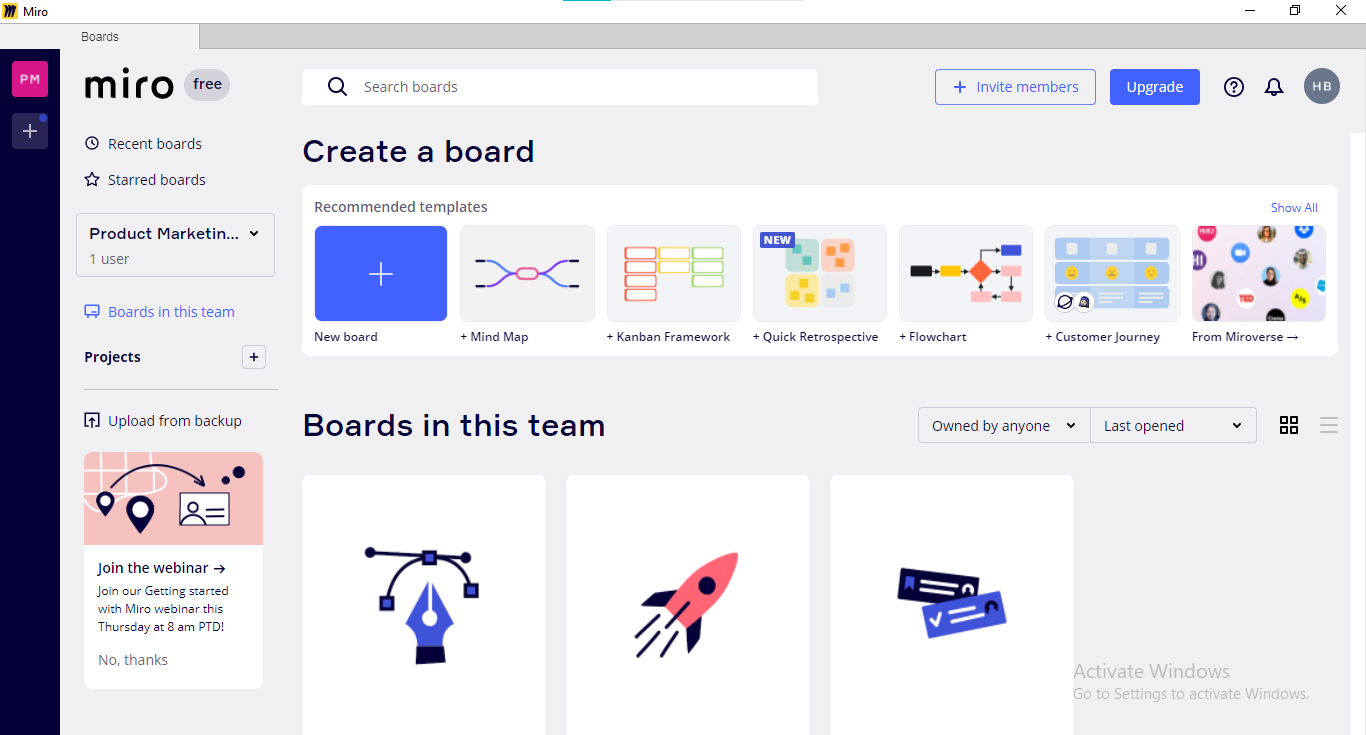 Miro Key Features
Infinity Canvas: Miro provides an infinite canvas to expand and enlarge your mind map to the extent you need without stressing about space.
Real-time collaboration: Miro encourages real-time collaboration via screen sharing, audio & video calls, conferences, commenting, feedback, and mouseovers.
Innovative Templates Gallery: With a massive library of appealing templates related to every field, Miro empowers its users to sketch a breathtaking mind map.
Pros
Serves as a full-featured toolkit for every type of user because of its diversity of features

Provides state-of-the-art templates to glorify your mind maps and replenish them with creativity

Enables real-time collaboration with cutting-edge features, such as mouseover collaboration, color-banded modifications display, and in-app video chats

Allows drag-and-drop feature to enable convenient objects insertion and mind map customization

Integrates with various external platforms such as Microsoft, Jira, Dropbox, Slack, and more for a streamlined work experience
Cons
Occasionally the crashing may occur on the mobile version

Beginner-level users may exhibit a steep learning curve to using Miro
3. FAQs
Q. How to do mind mapping on any device?
A. Mind mapping can be done using a reliable mind mapping tool, such as EdrawMind, fully compatible with various devices, i.e., Windows, macOS, Linux, Android, iOS, etc.
Q. How to use EdrawMind Online?
A. Here is the detailed procedure to use EdrawMind Online for mind mapping:
Step 1: Access the EdrawMind Online official website and log in with credentials.
Step 2: Initiate the mapping by adding your main theme.
Step 3: Add branches to your main theme.
Step 4: Customize your mind map using different formatting options.
Q. What are the highlights of EdrawMind Online?
A. Following are the highlights of EdrawMind Online:
Presentation and Traverse
Massive Template and Clipart Library
Real-time collaboration
The outline mode
Cross-platform compatibility
4. Conclusion
Mind map programs or applications are particularly designed to smooth out your mind mapping experience. To find out the best mind map app tailored to your needs, you need to have a detailed analysis of some apps first. Here, we have comprehensively elaborated on the top 8 mind map applications integrated with unique features.