Top 8 Online Collaboration Tools for Mind Mapping in Real-Time
Online collaboration tools prove to be the highly supportive edge in mind mapping processes to produce more effective outputs.
Create Mind Maps Today!
EdrawMind is a mind mapping tool equipped with 700+ cliparts. Check out EdrawMind's complete guide to understand ways to live a healthy life. Try EdrawMind Online and create hundreds of mind maps today!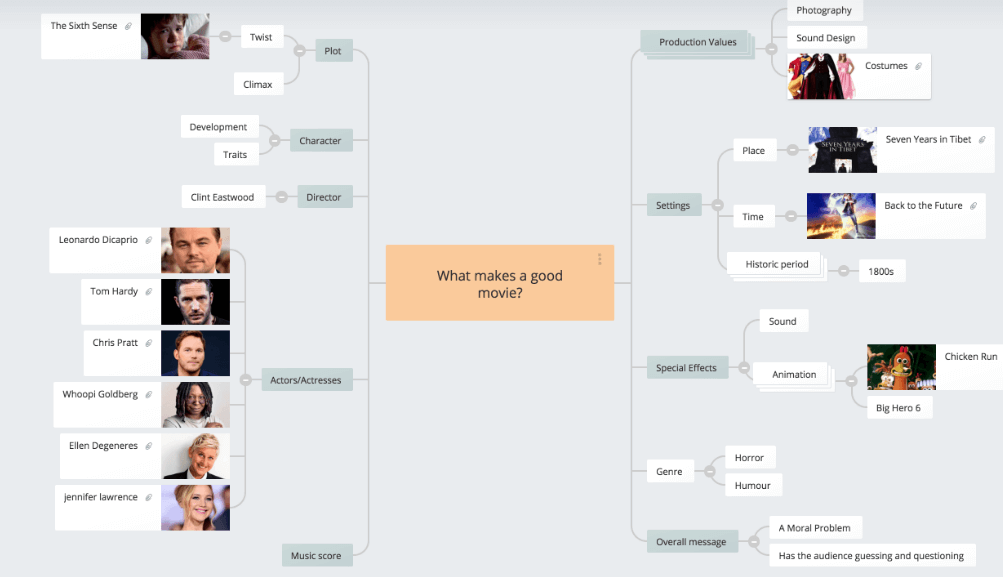 A masterpiece can only be brought out with the collective efforts of individuals. Even the most creative minds might need to share their ideas & thoughts to get more done in a collaborative environment. Given this, collaboration is considered the key element of productivity if we consider the mind-mapping processes. So, let's explore a few highly effective online collaboration tools.
1. What Is Online Collaboration Tool?
An online collaboration tool can be considered a software or digital platform that allows users to collaborate with other teammates online, work together instantaneously and streamline important projects.
Here we have enlisted a few significant benefits of using real-time collaboration tools.
Enhanced team productivity
An effective collaborative tool greatly boosts team productivity by allowing all the co-workers to share their work remotely in a fully organized system and work together on projects to increase productivity.
Effective problem-solving
Real-time collaboration tools are highly effective in problem-solving as users can readily share their innovative ideas, making you learn new things to solve complex tasks more efficiently.
Cost-saving
Relying on online collaboration tools is quite a cost-saving approach. It enables you to connect with numerous users online by eliminating the need for a physical location and resource usage. You can work simultaneously in a highly collaborative environment.
Easier workflow tracking
Tracking the workflows is quite an efficient function of online collaboration tools as it allows you to keep an eye on all the made changes & updates to facilitate work management.
Improved communication
A collaborative environment ensures efficient & improved communication between members, as you can instantly exchange ideas & information using an online collaboration tool.
2. Top 8 Online Collaboration Tools for Mind Mapping in Real-Time
Online collaboration tools are often packaged with other functioning. Given this context, we have elaborated on a few most efficient real-time collaboration tools for mind mapping.
List of Online Collaboration Tools
EdrawMind Online
Coggle
GitMind
Mind Genius
MindMeister
Ayoa
StormBoard
GroupMap
#1. EdrawMind Online
If you are looking for an unrivaled platform to cater to your real-time collaboration needs, EdrawMind Online arrives topmost on the list. Endowed with all dispensable features for simultaneous mindmap crafting and editing, it can help you visualize your ideas proficiently, taking your real-time collaboration experience to the next level.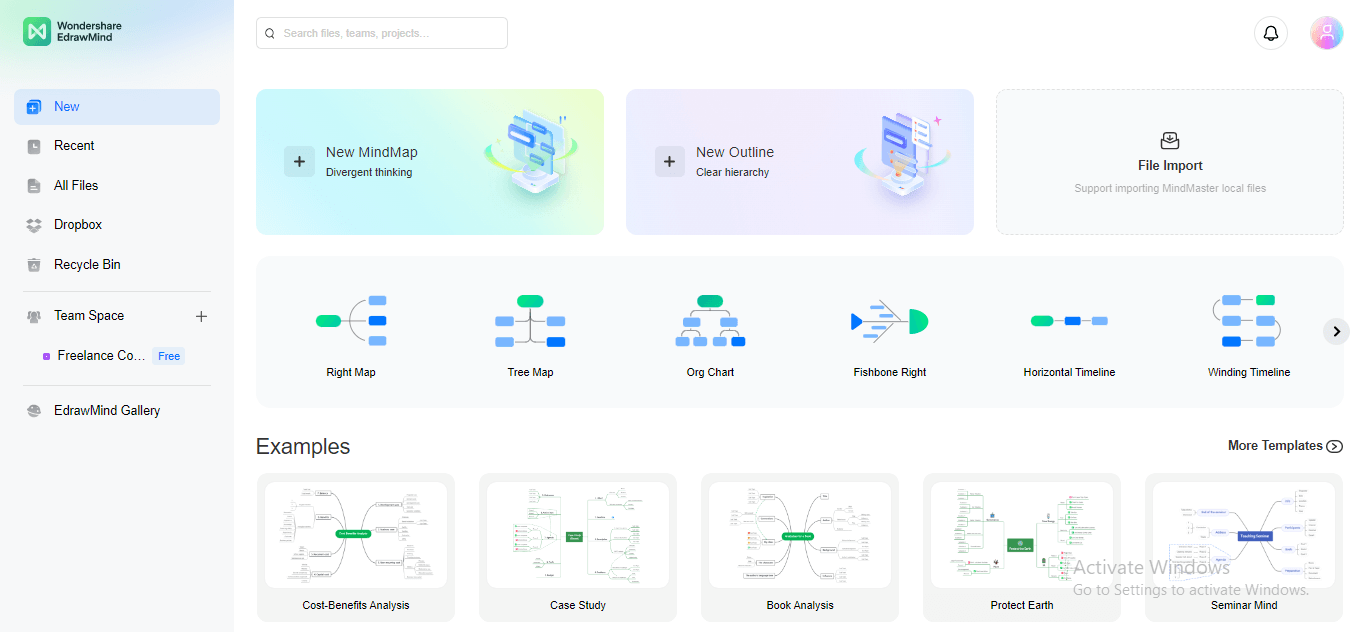 EdrawMind Online Key Features
Online Collaboration: EdrawMind Online allows you to work with your team members on a shared project by creating a Team Space. You can also invite or add members via link sharing.
Outline Mode: You can simplify and delineate your mind-mapping process by switching to Outline Mode, especially if you find the editing procedure difficult while Mindmap Mode.
File Import: EdrawMind Online allows importing files from MindMaster in ".emmx" format, providing a streamlined file import experience.
Emojis and Clipart: You can insert relevant emojis, clipart, or marks to render your content more meaningful and attractive.
Items Customization: EdrawMind Online provides different shapes, fill & outline colors, font colors & styles to customize your mindmap.
Professional Color Schemes: If you're ill in making color concoctions, don't worry because EdrawMind offers 20+ prebuilt color combinations to choose from for your map.
Inserting Smart Elements: You can add numbering, table, latex equation, note, picture, or hyperlink in your mindmap for more precision.
History Version: If you have made the wrong modifications in the file and want the previous version back, you can utilize the History Version feature.
Exporting Files: EdrawMind Online Free edition provides image and PDF format to export your files for later access.
EdrawMind Online Pricing and Plan
Plan Name
Subscription Pricing
Individual
Subscription Plan: $59/Year ($4.92/Month)
Lifetime Plan: $118
Lifetime Bundle Plan: $245
Team & Business
Team Annual Plan: $79/Month ($6.58/User)
Business Plan: Pricing based on custom quotes
Education
$139 for 2 Years, with a one-time payment
EdrawMind Online Pros and Cons
Pros:
Offers online collaboration with a minimal response rate

Enables Outline mode for easy file editing

Provides multiple layouts, color schemes, and diagram styles for customizing your mindmaps

You can create several pages within the same file for quick file management rather than creating separate files for each project

Provides a full-screen mode to have a clear view of your project

You can use Edraw Gallery templates to use them as a framework for your project

Provides endless item customization options to make your mindmap eye-catchy

Allows adding clipart, marks, and emojis for more communicative mindmaps

Provides a free version with unlimited features you can use for mind-mapping, brainstorming, and collaboration
Cons:
Requires switching to Team Version for real-time team collaboration

The Free version supports only one Team Space creation for collaborative purposes
EdrawMind Desktop
12 structures & 33 themes & 700+ cliparts
Support Win, Mac, Linux, Android, iOS
Advanced import & export options
On-premises software for business
Enterprise-level data security
EdrawMind Online
12 structures & 33 themes & 700+ cliparts
Access diagrams anywhere, anytime
Team management & Project management
#2. Coggle
Coggle, a renowned collaborative tool, makes it super convenient to work with your remote teammates on the same project. Thanks to its exceptional collaborative capabilities, you can share your mindmaps with the team or anyone sitting anywhere in the world.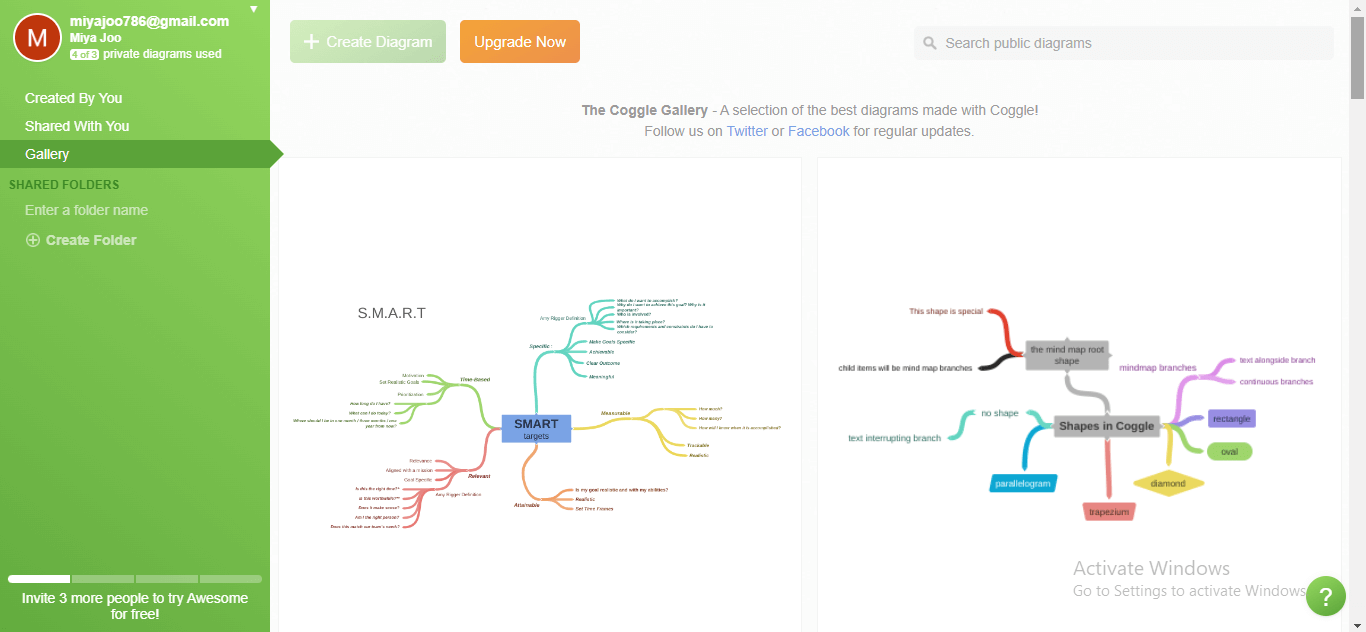 Coggle Key Features
Link Sharing: Coggle lets you invite your teammates or outside users via a secret task link, facilitating your teamwork and creative task accomplishment.
Private Diagrams: You can use the Private Diagram feature to keep a diagram or mind private, disabling other users from viewing it. Even if you cancel your subscription, your diagrams will remain private.
Coggle Enterprise Plan: If you want to utilize Coggle for enterprising, you can avail of its Enterprise plan, which includes active directory authentication, enhanced security, site licenses, and enterprise-level support.
Coggle Pros and Cons
Pros:
Link sharing enables you to invite anyone to edit your diagrams

No sign-up is required to enter teamwork and join collaborative activities

Suitable for diverse purposes, ranging from individual to medium and large organizations

Enables feedback and comments for an increased communicative environment
Cons:
No information is provided about available integrations

Individual progress viewing is not available
#3. GitMind
Loaded with pivotal features for real-time remote collaboration, GitMind provides a secure environment where you can work privately with multiple team members simultaneously. You can invite associates or team members via a link to collaborate on the prospective task.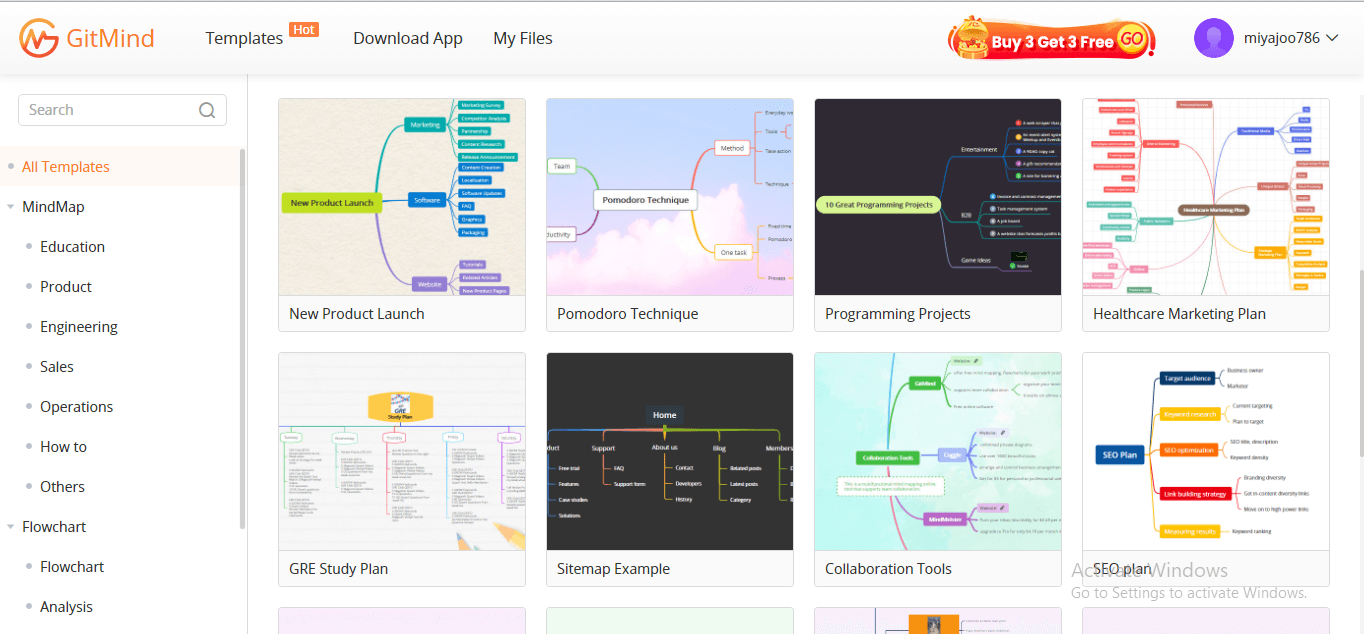 GitMind Key Features
Progress Viewing: GitMind provides creative layouts for displaying your task progress, such as scoring, rating, progress bars, colored indications, etc.
Feedback and Comments: Viewers and participants can put their feedback & comments on a particular task for a clarified project insight.
Individual Contribution: GitMind allows you to view each member's contribution to a specific task or project by assigning different color bands to them.
GitMind Pros and Cons
Pros:
Allows progress viewing to know project analytics

Enables individual contribution tracking to keep an eye on each member's performance

Feedback and comments enabling for a profound project insight

Provides a multi-faceted interface to allow anyone to approach your maps
Cons:
Limited integrations with external workspaces

The collaboration feature is not supported for flowcharting
#4. Mind Genius
Mind Genius tends to be one of the emerging real-time collaborative tools, assisting individual users & organizations in coordinating and interacting on a shared mind-mapping project. Mind Genius aims to facilitate real-time collaboration through its high-end interactive features, multi-faceted interfacing, and state-of-the-art competence.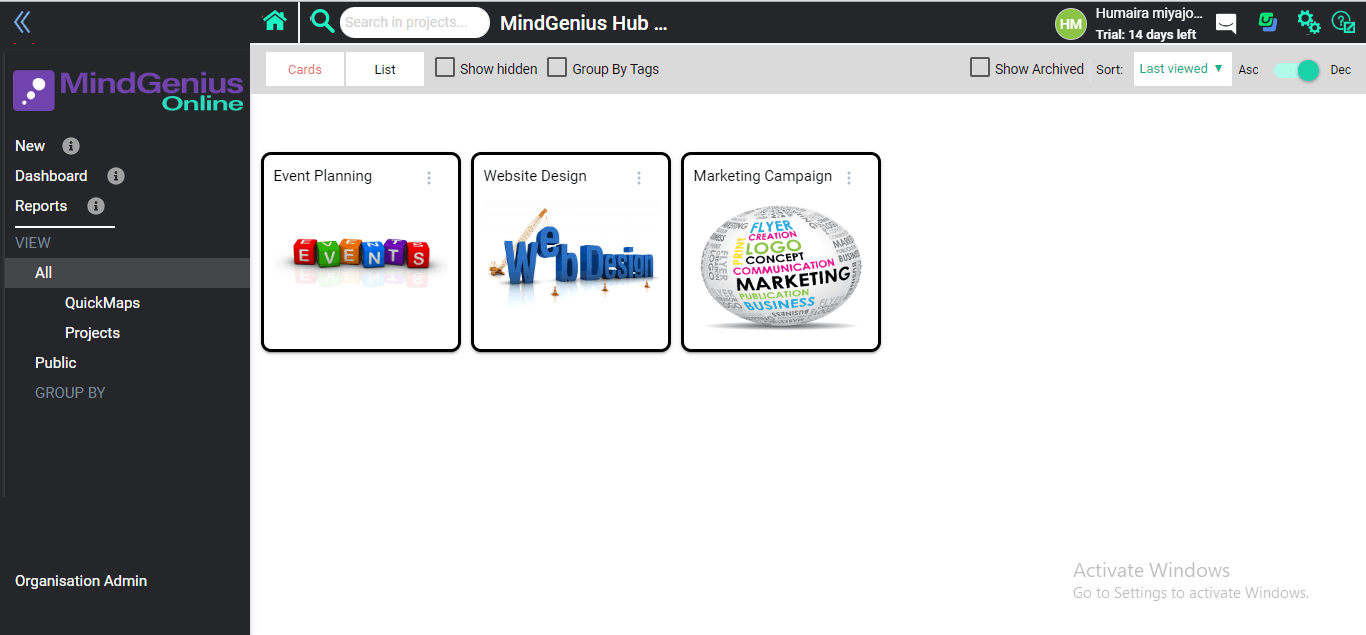 Mind Genius Key Features
Task Board Customization:You can customize your task board to track the progress of your projects, such as assigned, unassigned, completed, needs action, in progress, not started, etc.
Building Project Timelines: Using Mind Genius, you can plan every inch of your tasks through its Gantt-inspired timeline. You can add deadline dates, project dependencies, and task priorities for a constructive outcome.
Project Tools Integration: Mind Genius integrates with various task-based tools, such as MS Teams, Dropbox, Unsplash, Google Drive, MS Outlook, and Userflow, to establish a collaborative workspace.
Mind Genius Pros and Cons
Pros:
Enables real-time collaboration through link sharing, video chats, and messaging

Helps to build project timelines for efficient time management

Task board customization heralds your task progress and project priorities

Provides integration with numerous platforms to facilitate smooth collaboration
Cons:
The collaboration feature is not supported in Android and Desktop

Expensive Business and Educational plans ($188-$3600/Year and $80-$815/Year, respectively)
#5. MindMeister
Being a reliable solution for team collaboration, MindMeister allows you to share your creative thoughts with an unlimited number of individuals, ensuring a smooth workflow. Even a thousand miles apart from your teammates or organization, MindMeister congregates you for productive intent.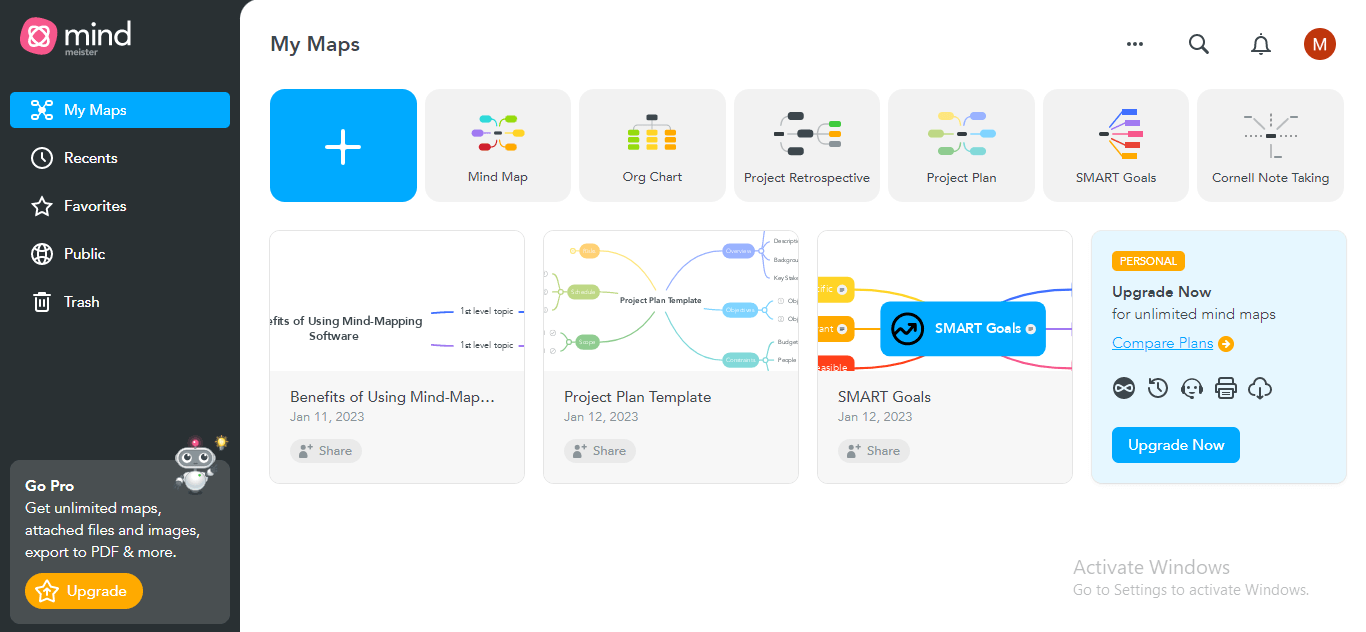 MindMeister Key Features
Mindmap Sharing: Although maps are private by default, you can share them with your friends or colleagues for their contribution. MindMeister allows map sharing via secure links, Bulk Invite, Google Drive, and Wiki Maps.
Ideas Voting: You can get feedback from your teammates, allowing them to vote on a particular topic or task. Additionally, MindMeister enables you to create polls for ideas voting.
Individual Progress Viewing: History Mode allows you to track the entire modification history of a task, as well as individual contributions. Changes are color-coded to monitor who modified in what and when.
MindMeister Pros and Cons
Pros:
Allows ideas voting to know the majority's viewpoint

Provides multiple methods for mindmap sharing both to teammates and external users

Offers color bands to highlight recent changes to ease in detecting members' modifications

Integrates with MS Teams, Google Workspace, and MeisterTask to manage workflow
Cons:
The free plan offers limited features regarding real-time collaboration

No yearly plan available for personal and enterprise use
#6. Ayoa
Ayoa has always been a priority of most educational and enterprise institutions because of its ability to convoke mindmap developers on a two-dimensional canvas. You can manage workload, fix deadlines, and track others' progress, ensuring an uninterrupted collaboration experience.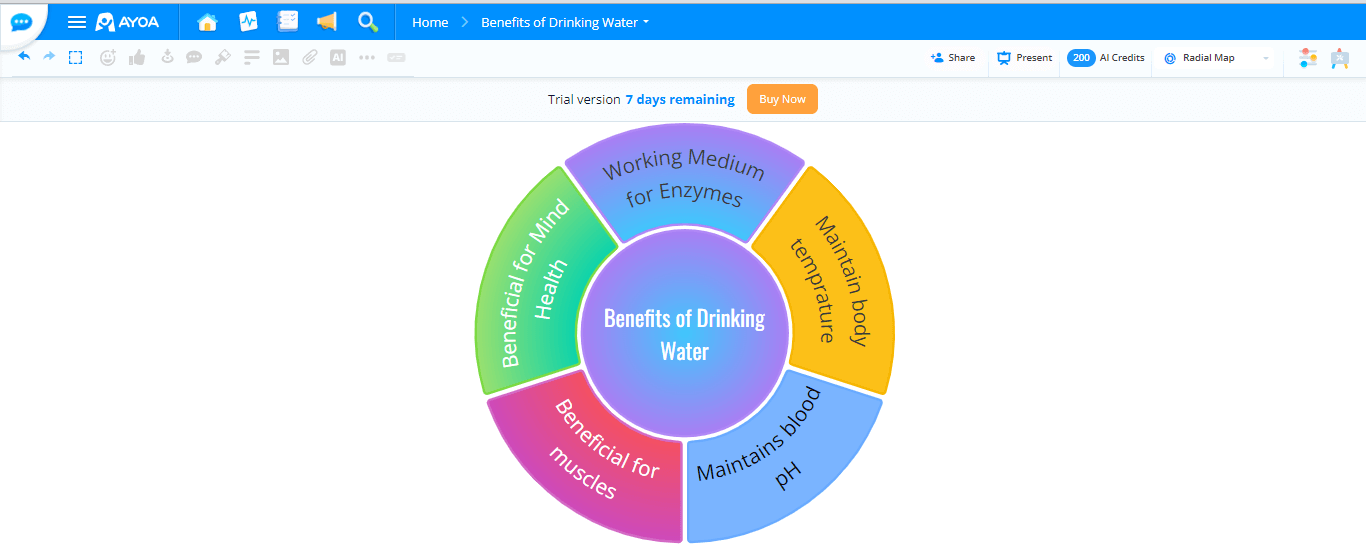 Ayoa Key Features
Instant Messaging: Ayoa encourages and maximizes collaboration by allowing instant responses through private inbox messages or group chats, sparing you valuable time.
Feedback Sharing: You have complete freedom to deliver feedback and comments on a certain project, modification, or collaborative activity, rendering your workplace more communicative and prolific.
Customizable Task Viewing: While creating a task board, you can customize it according to your preferences to prioritize which task should be accomplished first and so on.
Ayoa Pros and Cons
Pros:
Allows instant messaging for quick and stellar communication

Provides options to set different parameters for task prioritization and streamlined workflow

Enables feedback & commenting for expressing members' viewpoints on a certain activity

Multiple interfaces allow accessing your task from any device
Cons:
Limited collaboration features compared to other competitors

Price increases with the rise in the number of team members
#7. StormBoard
If you encounter space and time limitations regarding teamwork, utilize StormBoard to achieve a balanced workflow. StormBoard assists in unifying team members, even if they are scattered across different continents. Digital canvas, extensive security, and multi-directional integration render StormBoard an exquisite choice for businesses.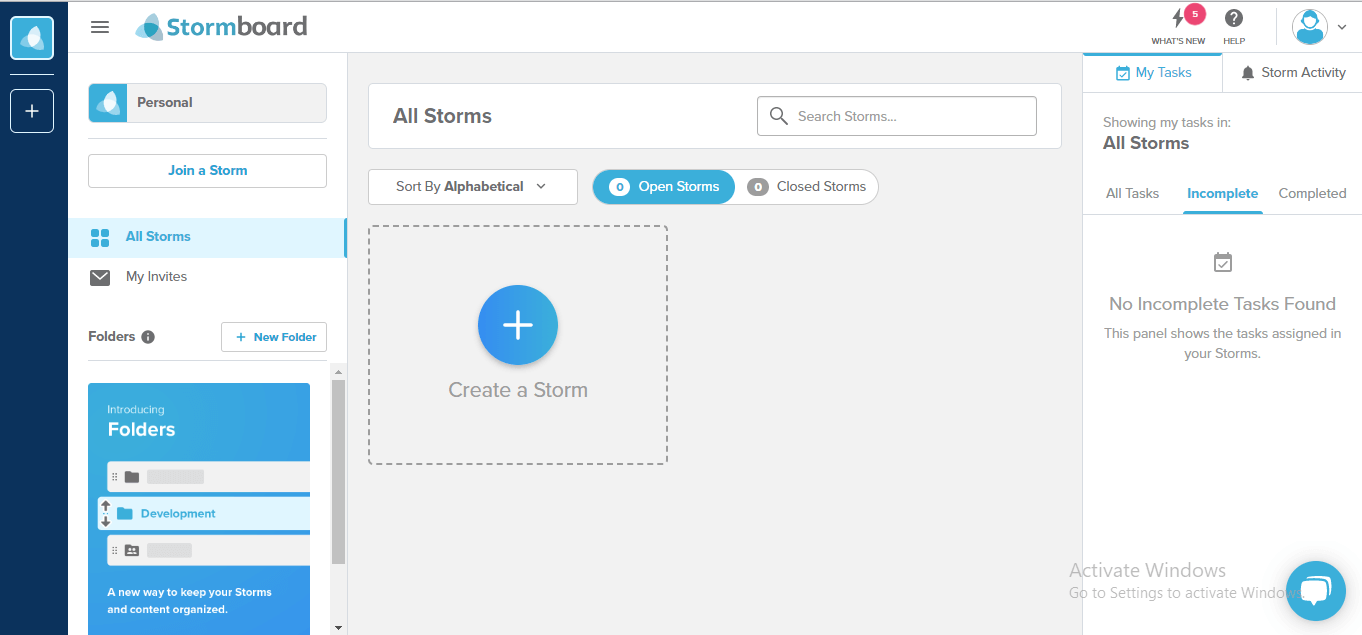 StormBoard Key Features
Multiple Integrations: StormBoard provides integration with numerous external platforms, such as Microsoft, Google Drive, Jira, MS Teams, and Dropbox, to ensure convenient file-sharing and smooth workflow throughout the session.
Real-Time Video Chatting: You can express your ideas comprehensively via real-time video chatting while working on the task simultaneously.
Data Privacy Management: StormBoard lets you control the degree of access each member has to a task. For instance, you can set team members as administrators, editors, contributors, or viewers.
StormBoard Pros and Cons
Pros:
Enables integrations with major reliable sources for file import, export, saving, and sharing

Allows real-time video chatting and messaging for more understanding of the project

Enables controlled access to each member

Affordable start-up and business plans ($8, $10/Month)
Cons:
A bit more outdated user interface than competitors, having simple templates

Occasionally your files may vanish during zoom-in or zoom-out
#8. GroupMap
GroupMap helps defy space barriers by enabling in-person and team communication, elevating overall performance. Polling, private file-sharing, task progress, multi-faceted accessibility, chatting, group discussions, and surveying are also available for streamlined decision-making and improved web-based meetups.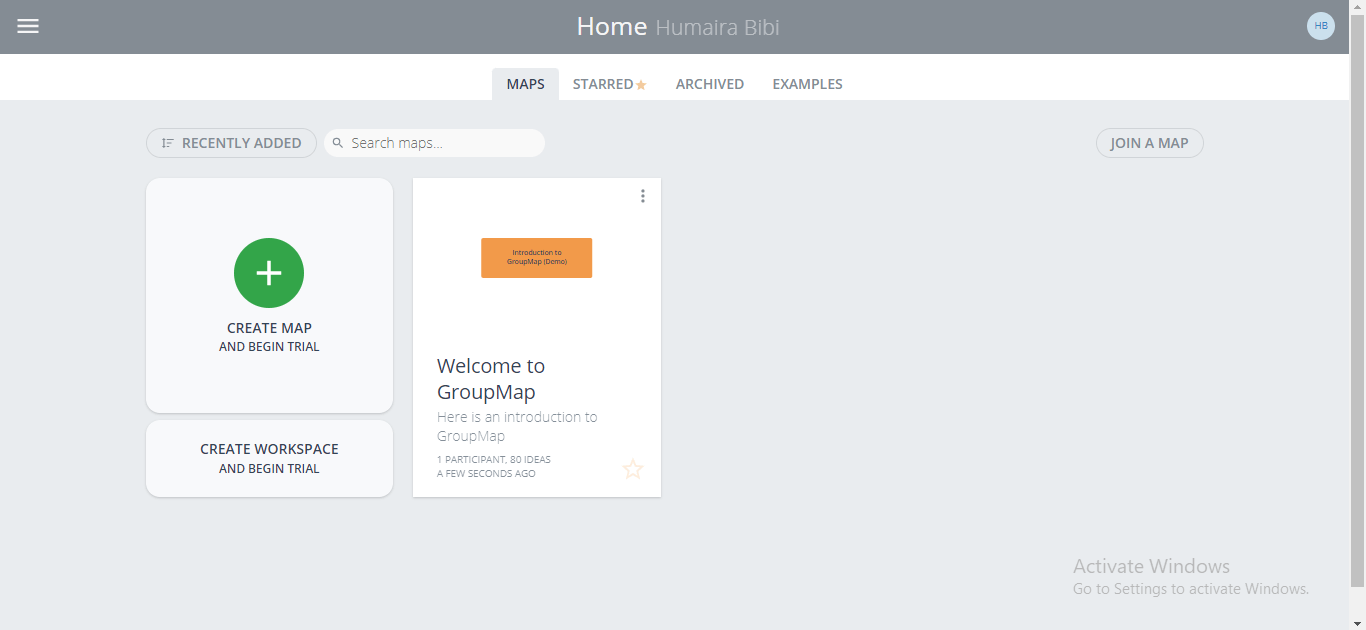 GroupMap Key Features
Workflow Customization: GroupMap allows you to customize and organize your workflow or regular tasks based on their rating, scores, consent rate, like/dislike rate, deadline, or surveying results.
Effective Discussions: You can indulge in productive group discussions using its inspiring features, such as real-time chatting, polling, feedback session controls, member time allocation, and more.
Private Project Sharing: GroupMap encourages both individual and public sharing to control your data privacy. Additionally, you can monitor who is accessing what and to what degree.
GroupMap Pros and Cons
Pros:
Enables task customization according to different parameters for streamlined workflow

Provides multiple appealing ways to foster effective discussions and enhanced team communication

Offers a secure environment with extensive privacy regulations

Integrates with numerous platforms for file importing
Cons:
File loading occasionally becomes problematic when the number of members increases

The final downloaded report may not be intuitive and formatted as it were in the editing mode
3. How To Pick the Best Online Collaboration in Real-Time?
The market is flooded with innumerable collaboration tools to transform your endeavors into a productive output, allowing effective workflow and time management. Given this context, we have illustrated multiple factors you need to consider while going for your dream collaborative tool.
Number of Collaborators
The first thing to perform is to identify the nature of your work and the needs of your business. Picking the apt platform according to your business circle is a rational decision. Thus, avoid spending a huge amount of money on expensive tools if your teamwork is limited or the nature of your collaborative tasks is straightforward.
Price
One of the pivotal aspects while venturing to choose a real-time collaboration tool is price. Always scrutinize the price-to-performance ratio through extensive research on various available collaboration tools. Additionally, don't hesitate to use the free or trial version of the software before buying its premium plans.
Feature Diversity
Feature diversity is another factor in choosing the prospective collaboration tool; ensure the tool you're purchasing corresponds with your organizational needs. If you have a well-thriving business sphere or workspace, go for a tool with wide-ranging features. On the other hand, don't squander money on tools with extensive features that are not even necessarily needed for your organization.
Responsiveness
Not every member of your work team has the same device for using the collaborative tool. It is viable to opt for a tool that provides a responsive interface on each member's device. Sometimes some features are not supported in certain devices; thus, ensure that all options are accessible to every member to build a regulated communication atmosphere and manage workload effectively.
Convenience of Use
Introducing something novel and unusual in the organization can be challenging and daunting, especially if your business circle is vast. In such a situation, you must ensure that all your teammates are fully acquainted with how to use the prospective tool for digital project handling.
4. How to Use Online Collaboration Tool For Remote Work
Using an online collaborative tool to cater to your remote work needs is pretty straightforward and does not require extensive technical knowledge. You just need to pick an effective tool in this connection. Here we have described how you can effectively manage your workstation remotely using EdrawMind Online.
How To Use EdrawMind Online for Real-time Collaboration?
Step 1: Using EdrawMind Online for online collaboration needs to sign up for a Wondershare EdrawMind Online account.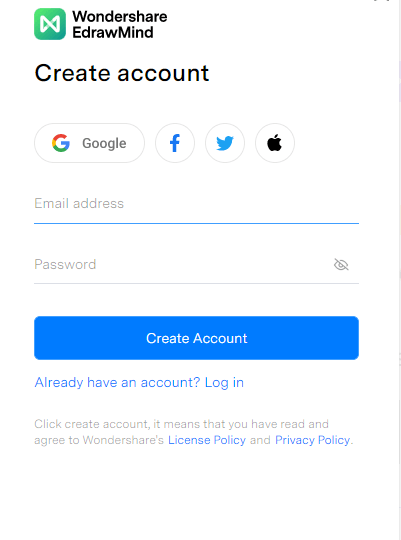 Step 2: Enter your email & password to Log in to your account after EdrawMind Online account creation.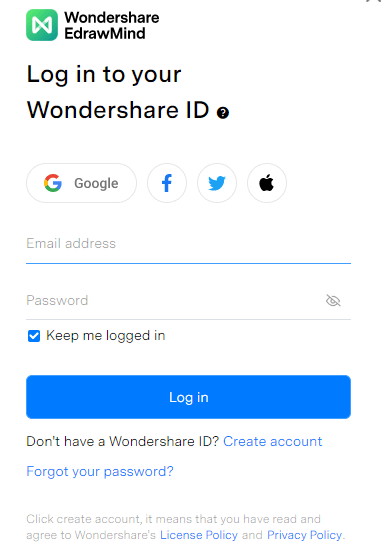 Step 3: Click the Team Space option in the left panel to start a team project.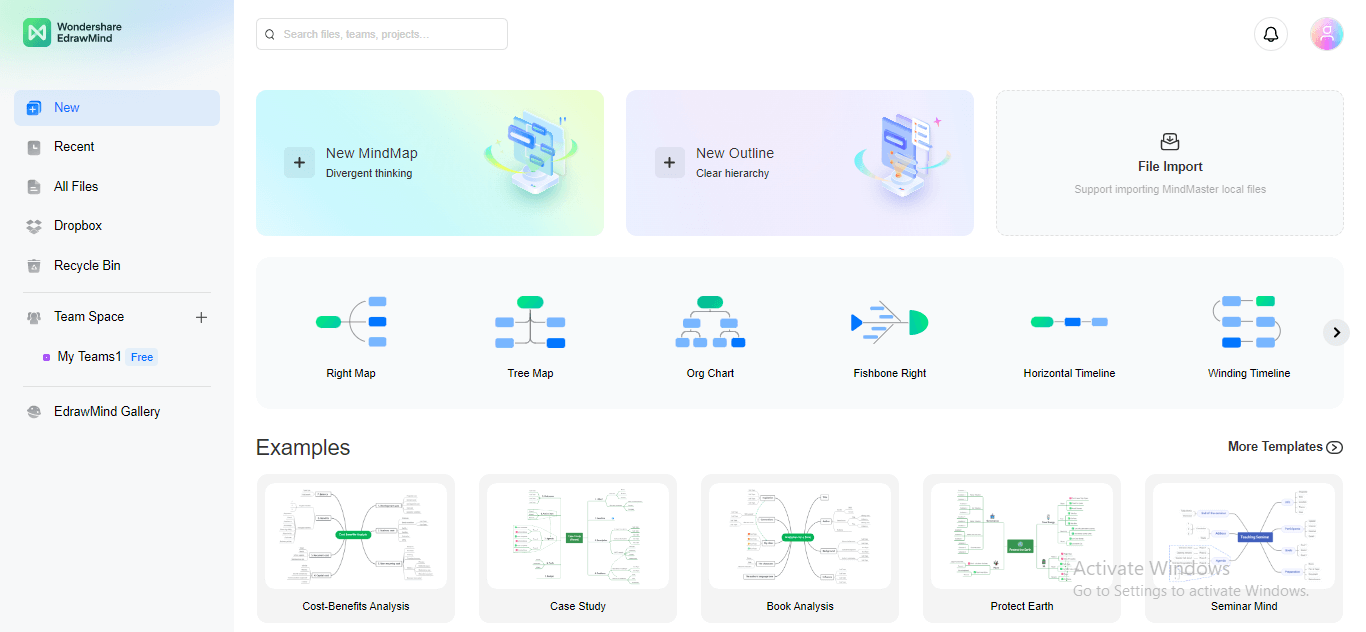 Step 4:A pop-up will launch, asking to create a new Team. Rename your team name and click the Create button to form a new team.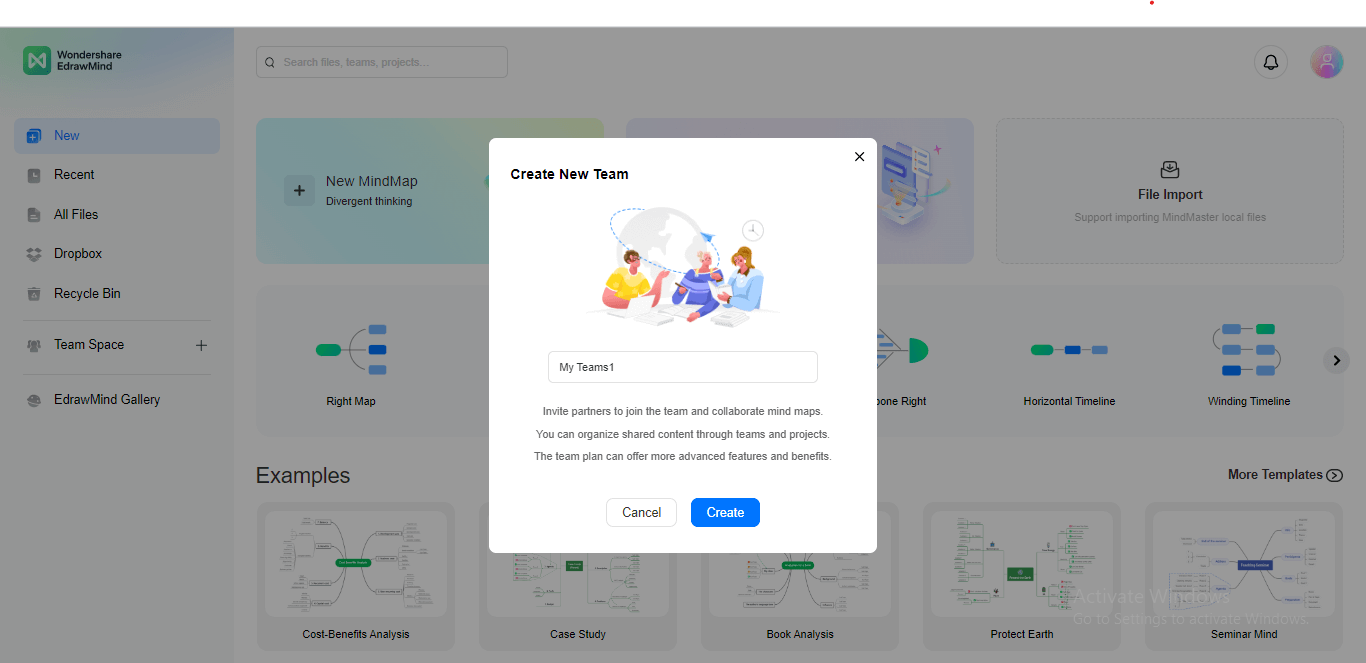 Step 5: A Team Space will be created, which you can access by clicking on the Team Space tab.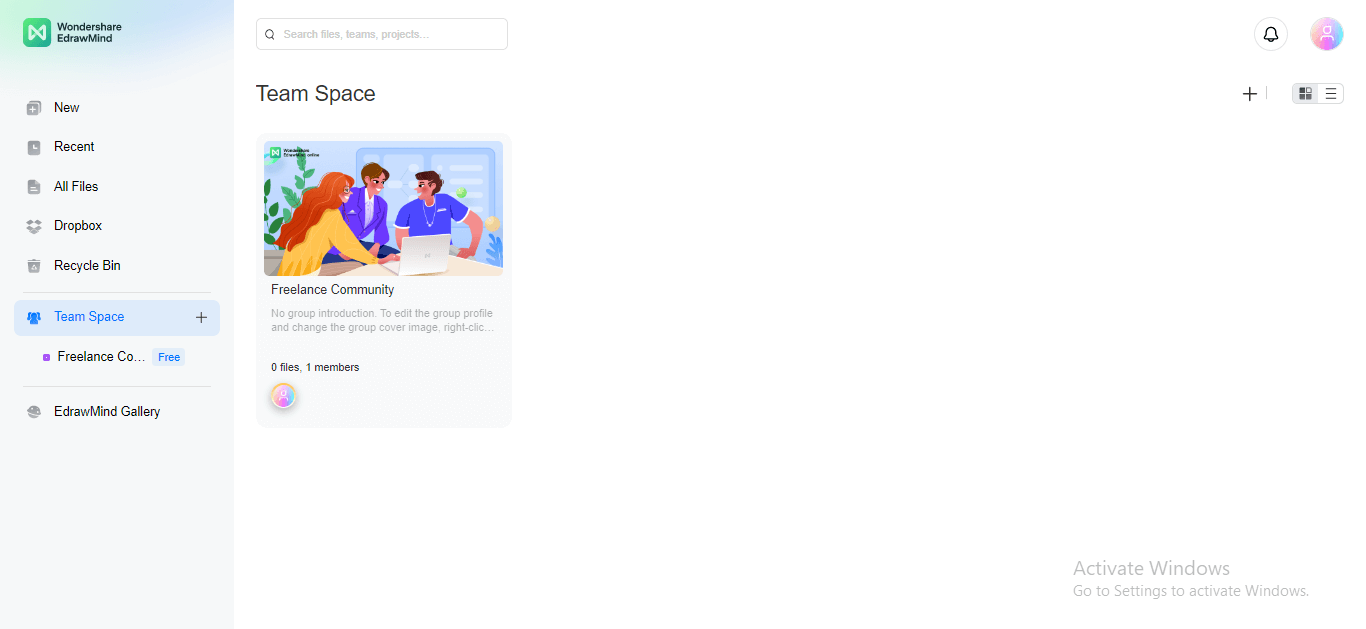 Step 6: To add members to your Team, click the +Add Team Members tab in the right panel.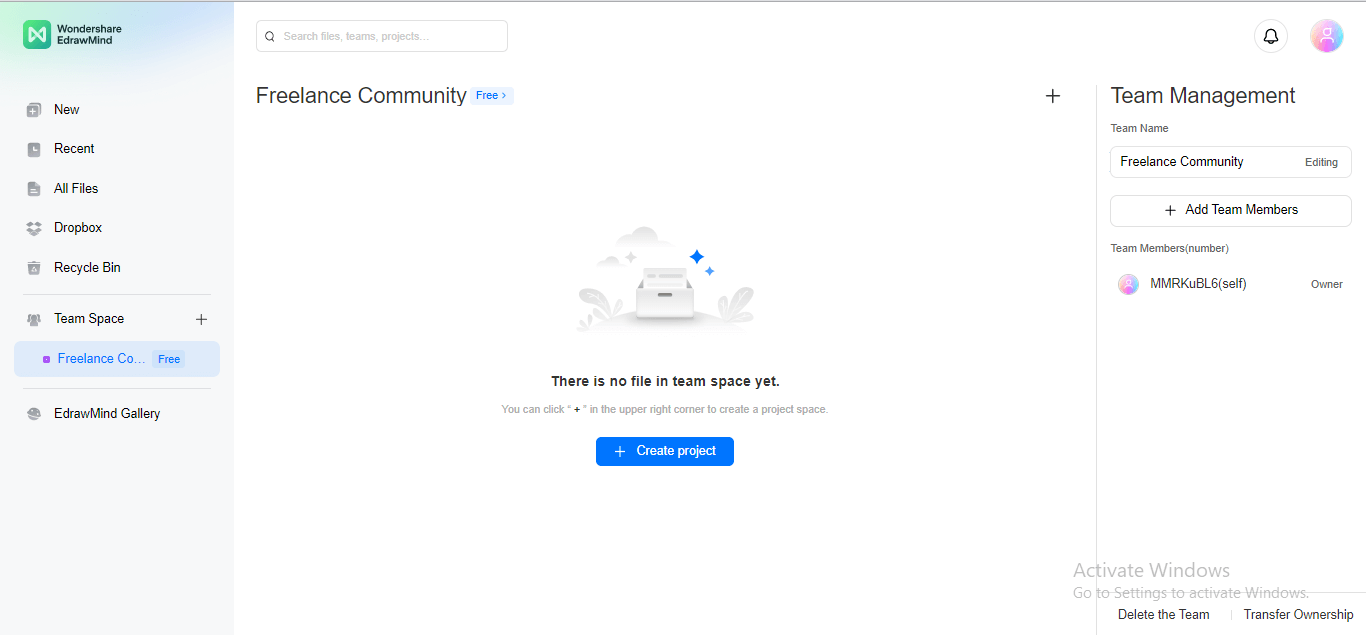 Step 7: Enter the email address of whom you want to add to your Team.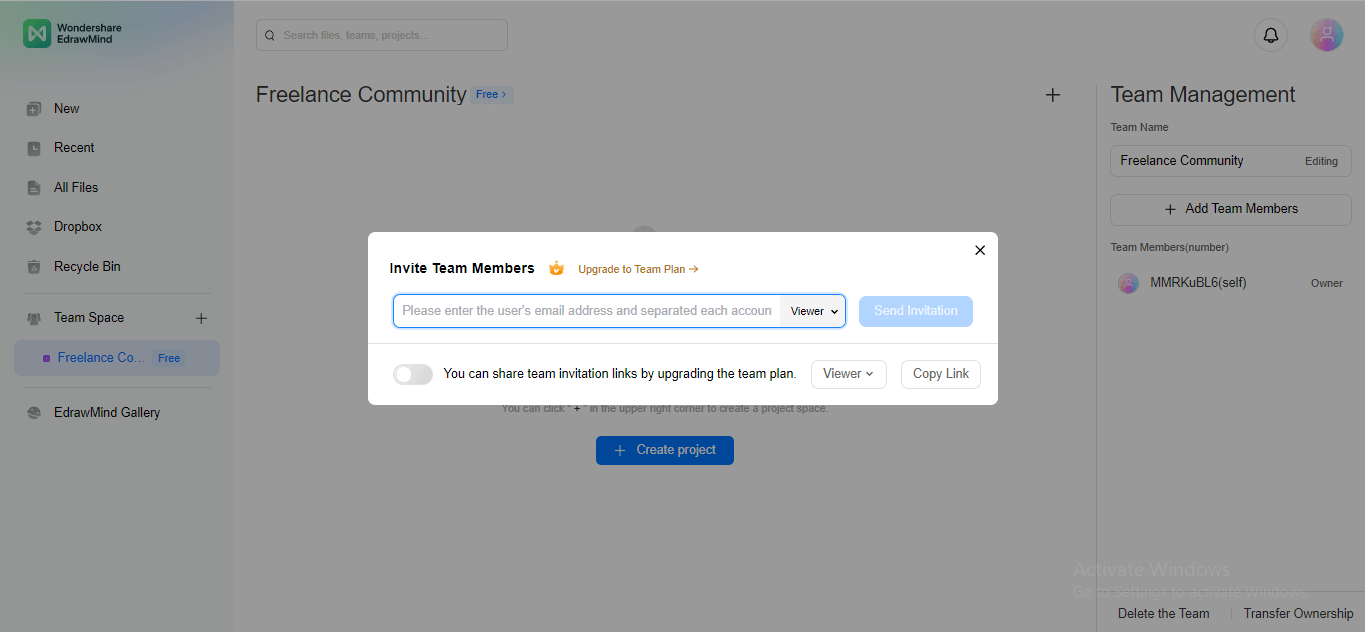 Step 8: You can also decide whether to add your upcoming member as a manager, editor, or viewer. Click the Send Invitation button next to the email address bar to invite a specific user to your Team.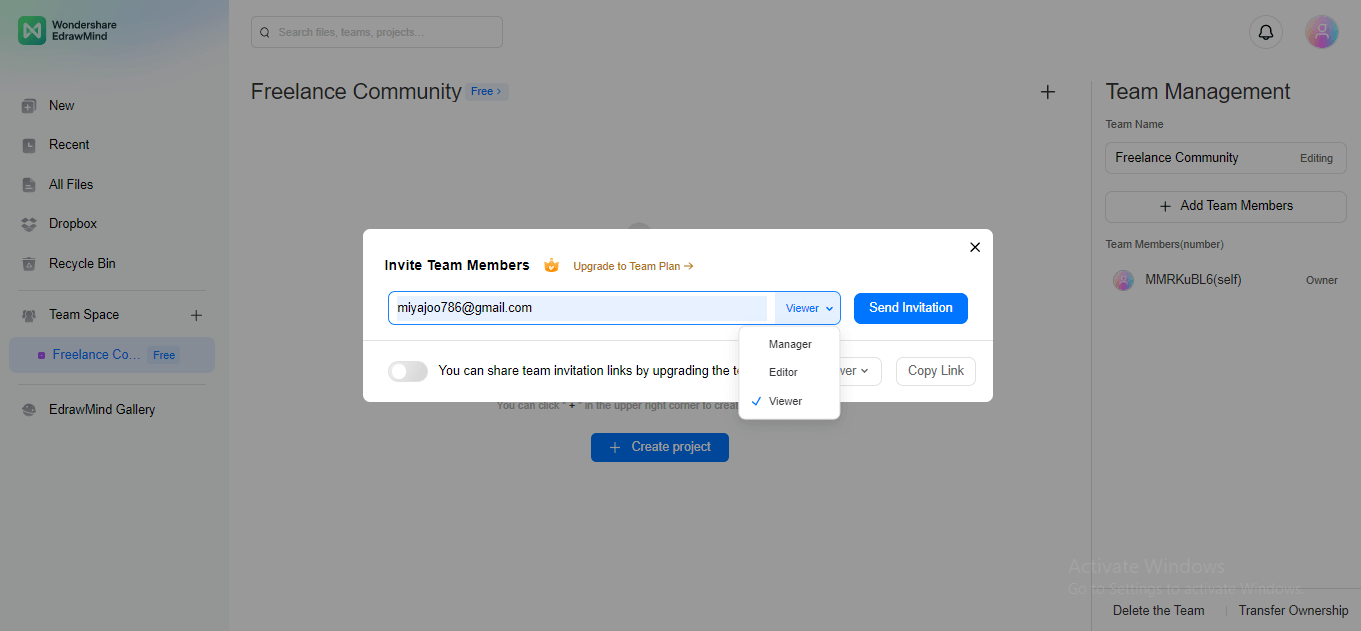 Step 9:To create a new project in a specific Team Space, click the +Create Project button in the center.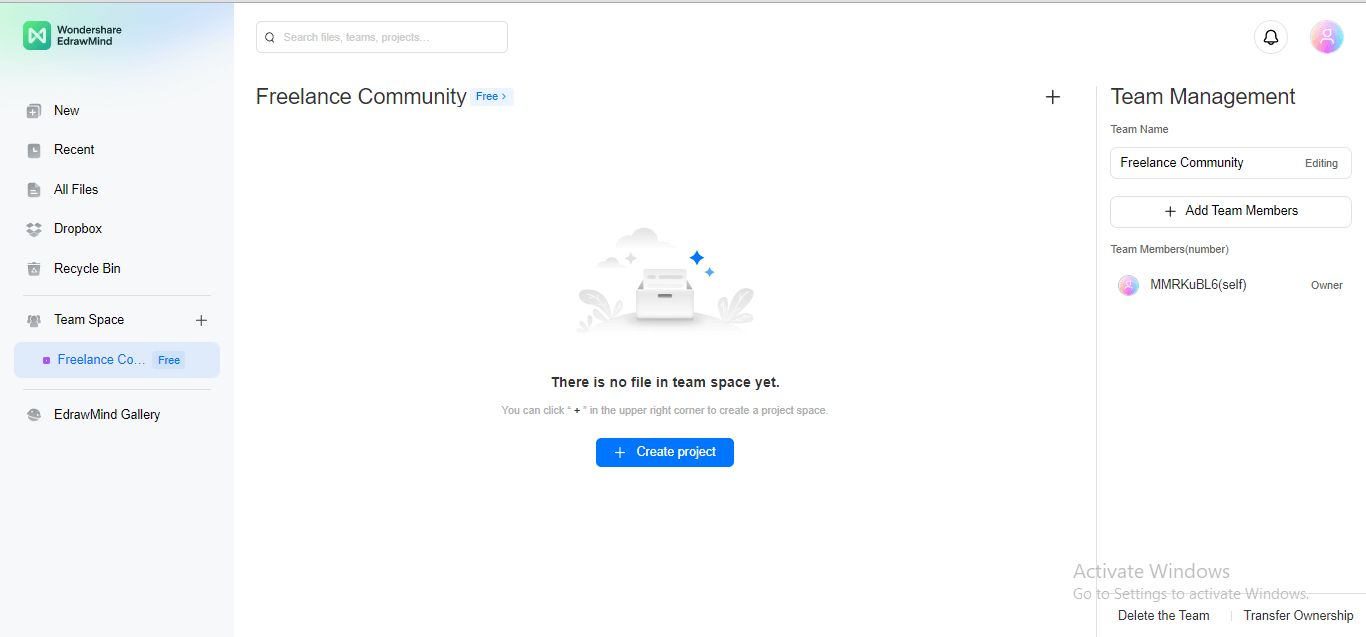 Step 10:Rename your project and click the Create button to start a new task.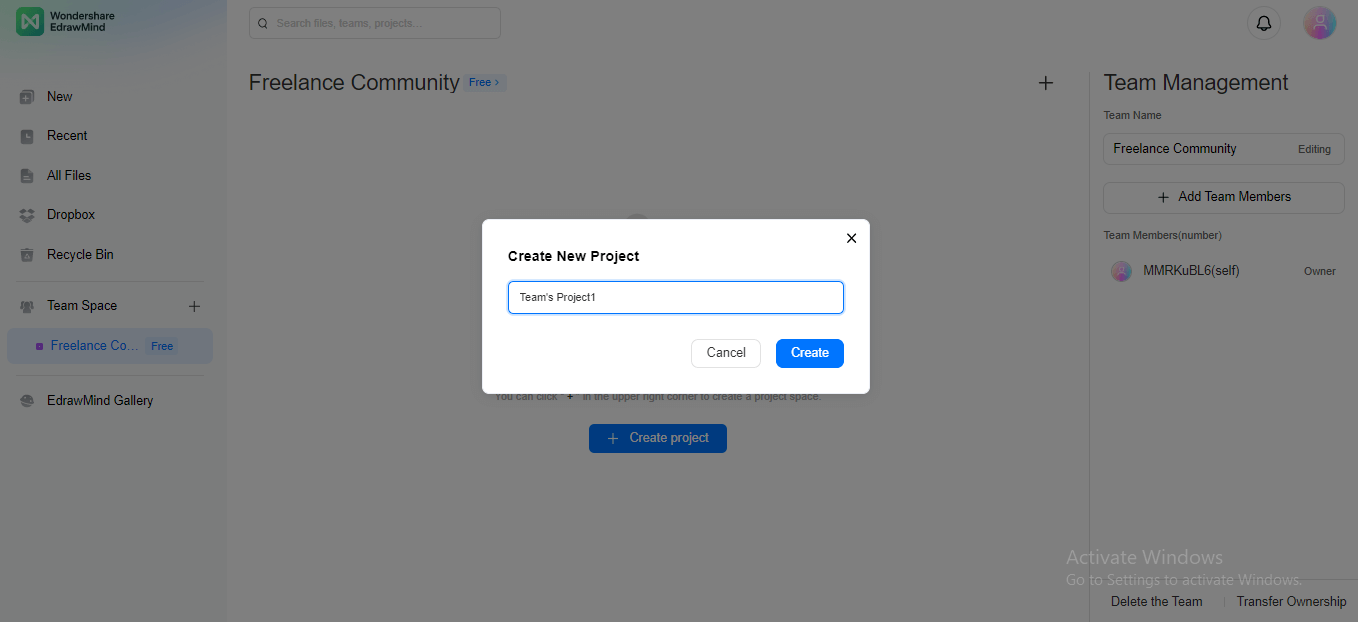 Step 11: To create a new file for a specific project, click the "+" option on that project widget. Clicking this option will take you to the editing canvas window.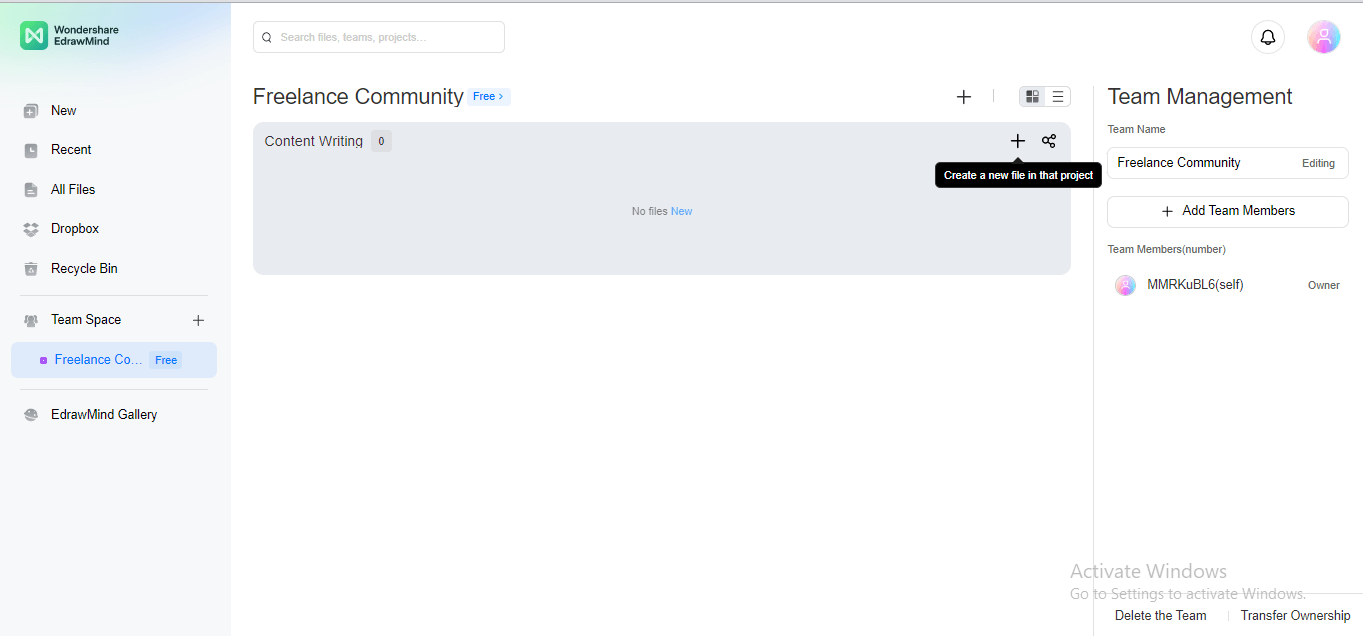 Step 12: If you want to import a file from an external source, click on the Import icon.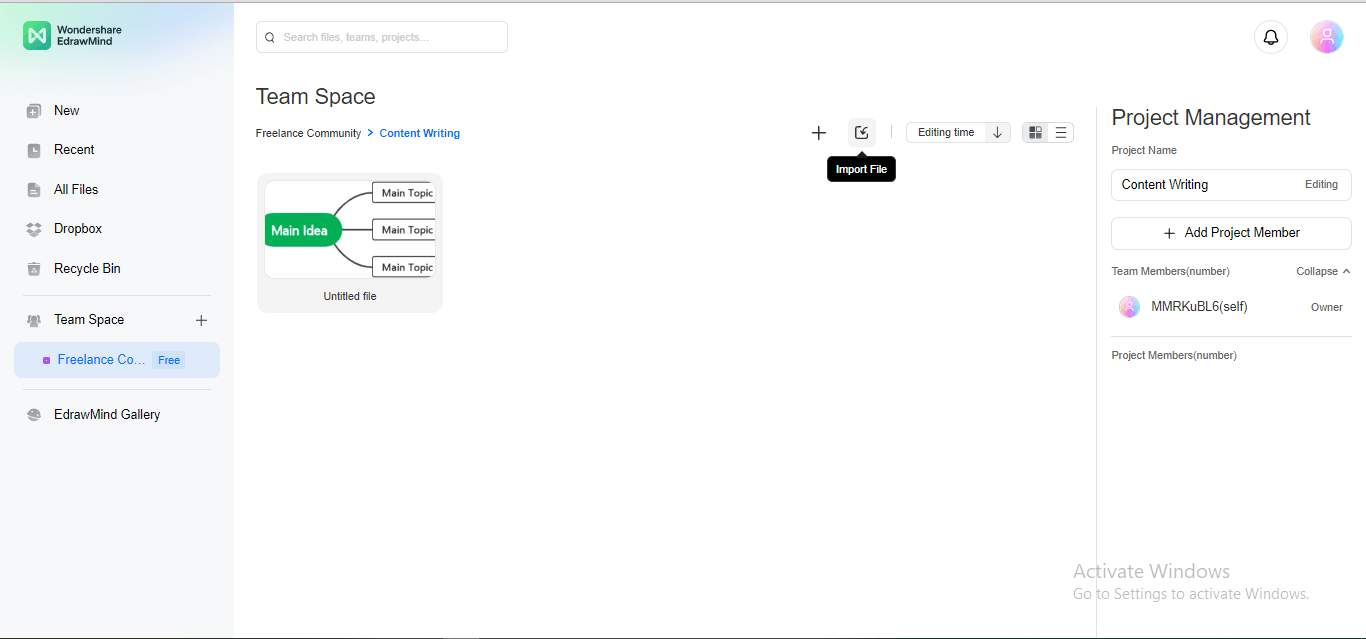 Step 13: You can also Sort your projects in ascending or descending order according to editing time, file name, and file size.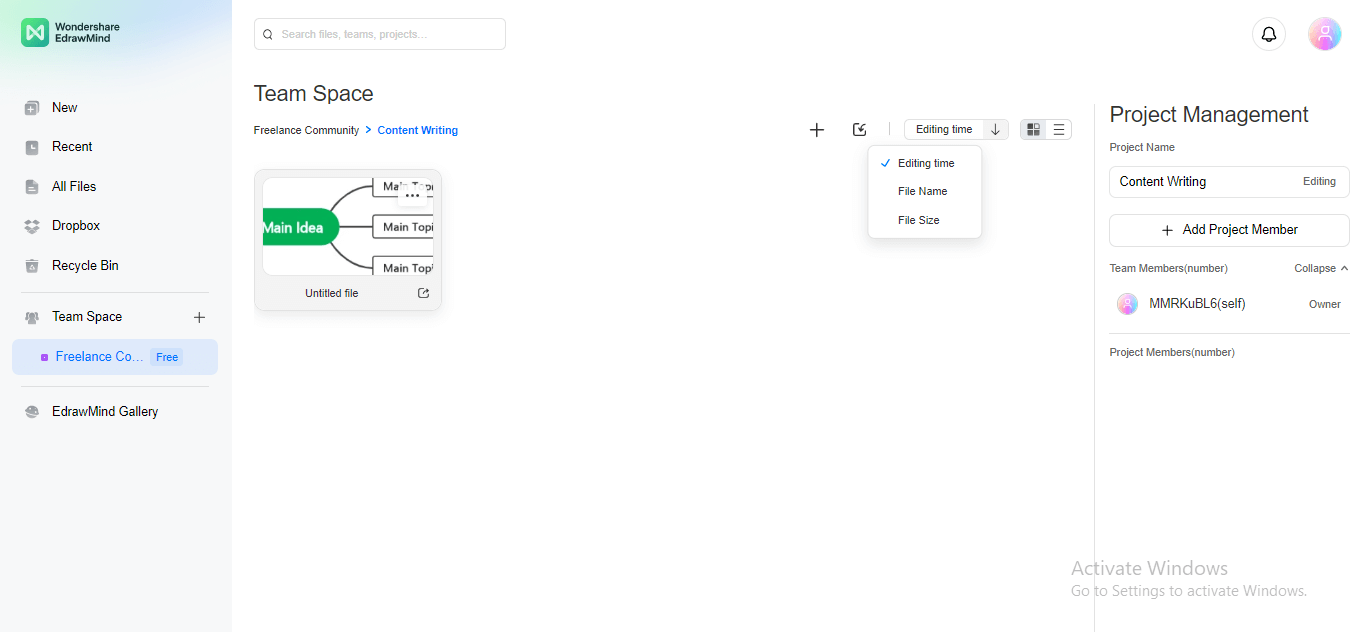 Step 14: To invite members to edit a certain file from a project, hover over that file, and a three-dotted icon will appear. Click that icon for dropdown menu options.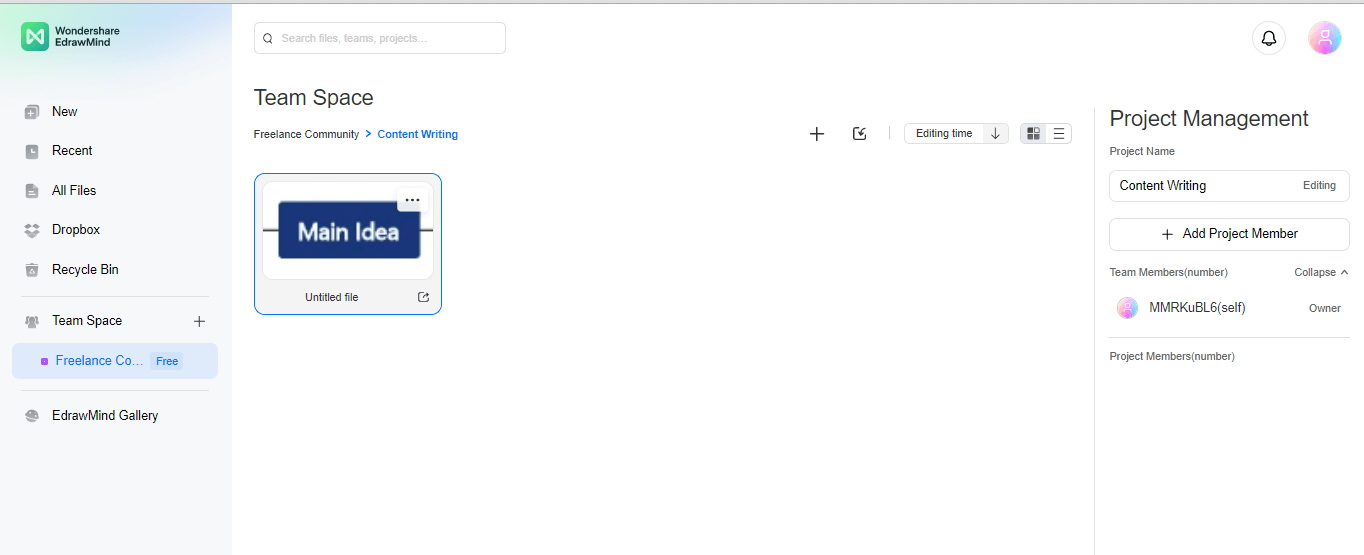 Step 15: Click the Invite to Collaborate option from the dropdown menu to allow members for real-time collaboration on that file.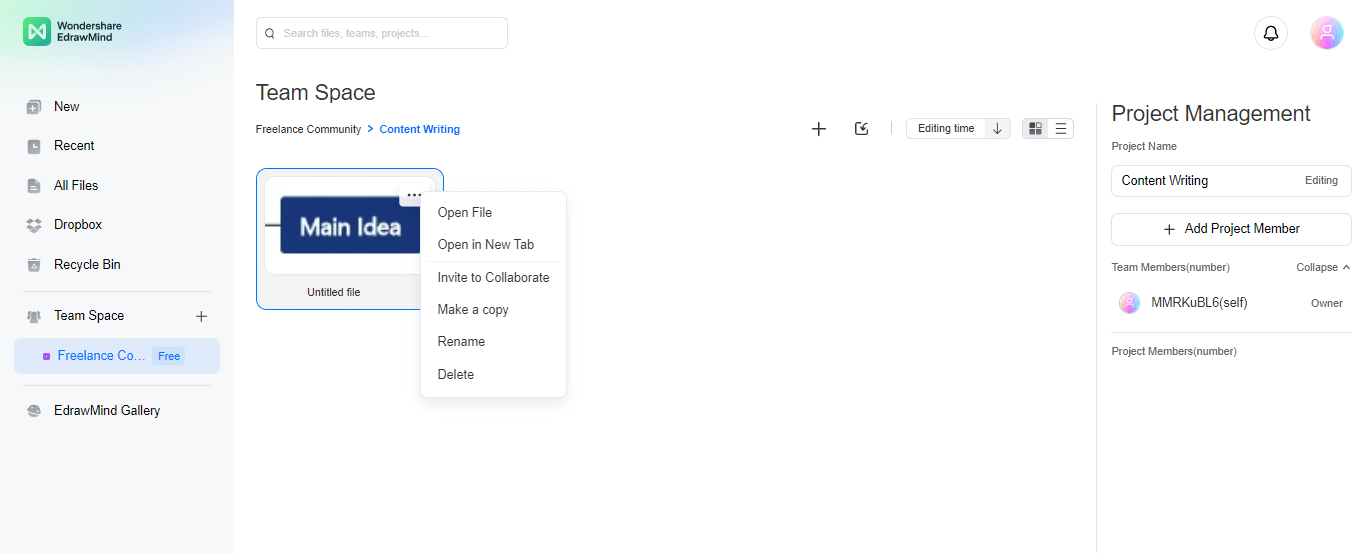 5. Final thoughts
Online collaboration tools can be used in multiple scenarios for various needs, i.e., task management, business meetings, mind mapping projects, etc. You need to opt for a dedicated online collaboration tool given a particular need. So, in this article, we have shed light on the top 8 real-time collaboration tools that greatly facilitate mind mapping.
EdrawMind Desktop
12 structures & 33 themes & 700+ cliparts
Support Win, Mac, Linux, Android, iOS
Advanced import & export options
On-premises software for business
Enterprise-level data security
EdrawMind Online
12 structures & 33 themes & 700+ cliparts
Access diagrams anywhere, anytime
Team management & Project management