9 Best Online Collaboration Tools To Boost Team Productivity
An organization's progress is deeply enrooted in team efficiency, which can be amplified via a flawless collaborative tool.
Create Mind Maps Today!
EdrawMind is a mind mapping tool equipped with 700+ cliparts. Check out EdrawMind's complete guide to understand ways to live a healthy life. Try EdrawMind Online and create hundreds of mind maps today!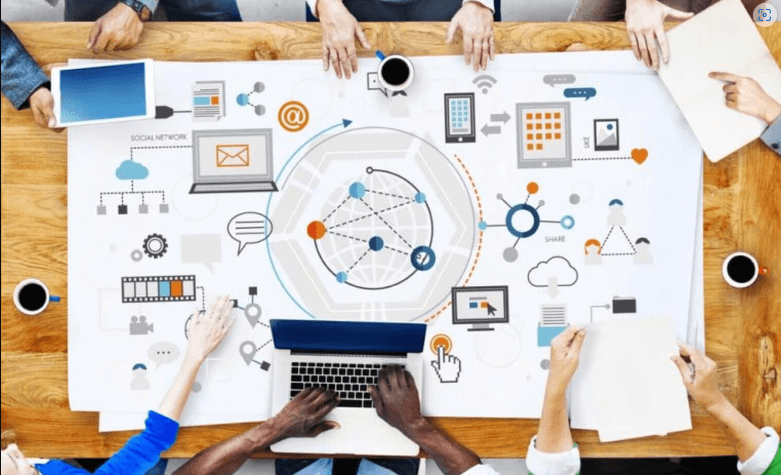 Whether you are a seasoned corporate professional or starting as a newbie, team collaboration is inevitable for effective teamwork. A cutting-edge online collaboration tool is a practical solution for maximizing team productivity. Given this ground, we have endeavored to catalog a list of nine certified tools for effective team collaboration.
1. How Online Collaboration Tools Boost Team Productivity
Online collaboration tools greatly impact an organization's progress by enabling optimal team efficiency. Revolutionizing the ways of interpersonal communication, collaboration tools are paving avenues to generating transparency in the following ways:
Enhances Better Communication
If your organization has a vast work circle and some of your team members fail to receive an email to commence a shared task, it will disrupt your team's productivity. Contrarily, you can resolve this discrepancy by incorporating an efficient online collaboration tool, helping in quick document sharing, emailing, and well-timed responses.
Moreover, teammates can engage in creative negotiation to boost team productivity on a collective task.
Creates Utmost Teamwork Engagement
A resourceful collaborative tool provides team members with a competent and coordinated environment to work, raising their team spirit. Innovative features of a first-rate collaboration tool not only facilitate team communication but also seem inviting to the team members, encouraging them to work with utmost concentration and interest.
Improved Decision Making
Effective discussions are key to a well-informed decision, giving an unbiased opportunity to each member to express their opinions. A reliable online collaboration facilitates productive group discussions and provides members with a consolidating platform to arrive at a certain conclusive point by recording their meeting minutes.
Improved and Quality Delivery
Project goals are a pivotal aspect of every business. Online collaboration tools ensure the quality delivery of the end product to your potential audience by allowing maximum customization options to personalize your project. Additionally, team members can promise a timely task delivery to empower team productivity and collaborative organization performance.
2. 9 Best Online Collaboration Tools To Boost Team Productivity
No matter how far dispersed your team is physically or how many diverse jobs each team member performs, these online collaboration solutions can aid in keeping you connected for a mutual purpose.
List of Online Collaboration Tools
EdrawMind Online
Miro
MindManager
Visio
GitMind
Creately
Coggle
Ayoa
MURAL
#1. EdrawMind Online
EdrawMind Online is a top-of-the-line collaborative platform, providing team members with a secure platform where they can breathe confidence, productivity, and brilliance. Encompassing all the splendid features of team collaboration, EdrawMind Online inspires innovation in your teamwork. Its high-end interactive features and collaborative interface render it an unbeatable solution for constructive group discussions and team-related tasks.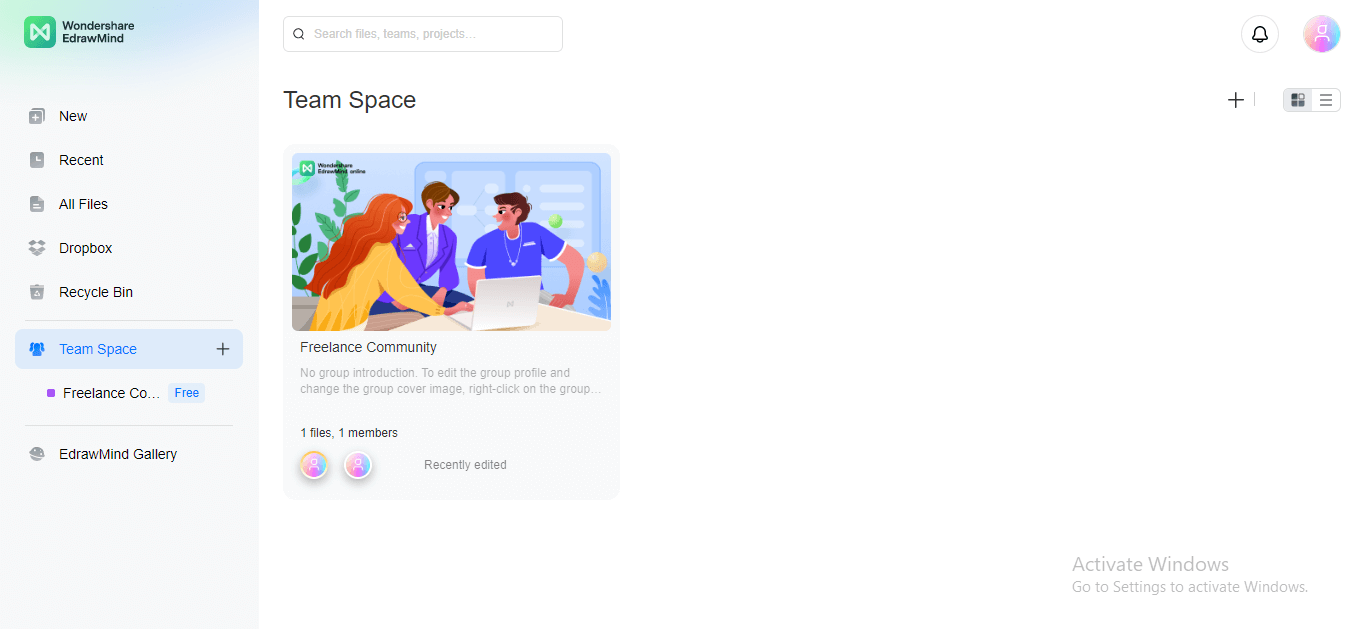 EdrawMind Online Key Features
EdrawMind Gallery: EdrawMind Online presents its exclusive gallery where experts upload top-notch mindmaps and visual projects. You can duplicate and use one of the workpieces as a template to customize your mindmap.
Custom Layouts and Diagram Styles: You can personalize your mindmap by applying EdrawMind Online's professionally built layouts and diagram styles for a more sophisticated mindmap outlook.
Topic & Word Count: EdrawMind Online tracks your overall topic count and word count, assisting you in balancing a healthy diagram and avoiding hefty word limits.
Marks and Clipart: EdrawMind Online allows you to insert marks and clipart within your mindmap to enhance its appeal, making your content more expressive.
Background Customization: Whether you want a plain white, solid-colored, textured, or image-based background, adjust it according to your preferences.
Inserting Pictures and Hyperlinks: You can attach an image, hyperlink, or note with any topic or subtopic to provide relevant information about that idea.
View Navigation: EdrawMind Online lets you utilize the View Navigation feature to adjust the area you want to view on your editing window.
History Version: If you have made the wrong modifications in the file and want the previous version back, you can utilize the History Version feature.
Pexels Integration: EdrawMind Online provides integration with Pexels, so you can easily find photos for your relevant topic without jumping to the new web window.
EdrawMind Online Pricing and Plan
Plan Name
Subscription Pricing
Individual
Subscription Plan: $59/Year ($4.92/Month)
Lifetime Plan: $118
Lifetime Bundle Plan: $245
Team & Business
Team Annual Plan: $79/Month ($6.58/User)
Business Plan: Pricing based on custom quotes
Education
$139 for 2 Years, with a one-time payment
EdrawMind Online Pros and Cons
Pros:
Allows to perform efficient online collaboration by creating a Team Space

You can edit your mindmap by applying custom layouts, diagram styles, and color schemes

Enables creating multiple pages within the same file for convenient file handling

Integrates with Pexels and Dropbox for a streamlined mind-mapping experience

You can customize your canvas background to enjoy delightful mind-mapping

Allows duplicating template styles and using them for your mindmap creation

You can insert smart numbering, latex equations, notes, pictures, or hyperlinks within a certain topic

Enables full-screen mode for a profound display of ideas

Enables file-sharing via a quick link to allow others to collaborate within your task
Cons:
Supports team collaboration only in the Team Plan

It does not allow creating multiple team spaces in the Free version
EdrawMind Desktop
12 structures & 33 themes & 700+ cliparts
Support Win, Mac, Linux, Android, iOS
Advanced import & export options
On-premises software for business
Enterprise-level data security
EdrawMind Online
12 structures & 33 themes & 700+ cliparts
Access diagrams anywhere, anytime
Team management & Project management
#2. Miro
Miro is a top-notch option if you are looking for a fast-paced collaborative tool to signify your strategic business planning. Facilitating online meeting sessions, peer-to-peer communication, and group discussions, Miro ensures members' inclusion & active participation for team efficiency.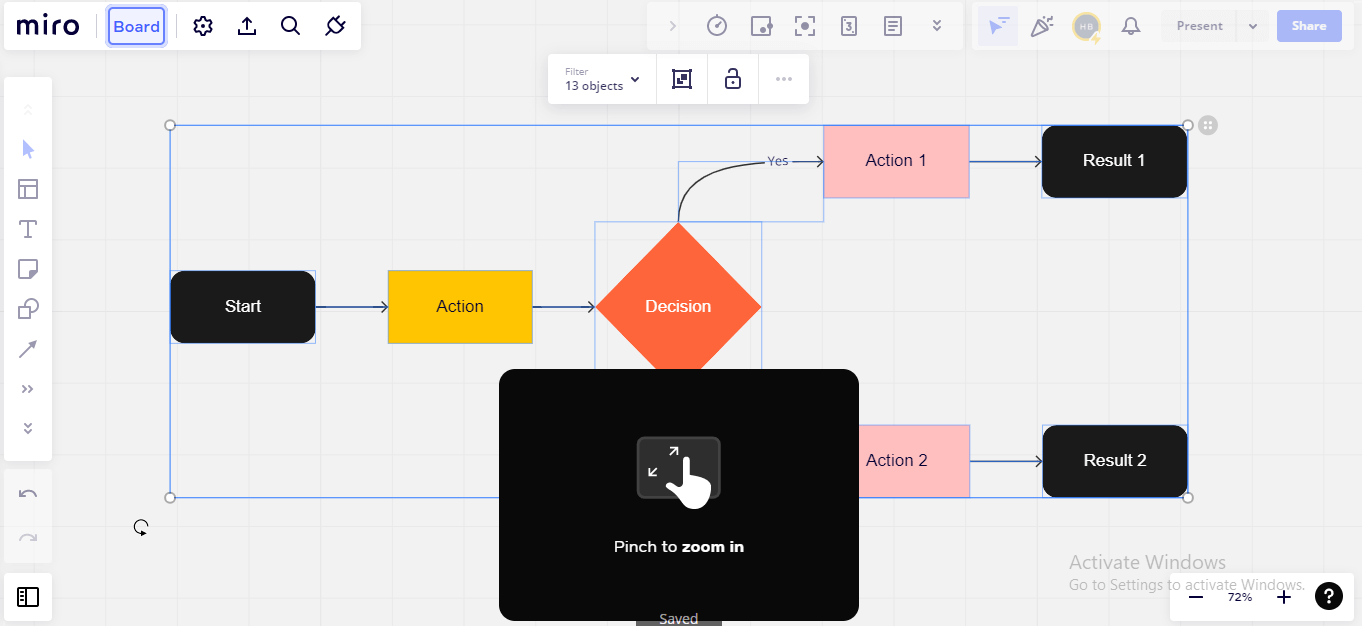 Miro Key Features
Strategic Planning: Miro allows you to strategize your project goals, task priorities, and anticipated outcomes for efficient time management & seamless workflow.
Meeting & Workshops Arrangement: You can arrange online team meetings and workshops to discuss essential projects, giving everyone room to participate impartially & disseminating his ideas through voting, sticky notes, & icebreakers.
Project Management: Miro provides interesting project management techniques to keep track of your teamwork progress, such as task tracking, user story mapping, PI planning, and project workshops.
Miro Pricing and Plan
| Plan Name | Monthly | Annually |
| --- | --- | --- |
| Free | $0 | $0 |
| Starter | $10/Month per member | $8/Month per member |
| Business | $20/Month per member | $16/Month per member |
| Enterprise | Custom Quotes | Custom Quotes |
Miro Pros and Cons
Pros:
Allows shared planning through voting, surveying, and feedback

Enables online workshops to discuss task schemes and exchange ideas on various group activities

Provides a free version for newbies to start as an economical collaborative solution

Suitable for personal and enterprise needs because of affordable price plans
Cons:
Can stop working in case of a sizable number of group members

Dashboard navigation often slows down
#3. MindManager
Corporations and enterprise associations choose MindManager because of its high-end collaborative approaches, vast integrations, and extensive security provisions. Using MindManager, you can manage online meetings & workshops, set project goals, and track members' involvement in shared tasks, certifying a well-coordinated teamwork experience.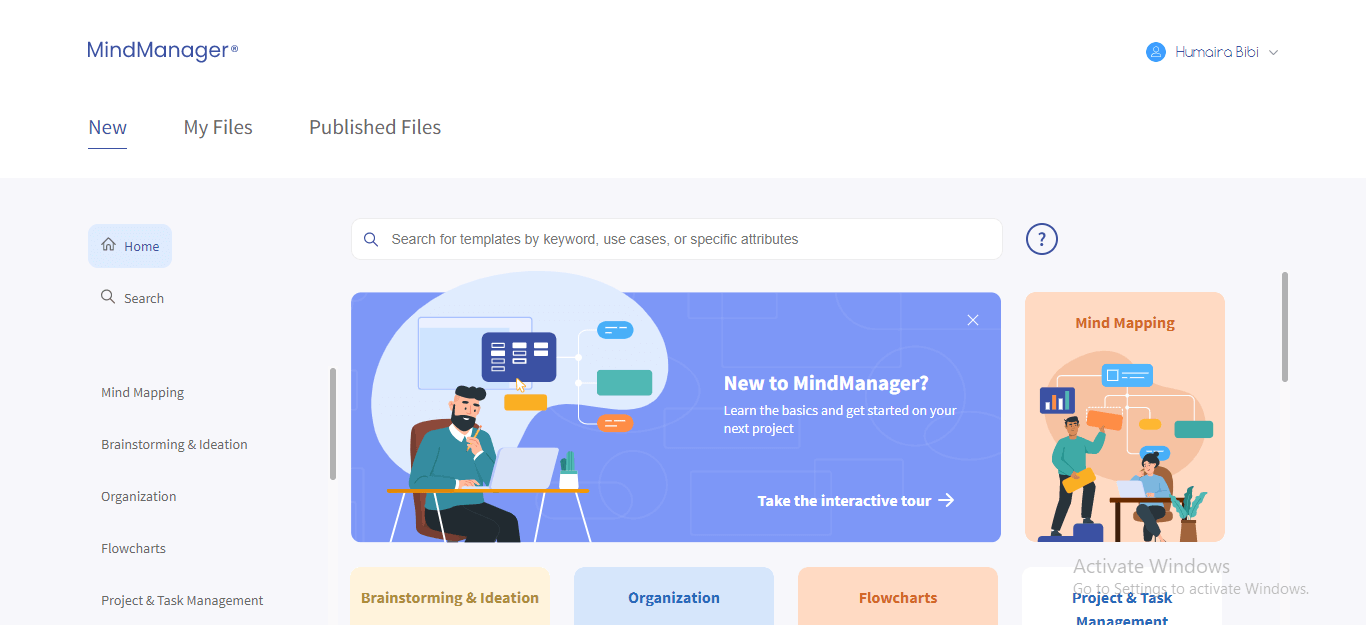 MindManager Key Features
Vast Integrations:Your members can conduct streamlined teamwork because MindManager provides massive integrations with useful sources like MS Project, SharePoint, Outlook, Dropbox, MS Teams, and more.
Discussion Notes: MindManager allows you to create simplified discussion notes for creative business planning, facilitating developmental strategies by calculating the budget and other planning figures.
Traffic Light Effect: Team members can set limit values for certain activities or events to visualize the ongoing procedures. When the limit is exceeded, the branch color immediately turns red, showing it as a warning.
MindManager Pricing and Plan
| Subscription Name | Pricing |
| --- | --- |
| Essentials | $99/Year, includes one user |
| Professional | $169/Year, includes 1+ users |
| One-Time Purchase | $349.00 |
| Enterprise | Custom Quotes |
MindManager Pros and Cons
Pros:
Enables cost-effective business planning through the Discussion Notes feature by recording different strategic parameters

Provides multiple tutorials, lectures, webinars, guideline articles, and stellar customer support to learn using MindManager

Presents Traffic Light effects to denote a particular activity, discussion, or session deadline

Generates overview to access the information at a glance for facilitative task management
Cons:
Users had trouble assigning due dates to the projects

Some Windows users complained about the massive display of ads
#4. Visio
Visio is Microsoft's product, enabling diagram creation, but secondarily used as a collaboration tool for organizational teamwork. As a dependable online collaboration solution, MS Visio allows you to discuss your creative ideas with your teammates, ensuring an incessant workflow.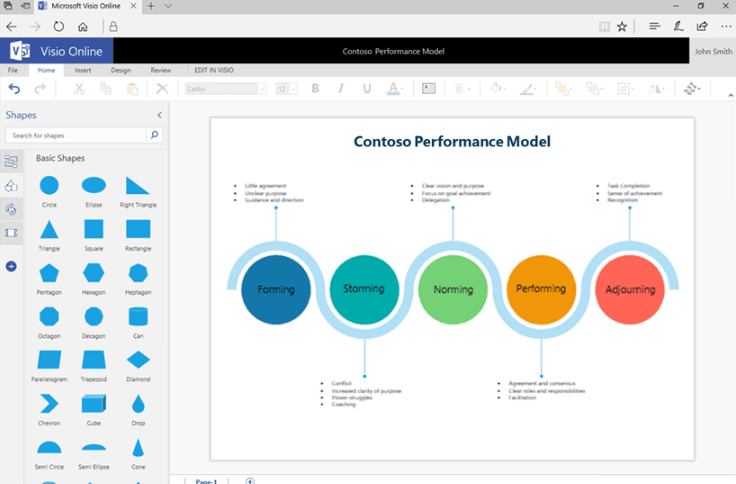 Visio Key Features
Link Sharing:Using Vision Web, you can share your project as a link instead of as a file to be accessed on android, tablets, and other devices.
Real-time Co-Authoring: Visio allows you to add, delete, read, and reply to comments & feedback during a meeting for more expressive communication and efficient team collaboration.
Enhanced Security: Visio boasts enhanced security features, such as Information Rights Management (IRM), to keep the data secure and private during users' collaboration.
Visio Pricing and Plan
| Subscription Name | Pricing |
| --- | --- |
| Visio Plan 1 | $5/Month per user |
| Visio Plan 2 | $15/Month per user |
| Visio Standard | $309.99 (One-time purchase) |
| Visio Professional | $579.99 (One-time purchase) |
Visio Pros and Cons
Pros:
Enables comments and feedback delivery for maximizing team communication and engagement

Provides integration with Microsoft Teams to upload files directly and allows others to view and modify them

Allows real-time calling, chatting, video calling, and meeting to approach your team members

Saves your projects and diagrams on OneDrive and syncs them continuously for recent updates
Cons:
Team collaboration features could be improved

Additional costs required along with a subscription plan to hire a tutor to instruct using the application
#5. GitMind
GitMind has been ranked one of the evolving team collaborative tools, assisting individuals and organizations to negotiate and participate in joint teamwork. Containing first-rate collaborative features and multiple app integrations, GitMind can help you manage your workload and take your organizational progress to the next level.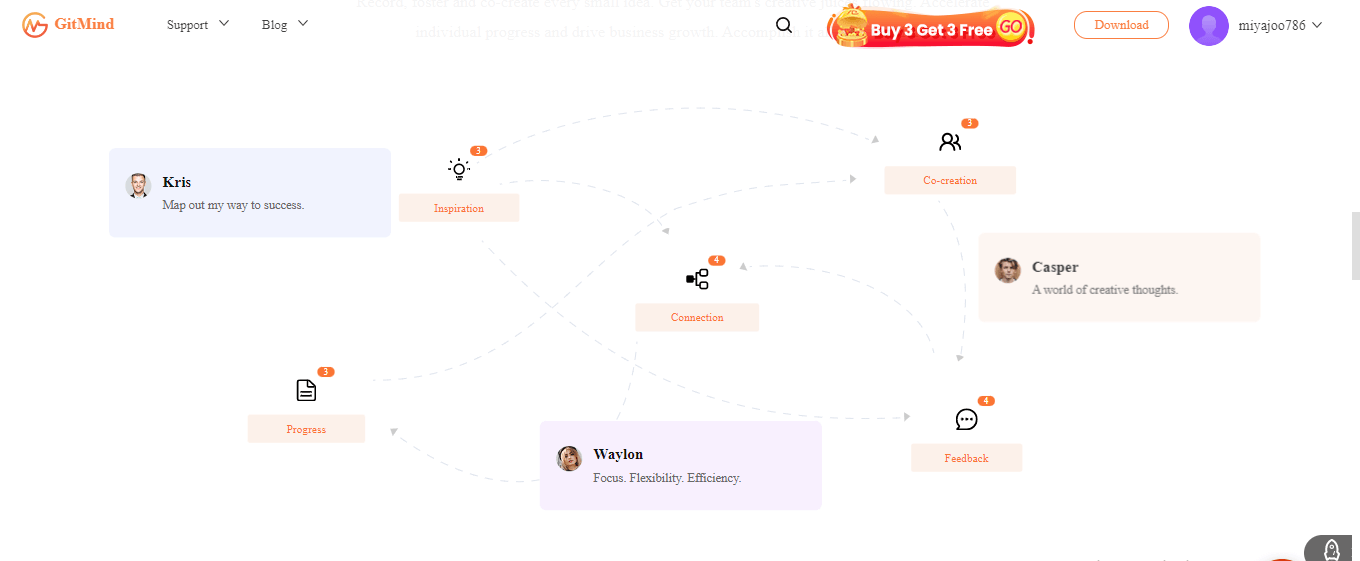 GitMind Key Features
Progress Inspection:GitMind delivers innovative layouts for demonstrating your task progress, such as scoring, rating, progress bars, colored indications, etc.
Adding Feedback and Comments: Viewers and participants can insert their feedback & comments about a particular project to exchange viewpoints on a specified activity.
Individual Contribution Viewing: GitMind enables viewing each member's involvement in a specific project by allocating different color strips.
GitMind Pricing and Plan
| Subscription Name | Pricing |
| --- | --- |
| Free | $0 |
| Quarterly Plan | $18/per user |
| Yearly Plan | $48/per user |
GitMind Pros and Cons
Pros:
Enables progress viewing to determine the project's completion rate

Provides discrete contribution tracking to monitor each member's performance

Allows feedback and comments to foster a productive work environment

Compatible with multiple devices to enable each type of user to participate in teamwork
Cons:
Limited integrations with external workspaces

The interface might slow down with an increased number of members
#6. Creately
Creately is a marvelous workspace to think, plan, share, and execute your shared knowledge for maximized outcomes. Providing visual features, customized workflows, personalized databases, collaborative whiteboards, and diverse app integrations, Creately is a professional platform to commence your organization's remote teamwork.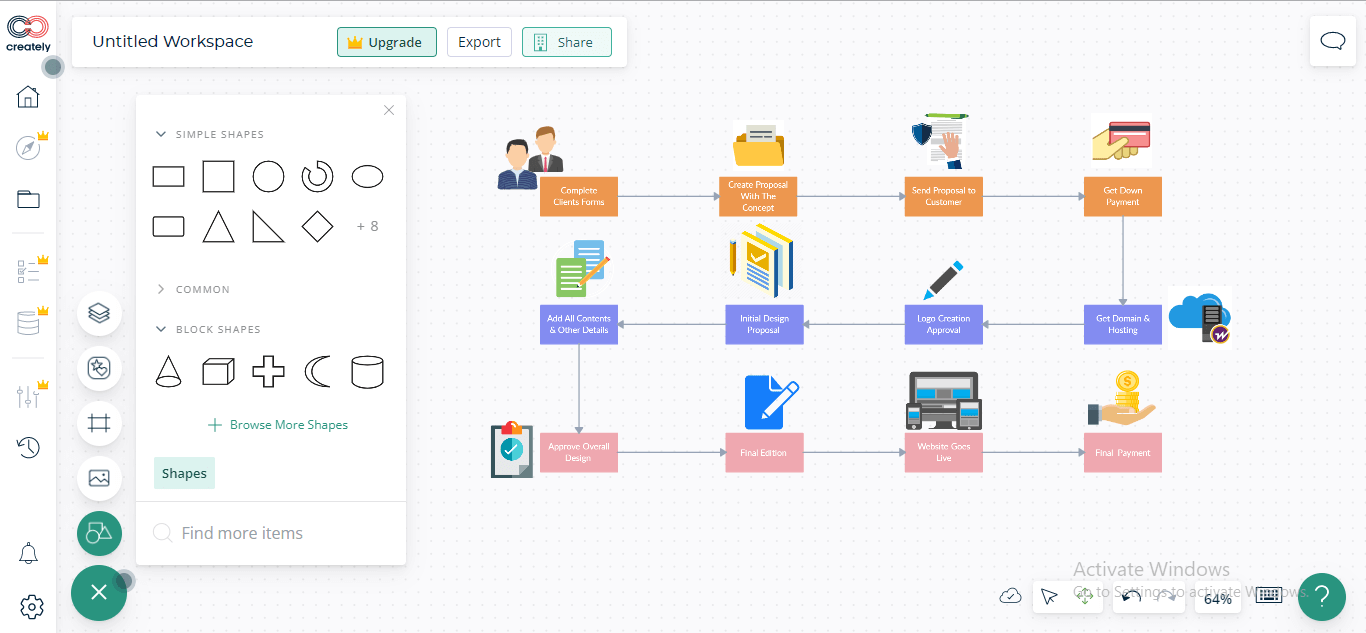 Creately Key Features
Kanban Boards: Creately provides Kanban boards in enticing styles to visually organize your project details for tracking your progress and better teamwork management.
Real-Time Cursors: Creately enables stylized real-time cursors to allow team members to collaborate on a shared two-dimensional canvas. Additionally, you can assign different roles to each team member for time and workload management.
Smart Notifications: You will stay updated about the latest project modifications and task modules via Smart Notifications.
Creately Pricing and Plan
| Subscription Name | Monthly | Annually |
| --- | --- | --- |
| Free | $0 | $0 |
| Starter | $8/Month per member | $5/Month per member |
| Business | $149/Month unlimited users | $89/Month unlimited users |
| Enterprise | Custom Quotes | Custom Quotes |
Creately Pros and Cons
Pros:
Allows messaging, video calling, and comments for a smooth workflow

Enables Kanban boards creation to identify individual performance

Provides Smart Notification feature to stay informed about recent project updates

A full-packed solution for educational, enterprise, business, & marketing departments because of its diversity and affordability
Cons:
The tool sometimes hangs when undo feature is used

Tutorials on product usage instructions are not provided
#7. Coggle
Coggle provides an exalted solution to portray your thoughts and disseminate them to your colleagues, ensuring a smooth work environment. Comprising smart algorithms for automatic change saving, Coggle spares your team efforts by automatically saving your recent file modifications.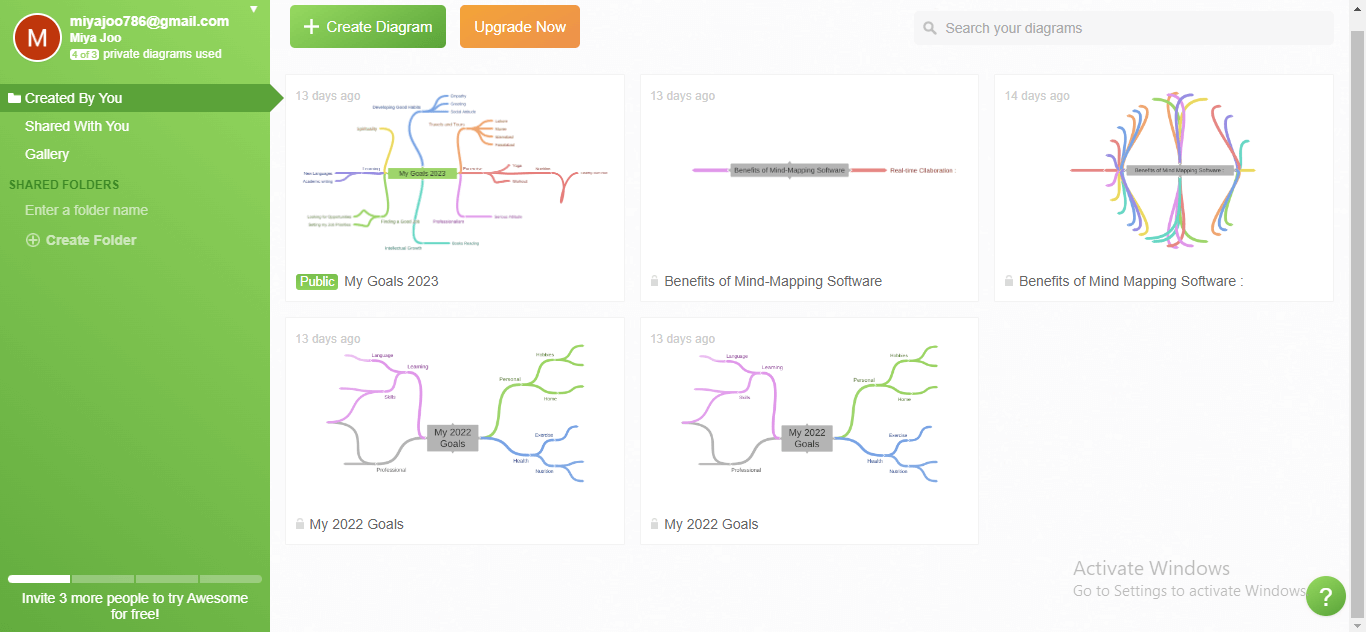 Coggle Key Features
Link Sharing: Coggle allows you to invite associates or outside users via a secret task link, expediting your teamwork and swift task accomplishment.
Private Diagrams: You can employ Private Diagrams to keep a particular project diagram private, blocking other users from accessing it. Even if you terminate your subscription plan, your diagrams will remain private.
Coggle Enterprise Plan: If you want to utilize Coggle for business, you can deploy its Enterprise plan, which includes active directory authentication, improved security options, site licenses, and enterprise-level customer support.
Coggle Pricing and Plan
| Subscription Name | Pricing |
| --- | --- |
| Free Forever | $0 |
| Awesome | $5/Month |
| Organization | $8/Month per user |
Coggle Pros and Cons
Pros:
Link sharing allows outside users to attend your team meetings and project discussions

No sign-up is needed to perform teamwork and join collaborative activities

Suitable for users belonging to any range, from individual to medium and large organizations

Allows responding through feedback and comments to develop a prolific discussion atmosphere
Cons:
Does not provide information about available integrations

Individual progress viewing is not available in the Free version
#8. Ayoa
Team members can now easily interact using Ayoa, a full-fledged collaboration software brimming with proficient remote team tasks features. Ayoa encourages a communicative environment where both in-person and exterior users can propagate and exchange ideas to enhance team productivity.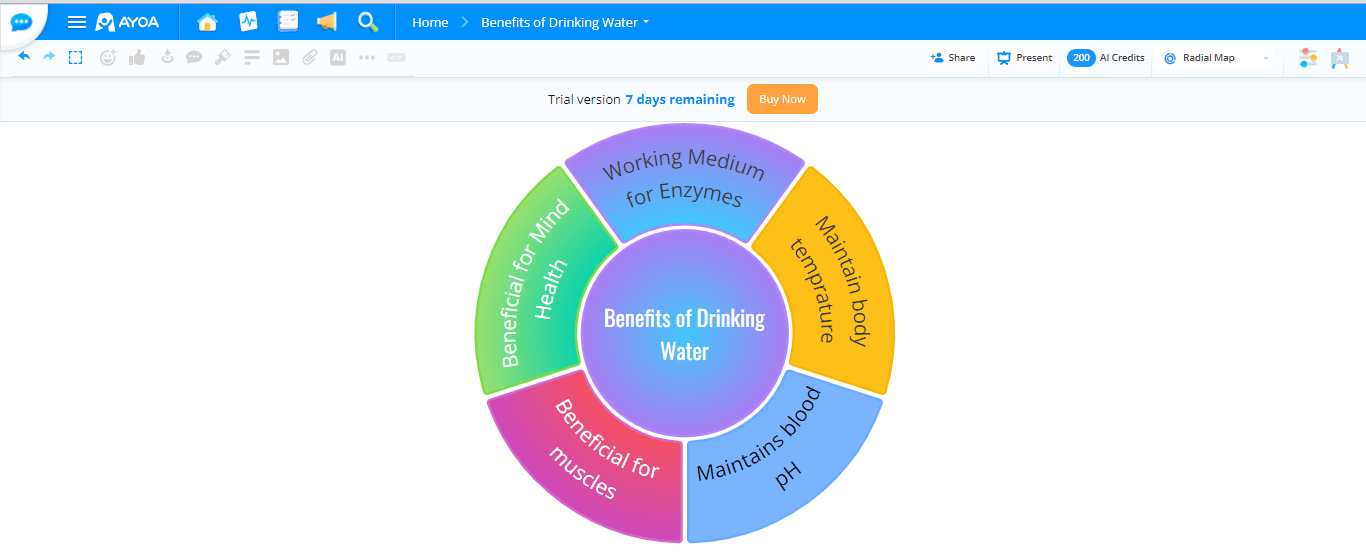 Ayoa Key Features
Messaging & Group Chats: Ayoa encourages and maximizes team collaboration by letting prompt replies through private inbox messages or group chats, saving you valuable time.
Feedback Sharing: You can deliver feedback or add comments on a particular project, alteration, or collaborative activity, taking your team communication to the next level.
Gantt Timelines: Ayoa enables you to create Gantt timelines to track a record of recent projects, their deadlines, recent modifications, and progress rate.
Ayoa Pricing and Plan
| Subscription Name | Pricing |
| --- | --- |
| Mind Map | $10/Month per user, billed annually |
| Task | $10/Month per user, billed annually |
| Ayoa Ultimate | $13/Month per user, billed annually |
Ayoa Pros and Cons
Pros:
Allows quick messaging for fast-paced group communication

Allows setting different parameters for task prioritization and streamlined workflow

Enables feedback & commenting for articulating members' perspectives on a definite activity

You can create Gantt timelines for task progress checking, developing project analytics, and so on
Cons:
Limited collaboration features compared to other competitors

Price increases with the rise in the number of team members
#9. MURAL
Mural is a stunning platform to inspire your team's innovation, thanks to its digital-driven intuitive whiteboard. Its unending collaborative features will not disappoint you, whether you require a simple collaboration tool for personal use or an established solution for your business organization.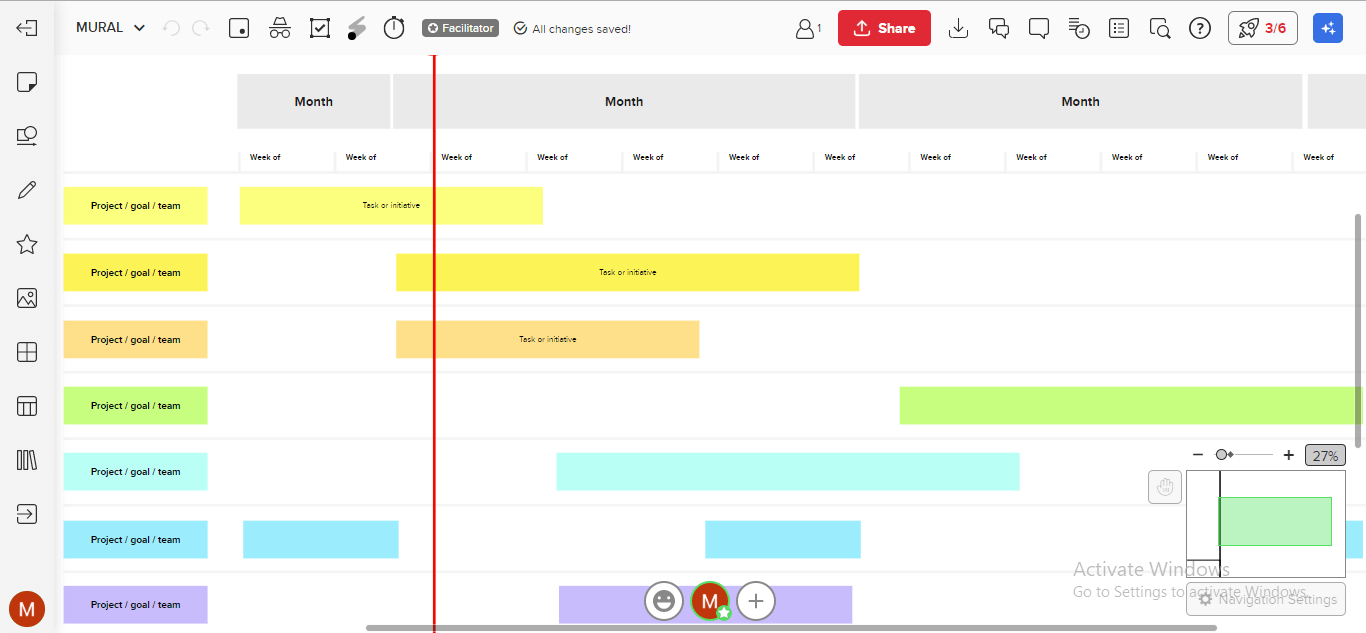 MURAL Key Features
Team Management: You can conduct productive meetings with your colleagues and control meeting activities by setting a timer, summoning participants, enabling private thinking, and more.
Super-Lock Mode: You can enable the Super-Lock mode to prevent the movement or dislocation of objects from the canvas during meetings.
Dynamic Integrations: MURAL allows you to connect to your existing workflows by integrating with external workspaces to make the collaboration process smooth and unbroken.
MURAL Pricing and Plan
Subscription Name
Pricing
Free
$0 for unlimited members
Team+
$9.99/Month per user, billed annually
$12/Month per user, billed monthly
Business
$17.99/Month per user, billed annually
Enterprise
Custom Quotes
MURAL Pros and Cons
Pros:
Enables you to control specific session timing for better time management

Integrates with Adobe, MS Teams, IBM, GitHub, Dropbox, Azure, Jira, One Drive, Unsplash, Zoom, Google Services, and others for fluent work experience

Allows group chats, calling, direct messages, and other communication methods during the team meeting

Assists in ideas expression by allowing members to vote, survey, poll, comment, and feedback
Cons:
Some users might experience lags during the meeting

The Free version contains limited Team features
3. How To Choose the Best Collaboration Tools for My Business?
Prioritizing your ideal collaborative tool for corporate needs can be a formidable task because of the overwhelming market choices available to each user spectrum. However, probing these factors can prove a yardstick to opt for your befitting collaboration tool.
Prefer Multiple Features
A consummate tool with expansive features is the requisite of a full-fledged business organization for a well-regulated work environment. Always ensure that the tool you're purchasing comprises all the necessitating features for efficient collaborative work activities. Additionally, notice whether the tool justifies its price-to-performance ratio; some features focus only on one aspect of team collaboration despite their hefty price.
Look For Ease of Use
The interface of your prospective collaboration tool must be intuitive, easy to use, and navigable for convenient interaction. Tools having less user-friendly interfaces are not usually adored by the audience and fail to make their mark among the audience. Additionally, slow-loading or ill-performing software should be avoided because they spoil your valuable time and abolish your members' interest in the topic.
Pay Attention to Privacy Options
Working remotely on a team project does not mean publicly revealing your collaboration files and group discussions. Ensure the provision of extensive security options while venturing to adopt a tool as an organizational teamwork platform. Additionally, confirm its privacy policies and check its security features in the features matrix before subscribing to any of its plans.
Opt For Cloud
A commendable collaboration software provides a cloud syncing feature for a streamlined group activity, allowing you to view recent modifications and edits. Cloud-driven syncing is instrumental, especially if any teammate misses the meeting; in such a situation, he can access the recently uploaded files on the Cloud shared during the meeting. The accessibility of the Cloud syncing feature is another parameter to measure a tool's effectiveness.
Ask For Integrations and Compatibility
Compatibility is inexorable since every team member may not have the same device for joining the digital meeting. Your selected tool must support the file formats your team members normally utilize for file sharing. Moreover, ensure that the platform you're switching to enables integration with multiple sources for seamless communication and fluent file import & export.
4. FAQs
Q. What is an online collaborative tool, and how is it beneficial for organizational task management?
A. Online collaborative tools refer to the tools which allow remote organizational members to connect, share, chat, send project emails, or deliver feedback worldwide. Switching to a technology-driven solution will not only boost efficiency but also elevate team members' interest.
Q. What factors to look for while purchasing an online collaboration tool?
A. You must consider various factors before buying any tool for your corporate, such as its price-to-performance ratio, ease of use, compatibility, integrations, and Cloud syncing. Don't get tricked by the hefty price of any tool.
Q. What if I purchased a tool and didn't like its services?
A. If you have subscribed to yearly plans of any tool, there's nothing to worry about because some tools offer a subscription cancellation option with a money-back guarantee. Additionally, you can consult their customer support for further assistance.
5. Conclusion
A proficient online collaboration tool is a key to successive teamwork, assisting you in strategizing your team negotiation, project meetings, workload management, and dynamic feedback to encourage a productive environment. However, exercise extra vigilance while choosing the ultimate institutional collaborative tool, simultaneously considering the multitude of factors.
EdrawMind Desktop
12 structures & 33 themes & 700+ cliparts
Support Win, Mac, Linux, Android, iOS
Advanced import & export options
On-premises software for business
Enterprise-level data security
EdrawMind Online
12 structures & 33 themes & 700+ cliparts
Access diagrams anywhere, anytime
Team management & Project management