GAP Analysis: Explained with Examples & Templates
Do You Want to Use GAP Analysis?
EdrawMind helps move ideas forward, faster and better. Learn from this GAP Analysis complete guide to know everything about GAP. Just try it free now!
1. What is Gap Analysis?
The GAP analysis template visualizes the difference between your business' reality and goals and makes it easy to show employees where there is still room for growth. It's a great way to visualize your data and show where your business is struggling and thriving. In the discussion of the gap analysis template below, we will discuss specifically how to use a gap analysis within a department; it can also be used for your entire company or individual processes. The four steps outlined in the template below will help ensure you understand exactly the problems you face and how to resolve them.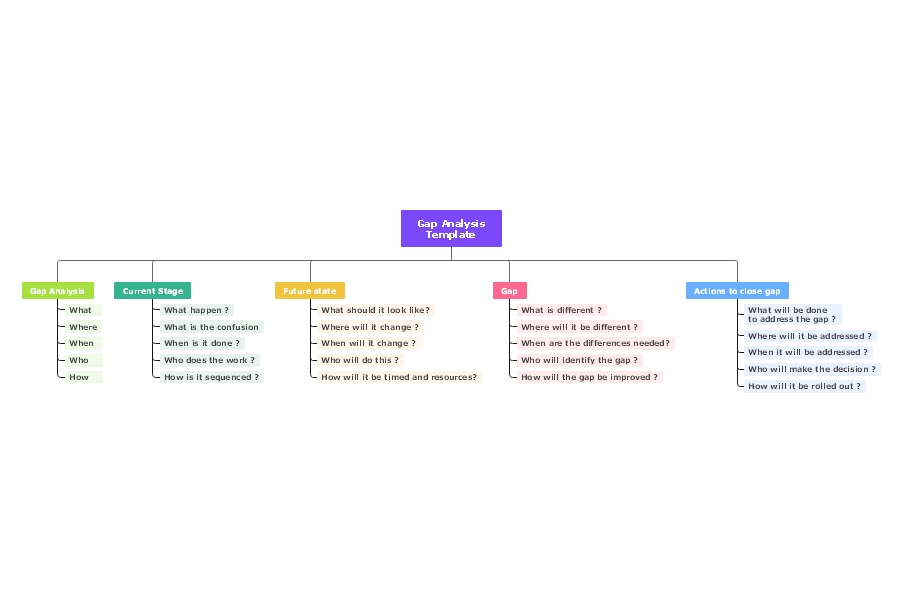 Click here to download EdrawMind
(For Win)
Click here to download EdrawMind
(For Mac)
Click here to download EdrawMind
(For Linux)
2. How to Do a Gap Analysis in 5 steps
Gap analysis is the process of evaluating the performance within a business function to determine if objectives are being met and, if not, develop a set of actions to close the identified gaps. Before doing it, you should be honest about your failure and your strengths, be realistic and specific, also you should Be sure to include a mixture of qualitative and quantitative measures for both your current and future states.
To determine it, you should:
1. Define Your Focus Areas:
A concise statement of the organization's focus (Financial growth, Innovation, Employee happiness, scientific achievement, community impact, customer excellence, development, and research, etc.)
2. Identify Your Desired Future State:
For example, my desired future state for Customer Excellence is: To achieve market-leading customer retention and referrals.
My desired future state for Community Impact is: Change the lives of people in your community in sustainable and meaningful ways.
Once you've identified a high-level desired future state for each focus area, it's time to move on to the next part of our analysis process.
3. Assess your current State:
For each of your focus areas, write a sentence that truly summarizes your current situation. Try to define your desired future state using language and constructs similar to the above.
Remember, for this part of the gap analysis, it is more important than ever to be 100% honest and realistic about your strengths and weaknesses. The best way is to do a SWOT analysis.
4. Apply Measures / KPIs To Your Gap Analysis:
Choose KPIs that you can measure, and decide how you measure when you choose KPIs.
Tips:
Only choose KPIs that you have benchmarked today so you can easily measure the gaps you need to close.
Try a mix of leading and lagging KPIs to provide a complete set of actions for each of your focus areas.
5. Create a Gap Analysis Action Plan:
It forces you to think deeper about the current state of your business.
Based on your thoughts, it gives you an action plan for your organization's future state.
The concrete plan and actionable steps put you under the sweet pressure of doing and acting.
A gap analysis template can help you measure your performance between time intervals. Therefore, you can see the tangible wins of your efforts. Or losses, which could teach you a lot in the next run.
A gap analysis framework can be built by multiple strategic thinkers in your organization. These exercises could bring different aspects together and help you create a cohesive strategic plan for your business.
Multiple strategic thinkers in your organization can create a gap analysis framework. These exercises can bring the different aspects together and help you develop a coherent strategic plan for your business.
3. Gap Analysis Templates
Individual Gap Analysis Template

Click here to download EdrawMind
(For Win)

Click here to download EdrawMind
(For Mac)

Click here to download EdrawMind
(For Linux)

Use EdrawMind's simple online diagram editor to edit this diagram, collaborate and communicate with your team and export the results to a variety of image formats. Customized gap analysis template to assess your ability and improve your performance by identifying gaps. Edit your information online as a template.

Product Gap Analysis Template

Click here to download EdrawMind
(For Win)

Click here to download EdrawMind
(For Mac)

Click here to download EdrawMind
(For Linux)

Product Gap Analysis is used to identify gaps that arise between a product's current state and what consumers want. With a product gap analysis, it is easier to find this gap and the best solution. Use it as a template and complete it with the data you have available.

Market Gap Analysis Template

Click here to download EdrawMind
(For Win)

Click here to download EdrawMind
(For Mac)

Click here to download EdrawMind
(For Linux)

A market gap analysis is a methodical approach to understanding your business position in the market based on supply and demand. It can help analyze and identify underperforming business areas and what can be done to improve them.
4. When to use Gap Analysis?
Gap analysis can help your team become better strategic planners. Use it to identify problems, adjust products or services, or change business processes to better align with goals.
Specifically, your organization can use a gap analysis to:
Compare company results to external standards such as industry standards
Analyze your products and services for new sales and marketing opportunities.
Forecast profit.
Identify opportunities for improvement in existing processes.
Find out why key performance indicators (KPIs) are not being met.
Understand the difference between the current and potential market size of a product or service.
5. Benefits of Gap Analysis
Here they are:
Plan Tactics. Specific action steps that map out how each strategy will be implemented.
Determine Key Performance Indicators (KPIs). Measures of performance that show the progress of each tactic in reaching the goals.
It helps to answer these questions


Where are we?
Where do we want to go?
How do we want to get there?

Gap analysis can help you measure performance between time intervals.So you can see tangible results of your efforts. Or losses can teach you a lot on the next run.
5- Establish strategic analysis, strategy formulation, and strategy implementation are the processes used to resolve gaps that resulted.
6. What's after Gap Analysis?
Hopefully, you've come up with some good ideas from your gap analysis - ideas around your performance gaps and how to address them. But anyone who has read our blog knows that ideas are worthless without implementation. Implementing these ideas is often more difficult than expected -- especially when they don't have a concrete way to measure and manage progress over time.
So don't stop after the ideation stage. A more complete gap analysis template should include some additional steps; think of them as the "down to earth" phase of the analysis exercise - the logistics of getting the job done. Here's what needs to happen after a gap analysis to turn those good ideas into action.
Step 1: Choose a framework to help organize your plan.
If a gap analysis reveals problem areas, the framework will help you map them. Frames summarize important parts of your plan and help you stay organized. (Many management teams simply fail because of disorganization!) They also make it easy for everyone to understand why you're doing what you're doing - activities that help achieve a specific goal - which is important for getting buy-in.
There are many strategic planning frameworks out there; we believe that the Balanced Scorecard is one of the best because of its unique approach. (Read more about this framework here.) But it's certainly not unique. Objectives and Key Results (OKRs), Porter's Five Forces, and many other methods are also valid options, and each model can be customized to fit the way your organization works.
Step 2: Develop your framework based on the goals, measures, and projects identified in the gap analysis.
Next, fill in the gaps in the framework with information, some of which you identified in your gap analysis:
Goals
In step 2 of the gap analysis, you identify what you want to achieve in terms of performance. These are your goals (also called goals).
Metrics
Metrics are indicators that show how well you are achieving these goals. You should choose one or two actions for each target.
Project
Sometimes called a "plan," a project is your plan of action to achieve your goals. Step 4 of the gap analysis template focuses on developing solutions to close the gap; these solutions can become projects you undertake. Most organizations implement a plan or two for each goal.
Step 3: Put your plan into action and track your progress.
Now is the time to start your plan and regularly assess how things are going. Make sure you've allocated enough resources to implement the plan - and communicate it to everyone in your organization.
As they say, the devil is in the details. Tracking your performance can be quite complex, so you need a way to manage your strategy execution process. Most companies use some form of performance management software, such as Clear Point, to monitor their progress toward goals. Performance management tools allow organizations to track various metrics related to strategic projects to sustain their activities over the long term.
7. Key Takeaways
Thanks to the gap analysis template, organizations will be able to identify any gaps in current processes that prevent the effective communication and monitoring of strategy.
Does gap analysis answer about if the strategic plan adequately covers all aspects of the organization?
If not, what areas are missing?
What processes are missing or are inadequately covered?
Can the defined metrics appear in the GAP Analysis?
Can the planned, actual, and forecasted progress of strategic initiatives be tracked individually?
The answers to these questions should be documented, and the organization should determine whether the gap is being caused by the systems being used, the methodology being adopted, or simply a failure to consider something important when the project was implemented.
Now, EdrawMind software offers a full-featured collaborative mind mapping and brainstorming tool.
With Edrawmind, you can create stunning presentations in no time. Just jot down your talking points in a mind map, add colors and images, and turn it all into a dynamic slideshow!
Turn visionary worries into visionary plans
You can use this software to create business strategy templates like balanced scorecards, SWOT, PESTLE analysis, and more!
EdrawMind Desktop/Mobile
12 structures & 33 themes & 700+ stylish cliparts
Support Win, Mac, Linux, Web, Android, iOS
Advanced import & export options
On-premises software for business
Enterprise-level data security
EdrawMind Online
12 structures & 33 themes & 700+ stylish cliparts
Access diagrams anywhere, anytime
Group & real-time collaboration
Personal Cloud and Dropbox Integration