How to Make a Mind Map in Visio?
It's assessed that 75 percent of students study better with visual cues. That abandons saying that it is frequently simpler to clarify confounded concepts with visual guides than text. That is the place where a mind map becomes possibly the most critical factor. During an introduction, you have that much an ideal opportunity to catch and keep up your crowd's consideration, and confounded thoughts can be challenging to clarify. mind maps help to envision data, which makes it simple to burn-through. In basic terms, mind maps are graphs that depict the connection between different thoughts.
If you've ever perused a reading material, you've most likely seen a mind map. mind maps are utilized to coordinate data outwardly, regularly to expand understudy understanding. Also, similarly, as concept maps help understudies process and see novel thoughts, they can help your collaborators do likewise. Use them at work in your Visio introductions to build intrigue and convey your idea about how to make a mind map in Visio.
How would you like to create your mind map?
How to Make a Mind Map in Visio
What is Visio?
Visio is a part of the Microsoft family used for drawing different types of diagrams for professional use. This diagramming software supports the creation of templates and symbols. Thus, allowing users to draw flowcharts, organizational charts, network diagrams, mind maps, floor plans, infographics, and other diagramming needs.
Five steps for making a mind map in Visio
Step 1: Launching the application:
Open the desktop version or the web version of Visio on your screen. If you do not have the software with you, install the same in your system. Remember, since the software is expensive, choose between Plan 1 or 2 per your requirement.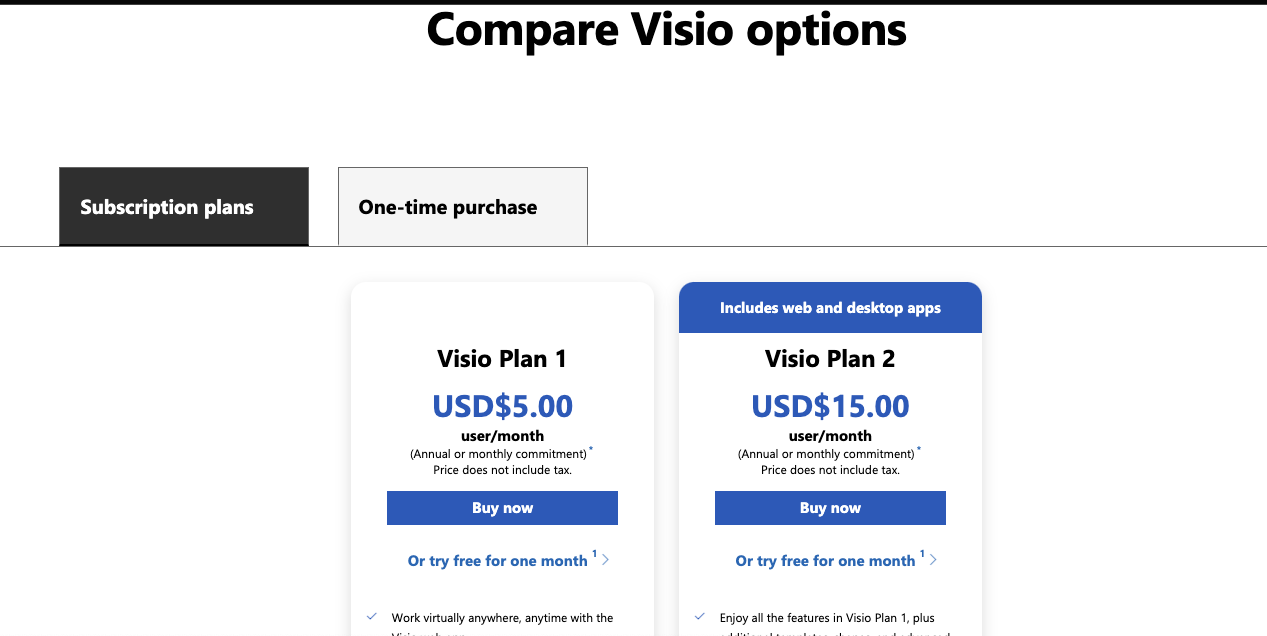 Step 2: Selecting the template:
Brainstorm diagram is the name used against a mind map in Visio. You can either select a template or draw the map from scratch. Visit the template gallery to choose the brainstorm diagram template, select the template and start making your mind map diagram in Visio.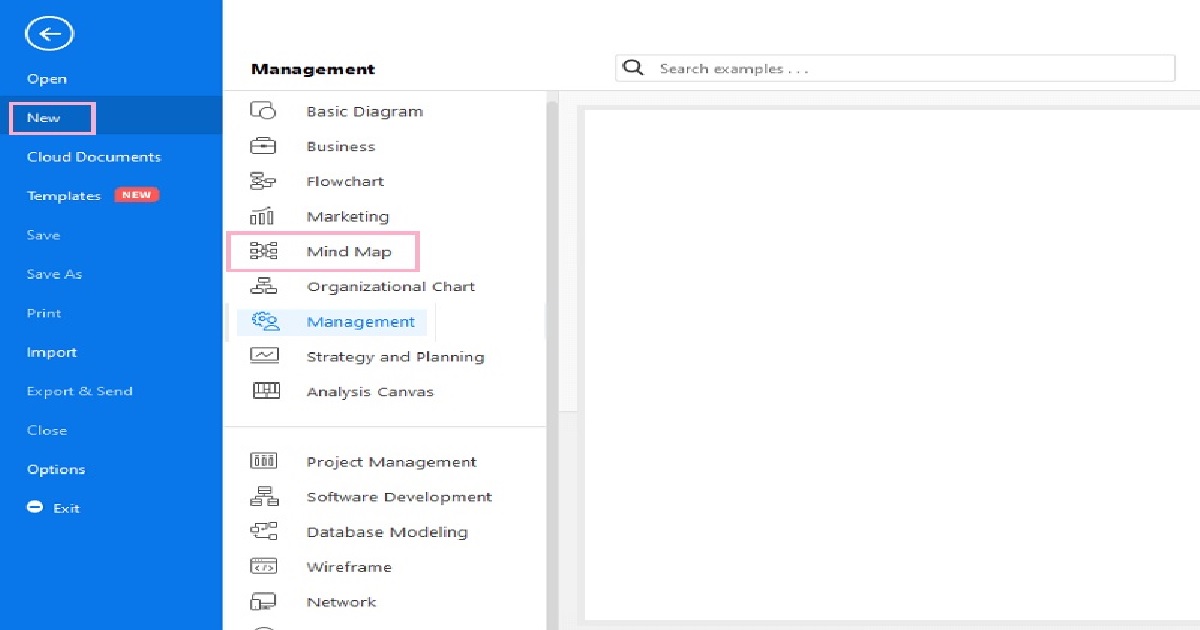 Step 3: Creating the mind map using shapes:
You can choose brainstorming shapes to draw the mind map diagram from scratch. Go to More Shapes> Business> Brainstorming. Click New and go to the sub-menu that appears.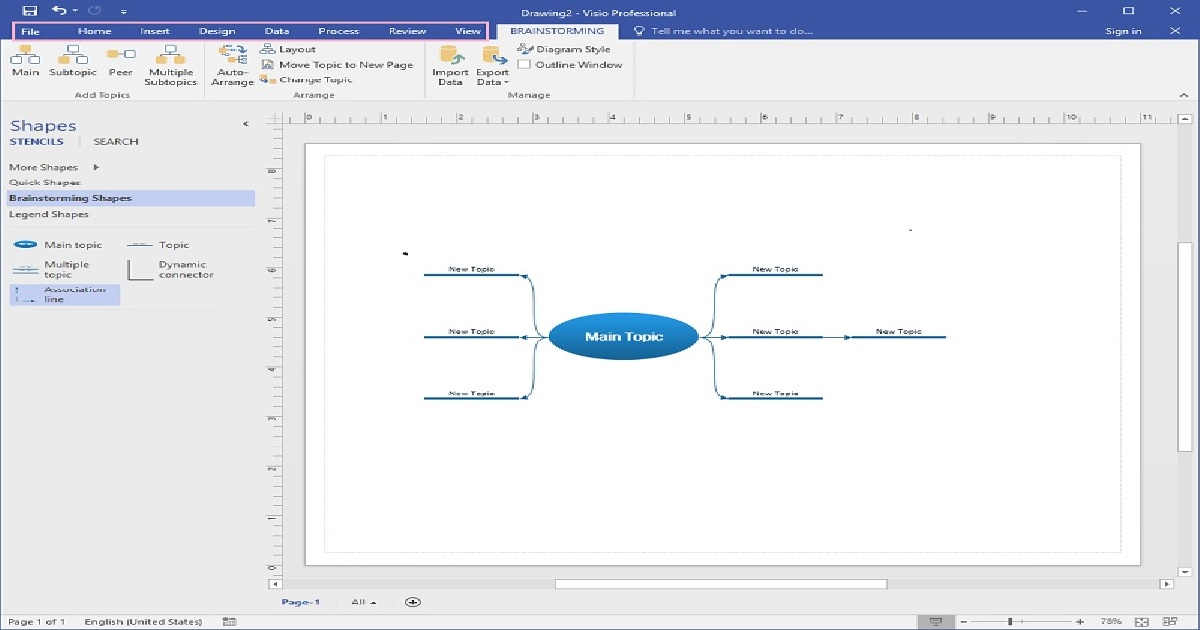 Click on the Brainstorming tab, go to More Shapes and click on Brainstorming Shapes. Here you will get various shapes. Create your desired mind map by selecting one of them.
Step 4: Customize the diagram:
Once you have decided the mode of your mind map drawing and got the diagram elements together, it is time for you to customize it according to the requirements. Go to the Brainstorming ribbon and use the different tools to format your mind map. You can also make quick changes to the map by using the short-cut menu.
Step 5: Save the diagram:
The saving process is like any other file on other Microsoft applications. After finishing the mind map drawing, save it for further usage.
How to make a mind map in Visio?
Launching the application.
Selecting the template.
Create the mind map using shapes.
Customize the diagram.
Save the diagram.
How to Make a Mind Map in EdrawMind
EdrawMind is an excellent tool to create different types of maps and diagrams. This visual tool can also be used to create brainstorming diagrams. Download the EdrawMind desktop app or use an online app to make a stunning mind map right now!
Step 1 - Open EdrawMind
EdrawMind supports different terminals, including Mobile (Android and iOS), Web and PC, so you can easily use this app on any device. Launch the software and select a blank page.
Step 2 - Draw the Concept Map
To draw a mind map on EdrawMind, you can use a template or use the basic topics and connectors. You can see the templates in the above screenshot that appear. It will help you save time as all you will need to do is customize the template. However, to make a mind map from scratch, use different diagrammatic tools such as Insert Topic, insert sub-topics, insert relations, etc. located on the top left of the editing interface. Use these tools to draft a concept map using shapes, floating lines, and text. We will use a template for this article.
Step 3 - Edit and Customize
Once you have drawn the mind map, make sure everything is laid out correctly. You can keep changing and formatting with the help of the Format Tab on the right side of the screen. Once all the revisions are done, customize your concept map by changing color, font, style, etc.
Once the concept map is complete, you can save your file by click on File > Save. Name your document, select the desired folder, and click on Save.
Free Mind Map Templates
Making mind maps in EdrawMind is a fun and easy task. With the help of the templates, you can create different mind maps quickly and easily. If you want to make different types of mind maps, then you can also use these free editable mind map templates by Edraw.
HR Roles Mind Map Template - Use this template to create your company HR roles mind map quickly!
Company Structure Mind Map Template - Use this mind map when you are planning your own company structure!
Cost Benefits Analysis Mind Map Template - Cost accountants can use this template to create cost-benefit analysis with the help of this template!
Negotiation Mind Map Template - Business individuals can use this mind map to create a detailed and interesting negotiation min map right away!
Key Takeaways
There was a time when students and businesses relied on MS Visio for diagramming. However, because of the diagramming board's intricacies, pricey licenses, and incompatibility with MacOS, corporations have turned to better Visio alternatives such as EdrawMind to produce complicated diagrams such as thought maps and concept maps. EdrawMind is regarded as one of the top mind map software in 2022 because to the numerous features it provides registered users. EdrawMind is an excellent Visio alternative for making mind maps, including template galleries, multiple structural patterns, and 700+ well-designed cliparts. Furthermore, EdrawMind allows you to view the mind map in a variety of modes, including Brainstorming, Outliner, Gantt charts, and Presentation. You can have real-time collaboration with your team using EdrawMind Online at the same time.
EdrawMind Apps
12 structures & 33 themes & 700+ cliparts
Support Win, Mac, Linux, Android, iOS
Advanced import & export options
On-premises software for business
Enterprise-level data security
EdrawMind Online
12 structures & 33 themes & 700+ cliparts
Access diagrams anywhere, anytime
Team management & Project management