How to Use Mind Maps for Studying Math
Let Mind Maps Help Your on Math Class
Even if you are new to mind maps, math is the term you would definitely be aware of. The two terms can be brought together to make your learning experience extremely simple and fun. That said, here you will learn what mind map is all about and how it can be helpful in studying math or any other subject for that matter.
Introduction
Mind mapping is a process where all the brainstorming, such as designing a business strategy, investigating an error, defining an approach to achieve a specified target, learning a complex concept or subject, etc. It is done via graphical illustrations, typically using a well-labeled diagram. A mind map comprises a box that represents the main topic of the plan or strategy. This box can then be further extended with the help of several small boxes that represent categories or parts, and also with even smaller boxes to denote subcategories, and so on.
It is easy to learn through the diagrams because they require less brainpower to memorize things as compared to the traditional method of preparing text documentations, notes, etc., and then reading and remembering them. Therefore, the mind map approach for brainstorming is now being adopted by many organizations and educational institutions.
How Mind Maps Help Study Math
As mentioned earlier, mind maps are pretty helpful in academics as well, and math is not any exception. With mind maps, math can be easy to understand. Below are a couple of ways mind maps can be useful in studying mathematics:
For Teaching and Lecturing
From the teachers' perspective, mind maps offer some flexibility and benefits while teaching math, and the course can a great fun. As it could be tedious to dictate notes to the students and wait for the weakest one to write what you have dictated, educating them about mind maps and its benefits once helps the scholars take down the notes comparatively faster. As a result, the pace of your training and their learning could be remarkably increased.
If you wish to learn more about teaching mind maps and wish to access some mind map templates for teachers, please check out our elaborated guide on mind map ideas for teachers.
For Learning and Preparations
• Preparing Notes
While studying, it could be a bit challenging to listen to the lecturer and jot down the notes word-by-word. Not because doing so is complicated, but because it consumes more time. An easier approach could be to use lines and rectangles and label them accordingly instead. These shapes can be drawn quickly using any efficient mind mapping solution like EdrawMind, and labeling them with the proper names would be less tedious.
• Planning Learning Path
Mathematics can be overwhelming at times due to all the alien names and equations the syllabus is populated with. Therefore, sometimes it could be daunting to decide which chapter to study first and how to study it. With mind maps, you can draw a diagrammatic timetable for yourself that would contain a sequential list of the lessons you should learn and practice.
• Exam Preparations
This is somehow the result of a proactive approach that helps you during your exam time. If you have used mind maps to prepare notes while studying math, revising the lessons and chapters at the time examinations would be extremely easy and fun. This is something you won't enjoy if you have followed the text notes approach during the class lectures.
• Being Creative
Although math equations can be solved using some particular formulas and principles, the way of writing notes still varies from students to students. Similar is the case with mind maps. The approach you take to create your mind map may differ from that drawn by your class fellow. This makes you more creative and helps you diagnose the problems thoroughly. This further enables you to solve the questions quickly and easily.
• Solving the Questions
Solving a math question requires several steps, and a complex problem could be solved in multiple phases where, in some cases, each phase needs you to apply a different formula. Since the entire process could be quite confusing, mind maps prove to be a savior in a way that you can draw a diagram illustrating the number of phases involved in the solution, and what formula or logic should be applied in which phase to get to the final result.
If you wish to learn more about student mind maps and wish to access some mind map templates for students, check out our elaborated guide on mind map ideas for students, where you will find several EdrawMind-created mind maps for students.
For Mockups and Presentations
Many institutions practice the concept of mockups and presentations where a student is supposed to act as a trainer and deliver lectures to their students. With mind maps, math lectures can be convenient to transport the information, easy to explain, and fun to participate in. This approach is way more engaging as compared to the traditional, old-school methods that have been followed till date.
To summarize, with mind maps, math training and learning could be great fun, easy to understand, and hard to forget. While the traditional approaches are useful and help the students gain knowledge, mind maps are less time consuming and make the entire topic pretty entertaining, regardless of all the complexities that it may have.
If you are wondering how to use mind maps for presentations, check out our elaborated guide on mind map templates for presentation, where you will get access to several previously created mind map templates.
How Mind Maps Help Study Math
Now that you have seen the importance of creating a math mind map let us show you the easiest way to create a mind map on your computer. In order to do this, you will need to download and install EdrawMind as per the operating system. If you plan to have a remote collaboration with your team, head to EdrawMind Online and login into the system using your registered email address. Once you have launched this mind mapping tool, you can start working on your math mind map.
Step 1: Add Main Topic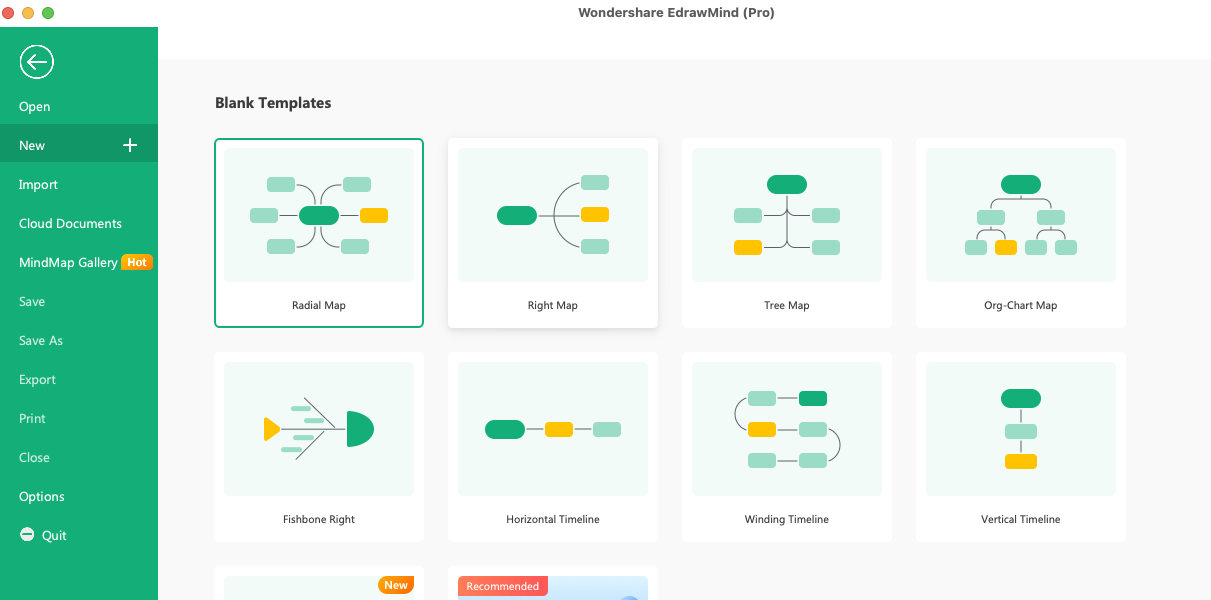 The first step here after launching EdrawMind is to decide whether you are going ahead with pre-built templates or creating a unique math mind map. If you are planning to create one from scratch, head to the 'New' option on the left that takes you right into the canvas board. By default, EdrawMind comes with a mind map layout that has one main topic and three subtopics. As per your math mind map requirement, you can modify the content of the main topic and move on to the subsequent subtopics.
Step 2: Add Branches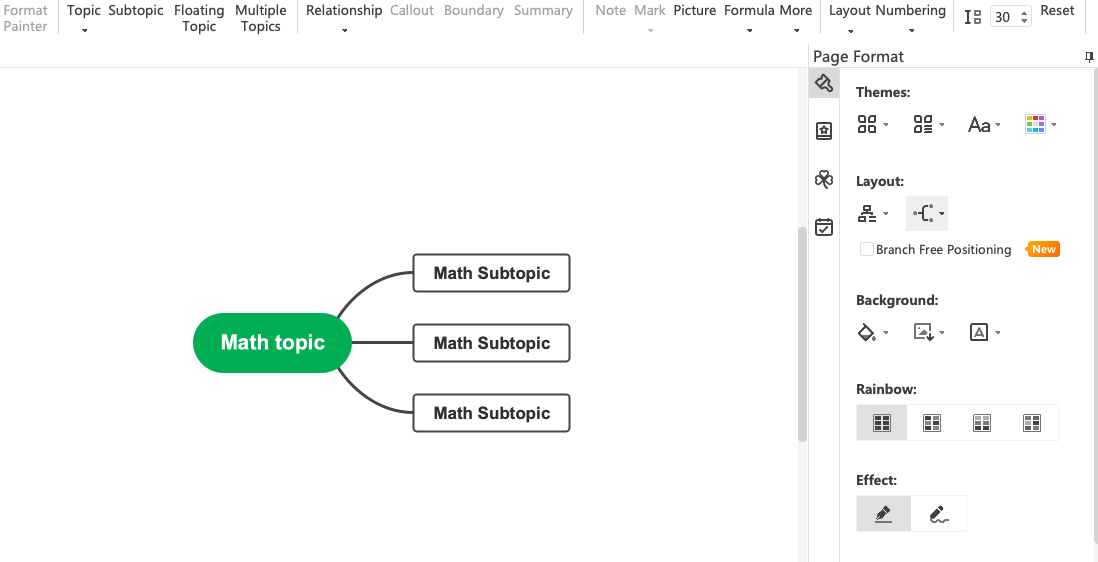 Once you have renamed or modified the central theme, you can go ahead and start adding multiple sub-branches to it. In EdrawMind, you can add multiple sub-branches depending upon the complexities of your main topic. You can have hundreds of different branches of any given subtopic. With EdrawMind, you can even go ahead and create connections between different branches if you find them relevant.
Step 3: Customize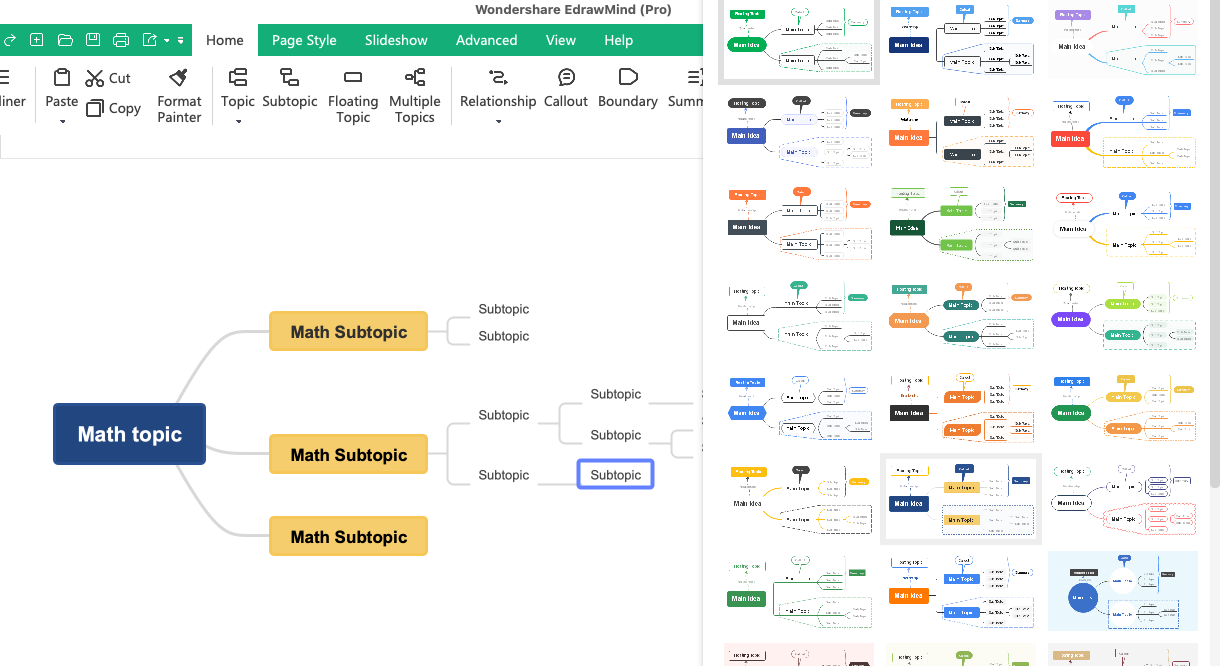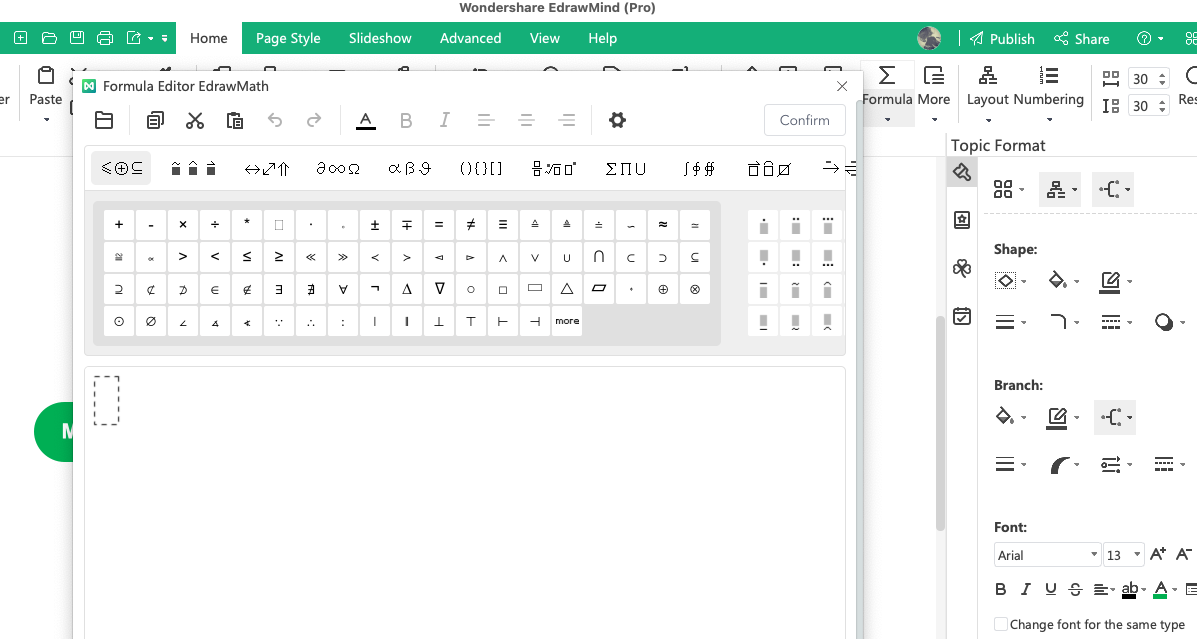 With EdrawMind, you can easily customize your mind maps. From changing the layouts to updating the theme, connector's style, colors, and more. At EdrawMind, you will also find a feature dedicated to mathematical formulas, which ensures that your math mind map is technically correct.
Step 4: Export & Share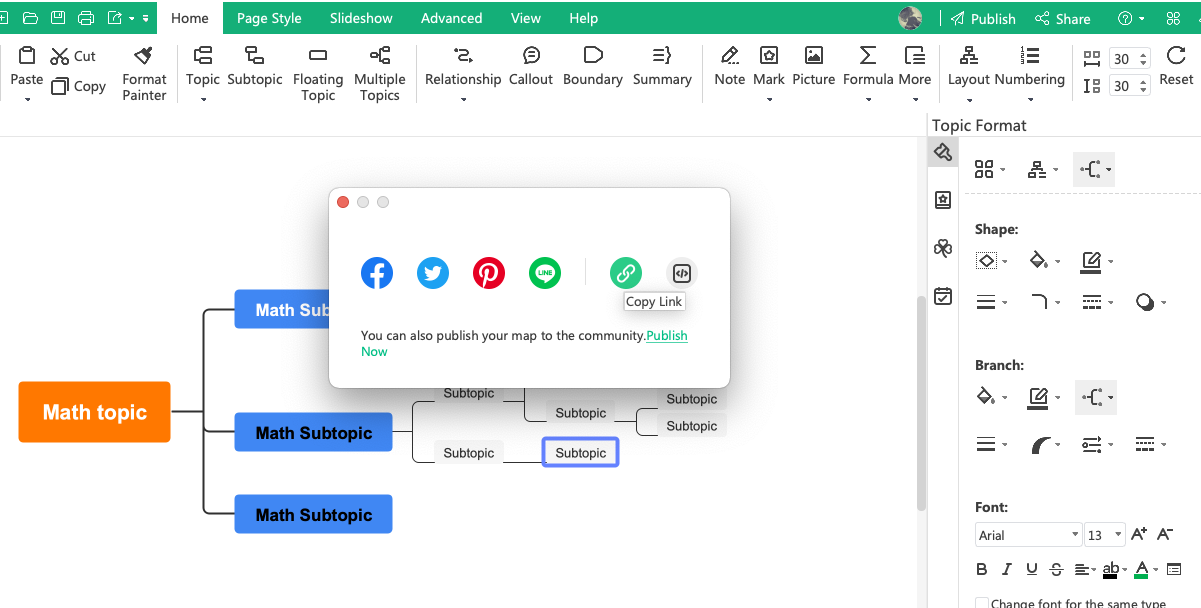 Once you are satisfied with your math mind map, you can share it among your peers or teachers using the in-built share option. EdrawMind lets you export the math mind map in multiple formats, like JPEG, PNG, SVG, PDF, HTML, and other Microsoft formats, like Word, Excel, and PowerPoint. In addition, you can share your math mind map on several social media platforms, like Facebook, Twitter, Pinterest, and Line.
Key Takeaways
Often students have a hard time grasping the concepts of math, including the theorems and formulas. However, with math mind maps, math training and learning could not only be fun but ensures that the student is gaining the correct knowledge. Since mind mapping takes less time to make, a teacher can use this learning methodology to explore different math-related topics. These examples show that you can also create wonderful math mind maps using EdrawMind.
EdrawMind is a mind mapping tool designed to help students and teachers. With EdrawMind, you can create education-related mind maps using amazing templates that are fully customizable. The tool has 22 structures that help create a timeline, org chart, lists, and more. With over 33 well-designed themes, you can easily modify your math mind map that you can later share on social media platforms like Facebook, Pinterest, Twitter, and Line. In addition, EdrawMind comes with templates ranging from business, life, personal, education, health, and more. So, you do not have to worry about creating any mind map from scratch. Download EdrawMind today and start creating math mind maps as per your requirements. If you are a teacher, who is conducting home tuitions, check out EdrawMind Online, from where you can remotely collaborate with your students with whom you can work on several mind maps.