Top 6 Free Online Mind Map Software in 2023
This detailed article covers a few best free mind map software efficient enough to create free online mind maps.
Create Mind Maps Today!
EdrawMind is a mind mapping tool equipped with 700+ cliparts. Check out EdrawMind's complete guide to understand ways to live a healthy life. Try EdrawMind Online and create hundreds of mind maps today!
A smart move to choose the best mind-mapping software is crucial to ensure the optimum mapping solutions.
Graphically mapping and visualizing ideas has always been challenging. Still, a few high-end mind-mapping software has made it possible to map and share your thinking in a digitally collaborative environment. Hence, generating free online mind maps is crucial if you've chosen the right product.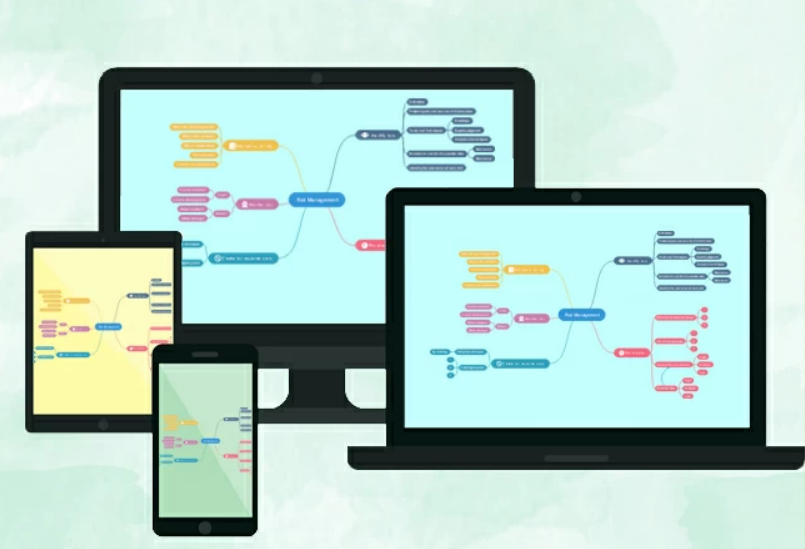 Part 1: Benefits of Using Free Online Mind Map Software
Online Mind Mapping Tools have revolutionized how to turn imaginative ideas and complex concepts into visual graphics. Moreover, you can also reap various benefits by using appropriate mind-mapping software. Such as:
Better collaboration & sound teamwork
Mind mapping software is quite a resource-saving way to collaborate with other users. A collaborative environment ensures effective teamwork by facilitating the team members with visual communication and oral presentation options.
Increased Productivity
Productivity is highly interlinked with the flow of ideas and how you organize your thoughts in a structured framework. Free Online mind map tools are a great way to increase productivity levels by providing various features.
Visual connections & hierarchy
Connecting thoughts & ideas to organize the mind map more efficiently seems crucial. Therefore, mind mapping software allows you to develop connections and hierarchy graphically on all scales.
Effective problem solving
The brainstorming ideas often get mingled and need to be portrayed straightforwardly. Given this, mind-mapping tools aid in solving the complexity of such cases.
Improves learning & creativity
A proper mind map tool increases learning capability by making it easier to perceive shared ideas visually. You can generate more creative ideas in already created mind maps.
Greater understanding
You can elevate your understanding of complex concepts by opting for online mind map software that makes things easier-to-pick by advanced options to represent the thoughts visually.
Part 2: Comparison Chart of Free Online Mind Map Software
An informed decision predominantly depends on a clear insight into the perks and shortcomings of all comparative tools. We have conducted a sharp comparison of each tool with the others based on different parameters.
| | | | | | |
| --- | --- | --- | --- | --- | --- |
| Name | EdrawMind Online | EdrawMeister | Ayoa | GitMind | Coggle |
| Real-time Collaborative Editing | | | | | |
| Team Management | | | | | |
| Cloud Storage | | | | | |
| Rich Text Format | | | | | |
| Outline Mode | | | | | |
| Abundant and Diverse Resources | | | | | |
| Mind Mapping Community | | | | | |
| History Version | | | | | |
Part 3: Top 6 Free Online Mind Map Software
When choosing an effective online mind map software, the choices are countless. Various free online mind map makers are presenting users with endless creativity options. In this connection, we have unveiled the top 6 online mind map software that can be relied on.
#1. EdrawMind Online
EdrawMind Online is an exquisite solution for organizing your brainstormed thoughts and ideas, facilitating the mind-mapping process. With an extensive library of appealing themes, stylizing maps, and vibrant colors, EdrawMind Online allows you to create an impressive presentation or a mind map with a few clicks.
Additionally, you can expand and diversify your workspace circle by sharing your mind maps or files with your teammates, resulting in an entirely controlled private collaborative network.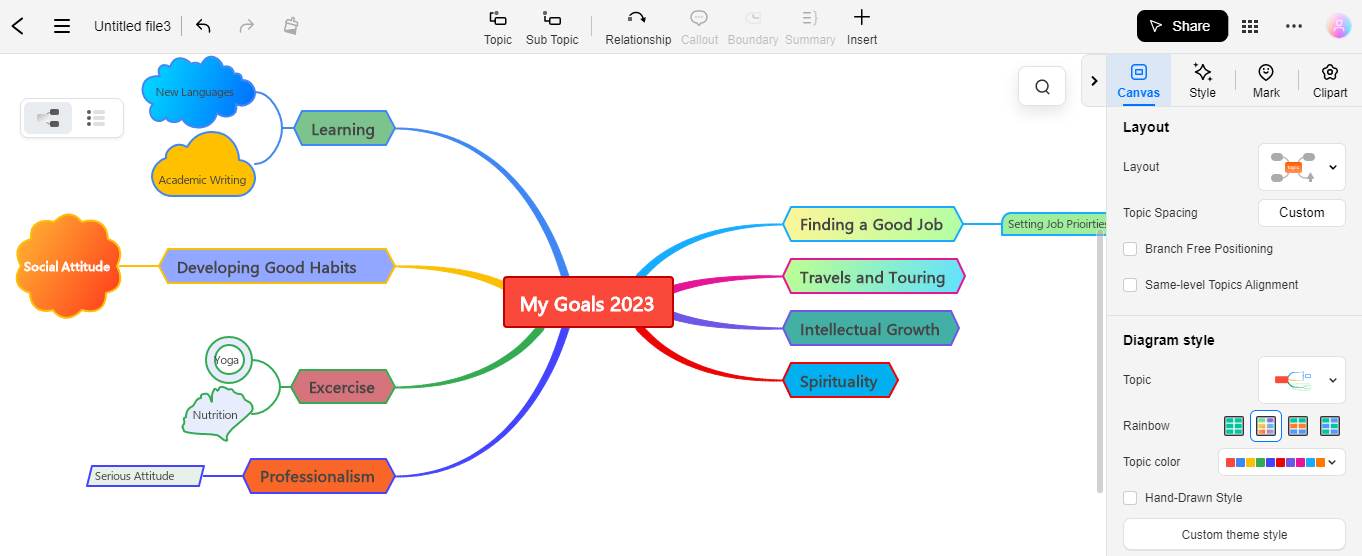 Click to download
EdrawMind
If you don't ready to download EdrawMind yet, you could try
EdrawMind Online
free from
below.
Click to download
EdrawMind
If you don't ready to download EdrawMind yet, you could try
EdrawMind Online
free from
below.
Click to download
EdrawMind
If you don't ready to download EdrawMind yet, you could try
EdrawMind Online
free from
below.
EdrawMind Online Key Features
Real-time Collaboration: EdrawMind Online enables more than 100 team members to edit and customize mind maps online synchronously, improving efficiency.
High-quality Template Gallery: EdrawMind Online offers over 5000 mind-mapping templates to initiate the work on your project. Multiple categories are available for specifying which type of mind map you need to create.
Share with QR-Code: You can share your mind maps with friends by sharing QR codes. You can also check the editing process on your phone.
Team Management: EdrawMind Online allows you to create your team group to facilitate easy sharing, managing, and editing of team files to boost productivity.
Switch to Outline: You can readily switch your mind map to outline perspective with just one click. Outline Mode makes customization easy if you get perplexed with complex mind maps.
Variety of Themes and Structures: EdrawMind Online possesses about 19 layouts, 33 themes, and 700+ original clip art to customize the fills, lines, shapes, and branch colors according to your requirements to contrive your style.
Observer Mode: Using Observer Mode, you can check the operations of others by clicking on the avatars of other collaborators.
Easy Import & Export: EdrawMind Online lets you easily import documents externally as a template to form a mind map. Additionally, you can export your mindmap in whatever available format you like.
How To Use EdrawMind Online?
Using EdrawMind Online is pretty convenient and straightforward, taking your mind-mapping experience to the next level. Follow the below-given steps to use EdrawMind Online for mind mapping.
Step 1: Setting up EdrawMind Online for mind-mapping requires you to sign up for a Wondershare EdrawMind Online account.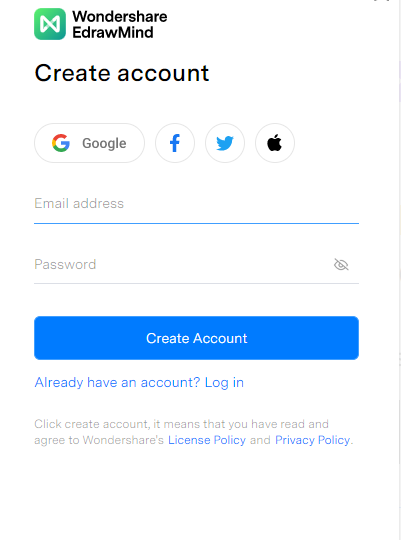 Step 2: After account creation, Login to your EdrawMind Online account using your email and password.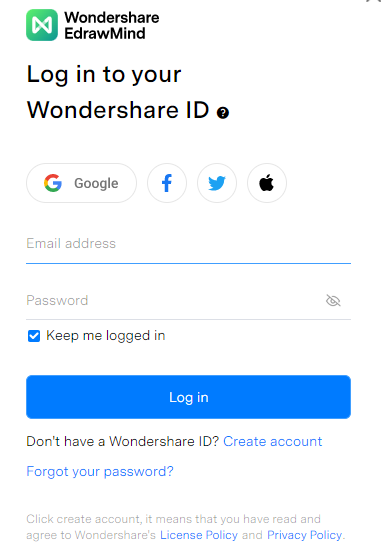 Note: You can also install EdrawMind Software offline on your PC or smartphone. It is available for Mac, Linux, Web, Android, and iOS.
Step 3: Launch the EdrawMind Online and click on the + New MindMap tab to create a new project.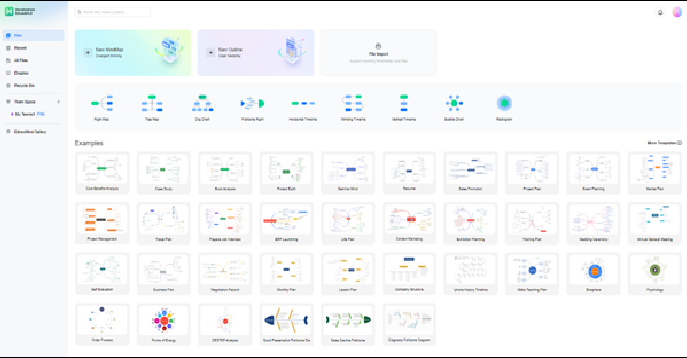 Step 4: Utilize EdrawMind Online to customize your mind app and make the most out of it for efficient artwork.
Step 5: After establishing a consummate mindmap, export your project. To export your mindmap, click on the three-dotted icon at the top right corner.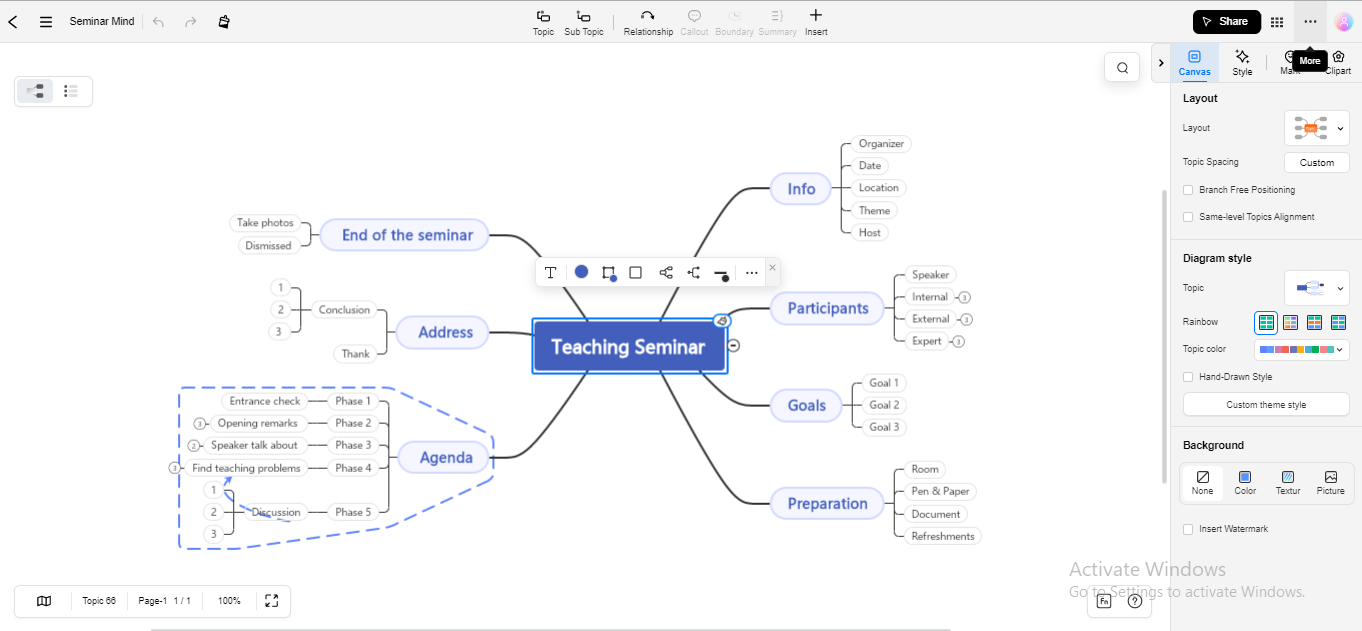 Step 6: Now, choose the Export option from the dropdown menu.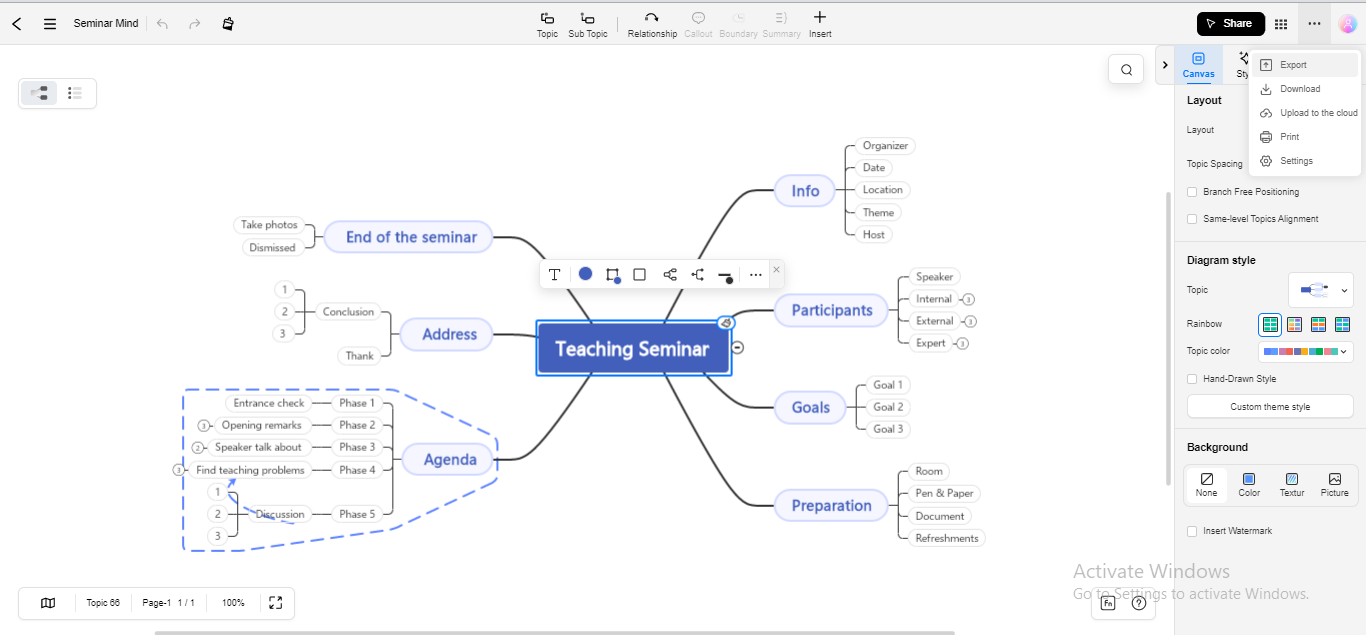 Step 7: Select the desired export format for your project file and click the Export button at the bottom.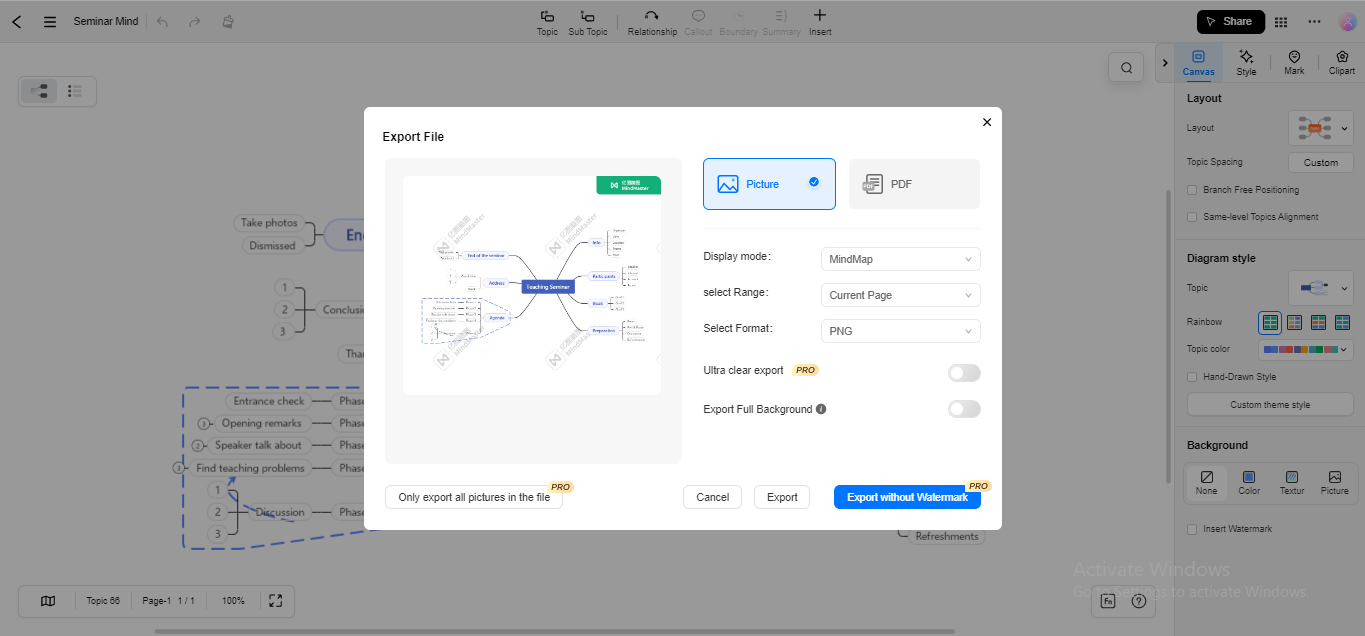 Pros
Real-time collaboration with a response time of 0.02 seconds or less

Team Management allows users to easily share, manage and edit team files to increase productivity

Rich customization style: 28 kinds of theme shapes, 50+ kinds of fonts, 23 kinds of dotted line types, support for rich text and other customization features

Abundant resources: 33 theme styles, multiple color schemes, various Mark icons, access to Pexels image resource

Outline mode offers a new angle with linear layouts. You can create from scratch or switch from a mind map with one click

Add online forums on nodes to make data management clearer

Supports editing Latex equations online, and provide a shortcut panel to change the formula color at will

Support to add branch numbers in one click and enable you to customize the number styles

Click on the avatars of other collaborators to enter the observer mode, and you observe the operation from their perspectives
Cons
Supports only PDF and PNG, SVG format export. If you need another format export, you can download EdrawMind.

Temporarily does not support inserting videos, attachments, or comments until February 2023.
EdrawMind Desktop
12 structures & 33 themes & 700+ cliparts
Support Win, Mac, Linux, Android, iOS
Advanced import & export options
On-premises software for business
Enterprise-level data security
EdrawMind Online
12 structures & 33 themes & 700+ cliparts
Access diagrams anywhere, anytime
Team management & Project management
#2. Boardmix
Boardmix leads the way as a digital collaborative whiteboard, equipped with a wide array of purpose-built tools for efficient project management and communication. Its focus is on maximizing productivity by enabling teams to accomplish more in less time.
Utilizing a diverse range of technologies, Boardmix facilitates seamless collaboration, allowing teams to come together and exchange ideas intuitively. It seamlessly integrates various tools like flowcharts, mind maps, Venn diagrams, SWOT analyses, timelines, weekly plans, reverse brainstorming, and more, providing the necessary resources for real-time idea presentation and collaboration.
Boardmix provides users with essential tools such as pens, notes, erasers, shapes, frames, and others, simplifying the graphical organization of ideas. This feature enhances creativity, fosters effective communication, and enables the sharing of knowledge with clients or team members worldwide, establishing a strong sense of rapport.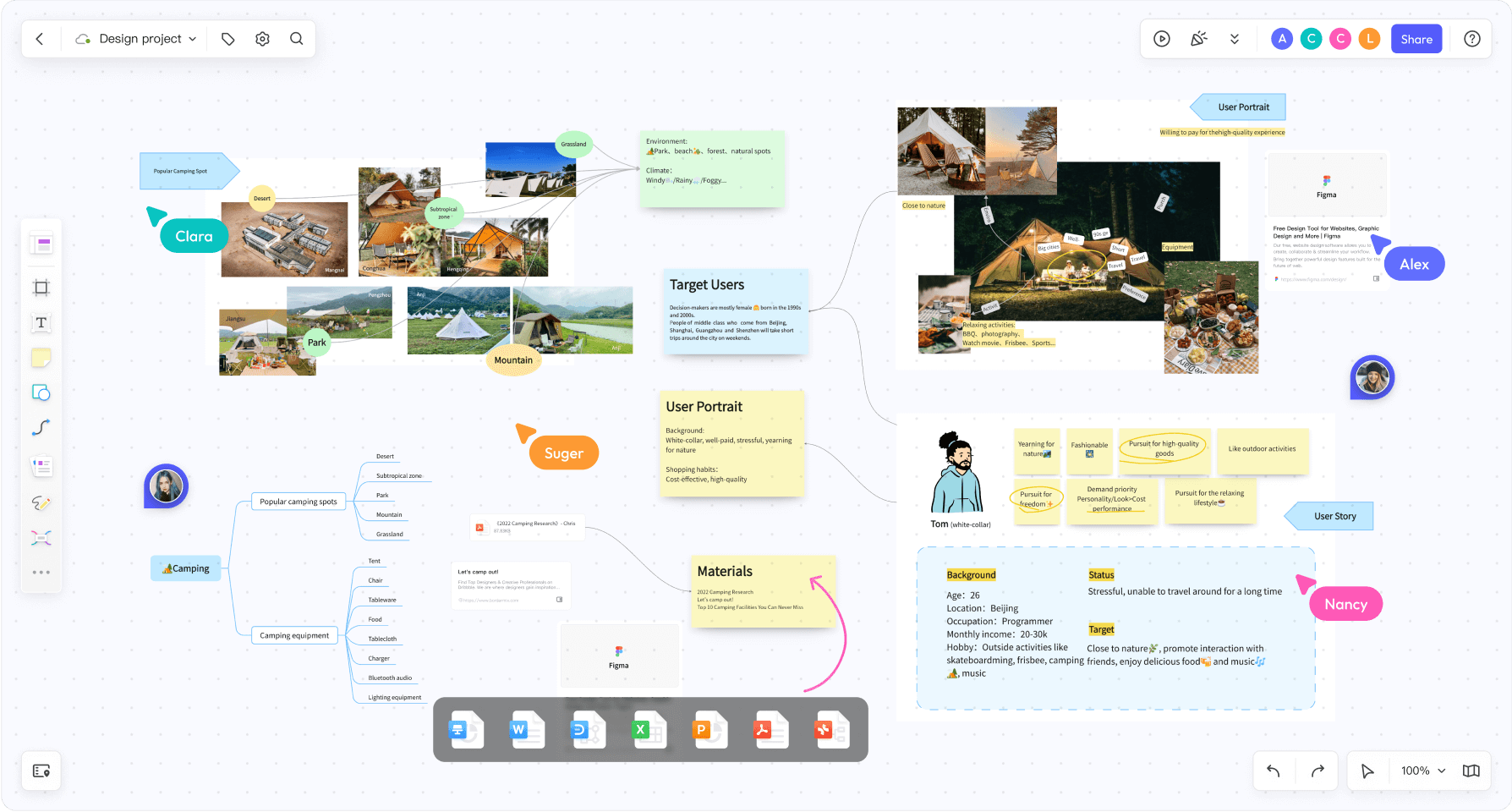 Unlocking a new level of interaction in your sessions, Boardmix offers a complimentary plan that grants access to the majority of its features without any financial commitment. Simply sign up with your email, and you can dive straight into the Boardmix experience.
Pros
Intuitive and user-friendly interface suitable for beginners.

Highly customizable to suit individual preferences.

Valuable free plan with a range of features.

Excellent collaborative features for effective teamwork.
Cons
Excellent collaborative features for effective teamwork.
#3. MindMeister
MindMeister inspires innovation in your mind maps, transfiguring your thoughts from cluttered entities to meaningful and expressive ones. Whether it's real-time collaboration or mindmap sharing, theme customization, or export format choices, MindMeister is unrivaled and always comes at the top.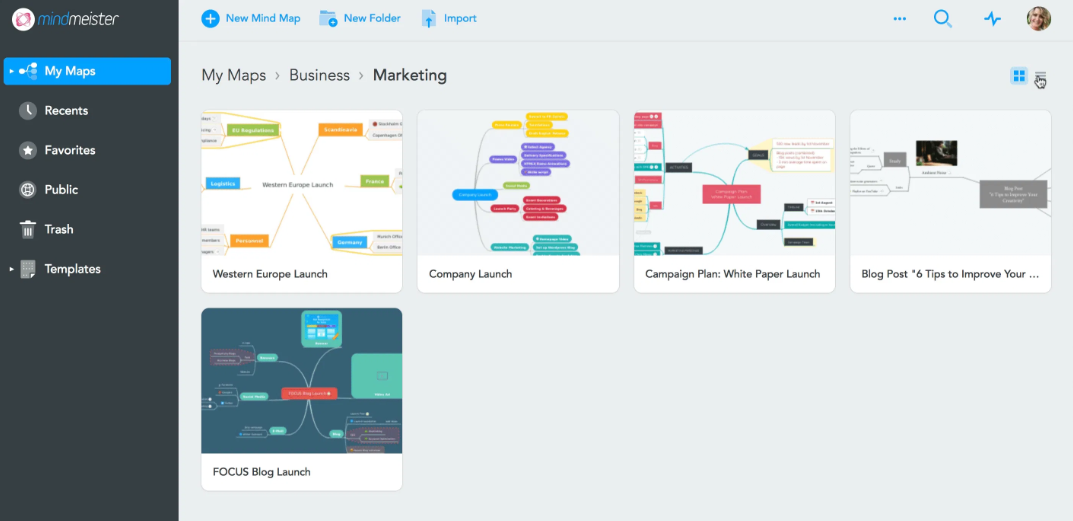 MindMeister Key Features
Mixed Maps Layouts: You can display content in variant layouts within a single branch to exhibit diversity. Additionally, MindMeister enables you to customize the colors, themes, and other artworks on the same canvas.
Countless Styling Options: Styling options are diverse, ranging from individual topics to line styling. You can also personalize connectors, loops, and branches to intensify the visual appeal.
Linking Attachments: This feature is unique to MindMeister, enabling you to attach files with your map for more convenience. Attachment linking will save the time consumed in searching out the required files.
Focus Mode: Focus Mode allows you to view every single detail of the mindmap by hovering to remain focused on the organization of your ideas.
Version History Records: MindMeister automatically saves the previous version of your mindmap for future access. You can access, copy, or restore the preceding version of your project.
How To Use MindMeister?
Step 1: Visit MindMeister's official site and Sign up to create a MindMeister account.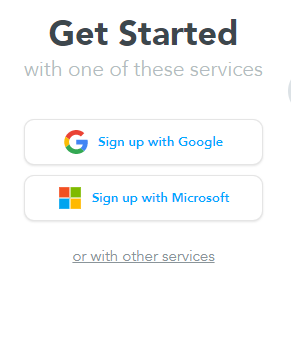 Step 2: Click the "+" tab to create a new project; for a specific map type, choose any of the templates right to the "+" tab.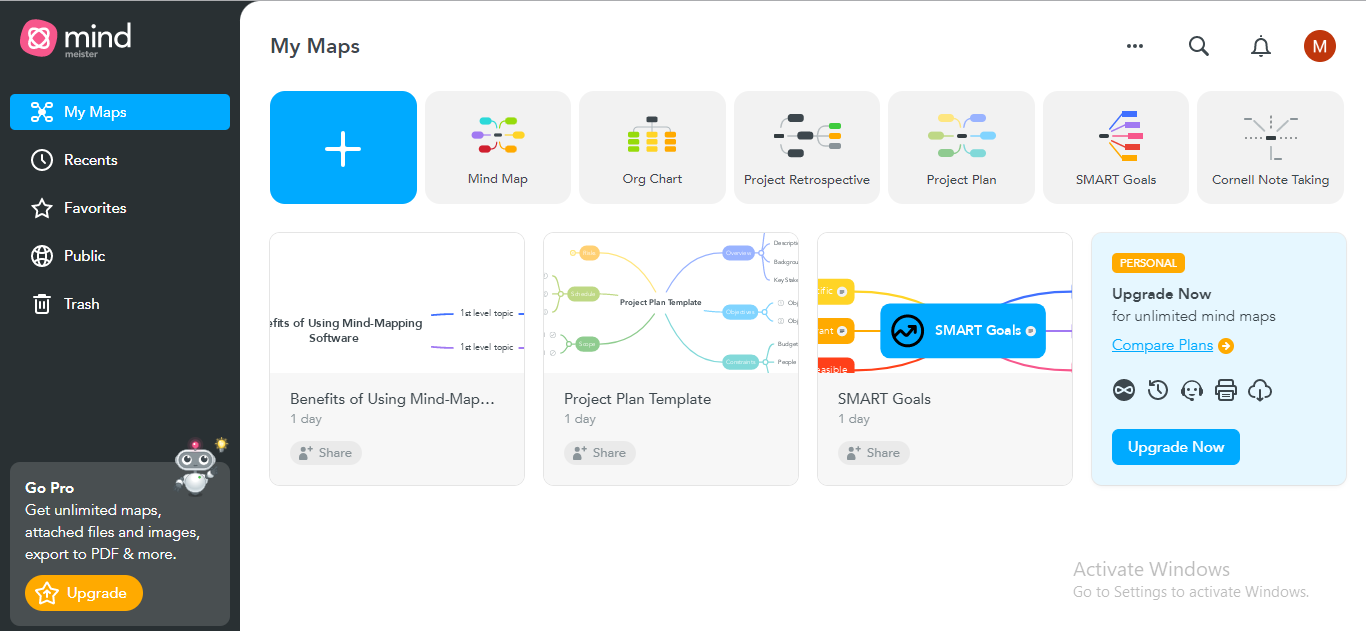 Note: You can also install EdrawMind Software offline on your PC or smartphone. It is available for Mac, Linux, Web, Android, and iOS.
Step 3: To export your mindmap after map completion, click on the Download Icon at the top left of the main interface.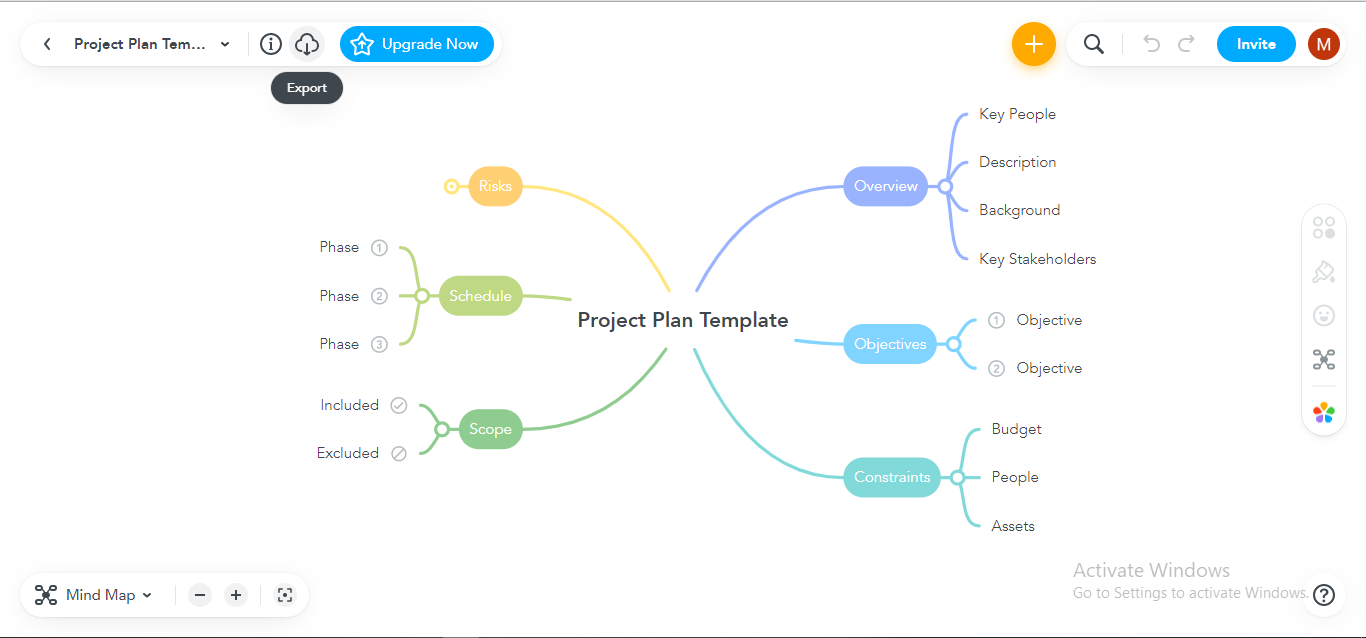 Step 4: Choose the Export option from the dropdown menu to export your mindmap file.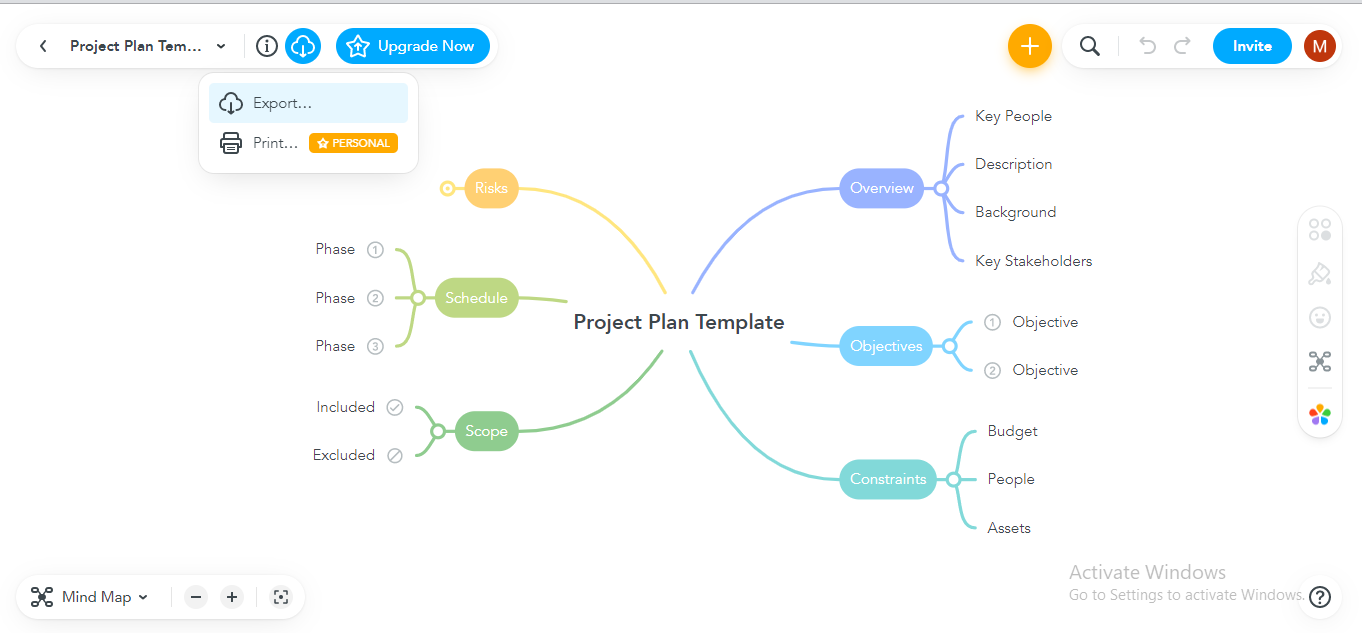 Step 5: Select the desired format for your exporting your mindmap; the free version only allows the Document Outline format, whereas all other formats are supported in the premium plans.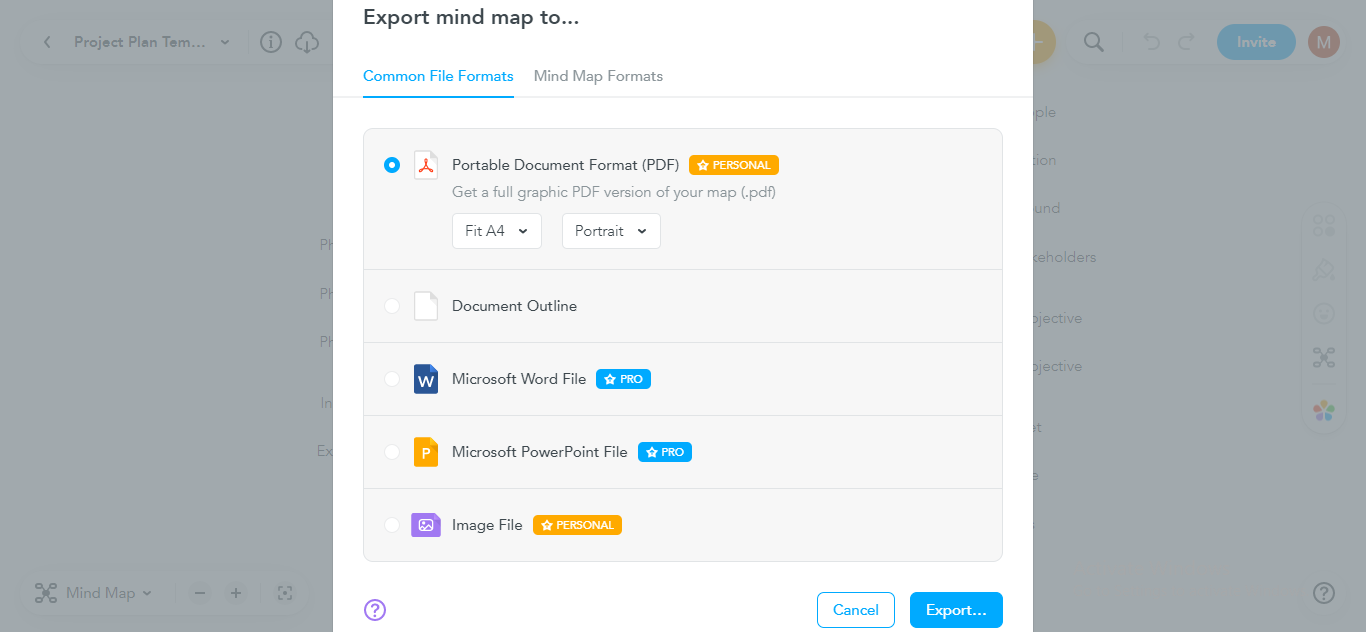 Pros
Free version available

Affordable premium plans ($2.49/Month)

Multiple export options are available

Mixed maps layouts

Tintable images and emojis

Supports attachments linking

Saves history versions

Enables real-time collaboration
Cons
Most features require the premium version

Syncing feature is not available

Customer service needs improvement

Limited templates
#4. Ayoa
You can increase productivity by transforming your ideas into marvelous mind maps using Ayoa, which provides an extensive array of intuitive choices to present your ideas, including mind maps, presentations, workflows, Gantts, canvas, radials, and more. Moreover, an appealing library of themes, templates, colored fonts, shapes, free branches, stickers, and clipart will never disappoint you.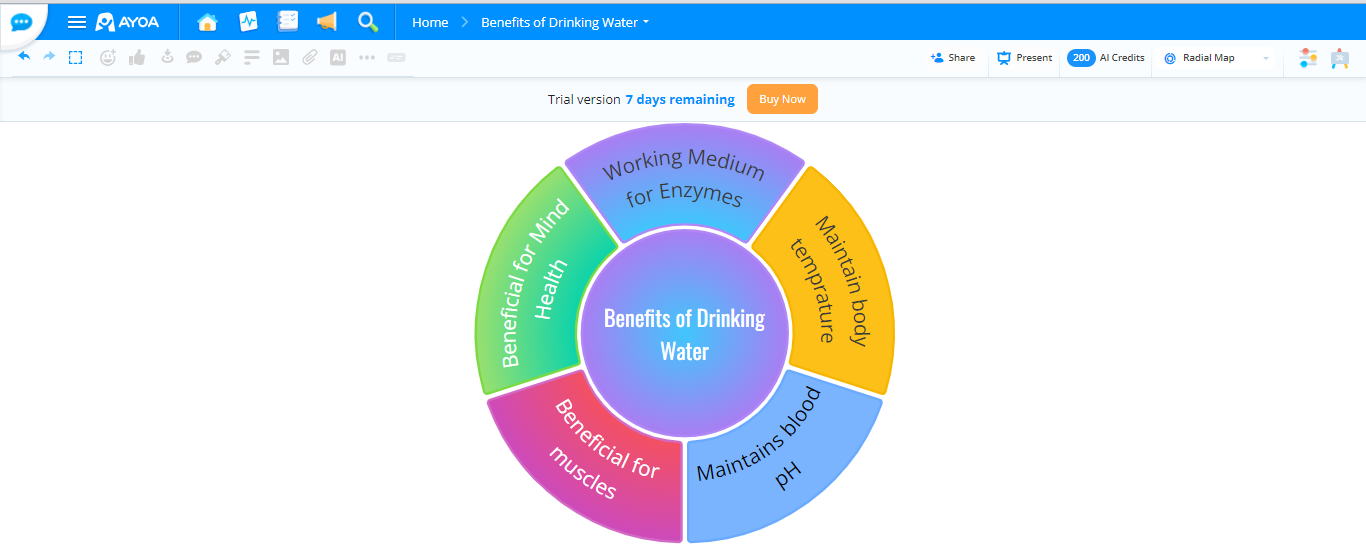 Ayoa Key Features
Collaborative Online Whiteboard: You can create an effective and comprehensible whiteboard presentation using the Collaborative Online Whiteboard feature. Ayoa allows you to create a presentation from scratch using a blank canvas or customize your presentation with pre-built templates.
Radial Maps: Radial maps or pie charts seem appealing because of their graphic illustration. Ayoa provides countless structures to personalize your radial maps or pie-shaped mind maps. You can also adjust the size and volume of a particular segment to demonstrate its significance.
Magnified View: Ayoa offers the Magnified View to clearly see the details of your project and amplify your concentration level. This feature is useful, especially when working on a vast project; the magnified view will prevent confusion in a large-scale project by magnifying the details of the hovered branch.
Progress Percentage: You can track the progress of your incomplete tasks and inform your teammates how close you are to a particular project. Moreover, you can check who is working on what project, maintaining the balance in work.
Public Mind Map Sharing: You can share your mind map with anyone as an efficient collaborative approach, even if they don't have an Ayoa account. To do this, create the file link and share the link with the public.
How To Use Ayoa?
Step 1: Visit Ayoa's official site and Sign up to create an Ayoa account.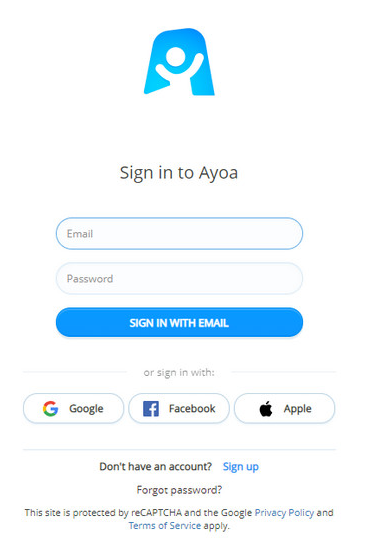 Step 2: Go for the 7-day free trial of Ayoa; otherwise, subscribe to one of the plans if you want to use the premium versions.
Step 3: TNavigate to the Home page and click the Create New tab.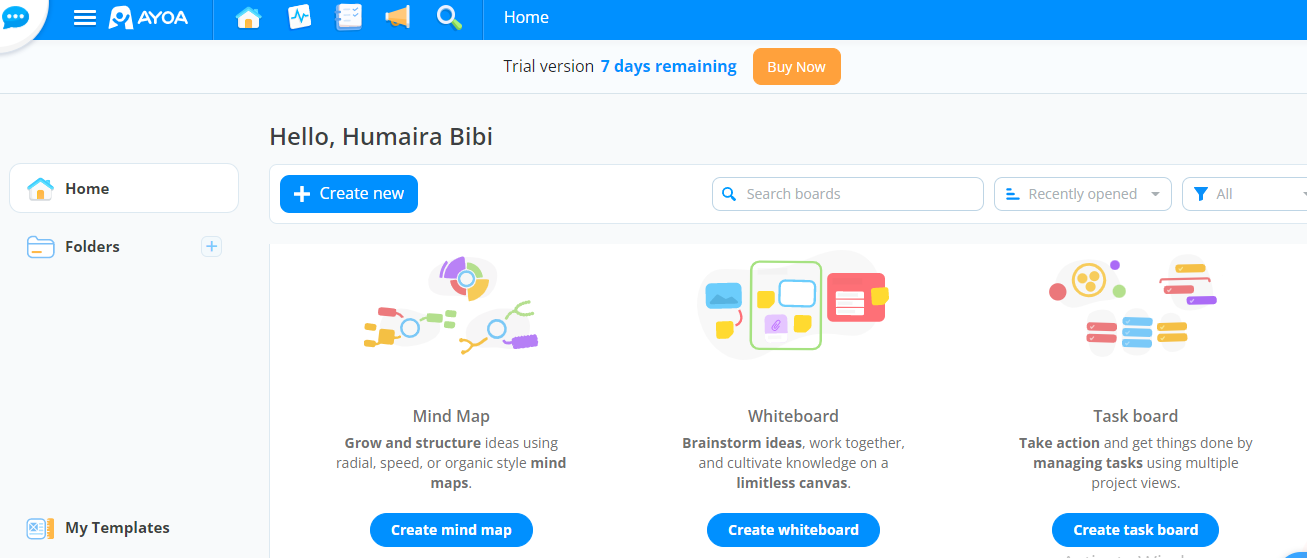 Step 4: Ayoa will ask what type of project you want to create, for example, a mind map, whiteboard presentation, or task board. Select the type of project from the dropdown menu.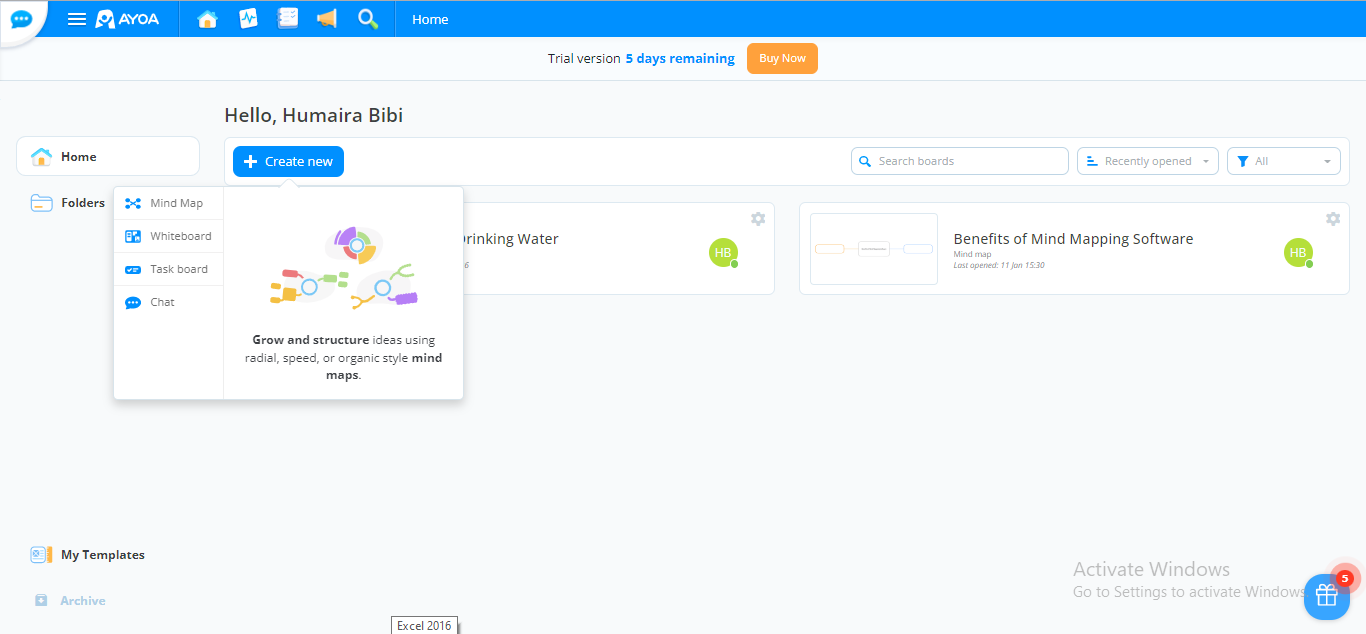 Step 5: A new window will launch, showing various templates for your project. You can choose either the blank board to start or a pre-built template to initiate the task.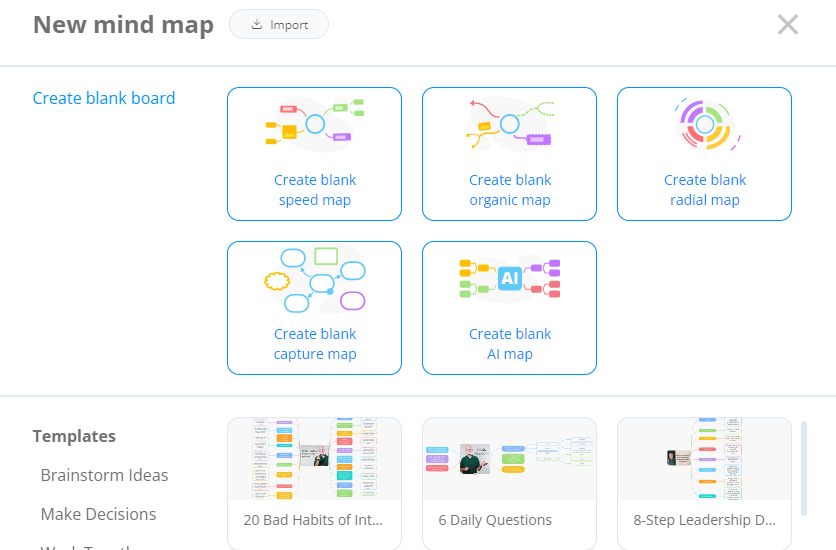 Step 6: Click the Create Mind Map button at the bottom to start working on your project.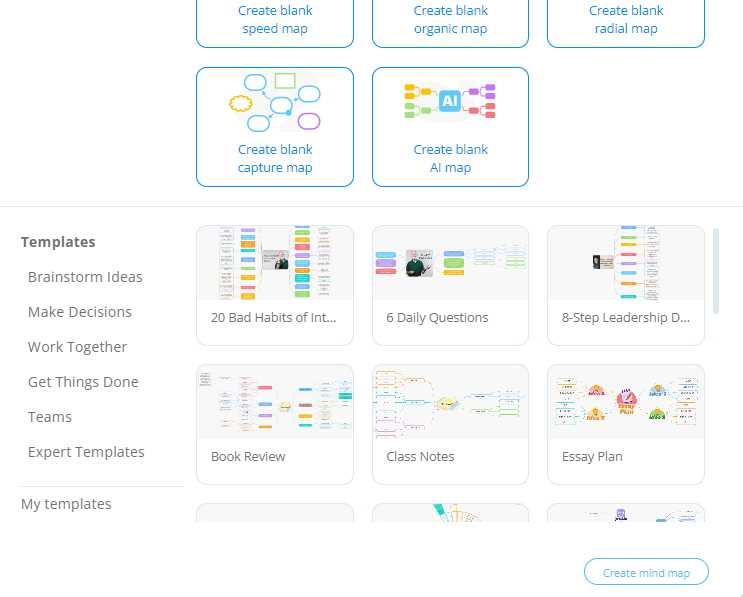 Step 7: After completing your project, Export your mind map or presentation into an appropriate format. To do this, hover over the Board icon in the top right corner.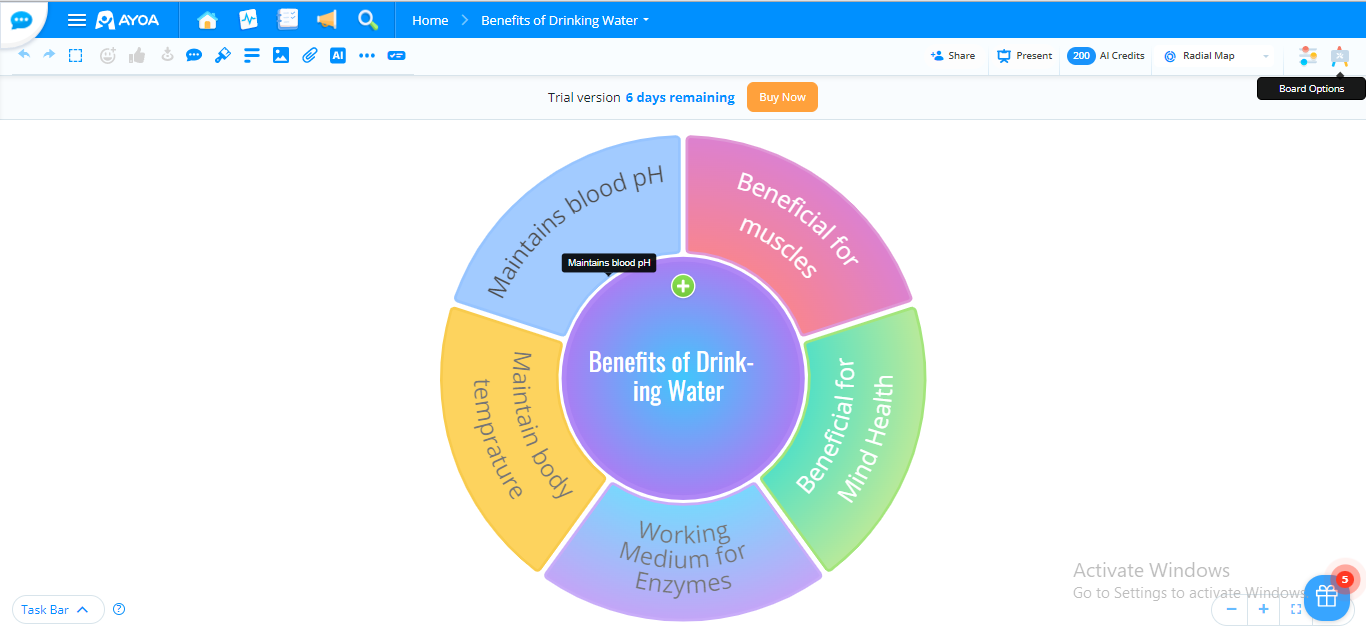 Step 8: Now, select the Export option from the dropdown menu.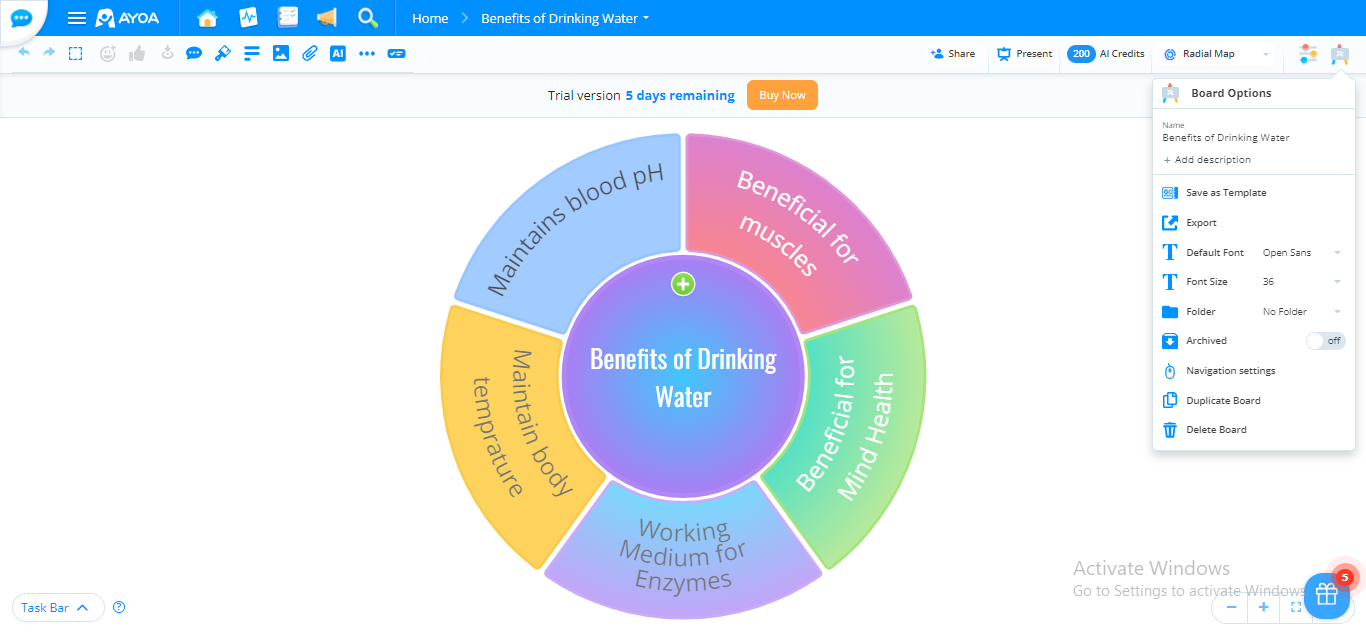 Step 9: Ayoa will ask for the format to export your mind map project. Choose your preferred format.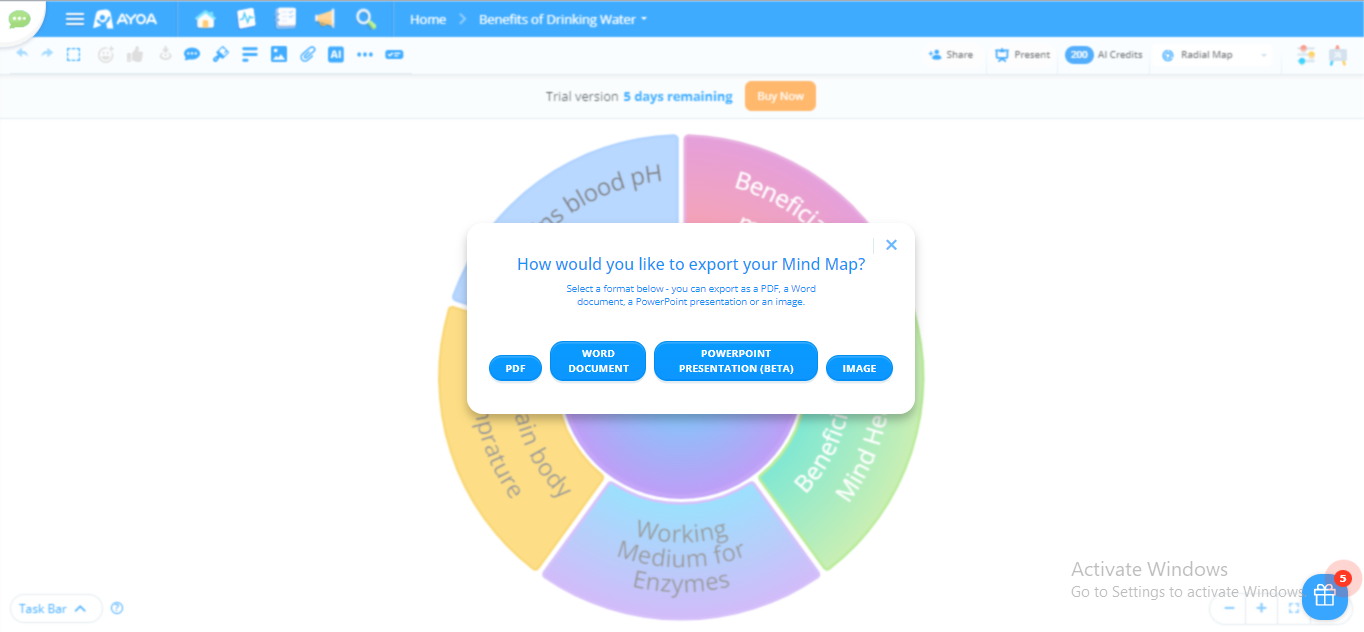 Pros
Loaded with innovative visual elements

Integration with numerous platforms

Intuitive interface

Excellent in terms of teamwork

Supports messaging and video chatting during the project

Offers visual elements like radial mapping

Enables public mind map sharing

Multiple interfaces (for Android, PC, Tablets, and MacBook)

Frequently offers updates
Cons
Frequently offers updates

Lacks time tracking function

Some features need improvement
#5. GitMind
GitMind is one of the best mind-mapping tools that help you spotlight your creativity by renovating your ideas into appealing and intelligible mind maps. Featuring broad compatibility, a massive themes library, and real-time team collaboration, GitMind is the one-stop solution for all your mapping-related needs.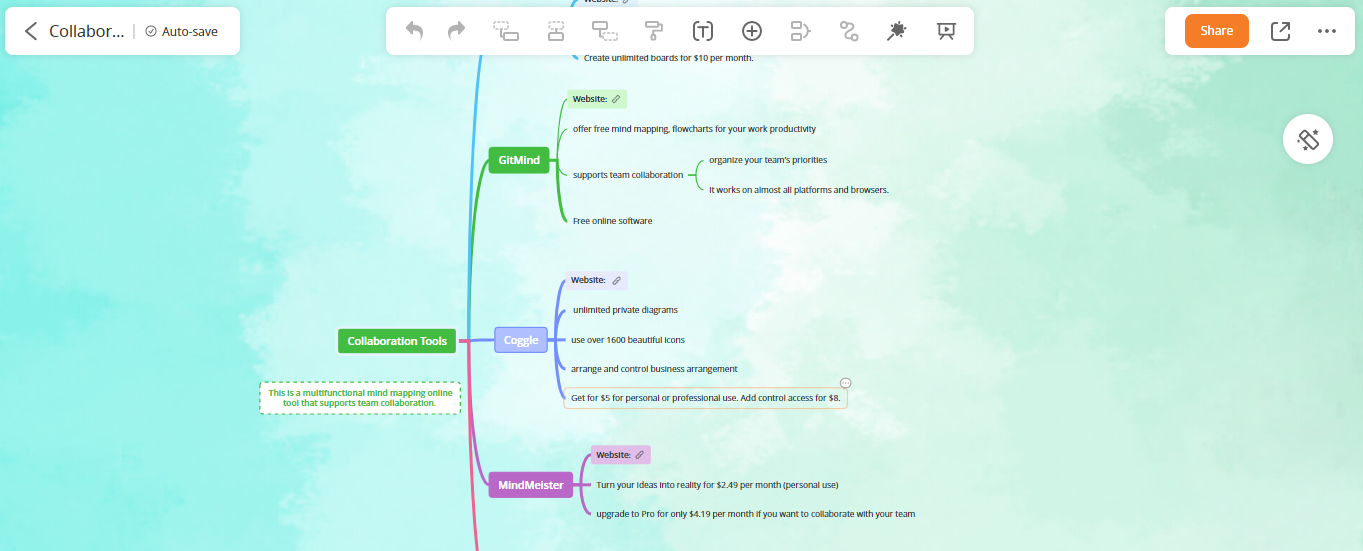 GitMind Key Features
OCR Recognition: The OCR Recognition feature allows you to extract any text in the image and paste it into your mind map. This feature is instrumental for importing text from your previous mind map images.
Library of Templates: GitMind is the platform to unleash creativity by exploring the endless library templates designed for different areas such as education, business, the medical field, etc. Templates are also categorized based on the nature of your project, for example, how-to, analysis, flowchart, and more.
Built-in Color Themes: GitMind allows you to stylize your mind maps' branches or diagrams with professional built-in color schemes if you don't have a how-know of color scheming.
Outline Mode: You can readily switch between Mind Map View and the Outline View for more clarity and precision if you have mumbled all your ideas. You can check which sub-idea is lying under which idea or branch.
Real-time Team Collaboration:: You can analyze, review, and modify your mind maps with your teammates for extensive understanding and creativity.
How To Use GitMind?
Step 1: Sign up and create a GitMind account to use the web-based version of GitMind.
Step 2: After account creation, the main interface of GitMind will launch, showing different options.
Step 3: Click on the +New Map tab to start a new project; also, you can choose from one of the pre-built templates to initiate.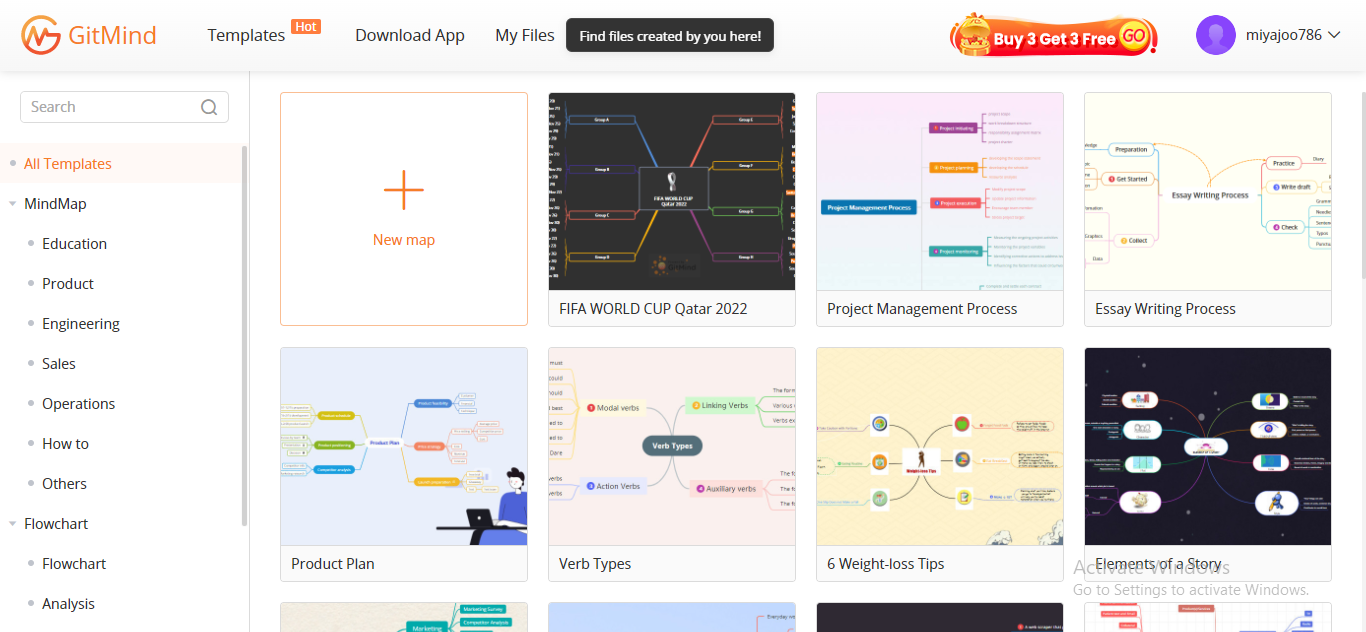 Step 4: After the project completion, Export your mindmap into your desired format. To do so, click on the Export icon at the top right corner.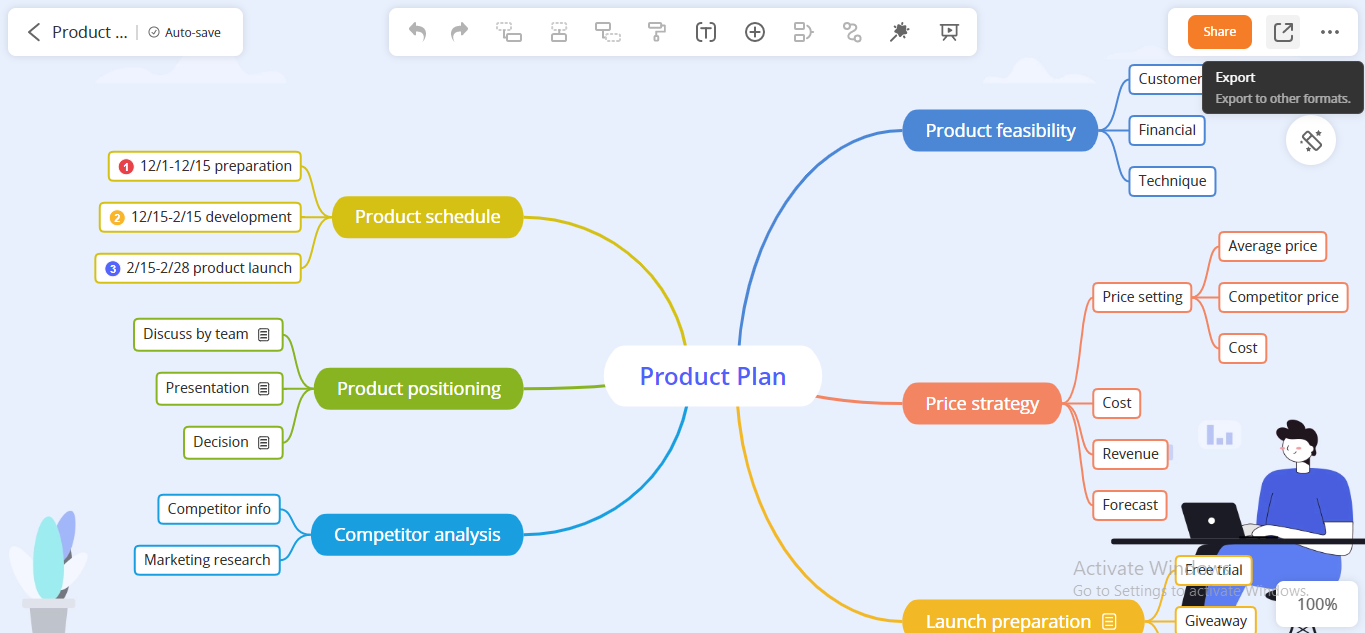 Step 5: GitMind will ask for the format for your prospective mind map; Choose the format you want for your mindmap and click Export.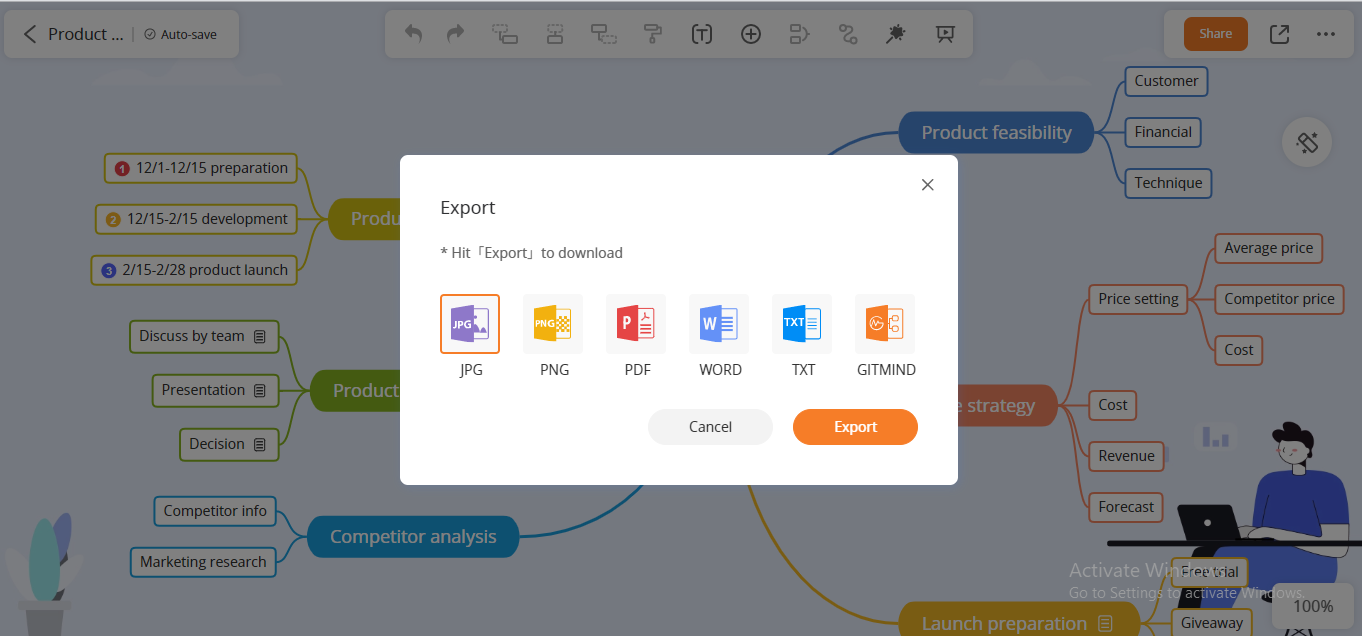 Step 6: The project file will be downloaded; you can access it in the 《吧》Downloads.
Pros
Library of built-in templates, themes, and color schemes

Enables team collaboration

Allows to switch between Outline mode and Mind Map mode for clarity

OCR Recognition enabling

Suitable for educational and enterprise purposes

Affordable option (The Free Version, Quarterly Plan for $18)
Cons
The interface is a bit unprofessional

The main page hangs when large files are loaded

Weak customer support

The offline version is not available
#6. Coggle
If you are looking for top-notch free mind map software, Coggle is a worth-considering solution. Whether you want to generate a cutting-edge mindmap, flowchart, or creative office presentation, Coggle will assist you in visualizing your intellect to your audience.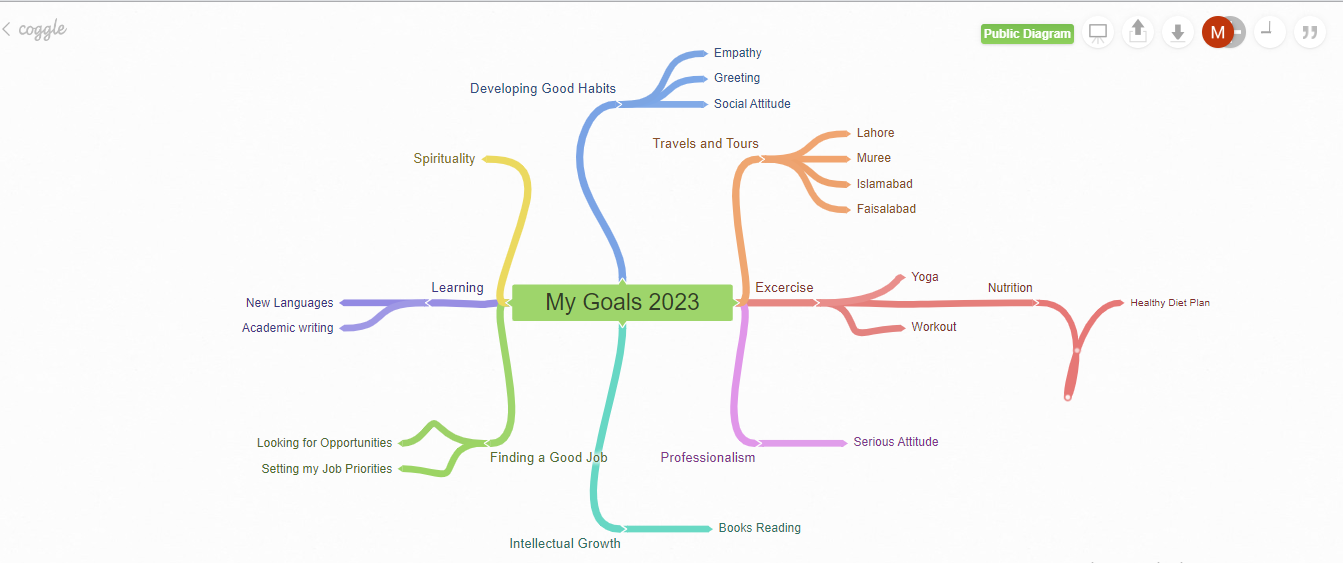 Coggle Key Features:
Real-time Collaboration: Using the real-time collaboration feature, you can work with your colleagues and teammates on the same project. Additionally, you can exchange your viewpoints about a certain diagram or project using live chat.
Changes Saving: Coggle enables both automatic and manual modification saving. You can also get the previous version of any project in case of automatic changes saving.
Drag-and-Drop Uploading: You can drag and drop an image, text, diagram, sticker, or any other element in the map. The drag-and-drop feature is convenient and does not restrict object uploading.
Innovative Looping and Branch Joining: Coggle provides innovative loop shapes and styles to join your ideas, making them more attractive, alluring, and comprehensible. You can also insert multiple starting points into a diagram to relate the concepts.
Mindmap Sharing:: Not only mindmap creation and customization, but you can also share your mind maps via links to anyone, even if they don't claim a Coggle account.
How To Use Coggle?
Step 1: Sign up and create a Coggle account to use the web-based Coggle application.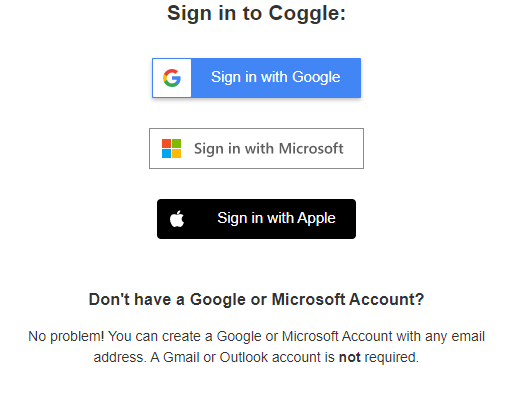 Step 2: After launching the main interface, click on the +Create Diagram tab to start your new project.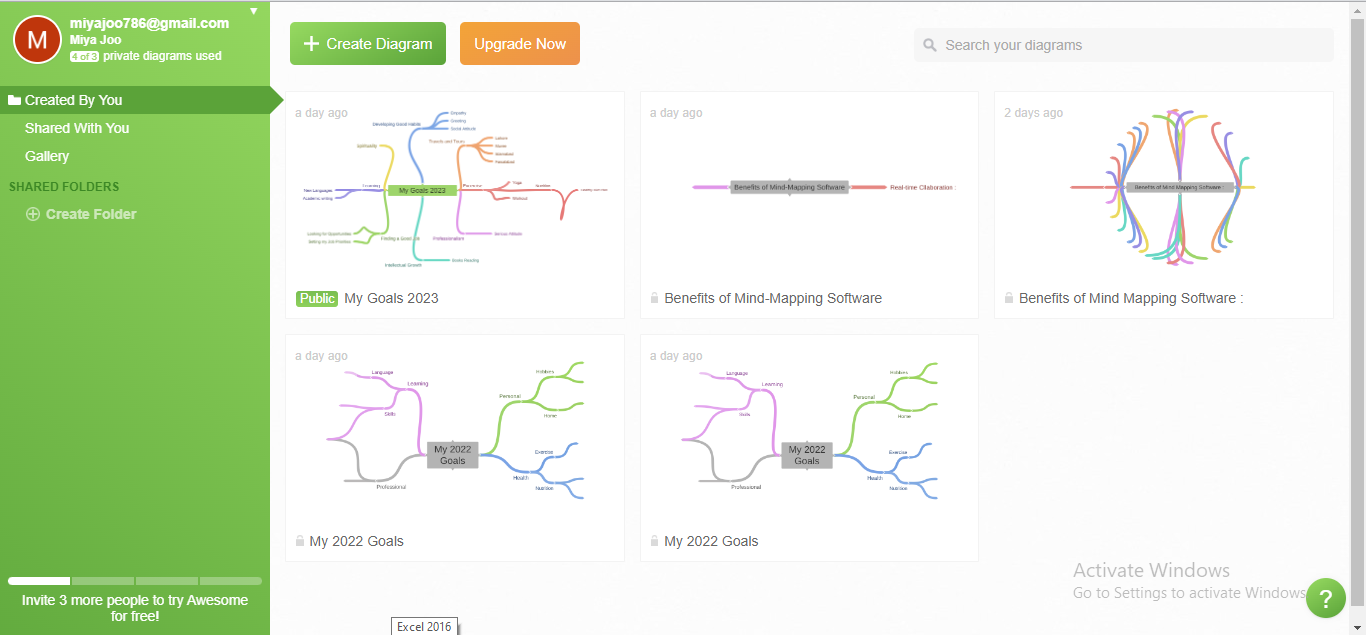 Step 3: A new window will launch, enabling you to edit and customize your mindmap.
Step 4: After mindmap creation, click on the Download icon at the top right corner to save your diagram.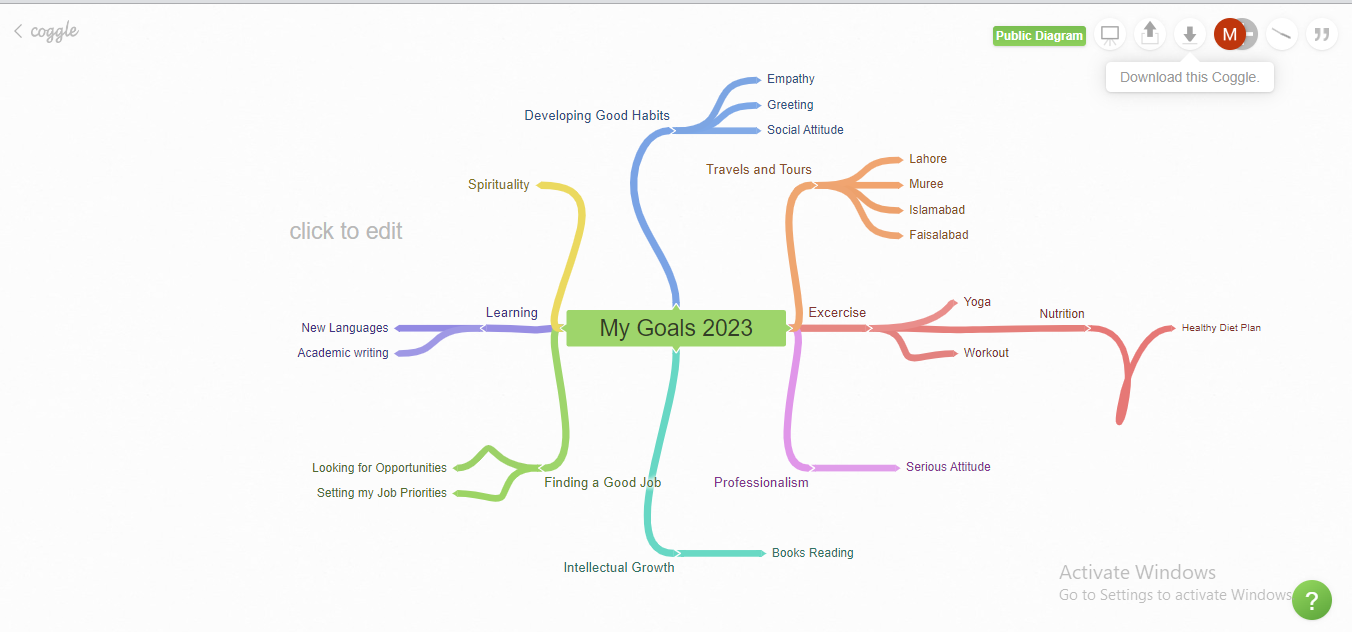 Step 5: Choose the desired format for saving your project file.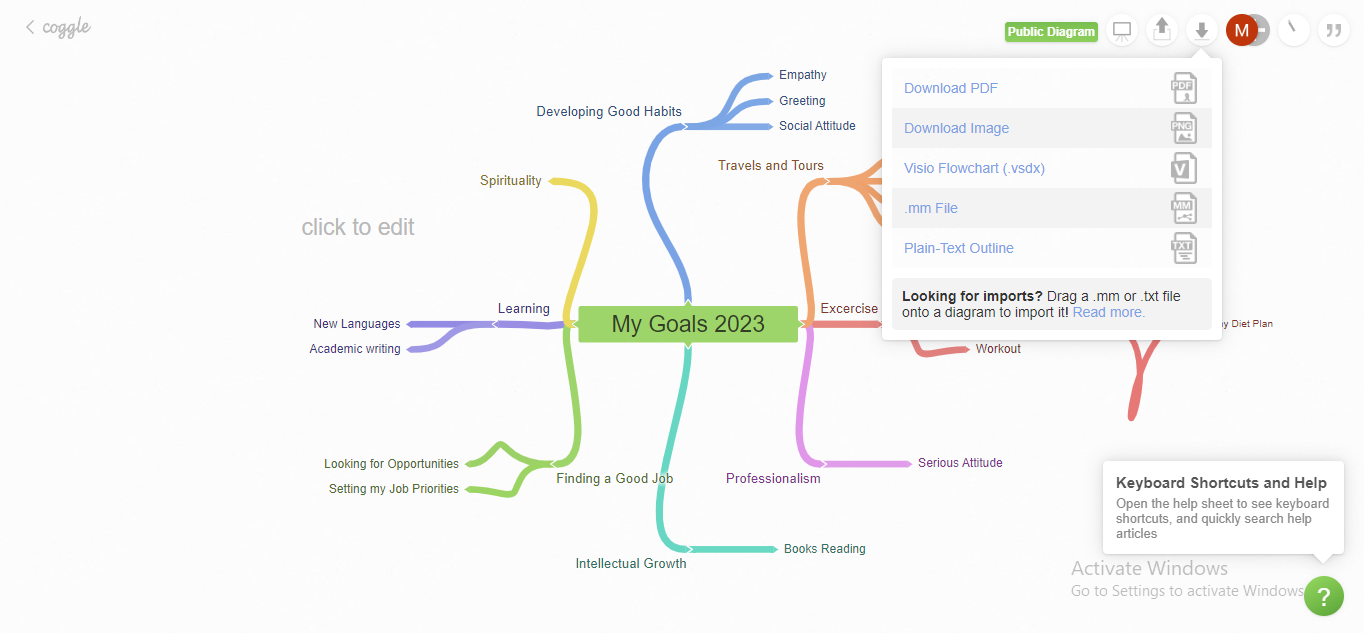 Pros
Intuitive interface

Features creative loops and branches

Allows secret diagram links creation for more private interaction

Enables automatic changes saving

Enables Maps sharing

Offers multiple export format options

Affordable than other competitors ($5/Month)
Cons
Limited colors and themes in the Free version

Lagging in terms of collaboration

Yearly subscription not available

Often slows down when the map becomes bigger
Final Thoughts
The ideas, thoughts, and imaginations need to be organized in the process of creating a masterpiece. Given this, online mind map software greatly assists in making visual mind maps that be extended with innovative ideas at any time. You just need to get your hands on an effective & reliable mind-mapping tool first.