Everything You Need To Know About EdrawMind Online
EdrawMind Online is a full-fledged package for efficient mind-mapping, suitable for both individual and organizational needs.
Create Mind Maps Today!
EdrawMind is a mind mapping tool equipped with 700+ cliparts. Check out EdrawMind's complete guide to understand ways to live a healthy life. Try EdrawMind Online and create hundreds of mind maps today!
EdrawMind Online is a full-fledged package for efficient mind-mapping, suitable for both individual and organizational needs.
Whether you need a high-end team collaboration tool for project management or a proficient mind-mapping solution for ideas inspiration and visualization, a reliable all-in-one tool is integral to achieving your objectives. This article casts light on Edrawmind Online, which you can manipulate as a one-stop solution to cater to your teamwork needs, along with persuasive ideas propagation.
1. What Is EdrawMind Online?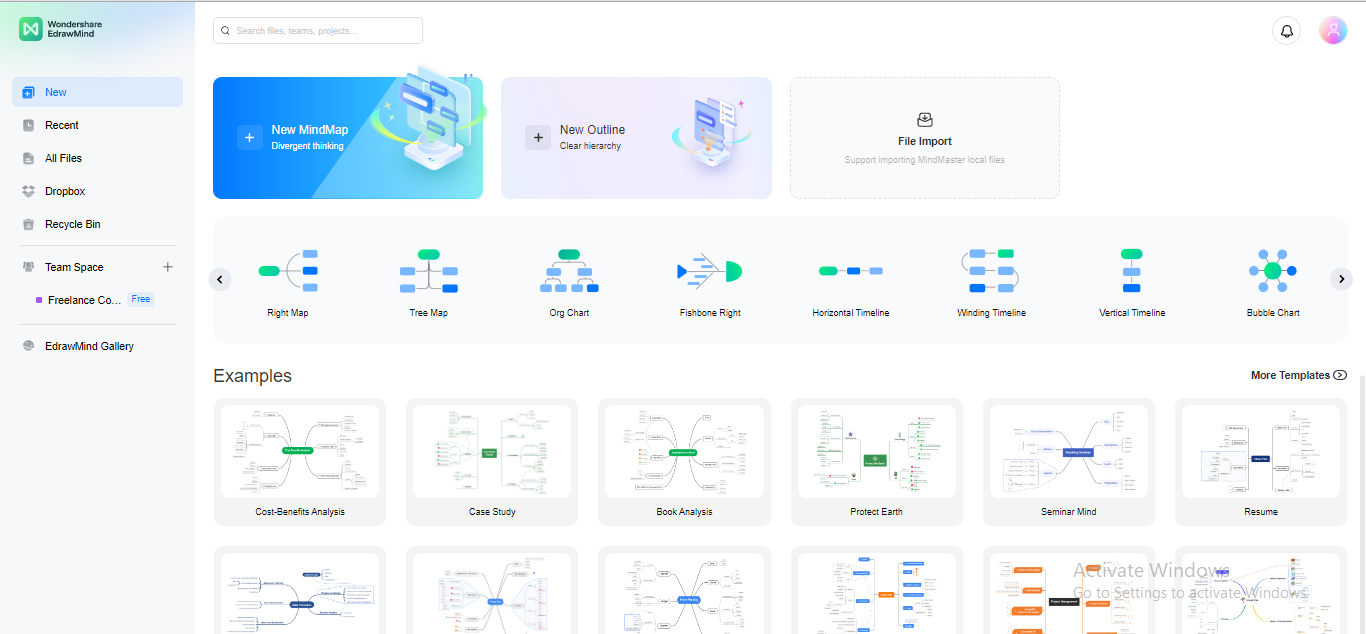 Edrawmind Online is a crackerjack mind-mapping solution that provides a flawless toolkit to spotlight your creativity, transfiguring your vague thoughts into a transparent vision. Like a Swiss army knife, you can exploit it for brainstorming, mind-mapping, online collaboration, teamwork management, business planning & strategies development, and other diverse purposes to ameliorate your remote work experience.
The practical workspace integrations, structured non-linear mindmaps, ravishing themes & templates, real-time collaboration, and stellar file-sharing make it an unrivaled platform to spark innovation. You can leverage its team space and cloud syncing feature to commence remote teamwork, resulting in a sophisticated work environment.
2. EdrawMind Online Key Features and Instructions for Use
A deep insight into the features is indispensable to utilize a tool properly. You can manipulate its unending professional features to derive inspiration for presenting your thoughts; some features are presented below:
Key Features and Instructions for Use
Templates Gallery
You can select the pre-built EdrawMind Online templates and edit them to create an awe-inspiring mindmap, especially if you don't know the ABC of designing.
Step1
Scroll down the main interface of EdrawMind and navigate to the Examples widget in the center. EdrawMind Online offers several templates, such as a tree diagram, radial maps, fishbone, and more to initiate working on your mindmap.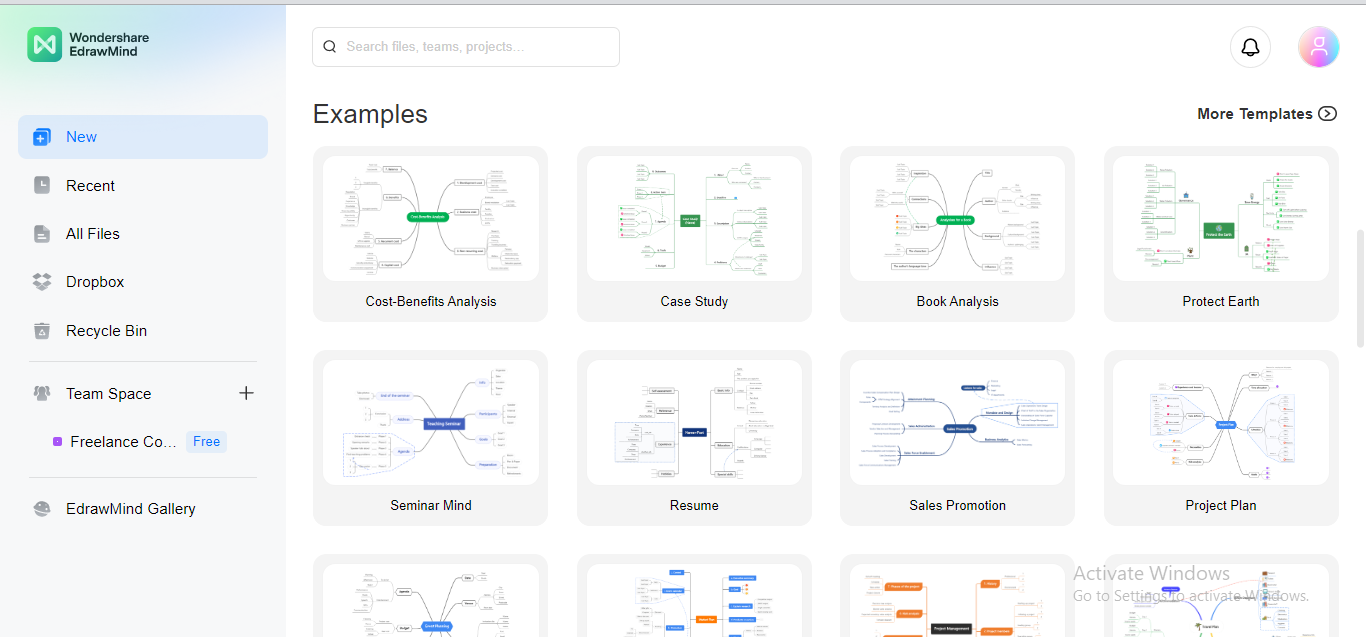 Step2
Now, click on any template you want to take as a framework for your mindmap to begin the creation process.
Step3
EdrawMind Online will launch the editing window where you can easily customize and tailor your mindmap template according to your needs.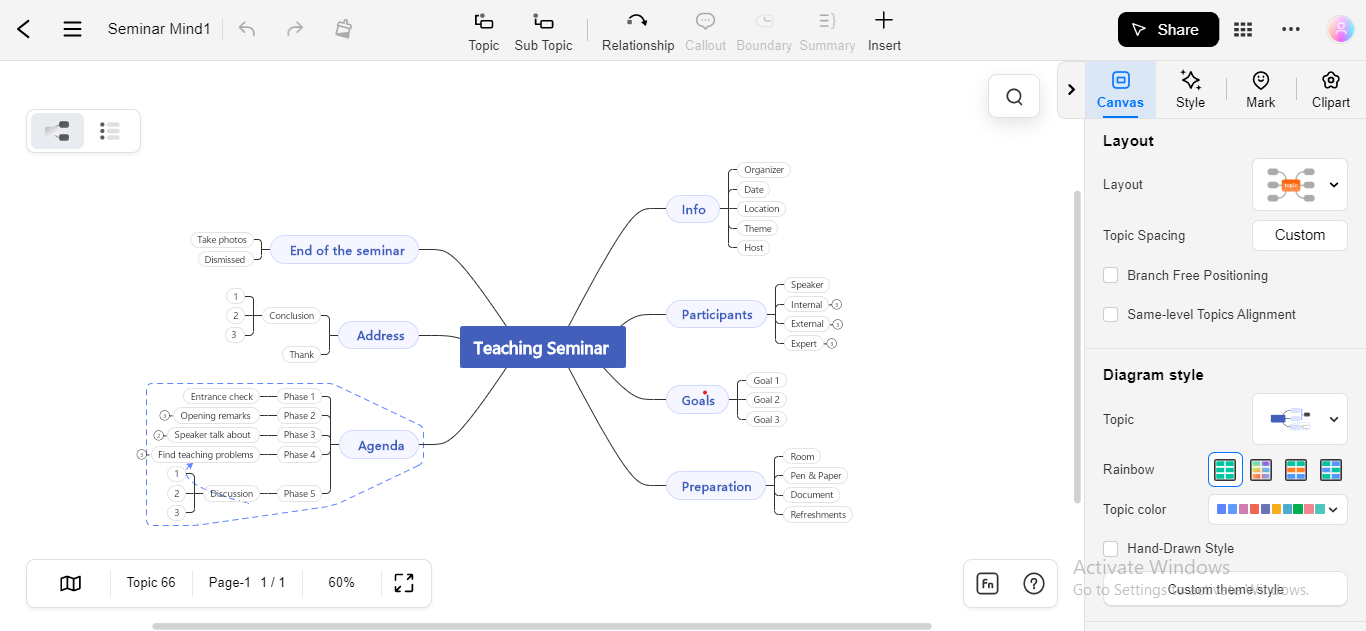 Mindmap to Outline Mode
You can readily switch between mindmap and Outline mode for a smooth flow of ideas, avoiding ambiguities.
Step1
To switch your editing canvas to Outline mode, click on the Outliner Icon at the top left of the canvas.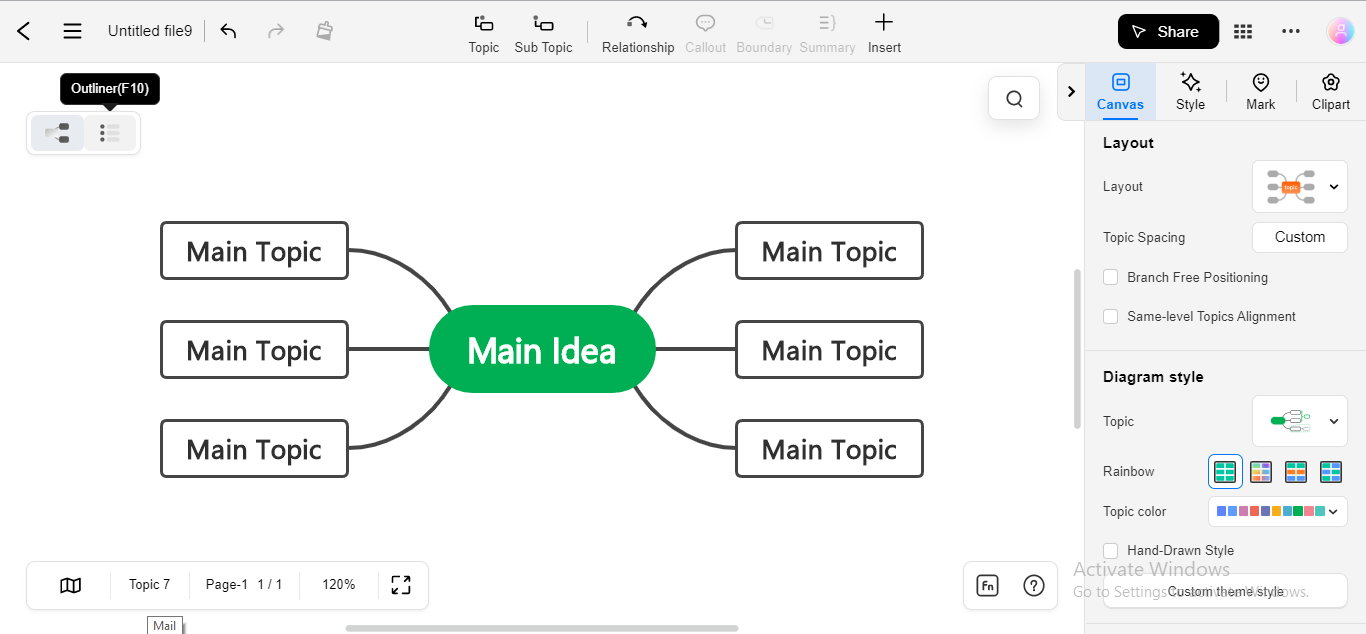 Applying Themes & Shapes
EdrawMind Online allows you to spark creativity by applying your favorite layouts and topic shapes.
Step1
To apply a custom layout to your mindmap, click on the Layout dropdown bar next to the Layout under the Canvas option.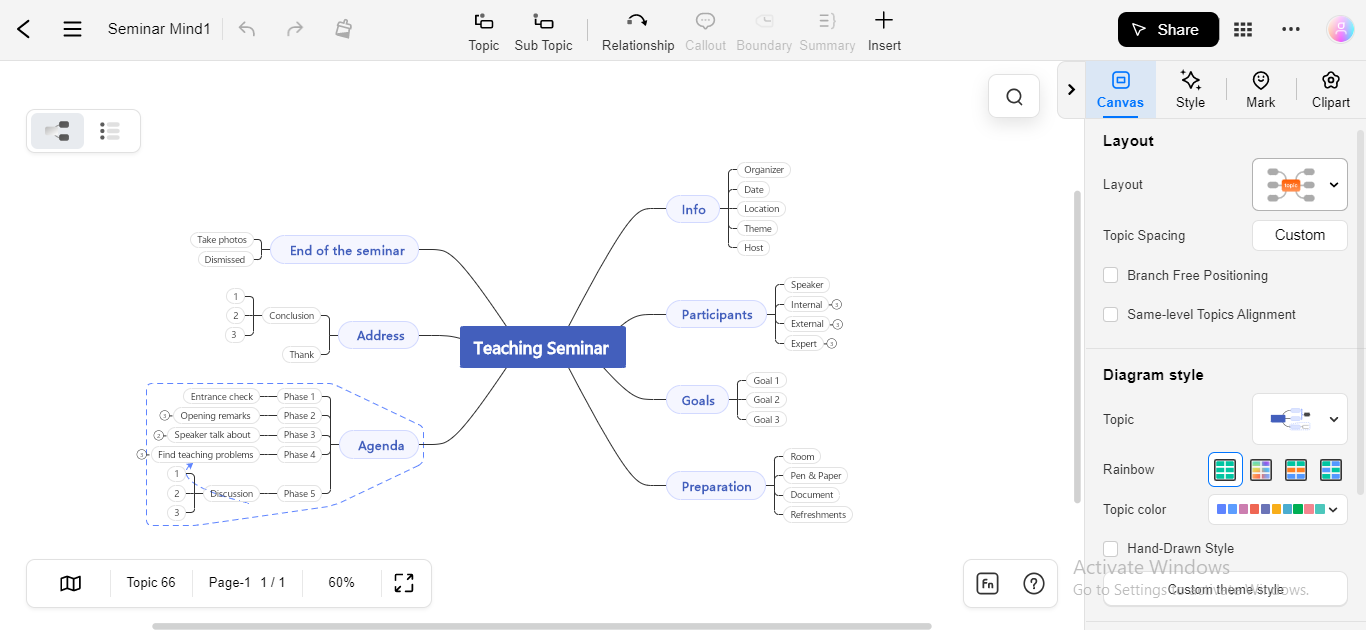 Step2
You can choose your favorite layout for your mind map according to the topic requirements.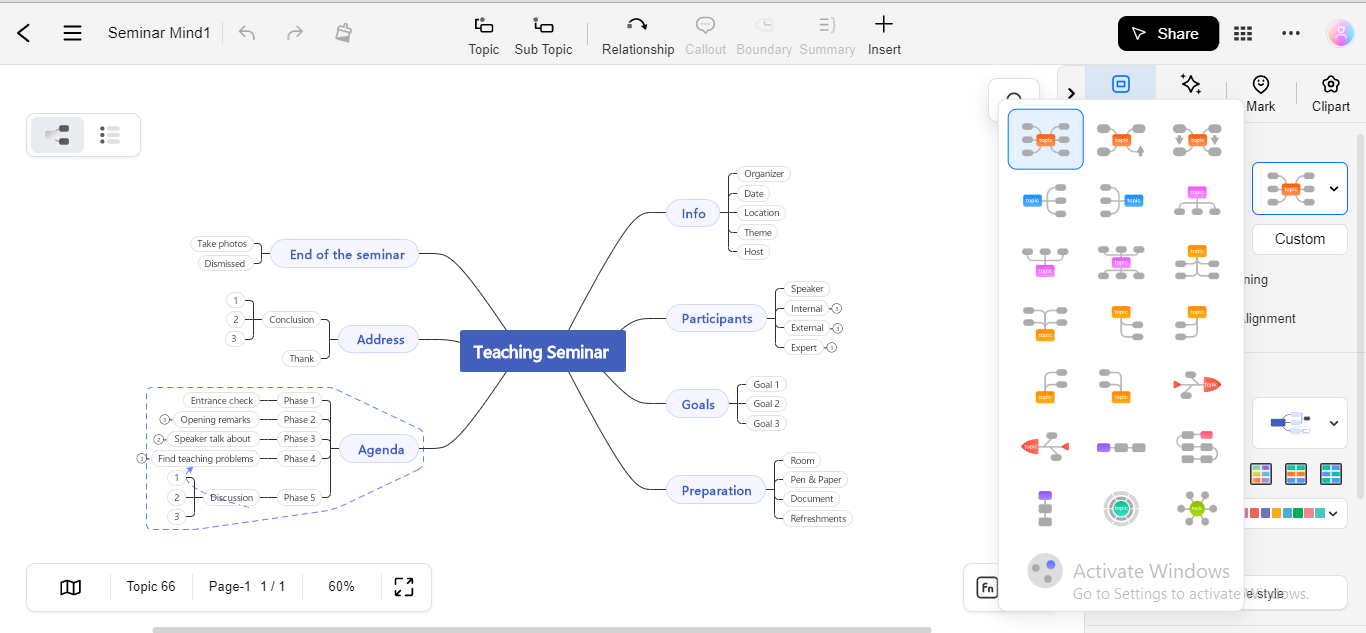 Step3
To apply creative diagram styling to your nodes, click on the Topic Dropdown option under the Canvas window next to the Topic option.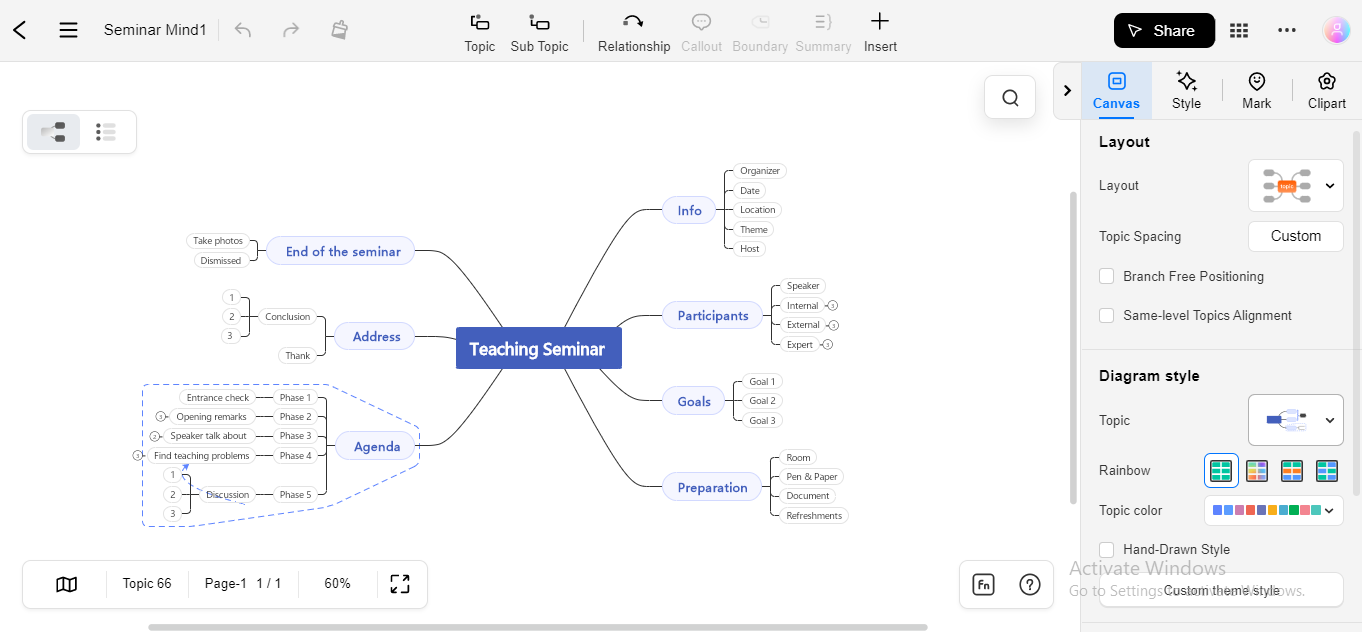 Step4
Choose your favorite diagram style for your prospective mindmap, and Click on it to apply changes.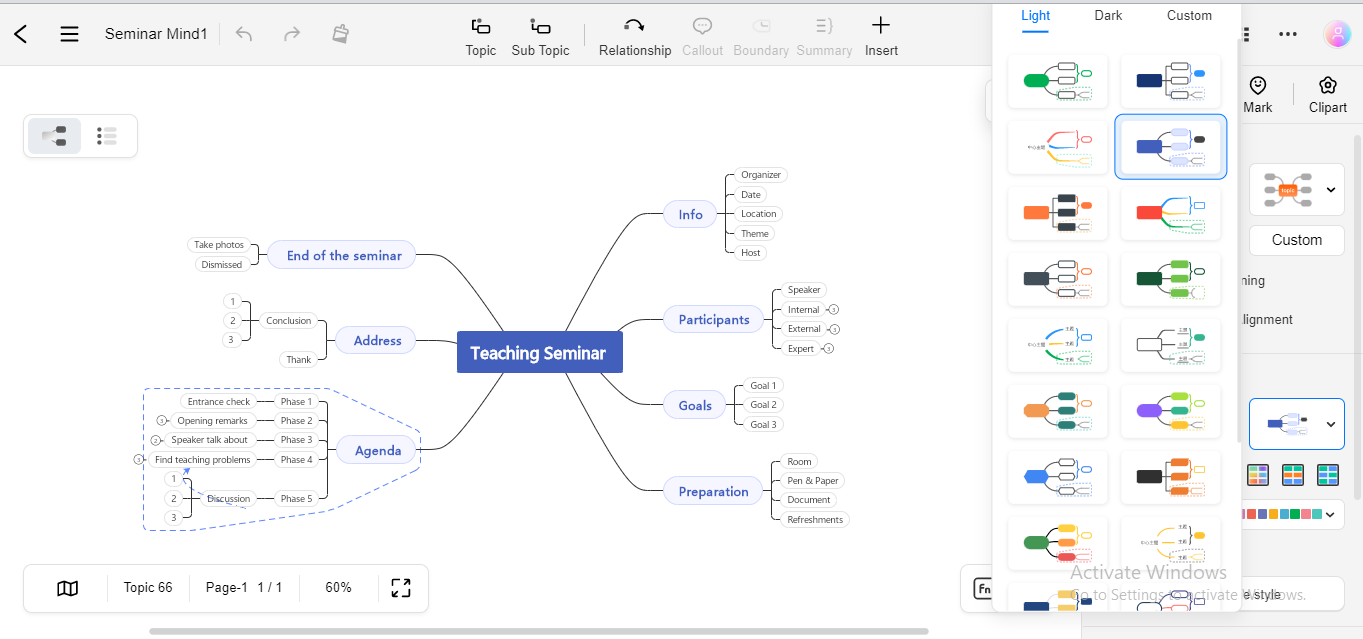 Pre-built Color Schemes
If you are not good at eye-catching color combinations, select one of the pre-designed color schemes to attractively edit your mind map.
Step1
Click on the Topic Color option given in the Diagram Style option under the Canvas tab, and choose your favorite color scheme by clicking it.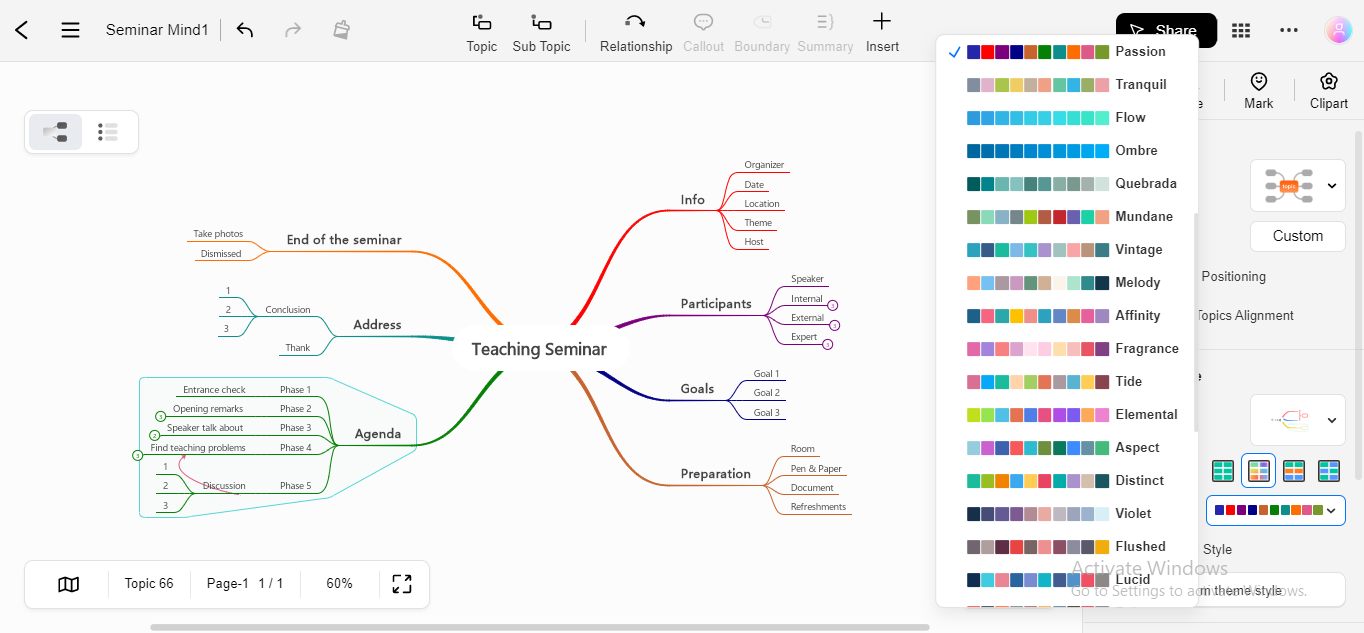 Multiple Pages
EdrawMind Online allows you to create multiple pages under one file to prevent divergence and difficulty.
Step1
Click on the Page tab at the bottom left to create a new page in the specific file.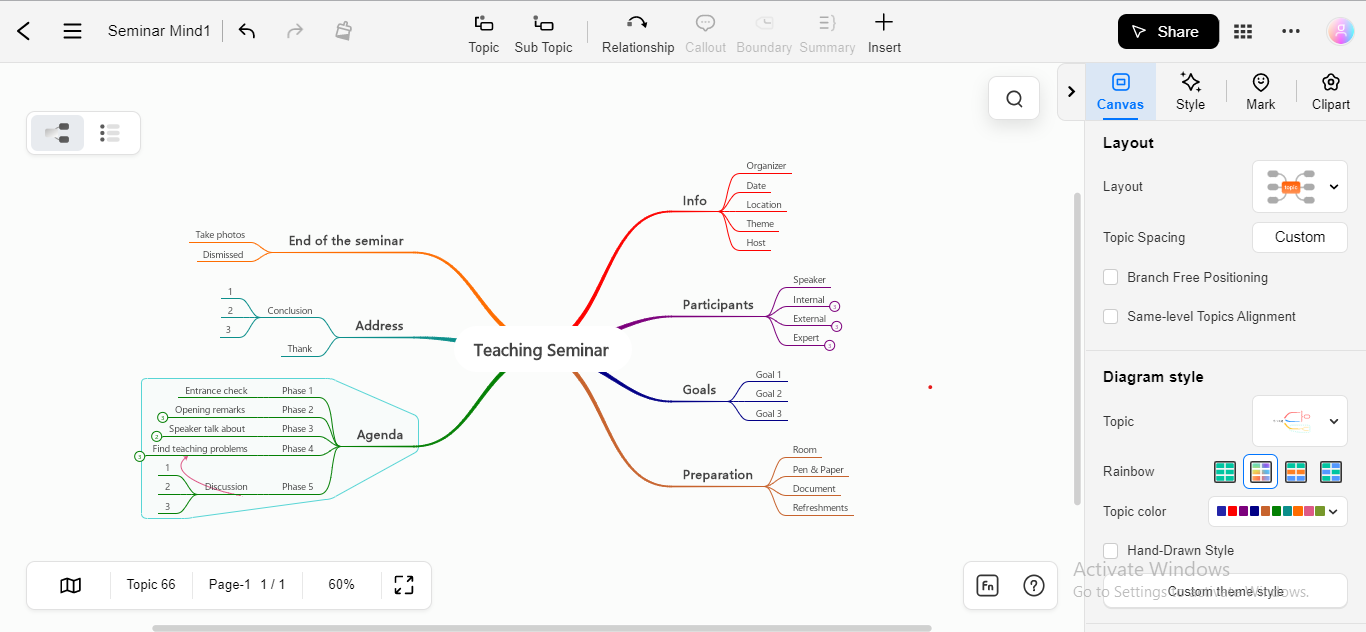 Step2
Click the + Create New Page button to launch a new page in the same window.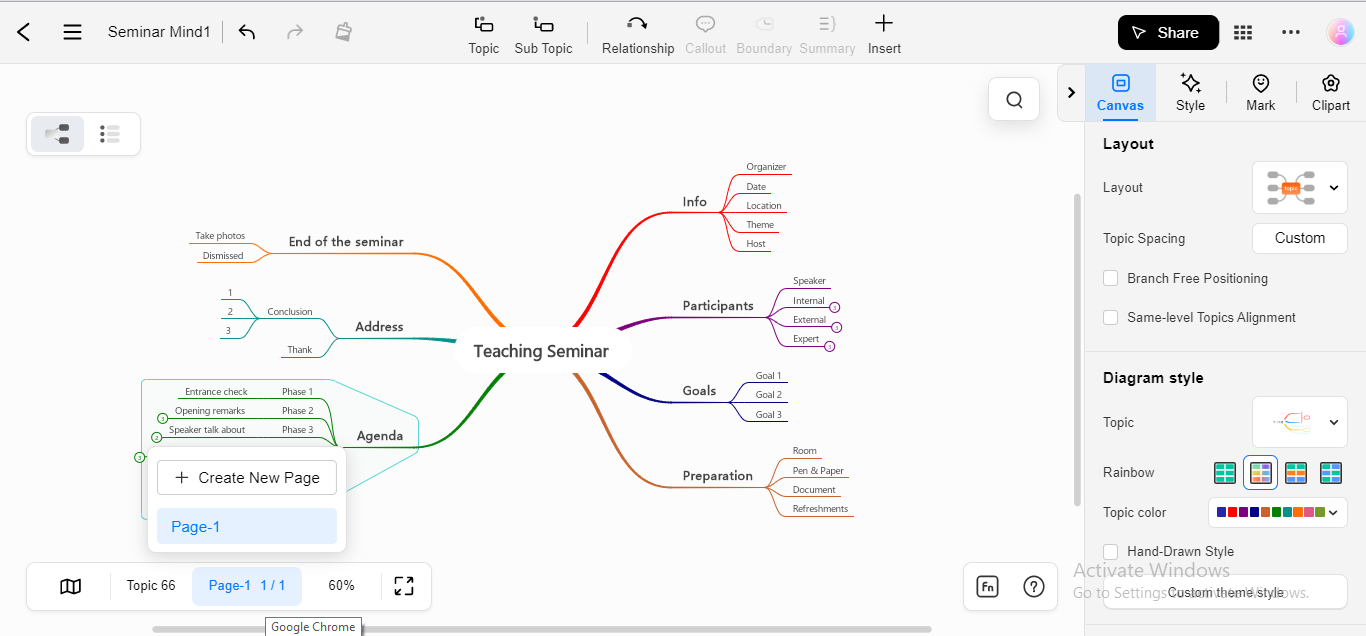 Step3
You can access the preferred page by clicking on the Page tab, where you created a new page.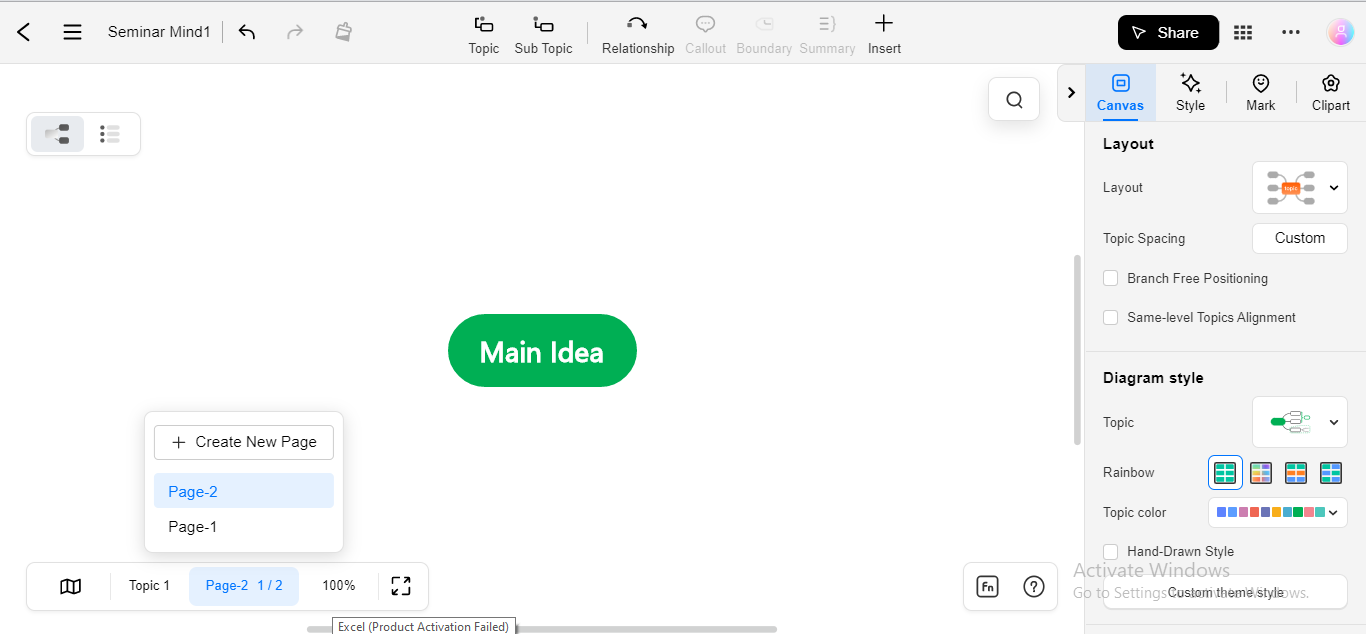 Inserting Marks & Cliparts
You can incorporate marks and clipart in your mindmap to make them more visually appealing and understandable.
Step1
To add a mark to your diagram, click on the Mark tab in the right panel.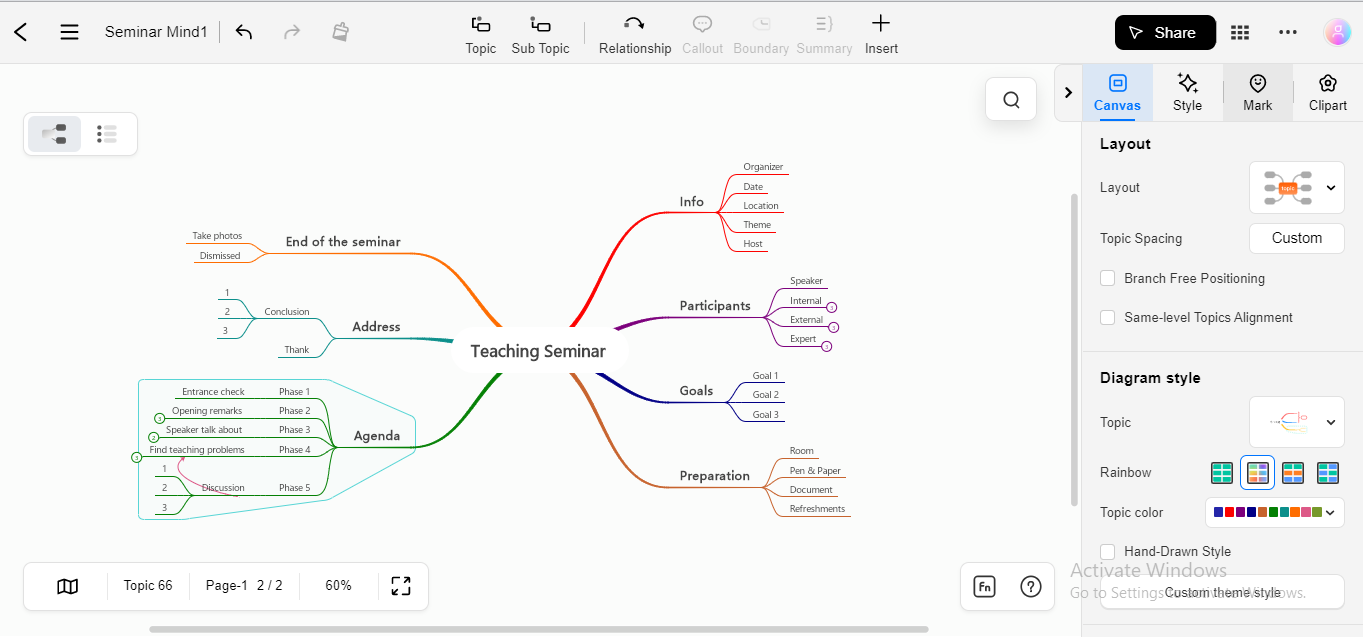 Step2
Select the topic or subtopic with which you want to add the mark. Then, choose your desired mark from the dropdown and insert it in the mindmap diagram.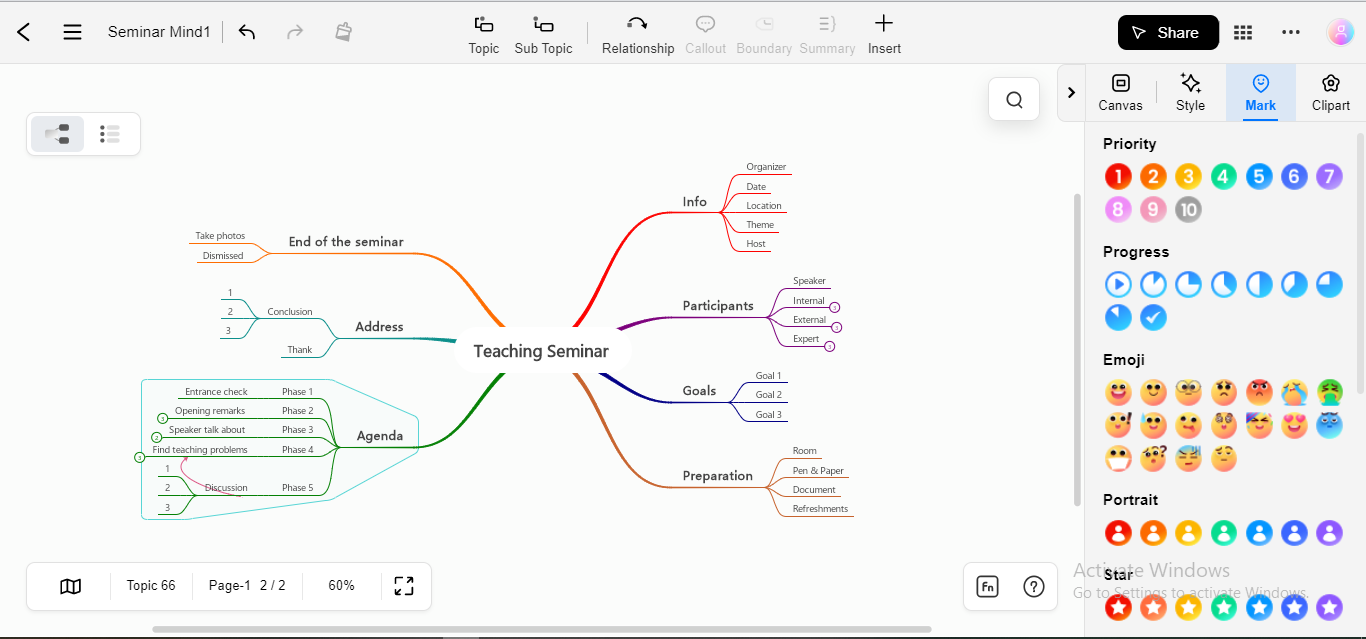 Inserting Emojis
EdrawMind provides over 1000 emojis to convey your ideas more expressively and compellingly.
Step1
Navigate to the EdrawMind Online's Toolbox Icon at the top right corner under the name Edraw Tool Box.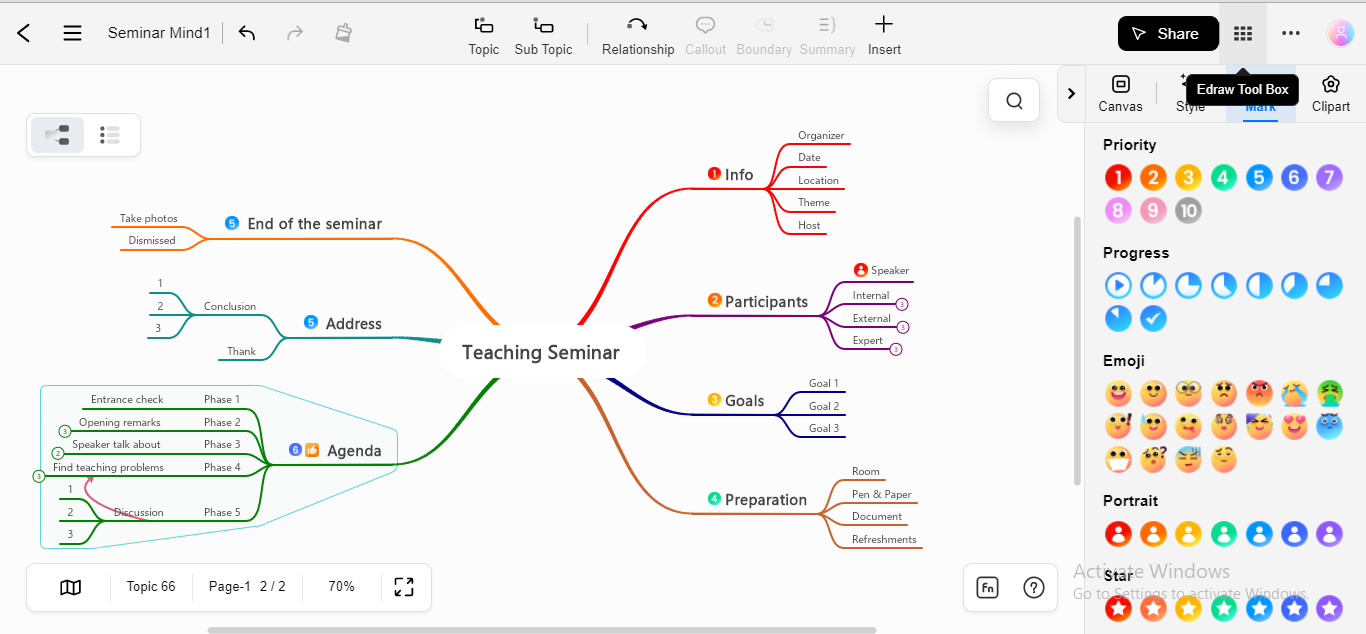 Step2
Click the Emoji option from the dropdown menu to open emojis.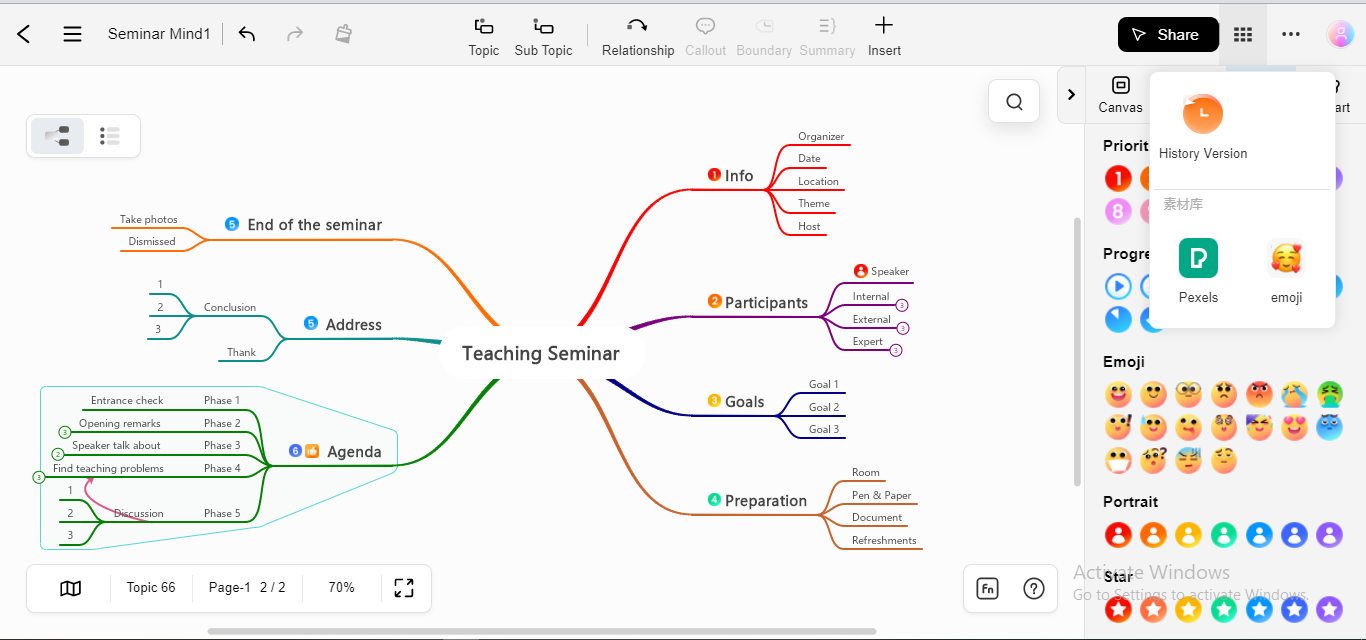 Step3
Click to insert your desired emoji in your diagram; you can also select different emoji categories to find the relevant emojis.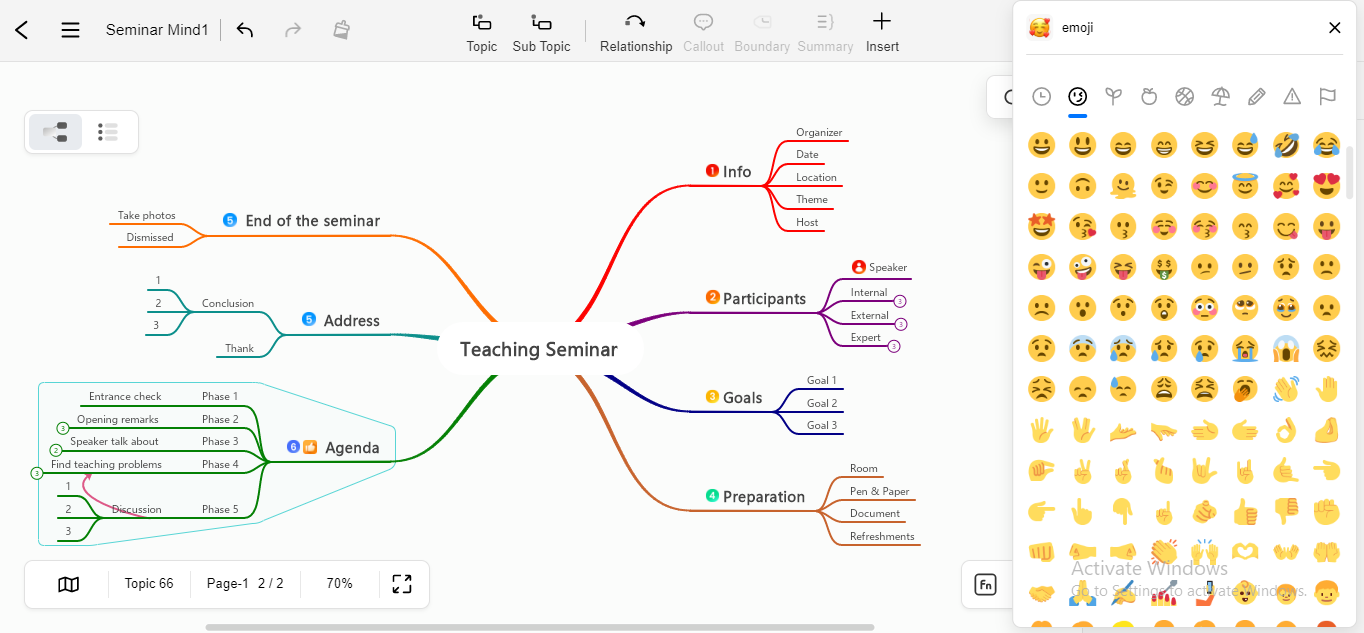 Insert Smart Numbering
You can insert smart numbering in catching styles to present your information visually and make it attention-drawing for the audience.
Step1
Click on the +Insert option at the top center of the editing canvas.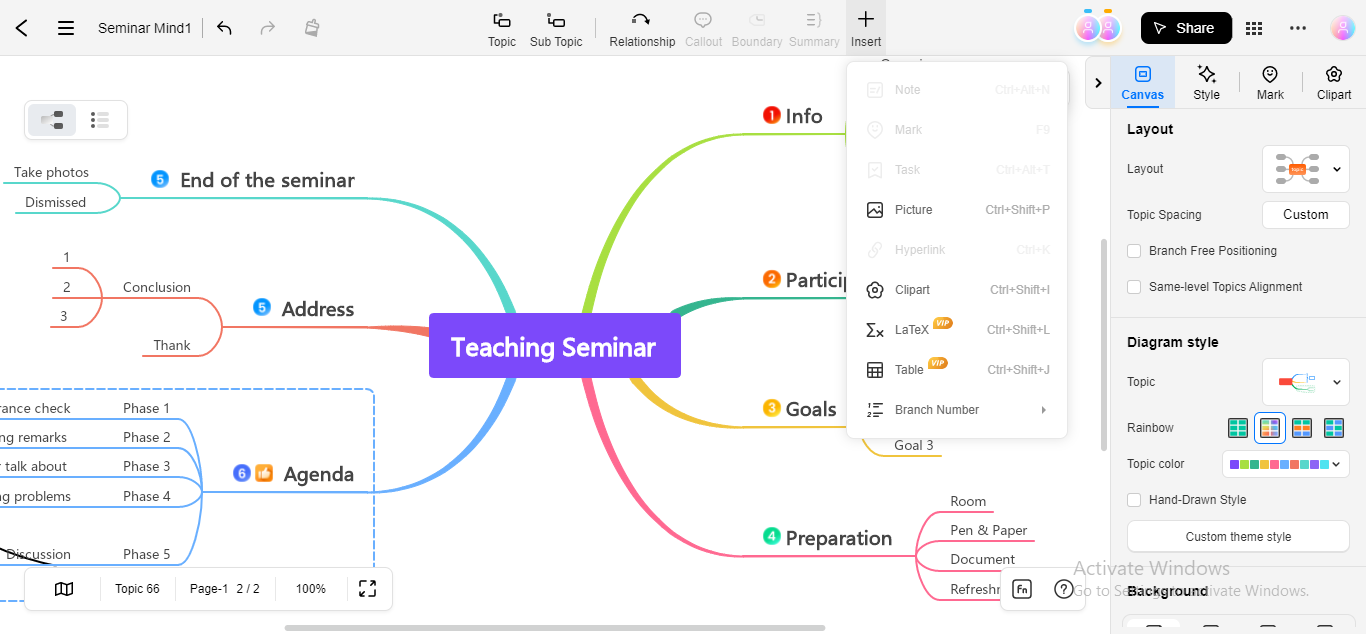 Step2
Choose the Branch Number option from the dropdown menu.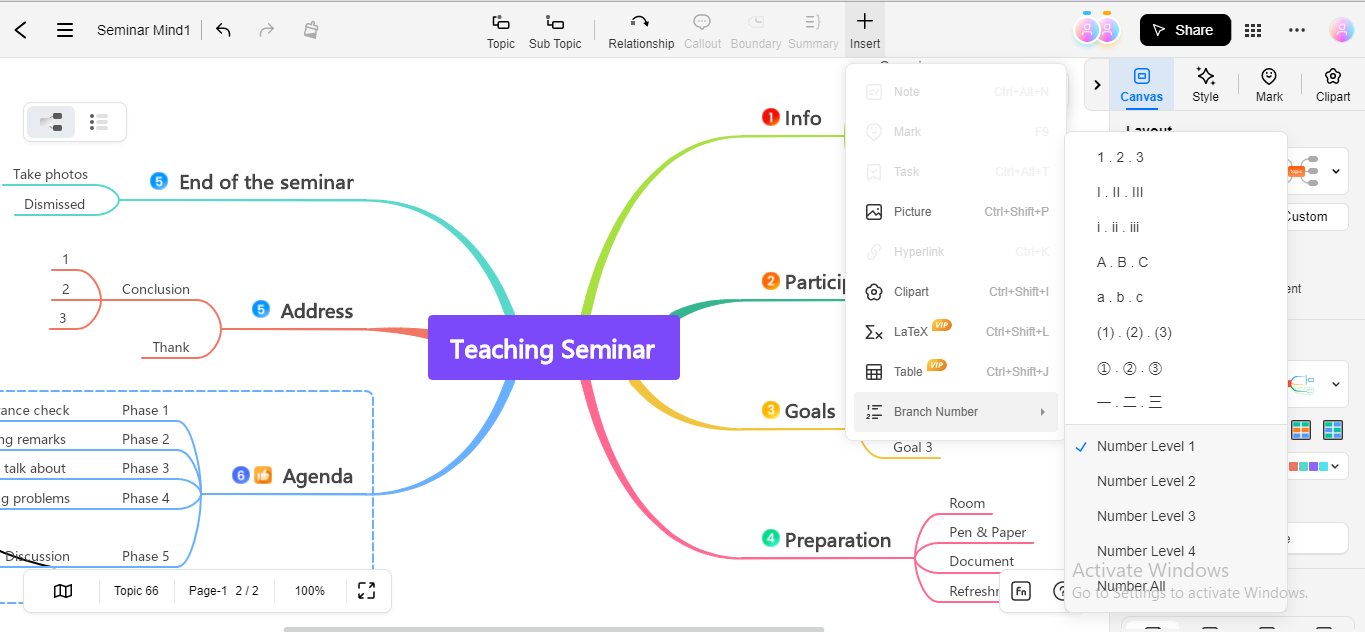 Pexels Integration
EdrawMind Online integrates with Pexels, a renowned copyright-free images website, so that you can easily import and insert image files without navigating to the outside windows.
Step1
Click the Edraw Tool Box icon for dropdown options and choose the Pexels option from the menu.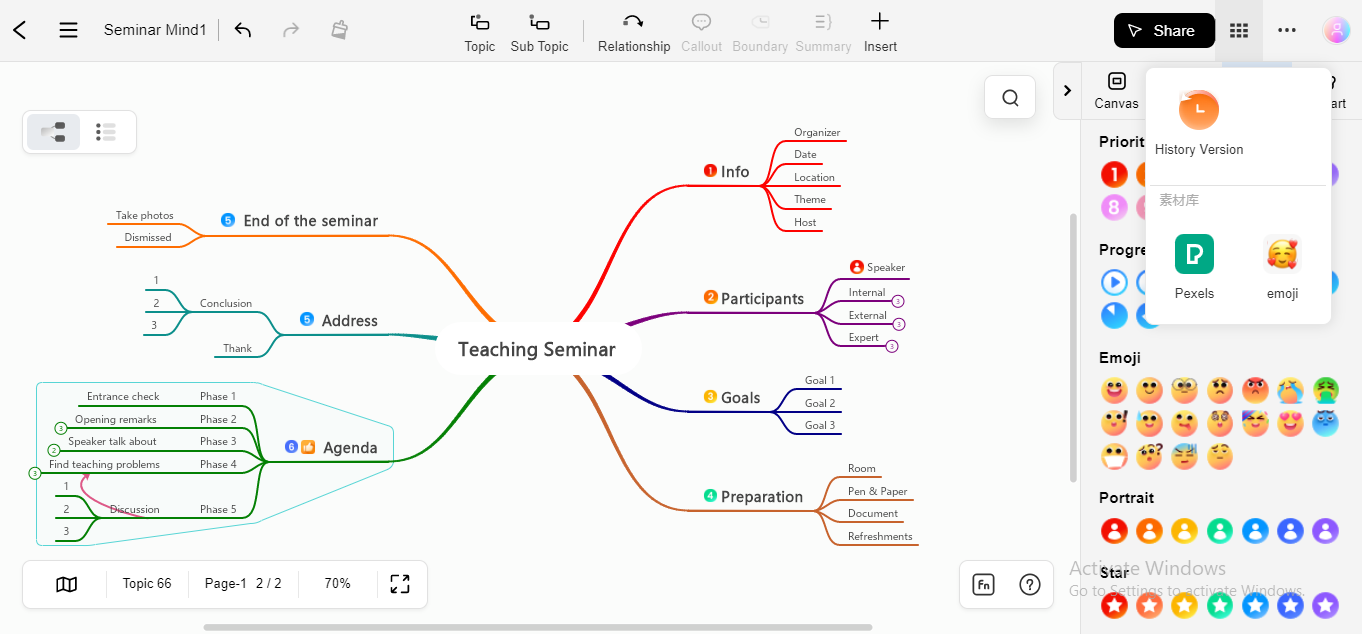 Step2
You can search and find relevant pictures on pexels integration about your topic.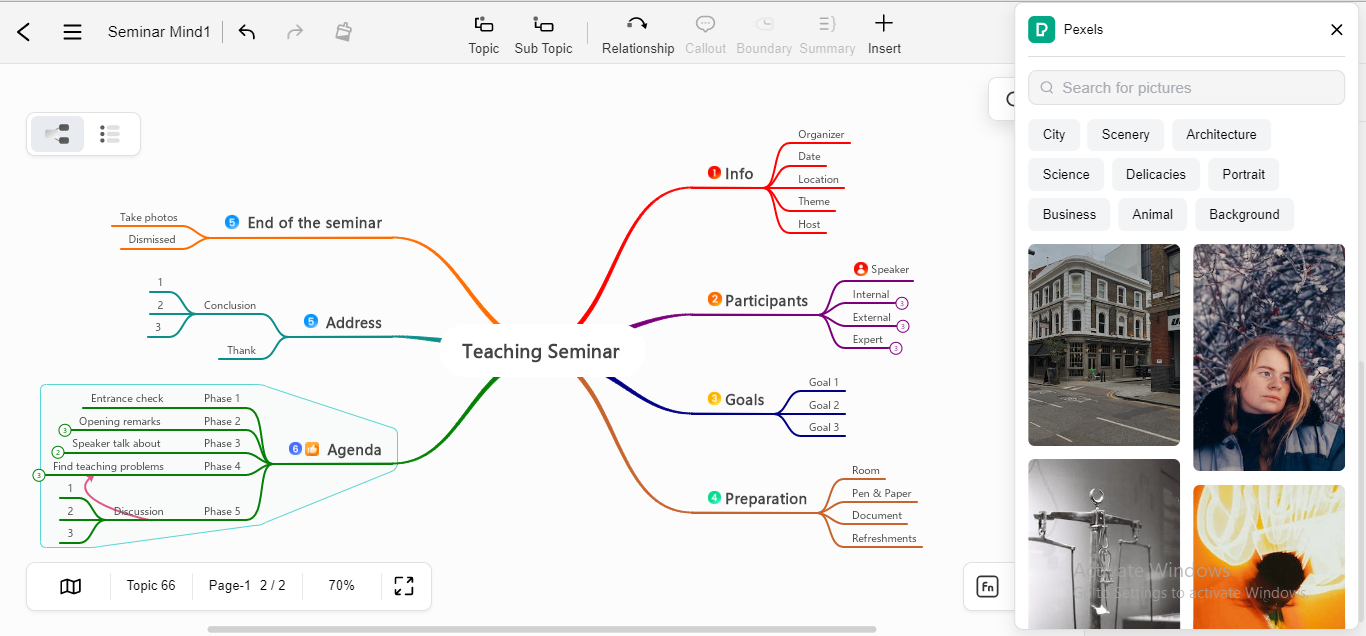 Step3
You can also filter the Pexels image results for more precision.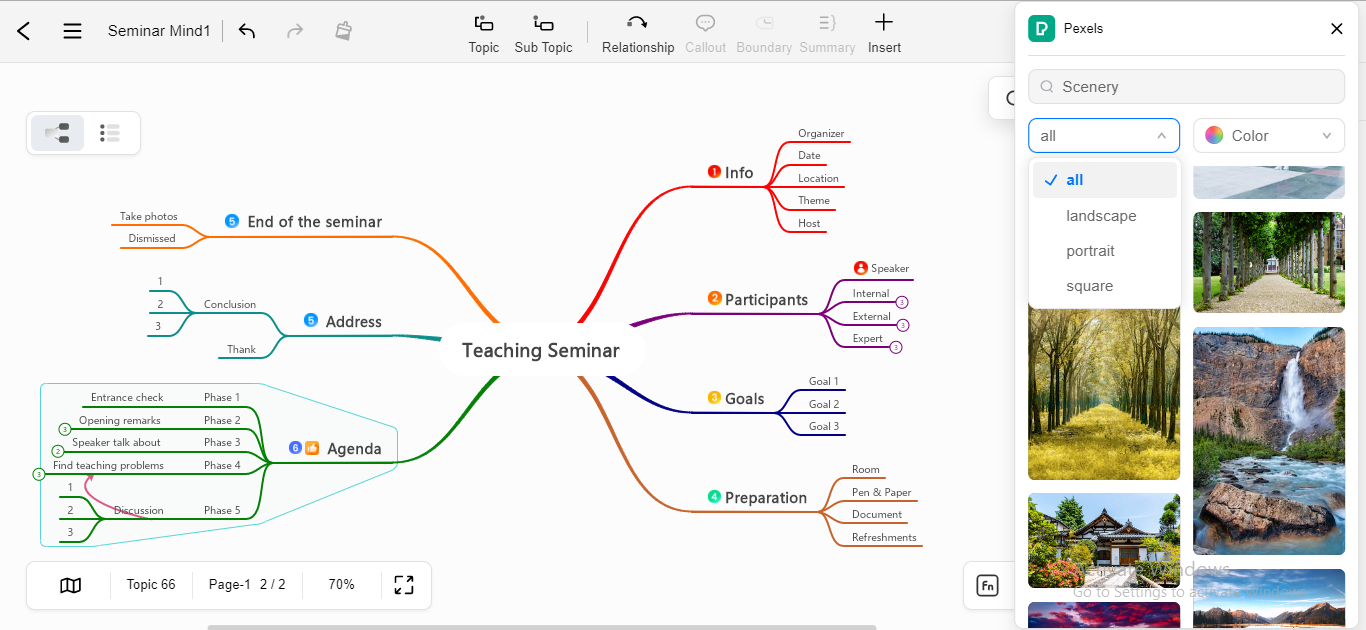 Import Templates from Gallery
EdrawMind Online presents a mindmaps gallery containing accomplished projects from professionals; you can view those mind-mapping projects. Not only view, but you can also use their mindmaps as templates to create & tailor your mindmaps.
Step1
Click on the EdrawMind Gallery option on the left panel of the main interface.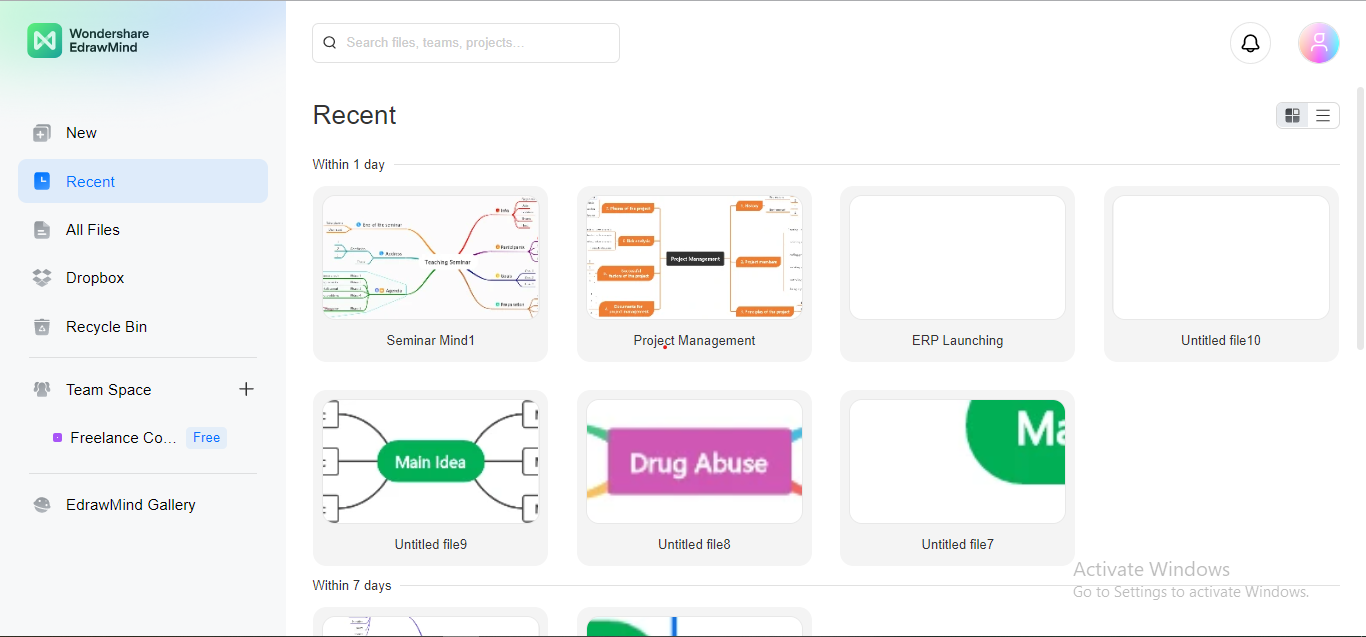 Step3
You can specify your searches by selecting a particular category or filtering out your search results.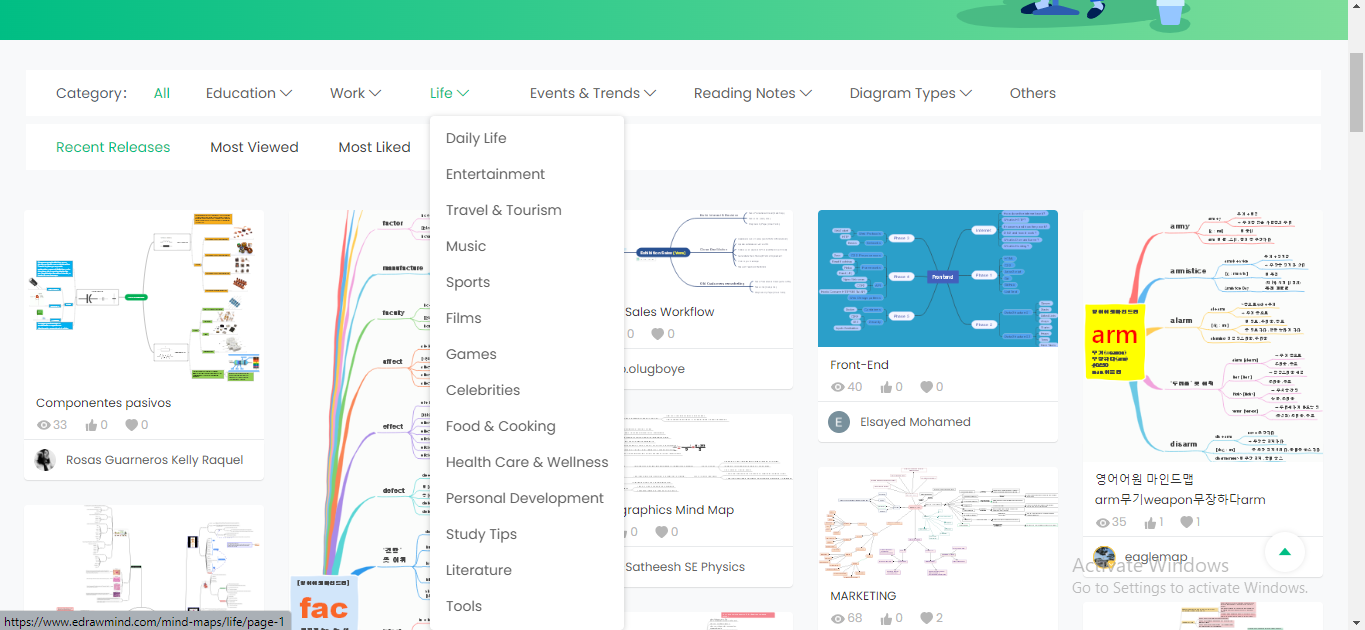 Step4
To use any project as a template, click on it, and it will open in a new window. Now, click the Duplicate option to start editing it.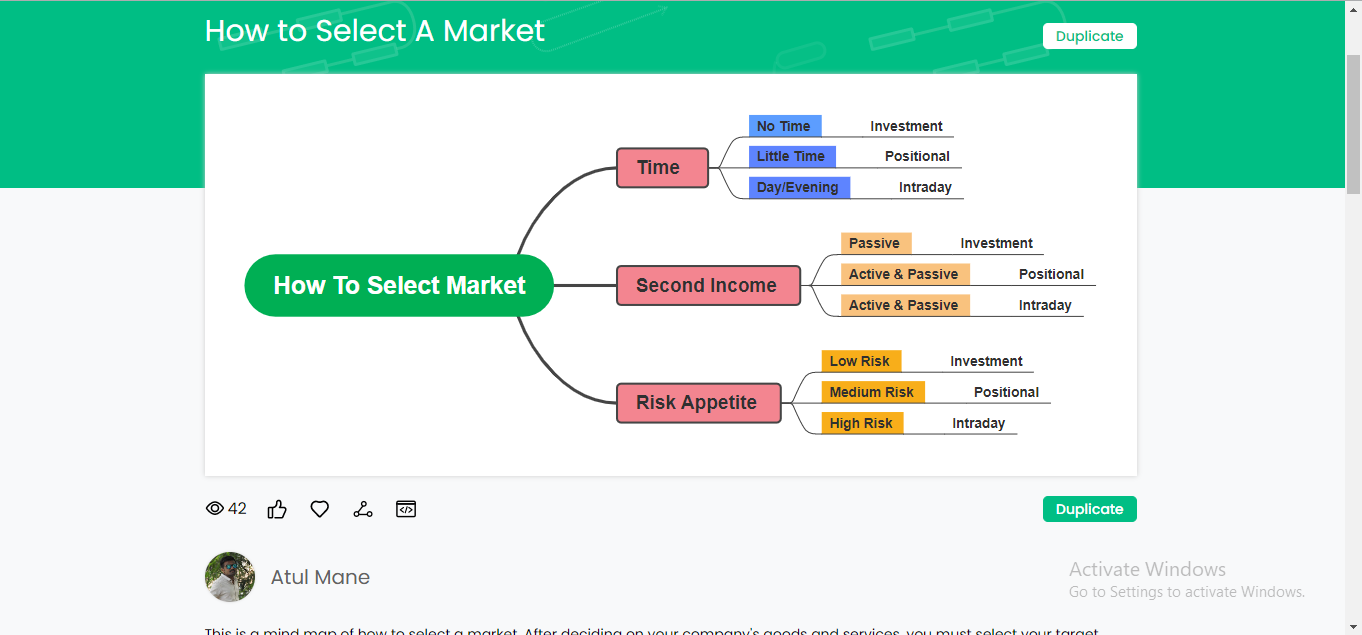 History Version
If you want to retrieve the previous version of the file in case you make the wrong changes to it, utilize the History Version feature.
Step1
Click on the Edraw Tool Box icon to launch the dropdown menu and click on the History Version option.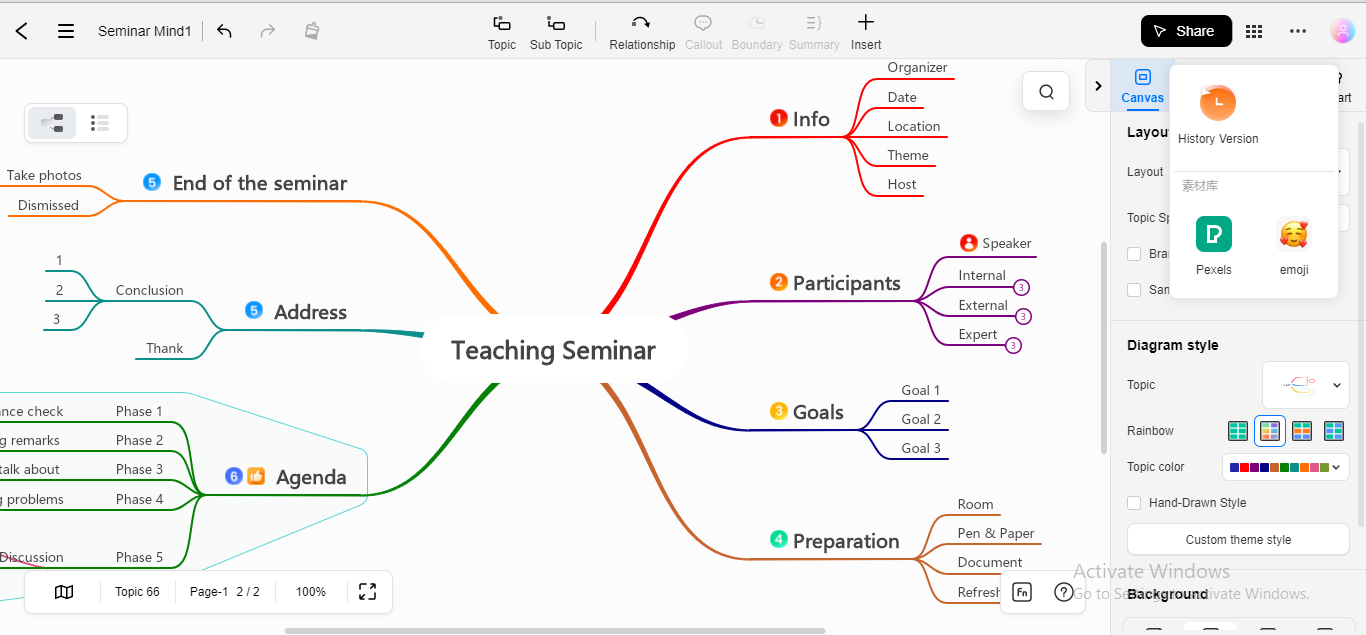 Step2
EdrawMind Online will show all the previous versions of your file; click on the version you want to retrieve to get your previous version back.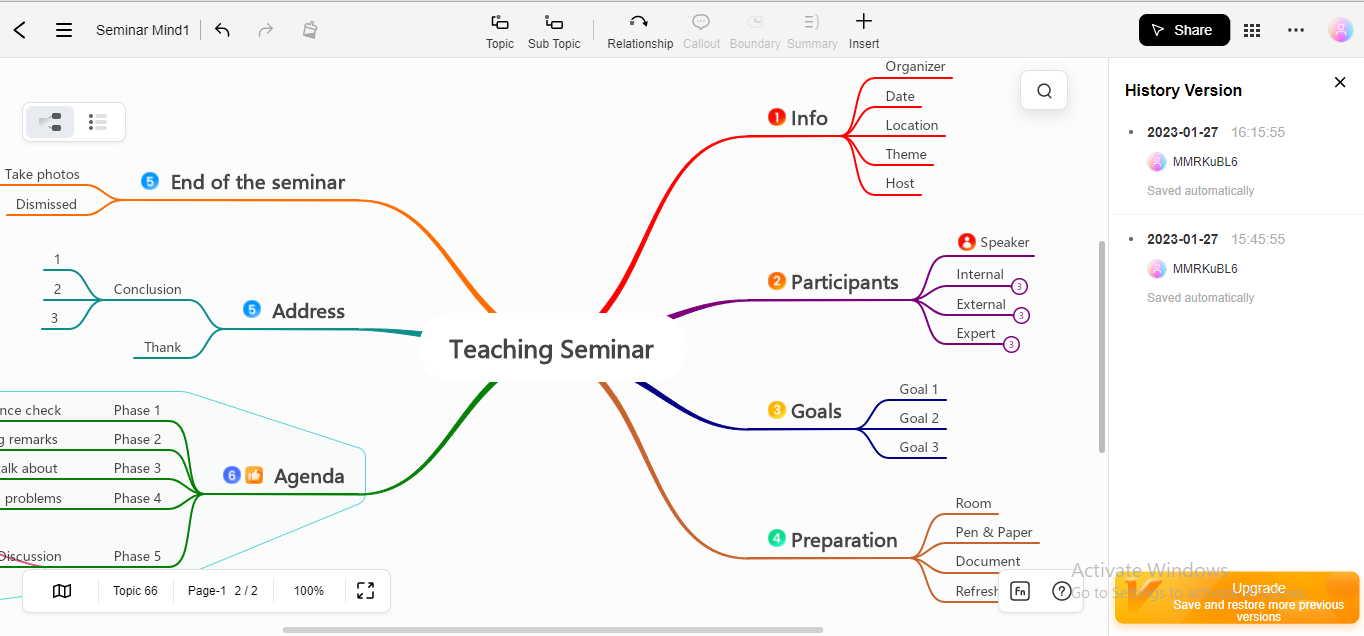 Real-Time Collaboration
You can collaborate on a team project with your members simultaneously to boost team productivity and organizational performance.
Step1
Click the Team Space option in the left panel of the main interface to start a team project.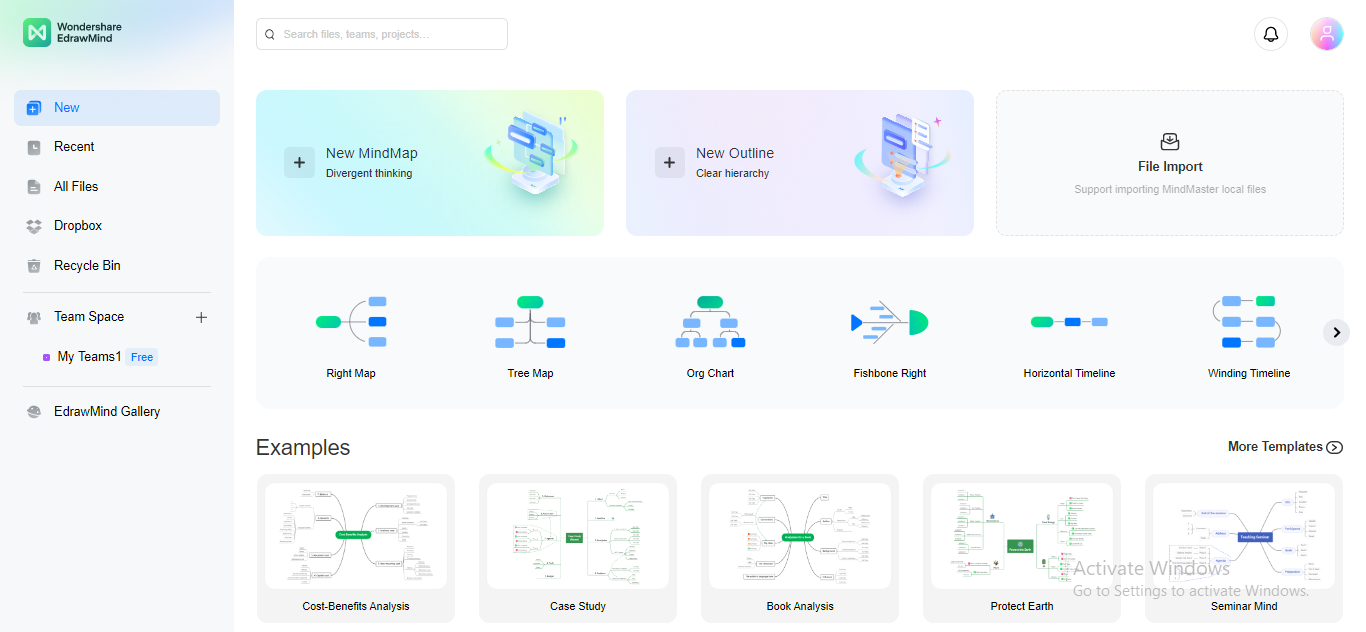 Step2
A pop-up will open, inquiring about creating a new Team. Rename your team name and click the Create button.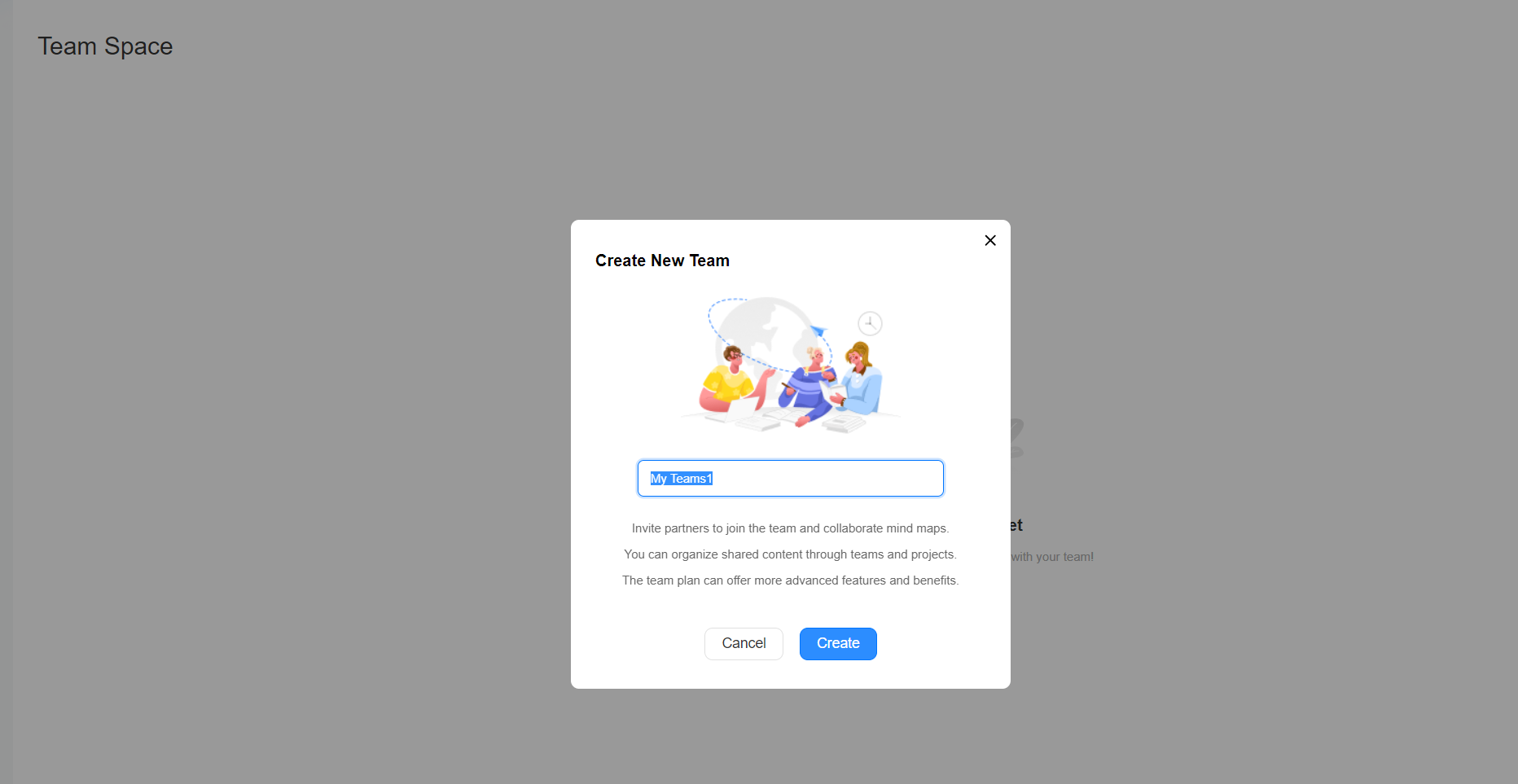 Step3
A Team Space will form; you can access it by navigating to the Team Space tab.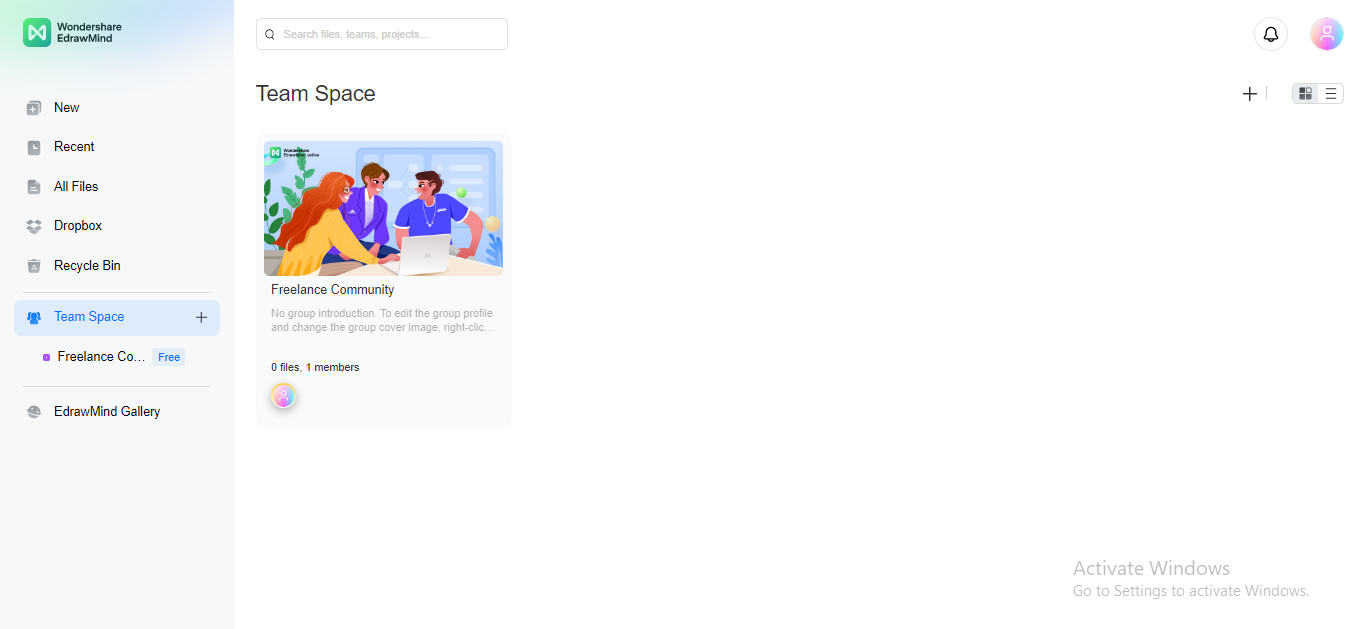 Step4
To add members to your Team space, click the +Add Team Members tab in the right panel.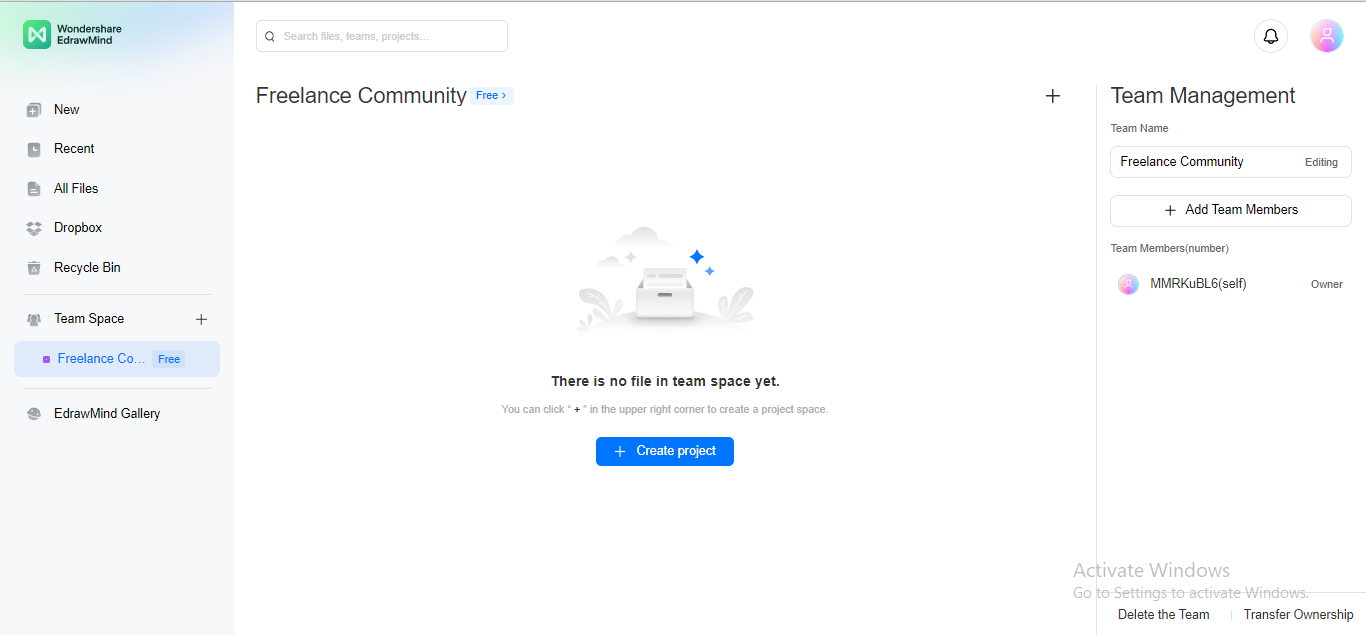 Step5
Insert the email address of the member you want to add to your Team Space.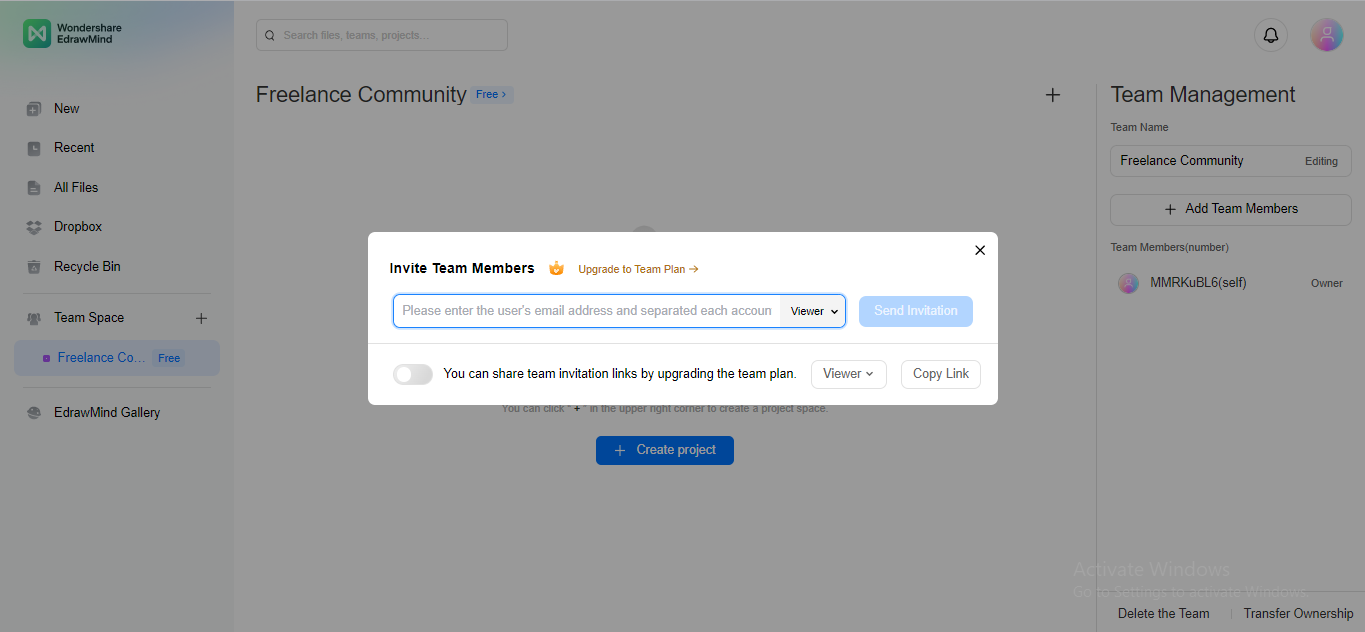 Step6
You can decide the status of your upcoming member, such as manager, editor, or viewer. Click the Send Invitation button to invite a particular user to your Team Space.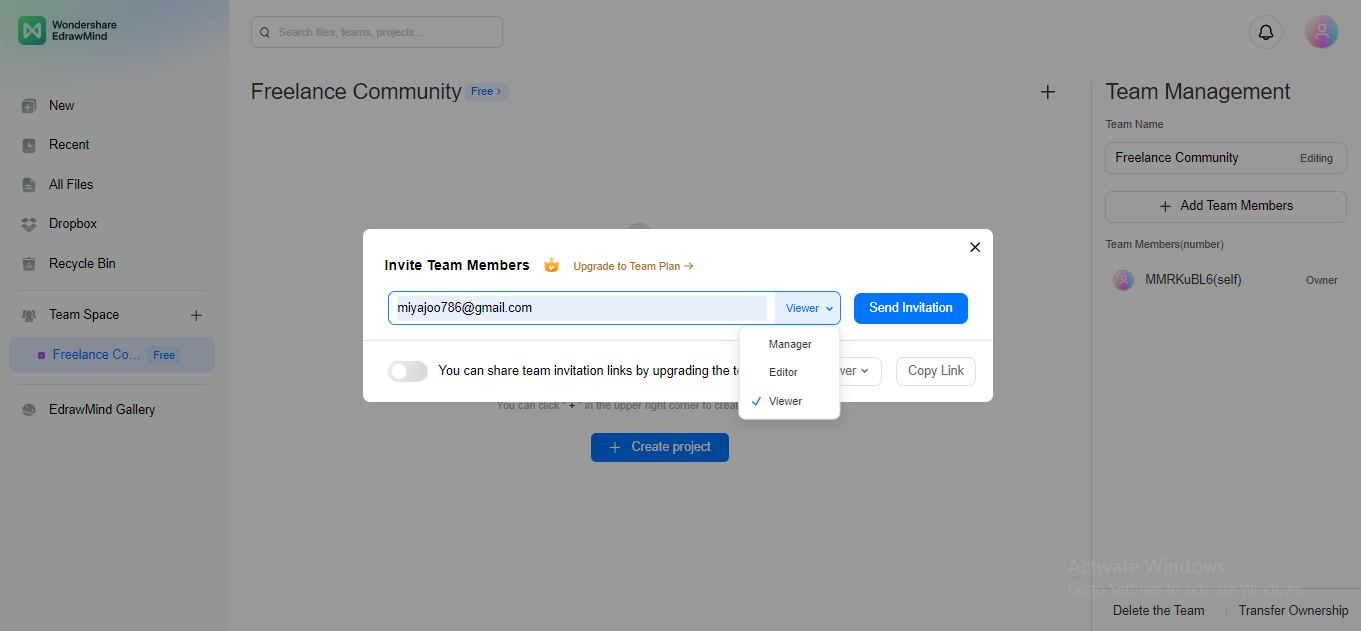 Link Sharing
EdrawMind Online allows you to share your mindmap with anyone by creating a quick link.
Step1
Click on the Share button at the top right corner.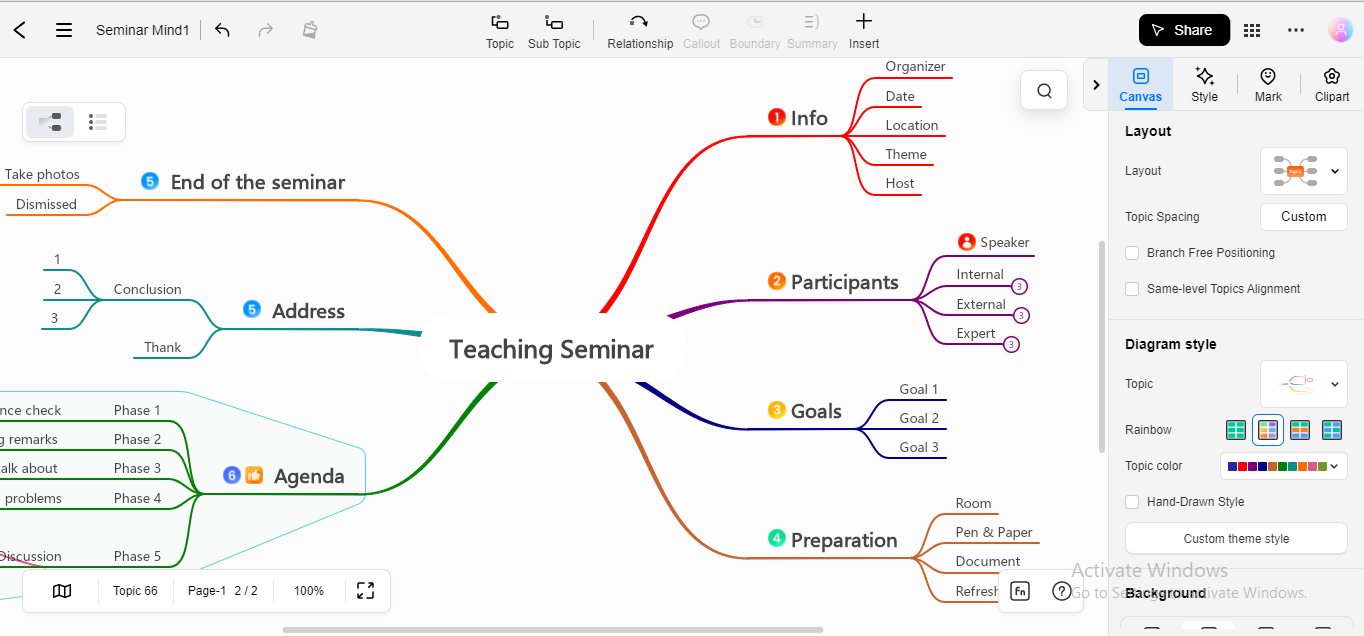 Step2
Click the Copy Link button to copy your project's link and send it to your EdrawMind Online team members.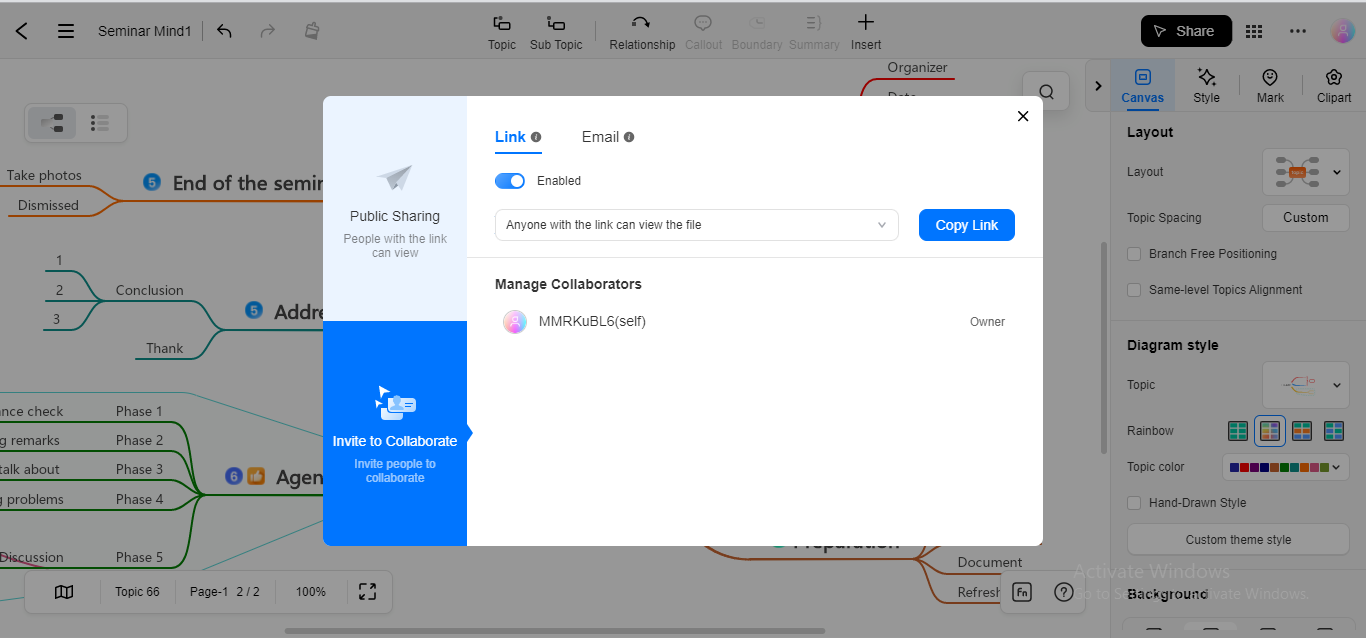 Step3
For public sharing, navigate & choose the Public Sharing widget at the top left, and then click the Click to Make the Link Public button to share your mindmap to the public.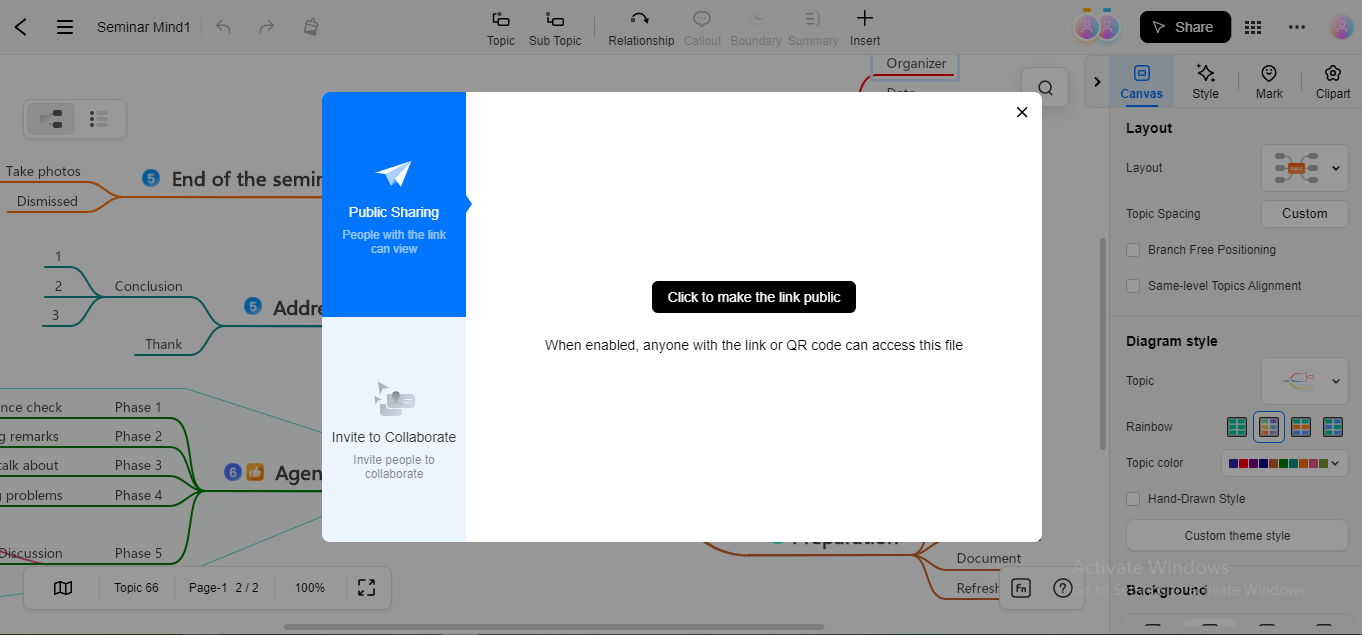 3. Benefits of Using EdrawMind Online
The ease of accessibility, web-based interface, unending tailoring choices, and stellar real-time collaboration of EdrawMind Online has revolutionized the traditional teamwork vogues. Using EdrawMind Online for your personal & corporate needs will be beneficial in the following ways:
#1. Efficient Teamwork Management
EdrawMind Online unifies you with all your teammates for a mutual purpose, even if they are residing on diverse continents. Enabling real-time collaboration with minimum response time, EdrawMind allows you to manage and edit your team projects at a streamlined pace. Using EdrawMind Online for project management, you can experience a well-coordinated environment where you can work safely under one platform.
Additionally, Cloud syncing facilitates recent updates about your combined task, so you never miss out on anything.
#2. Creative Mind Mapping
If you're a business professional, cutting-edge mind-mapping software is all you need, enabling you to fashion innovating & attention-grabbing mindmaps. An exciting templates gallery, various color schemes, expressive clipart, the ability to customize shapes & fonts, and outline mode are all impressive features of EdrawMind Online that allow a brilliant mindmap creation experience.
#3. Innovative Business Presentation Development
As humans, we don't better understand the information in rectilinear form; on the other hand, visual representation of information makes it easy to be comprehended by everybody. Gone are the days when presentation development required strenuous efforts and excessive time. Using an efficient mind-mapping tool like EdrawMind Online empowers you to devise an impressive business presentation for better audience attention and elevating business performance.
#4. Enhanced Team Communication
If your business circle is vast, containing thousands of members, you can't handle it efficiently. It is because some of your team members may not participate fully in productive team tasks. In contrast, you can settle this work instability by integrating a full-featured tool like EdrawMind Online, which could assist you in quick document sharing, emailing, real-time chatting, commenting, feedback, and well-timed responses.
#5. Time & Efforts Channelization
The rational way to proceed in a project or field is to channel your efforts and time productively. Rather than arranging meetings at the office, the prolific approach is to conduct an online meeting via EdrawMind Online, which will not only facilitate accessing team members remotely but also result in productive collaborative activities.
Additionally, EdrawMind Online offers full platform coverage, allowing you to use it on Android, iOS, and Desktop, ensuring that each team member can attend and collaborate during the team meeting.
4. EdrawMind Online Pros and Cons
An honest description of any product doesn't only highlight the benefits but also demonstrates its downsides. This comprehensive juxtaposition of the pros & cons of EdrawMind Online will be enough to analyze its various aspects.
Pros:
Unlimited templates and premade diagram styles assist in easy mindmap creation, especially if you are a newbie

Provides pre-built color schemes and stylized layouts to tailor your diagrams

Enables you to add clipart, stickers, and emojis relating to multiple categories to enhance the visual aspect of mindmaps

You can customize the font color, font size, shapes' fill & border color, connectors & branch styles, and more.

Allows you to create multiple pages in a file or project for facilitation

Helps you switch between the Mindmap and Outline modes to facilitate diagram creation

Enables real-time collaboration to manage your workload remotely with your team members

Provides the link-sharing option to share your mindmap with anyone

You can manage the team members as viewers, managers, or editors, restricting who can do what

Integrates with Dropbox, Pexels, and Cloud to expedite file loading, sync, saving, and so on
Cons:
File export options are limited in the Free version

Does not support more than one team space creation in the Free edition
5. Let's Draw a Mind Map Within 3 Easy Steps
After delving into profound details of features, their usage instructions, and pros & cons, let's try EdrawMind Online to fashion a spellbinding mindmap by following these easy steps.
Step1
Start by writing your Main Idea in the center of the EdrawMind Online editing canvas.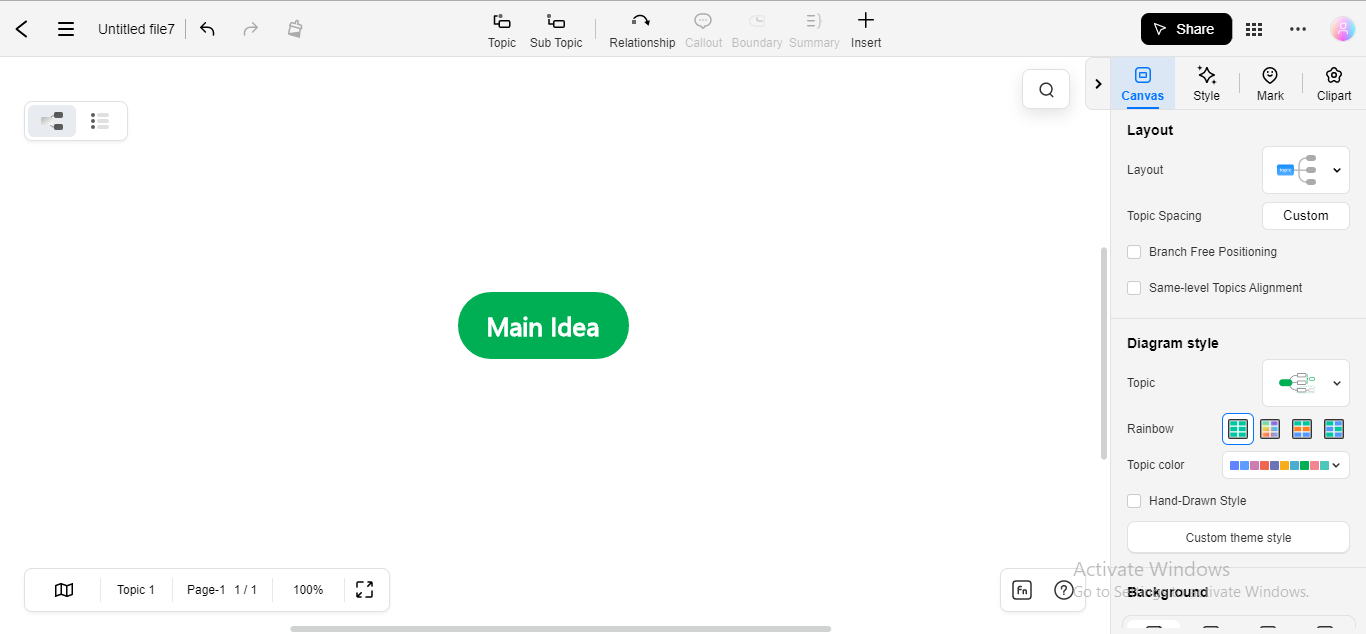 Step2
Emanate branches from the main idea as subtopics. You can also add sub-ideas, twigs, and floating topics to achieve a mindmap-like appearance.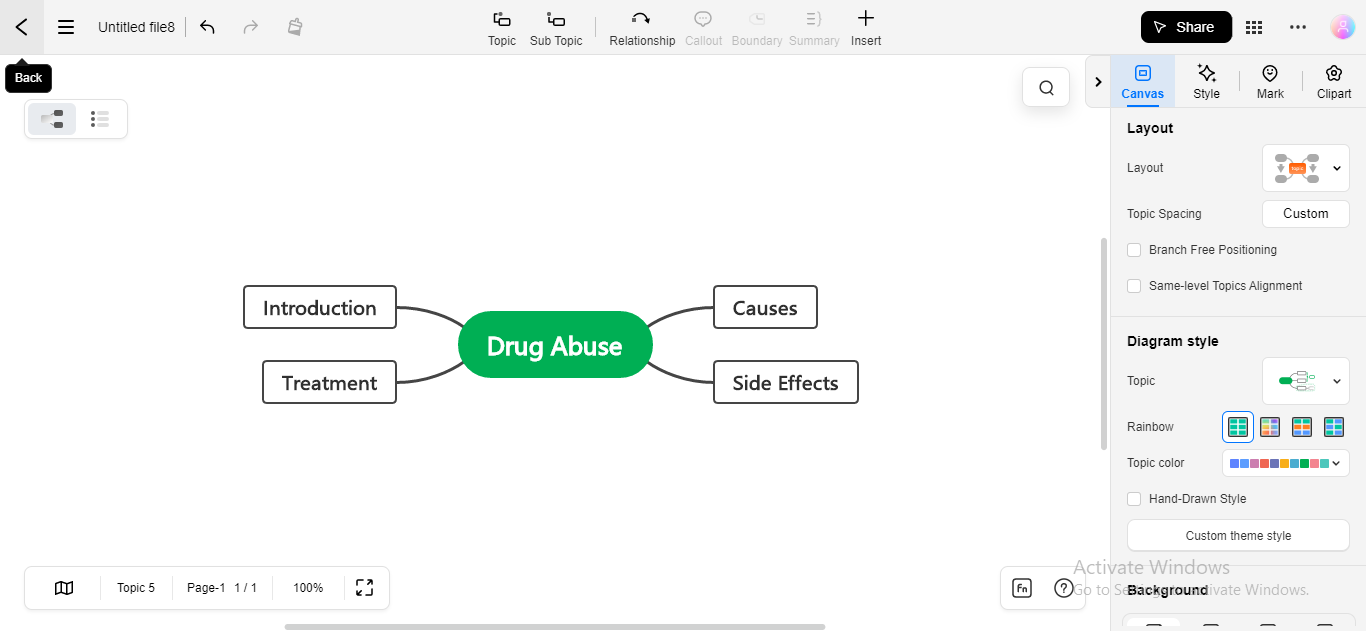 Step3
Personalize your mind map by applying your preferred theme, layout, and color scheme.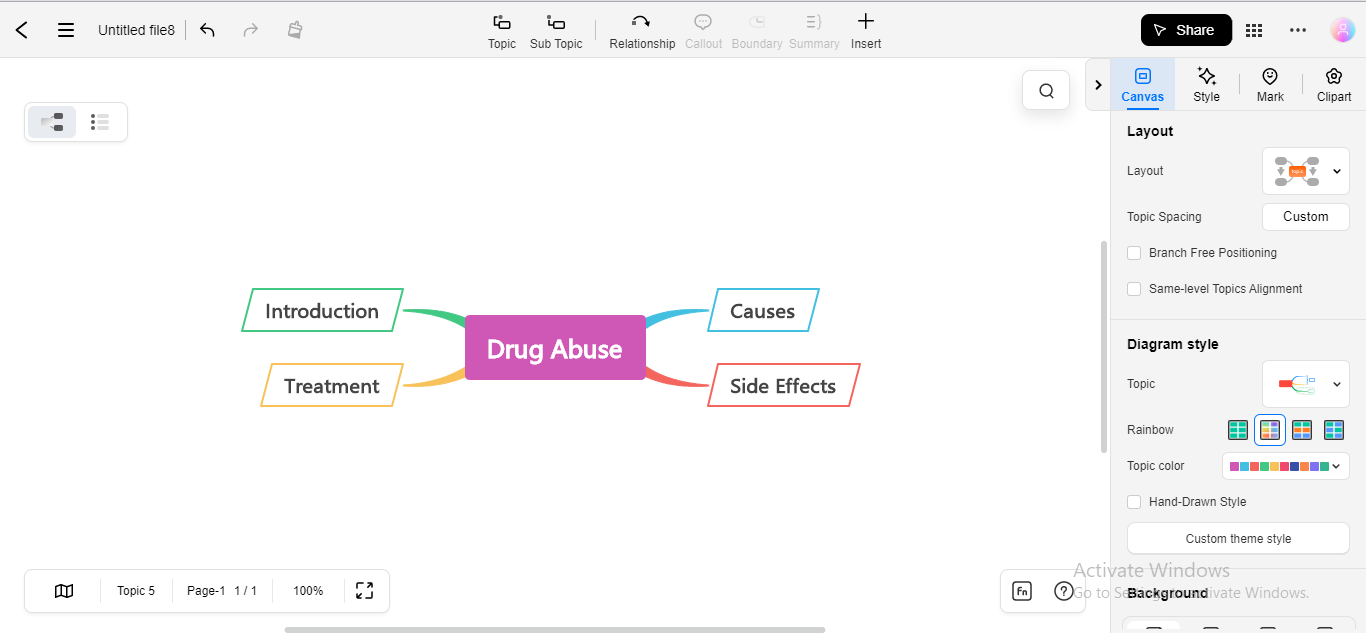 6. Final Thoughts
If you are searching for a satisfactory solution to fabricate your mind for personal or business purposes, look nowhere except EdrawMind Online. With an extensive gallery of appealing themes, templates, color schemes, shapes, and stickers, EdrawMind Online empowers you to customize your mind maps as a seasoned professional.
EdrawMind Desktop
12 structures & 33 themes & 700+ cliparts
Support Win, Mac, Linux, Android, iOS
Advanced import & export options
On-premises software for business
Enterprise-level data security
EdrawMind Online
12 structures & 33 themes & 700+ cliparts
Access diagrams anywhere, anytime
Team management & Project management