A Complete Guide to Project Life Cycle
Do You Want to Learn Project Management Life Cycle?
EdrawMind helps move ideas forward, faster and better. Learn from this guide to know everything about Project Life Cycle and its 5-phases. Try EdrawMind for free now!
When as a project manager, you have started working on a new project, your team must decide what kind of project methodology they are going to follow. Today, there are over 8,000 different project management methodologies that one can choose from, per the project's requirements and client's demands. However, even before you finalize a project management methodology, you must be aware of the project life cycle and different phases of the project management life cycle. By understanding the different project life cycle phases, you can easily understand which project management methodology is correct for you.
In this elaborate guide, we will help you understand the important phases of a project management life cycle and how EdrawMind lets you create life cycle mind maps to get a better visualization for your team and stakeholders.
1. What is a Project Life Cycle?
According to different project managers and project management institutes, a project life cycle is a five-step process followed when a team moves through different stages of project completion. In a general sense, a project life cycle provides a framework for managing different types of projects within an organization. Every project life cycle includes some universally-accepted steps that allow the project managers to ensure that their team is on the right path to deliver the project on time. There are five phases to any project life cycle, commonly known as 5-Process Groups -- Initiating, Planning, Executing, Controlling, and Closing. In order to get a better picture of the project management life cycle, we need first to understand what a project management framework is all about.
As you must know, a project management framework illustrates the universal structure and direction required to complete a given project. Unlike some project management methodologies, like Agile, Scrum, Kanban, PRINCE2, and more, project management frameworks are not that detail-oriented and focus on how easily one can achieve the project's goal while adapting to multiple changes.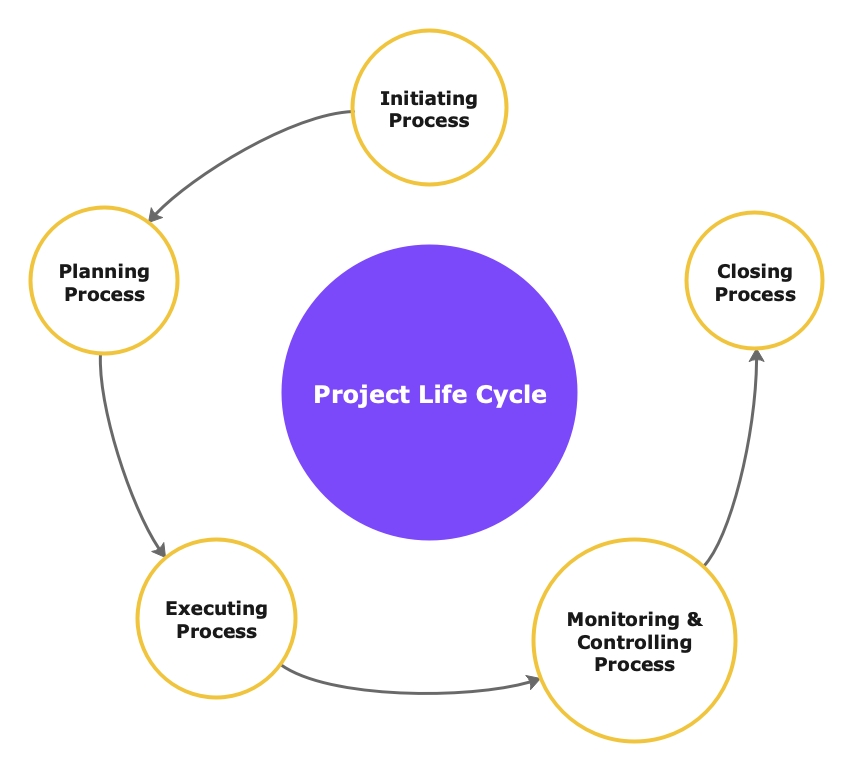 2. 5 Phases of Project Management Life Cycle
It becomes simpler for any project manager to break down the entire project delivery into various phases. Each phase of this project management life cycle is goal-oriented, has its own set of characteristics, and is responsible for its own deliverables. Here, we have discussed the five phases of the project management life cycle in detail to understand better how you can break down your project into multiple important phases.
1
Project Initiation

Click here to download EdrawMind
(For Win)
Click here to download EdrawMind
(For Mac)
Click here to download EdrawMind
(For Linux)
As the name suggests, project initiation is the very first stage of a phase of any project. It usually provides an outline or an overview of any given project. In most cases, in this stage, a project manager notes down the different strategies that are required to attain the desired result.
In the very first stage, a project manager will start the meeting by undergoing all the different requirements outlined by the client or stakeholders. Since we are talking about the initiation phase, it is mandatory to understand every minute detail so it will not bring any issues when we head to different phases.
The important key steps that every project manager should take under this first phase are:
Understanding the feasibility of the project
Any company will only work on those projects which seem feasible with the given resources. As a project manager, you should first learn about the project's feasibility from different points of view, like economics, legal, technical, and operational. If you think that working on this project will put your company under some legal issues, you should decline to work on it. By going ahead this way, you will save all the resources of your company.
Identifying the project scope
You should first identify everything related to the project. It can be the detailed scope of work, deadline, required technical stakes, features, etc. It will give you an idea about what kind of resources you will push forward when you start working on this project.
Learn about project deliverables
Start outlining the project deliverables. Often, clients change the deliverables in the midst of the project development. This somehow breaks the project management life cycle. So, in this very first phase, you should outline all the project deliverables in detail.
Who are project stakeholders?
Meet with the team for whom you are working on this project. It will give you an idea about their vision, mission, and why they are actually working on this project in the first place.
Developing a detailed business case
Create a statement of work (SoW) and share it with your team and client. Once you get the green light from everyone, you can head to phase two of the project life cycle.
2
Project Planning

Click here to download EdrawMind
(For Win)
Click here to download EdrawMind
(For Mac)
Click here to download EdrawMind
(For Linux)
Project Planning is an important phase in the project management life cycle, as to how you are going to execute the entire scope of work will depend upon how you and your team have planned out everything in detail. Put simply, the project planning phase frames different plans that will guide your team through the implementation and closing phases of the given project.
The project Planning phase includes some important key elements, like:
Creating a project plan
Like any building plan, creating a project plan serves as a blueprint of the entire project. A project manager must create a well-designed project plan that will detail all the requirements, activities, constraints, risk factors, and deadlines.
Creating workflow documents
A workflow document or a resource plan will outline all the important resources that you will require in order to complete the entire project. A workflow document will consist of detailed labor and materials that are required to complete the project.
Understanding budget
No one likes to go over budget. At the same time, companies only wish to work on projects that are economical for them. Framing a financial plan will help your company set the budget and allows you to deliver the project under the allocated budget range.
Gathering resources
Once you have outlined the budget and created the resource plan, you should hire or delegate the work to the right people. In addition to this, you should start looking for other important resources, like equipment, money, software, tech stacks, and more.
Anticipating risk factors
Before we head to Phase #3 of the project management life cycle, you should anticipate the risk factors. By analyzing the risk factors, you ensure what the threats and weaknesses that you might face when you work towards delivering the project to your stakeholders are.
3
Project Execution

Click here to download EdrawMind
(For Win)
Click here to download EdrawMind
(For Mac)
Click here to download EdrawMind
(For Linux)
This is the phase where the magic happens! In this phase of the project management life cycle, all the project-related processes are implemented. From design to the project's development, all the key components related to the project happen in this phase. The better way to accomplice the project execution phase is by delegating the resources to the right team members.
As a project manager, you will now shift from talking about the project or gathering the green signal from the stakeholder to actually working towards delivering on what is promised from your company's side. In the project execution phase, you will be spending a lot of time creating project reports, conducting meetings, and getting the reviews so that the entire project remains on the right track and moves through the execution phase of its life cycle.
The key factors of this project execution phase are:
Reporting Project's Progress
Get regular project updates from your team, which helps identify the issues and what is causing the delays. These reports will also help you understand how you can speed up the entire project delivery.
Conducting Meetings
Create meeting agendas and discuss them with your team members. This way, you will convey the right resources to the delegate team members.
Managing Problems
Not a single project goes by that does not face any kind of issues or problems. Some of the key problems that every project endures are losing important team members, quality issues, time management issues, etc.
4
Project Monitoring & Controlling

Click here to download EdrawMind
(For Win)
Click here to download EdrawMind
(For Mac)
Click here to download EdrawMind
(For Linux)
The project monitoring and controlling phase of the project life cycle measures the project's performance and tracks all the progress. It should be noted here that a project manager executes project monitoring and controlling in the execution phase itself, so that time and other resources are not wasted on unnecessary aspects that might hinder the project's delivery.
Even though this is one of the toughest phases of a project life cycle, a project manager can streamline everything by clearly controlling and monitoring every aspect. As a project manager, one would be ensuring that they capture the right project data to track it effectively against the original project scope. If there were changes, then the manager would track back to that phase in project execution where everything was working in the right order.
Some of the key project management steps for this phase are:
Cost & Time Management
You should track and review all the worksheets to review the expenses to record and control the project's budget, timeline, and tasks.
Quality Management
Check out all the project deliverables and access if they meet the acceptance criteria.
Risk Management
You should mitigate all the potential risks and issues beforehand.
Acceptance Management
It is always considered a good practice when a project manager creates a reviewing system that ensures that all deliverables meet the project scope outlined by the client or stakeholder.
Change Management
Always open to sudden changes, as there might be a possibility that project deliverables change in between the execution phase.
5
Project Closure

Click here to download EdrawMind
(For Win)
Click here to download EdrawMind
(For Mac)
Click here to download EdrawMind
(For Linux)
As a project manager, you should not forget that project closure is an equally important phase, just like project execution and planning. In the project closure phase or follow-up phase, the final deliverable is ready, and the primary focus of the project manager is to ensure the timely delivery of the project along with all the required documentation (both technical and creative). In this stage of the project management life cycle, all the activities related to the project execution are wrapped up so that there are no further changes required from the client or stakeholder's side.
Some of the key project management steps for this final phase of the project life cycle are:
Project performance report
This report will consist of every minute detail of how you and your team managed the entire project (from planning to execution). It is good to include the budget, risks, issues, and other controlling factors in this report so you and your seniors can review everything before moving on to a different project.
Team Analysis
Once the project is executed and delivered, you should complete a team analysis to see how everyone performed. This will help you understand your primary team members and whom you would like to change or remove from your team in subsequent projects.
Project closure
Always create a document that illustrates everything your team went through while working on the project. It will also include the signing off of contracts, SLA details, AMC details, etc.
Post Review
As a project manager, you must create a formal analysis of the success and failure of the entire project in detail.
The phases mentioned above of a project management life cycle are universally accepted by all project managers. However, in recent days, many companies have started following a total of seven phases of any system development or project development life cycle, which are:
Project Planning
Project Analysis
Project Design
Project Development
Project Testing
Project Implementation
Project Maintenance
As you see here, by following these new seven phases of any project management life cycle, you ensure the timely delivery of any project and assure your client that you have carefully planned every required step even after delivering the project.
3. Key Takeaways
As a project manager, you know that every project starts from somewhere and heads to a conclusion part. The project might be a success or a failure, but as a project manager, it is your responsibility to create the perfect project management life cycle to bring everyone on the team on the same page. As we learned in this guide, a project life cycle provides a pathway or a roadmap throughout the entire project's journey.
Creating mind maps to understand the project life cycle is yet another important thing that, as a manager, you should do. The visualization of each step of the project will help your team understand what parts you all lack and what efforts you need to place to achieve the deliverables. EdrawMind is one such amazing tool that helps project managers create wonderful mind maps to illustrate the project life cycle. With built-in templates and clip-arts, you can create mind maps that resonate with your project's vision. Head to the download link below and start making mind maps as per your requirements.
EdrawMind Desktop/Mobile
12 structures & 33 themes & 700+ stylish cliparts
Support Win, Mac, Linux, Web, Android, iOS
Advanced import & export options
On-premises software for business
Enterprise-level data security
EdrawMind Online
12 structures & 33 themes & 700+ stylish cliparts
Access diagrams anywhere, anytime
Group & real-time collaboration
Personal Cloud and Dropbox Integration