A Complete Guide to Spider Diagram
Do You Want to Make Spider Diagram?
EdrawMind helps move ideas forward, faster and better. Learn from this Spider Diagram complete guide to know everything about Spider Diagram. Just try it free now!
1. What is a Spider Diagram?
A spider diagram is described as a visual tool that organizes concepts by using colors, images, and space. It provides a complete overview of the ideas so that you can brainstorm and review all your ideas at a glance. The name spider indicates its spider-like appearance. You start your diagram by writing your main idea or concept in the middle of the page, and then add additional information and connect them to the center by drawing lines. These lines resemble the legs of a spider or like several spiders if the ideas are complex and require more space and visual enhancement tools: colors and images. The following spider diagram is drawn with the help of EdrawMind: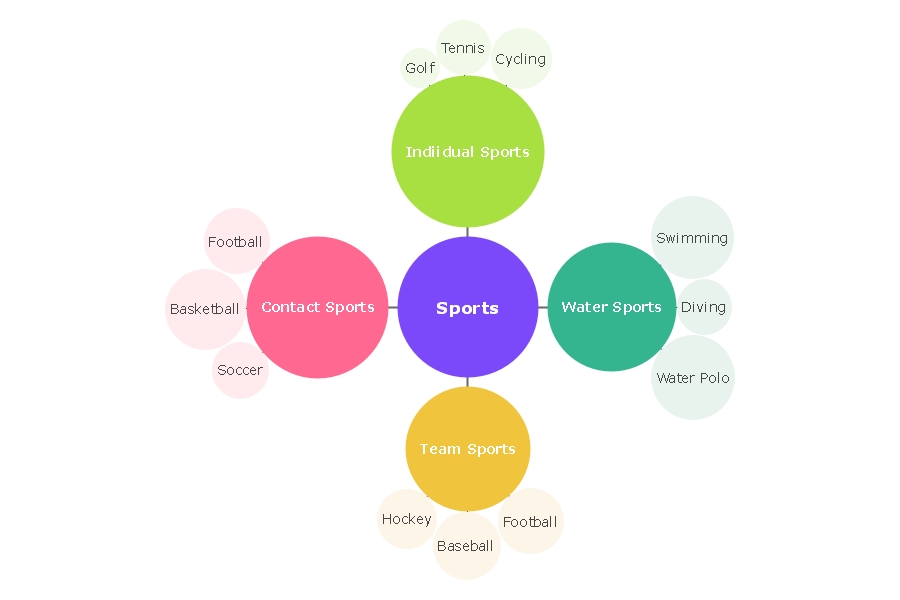 2. Difference between Spider Diagram and Mind Map
Spider diagrams and mind maps look similar as both of these are visual representations of ideas, concepts, and their mutual relationships. However, the main difference between these two entities is that the spider diagram is more free-form. There are no specific rules on how to draw a spider diagram and what color to use while drawing. These are optional and depend on your personal preferences.
3. Benefits of Spider Diagram
There are many benefits of making a spider diagram. Some of these are as follows:
Think Visually and QuicklySpider diagrams are simple, and it takes less time to draw them. Therefore, our brains can better understand them as compared to liner notes. They reflect how our brains are intrinsically structured.
Spark CreativityA spider diagram helps you in sorting the information as you create it. It sparks creativity that influences the understanding of the topic at hand.
Increase Comprehension and FocusA spider diagram enables you to focus on the topic, review knowledge as you organize it, and help you comprehend it besides letting you find out where you need additional information.
Remember InformationThe use of different colors makes these diagrams easy to remember. Moreover, the images, spatial structure, simple keywords, and colors of a spider diagram help you recall information without any difficulty.
4. How to Make a Spider Diagram?
You can make a spider diagram by following the following three steps:
Select a broad topic. Write it in the middle of the page and draw a square, rectangle, or whatever shape you prefer around it.
Write down your subtopics and link each other to the central topic via an arrow or a line. You can put these subtopics in any shape of your choice.
Add further ideas around your subtopics until all your information is on the page. You can customize your diagram by adding colors and images of your choice.
5. When to Use a Spider Diagram?
You can use spider diagram for the following purposes:
For Preparing Lesson ContentsTeachers can use spider diagrams to prepare lesson contents and make lessons attractive and intriguing for the students.
For Taking NotesStudents can use spider diagrams for taking notes and understanding the lesson contents in a better way.
For PresentationsYou can use a spider diagram to present your ideas precisely to make them clear to the audience.
For BrainstormingYou can organize and brainstorm your ideas in a creative way using a spider diagram. It helps you review the main points of a topic in no time.
6. Spider Diagram Templates
Website Designing Template

Click here to download EdrawMind
(For Win)

Click here to download EdrawMind
(For Mac)

Click here to download EdrawMind
(For Linux)

You can make a spider diagram to brainstorm the design of your web page. Write your main word in the middle of the page, i.e., website. Write four subtopics that are related to the website in rectangle boxes and connect them to the main word using lines. Each subtopic is further connected to further details using different colors and shapes. This spider diagram gives a clear idea of what the website will look like.

Business Models Template

Click here to download EdrawMind
(For Win)

Click here to download EdrawMind
(For Mac)

Click here to download EdrawMind
(For Linux)

If you are making a diagram describing the types of business models, write the main keyword in the middle of the page. Write the four types of models, i.e., bricks and clicks, creator, online, and owner in different colors and shapes around the main keyword. Further details describing the models are written in circles around them and are connected to them via lines.

Dog Breeds Template

Click here to download EdrawMind
(For Win)

Click here to download EdrawMind
(For Mac)

Click here to download EdrawMind
(For Linux)

This spider diagram showing different dog breeds has the title 'Dog breeds' in the center. This title is enclosed in a circle and various branches are emitting from this circle. Each branch ends in an encircled dog breed. This diagram gives a clear idea of different dog breeds and you can easily remember them by looking at the diagram. For further visual enhancement, these circles are colored differently.
7. Key Takeaways
A spider diagram provides an efficient and effective tool to organize and present your data comprehensively and precisely. It is used by teachers, students, professionals, entrepreneurs, and organizations for brainstorming their ideas. You can draw spider diagrams by using EdrawMind which has valuable and powerful tools and several templates to assist you with drawing various kinds of diagrams. It enables you to brainstorm, plan, and execute your idea in the best way possible.
EdrawMind Desktop/Mobile
12 structures & 33 themes & 700+ stylish cliparts
Support Win, Mac, Linux, Web, Android, iOS
Advanced import & export options
On-premises software for business
Enterprise-level data security
EdrawMind Online
12 structures & 33 themes & 700+ stylish cliparts
Access diagrams anywhere, anytime
Group & real-time collaboration
Personal Cloud and Dropbox Integration