Create Mind Maps on Your Phone with the 9 Best Mind Mapping Android Apps
This brief presents a closer look at the best Android applications you can use to draw mind maps in 2023 and beyond.
Create Mind Maps Today!
EdrawMind is a mind mapping tool equipped with 700+ cliparts. This article presents a step-by-step guide to creating a creative mind map to present your idea elegantly. Try EdrawMind and create hundreds of mind maps today!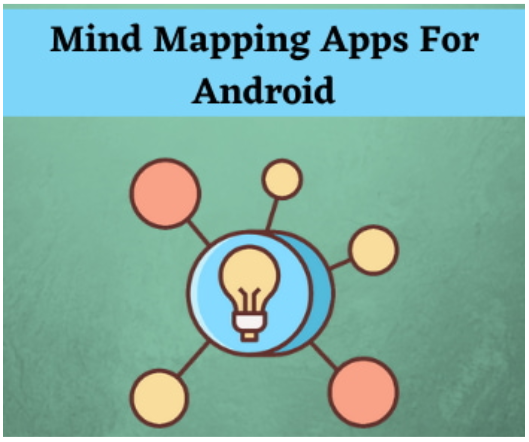 A graphical or visual representation of different concepts or ideas is commonly called a mind map. It does not matter how complicated your idea is; a mind map makes it super simple and easy to understand for everyone. In these diagrams, multiple tasks are linked to the central idea. Hundreds of methods are available to draw mind maps, and using Android apps is one of them.
Mind map Android applications make mind mapping convenient, fast, and appealing at the same time. Though countless apps are available in the market for a similar job, finding the right one often becomes tricky. Are you looking for an efficient mind map app for Android? Read the discussion below, as it presents the 9 best Android applications to create elegant mind maps in no time. Let's look at how you can benefit from these apps.
1. A List of the 9 Top-Grade Android Apps for Mind Mapping
The top mind map apps on Android you can use to draw mind-blowing maps are listed below. This section presents the key features and pros and cons of each application to make your selection easier.
List of the 9 Top-Grade Android Apps for Mind Mapping:
# Wondershare EdrawMind MindMap Easy-to-Use Android Mind Mapping App
EdrawMind MindMap is an incredible Android application designed specifically to enable you to draw mind maps on your cell phone with ease. One thing that helps this app attract more users is its attention-grabbing, elegant, and easy-to-use interface. You can collect different ideas, organize them, and share them with anyone you want easily.
With a huge selection of built-in templates in EdrawMind, mind mapping is no longer a difficult task. Appealing layouts add more value to your maps. This app allows you to export the final diagram as PDF, HTML, images, and more.
Ratings from Google Play Store
3.9 out of 5.0
Pros:


Easy to use
Pre-built templates availability
Eye-catching layouts
Easy sharing
Fully customizable

Cons:


Most themes are available in the paid version
You can't access the traverse topic slideshow function with the free trial
EdrawMind Apps
12 structures & 33 themes & 700+ cliparts
Support Win, Mac, Linux, Android, iOS
Advanced import & export options
On-premises software for business
Enterprise-level data security
EdrawMind Online
12 structures & 33 themes & 700+ cliparts
Access diagrams anywhere, anytime
Team management & Project management
# Lucid Spark Mind Map App for Android
Are you away from your system at the moment? Want to access Lucidspark on your mobile to perform some quick edits to your existing mind maps or create a new one? Try the Lucidspark Android app to do such tasks from your mobile phone. It is the easiest way to connect with your team members from around the world and use a drawing tool or sticky notes to annotate the digital whiteboard.
You can save a lot of time when creating mind maps by using the built-in templates this application offers. You can fully customize your map with the Lucidspark mind map Android application.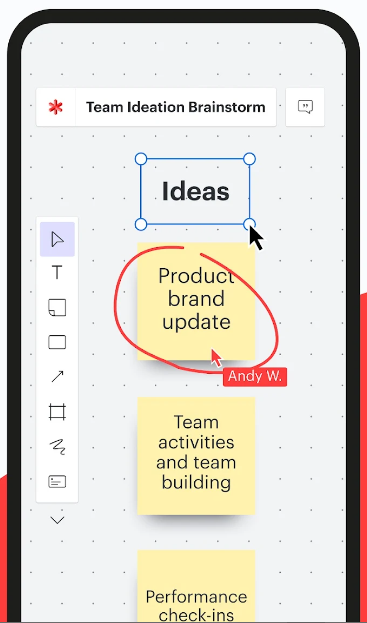 Ratings from Google Play Store
3.9 out of 5.0
Pros:


Attractive user interface
Freehand drawing
Pre-built templates
Hundreds of shapes and sticky notes
Easy collaboration

Cons:


You can't upload bulk sticky notes via files.
#MindMeister Android App
It is an amazing mind map Android application for effective project planning, mind mapping, and real-time collaboration. It does not matter whether you want to use it with a team or alone; the MindMeister app has got you covered. Mind mapping with this application gives a solid boost to your productivity and overall creativity.
MindMeister app is equally beneficial for sharing your thoughts, organizing them, prioritizing them, or even generating new ideas in the lunch meeting, the meeting room, the classroom, or anywhere else. You can easily sync your mobile creations with your online web-based account.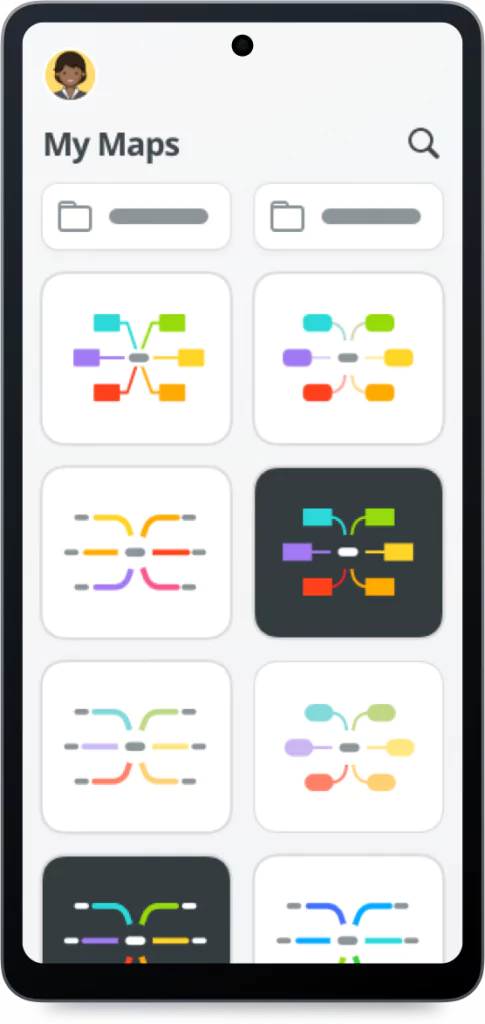 Ratings from Google Play Store:
4.2 out of 5.0
Pros:


Real-time collaboration
Easy mind map sharing
Slides-based presentation mode
Export your mind maps in different formats
You don't necessarily need a web-based account to use this app
Highly secure to use

Cons:


You may lose formatting when you undo any move
Features can be overwhelming
#Ayoa Mind Map Tool for Android Devices
Are you looking forward to transforming your thoughts into actionable ideas? Do you want to launch a new concept to raise an investment round? Need an efficient utility to create a quick mind map on your mobile phone? Look no further than Ayoa. It is listed among the best mind mapping apps for Android.
The top tasks you can perform with this Android application include; team collaboration, fast mind-mapping, effective project planning, and efficient task management. This app enables teams to collaborate effectively and work with each other to grow new ideas and ensure greater success.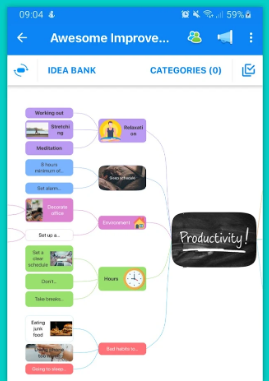 Ratings from Google Play Store
4.1 out of 5.0
Pros:


You can manipulate it easily
Supports multiple integrations
Visual elements are simple stunning
Constant updates

Cons:


Finding your last mind map is a bit difficult
Price goes high with every member participating
#Coggle Mind Map Application for Android
This amazing mind map Android app is known for improving the collaboration between different teams, allowing them to work together freely on various ideas. You can not only create mind maps for different concepts with this application, but it also helps you share your maps with your colleagues and friends with your mobile phone.
Coggle makes visualization of ideas super simple for project planning, brainstorming, note taking, and other similar, creative tasks. The availability of pre-built mind mapping templates makes the whole job easier for you. In simple words, Coggle provides you with a one-of-its-kind mind-mapping solution to understand complex ideas easily and share them efficiently.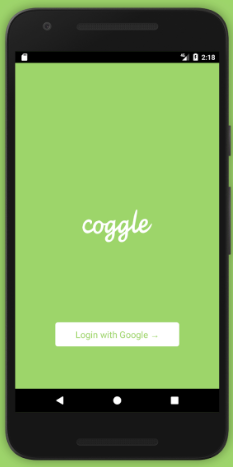 Ratings from Google Play Store
3.4 out of 5.0
Pros:


Very easy to use
Supports quick mind mapping
Supports quick mind mapping
Features easy sharing

Cons:


You may find it a bit complex when displaying your maps in presentation mode.
Auto-arranging the branches is not available.
#Mindly Android Mind Map App
It is one of the best mind mapping apps for Android that assists you during a brainstorming session by helping you take notes, plan your speech, capture new ideas, organize your thoughts, and do a range of other similar activities. The top functionalities of the Mindly app include; complete customization ability using a decent collection of color schemes, note taking, attaching icons or photos to different elements, and more.
The Mindly app has not only made it easy for you to draw your mind maps with ease, but it also enables you to export your final map in different file formats, including PDF. In addition, you can also sync this mobile application with Dropbox.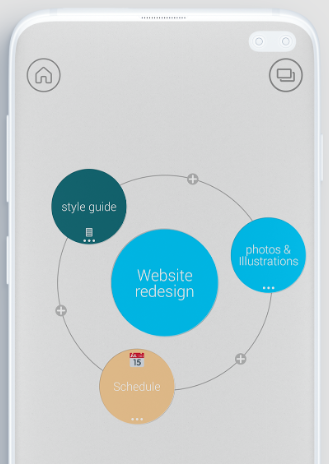 Ratings from Google Play Store
4.4 out of 5.0
Pros:


It makes it easy to organize your content
Huge icons library
You can export your mind map in PDF, Text, and OPML
You can use a passcode to secure your mind maps

Cons:


You won't be able to customize your map's structure
Most features are not available in the free trial
#Mindomo Mind Mapping Tool for Android
This mind map app for Android provides you with an opportunity to draw unique mind maps and collaborate in real time with different individuals and teams to share and discuss new thoughts or ideas. The powerful environment of Mindomo also allows you to synchronize your mind maps with the cloud services using any device you want.
Note-taking has become very convenient and simple with Mindomo. You can use task lists, links, text, and icons to customize your maps with this Android application. Using images from either online resources or your gallery is also possible. Moreover, a wide variety of themes also adds great value to your maps.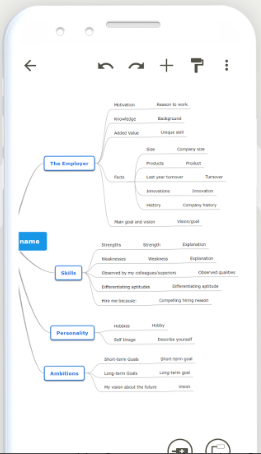 Ratings from Google Play Store
4.6 out of 5.0
Pros:


Super versatile
Features an efficient real-time collaboration
Presentation mode
Supports multiple integrations
Revision history available

Cons:


According to some users, this app gives an old look
#Mindz Mind Map Android Application
Do you want to create effective plans for your upcoming project, collect new ideas in this regard, or structure your existing thoughts efficiently? Mindz will surely be your helping hand. It is an amazing mind map Android application designed to improve your real-time collaboration when sharing and discussing your ideas with your team members to get the maximum out of them.
A free trial of Mindz gives you access to basic functions, and you can use them to get an idea of how this app works. It creates nested lists in the beginning, which you can convert into a presentation mode later.
create mind maps with mindz
4.8 out of 5.0
Pros:


Easy and simple user interface
It helps you collect and structure your ideas and thoughts into lists
You can expand your ideas with links, icons, and images
Makes it easy to share mind maps with others

Cons:


The free trial has very limited features
#Orbit Mind Mind-Mapping Android Application
It is also listed among the few best mind-mapping Android applications. With this mobile app, visualizing your complex ideas and thoughts becomes easy and engaging at the same time. Orbit Mind is developed using the "less is more" approach, which is why it gives an appealing look to all users.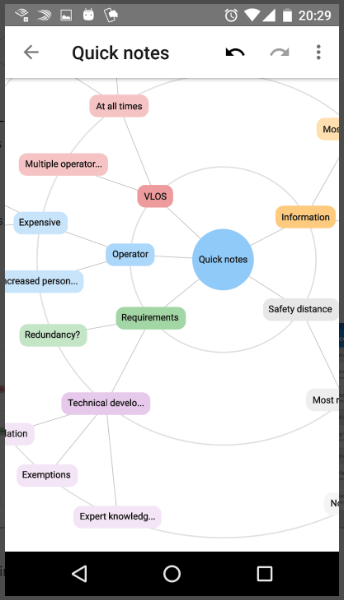 Ratings from Google Play Store
4.5 out of 5.0
Pros:


Very clean and attention-grabbing user interface
It features easy note-taking
Simple and easy to use
Offers the most convenient mind mapping facility on your mobile

Cons:


Some latest functionalities, e.g., adding links and images, are not available
2. Final Words
Hundreds of desktop applications are available to create mind maps, but it becomes difficult for you to access your maps when you are away from your systems. This is where mind map apps for Android play a key role.
These apps enable you to access and edit your mind maps with your mobile devices at any time. The above discussion has presented the 10 best mind mapping apps for Android mobiles. EdrawMind MindMap is listed on top of them. Don't forget to give the above discussion a read.