5 Best Open-Source Mind Mapping Tools for Visual Thinkers
Transform the way you approach brainstorming with an open-source mind-mapping tool. Capture ideas, stay organized, and collaborate with your team.
Create Mind Maps Today!
EdrawMind is a mind mapping tool equipped with 700+ cliparts. This article presents a step-by-step guide to creating a creative mind map to present your idea elegantly. Try EdrawMind and create hundreds of mind maps today!
Do you find yourself struggling to organize your thoughts and ideas coherently? Mind maps help you see the big picture, connect different topics, and gain new insights. Fortunately, many open-source mind-mapping tools can help you create professional-looking mind maps without breaking the bank. Here are some of them and an alternative option.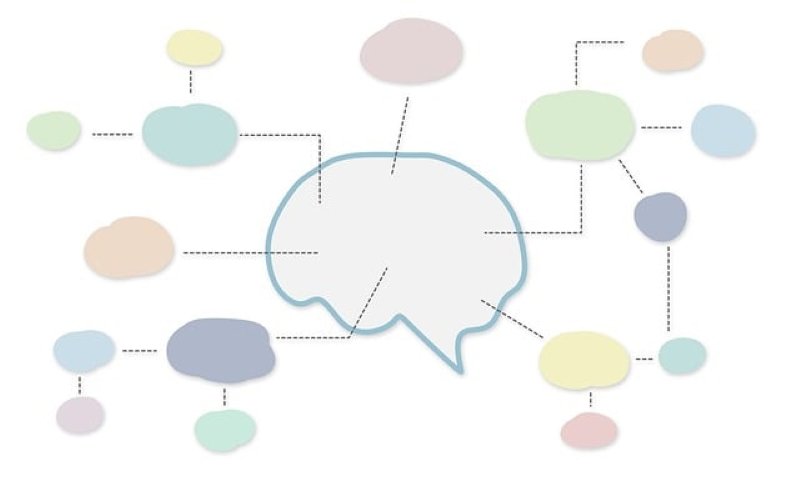 1. EdrawMind: An Alternative to Open Source Tools
Open-source mind mapping tools can come with challenges and hidden costs, like maintenance, setup, and support. Choosing a non-open-source tool like Wondershare EdrawMind can ensure smoother operations and robust features. And that is without worrying about managing code or facing compatibility issues.
It can be a great starting point for sharing and simplifying complex ideas. With EdrawMind, you have complete control over your mind maps, allowing you to focus on the topics, not the tool itself.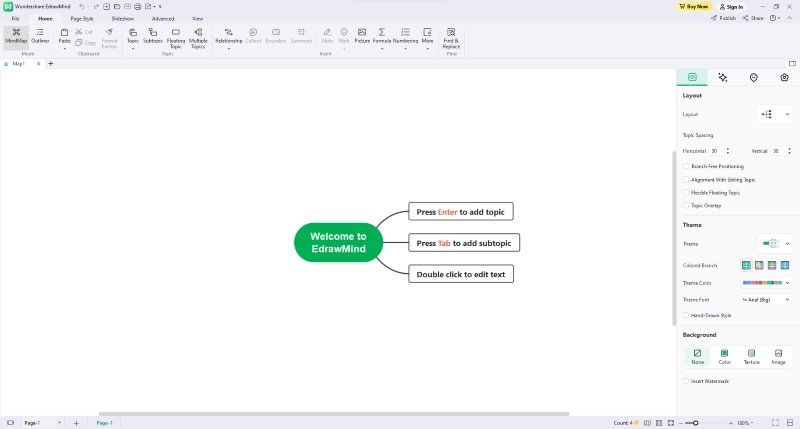 #Features
These features outshine any open-source mind-mapping tools.
Real-time collaboration. Businesses and teams can work together in real-time on projects without the hassle of managing a mind map in open-source software.
Multiple templates and themes. Start a mind map using templates to save time while ensuring your ideas stand out in black and white.
Customization. Customize a mind map by changing styles, adding icons, tags, images, hyperlinks, and more.
Effortless sharing and presentation. Turn your mind map into a visually appealing presentation, share it on social media, send a link to collaborators, or print it out.
Cross compatibility. EdrawMind works on Windows, Mac, Linux, Web, online, iOS, and Android, ensuring everyone is on the same page.
#Advantages
Here are some reasons why EdrawMind is a better option for an open-source mind-mapping tool.
EdrawMind has user-friendly, intuitive interfaces and offers better user support.
No need to worry about downloading source codes or learning to code. You can download the software or work online.
#Disadvantages
Although it is a promising open-source tool mind-mapping alternative, there are a few things to be aware of when using this software.
Sign up for an account to use its primary features on a free trial.
It requires a subscription to access its full range of capabilities, which may be a drawback if you want a free solution.
#Pricing Plan
It is not entirely free, but you can try it to see if you like it.
Subscription Plan - $59 per year
Perpetual Plan - $118, one-time payment
Perpetual Bundle Plan - $245 for EdrawMind, EdrawMax, and EdrawProj
#Recommendation
Students can use EdrawMind for note-taking and studying. Professionals can use it for brainstorming, project planning, and presentations. Businesses can use it to streamline processes, manage workflows, and improve decision-making.
EdrawMind Apps
12 structures & 33 themes & 700+ cliparts
Support Win, Mac, Linux, Android, iOS
Advanced import & export options
On-premises software for business
Enterprise-level data security
EdrawMind Online
12 structures & 33 themes & 700+ cliparts
Access diagrams anywhere, anytime
Team management & Project management
2. WiseMapping - Free Online Open-Source Mind Mapping
WiseMapping is a free web-based open-source mind mapping tool that allows you to create, collaborate, and share mind maps. You can also link your mind map with other documents and embed them on web pages and blogs. It is versatile in exporting maps in multiple formats like SVG, PNG, and FreeMind. The tool also offers the option to install it internally.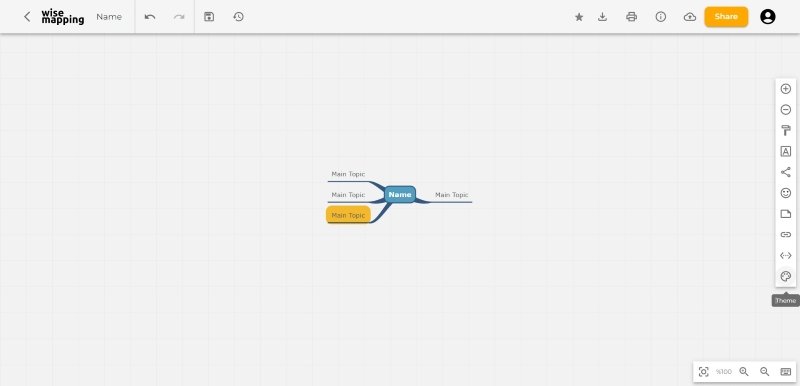 #Features
Create a mind map using this open-source tool with the following features to consider.
Customize fonts, colors, and shapes. Insert icons, notes, and HTTP links. It is auto-saving and has a history recovery feature.
Offers a personal workspace, useful for those who prefer to work alone or require a private workspace for sensitive information.
Invite others to collaborate on your mind maps by granting access to specific levels of editing permissions.
#Advantages
Here is a reason why this open-source mind-mapping tool is advantageous:
Modify and customize the source code according to your needs and preferences.
#Disadvantages
It's important to note that there are some limitations to this open-source mind-mapping tool.
Its development is entirely dependent on the contributions of the open-source community.
For advanced customizations, downloading the source code is necessary.
#Pricing Plan
It is free to use.
#Recommendation
WiseMapping is a simple open-mind map tool with collaboration capabilities. However, it may not be the best option for creating presentations. You can still export your mind map as an image, document, or in third-party mind map tool formats.
3. Freeplane - Portable Open-Source Mind Mapping Tool
Freeplane is an open-source mind-mapping tool that empowers you to think creatively, share knowledge, and organize tasks in various settings. Developed in Java and utilizing Java Swing and OSGi, Freeplane is compatible with any operating system with the latest version of Java installed.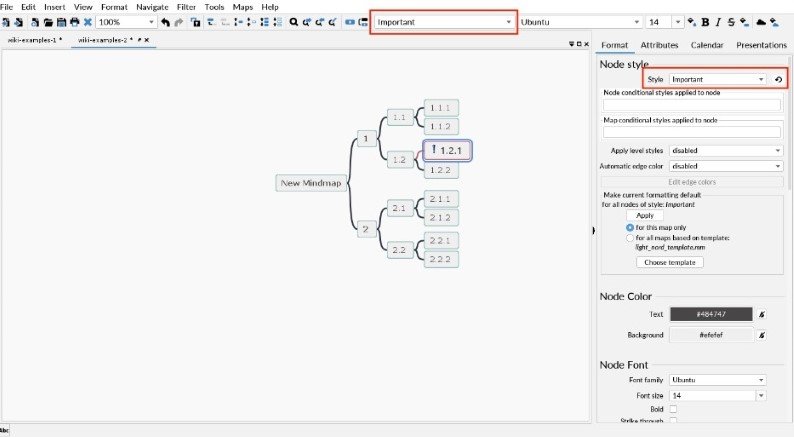 #Features
See the features offered by this open-source mind-mapping tool.
Present your mind maps within the program, allowing you to zoom in on selected nodes, highlight them, and more.
Customize the appearance of your mind maps with background colors, font styles, icons, and other visual elements.
Build matrices to organize and analyze your data and create conditional statements to format and style your nodes based on various criteria.
Export your mind maps to various file formats, including CSV, JSON, and more, making it easy to share it others.
#Advantages
If you're looking for an open-source mind mapping tool, there are several advantages to choosing this one, such as:
It has predefined styles and templates. It can save you time and effort in formatting your mind map.
The tool receives regular updates and improvements, with new development versions available every two weeks on average.
Expand the functionality through add-ons, plug-ins, and custom scripting that can help you tailor the tool to your needs.
#Disadvantages
Here are some cons of using this open-source mind-mapping tool.
Freeplane is challenging to learn and use with its overwhelming user interface.
It does not support real-time collaboration, which means that you can only work on your own.
Limited layout options; does not support flowcharts, org charts, or Gantt charts.
#Pricing Plan
It is free to use.
#Recommendation
Freeplane lacks real-time collaboration but is still a good option for researchers. If real-time collaboration isn't necessary or you prefer working independently, Freeplane is a solid option.
4. MindMup - Free Browser-Based Open-Source Mind Mapping
MindMup is a user-friendly online platform offering a zero-friction canvas. It provides a clean and unobstructed space to work, ensuring you can focus solely on organizing your thoughts without distractions. It's important to note that although the main mind mapping library developed for MindMup is open source, the website interface is not.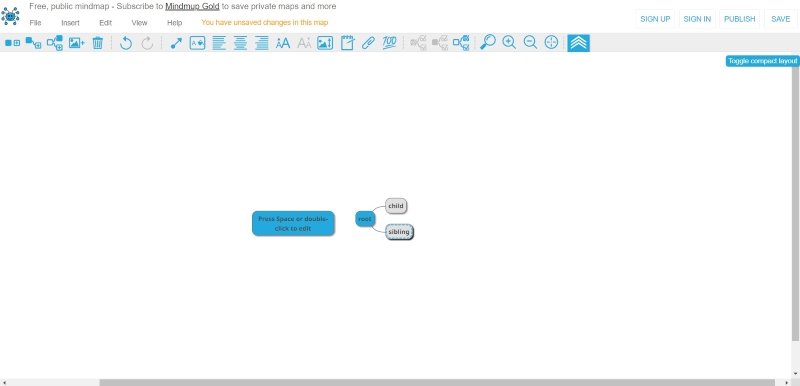 #Features
Take advantage of these open-source mind-mapping tool features.
Add files from your local storage to your mind maps, making them more informative and visually appealing.
Customize node text fonts, shape colors, font size, and more to make your mind maps look and feel exactly how you want them to.
Download your mind maps in multiple file formats, including Images (SVG, JPG, PNG), PDF, Outline, and Storyboard (PPT, PDF, DOC), or print them directly.
#Advantages
This open-source mind mapping tool offers a range of benefits, including:
You don't need to sign up for an account to use this tool for free.
Save larger mind maps to Google Drive for more flexibility in storing your maps.
Post your mind maps in Public up to 100kb and save them for six months to share your ideas and collaborate with others.
#Disadvantages
Despite its benefits, this open-source mind-mapping tool also has some downsides.
The user interface of MindMup may seem plain and lacks some of the visual flairs of other mind-mapping tools.
The free version of MindMup does not support real-time collaboration. You will need to upgrade to a paid plan to access this feature.
#Pricing Plan
MindMup provides you with free access to its features indefinitely. However, for more advanced functionalities, there are subscription plans available.
Personal Gold - $2.99 monthly
Organizational Gold - $100 yearly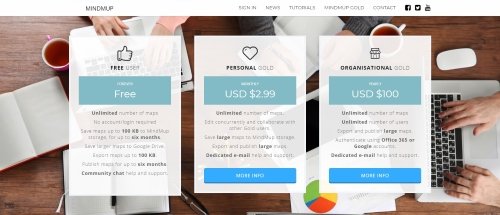 #Recommendation
The cloud-based storage of MindMup makes mind maps accessible from anywhere. It is best suited for students and small businesses to organize ideas, tasks, and projects anywhere.
5. Docear - Academic Literature Suite Mind Mapping Tool
Docear is an all-in-one academic literature management tool. Access a digital library, manage references, organize PDF and other files, and take notes into one seamless platform.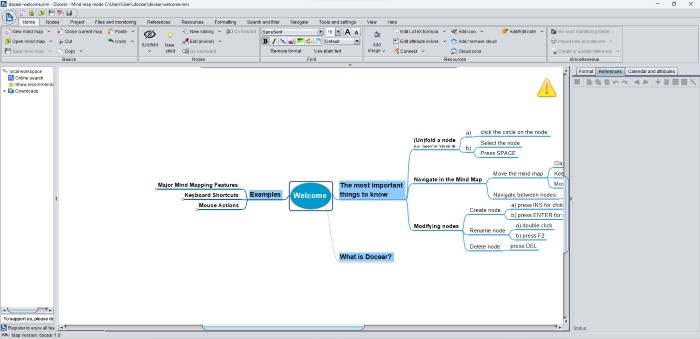 #Features
Docear is fully compatible with Freeplane, a popular mind-mapping program. Take note of these other features.
Customize your mind maps by changing font formats, adding images, labels, notes, and more in Docear.
Add PDF annotations to your mind map, and easily access the corresponding PDF in your preferred editor on the same page.
The cloud feature helps to visually group related ideas and customize their appearance.
Offers advanced features, including LaTeX formulas, icons, summary nodes, and floating nodes, to make your mind map more engaging and effective.
Docear is compatible with various operating systems, including Windows (XP, Vista, 7, 8, 10, or later), Linux, and Mac OS (10.5 or later).
#Advantages
When it comes to open-source mind mapping tools, this one has an advantage, such as:
Docear offers free registration with full capabilities such as PDF metadata retrieval, online backup, and viewer.
#Disadvantages
While there are some benefits to this open-source mind-mapping tool, there are also a few disadvantages to keep in mind.
There may be a higher likelihood of encountering bugs or glitches.
The user interface may not be beginner-friendly, which could be challenging for new users of mind-mapping tools.
#Pricing Plan
It is free to use.
#Recommendation
Docear is ideal for students who manage large amounts of literature and organize their thoughts into coherent ideas.
6. Conclusion
Chances are, you have searched for "mind map open source" or "open mind map" while looking for an open-source mind mapping tool. Choosing the right mind-mapping tool is crucial for organizing and managing your ideas. Try the recommended tools and find the one that works best for you.
While open-source software offers flexibility and cost-effectiveness, they have limitations. For businesses, professionals, and students looking for a user-friendly and feature-rich mind-mapping tool, try EdrawMind. It has advanced formatting options, collaboration tools, a presentation mode, and a library of templates and icons.