Top 5 Microsoft Teams Mindmap Applications in 2023
Using mindmap in Microsoft Teams tools will enhance productivity, streamline project management, and foster creativity in collaboration at work and school.
Create Mind Maps Today!
EdrawMind is a mind mapping tool equipped with 700+ cliparts. This article presents a step-by-step guide to creating a creative mind map to present your idea elegantly. Try EdrawMind and create hundreds of mind maps today!
Mind mapping is a fantastic way to arrange information and ideas. It helps a lot with teamwork and making ideas better. Mindmaps help make people more creative and talk better. It also helps with managing projects by showing how ideas are connected.
This article discusses the best mind-mapping apps for Microsoft Teams, like EdrawMind, MindMeister, Mindomo, MindMup, and Stormboard. These tools let you make mindmaps in Teams to help your group work together and develop ideas. This way, your team can keep up with the fast world of work.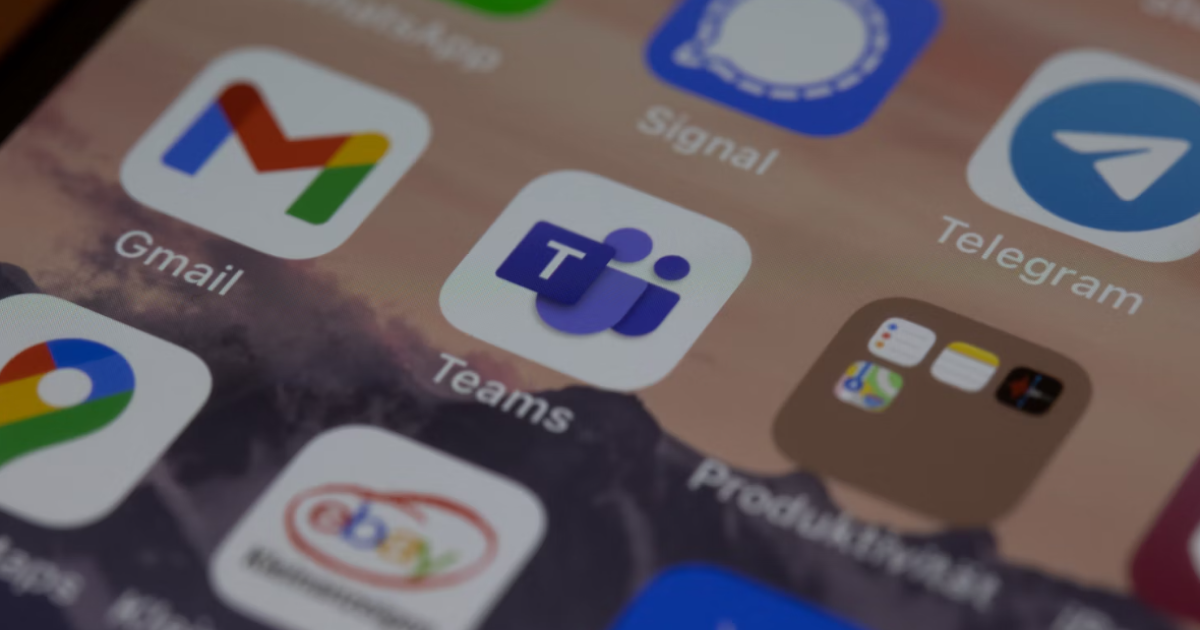 1. EdrawMind: An Alternative to Open Source Tools
EdrawMind is a flexible mind-mapping app that lets users easily make visual maps for brainstorming, project planning, and organizing knowledge. It allows people to work together in real-time and can be used with Microsoft Teams and other software. This application focuses on enhancing your team's productivity by giving you a great platform to mindmap in Teams.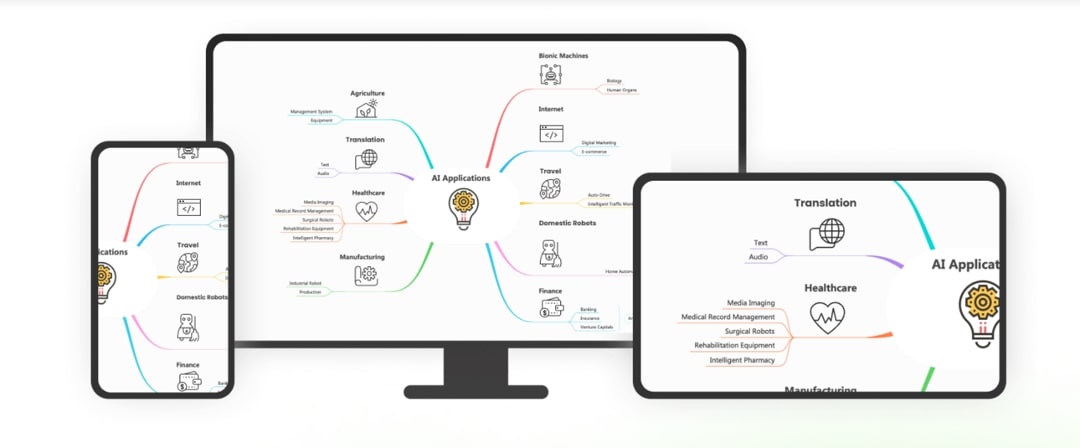 #Key Features of EdrawMind
EdrawMind has features you can enjoy when creating mindmaps with your team. To give you a glance at the application, check out its key features below:
Beginner-friendly: EdrawMind has nice user interface and works well, so even if you're not a tech expert, you can make a new mindmap quickly. There are also ready-made templates in the MindMap Gallery.
Creative freedom: The app has a vast canvas where you can design, write, and show your ideas to your team. You can move and group your thoughts anywhere; hundreds of cliparts exist.
Cross-platform collaboration: EdrawMind lets your team simultaneously work on a mindmap in Teams. It works on Windows, macOS, and Linux so everyone can use it. Your files are also stored online, so you can easily access them when needed.
Multiple modes: EdrawMind has four main modes: Brainstorming, Outlining, Presentation, and Gantt Charting. You can try out which works best for your team to create great mindmaps in Teams.
#Pricing
EdrawMind has six subscription plans, but you can try the app for free at first. Free users in Microsoft Teams can also enjoy up to 10 mindmaps. All plans include its key features and access for 2 computers and 3 mobile devices. Check out their pricing website for more details about each plan (as of Dec 1, 2023).
Free
Semi-Annual Plan (US $39 every 6 months)
Annual Plan (US $59 annually)
Perpetual Plan (US $118 one-time payment)
Perpetual Bundle Plan (US $245 one-time payment)
Business Plan (by quotation)
#Operating System
EdrawMind is available for Microsoft Teams on Windows, macOS, and Linux devices. Start creating mindmaps in Teams by following the steps in the next section.
#How To Draw Mind Maps Using EdrawMind
Below is a quick guide on using EdrawMind to create mind maps in Teams.
Step 1: In Microsoft Teams, go to the Apps tab and search for "EdrawMind"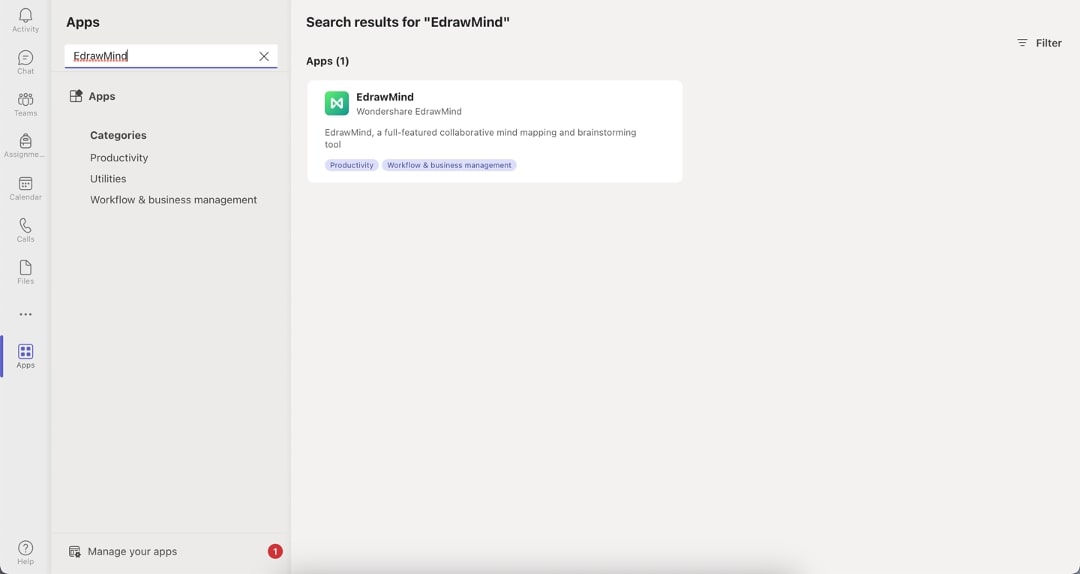 Step 2: Click the result, and a pop-up window should appear. Then, click the Add button.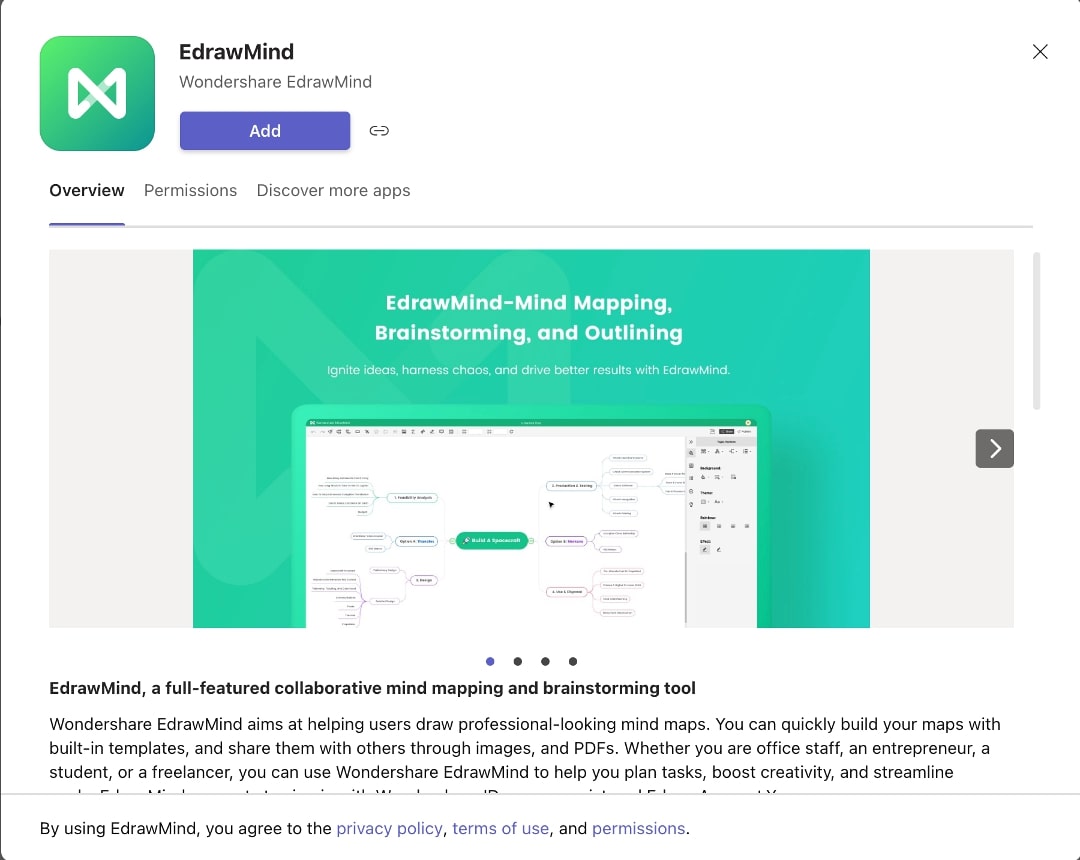 Step 3: A chat with EdrawMind will appear under the Chats tab. Click on the myfile tab, and Sign in using your Microsoft Teams account. By then, you can start creating mindmaps in Teams.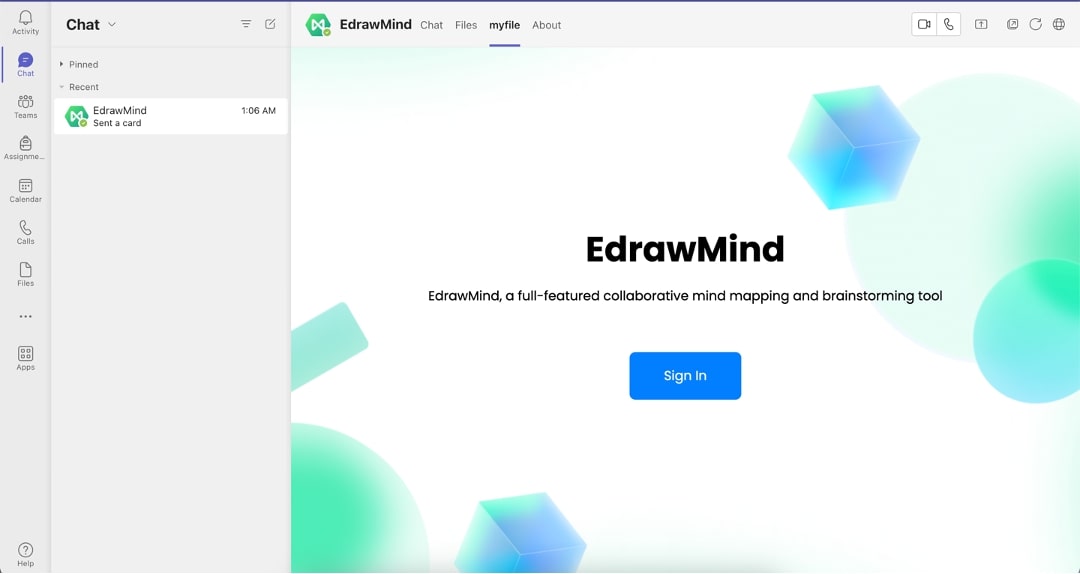 Step 4: Click New MindMap to create a new mind map from scratch. Or, you can head to EdrawMind Gallery to start a new map from templates.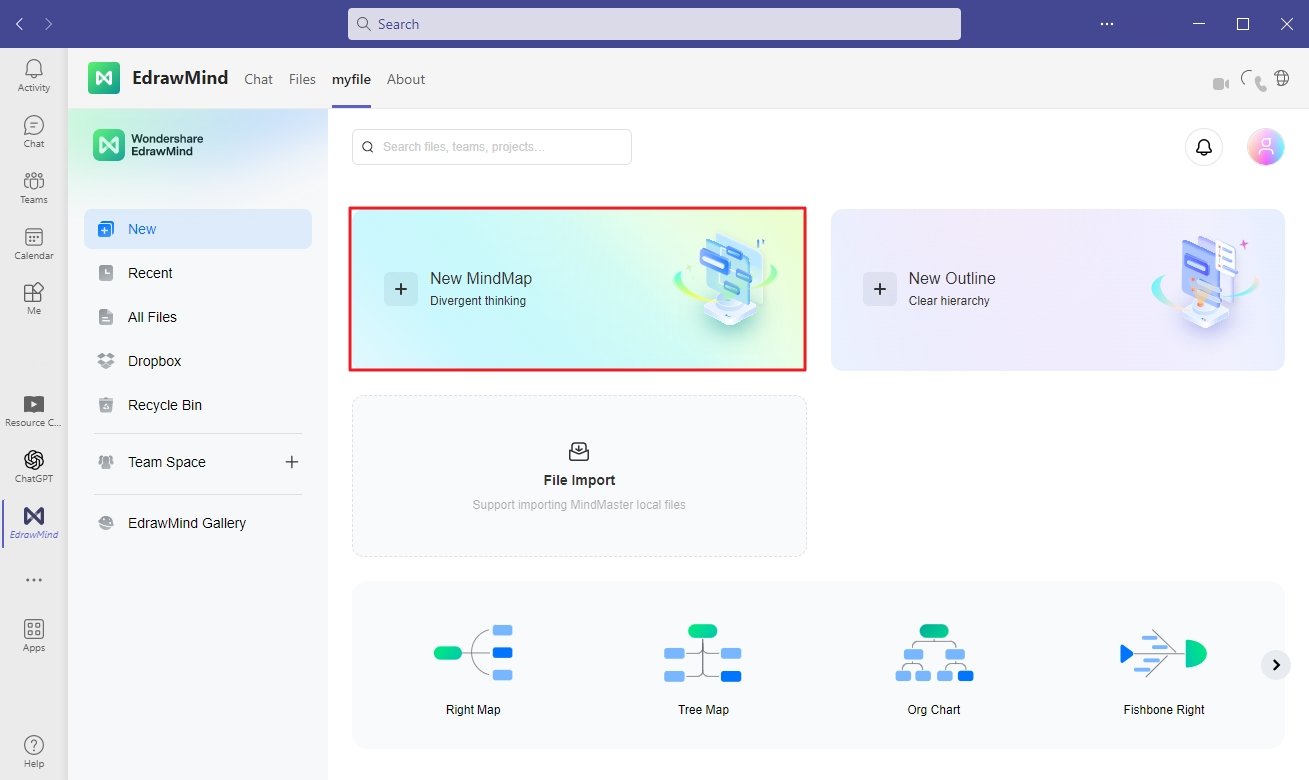 Step 5: A new window will appear on your Teams, presenting the main topic. Add subtopics and connect them to the main idea to expand the mind map.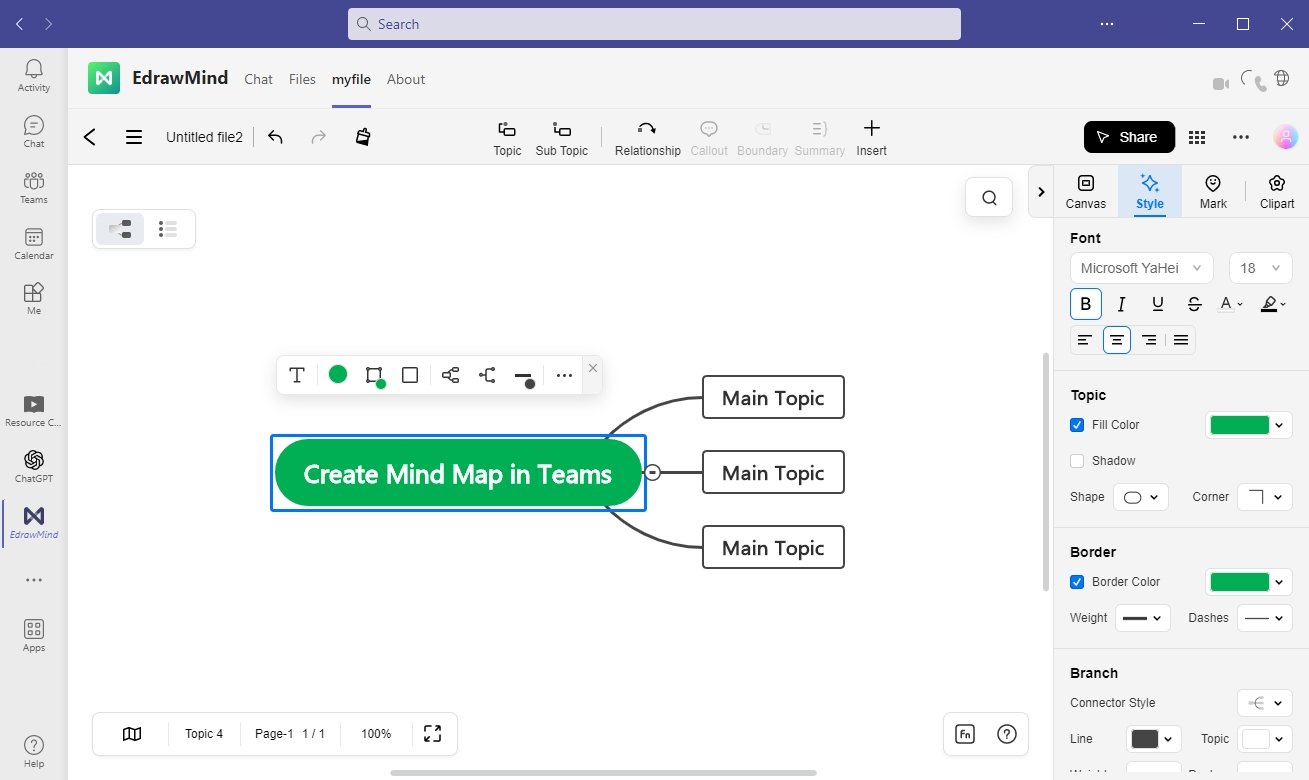 Step 6: Add distinct colors for each subtopic to customize their appeaerances.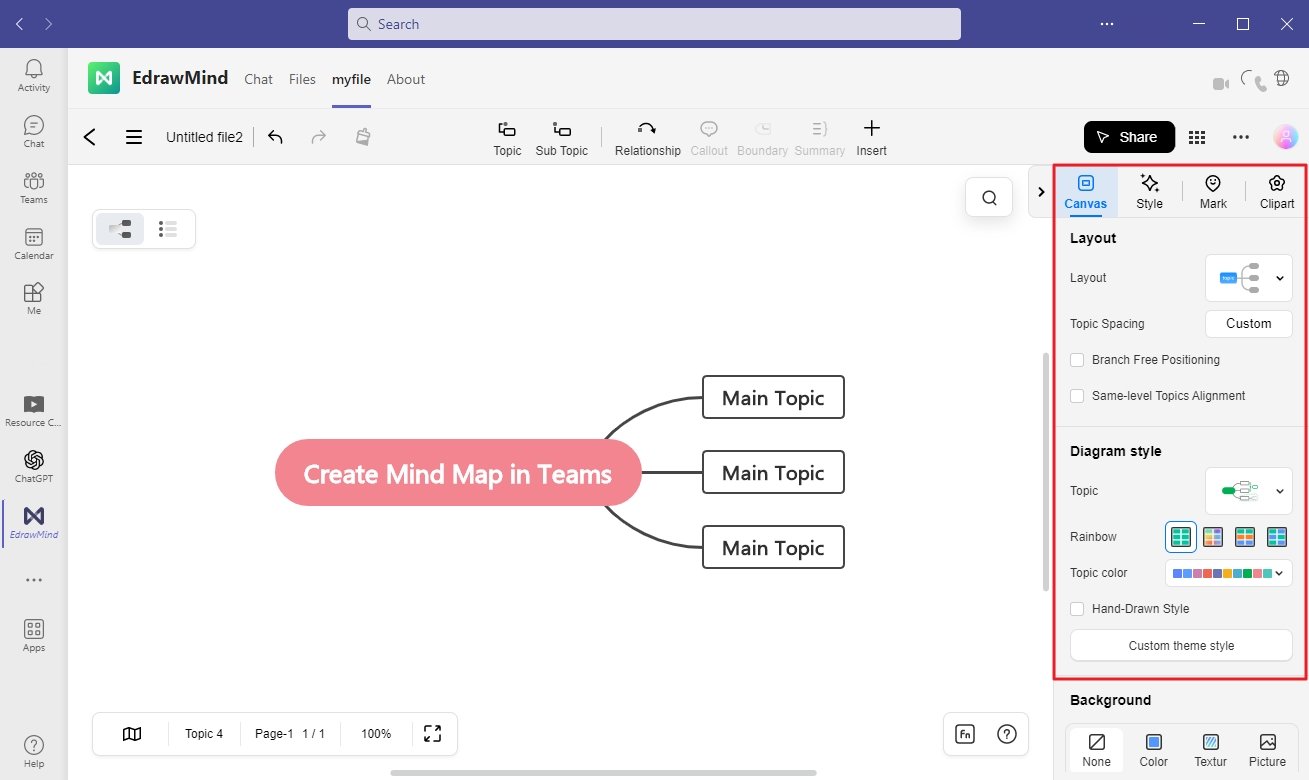 EdrawMind Apps
12 structures & 33 themes & 700+ cliparts
Support Win, Mac, Linux, Android, iOS
Advanced import & export options
On-premises software for business
Enterprise-level data security
EdrawMind Online
12 structures & 33 themes & 700+ cliparts
Access diagrams anywhere, anytime
Team management & Project management
2. MindMeister - Fully Online Microsoft Teams Mindmap & Creativity Solution
MindMeister is made for teamwork and has a friendly, easy-to-use platform for creating and sharing mindmaps. It helps with visualizing ideas, brainstorming, and project planning. You can also add media from your devices, cloud storage, and Google apps.
MindMeister has unique and customizable mindmap themes and mixed layouts. It also has tools like focus mode, live comments, and voting to help your team simultaneously work on the same ideas. With real-time collaboration and Microsoft Teams integration, MindMeister lets your team work on a mindmap in Teams.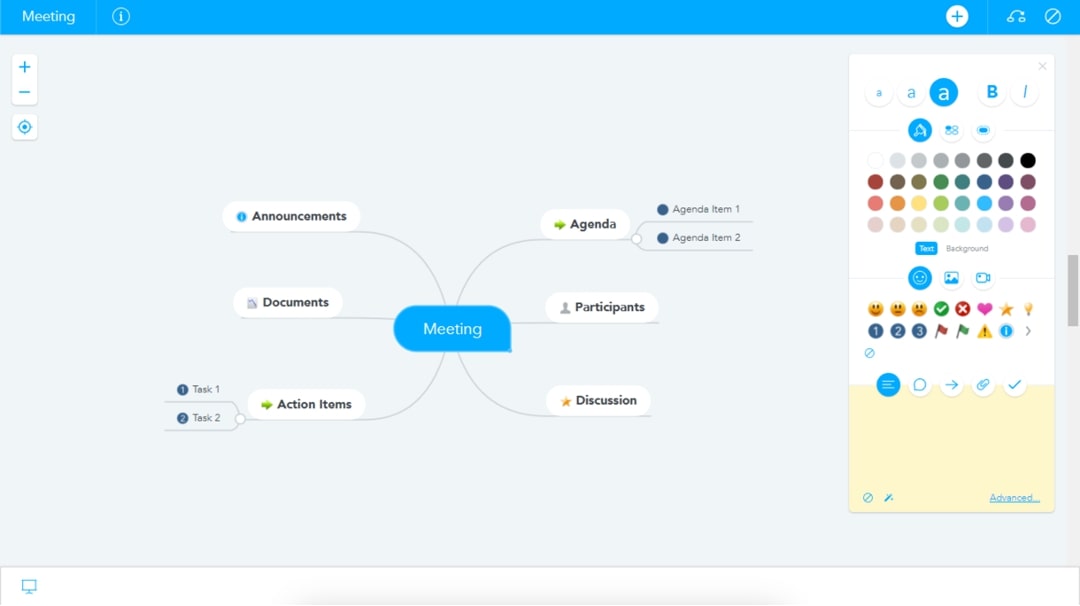 #Operating System
MindMeister is compatible with Microsoft Teams across Windows, MacOS, iOS, and Android devices.
#Pricing
MindMeister is available in four subscription plans, with all main features included.
Basic Plan (free) - With the basic plan, you can create up to three mindmaps and use real-time collaboration features with multiple team members.
Personal Plan (US $3.49 per month) - The Personal Plan is made for individual projects, allowing you to create unlimited mindmaps with file and image attachments. You can also print and export them in PDF and image formats.
Pro Plan (US $5.49 per month) - The Pro Plan includes all Personal Plan features and allows you to export your mindmaps into Word, PowerPoint, and Google Workspace.
Business Plan (US $8.49 per month) - The Business Plan includes everything in the previous plans. Also, you can create custom team domains and custom groups and enjoy priority customer support.
3. Mindomo - Microsoft Teams Mindmap Tool With Real-Time Collaboration
Mindomo is an excellent, flexible tool that helps teams create and collaborate on mindmaps. It has incredible features like real-time collaboration, multimedia support, and many ways to save and share your work. Since Mindomo is cloud-based, you can easily create and work on mindmaps in Microsoft Teams and always have access to your work from any of your channels.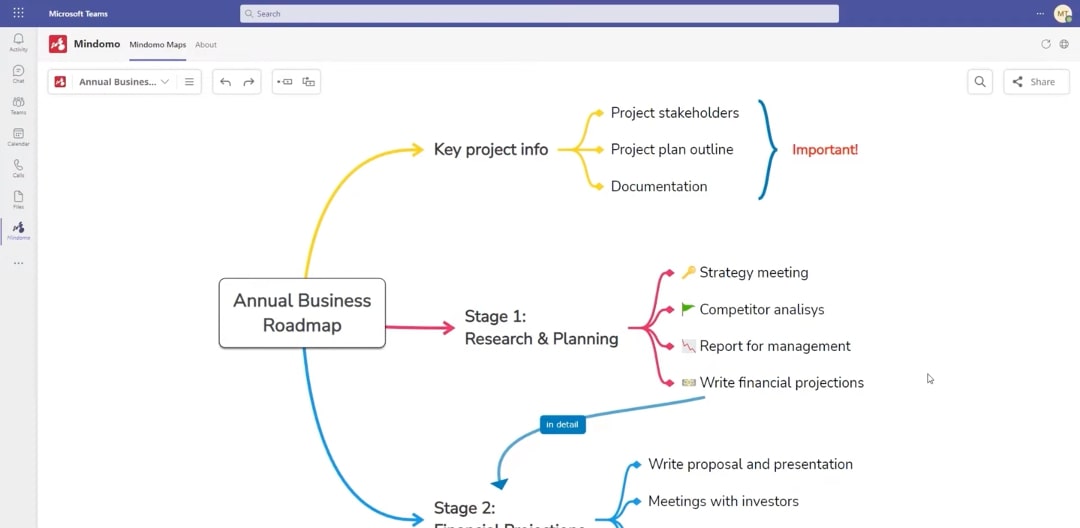 #Pricing
You can have access to Mindomo with four subscription plans:
Free - Make up to three mindmaps on your account. With this free plan, you can also share, publish, and work on them together with others.
Premium (US $6 per month) - This plan lets you create as many mindmaps as possible. It also gives you access to tons of business templates. File and media embedding is also available with this plan. It lets you print, import, and export your mindmaps in Teams.
Professional (US $15 per month) - This plan allows up to 5 guests to see your mindmaps. It also provides additional export formats, enabling you to back up your work with other online drives.
Team (starting at US $25 per month) - This plan has all the Mindomo features for as many people as you need.
#Operating System
Mindomo works with Microsoft Teams on Windows, macOS, and Linux devices.
4. MindMup - Free Online Microsoft Teams Mindmap Application
MindMup is an online tool that helps you create and share mindmaps in Teams for teamwork and project planning. It's super easy to use, and you can make mindmaps with your team using a dedicated cloud. You can even add notes, pictures, and links to your maps to make them better.
MindMup works perfectly with Microsoft Teams so that you can create and share mindmaps right inside the app.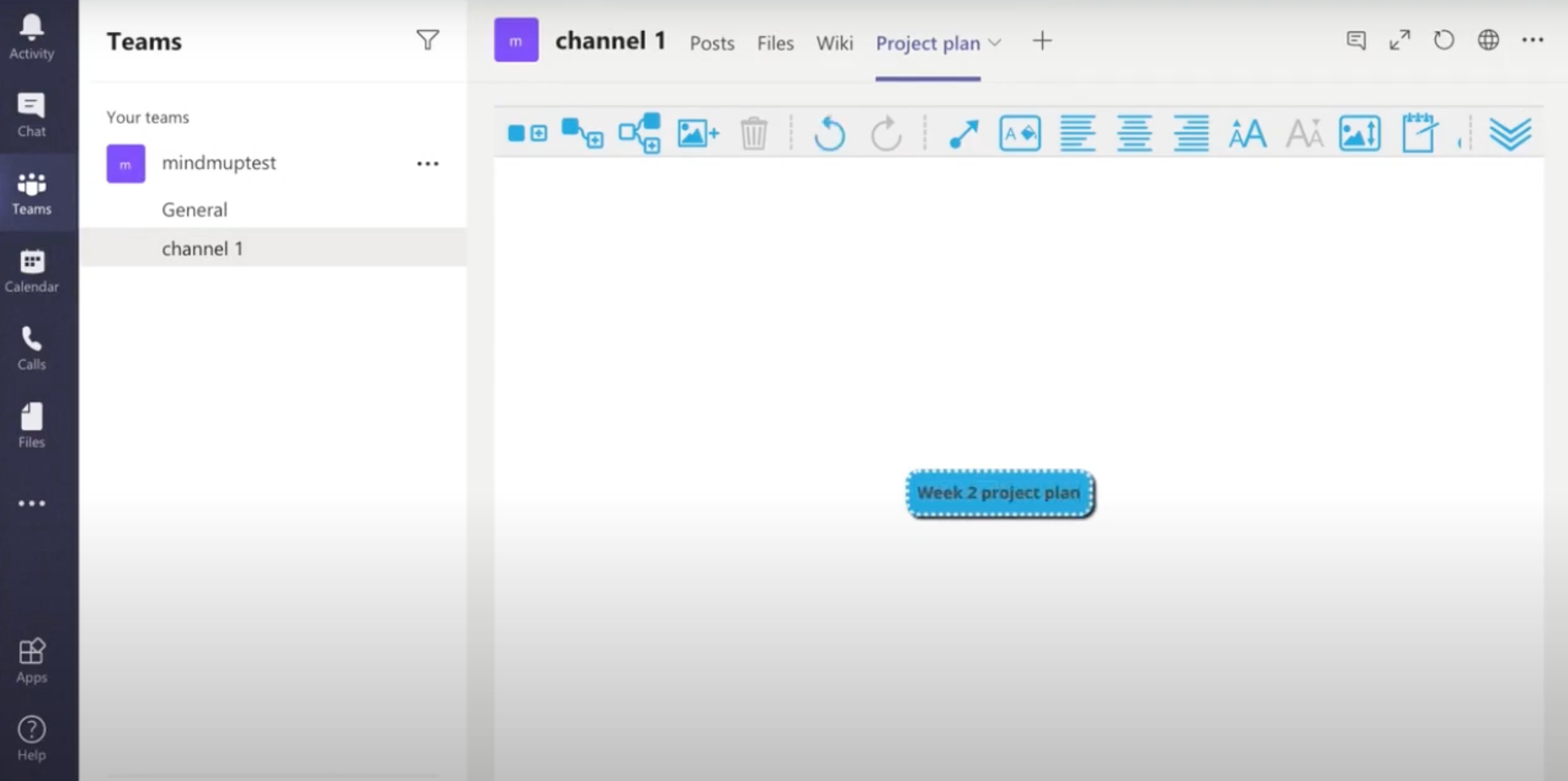 #Pricing
MindMup has four pricing options:
Free (unregistered accounts) - You can keep your mindmaps in a public cloud for up to 6 months. However, your upload and download speeds are limited (100kbps.)
Personal Gold (US $2.99 per month for 1 account) - This plan lets you keep your mindmaps as long as you pay for the subscription. It also makes your import and export speeds faster (up to 100mbps).
Team Gold (starts at US $50 per month for 10 accounts) - This plan allows you to have up to 200 accounts and gives you more control over who can see and use the mindmaps your team creates.
Organizational Gold (US $100 per year) - This plan works with your Google or Office365 account and lets everyone in your organization use MindMup. Microsoft Teams and other integrations are only available with this plan.
#Operating System
MindMup is an online tool that works with Microsoft Teams on Windows, macOS, and Linux devices.
5. Stormboard - Digital Whiteboard & Microsoft Teams Mindmap Tool
Stormboard is a fantastic tool that helps you create and organize digital sticky notes on a shared online whiteboard (called Storms). It's a fun and interactive way for people in different places to work together. Stormboard has lots of different templates you can use for brainstorming and planning. You can even add as many pictures, videos, and documents to your mindmaps.
With Stormboard, everyone can simultaneously work on the same mindmap in Microsoft Teams. This makes it easy for everyone to share their thoughts and make decisions together. Use the live commenting and voting features to make projects and ideas happen through your channels in Microsoft Teams.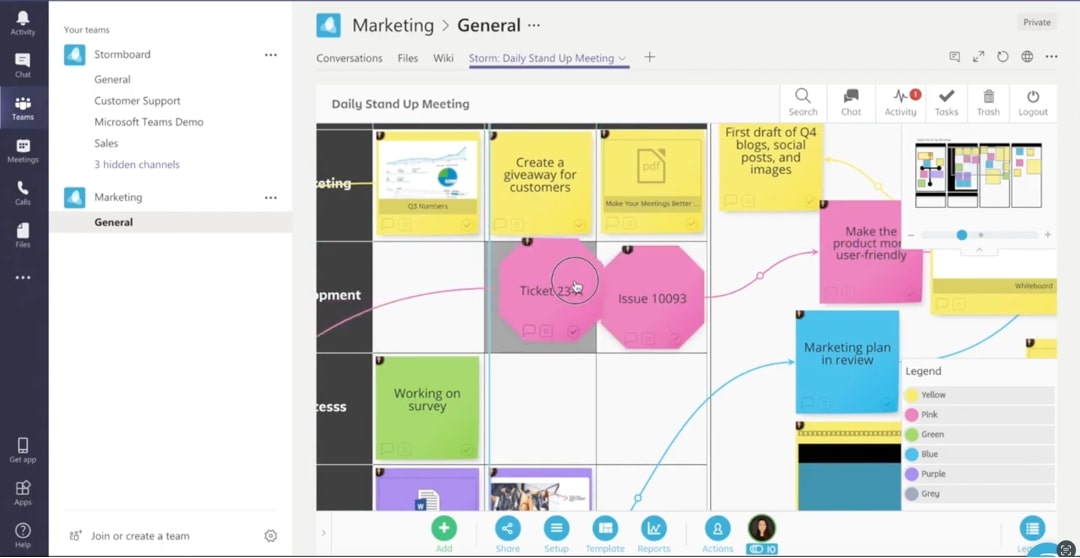 #Pricing
Stormboard has four subscription options:
Personal (free) - Up to 5 people can collaborate with your mindmaps in Teams through a free account. However, you can only create up to 5 Storms (the digital whiteboard).
Business (US $5 per month) - The Business plan lets you create as many Storms as you want and work with many others. It also gives you more features, like hundreds of templates, magnetic sections, sticky notes, and different ways to import and export your work.
Enterprise (by quotation) - The Enterprise plan gives you everything Stormboards offers. It also gives you dedicated customer support, custom templates, and better privacy options.
#Operating System
Stormboard's digital whiteboard and mind-mapping features are available on Microsoft Teams for Windows, macOS, and Linux devices.
6. Conclusion
In conclusion, mind mapping is a great way to boost creativity, improve communication, and make project management easier. It helps people work together to organize ideas visually.
This way, teams can work on ideas and efficiently create new solutions to their problems. Utilizing applications integrated into Microsoft Teams makes working together even more effortless because everything you'll need can be found in one place. Hence, everyone can be on the same page, and no one will have to switch between windows to communicate and work.
EdrawMind, a comprehensive and user-friendly tool for creating mindmaps in Microsoft Teams, is an excellent choice to maximize the benefits of mind mapping. Explore EdrawMind and experience how it can elevate your team's productivity and collaboration.