Streamline Your UPSC Exam Planning With EdrawMind Mind Mapping Tool
Mind maps for UPSC exam preparation are a game-changer. Use EdrawMind to streamline your study planning and achieve your goals.
Create Mind Maps Today!
EdrawMind is a mind mapping tool equipped with 700+ cliparts. Mind maps for UPSC exam preparation are a game-changer. Use EdrawMind to streamline your study planning and achieve your goals.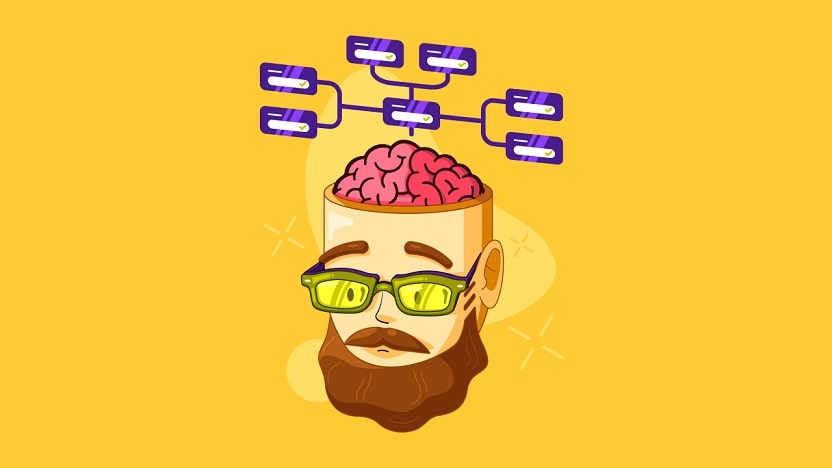 Using mind maps is a great tool when preparing for the UPSC Exam. Mind maps allow you to organize your thoughts and make connections between different concepts. With a mind map for UPSC, you can break down large topics into smaller, more manageable pieces.
EdrawMind is a powerful and user-friendly tool that can help you create mind maps for UPSC. It's equipped with a variety of tools that are designed explicitly for UPSC preparation. On this page, you will learn mind mapping and the benefits of using one. Explore the article below to learn more.
1. What Is Mind Mapping?
Mind mapping is a visual technique to organize and structure information using a diagram. It involves breaking down complex information into smaller, more manageable chunks. These chunks are then arranged in a hierarchical structure.
Mind maps help you make connections between different topics and prioritize study materials. It's also useful for note-taking, brainstorming, planning, and problem-solving. A mind map can improve your understanding and retention of information and help you gain a more precise overview of a topic.
Are Mind Maps, Concept Maps, and Brainstorming the Same?
As mentioned, a mind map is a visual tool that allows users to organize and connect ideas in a hierarchical or branching manner. Meanwhile, a concept map is similar to a mind map but is more structured and hierarchical. It provides a clear focus on relationships between ideas and concepts. Concept maps are often used to represent complex systems, processes, or theories and are popular in academic and scientific contexts.
On the other hand, brainstorming is a technique used to generate new ideas and solutions in a group setting. Brainstorming initially evaluates without any judgment given. It can be done through various methods, including mind mapping, but is not limited to visual mapping techniques.
While all three techniques involve organizing and generating ideas, they have unique characteristics and applications. They are helpful in combination to enhance the creative process. They also improve people's understanding of complex topics.
2. What Are the Benefits of Mind Maps for the UPSC Examination?
The UPSC exam is a highly competitive nationwide civil service exam in India conducted annually. The exam aims to recruit candidates for various administrative services in the Indian government. These include the Indian Administrative Service, Police Service, and Forest Service.
The UPSC exam is considered one of the toughest exams in India. The exam has a rigorous selection process that includes multiple stages, such as preliminary, main, and interview rounds. The exam tests candidates on a wide range of subjects, including history, geography, economics, politics, and current affairs. Successful candidates have prestigious careers in various government and administrative roles in India.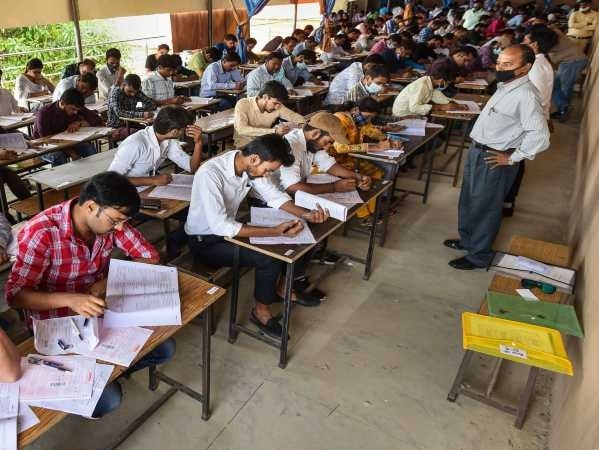 Benefits of Mind Mapping Tools
A mind-mapping tool such as EdrawMind makes understanding, retaining, and prioritizing study materials easier. Here are the benefits of using a mind map when preparing for the UPSC examination.
Visual representation: Mind maps provide a visual representation of complex information. They make it easier to understand, remember, and organize.
Organization and structure: Mind maps allow a structured approach to studying. You can break down large topics into smaller, more manageable chunks.
Better retention: Mind mapping helps to organize study materials hierarchically. This enhances information retention and memory recall.
Identifying knowledge gaps: Mind maps help identify gaps and areas needing further study. This ensures that you focus on the most critical information.
Time-saving: A clear topic overview saves time and streamlines your studying. Mind maps will enable you to cover more material in less time.
3. Use Wondershare EdrawMind As Your Mind Mapping Tool
EdrawMind provides a powerful visual platform for organizing thoughts, ideas, and information. It offers features and customization options suitable for personal and professional applications. You can do brainstorming, project management, study planning, and more. Its seamless collaboration and integration with popular applications make it an efficient platform.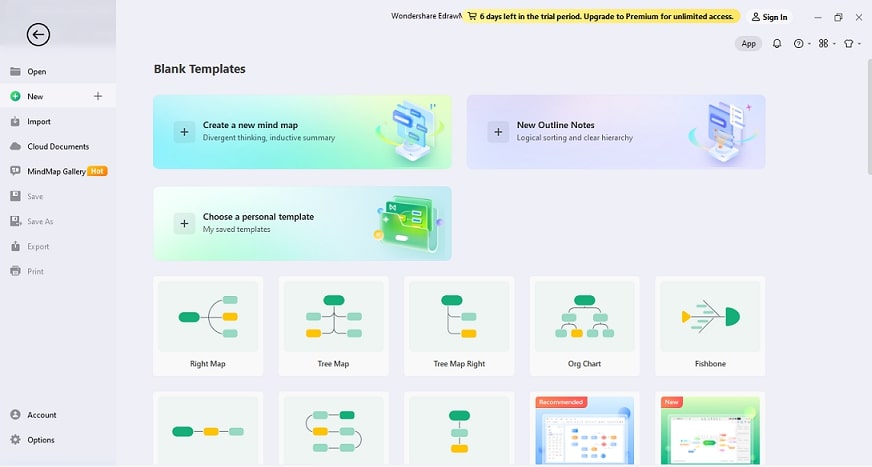 What Is EdrawMind?
EdrawMind by Wondershare is a leading software company. It is a powerful and intuitive mind-mapping tool for individuals, businesses, and educational institutions. With over ten years of experience, EdrawMind offers a comprehensive range of features. They enable users to create, edit, and share visual representations of ideas and concepts.
The software is designed to be user-friendly to help users get started quickly. The company is committed to innovation and providing top-notch technical support to its customers, making it a popular choice for those looking for an efficient and reliable mind-mapping tool.
Key Features of EdrawMind
Here are the key features of EdrawMind you can take advantage of.
EdrawMind has an intuitive interface and user-friendly design for easy navigation.
It's equipped with an extensive template library, themes, and symbols for customization and personalization.
Seamless collaboration and teamwork with real-time editing and sharing features.
Integration with popular applications such as Microsoft Office, Google Drive, and Gantt Chart
It has cross-platform compatibility and is accessible on Windows, Mac, Linux, and mobile devices.
Pricing of EdrawMind
EdrawMind offers three pricing plans for individuals:
Free Plan: This plan is for personal use and offers limited features and templates.
Subscription Plan: It offers more advanced features, a richer range of templates, and access to technical support. For individual users, the pricing starts at US$39 for semi-annual periods and US$59 per year.
Life Plan: This plan offers a one-time payment for a lifetime license, including all future updates and technical support. The pricing starts at US$118 for individuals.
For more pricing information about EdrawMind for personal and commercial use, please get from here.
EdrawMind Apps
12 structures & 33 themes & 700+ cliparts
Support Win, Mac, Linux, Android, iOS
Advanced import & export options
On-premises software for business
Enterprise-level data security
EdrawMind Online
12 structures & 33 themes & 700+ cliparts
Access diagrams anywhere, anytime
Team management & Project management
Pros and Cons of EdrawMind
Here are some pros and cons of using EdrawMind as your dedicated mind-mapping tool.
Pros:
The user-friendly interface and intuitive tools allow you to create professional-looking mind maps immediately.

A wide range of templates and themes are available to help you get started quickly.

It has multiple export options, including PDF, JPG, and Word, to make sharing and collaborating with others easy.
Cons:
Some more advanced features may require a learning curve for new users.

The free version of the software has limited functionality and may not be sufficient for more complex projects.

Technical support may be limited for users of the free version.
4. How To Create a UPSC Mind Map With EdrawMind
Follow the steps below to create an effective UPSC mind map with EdrawMind.
Step 1: Choose a UPSC-related topic. Select a topic related to the UPSC exam, such as a subject or a current affairs issue. Next, launch EdrawMind on your computer and create a new mind map document.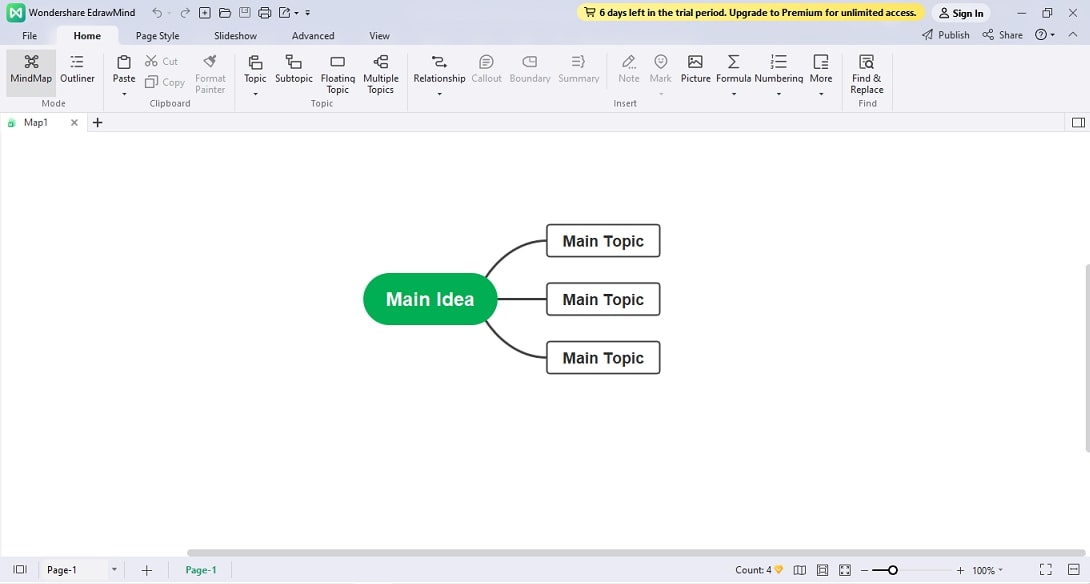 Step 2: Add your mind map's central idea or main topic. Add subtopics related to the main topic, such as different subjects or aspects of the selected topic.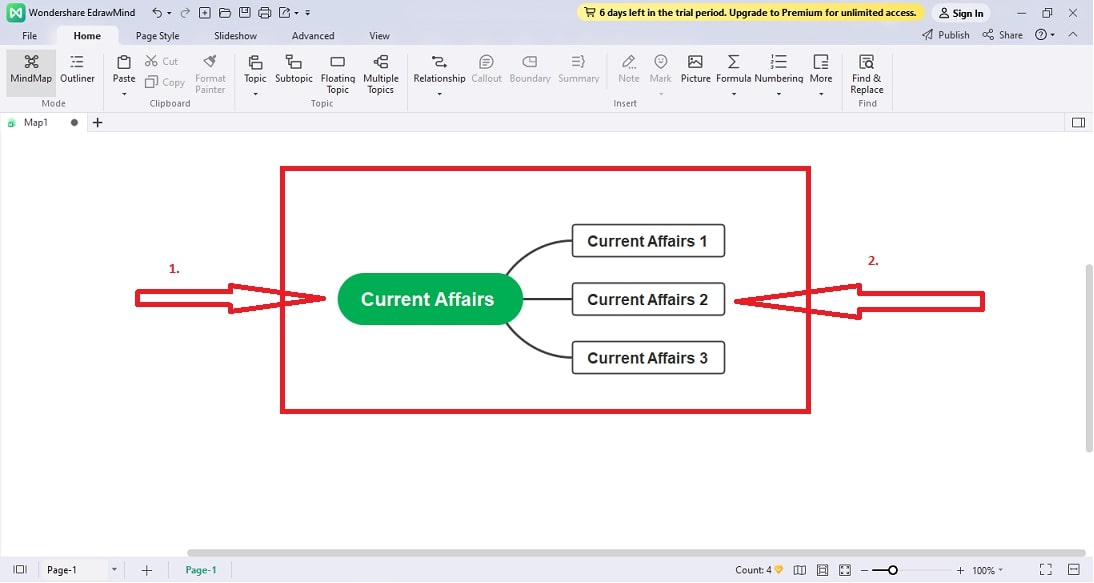 Step 3: Access the right side panel to customize your mind map with various features. From here, you can add Themes, Colors, Icons, and more to make it more appealing and visually engaging.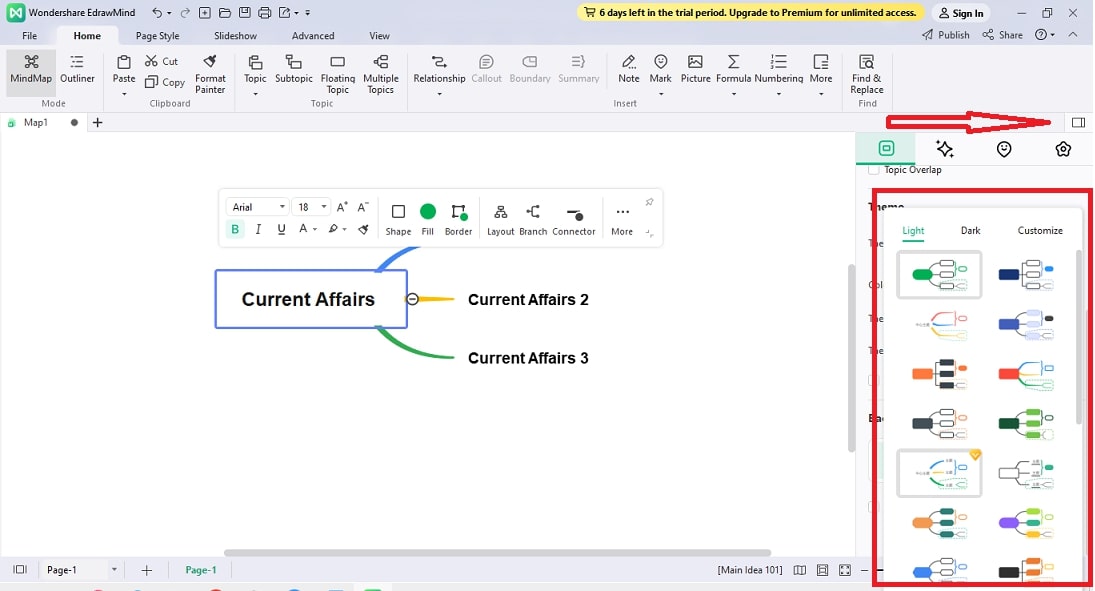 Step 4: Use connecting lines to link your ideas and show their relationships. You can also add notes or comments to your mind map for additional context and explanation. You can access these tools at the top of the toolbar.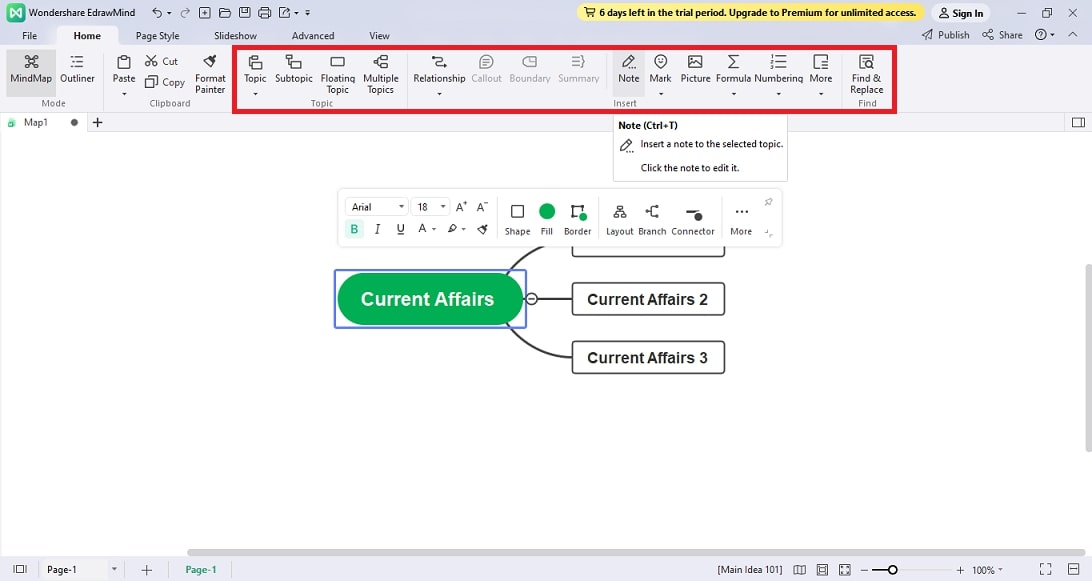 Step 5: Once you're done creating your mind map, you can save or export it in various formats such as PDF, PNG, or Word.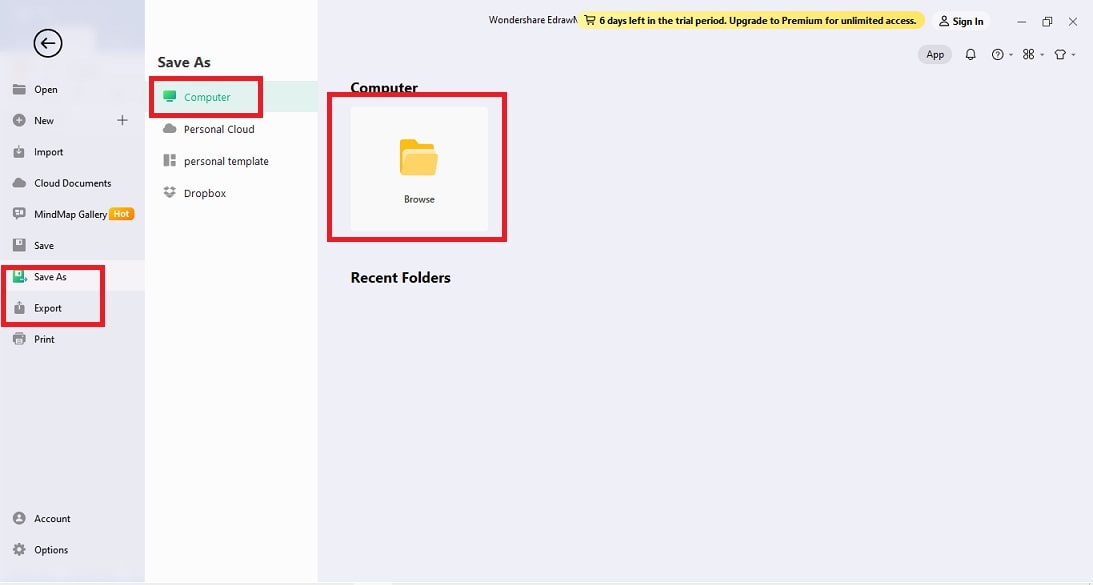 Tip: When creating a UPSC mind map with EdrawMind, focus on creating a clear and logical structure. Use keywords and images to enhance your visual memory retention.
5. FAQs
1. What Is the Difference Between the EdrawMind Free and Paid Versions?
The free version of EdrawMind offers limited features and templates with restricted export options. The paid version provides access to advanced features, more templates, and technical support. In addition, the paid version allows for exporting mind maps to various formats. It also seamlessly integrates with other applications and is available for personal and commercial use.
2. How Can Mind Mapping Techniques Help on Exams?
Mind mapping techniques can help with exam preparation by organizing and visualizing complex information. Mind maps can enhance memory retention and recall by breaking down a topic into key concepts and using connecting lines to show relationships. They can also help reduce stress and anxiety by providing a structured approach to exam preparation.
3. Are Mind Maps Better Than Text Notes?
Mind maps are often better than text notes because of their visual nature. The ability to organize information more memorably and engagingly allows for a non-linear and creative approach to note-taking. In turn, it can enhance memory retention and critical thinking.
6. Conclusion
Utilizing mind maps is an effective strategy when preparing for the UPSC exam. You can create a study plan, stay updated on current affairs, and use visualization techniques with mind-mapping tools.
EdrawMind's user-friendly interface, extensive templates, and collaboration features make it an excellent companion for creating and studying plans. Its cross-platform compatibility and integration with popular applications make it a versatile and efficient platform. EdrawMind enhances your exam preparation using mind maps, so you should try it out today.
EdrawMind Apps
12 structures & 33 themes & 700+ cliparts
Support Win, Mac, Linux, Android, iOS
Advanced import & export options
On-premises software for business
Enterprise-level data security
EdrawMind Online
12 structures & 33 themes & 700+ cliparts
Access diagrams anywhere, anytime
Team management & Project management