What is a biology concept map?
Biology is a complex subject that you have to incorporate other fields like chemistry and physics to understand fully. Most students find it hard to study biology since it contains a vast amount of unfamiliar topics. Aside from that, you also have to memorize terms and concepts. Knowing how our body works, how organisms evolve, and about DNA and protein are some ideas that make studying biology a little bit challenging.
To lessen the complexity in learning biology, most teachers and students use concept maps. A
concept map
is a representation of information done visually. It aims to develop the logical thinking of anyone who uses it by revealing the connections between things. Using it enables students to build knowledge structures. It allows students to see the 'big-picture' and visualize the different concepts in a specific subject. It has also become an effective technique in learning not just Biology but also other subjects.
Benefits of using a biology concept map
You can try many ways in constructing concept maps. They can take form in charts, flowcharts, diagrams, graphic organizers, timelines, etc. They are in boxes or circles called 'nodes' designed hierarchically and connected with arrows or lines. As biology contains numerous unfamiliar concepts, it is best to use a biology concept map when studying it. Here are some of the benefits a biology concept map can bring to you.
Using a concept map enables you to process, understand, and store extensive information easily.
A biology concept map gives a visual representation of the different biology concepts and how they are interconnected with each other.
It allows students to challenge their logical thinking and build a better understanding of biology.
It helps students track what concepts of biology they know and do not.
It can also help you identify the concepts that you need to review.
Biology Concept Map Templates
There are several
online tools
available for you in building and designing your desired concept map. However, if you decide to make your own, there are many biology concept map templates that you can take ideas from on the internet. Take a look at some of the examples below.
The first example shows a concept map about the Digestive System. It explains how food, a human eats, is processed inside the human body. The author used boxes to represent the organs and other information then connected them with arrowheads.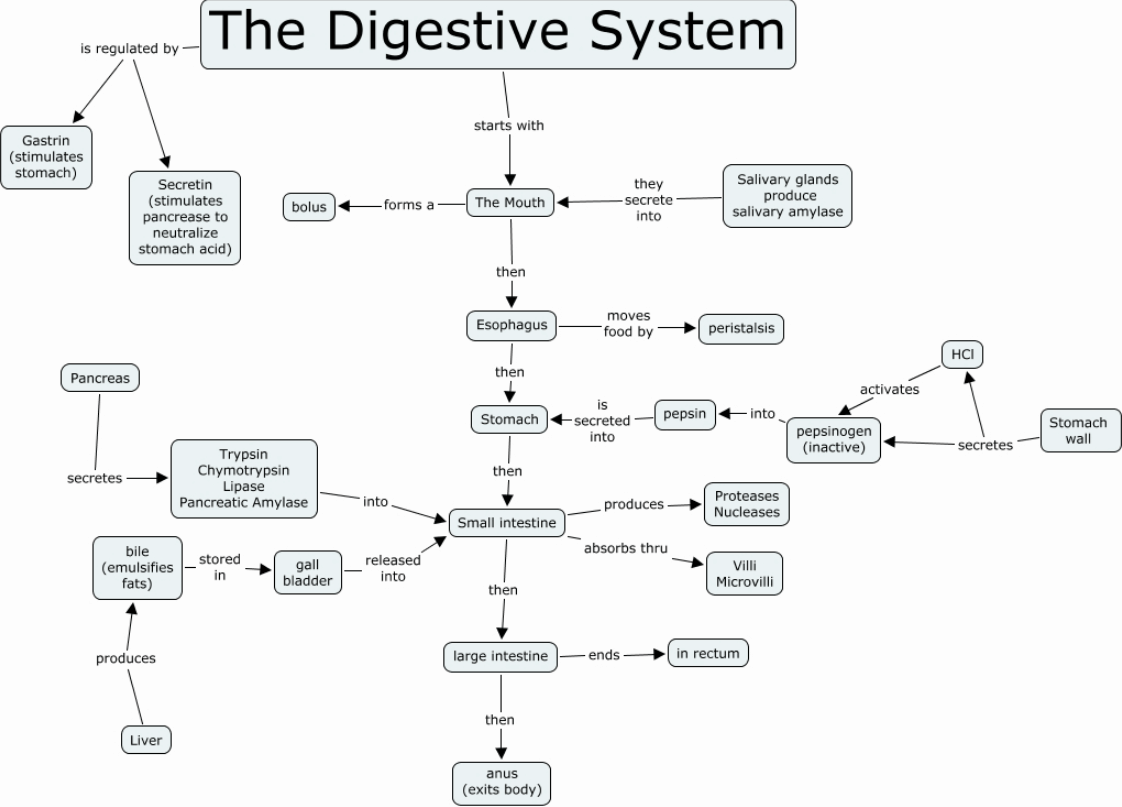 Source: blogspot.com
The second concept map below focused on how awareness and strategies impact the performance of students from the cell biology course. Just like the first example, boxes represented the key points and connected with bent lines with arrowheads. You can further expand this template and add some information that you want.