What is a digestive system concept map?
The food you eat takes a fantastic journey through your digestive system (from your mouth to your anus). A digestive system consists of your gastrointestinal (GI) tract and your liver. Your GI tract comprises your stomach, esophagus, mouth, small and large intestine, and anus. Each of these organs helps in moving the food and liquid you take in. Along its journey, parts of your body absorb that food that gives you nutrients and energy.
Learning the process that your food goes through in your digestive system gets complicated when you are just reading it. The best strategy to do is to use a digestive system concept map. Concept maps are visual illustrations of information about a particular concept, idea, or subject.
Concept mapping
has become a proven learning strategy that most students use to learn complex concepts, primarily visual learners.
Benefits of a digestive system concept map
Concept maps are highly beneficial to all of its users. Aside from the students, concept maps can also be advantageous to teachers. Different researchers around the world claimed that students using concept maps improved their performance in school. As you are about to learn the digestive system, here are the reasons why you should do it by using a digestive system concept map.
It allows you to organize the information about the digestive system in a way that you can easily understand.
It helps you develop your logical thinking and build a better understanding of the digestive system.
It assists you in improving your critical and analytical thinking.
It shows you the bigger picture of the digestive system.
It lets you understand the different relationships between pieces of information about the digestive system.
For teachers, it helps them teach their students the digestive system concept that students can easily understand.
Digestive System Concept Map Templates
There are several ways to construct a concept map. You can do it using
online software
or just by drafting it on a piece of paper. Its design is straightforward as it aims to help its users through simplicity. A bit of information from a concept can be represented by any shape, and these are called nodes. The usual shape used is a box. Then a line connects every node to show their relationship. Here are some templates of the digestive system concept map that you can use in making yours.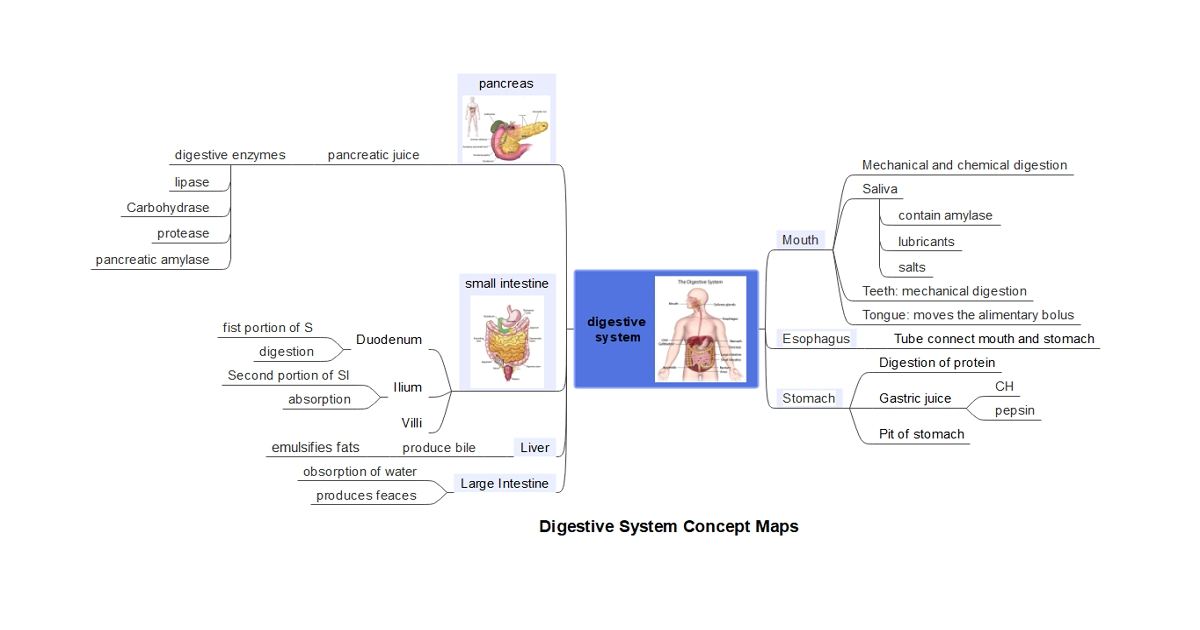 The second example below is an example of the usual designs of concept maps. Boxes enclose the pieces of information, then a line with arrowheads connects them. Also, notice that in between the lines, a phrase or word is inserted. The author did this to emphasize what is the relationship between both nodes of the line.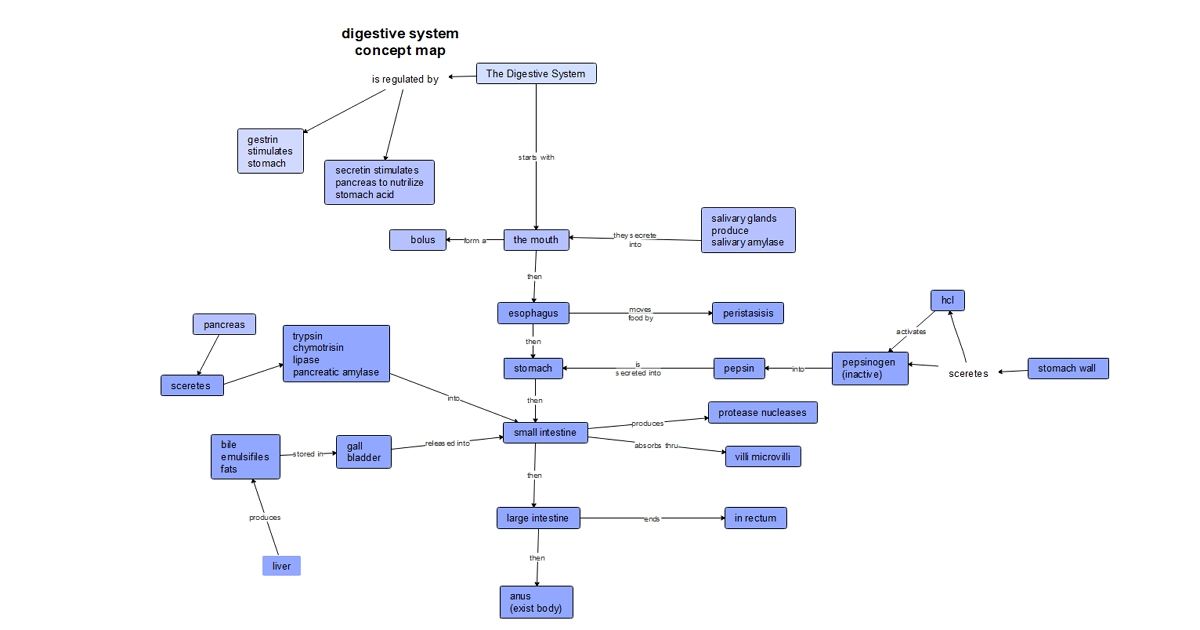 This last example of a concept map template is one that teachers use for exams. Still, it is the same as the usual ones design-wise.
Why EdrawMind?
EdrawMind is a full-featured collaborative mind mapping and brainstorming tool. It is convenient and helpful for you to use EdrawMind to sort out your thoughts, visualize ideas, take notes, plan projects and more importantly, find solutions to problems.
Users are allowed to insert different kinds of objects into topics and
mind maps
in EdrawMind, including relationship line, boundary, callout, summary, mark, clip art, picture, hyperlink, attachment, note, comment, and tag. EdrawMind offers you a simple way to create mind maps on
Windows
,
macOS
, and
Linux
. Download the desktop version and try the free online version now!
EdrawMind Desktop
12 structures & 33 themes
Support Windows, Mac, Linux
Full access to templates and resources
Brainstorming & Outline Mode
Advanced import & export options
EdrawMind Online
Create & edit directly in your browser
Access your maps anywhere, anytime
Group & real-time collaboration
Stay inspired from our online community
Personal Cloud + Dropbox integration