What is an enzyme concept map?
An enzyme concept map is a visual illustration of how elements and other components of enzymes relate to each other. The subject is overwhelming for most, especially those not familiar with it, so the concept map can be useful to simplify this complex process.
Enzymes catalyze chemical reactions. They are generally present in living organisms' bodies. All the biological processes within the body are chemical reactions, and most of them are regulated by enzymes. Without the presence of enzymes, several of the chemical reactions will not be possible. Enzymes are catalysts in cell metabolism, including food digestion, transformation and conservation of chemical energy, and many others.
Besides, the living organisms' bodies are also essential parts in medical and industrial applications, including cheese curdling, wine fermentation, and beer brewing.
Casual readers will find it difficult to understand its connections without properly illustrating all of the mentioned processes. With an enzyme concept map, you can better understand how this substance works in the body, make realistic interpretations of what you know, and figure out the areas you have to study further.
Benefits of using a biology concept map
Whether you are a student, teacher, or just love to study science, it will always be a handful to understand things by just reading its theories. In some cases, people love reading, but some understand better through visuals. Here lies the purpose of concept maps, which also applies to familiarizing how enzymes work in living organisms.
Your goal when studying the mechanisms of enzymes is to discover connections between the new ideas you encountered and those you already know. A concept map can give you a specific illustration of a particular aspect of enzymes and the processes in the human body and other procedures.
For example, if you opt to learn how enzymes work in wine fermentation, you can explore that aspect through a
concept map
. Or how enzymes and other chemical reactions work in food digestion.
Enzyme Concept Map Templates
A concept map can be broad and complex. They can also be straightforward and small. Regardless, the
structure
of the concept map on how you choose the key concept. If it's too general, then you can expect a broader illustration. Here are a few examples of enzyme concept maps that you can base your structures from:
Example 1
The first enzyme concept map below shows a straightforward approach to how enzymes generally work. As mentioned previously, you can have this approach to your illustration if you want to present a broader look at the enzyme processes.
The concept uses a
mind mapping tool
to arrange information and present relationships using arrows. It is a concept map containing only phrases and not sentences, which can also be beneficial for quick reading.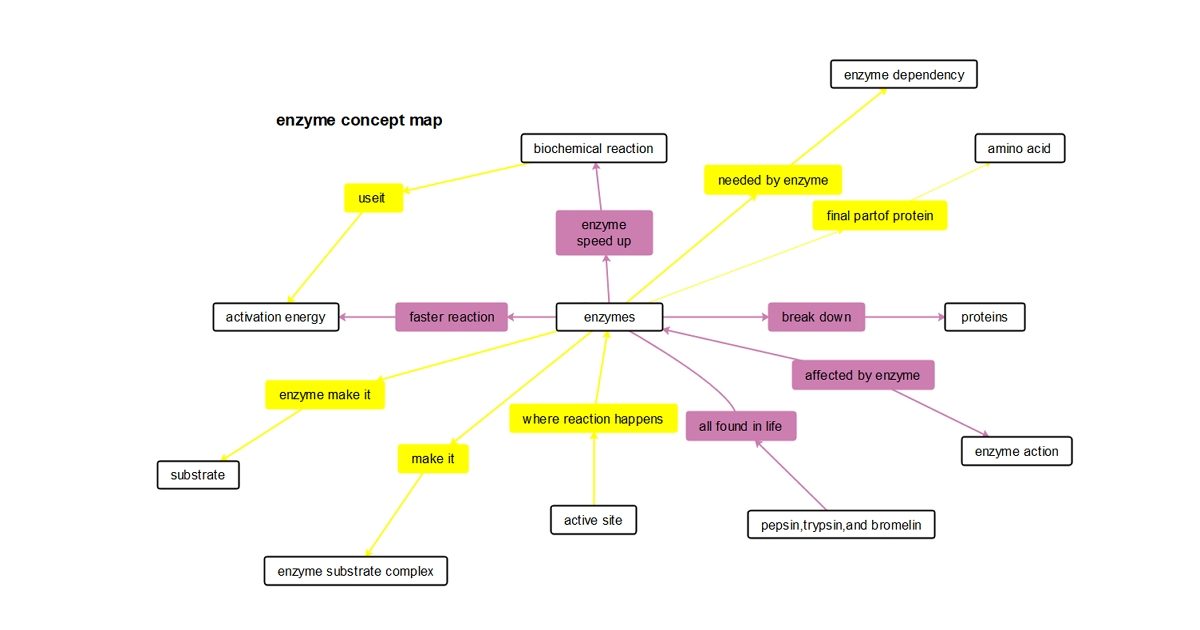 Example 2
This example still focuses on the concept of enzymes as a whole. Instead of using phrases, the diagram uses sentences to explain each component of an enzyme. The creator categorizes each element by using various colors. This is another creative mind mapping enzyme concept map where you do not need to do more research since descriptions are already available on the chart.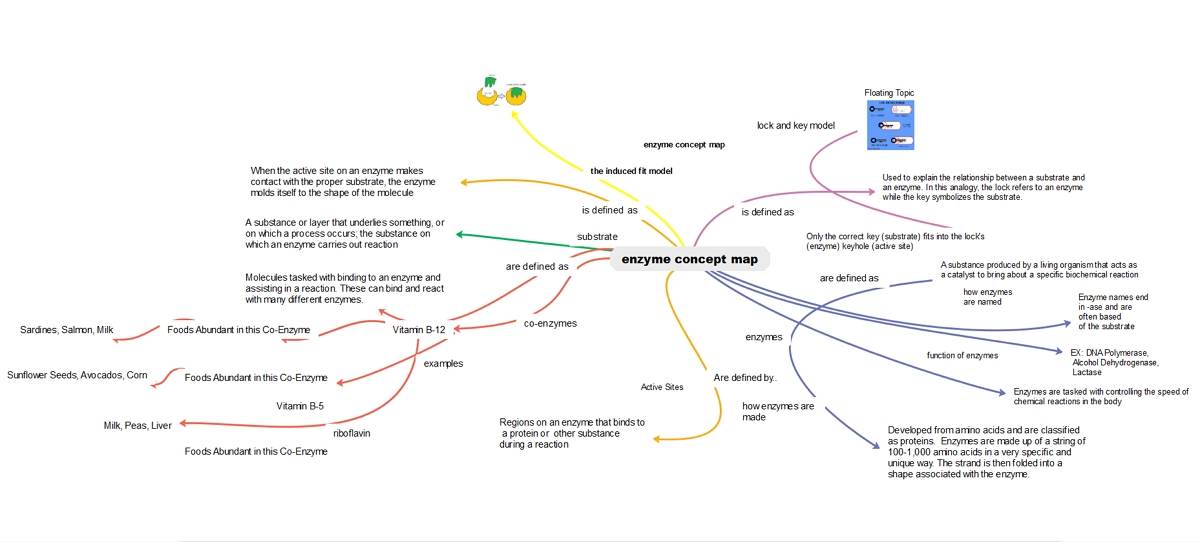 Why EdrawMind?
EdrawMind is a full-featured collaborative mind mapping and brainstorming tool. It is convenient and helpful for you to use EdrawMind to sort out your thoughts, visualize ideas, take notes, plan projects and more importantly, find solutions to problems.
Users are allowed to insert different kinds of objects into
topics
and mind maps in EdrawMind, including relationship line, boundary, callout, summary, mark, clip art, picture, hyperlink, attachment, note, comment, and tag. EdrawMind offers you a simple way to create mind maps on
Windows
,
macOS
, and
Linux
. Download the desktop version and try the free online version now!
EdrawMind Apps
12 structures & 33 themes & 700+ cliparts
Support Win, Mac, Linux, Android, iOS
Advanced import & export options
On-premises software for business
Enterprise-level data security
EdrawMind Online
12 structures & 33 themes & 700+ cliparts
Access diagrams anywhere, anytime
Team management & Project management