Charles Baudelaire (Biography, Poems, & Mind Maps)
Charles Pierre Baudelaire, a French poet, also worked as an essayist, art critic, and translator.
Poetry is an old persistent part of literature, and there have been various names related to it since the centuries. The poets spent a good share of their lives indulging in poetry and creative writing. Amount those people, Charles Baudelaire was one of the most famous names for poetry and creative writing. He was not only a poet but also a well-known critic as well. He also contributed to the revolution that took place in the year 1848.
In addition to his significant contribution to poetry, Charles was also one of the pioneers of symbolism (French) which is why he indulged in translations. One of his well-known works is The Flower of Evil. If you want to know about the great poet of the 1850s, you have landed yourself in the right spot because this article consists of all the information one needs to know about Charles Baudelaire.
Early Life
Charles Baudelaire belonged to a well-off family base in the central city of Paris. He was born in 1821 on 9 April. The beginning of Charles's life was quite ordinary and filled with resources to live a decent life. His father was a senator and earned well; however, his father died of illness when Charles was just six years old. After that, his mother got remarried, and things started going downhill as he was never able to build a decent relationship with his stepfather.
After his father's death, his life became very complicated as he got expelled from college due to personal issues and a lack of interest in the study material. At the age of twenty, he decided to travel to India; however, things took a different turn as he had to return in two months. He came to know about the legal details that he was eligible to inherit his father's money on his return. However, his mother cleverly took all the money and gave him monthly allowances, which were quite average for his needs; however, he did settle for a medium amount of money every month. Later on, he chose literature when he joined a newspaper after college.
Education
His education started from the preschool of his city Paris. He was mainly educated in the institutions of Lyon. After completing his secondary education, he went forward to the Louis Le Grand, a well-known college based in Paris. However, he did not do well in the academic sectors and failed most of the courses and exams.
After a few months, he got expelled, which lead him to not getting his bachelor's. All those Days, the academics and the subjects he studied did not make sense to him as he indulged in poetry. However, he did not think of publishing any piece of poetry as he felt they were not worth reading or publishing at that time. However, he wanted to write further and improve to publish some of his works as he internally had decided to be a person in literature.
Career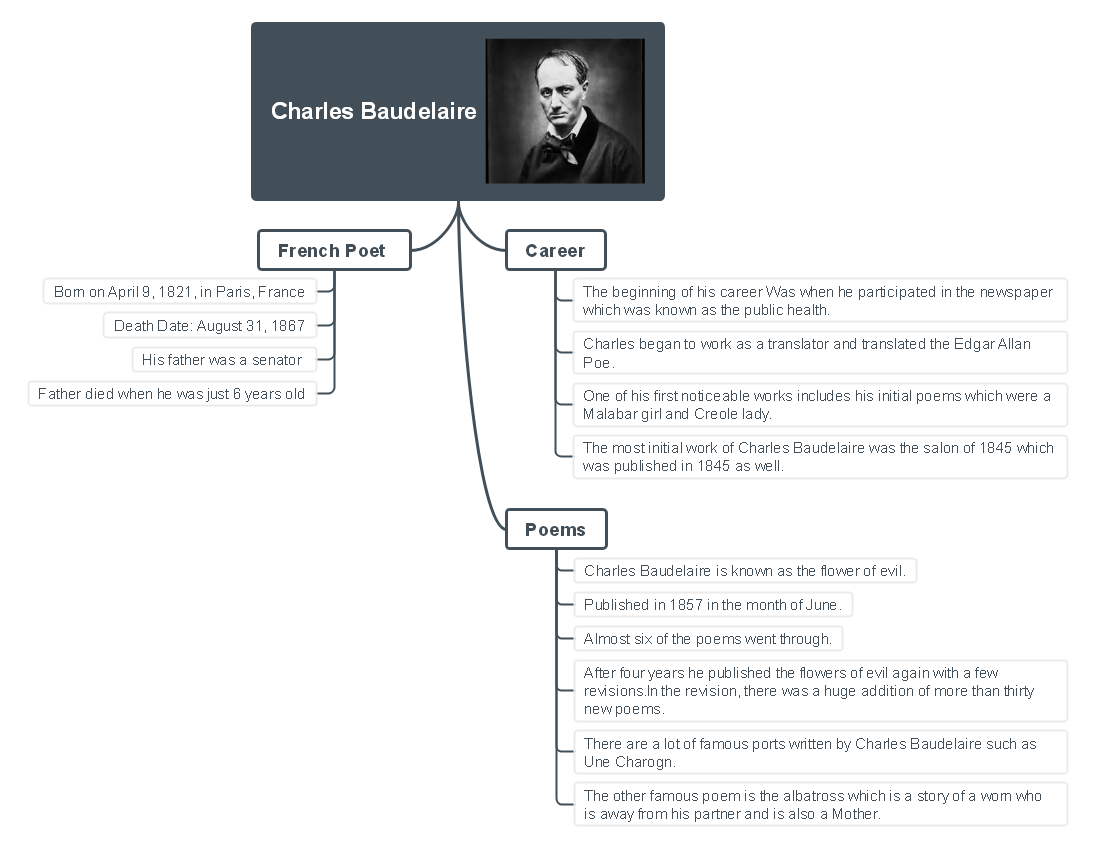 The beginning of his career was when he participated in the newspaper known as public health. The newspaper belonged to the allies of the revolution, which took place in 1848. He worked there for almost 2 ½ years. Then the revolution was sided and peace was recalled. Charles began to work as a translator and translated by Edgar Allan Poe. One of his first noticeable works includes his initial poems: To a Woman of Malabar.
In addition to that, Don Juan in the Hell (1952) did well too. The major publications were mostly published in 1843 in a compiled work known as The Artist. The most initial work of Charles Baudelaire was Salon de 1845, published in 1845. He also indulged in story writing and published his collection of stories known as Les Paradis artificiels. The Les Paradis artificiels was basically about the life struggles of people who did drugs and how drugs significantly impacted life and professional avenues.
Later on, he started to indulge in events related to the poetry and literature community. He also took part in the Commune, which was held in Paris in 1848. After gaining experience and connectivity in the literature community, he got a Co-editor's position in the newspaper. The newspaper was known as the Salut public. He worked there for more than sixteen years and did his work in the translation sector. He dealt with French translations. During his time there, he also managed to publish two books as well. When the 1850s started, Charles mainly focused on poetry, which is why all of his known works were published in that period. He published Le Spleen de Paris in 1860, consisting of many short prose and poems.
The major works by Charles Baudelaire include Le spleen de Paris, published in 1969, Les paradise artificels in 1861, the same year he published the famous book L'Albatros. After two years, he published another masterpiece known Le Peintre de la vie moderne, with their edit of The Flowers of Evil. One of the most latter works he published consists of Mon Coeur Mis à Nu, published in 1897. Even after his death, many unclaimed versions of The Flowers of Evil were published by the authorities until the late '90s.
Poems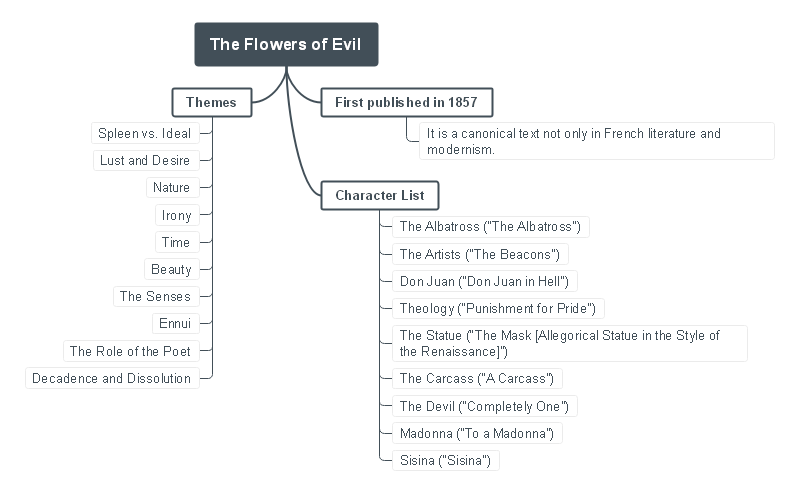 One of the well-known poems of Charles Baudelaire is known as The Flower of Evil. The poem was published in June 1857. The book also became the talk of controversy as almost six of the poems went through censors, and the media wanted to exclude some of the poems from the collection. The Flowers of Evil genre was a lyric published by a French publisher known as Auguste Poulet-Malassis. The original name of The Flowers of Evil is Les Fleurs du mal. It was initially written in French and translated by various famous translators such as George dillion, Edna St vincent, Jacques Leclercq, Steven George, and William F. Angler.
However, he did not remove any poem, instead agreed to pay a fine for consideration. After four years, he published The Flowers of Evil again with a few revisions. In the revision, there was a huge addition of more than thirty new poems. The other main change was the division of the book. It was also known as an autobiography of the poet himself. The Flowers of Evil was such an impale work that it was known to give foundation to modern poetry and given to poetry students to study authentic poetry. The Flowers of Evil mainly plots toward the representation of hopes, establishment, good and bad deeds, and how the world keeps fixating on artificial beauty. However, it tended to ignore the real gift of beauty such a mother nature, a feeling you get after doing a good deed, etc.
There were a lot of famous ports written by Charles Baudelaire, such as Une Charon. The poem is removing around carcasses and how they resemble women and the ideology of their lives. The other famous Poem was The Albatross, a worn story away from his partner and a Mother. The poem portrays how money her life was and what joy she had in her life. The other poem that got a lot of significance is the owls which is a metaphoric explanation of how life depends on its own and how we react to them differently. In addition to the poems mentioned above, there are L'invitation au voyage, spleen, correspondence, and many more.
There is more work of Charles Baudelaire that are also considered as marvels in the poetry community. His poems, such as L'Albatros, a selection of beautiful words stating the meaning of how the ones meant to fly, tend to choose walking. Metaphors used the fact that it is us humans who limit ourselves. The other famous poem was The Carcass mentioning that humans should seize the day as there is no limit to the time, and you can die suddenly as well. In addition to those works, The Swan was known as the most enchanting piece of art in the form of poetry.
Death
There were no major events until the year 1865 when Charles got the chance to go to Belgium. He spent almost three years in the Belgium region. His health started to go frail as he was getting very old, but that did not stop him from living the local life in Belgium. one of Charles's major accidents happened in the Church of Saint-Loup do too, which he got laid back for a few months. His illness started to become very intense to the point where he could not even stand. The poet eventually got paralyzed and could not work more in the literature department since he had memory issues and a lot of physical pain, and a few years he died of illness in the year 1867. After his demise, revisions of his works have been published by various publications as well. Modern-day literature still has a lot of Charles's work included in it, and it also has a lot of significance.