Anton Chekhov (Biography, Short Stories, Plays, & Mind Maps)
Anton Chekhov is one of the important personals in the history of plays and story writing.
There have been so many story writers in play writers in the history of drama all the centuries; however, there are a few that ring a bell in almost anybody's mind. Those names are mostly one of the essential characters in the playwriting and story writing history. Anton Chekhov is one of those names. He had presented the world with various masterpieces such as the step coma The Lady with the dog and other short plays like The Singer and Uncle Vanya, and many more. All the plays and stories written by Anton Chekhov remind the readers of metaphoric stories. Stories may seem simple. However, they have a certain depth to them. The stories are mainly defined day to day tasks and events in a very particular way depending upon the story's theme.
Early Life
Anton Chekhov was a Russian-based play writer and story writer. He was born in the year 1860 on the 29th of January e in Russia's Taganrog region. He did not live a comfortable life because he had financial issues as his father was just a regular grocery and could not make easy and fast money. His love for storytelling came from his mother, as she also had a passion for books and small stories and used to read them to Anton at a very early age. His family consisted of him, his parents, and five other siblings.
His father was trying so hard to make ends meet; however, the business was not settling and failed again in 1875. He decided to move his family to Moscow and live there. However, Anton did not move to Moscow because he had to finish his studies in his hometown. While he was studying, he did jobs to help his father and run things smoothly. He also indulged in freelancing to gain quick and easy money for his family members. After four years, Anton reunited with his family as their financial status was still not stable. He took an interest in writing and started to write small stories and plays for local papers to earn money.
Writing Career
In statistics, his career started at a very early age when he began to make freelancing stories. However, his primary career started in the late 80s when he started to earn as a physician, and he also was working on his one and passion, which was fiction writing. It was the year 1880s when he perused story writing. His initial works did very well as he launched them with his name. His initial pieces were appreciated when he posted the story snippet on various well-known platforms like Times.
He later produced an extensive version of the collection, including one of his career's biggest hits; however, there is such a Motley as various stories published in 1886. He also got a big prize known as the Pushkin Prize in the year 1888 with the steppe.
He believed in the impact of Russia's realist view, which is why you can see e Russian realistic style in his works in the early stage of the 19th century. His career's biggest hits were the golden time for Anton as he also started to work in the theatres to write small stories in playwrights.
On the initial level, when he started to write stage theatres, the length was quite small, and the place was relatively short. However, as he developed his writing style, he managed to keep his dramas short and sweet, and meaningful after 1884. It is why he was known for his short plays. He wrote famous plays such as The Seagull, Wind, Sand and Stars, The Bear, and many more. He used comedy and tragedy in the unique gland to provide the best entertainment for the people. The plays that caught the majority's eye were Ivanov, which was published in 1887, and straightly after two years, he published another work known as The Wood Demon in 1889, which had a new plot as it showed the ways how rich people resolve money matters and loans.
Famous Works
Anton's plays and the shows were considered masterpieces in the history of drama, theatre, and story writing. However, a few of the stories had caught the viewer's attention and were alive in our minds for a longer time. Most of the stories belong to the 1890s, such as Ward No. Six and The Lady with the dog. The story was based on understanding human nature and how every small to significant event shapes a human's life. One of Anton Chekhov's famous works is The Lady with the Dog, published in 1899. The book captured the heart of the reader through its interesting plot. The lady's main plot with the dog revolves around the life of a woman who went out for an exciting voyage to take rest from her busy life; however, she found a married banker and fell in love with him. The whole story is about how they tried to save their relationship and be together. It is a perfect mix of thrill, romance, and sadness.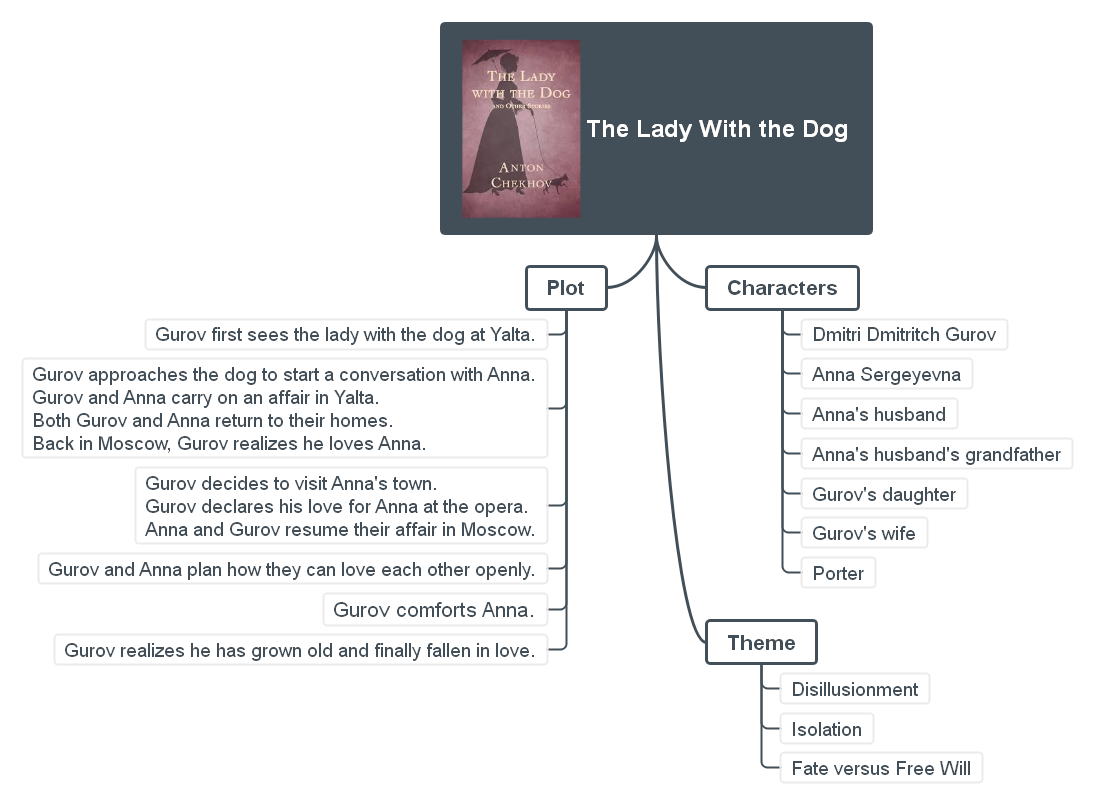 The plays written by Anton Chekhov were notable because he catered to every character according to the mood and vibes of the play or story. The characters always in perfect harmony with each other. From small characters to the more significant plot twist, the planning would always astonish the viewers. Each character would work well according to the plot, and everything seems to be perfect and on the spot. Most of the famous characters of his plays and stories were lonely; however, their character growth is worthwhile. Shower's main thing to look forward to in Anton Chekhov's work was how characters make peace with themselves. Most of the stories are placed before the revolution in Russia; however, the plots are still relatable if you try to read them.
The Man in the Case is another phenomenal work by Anton Chekhov, published in 1898. The real name of the book is Chelovek v futlyare. The plot removal around how the real-life is as compared to life inside a case. The writer used metaphoric means, saying that life's value and meaning are different for each individual. They solve their problems differently, like a free person or a person in a case or a shell. The plot made people rethink their motto in life, which is why it became a huge success.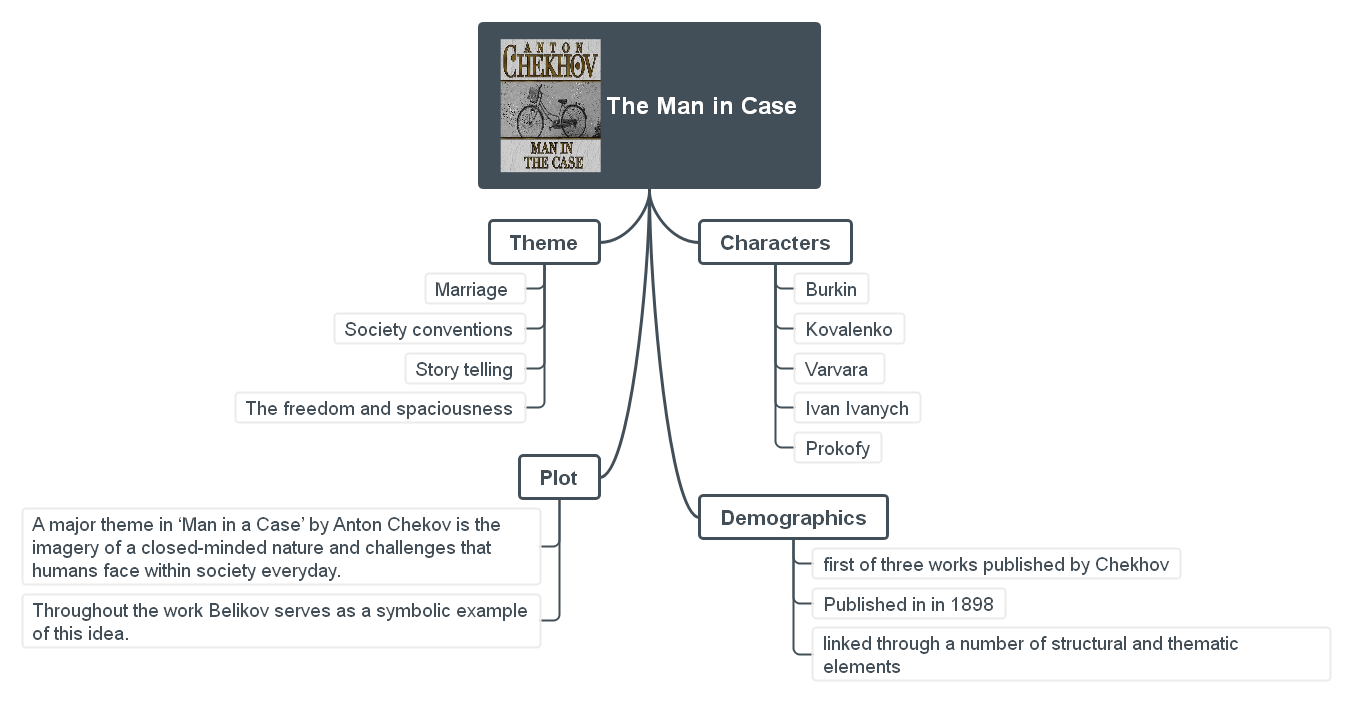 At the end of 1890, Anton Chekhov scored many resources and collaborations with various creative people such a Constantin Stanislavski and the famous art theatre based in the Moscow region. With all the resources and unique partnerships, he gave out one of the best places in a story written in history.
These include The Seagull, which was published in 1895, and Uncle Vanya, published in 1897. The Three Sisters was also published three years later in 1991, and The Cherry Orchard was published in 1904. All of the stories mentioned above are considered classic.
Death
Anton Chekhov wanted to settle down as time passed, so he got married to a theatre actress known as Olga Knipper. But destiny took a toll on him as his health started getting worst with time. After checkup and diagnoses, it was found that he had tuberculosis, and he had it for a while. He had been suffering from tuberculosis since a young age and could not be treated. As time passed, he died of illness in  1904 on the 15th of July at 44.