Story Summary Examples
Some stories are hard to grasp by just reading them. There needs to be another visual representation to understand their message.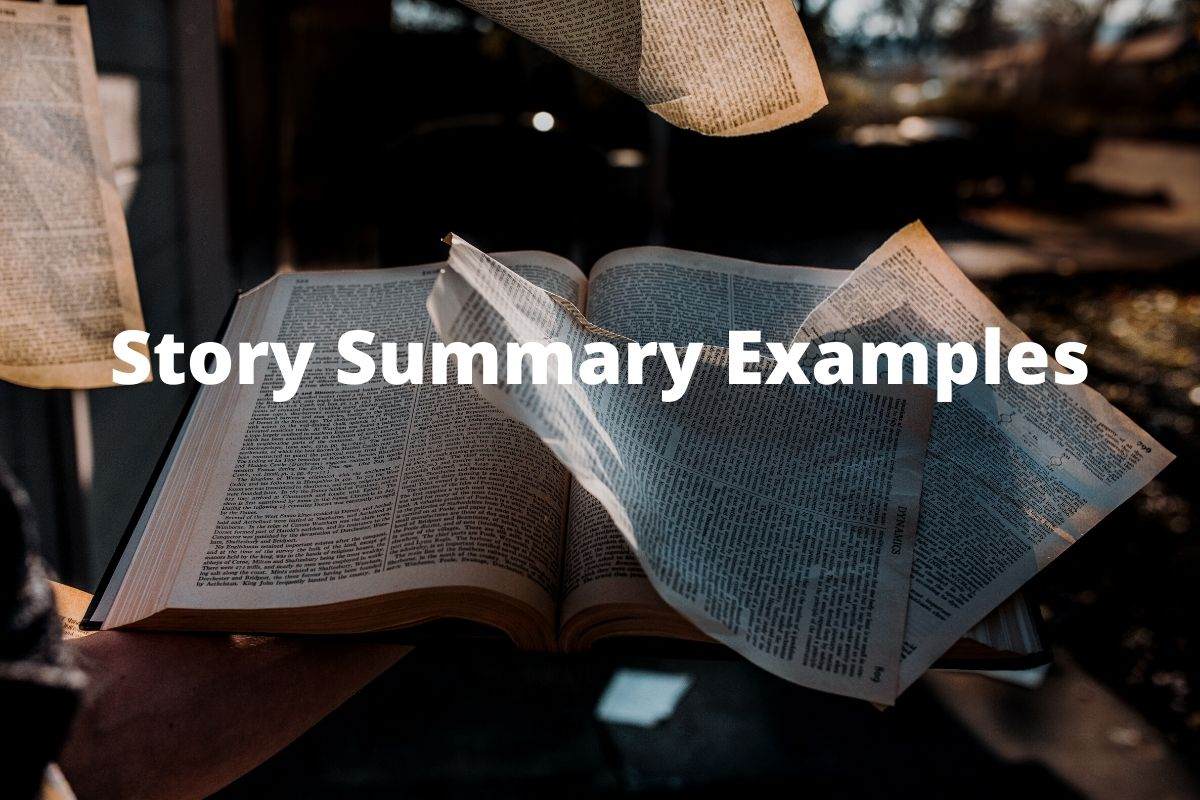 What is a story summary?
Traditionally, a summary is a shorter version of the original text, usually from a book or an entire article. Summaries can come in a few paragraphs depending on the length of the story, article, or book being summarized.
It is a brief summarization of a more extensive work that gives readers a comprehensive understanding of a topic or a story. Sure, you might have encountered several summaries in your life from the time you attended school to doing research and even at work. You would always see paragraphs to highlight events and present relationships in a story. However, now, you can create a visual representation of a story or a book through charts and diagrams. After all, story summary is to make readers understand the overall story straightforwardly and clearly.
One essential thing for you to remember when writing story summaries, especially the controversial ones, is to leave your opinion out of the illustration. Sure, you have interpretation of what the story means to you, but story summaries must only contain the source's idea. As you create a summary, only the facts that happened in the story must be included.
You can utilize summary across several writing genres. You make a summary of academic essays and their supporting arguments, a television show, or a novel. Story summaries can also be used to highlight historical events and fairy tale stories.
Story Summary Examples
While you are contemplating on how to do your summary of a story, here are a few examples where you can base your illustration from:
The Little Prince
The story of the Little Prince is not new to almost everyone. Whether it is for a school project or some creative research, you might be asked to illustrate its simplest form, the classic story of the Little Prince. Overall, it's about a young prince visiting several planets in space.
The example below is a diagram using a mind map to illustrate the story's theme, the little prince's characteristics, his travel experiences, including that on earth. The story summary example of the Little Prince is captivating already with the colors and straightforward approach of the creator to explain the story. It also uses images and stickers.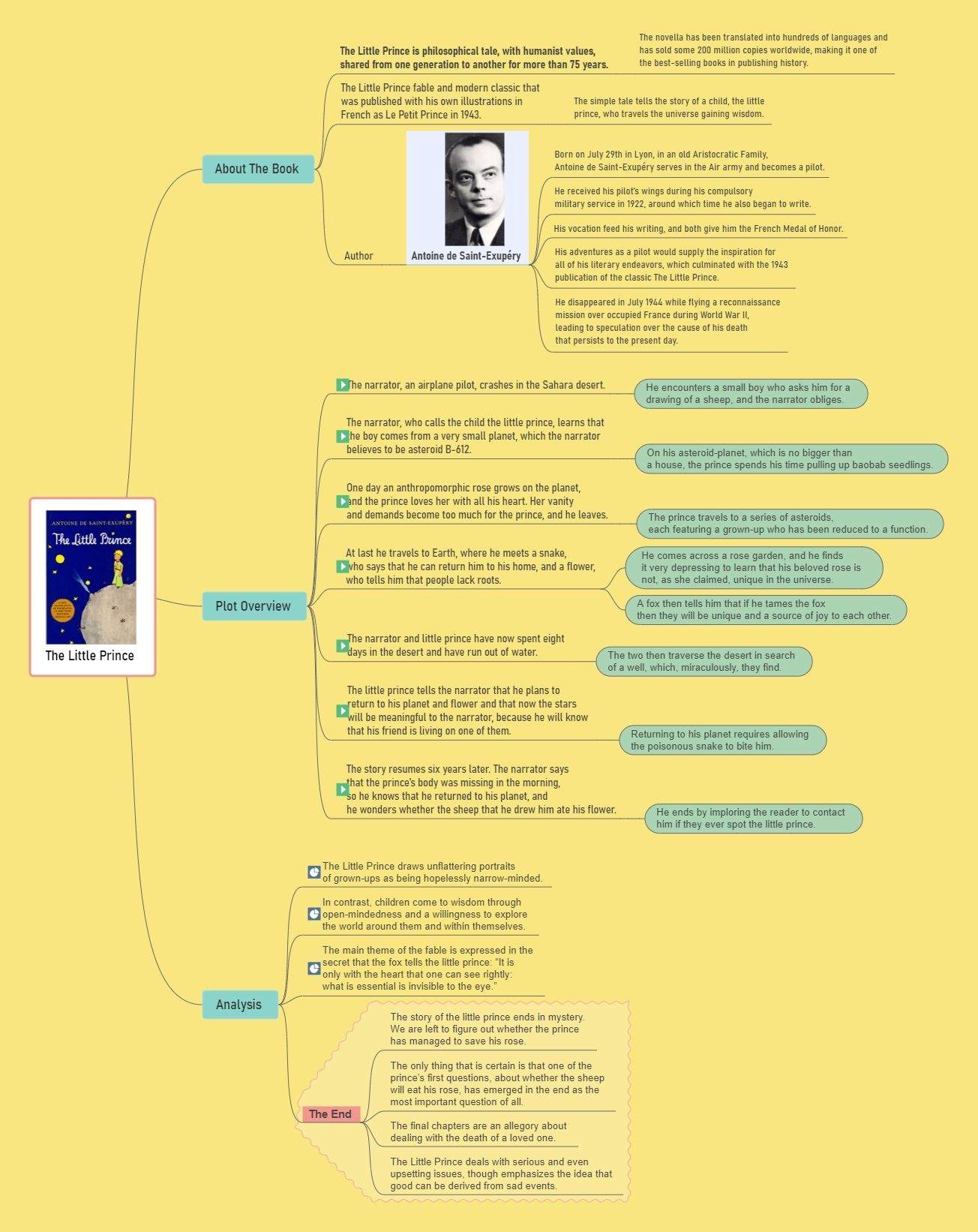 View, edit, and download this template in EdrawMind >>
Skyfall 007
The second summary of a story example is of a movie. Unlike the usual summarization, the diagram also focuses on how the production of the film will go. Every element and deliverable for the movie is categorized in every branch. You can see the main components where it tackles the props and character requirements to make the movie. You see, a story summary is more than just summarizing a book or movie; it can also involve simplifying the movie production process.
The movie is about James Bond's newest assignment that went wrong and has exposed every identity of the M16 agents worldwide. If you are making a diagram for someone who has not seen a James Bond film, this might be a challenge for you. That is why it is essential to be precise and straightforward with your story summary.

View, edit, and download this template in EdrawMind >>
Sleeping Beauty
Who does not love fairytales? You bet everyone does, especially kids. The example below is a story summary about Sleeping Beauty, a classic tale about a princess, prince, and an evil witch. Similar to other fairy tales, it depicts how good always wins over evil.
The diagram below summarizes the story highlighting the important events of the princess. You can see that every event is labeled, enclosed in a box, and has a distinct color. Each box has supporting details on what happens at that specific time of the protagonist. As a reader, you will feel like you are reading the whole book by just looking at the diagram.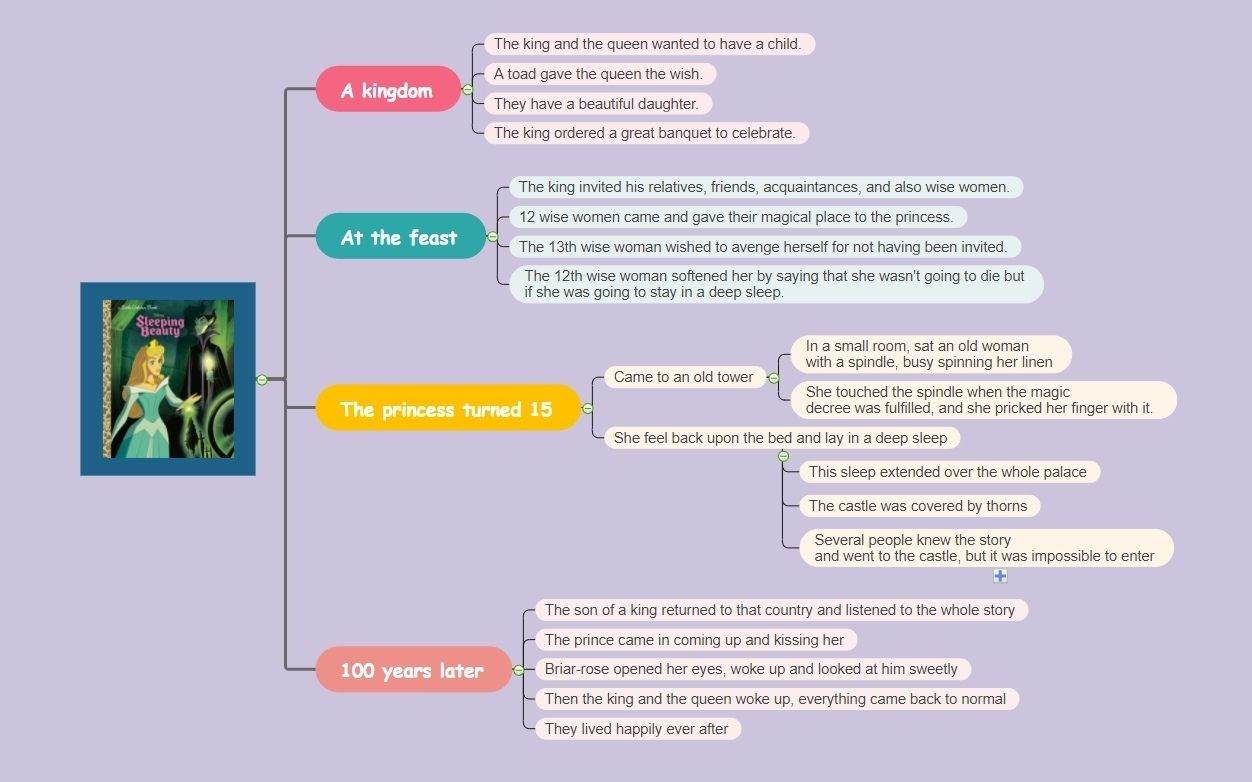 View, edit, and download this template in EdrawMind >>
Dune
Dune is a science fiction novel and was later adapted to a movie. It was written by Frank Herbert and published in 1965. It is considered one of the all-time greats in science fiction novels where the story is set in the future where people have spread out and have colonized planets through the universe.
The way the story is summarized from the example below is straightforward. It starts with an image and the author's name, then connects to several contexts and themes of the novel. Each vital character in the story is provided with descriptions. It may not tell its readers how the story goes, but it illustrates what to expect from the novel, including essential facts.

View, edit, and download this template in EdrawMind >>
12 Angry Men
This is another specific example of a summary of a story focusing on the film sequence analysis of the 1957 film 12 Angry Men. You notice how clean and simplified the illustration is. Each bubble has a particular film sequence and describes what happens on a specific frame.
The 12 Angry Men is a courtroom film that focuses on the jury's deliberation in a capital murder case. Since every individual has a different take on what must be included in the story summary, the diagram can vary. However, you must remember one of the best practices for a good story summary is to have the critical events in the story.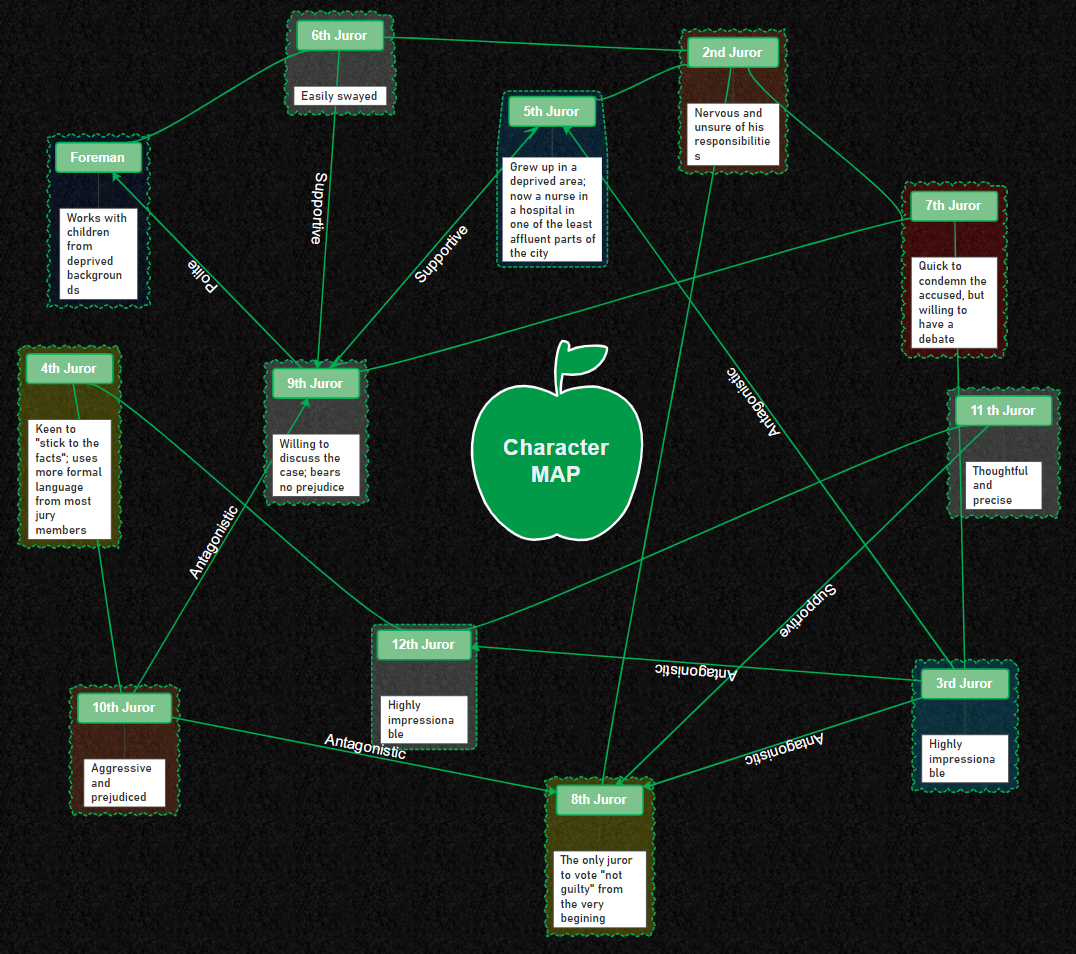 View, edit, and download this template in EdrawMind >>
The Lion King
Who has not watched the 1994 film, Lion King? You bet everyone has. So it will not be too much for someone to create a story summary for this classic film. It follows the story of Simba, a young lion who is to succeed his father, Mufasa, as King of the Pride Lands.'
The animation of the movie itself is already pleasing to the eyes, so as a story summary illustrator, you must explore your options on how to make it visually appealing through a diagram. Since most film characters are already known by many, the chart below highlights the story's start and the critical events leading to the climax until the ending. You can also use images to represent each crucial event in the story, similar to the example below.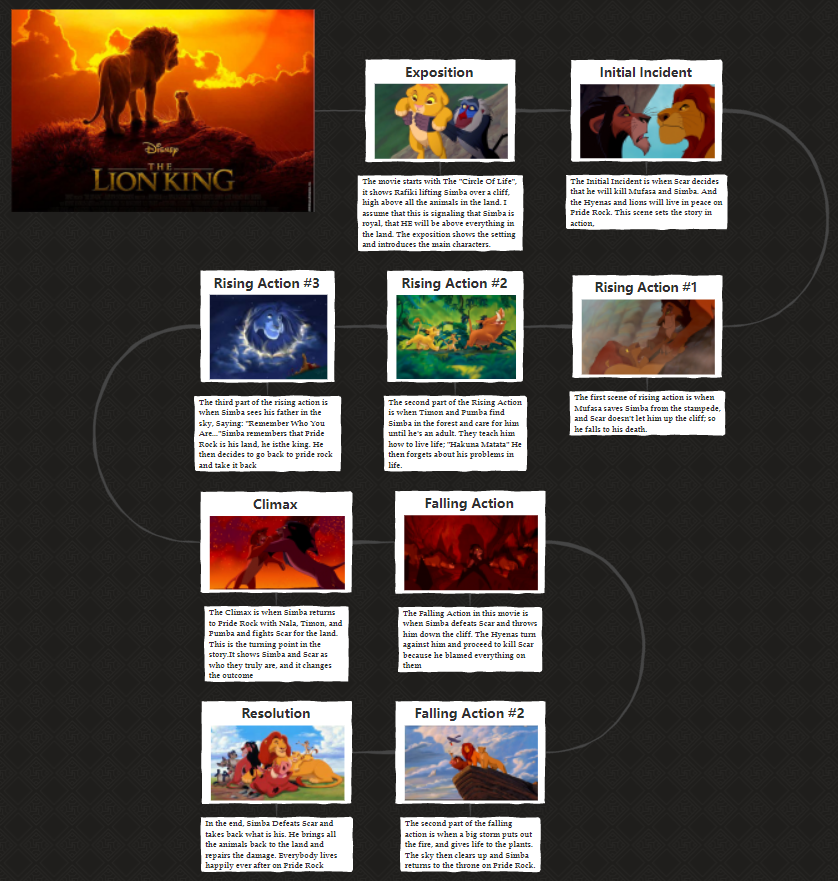 View, edit, and download this template in EdrawMind >>
The Dark Knight
The Dark Knight is a superhero film produced in 2008. It is the second installment of The Dark Knight Trilogy and the sequel to Batman Begins, released in 2005. The film begins with a group of men wearing clown masks breaking into a bank. Members of the gang felt the 6th member named 'The Joker' was responsible for the robbery planning, but does not get involved in the actual robbery, does not deserve the cut. As the theft continued, every member started killing each other to get a more significant cut.
There can be more characters and critical events in the film. The story summary example below shows that it starts with a film overview to give readers what the film is all about. It then continues to highlight eventful situations in the movie. There are some parts of highlights where the creator inserts video clips and images, which of course, you can also do so if your online graphic organizer permits.

View, edit, and download this template in EdrawMind >>
Why EdrawMind?
As a full-featured collaborative mind mapping and brainstorming tool, it's convenient and helpful for you to use EdrawMind to sort out your thoughts, visualize ideas, take notes, plan projects and more importantly, find solutions to problems.
Users are allowed to insert different kinds of objects into topics and
mind maps
in EdrawMind, including relationship line, boundary, callout, summary, mark, clip art, picture, hyperlink, attachment, note, comment, and tag. EdrawMind offers you a simple way to create mind maps on
Windows
,
macOS
, and
Linux
. Download the desktop version or try EdrawMind online now!
EdrawMind Apps
12 structures & 33 themes & 700+ cliparts
Support Win, Mac, Linux, Android, iOS
Advanced import & export options
On-premises software for business
Enterprise-level data security
EdrawMind Online
12 structures & 33 themes & 700+ cliparts
Access diagrams anywhere, anytime
Team management & Project management
How to write a good story summary?
Before looking into the best practices of a good summary of a story, you need to figure out the characteristics of an excellent story summary. A decent summary has three essential attributes - brevity, precision, objectivity. Each of them will be discussed as you read on.
Brevity. Regardless of whether your story summary involves illustration and diagrams or paragraphs, your goal is to shorten the story in such a manner that readers will get an easy grasp of the events and the character relationships. You can summarize a 200-page book in one chart or a 25-page story in two diagrams. It will depend on how you want to explain your illustration. However, you need to be mindful not to exaggerate the length of your summary. Also, do not be too overwhelmed with shortening it so that you will end up missing out on some essential details. You need to find the balance.
iPhone. It's no secret that almost everyone uses an iPhone today. Apple is also one of the pioneering brands that introduced smartphones with a multiple touch feature. It was designed thinking about the combination of an iPod and a smartphone. Apple continues to have several versions of the iPhone until today, with the iPhone 13 being the latest.
Precision. As has been previously mentioned, the story summary must be based on the source's information and not on the opinions of the one making the summary. With this, you need to have a good grasp of the story to illustrate the facts through diagrams and other graphic organizers comprehensively. A story can be as long as a 500-page book, so it might be beneficial to take notes and miss out on important events and characters.
Objectivity. As you opt to illustrate the connection of characters in the story, it is fitting that the diagram is objective and must be based on the facts, not one's interpretation.
Now that you are familiar with what to include in your story summary, it is time to follow simple steps to create a practical summary. Check out the list below:
1. Select the essential details of the story.
A
summary of a story
does not have to be long since you only need to illustrate and present only the important events of the story. As you may know, making a story summary using a diagram entails fewer words and more graphic representations. The creator must decide on the events to include in the summary. Here are some fundamental questions you can ask about the story to help you find the essential points of the story:
Who are the vital people in the story?
What happened?
Why did such things happen?
How did those things happen?
When did the events take place?
When reading, it can also be helpful to underline or highlight parts of the story that answer the above questions. It will be easier for you to go back to these details when mapping out the summary.
2. Make a map.
Most people always find it useful to organize essential details of the story by making an outline using charts, diagrams, and other graphic organizers besides the fact that visual representations bring clarity to events and characters. In some cases, the story summary diagram is also used before coming up with a written one. It helps people organize characters and events accordingly. While you can pull out your coloring materials and other resources to create a diagram, technology has also provided a quicker and easier way to map out story summaries. You can opt for mind maps, charts, flowcharts, and other visual illustration tools online. You can take a look at a story summary example as you read through this article.
3. Review the summary.
You can ask someone to look at your diagram, probably your teammate or someone who knows the story you are making a summary of. When using online graphic organizers, you can collaborate with your teammates or co-employees online and comment on their inputs or let them edit the illustration themselves. It makes creating and editing a story summary diagram easier. You do not need to meet in person to get suggestions and comments from everyone.