Antoine de Saint-Exupéry (Quotes, The Little Prince & Mind Maps)
Antoine de Saint-Exupéry was not only a writer but also an author and a poet.
Antoine de Saint-Exupéry was a French-based writer who had a well-off family which belonged to an aristocratic family. He was not only a writer but also an author and a poet. He had a keen interest in aviation from the start. His love for aviation started after his first travel on a plane at the age of twelve. He joined the army to obtain pilot wings and succeed in getting one at the compulsory military in 1922. The same year he initiated to write. All the experiences he had as a pilot gave him a lot of content to write. He used to express his feeling while he spent time in the sky in his content. The famous works include The Little Prince in the 1943 publication.
Early Life and Education
Antoine de Saint-Exupéry was a Lyon-based writer and artist who lived a comfortable life in an aristocratic family. He was born in 1900 on the 29th of June. He lived an everyday life until his father died when he was relatively young, which impacted his life as he moved to the east with his siblings. He had to live in the relatives' place. However, their background did not change as they lived an exceptionally comfortable and easy life due to their inheritance. The first major life-changing event happened in 1912 when he got the chance to travel on a plane. The event changed his future for the longest time and was also why he traveled so much and fond of the sky.
His initial education started at the local catholic school, which was based in France. After the local school, he went for further studies in a boarding school based in Switzerland. All of this happen when World War I stroked. Later on, in 1917, he returned from his boarding school and started in a new prep school, which was Paris-based. After completing that school, he tried to apply for army training, failed in the army test, and later opted for an architecture degree and gained it from Beaux-Arts.
Career
Initially, Antoine de Saint-Exupéry got many rejections; however, he succeeded in getting into an architecture degree. However, his only dream was to fly. After trying a lot of time and getting rejected from the naval academy, he finally succeeded in 1921 when he managed to gate into the compulsory army service. His army journey started with him being a mechanic and then learning to fly and becoming an airforce pilot. He spent quite a little time in the army; however, due to personal reasons (engagement), he decided to leave North Africa, where his base was in 1922.
His spouse's relationship went downhill due to his endless adventures; however, he realized it later. It was the turning point where he left his spouse and went back to flying. He conveyed all of his raw feelings on paper and published his first piece of written work known as The Aviator published in 1926. It was the same year when he became a pilot for an aviation company based in Toulouse. The main expect of his life was the toy carriers he engaged in. However, he loved both of them equally as he mentioned them as his only passions. He loved writing about the way he felt in the sky, along with flying in the sky as well. All in all, his experience in the sky was the main leading force of his work.
Books
Saint-Exupéry had a significant life change when he was in charge of the Air Force in 1927, based in Sahara. His flying experience can be noticed as an essential influence of his work, particularly the southern mail. He described the life of pilots and how much courage was needed to fly above the sky. In 1929, The Southern Mail was published. After that, he published another book two years later, which was called Night Flight. After posting those two books, he returned to Argentina to help in the Air Force's mailing system. In the same period, his book called Night Flight became his first successful piece of works and got a prize in the literature that also converted into a Hollywood movie in 1933.
Saint-Exupéry has given many marvels to the literature community such as A Guide of Grown-Ups, Airman's Odyssey, Night Flight, Pilote de Guerre, The Little Prince, Courrier Sud, A Day with the Little Prince, Citadelle, Travels with the Little Prince and many more. Saint-Exupéry used that experience and wrote the memorial called Wind, Sand, and Stars. It included all the struggles and events he went through in his air journey. He was also awarded a very famous grand prize in novel writing given to him by the academic franchise and the national book award.
The Little Prince
Antoine de Saint-Exupéry improved in both writing and flying planes in the sky. with his immense love for writing, and he worked there for half of the time of World War Two; however, due to Germans, he was forced to leave and opt for going to a well-developed city like New York.
However, he took advantage of his whole experience and wrote one of his famous works known as the booked flight to arras and published it in 1943 with another book known as Letter to a Hostage.
Instead of both of the books, The Little Prince was adored by most readers as it had a complex yet straightforward storyline with various metaphoric meanings and a vital lesson for living life. It was a story of a pilot left alone in the desert; however, he was accompanied by a little prince who did not belong to his planet. The popularity of Little Prince was published in various languages, including French and English, and was also called the best book of the century.
The plot of The Little Prince was also very detailed and indulging as it featured the two main characters known as little prince and a pilot. The story starts with the meeting. The little prince found the pilot who was left behind in the desert. The prince tells his story of being born on an asteroid and entertained the pilot with his travel stories, including the people and the places. The story proceeds as they go to search for water and finally found a well. During that time they built a good friendship bond. However, the story ends with a heart-swelling moment when the little prince told the pilot that they will always be connected to each other, and with that, the departure of the little prince happened as he let a snake bite him.
Browse and download the HD version of this mind map in Mind Map Gallery ,gt;,gt;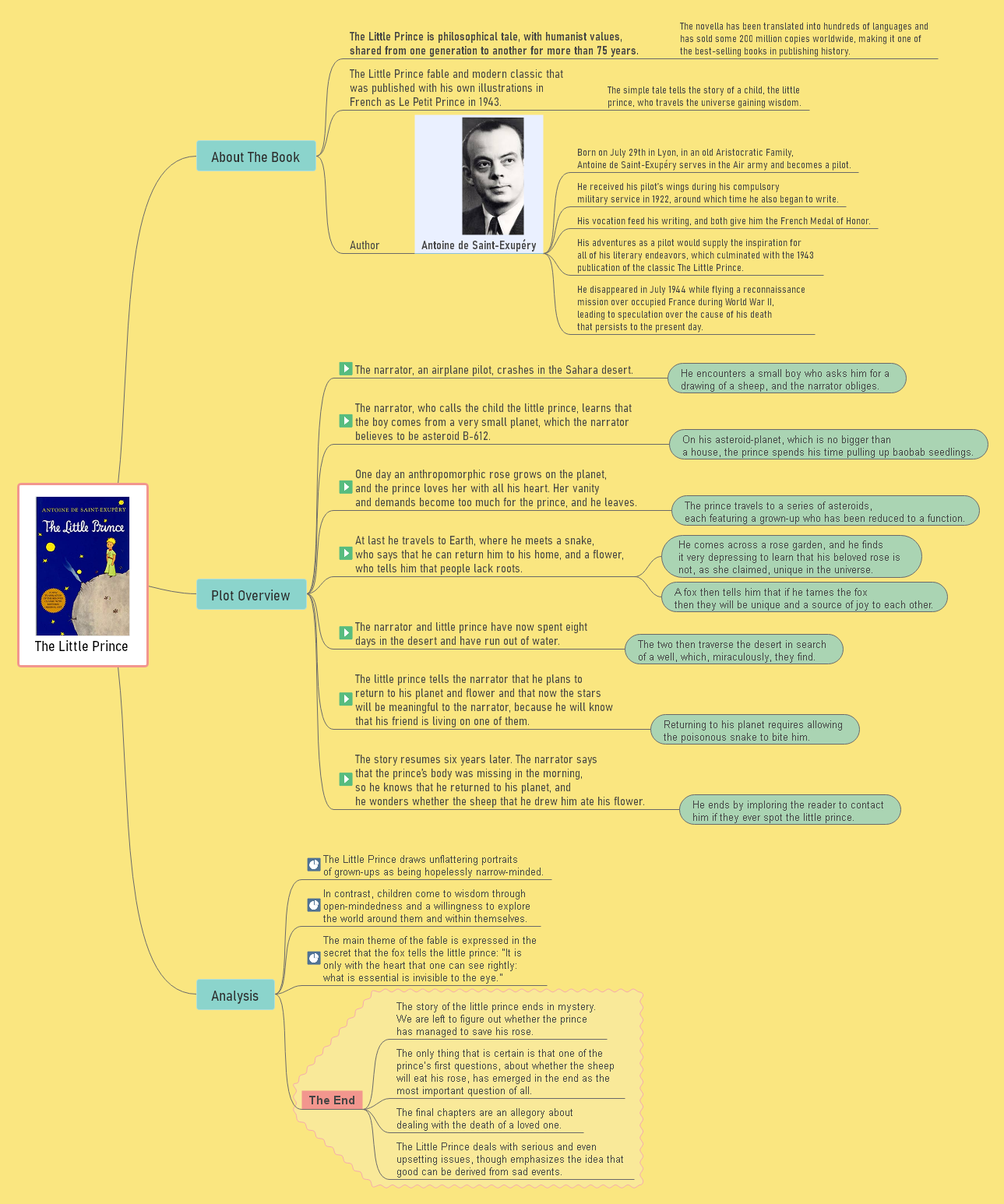 Death
In 1943, Saint-Exupéry returned to the France region to join the army again; however, the amine suggested he not fly due to his health and age factors; however, he did not listen to the man served as well. In the year 1944, he wanted his battalion on a mission in France. However, he did not return from it, and his aircraft was also not found. He was reported to be mysteriously dead on the news worldwide. No one has any idea of his death as there are many conspiracy theories around the topic of his death.