About the Milestone Template
What is a project milestone?
Can you keep track of important events in a project? If not, try project milestones. Use amazing milestone templates that we are going to share in this article to ease up your lifeg.
What is a milestone?
Milestones are the crucial points along the project journey. They represent the places where we get a vital achievement or where we have to make serious decisions in a project.
What is the difference between a milestone and a timeline?
A timeline is a graphical representation of a chronological sequence of a project's events. The milestone represents the crucial points and achievements along the project journey.
What is a typical format of a milestone chart?
A typical milestone chart illustrates planned important events scheduled at a particular time. For example, it shows clearly when a business should achieve a specific profit within the year.
Why are milestone charts important?
A milestone chart empowers you to take appropriate actions if the project is not going well and, thus, ensures that all your efforts successfully stay on the right path. A project milestone chart can help you organize almost everything.
How to make a project milestone chart?
Making attractive project milestone charts have never been easier before. With advanced mind-mapping tools, you can create great visualizations in no time in three simple steps.
Step 1: Planning milestones.
Behind any successful project lies good planning. It is essential to start a project with thoughtful planning. Project planning is like any other planning. Step number one is to brainstorm and enlist all milestones you can think of at the top level. Like:
Which tasks mark the start or closure of a phase?
What are the most important tasks?
Which phases or tasks require approval from stakeholders?
After enlisting, arrange these into a timeline and determine the lead time between milestones; this is when you need a Gantt chart.
Step 2: Choosing appropriate templates.
Before learning to make a Gantt chart, let's see the difference between a Gantt chart and a timeline.
The main difference between a Gantt chart and a timeline is that a Gantt chart is a 2-dimensional chart of a sequence of tasks while a timeline contains events visualized on a 1-dimensional single line.
By using plenty of templates from EdrawMind, you can create a Gantt chart in an easier way. You can select a ready-made template and customize it according to your needs with just several clicks.
Also, you can create a Gantt chart manually; here is how:
Open the Gantt chart panel in to the Advanced tab and click the Gantt Chart button.
Go to the Task panel and select Create Gantt Chart option.
On the Gantt Chart Options window, you can set date style and format, major and minor unit, select workdays, and set the start and finish time of the whole project.
Step 3: Sharing the milestone chart with your team. Project success is the result of the collective efforts of team members. So, having all team members on the same page is key. Advanced mind-mapping tools give you the freedom to share your visualizations effortlessly with your team member, no matter where they are.
Milestone Chart Templates
With the help of three examples, we'll show you how you can create project milestones in your professional or day-to-day life. We have also created milestone charts for each example so you can understand better. You can also use these milestone templates for your own use.
1. Project Preparation Milestone Template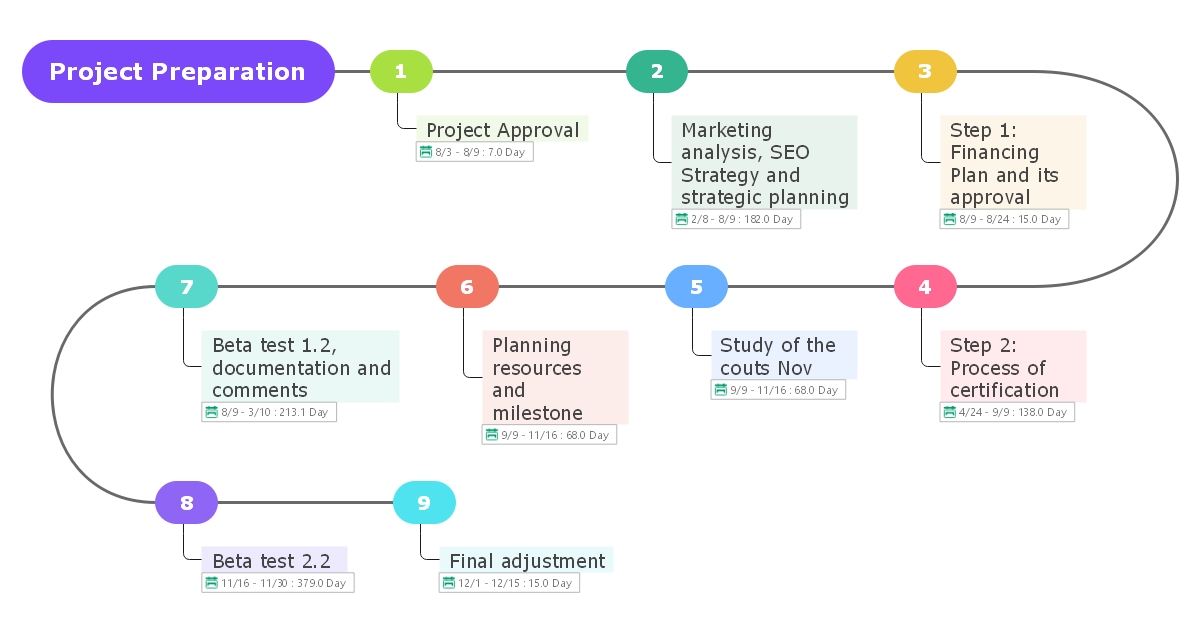 The first application of the project milestones is Project Preparation.
What is project preparation? When a new project is started, suppose launching a new business or developing new services is followed to ensure that the project is well developed before it launches. Project preparation is the key step in a project's success.
Let's see an example; suppose you want to start your business, and for that, you'll follow project preparation guidelines. What are the possible project milestones for a successful business launch? Here are a few examples.
What is the right time to launch this business?
When should the business make a certain amount of profit?
When new products or services should be added?
2. Project Plan Milestone Template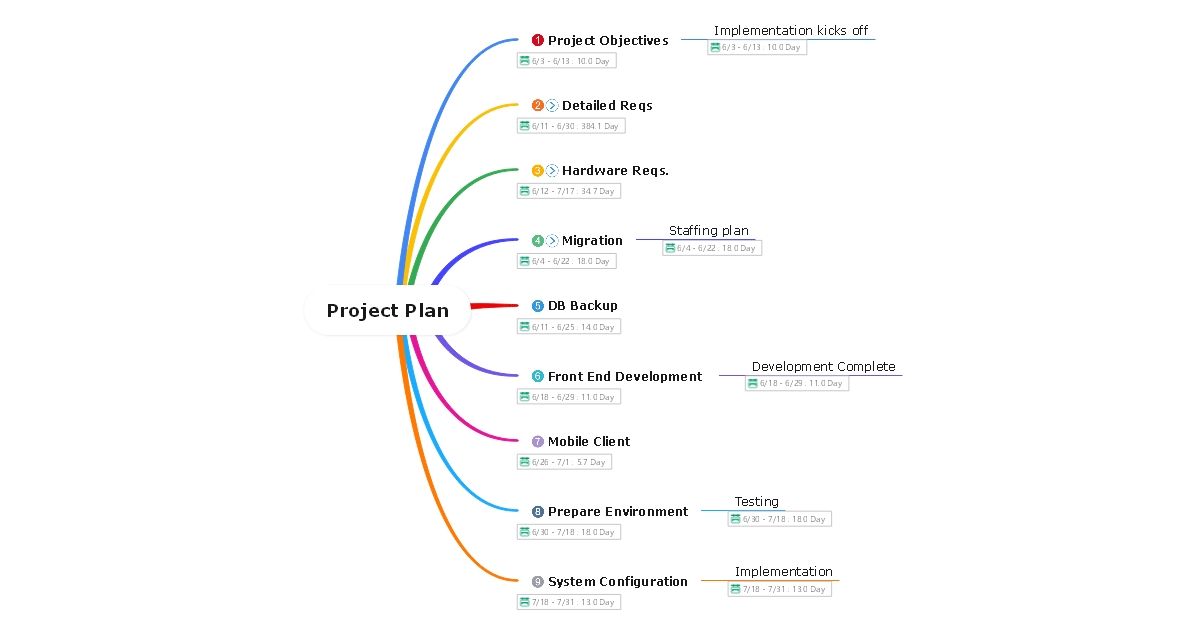 When planning an important project, it is always good to create multiple project milestones to ensure you remain on the right track throughout the project development until it ends successfully.
Let's see an example, suppose you want to launch a new product in the market. First, you need to understand the market's demand and which product could be a success. You need a decent amount of brainstorming here because selecting the right product is the most important step.
Now you have thought about a product and want to launch it. What are the possible project milestones? Here are a few examples.
What is the best time to launch this product?
When could the product earn a certain amount of profit?
When is the product ready for other markets as well?
3. Important Day Schedule Template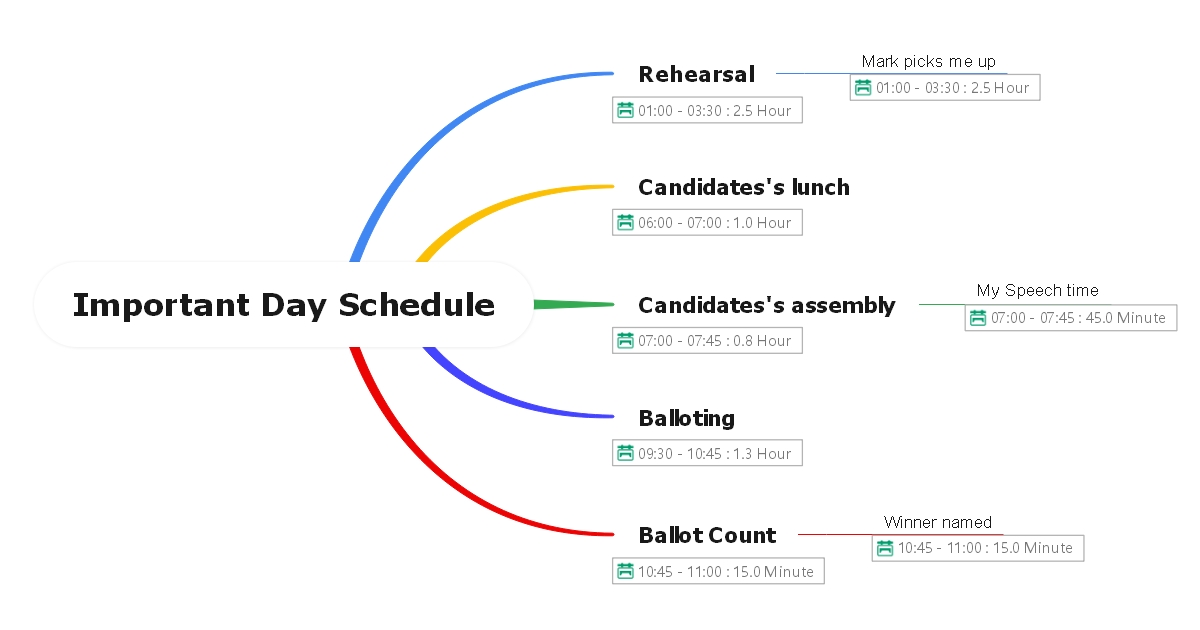 Finally, scheduling an important day is another application of project milestone. Most successful entrepreneurs plan their important days with crucial milestones. They make the most of their time and remain organized throughout the day. Therefore, it is always good to break an important day with multiple crucial milestones.
For example, suppose you have an important day to come to ensure you spent that day up to the mark and break it into milestones. Creating milestones is an important task; therefore, it must be done thoughtfully. We have a few ideas that may help you with milestone creation.
When should the meeting start?
When should the meeting end?
When should I take a break?
When should I leave the office?
Conclusion
There you go! Your project milestone chart is ready to keep track of important project events! With your milestones planned out concisely and clearly, you only need to ponder actions. And with a clear strategic plan, no surprises or people questioning the next move. With project milestones, everything is in front of their eyes in the form of beautiful visualization.
EdrawMind is an advanced mind-mapping tool, you can make attractive visualizations for your project milestones. Its professional and powerful Gantt chart function offers you a good user experience, and one-click switching between mind maps and charts improves your efficiency. You can also collaborate with your team online, synchronize editing, and enhance team engagement in project management. There is a vast selection of mind map examples and templates in the gallery section, not just milestones; there is always a template to solve what you want to express.