Mood Board Template
A project that requires creative prowess is difficult to describe. A mood board template helps put inspiration and ideas in one place while establishing the mood.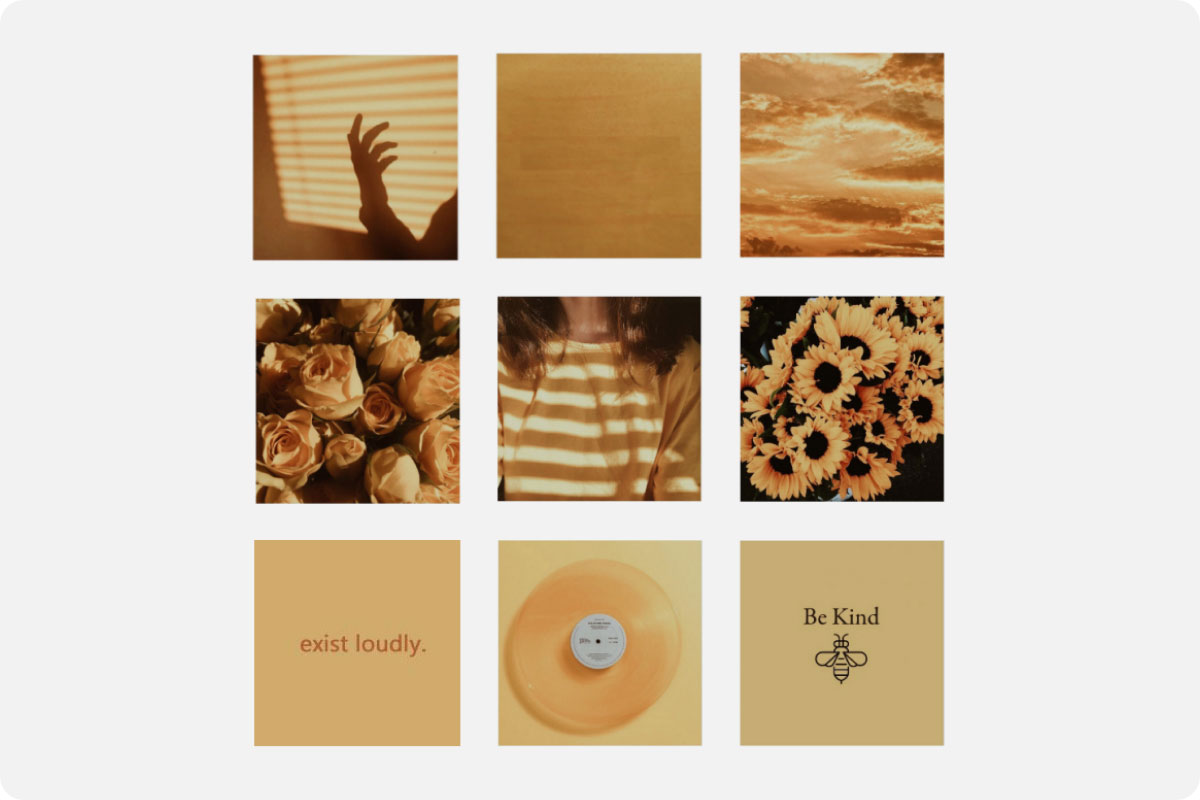 More Mood Board Template
About the mood board template
A mood board is an effective way to communicate your ideas and inspiration. Articulating a concept is not always the easiest thing to do. Moodboard template is a very helpful tool to convey what you are working toward. Your board keeps your ideas and inspiration organized and shows the bigger picture. The images and colors not only make it easier to convey your ideas but for your vision to be understood. This is extremely useful in situations such as for photoshoots.
Simply put, a mood board is a collection of images, color pallets, text, and fonts that come together to translate your thoughts into a visual platform. Concepts and inspiration are put forward in a more tangible way that can be easy to convey. Your creative team will be able to see what it is you envision, or a potential client will have a better grasp of your pitch.
Mood boards are perfect for photographers, décor companies, and marketing teams. Even if you are not a photographer or the like, a mood board can do wonders to kick start or streamline any creative project. Digital Mood board templates are perfect because you can divide your board into images and videos, flowcharts, and mind maps to add as many details as you need. Another benefit of a digital mood board is the ease of sharing, and you do not need to lug around physical papers and boards, which leads to damaging them.
Why should you use a mood board?
Mood boards are great to share ideas or help people visualize your vision. Creative projects need direction, especially when you have a team working on an assignment. Mood boards make this process easier. Instead of spending valuable time writing up a brief that may not even capture the look or feel you are trying to create, you can use various visual components to make the brief more efficient.
Your mood board keeps all your ideas and concepts in one easy-to-access place. Use a template to get started, or you can create your own. Providing a text brief for a creative project is a great start. Mood boards have text, font, images, color pallets, and even videos that explain how you see the finished concept far easier than text.
There is less chance of misinterpreting what you see as a result when you use a mood board. Digital mood board templates are very flexible. They can be customized to suit your specific needs and can be changed from project to project. Mood boards are a perfect way to pitch your idea to a potential customer, and they will be able to understand what it is that you see for them, and they will find it easier to put forward any of their own ideas or concerns. Production teams will use mood boards as a basis for new product designs and features.
How to create your own mood board?
Creating your own mood board using an online template is easy. Digital mood boards allow you to create your own unique layout and direction in a few easy steps.
Layout your goals – Keep yourself and your team focused on what the final outcome will be.
Choose your directions – Even though in this section you need to choose what direction you want your project to go in, you do not need to limit yourself. That is the beauty of a digital mood board.
The text has its place everywhere – Collect some descriptive text of the creative project you are undertaking. For example, a wedding coordinator doing a forest wedding would find text like shabby chic or boho chic.
Add visual elements – Now the fun part. Find images, colors, and videos that tie into your ideas. Images will help you to fine-tune your ideas, and to share your ideas with others.
Do not limit yourself – Online or digital mood boards are great because you have limitless space, or just about, to gather and organize ideas. That means if you have hundreds of images and ideas, you can keep them all together and structured.
Explain why you have chosen the images – This is not the case for every image, but try to add some text as to why you have chosen a specific image, color, or font.
Get feedback – Feedback will come from your potential client, production, or creative team. Make any necessary changes to your mood board to accommodate the feedback, or communicate why you have made certain choices.
With these simple steps, you can create and share a world of ideas.
Mood Board Examples
There are several examples online for you to draw knowledge and inspiration from. Creative people need a way to get their vision across to people. Mood boards are one of the most effective ways to do that. If you are still not sure of how to go about putting together your very own mood board, you can look for examples online and then add your own spin to it.
For fresh and beautiful mood board templates and examples to get you started in any industry, including travel, fashion, photography, interior design, and so much more, the templates on offer can help you shine. Take the basic templates and add in what is needed to show your "big picture".
You no longer have to spend hours trying to write a brief that is descriptive enough to allow other people to see your vision. You can show them your ideas in a unique and engaging way. Presentations done with mood boards are far easier to grasp than pure text and chart presentations. Digital mood boards give you the freedom to explore your imagination while still providing enough structure to get the project completed. This makes it the perfect tool for any creative project.