About the Plus Delta Template
What is a Plus Delta template?
A Plus Delta template is a retrospective tool that teams and individuals use to collect feedback after working on a project or event. A lot of people are using this template as it simplifies the collection of feedback. The plus delta template reflects what the things that worked are. It also identifies what aspects of the project did not work or those that need changes.
The "plus" in the Plus Delta template means what aspects worked, and the "delta" means those that needed changes. Its template is divided into two columns: one for what worked (plus) and for those where a change is necessary (delta). This design enables team members to share their thoughts on what to improve in the next project or event.
Why should you use a Plus Delta template?
It is essential to do a retrospective of the projects and events that you worked on. But the problem will arise if you have a year-long worth of information. What did you do? What would you like to change? It can be overwhelming trying to come up with a list of all of it.
That is where the Plus Delta template comes to play. As it is a simple yet effective tool, it can help you take part in your journey to continuous improvement. It is a great way to present wins and learnings to your team, employees, and bosses. You can also use the Delta Plus template on one-on-ones and during performance reviews to help new hires improve their work performance quickly.
How to conduct a Plus Delta analysis?
The Plus Delta template is very straightforward. Anything that worked well and should be retained or repeated should be written under the "plus" category. Those aspects that didn't work well need a change or improvement should be in the "delta" category.
Plus - Under this category, write all the things that went well. For example, what tactics proved to be successful? What strategies worked and are working? You can also include the challenges that you overcame and became beneficial to you and the team.
Delta - Under this category, write all the things that you want to change. Also, note what aspects that need improvement. You can also write how you and the team can be more effective.
You can also organize the ideas of every category into low, medium, and high priority. This tactic will help you and your team determine what aspects are listed in every category that should be prioritized and focused on.
Plus Delta Examples
The template must be done precisely to attain the ideal results of conducting a plus delta analysis. It would be best if you also were specific with what event or project you are assessing to avoid confusion. See some Plus Delta examples below before creating one for you, your team, or your company.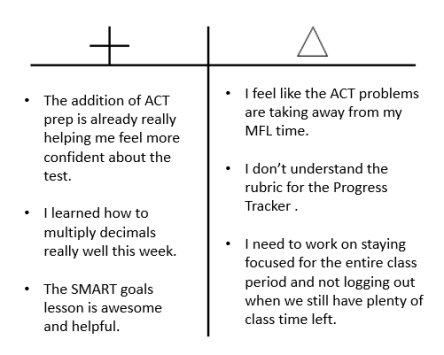 The above example shows the traditional way of making a Plus Delta template. In the "plus" column, you can see that they wrote their project's specific positive results or outcomes. As for the "delta" column, particular aspects that need improvement are written.