What is a family tree?
In the most straightforward words, a family tree visual illustrates an individual's lineage and traces relationships among common ancestors. A bit similar to an organization chart, the framework is usually presented in a tree-like structure, starting with one person being the root. The lines then are used to connect the source to the branches and leaves to show relationships. Every leaf represents a person in the family with information like birth dates, marriage, and date of death.
A family tree chart makes it handy to record places, events, and people that comprise an individual's family history and share it with others. These days, family tree illustrators have several options that can help them structure any family tree of their liking. Online diagramming tools provide an easier and faster process for your family tree.
Why is the family tree important?
The benefits of using a family tree vary from the obvious fact of tracing your ancestry to using the diagram in the medical field and research. Read through below to know more about the essence of his straightforward framework:
Family trees guide medical professionals to answer some questions. Genetics has become more sophisticated; researchers, scientists, and epidemiologists might find valuable clues to curing illnesses embedded in family tree diagrams. One might need to establish a family tree in case of genetic diseases or to assess how likely you are to pass on an illness to your offspring.
Suppose you are looking for a lost relative; a family tree can also be helpful. If you are trying to prove who's the rightful heir to a property of your ancestors, you can also use the family tree as one of your bases.
It will not require you to have a solid reason to use a family tree. If you feel like getting to know your ancestors more - from where they lived and where they came from to their occupation and lifestyle, a family tree can always come to the rescue. By understanding how your ancestors lived, you will feel a sense of pride to be part of their lineage.
Indeed, you have seen how a family tree looks, but with today's innovation, you can experiment on your framework using several online diagramming tools. One of the most popular ways to structure a family tree is using mind maps. Here are a few steps on how to do it using EdrawMind:
First, online tools to structure your family tree are ideal for gathering and organizing whatever information you can collect about your relatives. Ask your parents or older relatives about your family lineage. You can also check videos, photographs, and other documents for more information.
Decide on how generations to add to your diagram. Some generations can have limited information that can affect the construction of your family tree.
You have two options on using EdrawMind for your family tree - either your browser or downloading the software to your desktop. Either way, you need to launch the application to get started.
There will be premade templates to choose from, or you can start your tree from scratch.
Customize the look of your family tree using colors and shapes and insert stickers and images.
Once you have structured and created your family tree, you can save it in various formats or share it with your social media accounts.
Family Tree Templates
You can refer to the examples of a family tree template below before creating one:
British Royal Family Tree
Unless you love to follow the British royal family, you may have known only one or two members of this clan. The royal family dates centuries back, but the family tree example below starts with Queen Elizabeth II and the late Philip, Duke of Edinburgh. They have four children, with Charles, Prince of Wales, the first line to succeed his mother.
You can see from the example that it uses symbols - bold, thick, and violet lines to indicate who among the members belonged to the direct line of succession. The royal family is famous, but it is still ideal to provide images for each name for better representation. Also, you cannot expect that all members in the family tree are still alive, so suppose you included a deceased family member on your tree; you have the option to gray out the name or image of the individual, just like what it looks below. You can also find other ways to your liking. Just ensure every member is labeled accordingly.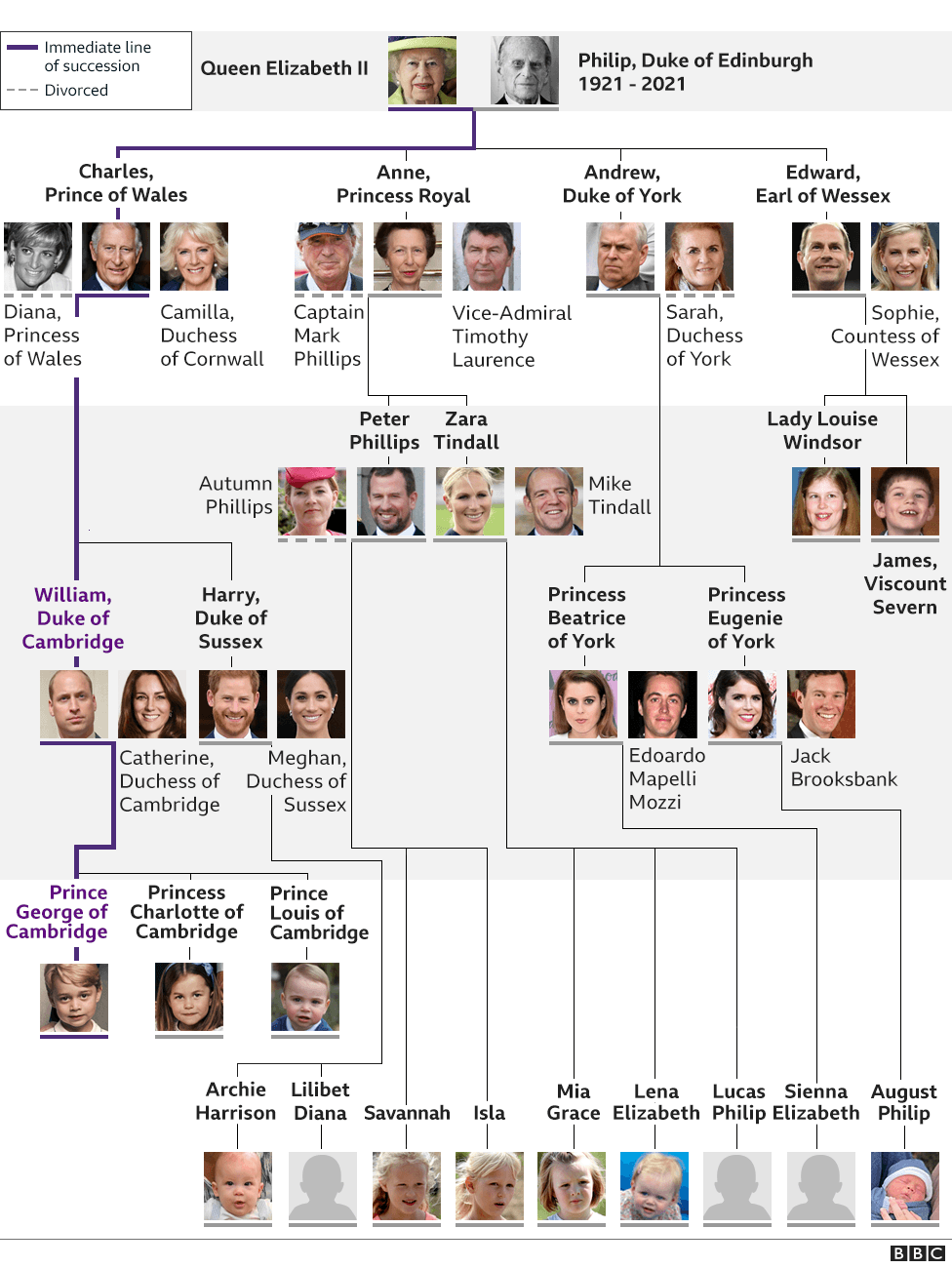 Source: bbc.com
Swedish Royal Family Tree
This is another straightforward structure of the Swedish royal family. Since 1818, the Swedish royal family comprises members of Swedish Royal House of Bernadotte, who is related very closely to the King of Sweden. When creating a large family tree, it is essential to classify every element on the diagram; you can use colors, shapes, or stickers. In the case of the example below, the red-framed boxes symbolize those deceased individuals. In the Swedish set-up, some individuals are members of the royal house - they are those entitled to the royal titles and perform the official engagements. The extended family comprises other close relatives, but they do not represent the country officially. Both categories are part of the Swedish family tree but with a slight difference.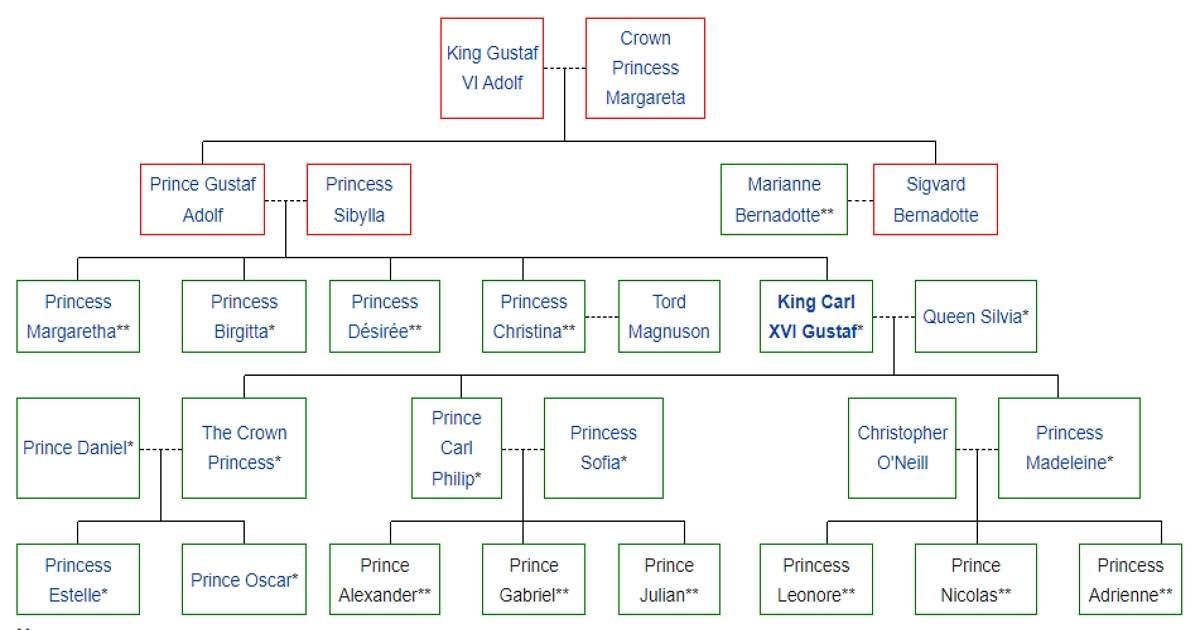 Source: wikipedia.org
Game of Thrones Family Tree
If you are a fan of Game of Thrones, you must be familiar with the nine Great Houses in Westeros. One of them is the House Stark. Since the family tree uses images to illustrate every member of the house, viewers can identify who is who, regardless if they are familiar or not with the concept.
Also called the House Stark of Winterfell, it is known to be the north's principal noble. The Lord of Winterfell, Eddard Stark and Warden of the North, and wife Caitlyn Tully are two central family members. The family also grayed out the images of those deceased family members.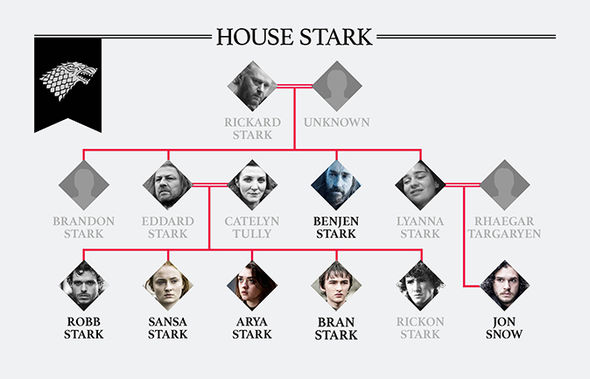 Source: express.co
Fishbone Family Tree
You should not limit your family tree by using the usual vertical pattern similar to a tree. The family tree template below uses a mind mapping tool forming a fishbone. You can see that the movement of the structure starts from yourself on the left going to the right. This might be confusing at first glance; thus, you need to put labels properly. If you think titles on every node can be too wordy, you can create legends for every category.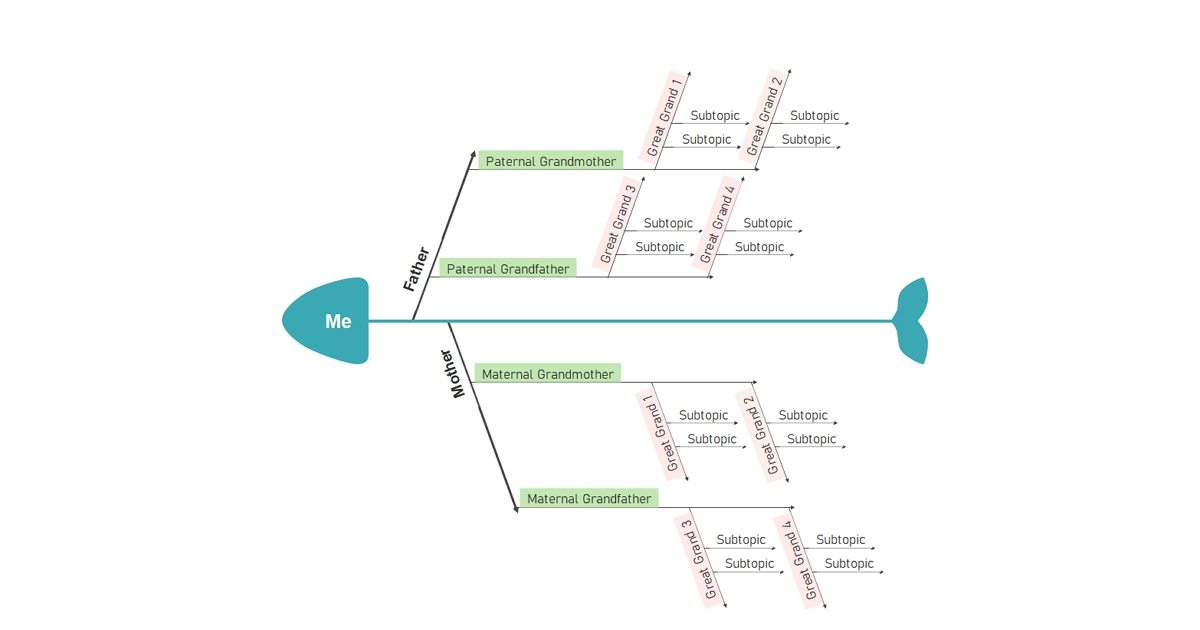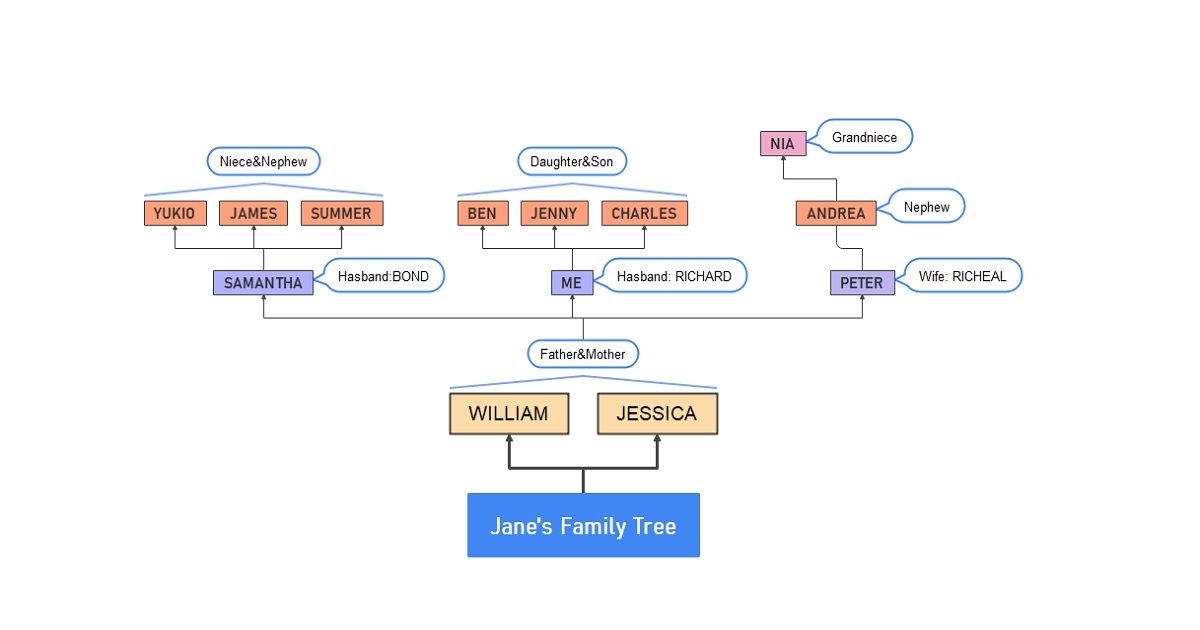 Other Family Tree Templates
This template looks similar to that of the fishbone family tree. The difference is that there are no traces of an image of a fish from the example below. Also, the framework starts from the right going to the left. These diagrams are equally helpful for school projects and other straightforward family trees. Remember not to limit your family tree to words, as you can insert images and stickers if you like.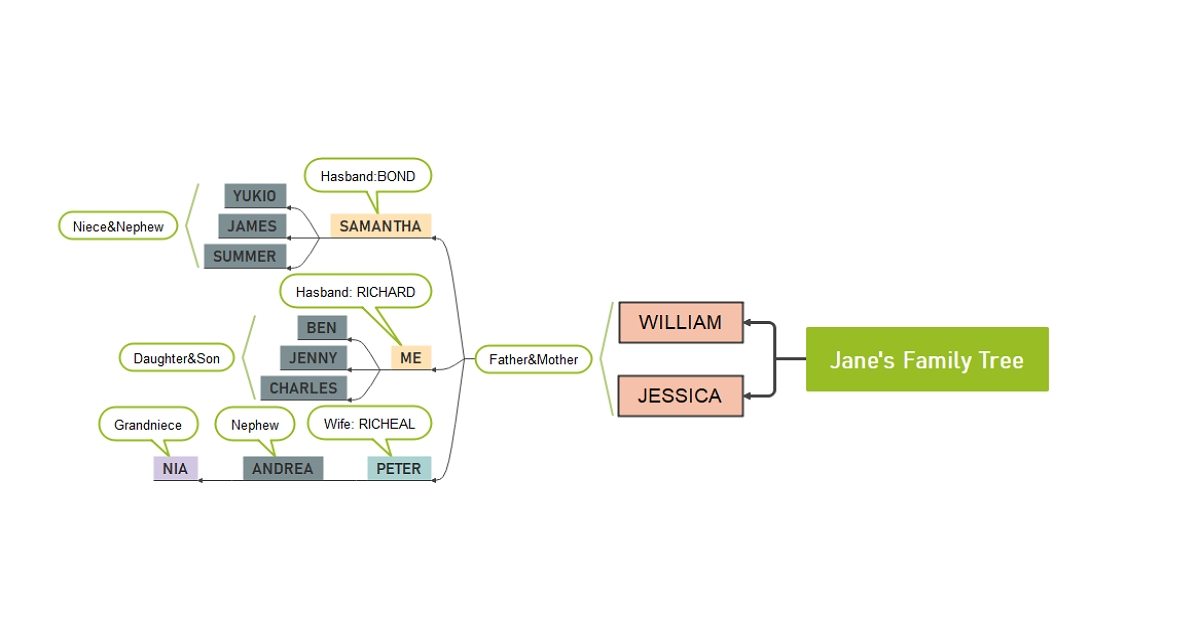 The template below indeed is the one that pops in your mind when talking about a family tree. Its framework is similar to the pattern of a tree with branches. Instead of using leaves and branches for each family member, the template utilizes several shapes and colors. However, if you feel like applying the conventional family tree, you can replace the boxes with leaves and other aspects you see on a tree.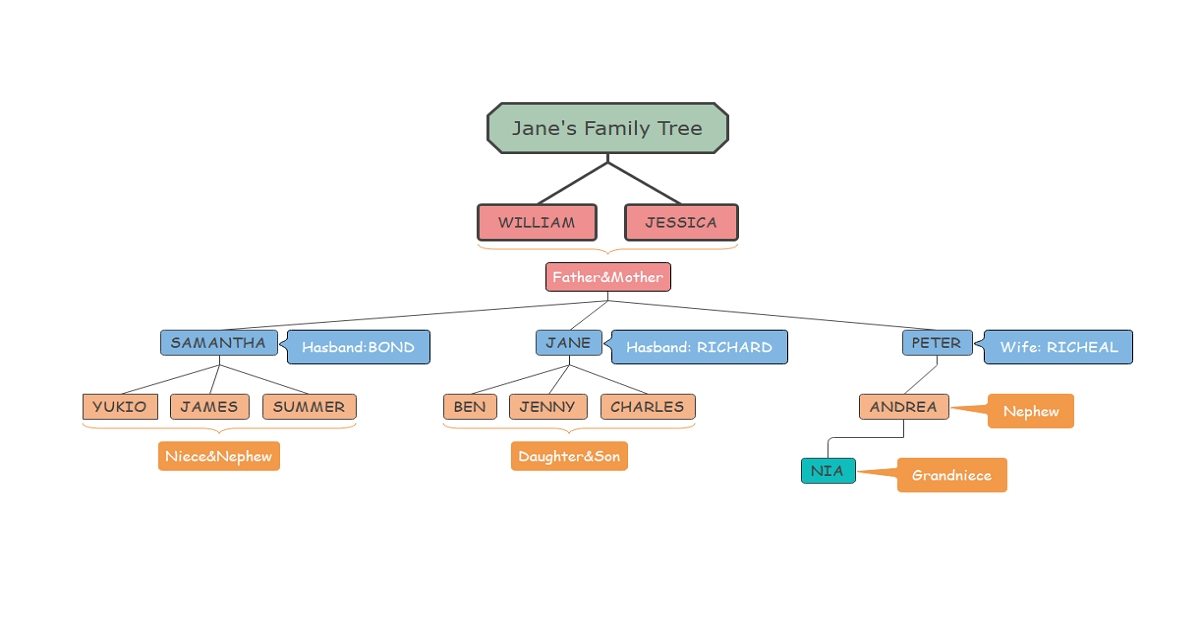 With mind map's flexibility, you can explore how you want to go about your family tree template. You can create a simple diagram like the example below, use one color for all categories, and still illustrate a clear and visually appealing family tree. You can choose from several templates online for this pattern or create the structure from scratch. It will always depend on your creativity and the concept that you want to illustrate to your viewers.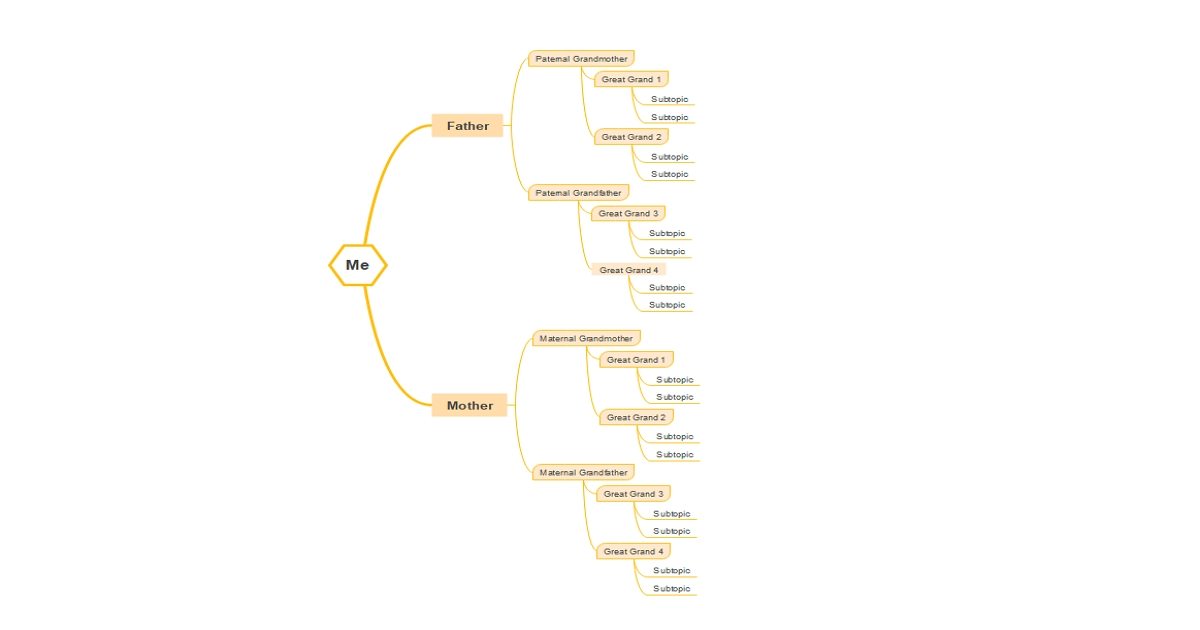 As technology continues to evolve, diagramming options also keep getting better with online diagramming tools. With EdrawMind, users can easily find any family tree chart they have in mind through the 6000+ templates available. Explore your creativity with a user-friendly interface and easy-to-use tools. You do need to be an expert on using technology to build a family tree with EdrawMind.
If you wish to start from scratch for your family tree, you can also choose a blank page. This online mind mapping tool gives you the option to work using your internet browser or launch the application from your desktop. Either way, the features, and processes are the same. Finally, EdrawMind allows you to export your finished work with several formats like BMP, JPEG, PNG, PDF, HTML, MindManager, SVG, among others, and share your template to social media accounts.
EdrawMind Apps
12 structures & 33 themes & 700+ cliparts
Support Win, Mac, Linux, Android, iOS
Advanced import & export options
On-premises software for business
Enterprise-level data security
EdrawMind Online
12 structures & 33 themes & 700+ cliparts
Access diagrams anywhere, anytime
Team management & Project management